8 Fresh Holiday Email Marketing Tips to Maximize Engagement
With the holidays just around the corner, it's high time to prepare a strategy and plan for your holiday email campaigns. Considering the holidays are one of the most lucrative times for businesses, you need to plan effectively.
To make your holiday email campaign planning simpler, the team at EmailMonks have interviewed some of the leading experts from the email and social marketing world and compiled insights on the latest trends and predictions for holiday email marketing.
In this article we'll share 8 holiday email marketing tips from the email experts to maximize engagement.
1. Add Interactivity to Enliven your Holiday Emails
---
Incorporating interactivity into your emails is a great way to get customer attention during the holidays. Adding GIFs, videos, gamification and interactive elements such as sliders, rotating banners, and countdown timers will let you stand out during the peak email season.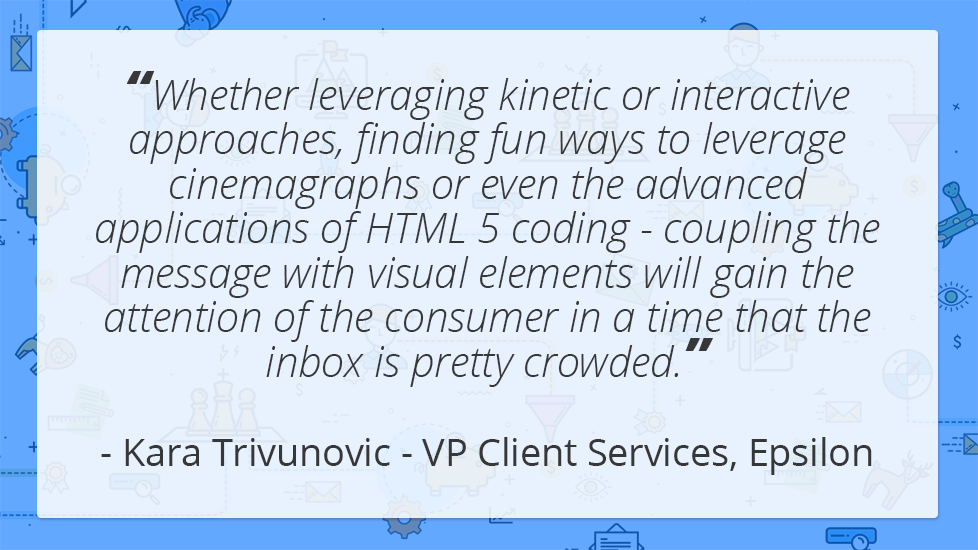 Follow Kara on Twitter at @ktrivunovic
2. Segment and Target Based on User Profiles
---
Learning your customer's interests and then grouping them into various segments based on their purchase behavior and demographics will help you to create perfectly tailored emails. Based on the segments created, send relevant and personalized emails. This will induce more engagement and boost conversions.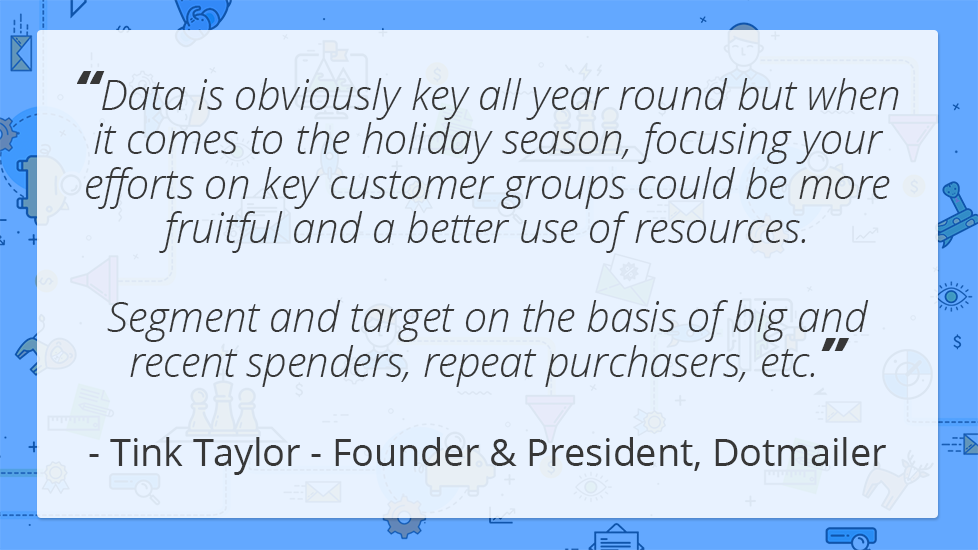 Follow Tink on Twitter at @tinktaylor
3. Remember Mobile-Responsiveness
---
With more than half of your customer base accessing emails on mobile phones and other smart devices, it's necessary that the holiday emails you design are supported and rendered well on all of them. Start with the mobile layout and do proper testing.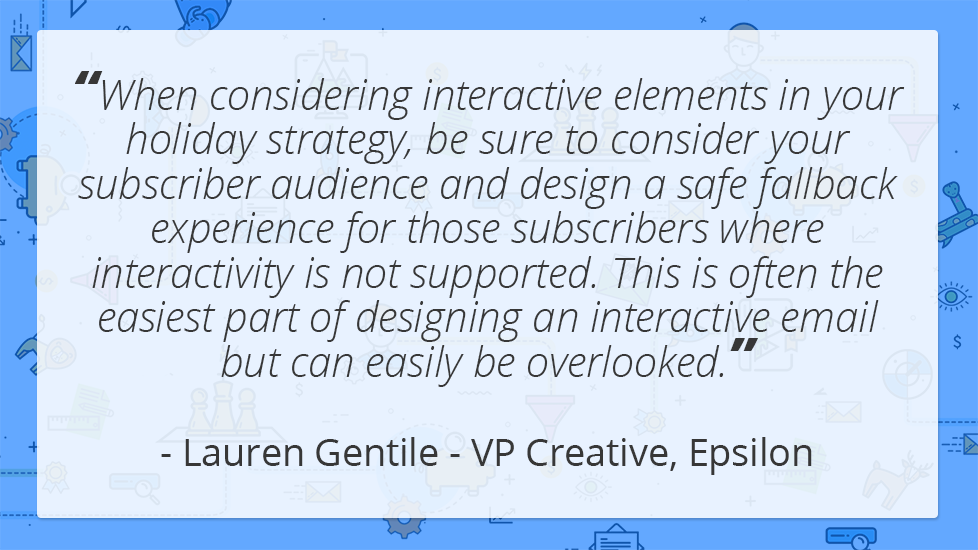 Follow Lauren on Twitter at @gentilelauren
4. Use Real-time Content
---
Sending real-time content and updates helps during holiday email marketing by reflecting changes in your inventory, providing live cart notices and sending location-specific offers. Real-time content is driven by contextual data and is delivered at just the right time.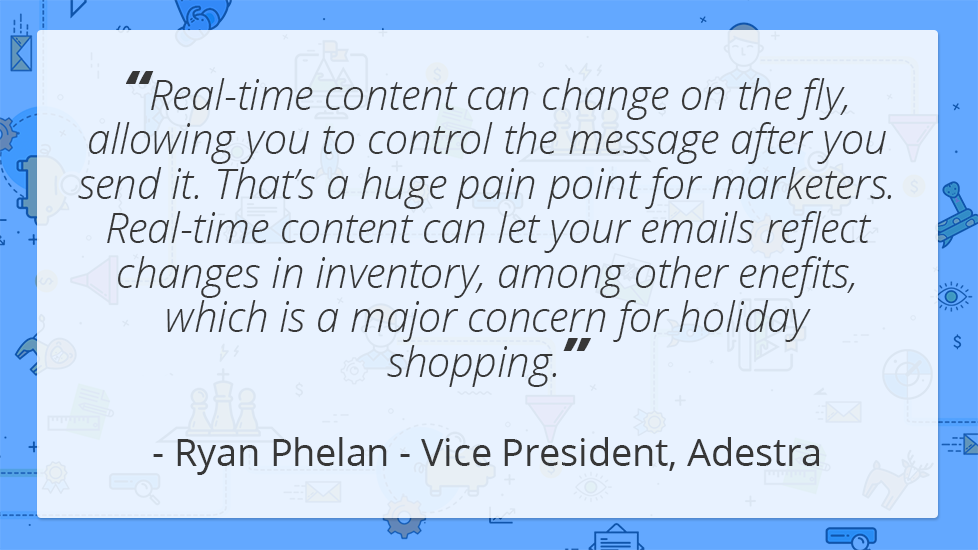 Follow Ryan on Twitter at @ryanpphelan
5. Take a Customer-centric Approach, More than Brand-centric
---
During the holidays, design your emails with a customer-centric approach that focuses on a great customer experience, rather than designing your emails just for aesthetics. Keep the customer in mind and send them content they wish to see during the holidays.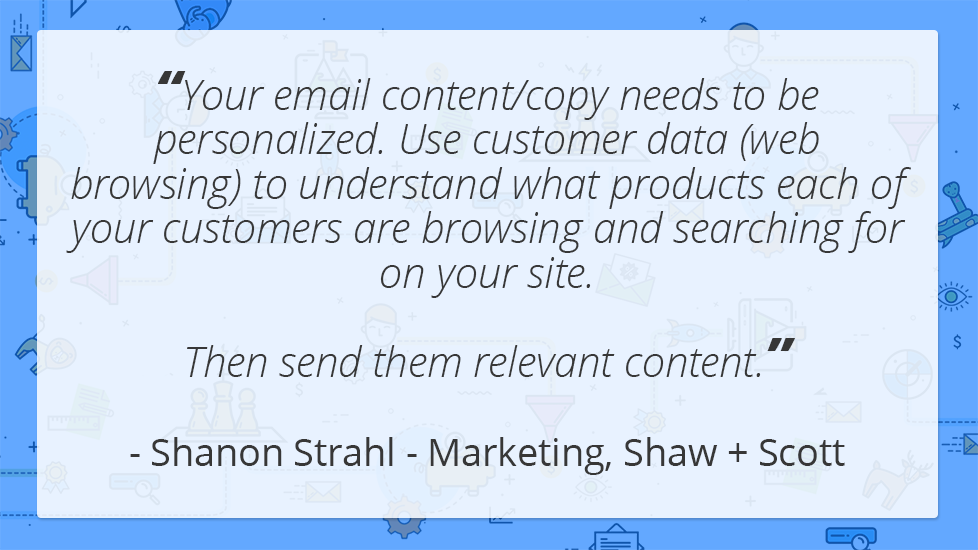 Connect with Shanon on LinkedIn at Shanon Strahl
6. Proper Planning is the Key to Holiday Email Success
---
As marketers, you need to have a solid plan for your holiday emails early. Creating a plan early on gives you enough time for last-moment tweaks and amendments. You can also start early by sending holiday sneak peeks or previews of your upcoming holiday emails.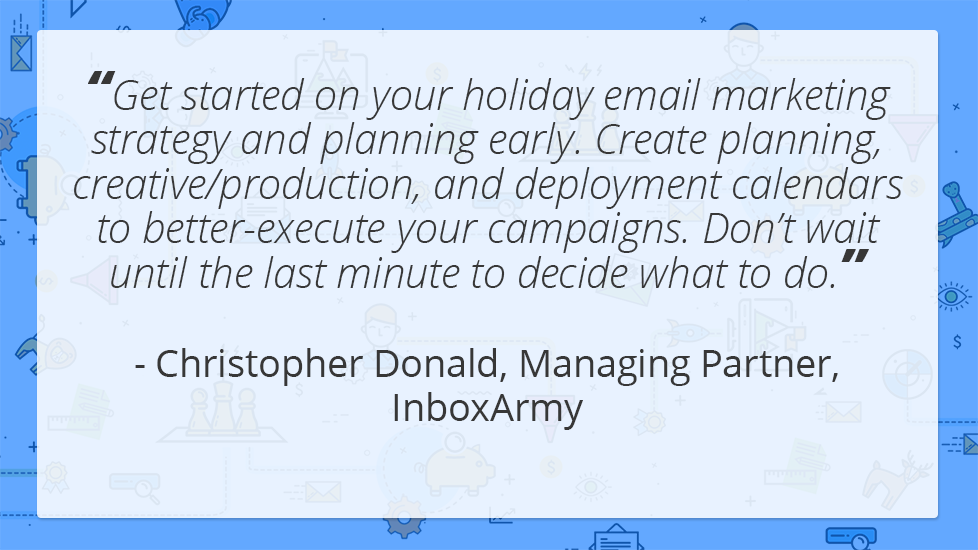 Connect with Christopher on Twitter at @emailmadman

7. Marry Your Holiday Email Marketing with Social Media
---
To garner your customers' attention, make your holiday offers available on all social media platforms This ensures that, even if someone doesn't open your emails, they still have a chance to engage with your holiday promotions.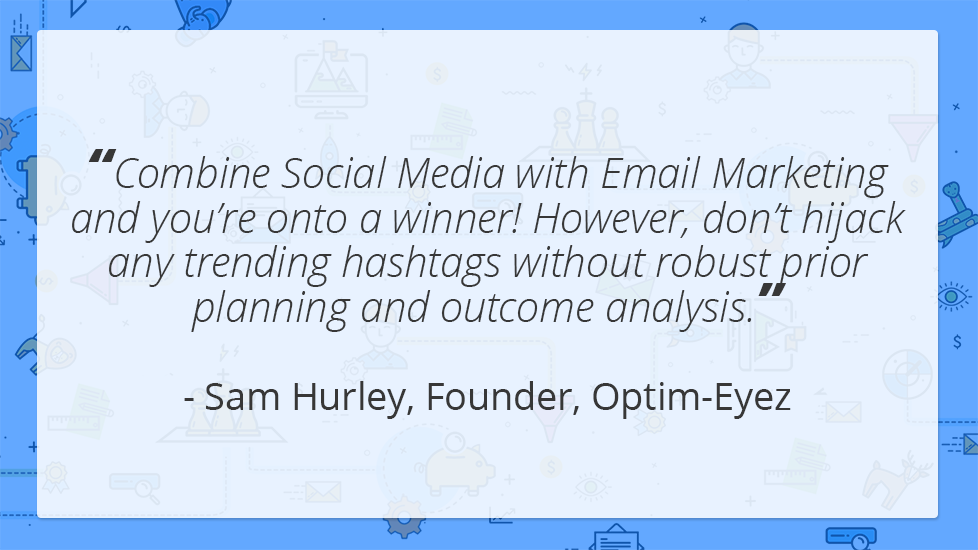 Connect with Sam on Twitter at @Sam_Hurley

8. Create Better Email Strategies with Machine Learning
---
You can stay ahead of your competition and deliver effective strategies with the better use of technology this Holiday season. Incorporating marketing automation will help you deliver 1:1 communication with your brand's customers.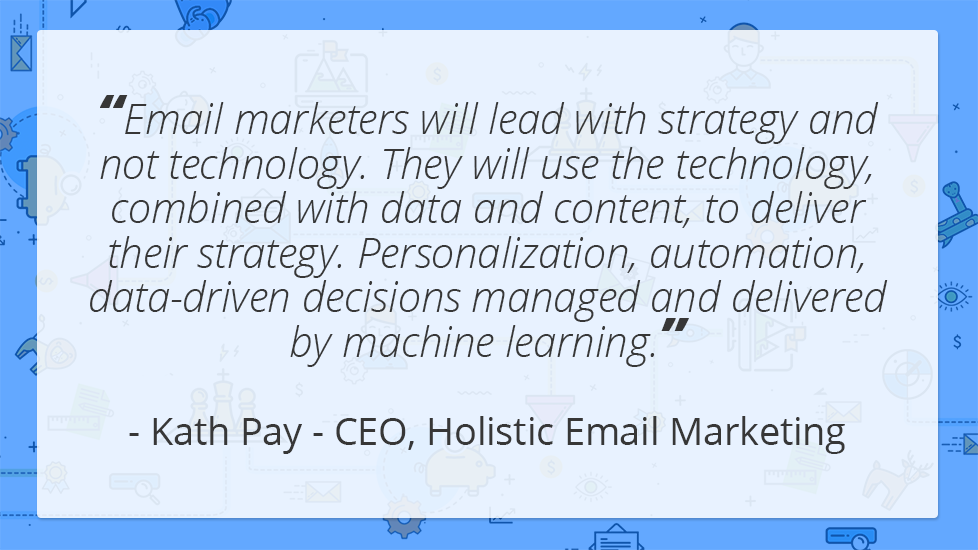 Connect with Kath on Twitter at @KathPay

Tips to Plan and Strategize for Holiday Email Marketing
---
First-movers always have an advantage over others, and when it comes to holiday emails, moving first always pays off. Here are the 4 major upcoming holidays and and how to plan them right:
Halloween:
As marketers, you need to evaluate your previous year's Halloween sale from emails and target the emails more to those who purchased from your store earlier as there is a good chance that they will purchase again.
Holiday emails should start off slow at the beginning of October and accelerate through the month. You need to finalize post-Halloween emails by mid-October and amp up holiday marketing for the rest of the year by the end of October.
Thanksgiving
For Thanksgiving, marketers should plan ahead of time, as there will be a pool of emails to be sent in the coming days.
Experiment with different subject lines, imagery, and content and start sending emails to solo shoppers and self-gifters a week before Thanksgiving.
Offer free gifts, coupons, and discounts to customers and remind last year's customers about new products and offer them special promotional discounts or free shipping.
Black Friday:
Keep a balance between detailed content, striking imagery and eye-catchy subject lines to stand out in the holiday shopper's noisy inbox.
You should try to experiment with different messaging options for subscribers- holiday discounts, special deals, holiday collections, back-to-stock notifications, etc. Distinguish between in-store and online sales and highlight your best deals.
Cyber Monday:
Run combined campaigns for Black Friday and Cyber Monday and send sneak peeks at least 10 days before and reminder emails a few days before the day. This will help your brand stand out while email volume is still comparatively low.
Send promotional offers and last-chance offers on and after Cyber Monday to increase engagement.
Christmas:
Christmas-themed campaigns should start by October, and all the emails should revolve around the Christmas theme. You can run "Christmas in October" campaigns and keep the customers updated about your holiday deals by sending timely emails in between other holidays.
Surprise your subscribers with e-gifts, gift cards, last minute offers and deals and launch after-Christmas sales on the 25th and 26th of December.
Are you all geared up to create a great holiday email experience? What are your plans and strategies for holiday email marketing this year? Would love to hear from you!
Author bio: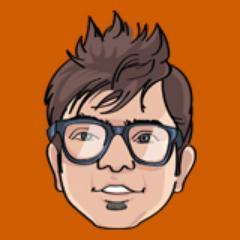 Kevin George is the Head of Marketing at EmailMonks - one of the fastest growing Email design and coding companies. Emailwonks specializes in crafting beautiful email templates, PSD to HTML email conversion and free Master Email Templates. He loves gadgets, bikes, jazz, and breathes 'email marketing'. He is a brand magician who loves to engage & share insights with fellow marketers. Feel free to connect with him on Twitter & LinkedIn.