Follow this 5-step guide on how to do a Facebook contest.
Facebook sweepstakes and contests are an easy way to increase Facebook Page Likes and convert Facebook users into leads and signups by enticing them with a prize.
There are many different types of Facebook Contests – from the most basic "random draw" Facebook Sweepstakes to highly involved video contests with a full panel of judges to decide a winner. Each has different benefits. Each is most useful for different businesses and different marketing campaigns.
A Facebook Contest is a great way to achieve your goals in social media. One Facebook contest can give you the same return on investment as hundreds of pieces of content, saving you hours. For small business owners and small marketing teams, this time-savings is invaluable. In this article you'll learn how to run a Facebook Contest to achieve specific goals and grow your business.
Check out a few Facebook contest examples before we jump in:
Follow our complete guide to amazing Facebook giveaway examples for inspiration.
How to Run a Facebook Contest: 5-Step Guide
1. Choose a Prize and Entry Method
The prize is the most important piece of your contest. It's what entices people to enter. Make the prize something relevant to your business.
A great prize is a gift card.
Why? Two reasons:
1. A gift card is enticing to all of your potential customers. It's the prize that is the most desirable for the largest group while still being within your target market. If you give away a certain product or service, you will only get entries from people interested in that specific product. With a gift card though, you will attract entries from those who are interested in the products you sell.
2. It will only attract people who are interested in your products. If you give away an Macbook you will get a ton of entries, but those people will only be interested in Macbook, not your products. This will make it almost impossible to convert these users into actual sales for your business down the line. Giving away a gift card ensures that entrants have an interest in your products, which makes it easy to convert them into sales.
Next, decide what do users have to do to enter.
Do they need to submit a photo? Or just enter their email address? What you ask for at the time of entry depends on your goals.
Here are 3 entry methods to consider: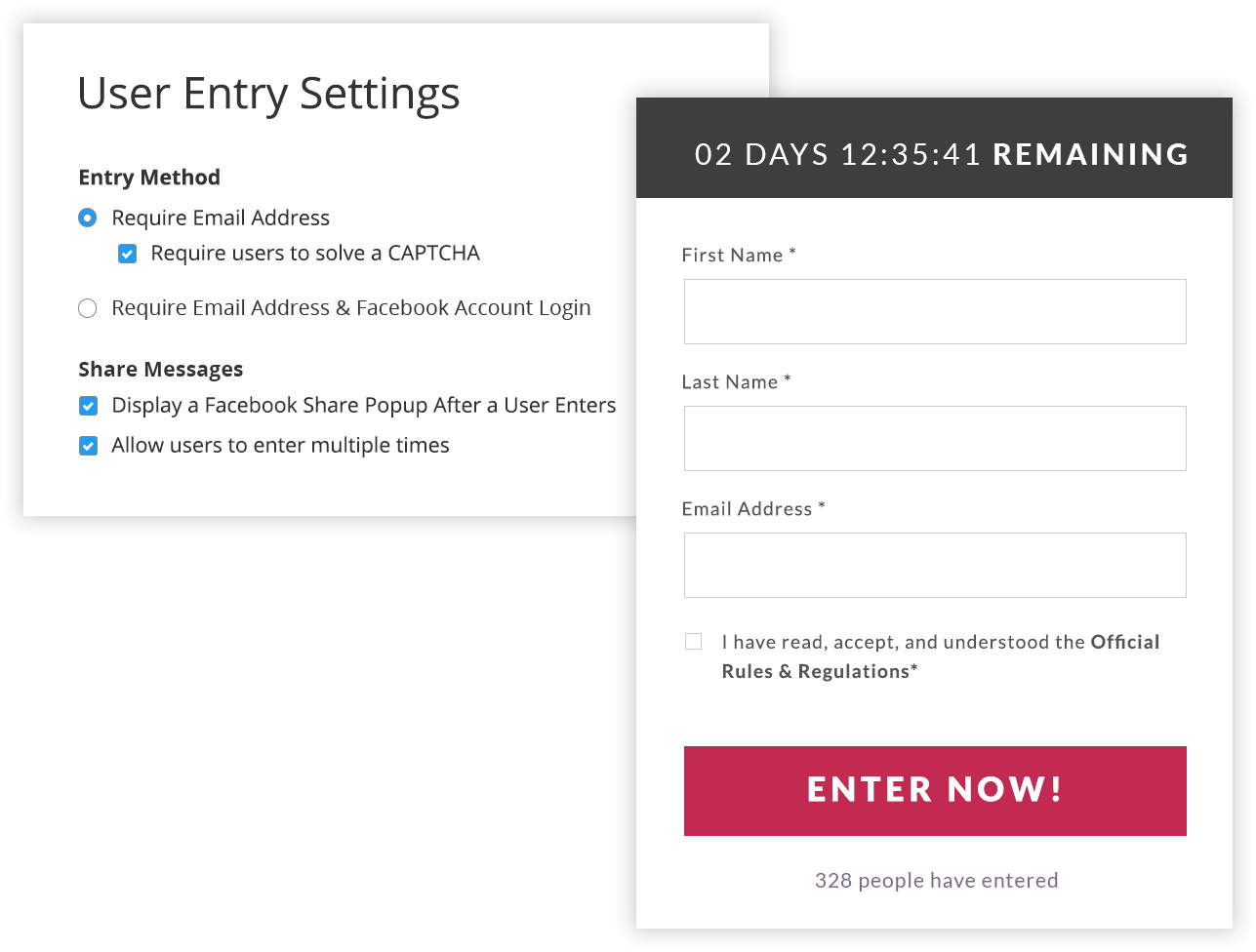 1. Contact Details: This method requires people to enter their email address, name, phone number, etc. to enter. For this method you should ask for the smallest amount of data you need to be able to contact entrants with follow-up emails to convert them into sales.
2. Contact Details + User-generated Content: This method allows you to ask users to enter photos, videos and text to enter. It provides you with great user-generated content to use in future marketing, and allows you run contests in which users vote on their favorite entries to win.
3. Contact Details + "Bonus Entry" Incentives: This entry method doesn't *require* entrants to share your contest, but it does give them additional entries if they do. You can determine for yourself which type of share or social action earns what number of additional entries.
2. Build your Contest Page
The contest entry page needs to be simple and exciting. It must get people excited about the contest and prize, and make it easy to enter.
Here are the 5 elements of an entry page for a contest on Facebook:
1. Attention-Grabbing Title: A short title phrased as a call-to-action is the best way to maximize entries. For examples, "Enter to Win a $50 Gift Card from Diamond Candles!" is both simple and informative – it tells visitors what they can do on this page, what the prize is and who is running the contest. It contains the essential information a person needs to feel informed enough to enter the contest.
2. High-Quality Image of Your Prize: An image of your prize is a great way to entice people to want to win it. If you're giving away a gift card (recommended), include an image with the gift card value in text and a product that people can buy with the gift card.
3. Entry & Prizing Info: Include a short paragraph with info about the prize, how to enter, and any rules or restrictions for your contest. You can easily add a link to an outside rules & restrictions page using our HTML Text Editor to keep from overcrowding your contest page.
4. Entry Submission Form: An entry form for a Facebook contest consists of an email address signup box and an "Enter Sweepstakes" button. For contests that require entrants to submit photos, videos or text entries, it can include a file upload field or text area. It can also include custom fields like city, age, etc. to capture more personal details.
5. Share Buttons & Facebook Comments: Make it easy for entrants to share your contest with friends by including share buttons directly on the contest page. Wishpond's Facebook Contest Apps includes built-in Twitter, Facebook, Google+ and Pinterest share buttons. They also include Facebook Comments to boost interaction on the contest page.
3. Promote & Share your Contest
With your contest set up, it's time to promote it. There will be organic growth from entrants sharing with friends, but you will need a few promotional boosts in the beginning to create the initial seed.
Here are 5 methods to promote your contest:
1. Send an email blast: Email your customer email lists – they will be the most likely to enter and share with friends to help jump-start your contest.
2. Promote your contest on social networks: Share on Twitter, Pinterest, Google+ and anywhere else you have a social presence. This is a great way to introduce users from other networks to your Facebook Page and get them hooked more into your brand.
3. Add a banner on your website home page: If you're an online business, you get the most traffic to your website, not your social network accounts. Capitalize on this traffic by including a banner on your homepage that links to your contest entry page.
4. Create a Facebook Ad: This is a great way to reach new customers outside of your current community. These ads can be very targeted to reach your demographic. Check out these Facebook contest ad examples for inspiration.
5. List your Contest on popular contesting websites: There are a ton of contesting websites that allow for free submissions. These are a great way to get access to new communities of customers. Check out our list of 16 websites to post your contest.
Pro Tip:
Create a custom cover photo on your Facebook Page promoting your contest, with an arrow pointing down to the Page Tab to enter. See how Qwertee did this below: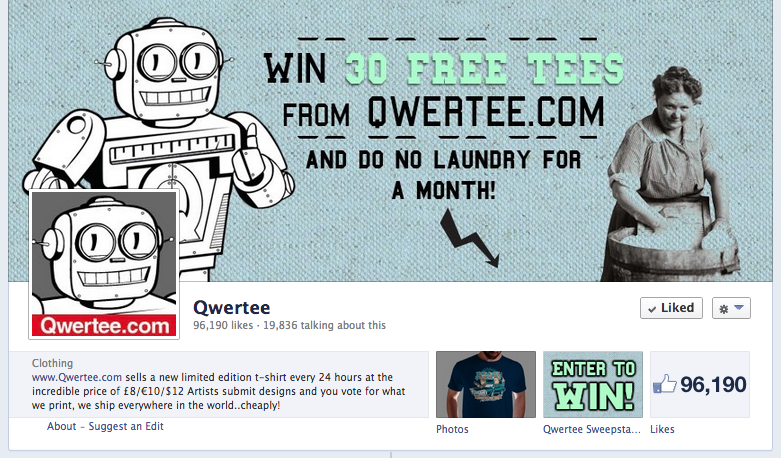 4. Monitor your Contest
Depending on your contest goals, you may be interested in tracking entries, shares or new Fans.
Here are 3 methods for monitor metrics of your Facebook contest:
1. Facebook Page Insights: These will allow you to track the number of shares, likes and comments your contests posts receive, and the number of new Fans your Page received during the run of your contest.
2. Google Alerts: Set up Google Alerts to monitor mentions of your contest across the entire web.
3. Wishpond Campaign Reporting: Wishpond's Facebook Contest Apps includes real-time campaign reporting, which allows you to track view, entries and bounce rates in real-time. This allows you to update your contest in real-time as it is running.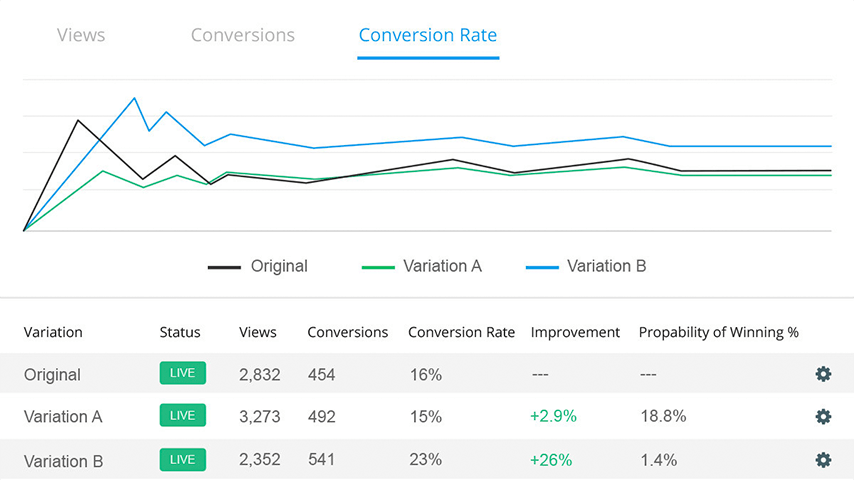 5. Post-Contest Follow-up & Promotion
Even after your contest is over, you can use it to promote your Facebook Page further.
Here are a few suggestions on how to leverage your contest and keep your entrants engaged with your business:
Profile winner(s) on your blog and share on Facebook and other social networks.
Create a video showing you choosing the winner to create excitement.
Send a follow-up email to contest entrants to convert them into sales.
Share your plans for future contests on Facebook to keep your followers hooked.
All of these activities keep the momentum going and will prime followers for future posts from your Facebook Page.
How to run a Facebook Contest using a 3rd Party App (like Wishpond)
3rd party apps, like Wishpond, make it easy to create a Facebook Contest.
Using a simple fill-in-the-blank campaign builder and dozens of beautiful contest templates means you can have your Facebook contest launched in 5 minutes.
Facebook contest apps automate the set up, installation and data storage required for a contest.
Here are the steps you take inside the Wishpond campaign builder to create a Facebook contest:
Create your contest page by adding text, images and form fields to our contest template
Install the contest app on your Facebook Page, Twitter account or website, where it will automatically appear when the contest goes live.
Once your contest begins, go to the Campaign Report Page to check out campaign stats like views, entries and conversion rate in real-time.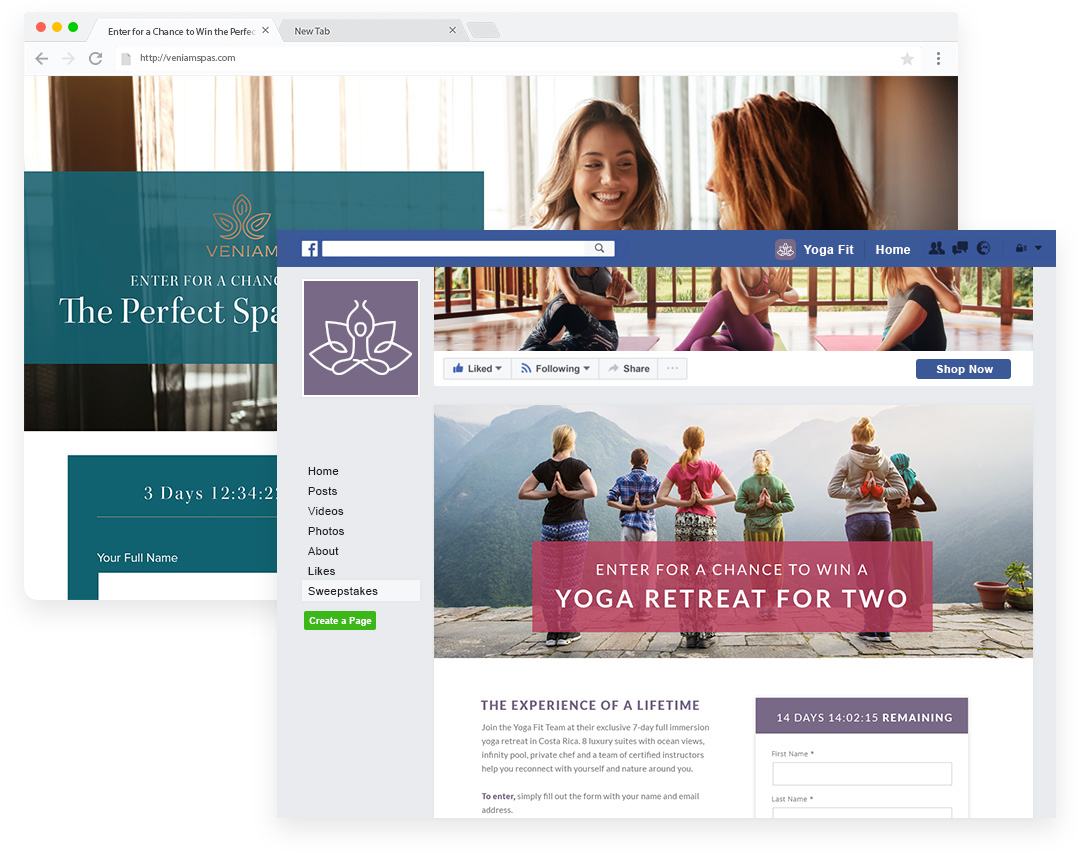 Strategies for How to run a Facebook Contest to Achieve Specific Goals
1. How to run a Facebook Contest to get New Emails and Leads
Every person who enters your Facebook contest gives you their email and contact details, making them a new lead to sell to.
To maximize new emails and leads you need to maximize entries. You can do this by making the barrier to entry as low as possible. Do this by asking only for an email in order to enter. Limiting your entry form to just one field will make it as fast and easy as possible to enter and maximize your lead generation.
2. How to Run a Facebook Contest to Grow Brand Awareness
Brand awareness is earned exposure for your brand and products through sharing by your fans.
Brand awareness metrics include how many people were forwarded an email about your brand from their friends, how many people saw a shared message about your brand, and how many people see when their friend Likes your brand's Facebook Page.
You maximize brand awareness by having more people share about your contest. The more people who share, the more people who will see a post about your contest, maximizing visibility for the contest and your brand.
The easiest way to grow brand awareness with a Facebook contest is through a bonus entry contest, which prompts entrants to share your campaign to earn additional entries. Although Facebook has curtailed incentivized sharing within the Facebook platform itself, you can still prompt people to share on other social media platforms or via email.
3. How to Run a Facebook Contest to Get User Generated Content
User generated content includes photo, videos and written recommendations by fans that mention your brand or products. It can be great content to use in your marketing as it gives social proof about the benefits of your products and standing of your brand.
Written recommendations are the easiest type of user generated content to obtain from fans. By including a simple text area in your contest's entry form, you make it easy for anybody to write in their content directly. Ask fans to write about how they use their products or why they like your products using an Essay Contest App to get great recommendations for your products and brand.
Photos are a bit harder to obtain than written content, but as just about every person now has a camera on their cell phone, its easy for any person to take a photo and submit it to enter your contest. The best types of photos include your brand or products – as these can be used in your marketing to show proof of customers using – and loving! – your products and brand.
4. How to Run a Facebook Contest to Keep Fans Engaged
Fan engagement is important to keep in mind as it shows how much your fans are thinking and talking about your brand. The more engaged they are, the more likely they are to purchase from you in the future. A regular schedule of monthly or bi-weekly contests is an easy way to keep fans engaged and coming back to your Facebook Page and website to see what's happening.
These contests don't require large prizes. Something small like a $25 gift card is a big enough prize to keep fans engaged and coming back for more. Wishpond client Diamond Candles has used this strategy to grow their Facebook fanbase to over 260,000 fans. Learn more about how they've used Facebook contests to their success in our Diamond Candles Case Study.
Final Thoughts & Related Reading
Hopefully this guide has given you a better understanding of how to run a Facebook contest or sweepstakes.
Are you looking to run a Facebook contest in the near future? Let me know in the comment section, as I'd love to give any help I can!
Related Reading:
james-scherer-2