How to Win at Restaurant Email Marketing: 5 Best Practices & 7 Ideas
Once upon a time (in the late 1990s to be exact), hearing "you've got mail" was exciting.
Today? We're in the era of email overload – receiving dozens, if not hundreds of emails a day.
As a restaurant owner or manager, your mission is to cut through the clutter. These 5 best practices and 7 content ideas for restaurant email marketing will have guests feeling the love – not pressing delete – when your emails arrive.
4 Key Benefits of Restaurant Email Marketing
Customers Prefer It
Give the people what they want. That's restaurant email marketing. According to a study by Marketing Sherpa], 72% of American adults say email is their preferred communication method for hearing from businesses. That tops snail mail (just 48%) and social media (just 17%).
Insane ROI: $44 for Every $1 Spent
Restaurant email marketing delivers serious bang for your buck: an impressive 44:1 return on investment according to Campaign Monitor.
Analytics and Tracking
When you use email marketing software (more on that in the next section), you get robust tracking tools that include data like:
How many people opened your email (known as open rate)
Which links were clicked on and at what percentage
What days or times of the week get the most opens/click-throughs
Reward and Loyalty Program Integration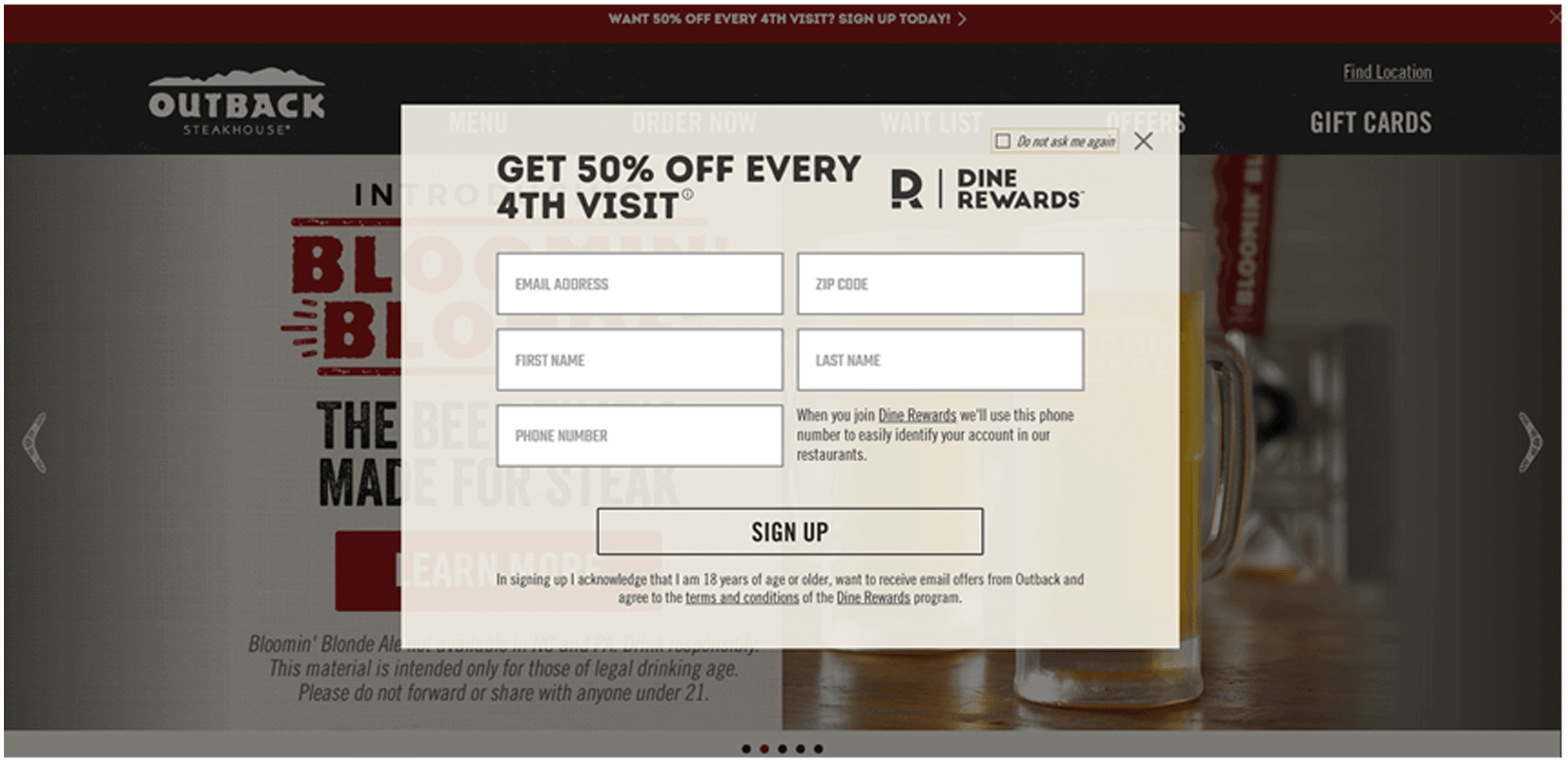 You can link your restaurant email marketing campaign with a loyalty program like California Pizza Kitchen and Outback Steakhouse. Haven't set up a loyalty program yet? Or need to update your existing one? Use these awesome tips for creating a great restaurant customer loyalty program.
5 Best Practices for Restaurant Email Marketing
This section will cover the five most important best practices you need to know to get the most from email marketing for your restaurant.
#1. Use an EMS
EMS stands for email marketing software, and it's a must if you want to win at restaurant email marketing.
Thinking about testing out EMS platforms?
Alongside social media contest pages, landing pages, marketing automation and customer management, Wishpond has an email platform perfect for restaurants. Learn more by talking to a representative (15 minutes, no obligation), today.
Looks Matter: In just a few clicks, an EMS lets you customize a template that features your logo and colors. No coding skills needed.

Mobile Friendly: Considering 53% of customers open emails on their smartphone, your restaurant email marketing should look good on a small screen. An EMS will format your text and images to "respond" to whatever size screen the guest views your email – whether it's a laptop, tablet, or phone. It's all automatic. Again…no coding needed.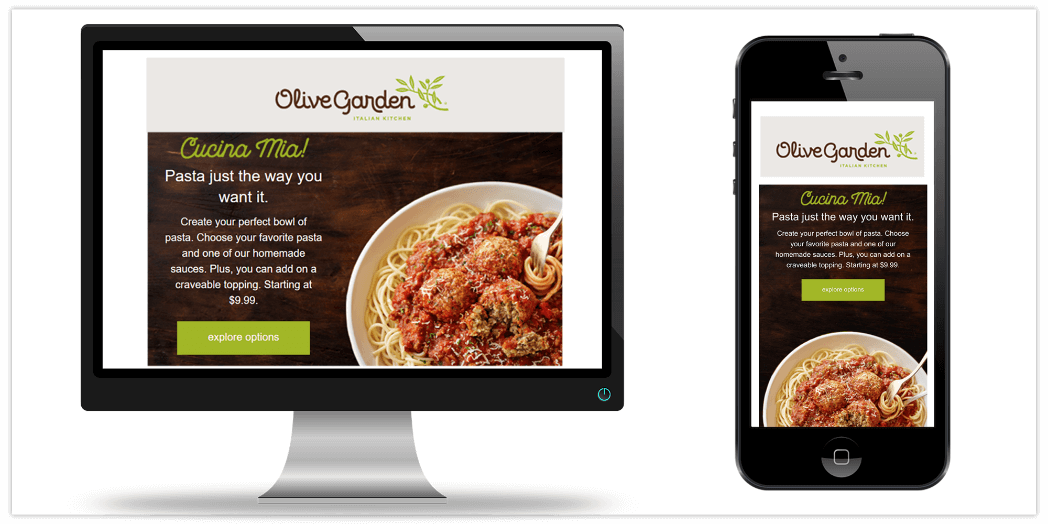 Testing, Testing…Easy as 1,2,3: An EMS (like Wishpond) lets you test your restaurant email marketing before officially hitting the send button. Plus, you can easily run an A/B test: comparing performance between different content and timing.

CAN-SPAM & GDPR Compliance: SPAM is bad. Whether it's canned meat, or unwanted restaurant email marketing. The CAN-SPAM Act protects customers from receiving emails they didn't ask for – or no longer want – among other unappetizing business practices. Violate the CAN-SPAM Act and you risk fines or being blacklisted from customer inboxes.
There are 7 golden rules to stay in CAN-SPAM compliance including never using deceptive subject lines, honoring opt-out requests promptly, and including your restaurant's location. An EMS helps you stay compliant.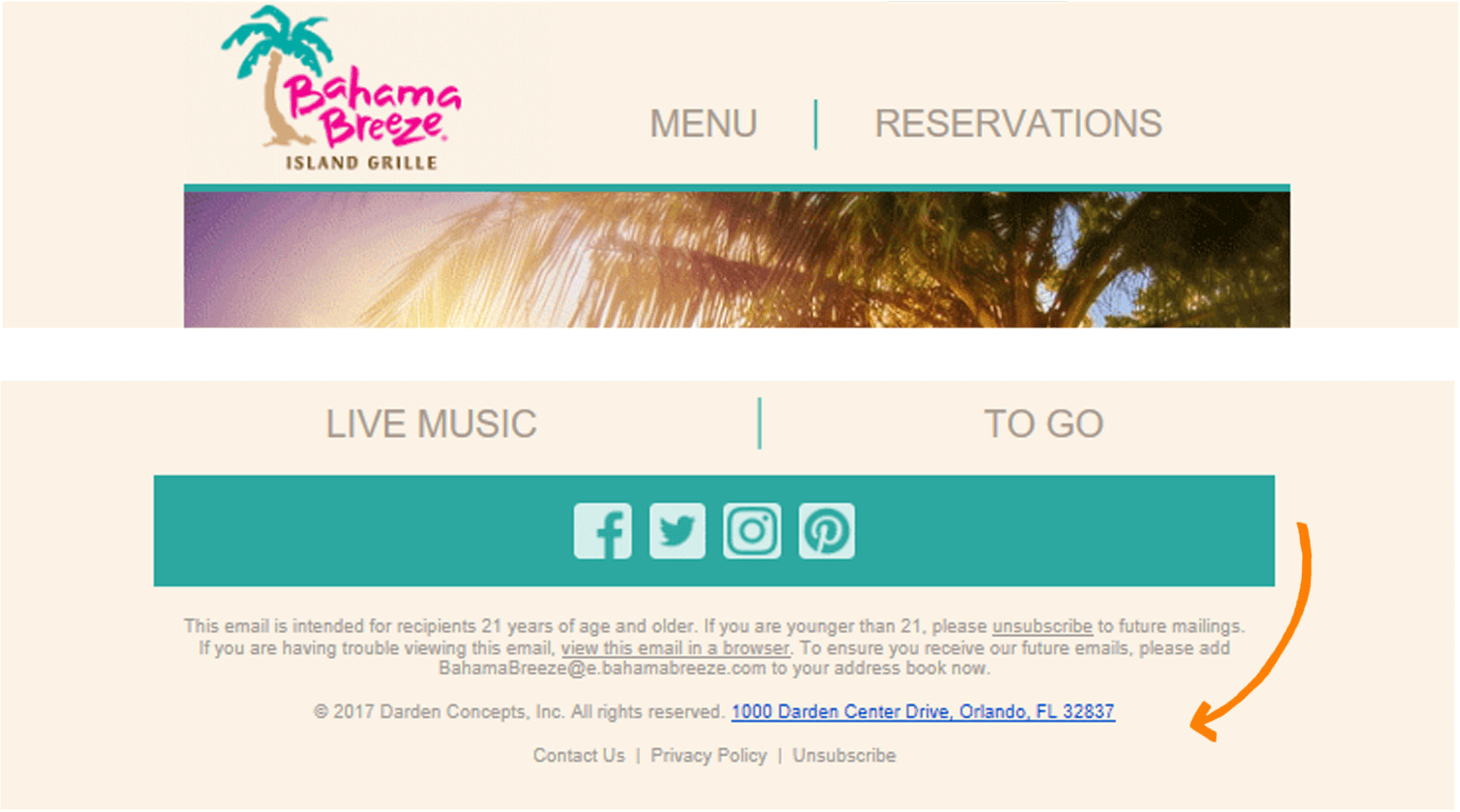 #2. Join the Automation Nation
An EMS can be your personal robot. Up your restaurant email marketing game – and save time – with automated emails.
For example, when someone subscribes to your email list, an EMS can "trigger" a welcome email within minutes: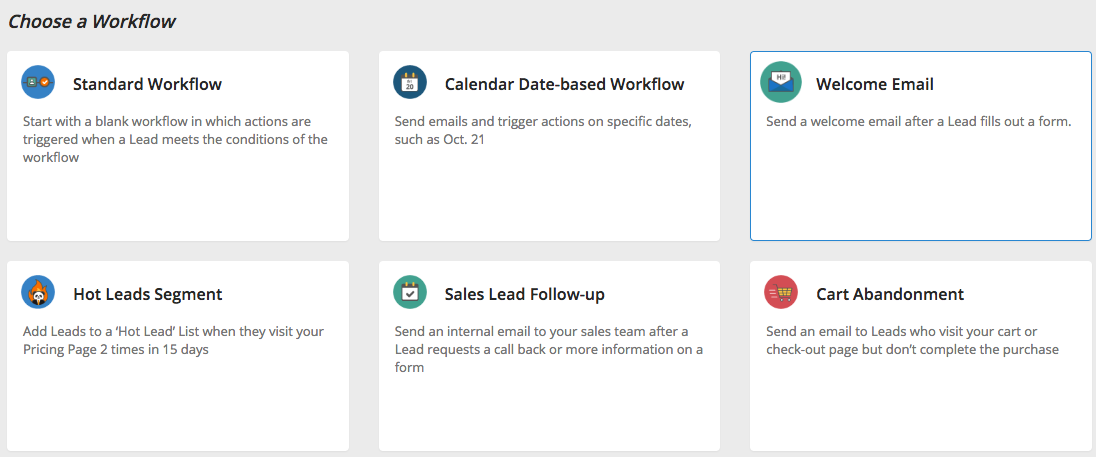 An EMS can also use variable data – like a subscriber's first name or birthday – to automatically send personalized restaurant email marketing. It's critical to gather that information when someone signs up.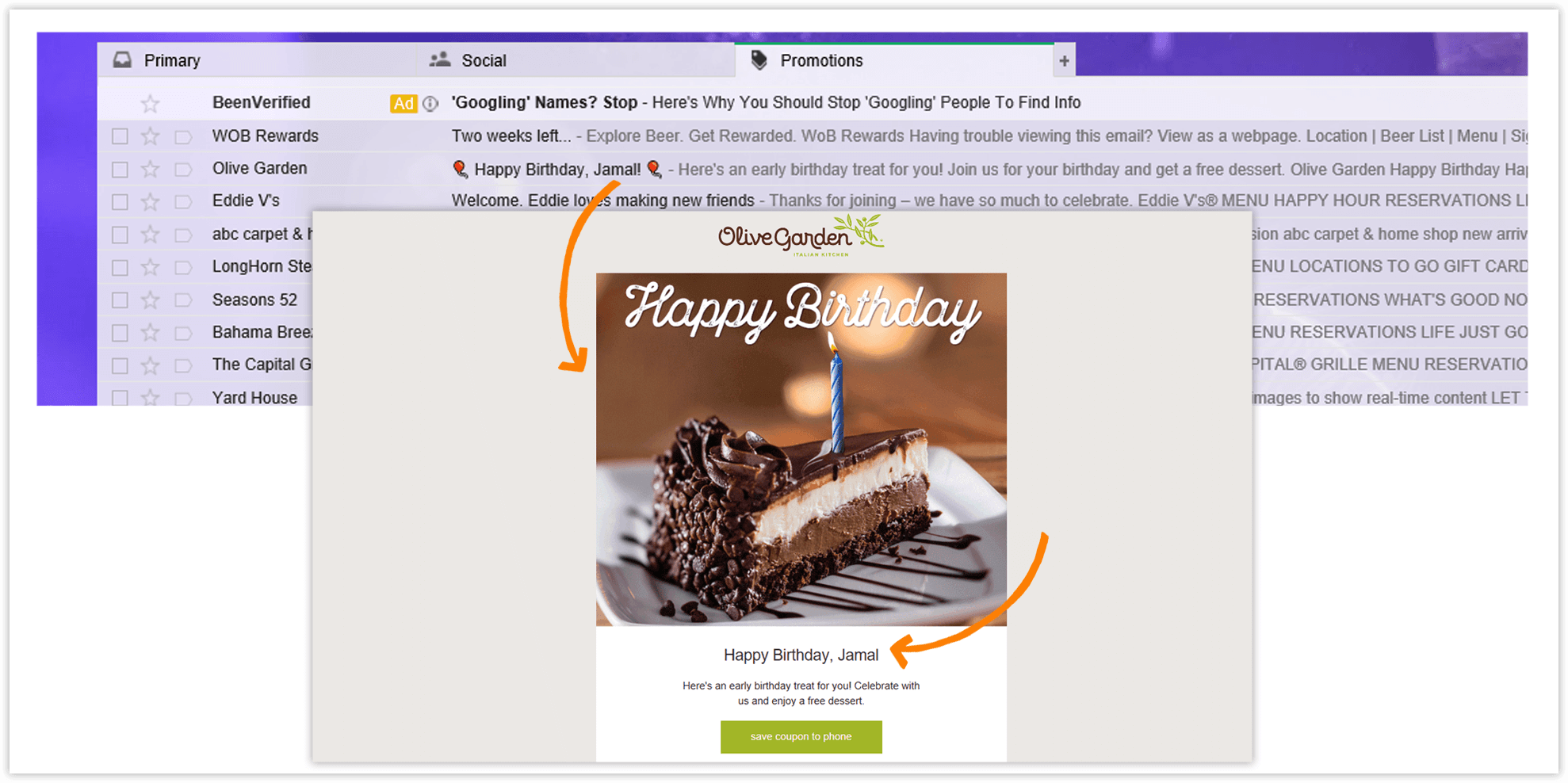 Automation can also grow your email list on autopilot. Using pop-up software like Poptin or SumoMe, you can ask every customer who visits your website if they'd like to receive your restaurant email marketing. This is also when you can grab that variable data.
#3. Be a Subject (Line) Matter Expert
Check out the subject line in that Olive Garden birthday email above. Not only is it personalized to Jamal, there are 2 emoji red balloons. EMS software lets you insert emojis into subject lines, which can boost the chances your email will be opened by as much as 65% according to Econsultancy.
Remember restaurant email marketing best practices here. Don't tell Jamal he won $1 million dollars so he opens the email. Not only will he hate you for lying, deceptive subject lines are a CAN-SPAM violation.
Instead, get creative with your restaurant email marketing when it comes to subject lines. There are no hard and fast rules, so experiment with A/B testing. Some studies show that questions drive open rates. Example: Jamal, wanna see your birthday surprise?
#4. Name Your Email Campaign
It's kinda uncool to just call your email a "newsletter." That's not exciting, is it? Brand your restaurant email marketing campaign with a clever name.
Here are a few examples:
Bahama Breeze Island Grille > Island Insider
Seasons 52 Fresh Grill > Fresh Intelligence
Eddie V's Prime Seafood > Friend of Eddie's
Uno Pizzeria > Insider's Club
Notice how these email names suggest exclusivity, inside information, and the latest news? Use those 3 tips to create a great name for your restaurant email marketing.
#5. Timing is Everything: Develop a Rhythm
You know that friend who doesn't call for months, then won't stop texting? Annoying. Customers feel the same way about inconsistent restaurant email marketing. Send emails on a predictable, comfortable schedule. This is called email cadence.
Today, 87% of customers prefer to receive restaurant email marketing messages at least monthly – and 63% want 'em at least weekly. For a happy medium, send 3-4 emails per month.
The time and day you send restaurant email marketing matters, too. One blogger researched data across 12 EMS companies to find that late mornings on Tuesdays and Thursdays are the best time to send emails. The worst day and time? Sunday afternoon.
7 Restaurant Email Marketing Content Ideas
This is the good stuff: 7 effective restaurant email marketing ideas just for you…
#1. Welcome Rewards (and a Friendly Reminder)
Research by Easy SMTP found that welcome emails generate 320% more revenue than any other type of promotional email.
Set your welcome email to be sent within 24 hours of guest signup. It reminds customers that they subscribed. This reduces the odds that they'll report your restaurant email marketing as SPAM.
Your welcome email sets the tone for future emails: be friendly and inject your brand's personality into the email.
#2. Include Allllll the Juicy Details
Send emails that look good enough to eat. Zero in on one high-margin menu item and sell it with sizzle: a beauty shot and detailed description.
Why? Cornell University research found that guests are 27% more likely to purchase menu items that are vividly described. The study also showed that guests will pay up to 10% more for these storied dishes.
#3. Party Like It's Your Birthday
Back to that birthday email. It's one of the top restaurant email marketing strategies. Why not take things up a notch and send the birthday email a week ahead of the guest's special day? Incentivize the guest to bring in a party of 8 or more for your birthday bash and throw in a complimentary cake as a reward.
#4. "Own" a Day of the Week
Remember, cadence matters when planning your restaurant email marketing strategy. You could "own" a day with a recurring email sent at the same time each week.
Tap into the hashtag trend on social media. It could be #WineWednesday where you spotlight a different wine. Other ideas? #WisdomWednesday: Share a fun fact about ingredients on your menu. #MotivationMonday: send an inspiring quote paired with a healthy-ish menu item.
#5. Right on Time: Flash Sales and LTOs
Ordered too much steak? (First world problems.) Send out a flash sale email like Pizzeria Uno. Bonus points if you use an animated GIF that actually flashes in the email.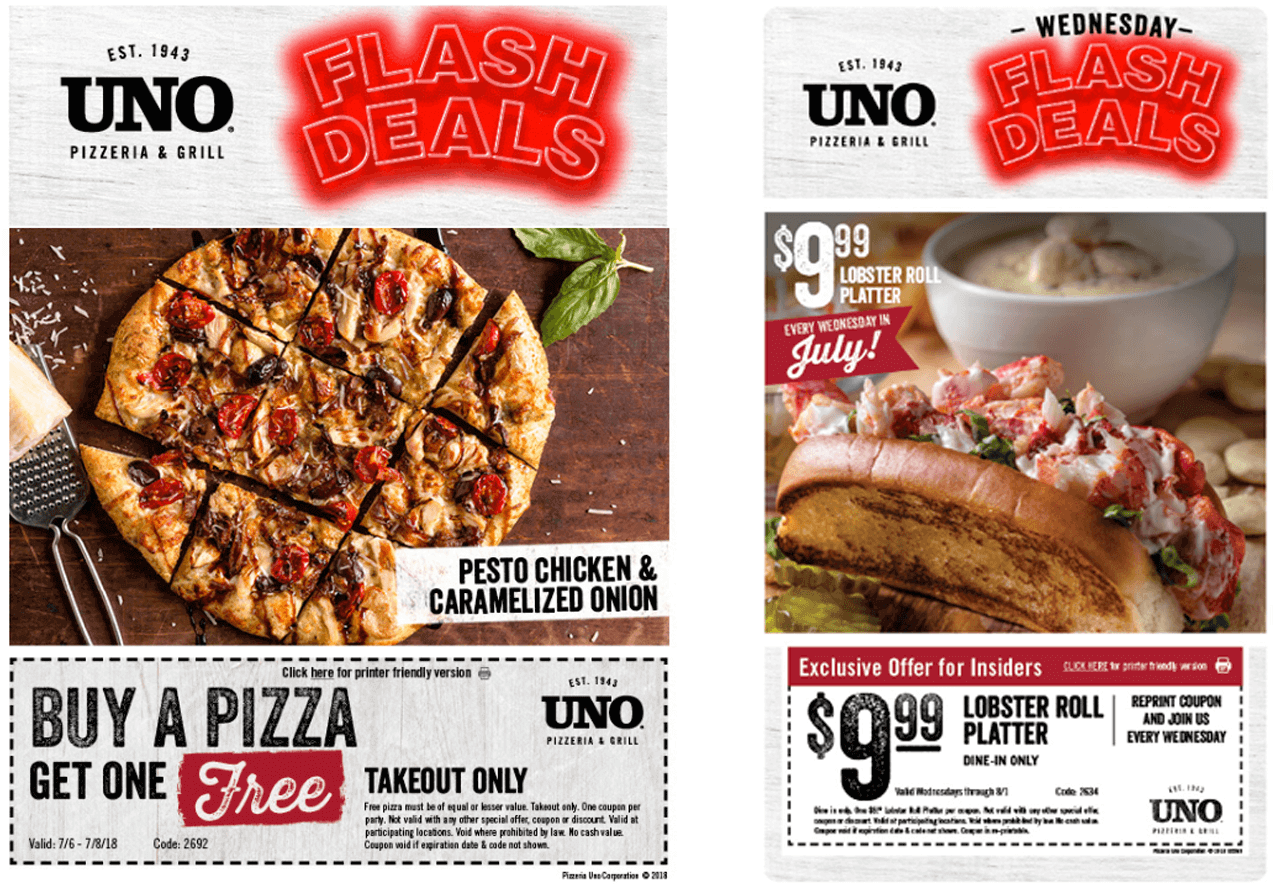 Don't think that digital coupons for limited time offers (LTOs) will cheapen your restaurant email marketing. A study by RetailMeNot found that 9 in 10 restaurant goers have used an online restaurant coupon in the last 3 months. And higher income individuals are the most likely to cash in on the coupons.
#6. Shine the Spotlight on Your Menu
Do you source local ingredients? (If not, use these 11 best sources for local ingredients.) Then, send restaurant email marketing that highlights in-season ingredients and fresh additions to your menu. If you partner with a local brewery, invite the brew master to share tasting notes in your email.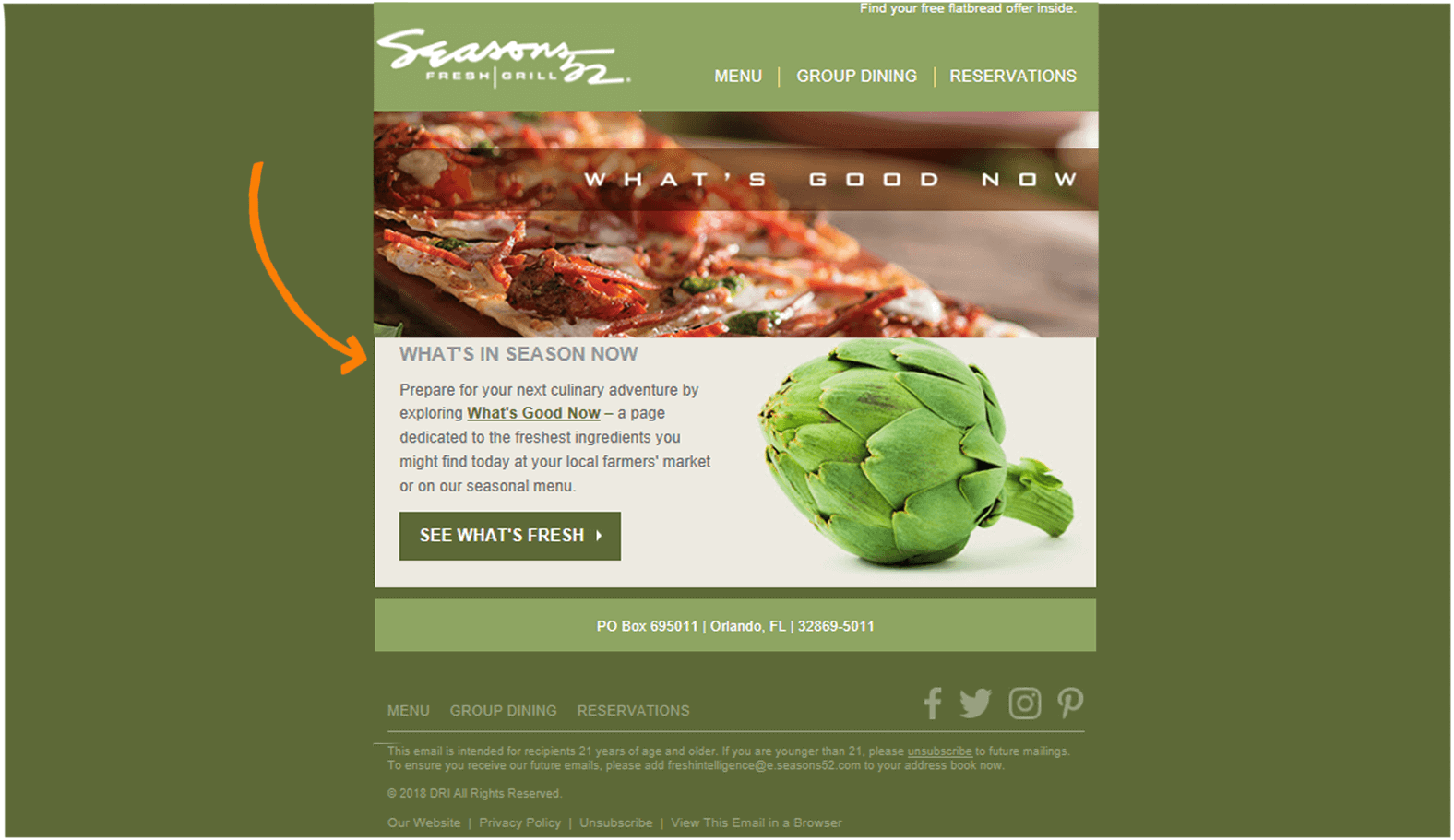 #7. Insider Access
Last but not least, good restaurant email marketing always provides value to the customer. Sometimes that means not selling a single thing. Show customers you have their best interest at heart by hooking them up with prep tips and insider chef secrets.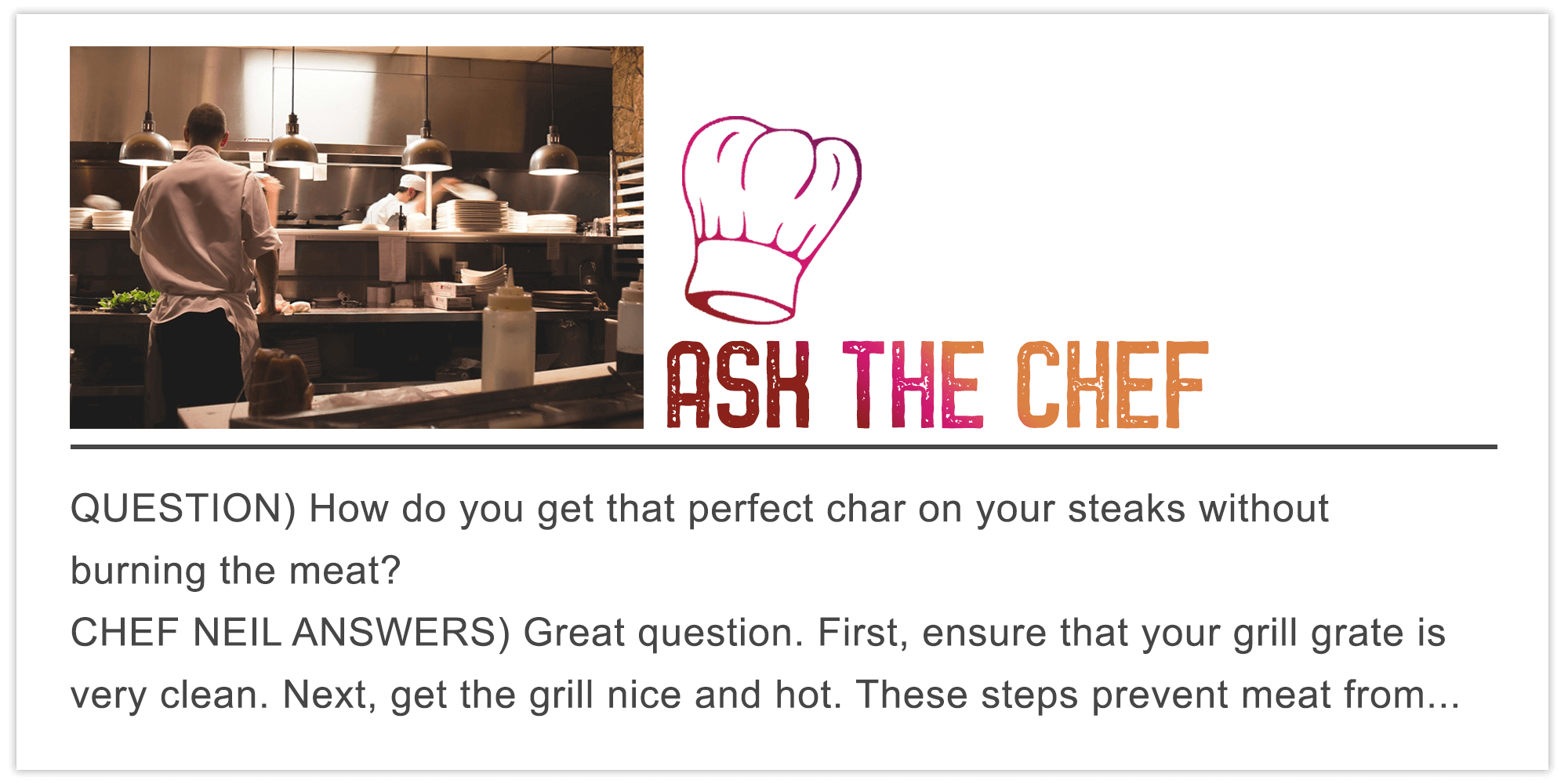 Now that you've got 5 best practices and 7 ideas for restaurant email marketing content, what are you waiting for? Sign up for email marketing software, and start sending awesome emails – that send guests through your doors.
About Author Buzztime has delivered on its mission statement for over three decades: bring the best in-venue entertainment to businesses – and the guests they serve. We achieve this by constantly evolving with new technology and integrating the latest trends into our in-demand products.