The Complete Guide to Creating an Online Course
Have you thought about creating online courses?
Are you wondering if there's a way you can create an online course without hiring a videographer, website developer and designer?
Online courses have, in the past few years, become one of the best ways for your business to attract prospective customers.
They're also an awesome way to make money, though this guide will focus on using courses for lead generation, and email to turn those leads into sales.
There are a number of reasons why online courses are awesome…
Online courses position you as an expert in your field. They're educational and (when they're free) feel altruistic.
They make your relationship with leads personal. People have seen you smile; they know your voice. You're no longer a faceless corporation.
It's incredibly easy to turn the conversation towards a sale: "You've seen how essential it is do [x] to succeed. If you want a super simple and affordable tool which helps you accomplish that, click below to get 20% off our software, exclusive to course registrants."
Once you set them up, they're evergreen. You can continually run "exclusive deals" for course registrants forever.
Do I Know What I'm Talking About?
It's a fair question. One you should be asking every writer claiming they can give you a walkthrough for how to do a marketing strategy. Luckily, I can back this one up.
I've been creating online courses for a few years now, and my most recent ("How to Create a Complete Marketing Campaign in Under 1 Hour") on Udemy has more than 11,000 registered students and 400 positive reviews: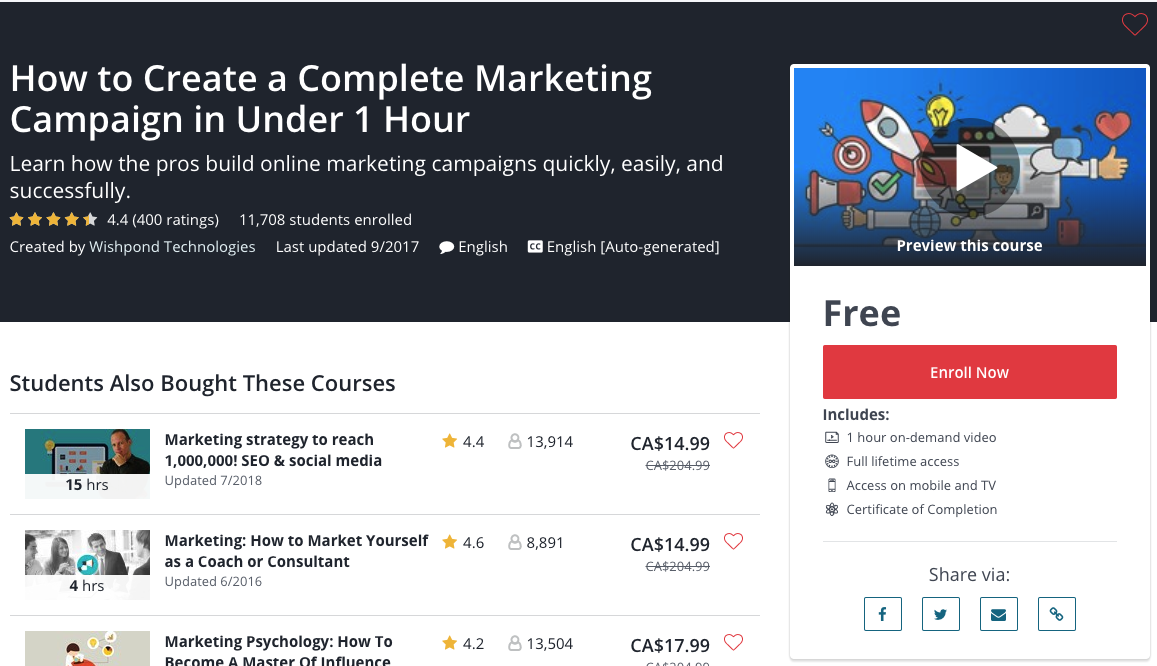 And if I created it, anyone can. So let's get rolling.
Tools You'll Need to Create an Online Course
Before we get started, there are a few pieces you'll need in order to quickly and successfully create an online course:
A camera (DSLR) and quiet room to record: If you live in a sizable city, check your local library. Often they'll have many different kinds of rooms you can book. Here in Vancouver, there's actually a studio with green screen, tripod and sound equipment you can use, totally free.
Audio equipment: I'll explain below why this is important below, but trust me when I say that you'll want to invest in a mic and mic shield. If you're going to be doing video, I recommend a lapel mic. For screen-capture online courses, webinars, and podcasting, I love a Blue Yeti.
Marketing campaign software: You'll need to host your courses on your website, and you'll also need a landing page which encourages people to enter/become a student. The software I'll use to do both of these things in this article is going to be Wishpond (perhaps unsurprisingly). It also allows me to create many of the promotional tools and send all the emails during and after the course.
Video editing software: Nothing fancy here. My recommendation is to either use Final Cut Pro (if you have Adobe Suite) or Camtasia if you don't.
A Facebook Ad account: We'll be using Facebook Ads to promote our online course, so you'll need to have an account set up. It takes about 5 minutes.
Step 1: Creating your Online Course Content
I can't tell you exactly how to create your online course per se (as everybody's industry, content and focus will be different), but I can share a couple elements you need to emphasize…
First and foremost is technical excellence.
That might sound like an odd part to focus on, but I'm not messing around. The difference between a professional online course and an amateur one is audio and video.
I'm not going to embed a bad video here, as I think most of my readers will know exactly what I'm talking about. Those horrible corporate videos with the CEO who should never have come out from behind his desk and the audio which sounds like it's from 1998, despite the fact that the date says 2018?
Sure, the content is important. Your originality, insight and expertise are a major part of why someone would care to buy or provide lead information to get your course. But that goes without saying. What doesn't is how incredibly important it is for you to offer something which feels, sounds, and looks professional.
Secondly is the need to tie your content to your product or service.
There's no point in getting a single online course subscriber if you don't have a strategy for how you're going to convert that person to a sale.
My recommendation is to incorporate selling into the course itself, as well as having a promotional discount/offer ready and waiting for your subscribers and students.
For instance, the course I screenshotted above is a walkthrough of creating a marketing campaign in under 1 hour. It's also a walkthrough of how to do that exact thing using Wishpond's marketing campaign software.
In the introduction and first video, I say something like the following:
"You can, of course, use whatever marketing software you care to use. For the purposes of this video, though, I'll be using Wishpond's easy-to-use marketing tools, because no other platform offers me everything I need to do this from a single place.

If you want to follow along with me while I create this marketing campaign, which I'll be doing in real time, you can head to wishpond.com, sign up for a free account, and get started immediately."
I also provide a link to a discounted (20% off) lifetime subscription of Wishpond, exclusive to my course's students. I provide that link several times throughout the videos as well as in the "Welcome" emails and follow-up emails.
This is essential for you to get a positive ROI from your online course. They're time-consuming to create, and require serious promotion and energy. Be sure you get what you pay for by incorporating a sales aspect.
Step 2: Creating your Online Course Landing Page
Once you have your course, whether it's 3 videos or 10, you need to direct people to a landing page devoted to getting people to sign up for that course.
Click below to see the example I created in about half an hour using Wishpond's landing page templates:
The Essential Elements of an Online Course Landing Page
A unique selling proposition: Be sure to make it clear (ideally, in the landing page headline and subheadline) what makes your online course different from others. What are you offering which nobody else is? In the case of my course there are three elements: 1) "Secrets" communicates things you haven't heard before. 2)"7-Figure" communicates proven results and 3)"For 20 Years" communicates experience. All of these elements communicate value it may be hard to get anywhere else.
Dollar value: Even if you're not charging a dime for your course (as is the case with this example) make the dollar value clear. Then, when you don't charge a cent (or give a significant discount, as you should every time) people have an understanding of the benefit.
Multiple call-to-actions: Online course landing pages are, generally, long. There's a to to communicate. That's why you need more than one top call to action button. After each section (or every two, if you're going really long) have a CTA button which links back up to the top form or conversion button.
Course breakdown or "What You'll Learn" section: You need to tell people exactly what they're going to learn in your course. Make this language value-oriented and break it into the curriculum/course schedule you'll deliver to them.
A resume or "Why I'm Worth Listening To" section: More than any other type of content, online courses are about the teacher. Why are you worth listening to? Why are your words worth buying? I did a bit of this in the subheadline, but an entire section (which also introduces me and adds personality) devoted to my resume, is an essential part of selling my expertise.
Testimonials: When it comes to the value of you, you are, by definition, biased. You're not exactly trustworthy when telling people to pay you or submit lead information. Instead, provide testimonials from satisfied past students. If you have never had a course before, just keep this in mind for your next one.
Want to see my landing page live?
To view this course landing page live, Click here. Just remember it's an example and there's no real course attached.
Step 3: Creating your Online Course Thank You Page
Once your online course's landing page is set up, you need to figure out the experience for once people convert on that landing page.
That's where a Thank You page comes in. Within Wishpond's landing page editor, the Thank You page is built right into the process, and both pages can be created and edited at the same time.
My recommendation for your Thank You page is to include a 2 to 3-minute introductory video welcoming registrants to your online course. It shows your face, starts a relationship (which will increase their trust in you and your open-rates down the line), and also allows you to quickly and easily communicate whatever they need to know about how your course will be delivered and what they're going to learn.
What should be in your introductory video:
An enthusiastic welcome and thank you
A showcase of the quality people should expect from your courses
An introduction to your promotion (the thing that gets your course registrants to buy from you down the line)
A breakdown of how you'll deliver the courses: the frequency, format, etc
A breakdown of the subject matter
Here's the Thank You page for the course landing page I created as an example: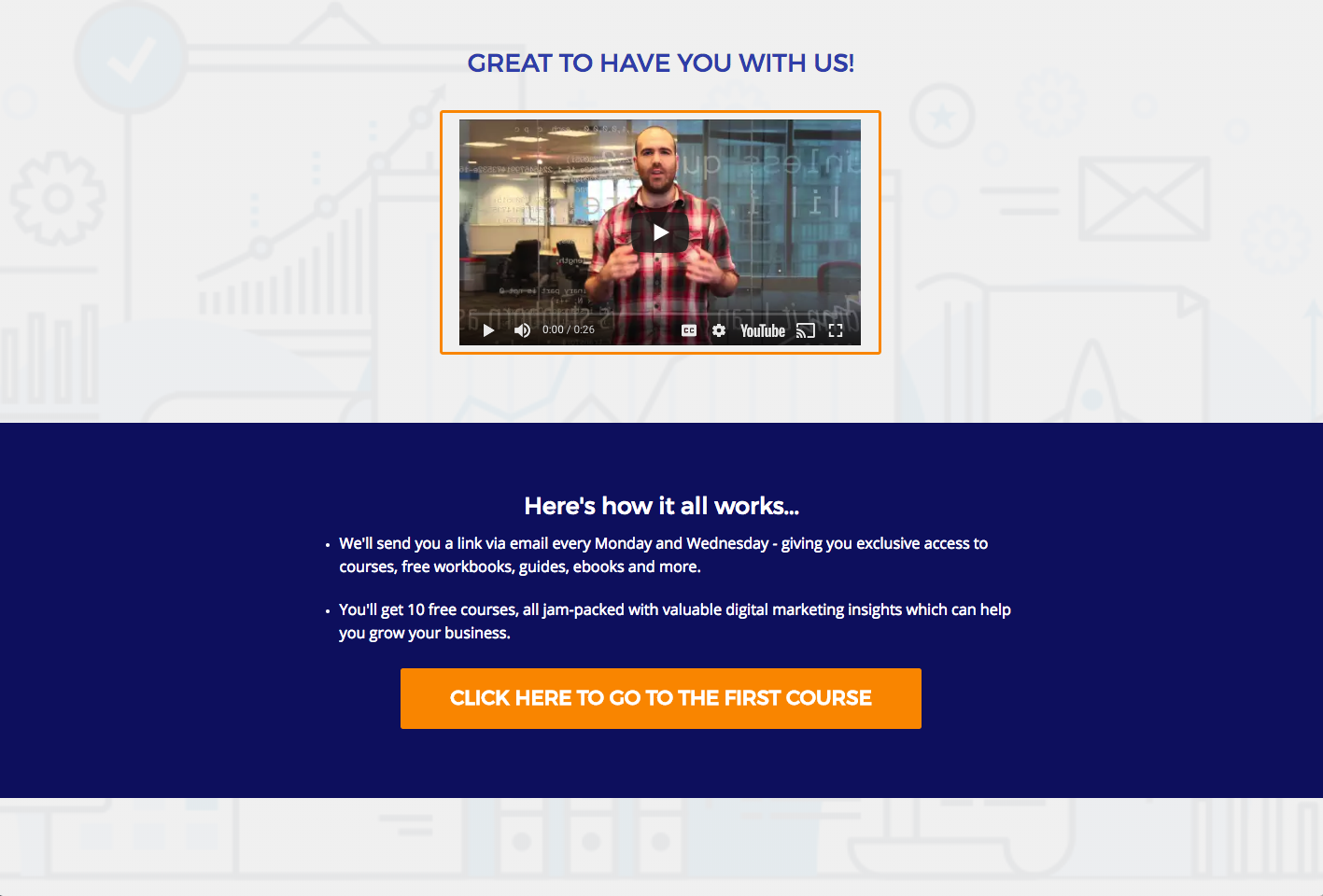 Notice this Thank You page also has a link to the first course. This is optional, but will likely increase email open rates down the line (as you've delivered something immediately after their conversion, and proven your legitimacy immediately).
Even if you include this first course as a link in the Thank You page, I also recommend you send it in your first "Thank you for registering!" auto-responder email, for all the reasons above.
Step 4: Creating your Online Course Hosting Pages
You'll need individual landing pages for each of video which makes up your course, especially because you'll be sending an individual email to your students/registrants.
You'll want to use the landing page model because this page should have a primary focus (and it's not getting people to watch the course): conversion on your promotion.
Here's an example of an online course hosting page I created using Wishpond:
You'll notice that this course page absolutely does feature the workshop/course video (the one I have above is a placeholder) and the related reading associated with the course, but it also has a big orange call-to-action…
READY TO PUT THE LESSONS INTO ACTION? CLICK HERE TO GET STARTED
Remember that the focus of your free online course is to get people to convert on a paid service or platform.
Create a course hosting page which focuses on delivering value, but also on delivering sales for your business.
Step 5: Promoting your Online Course
There are two primary ways to promote your online course:
Send an email campaign
Create a Facebook Ads campaign.
We'll go through both.
Email Campaign
The easiest way to promote your course is via email, to your existing users.
Now, you say, "Why would I send a marketing campaign designed to get new customers to my existing customers?"
To which I say this: Your existing customers can be the best source for new customers in the world, if you know what you're doing.
Your existing customers are friends with people like them. That means that your customers know a lot of people who may be interested in buying the thing they already like. And they're far more trusted ambassadors of your business than you could ever be.
Essentially, you need to incentivize your existing users to refer their friends and networks to sign up for your online course.
The primary way to do this is with a bonus entry contest.
These work by prompting entrants to earn additional changes to win when they complete an action. In the case of your online course, that action would be sharing or referring their friends and network.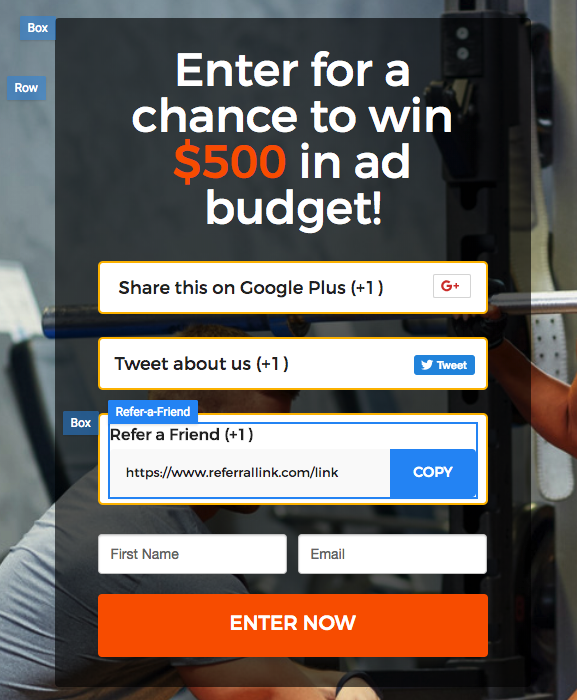 Here's how it works:
Step 1: Send your existing email list an email discussing your new course and how awesome it is.
Step 2: Duplicate your course landing page, and add a bonus entry element alongside a related prize (like ad budget, consulting time, etc).
Step 3: Link this new, subscriber-exclusive, landing page within the email you send your subscribers.
Step 4: Send an automated follow-up email for everyone who subscribes on this subscriber-exclusive contest, thanking them for entering and reminding them that they have a better chance to win if they share with their network.
Facebook Ad Campaign
Facebook is the single largest group of prospective customers in the world. They're just sitting there, telling the world their every defining characteristic, waiting for you to use those defining characteristics to offer them something they're interested in.
Like your online course.
And the best way to reach them, hands down, is with Facebook Ads. They offer the most affordable way to put your business, and your online course, in front of people likely to be interested in it.
Consider that very few people are searching for online courses, and (as an inbound marketing strategy) the rate of registration to paid conversion will be pretty low, so Google Ads are out.
Facebook Ads, on the other hand, are significantly cheaper and enable you to put your course in front of your target market.
Here's how you do it…
Create your Facebook Ad image: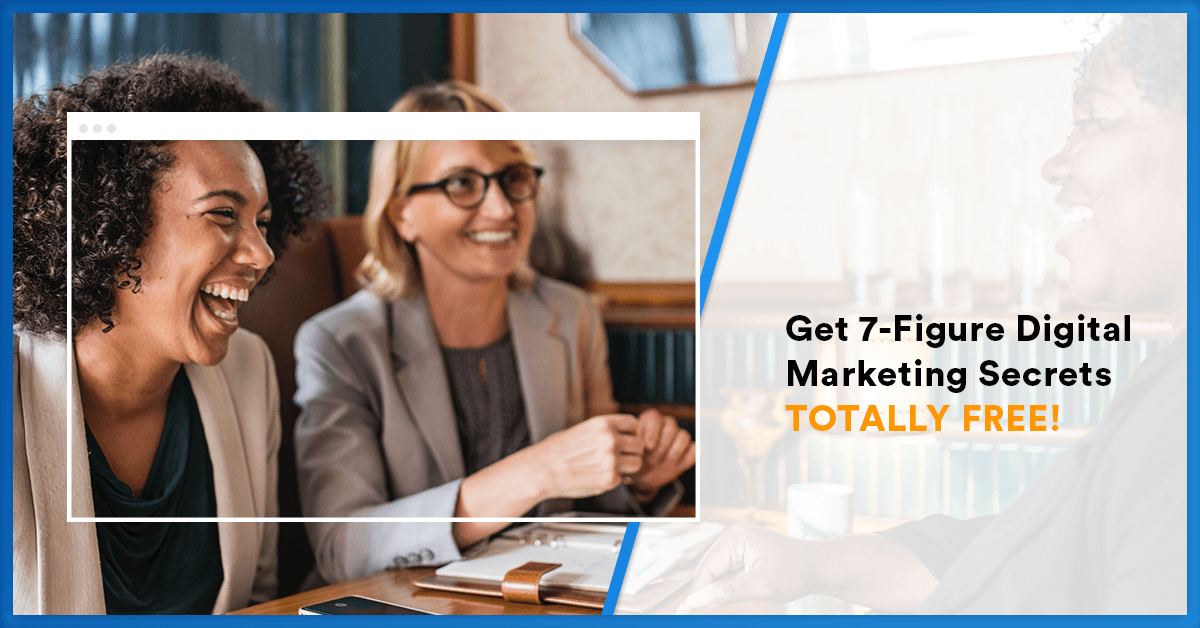 Don't have Photoshop or design expertise?
Feel free to use this Google Drawing template to create your next Facebook Ad image. To start editing, just click "File" and "Make a Copy" to create your own version.
Determine how to target your Facebook Ad: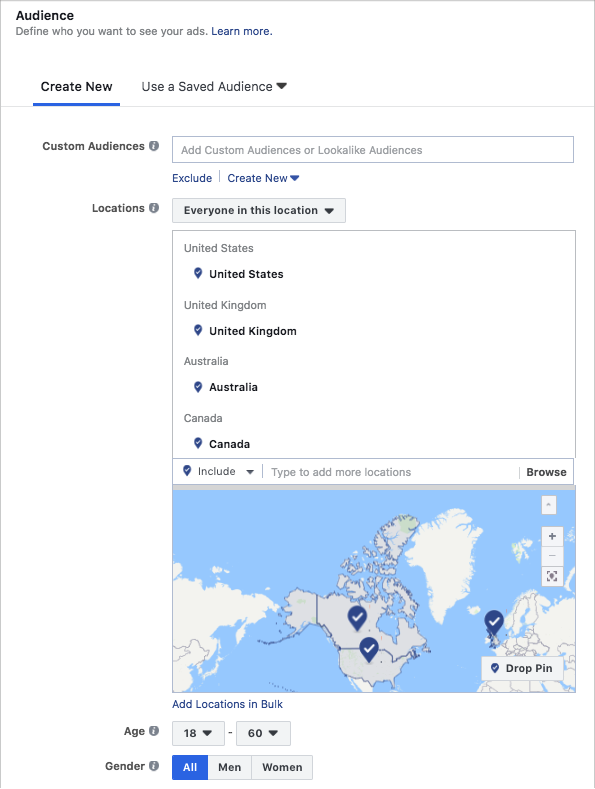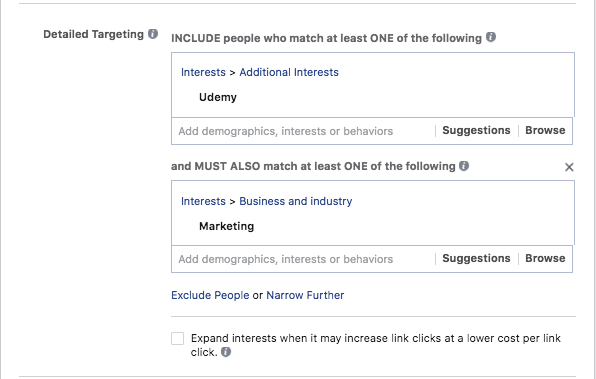 Write your Facebook Ad copy: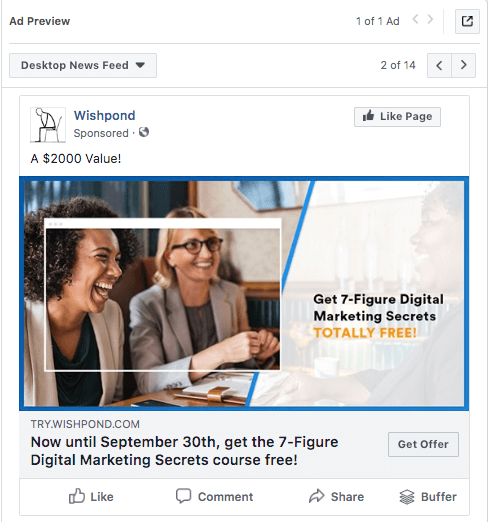 Top Tip:
When it comes to budgeting for your ad, it's entirely up to your business. My recommendation would be to start out with a high budget, simply to drive a bunch of students. Determine how effective your online course is at turning students into customers (the return on your investment) then optimize both the budget and the strategy you have for converting registrants.
To learn more about how you can optimize your ads, Speak to an ad expert for free today.
Step 6: Turn Online Course Registrants into Customers with a Promotion
Once your course has registrants, and people are going through your videos, you need a way to turn those registrants and students into customers.

I've alluded to this the entire article, but here's where we get into it: the parallel promotion.

Essentially, you offer an exclusive discount to course registrants - a discount for a service or product directly related to your course. This promotion would be what I'm promoting in each one of my course landing pages (step 4 above).

PRO TIP: Now you have done everything you need to get started and succeed with your online course. To elevate your course content or the entire learning experience, ask for the course feedback.. It will help you understand what is good and what needs to be improved from a student's perspective. Optimizing your course depending on students preferences will help you get the best results in terms of ROI and subscriptions.

It might look like this: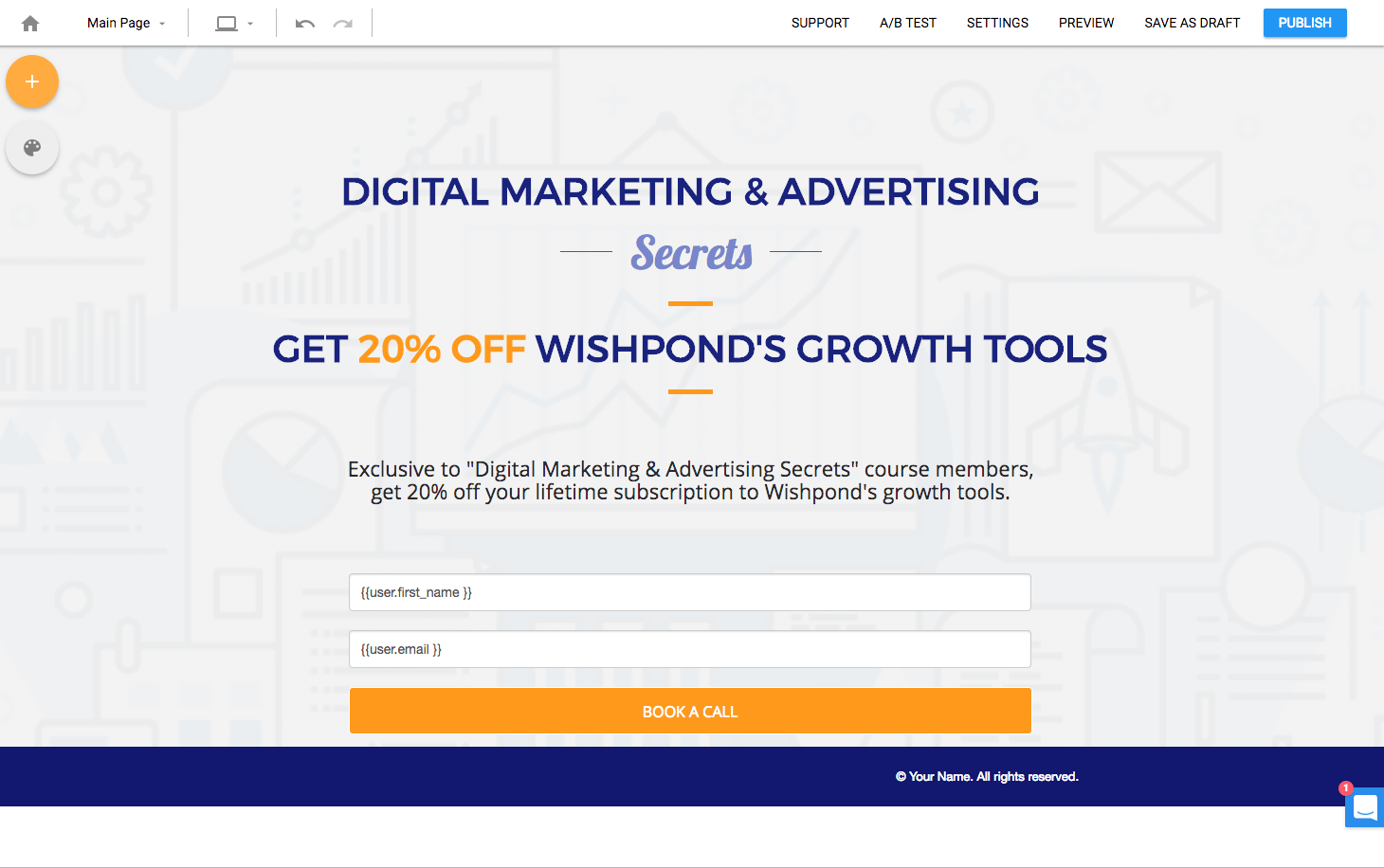 This promotion should be promoted in every one of your follow-up emails as well as each individual course video page.
Then, after you've sent your last email and your course registrants have gone through the entire thing, create an email drip campaign which focuses on the exclusive discount they can receive.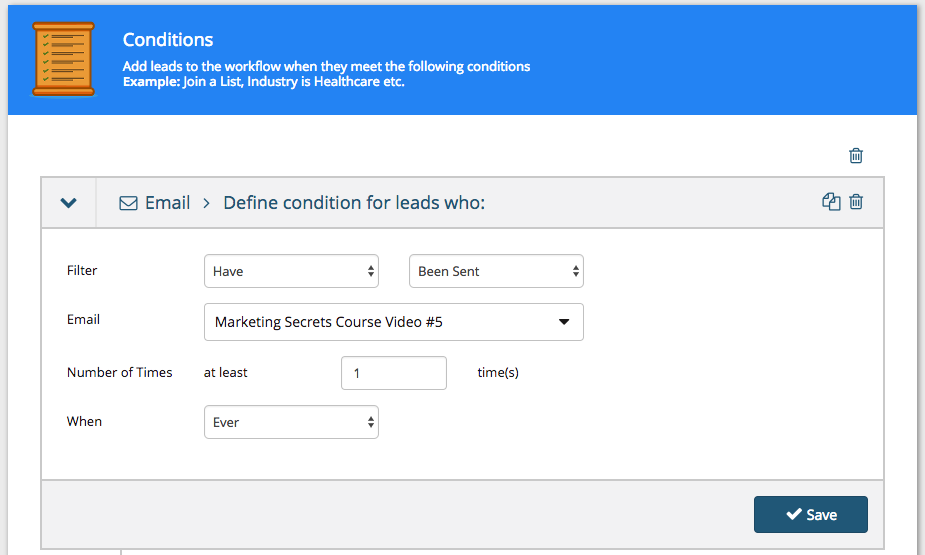 Make this discount not just exclusive to your course registrants, but also available for a limited time.
Because you already have the contact information for your registrants, you can do something really cool with this promotion page: auto-fill the form with dynamic text replacement.
It might sound complicated, but it's actually super easy, and super powerful when it comes to increasing your promotion's conversion rates.
In the "email" field of your form, select "Field Text," "Default Entry" and the label icon (dynamic text replacement):

Then, select "Lead Properties" and the "Email" lead property: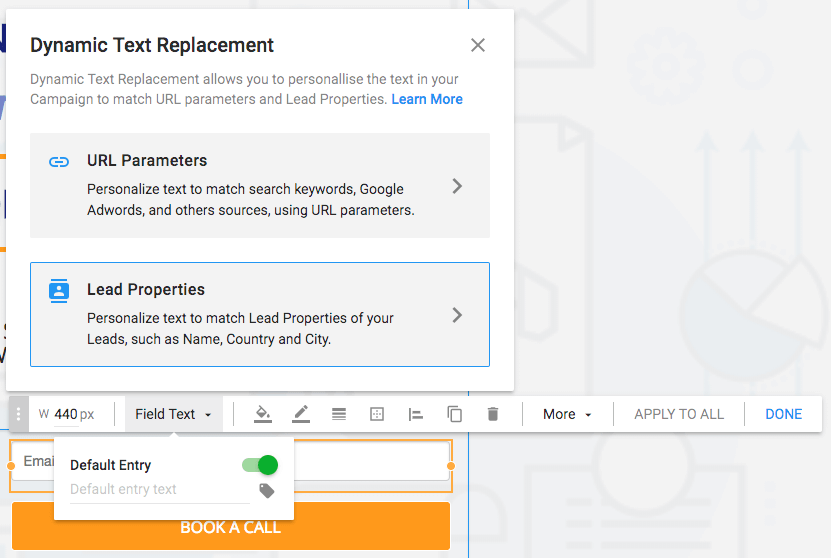 Check that it's found the lead property, and click "Generate Dynamic Text:"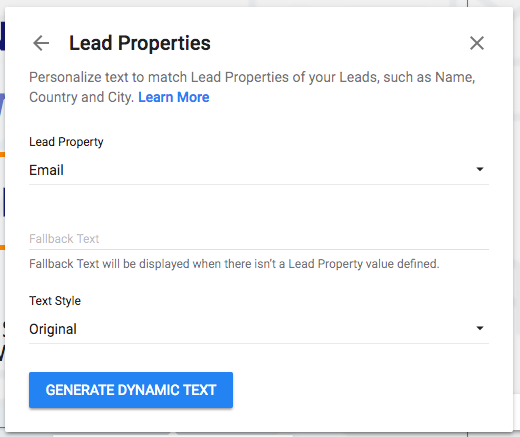 Now, when someone arrives on your promotion page from an email you've sent all your registrants, their email address (and their name, and any other lead information you already have) will pre-populate that field, meaning they don't have to do anything on the page except click that call-to-action button.
A course-exclusive promotion is, hands-down, the best way to turn your students and registrants into paying customers.
Final Thoughts
Hopefully this monster guide has given you a solid foundation from which to create your first (or first successful) online course.
Remember to focus on the tangential things (technical excellence, a solid strategy for converting students, etc) alongside the quality of your content. It's just as important.
If you have any questions about creating online courses from scratch, don't hesitate to reach out below. I'd love to help you find success!
Related Reading: