The Honest Guide to Ecommerce Blogging
You want to drive more people to your ecommerce site. You want those people to buy from you, and then you want them to come back and do it again.
So you're doing ads, and outreach, and social media and all the rest. What's next?
Why not blogging?
Can it work, though? Can an ecommerce business actually get a positive return from a business blog?
As a big believer in blogging as a great way to grow a business, I wanted to believe. But I needed to find some proof. I needed to find an ecommerce company doing it.
Now, I am not a trendy person. I wasn't sure which hot new ecommerce companies was blowing up right now.
Luckily, my colleague Carlo is trendy as hell. He's about 8 years younger than me, has a haircut I don't understand, and sometimes calls me "fam."
???
So I asked him "what's an ecommerce company you love?"
His answer? Harry's. So I checked them out.
Harry's is an ecommerce shaving company founded in 2013 and described by FastCompany as "A hip, digitally native millennial razor brand."
Forbes described them as the "Cool, new, hot shave company out to disrupt all the big boys."
And their blog is awesome.
This post takes an honest look at how your ecommerce business can get the most out of a business blog, by looking at one who is.
Introduction to Ecommerce Blogging
Before I dive into Harry's content strategy, I need to talk briefly about what makes a successful ecommerce blog.
One of my favorite marketing bloggers out there, Amy Hoy, wrote the following in her recent article, "Does your Content Suck?"
There's a difference between 'great' (an innate quality) and "successful" (an award won when goals are met). You can write the most beautifully perfect essays in the history of the world, but if nobody signs up at the end — or worse, nobody reads them — then your content may be great, but it's not successful.

If you do want clicks… traffic… shares… signups… and (gasp) (dare I say it?) SALES…

You can herniate your forebrain trying to be epic! or viral! or ~AuTHENtIC~ and… it still might not work.

Because that's not why content succeeds. Those are adjectives, not traits you can check off and say 'Yes, my infographic does this' or 'Yes, this screencast does that.'

Weird fact: Your content can be somewhat less than 'great' and still be successful."
In short, unless your ecommerce blog is achieving your goals, it's not successful. No matter how much you love writing the articles. No matter how beautiful it is or how that one reader wrote "love this!" in the comments.
Success is all that matters. You're a business, after all. Trying to make a buck.
Now, those goals don't have to be sales (though blogging can drive sales, so why not let it…?). They could be…
Visitors, plain and simple. You want awareness, readership, views on your brand name. Blogging can help you get there.
Brand identity. You want to build a community around your awesome brand. You want to stand for something, and attract people and customers to join your tribe.
Authority. You want to be the go-to authority on your subject. When someone thinks "How should I dress for a hipster funeral?" You want to be the person (and brand) they think of to find the answer.
Publish Content That Your Target Market Cares About
What does your target market care about?
For SaaS and marketing companies like ours, it's simple. People want to learn how to grow their businesses. Provided we give them blog articles which make that easier, we give them value.
For ecommerce, it's can a bit trickier. That said, it's more common for an ecommerce business marketer to be their target market. If you started a business selling online, it's likely you love the thing you're selling.
So, why do you prefer your own product other a competitor's? Why do you need what you sell?
And then, from a blogging standpoint, what are you interested in as an individual?
That's always the best place to start: write on the things you care about, and become an expert on those things.
To become authorities on subject matter their target market was interested in, Harry's co-founders Jeff Raider and Andy Katz-Mayfield went straight to the experts…
"We went and got shaves with barbers. And we started asking, 'How are you shaving my face? Why do I have bumps here? Why is my Gillette razor giving me irritation? How do I think about this?' They started asking me how I shaved.

We actually built a barber shop for that reason. We wanted to be an authority for guys on how best to do this. And we felt like in order to do this we had to have the authority, which are barbers."
This understanding informed not just the products they ended up selling, but their blog content as well.
On a regular basis, now, they publish interviews and conversations with barbers from around the US: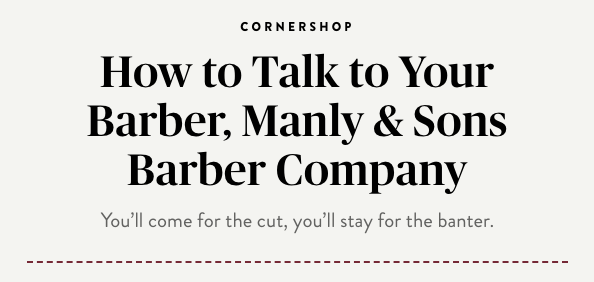 They have a bunch of other blogging topics, all dedicated to "what their target market cares about."
For instance, "How to Win BBQ Season":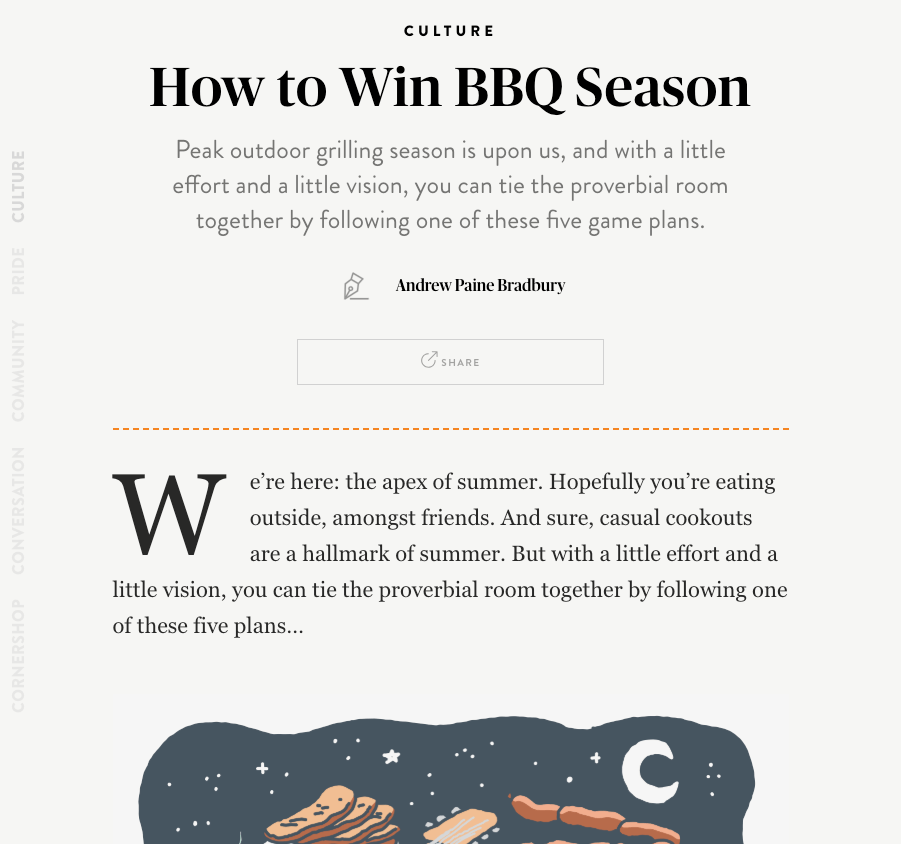 A few more examples of titles their target market finds interesting: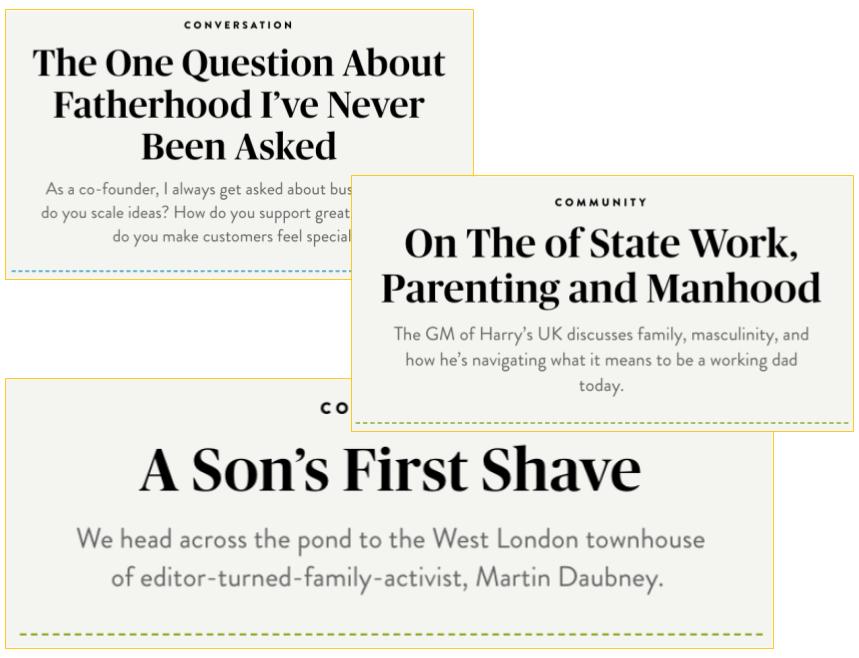 And this example's one of the coolest I've seen in a while: Spotify playlists designed for their target market, released once every couple months: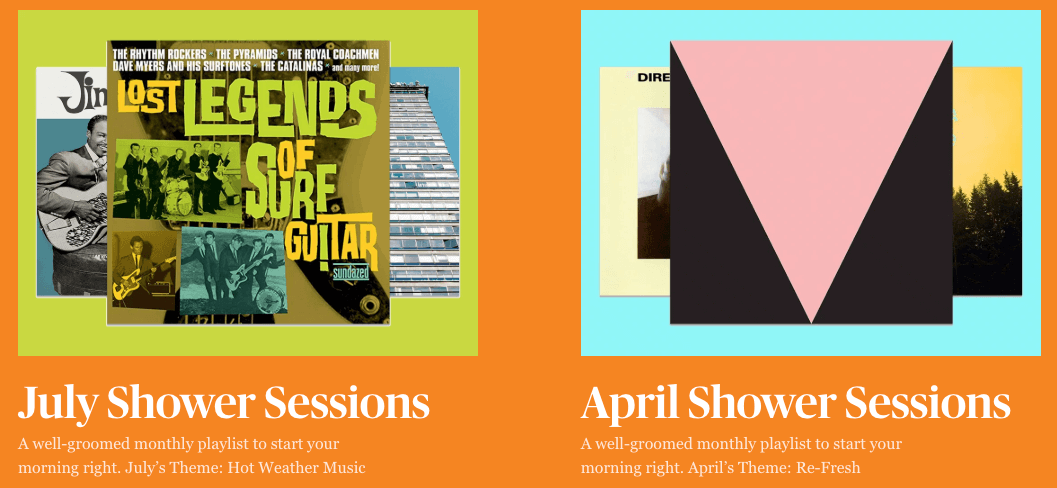 Publish Content That Shows Your Brand Identity & Values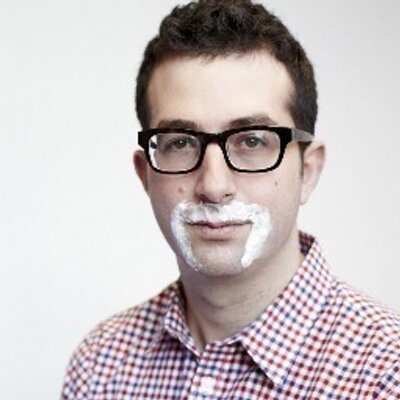 In an interview with Forbes, Harry's cofounder Jeff Raider said he wanted Harry's to be "a brand that's there for [the consumer] - that wants to have honest conversations about what it is like to be a guy and how to take care of yourself. And we felt that that was something that we wanted, and lots of guys felt the same way."
He went on to clarify:
"So first is quality, you have to convince somebody [...] that you can deliver to them a high-quality product.

The second then is a brand that feels different. And I think as we thought about the existing brands in shaving they felt a little bit cold to us, a little bit perfect… So we felt like we could be a little bit warmer. A little bit more real.

The brand has to stand for something that's different than what exists in the world."
Harry's then, has done two things with their ecommerce blog.
The first is pretty common:
#1. Employee profiles:

Employee profiles serve to introduce your business as more than a faceless corporation. By talking to your employees (start at the top, by the way) you show that you are just like your target market. You know what it's like to be them, and are selling products based on their needs (because those needs are your own).
Here's another example, which isn't a profile, but instead a blog post written by Harry's cofounder: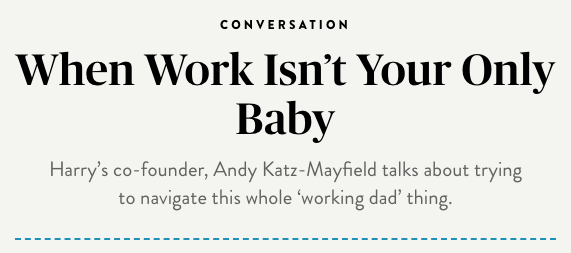 This blog article, like the profile above, introduces people to your employees (and brand) as individuals - especially if it's a piece written by your upper management.
The second type of "Brand Identity" blog article is significantly less common than the first:
#2. Standing for something political and controversial.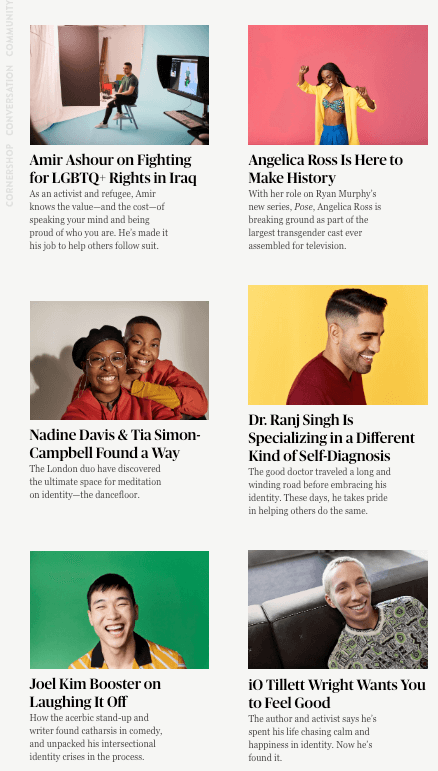 Harry's, a men's shaving company, is challenging "what it means to be a man." Their recent LGBTQ-focused blog content, interviews and profiles may feel like a step away from the traditional ecommerce blogging milieu, but standing for something is quickly becoming a winning strategy for businesses.
"Standing for something" automatically puts you apart from your competitors. It's also an amazing way to introduce yourself into a niche market - people will support your business simply because they support what you support.
Equally, of course, you'll lose the people who don't support what you support. But that's math (and morality) you need to do yourself.
Content that sells your products
You might be thinking, after those first two sections, that an ecommerce blog is nothing more than a branch of PR with some better visuals.
You couldn't be more wrong.
Let's get you some sales from this thing.
There are two things you need to do to get sales from your blog visitors:
1. Create Blog Articles Which are Both Educational and Sales-Oriented:
Your blog articles show your authority (especially if you've done your research, as I mentioned above).
You're the expert here. So when someone types "How do I?" or "What should I?" into Google, and your article pops up, the thing you recommend can be trusted.
Here's an example of an educational blog article discussing post-shave best practices, which just happens to mention a Harry's product: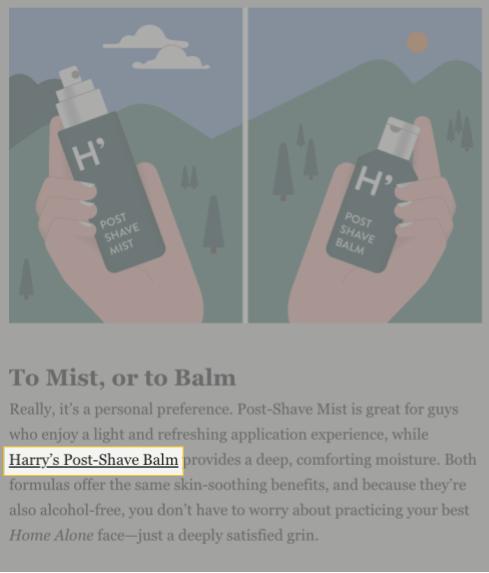 2. Add Inline Call-to-Actions Relevant to the Article:
It's that in-line link or call-to-action which actually drives sales. By turning a reader into a website visitor, you massively increase the chance of them buying from you.
For example, this CTA at the bottom of one of Harry's LGBTQ-related interview articles, promoting their "Shave with Pride" shave set: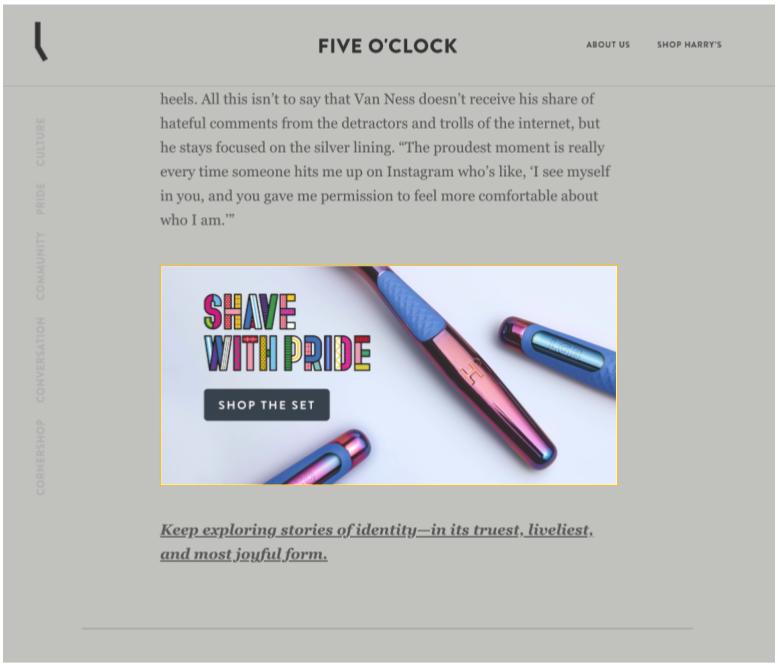 Want to create your first ecommerce blog call-to-action?
Wishpond's CTA-builder enables you to create and then drop an optimized, beautiful call-to-action right into your blog articles (exactly like the one you see above). Track views, conversions and test your blog CTAs from the same platform you're emailing from. Learn more by clicking here.
This bottom-of-article call-to-action sends people directly to a Pride-specific shave set, and that's essential.
If this post (and this CTA) went to the Harry's homepage instead of a specific landing page for the Pride shave set, the chance of conversion would be super low. This way, Harry's can focus their readers toward the thing they're looking for, thereby increasing sales.
Here's the optimized product/landing page: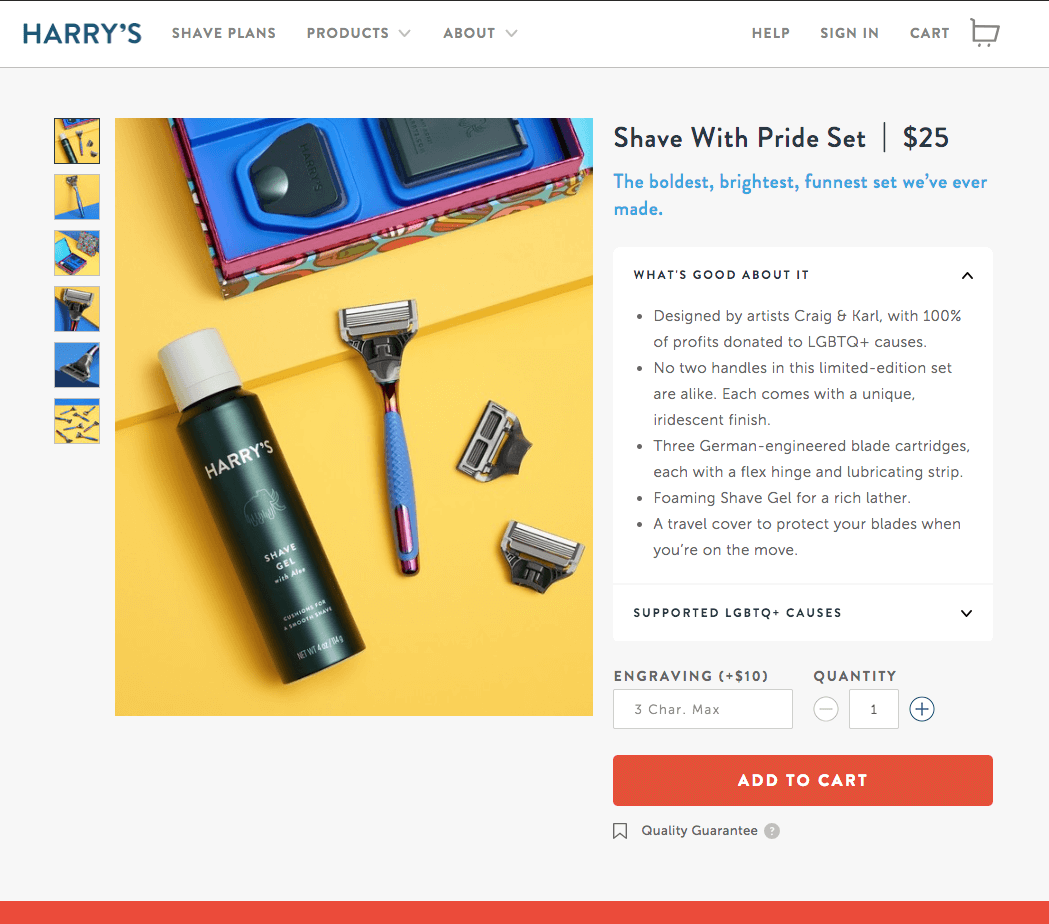 One more example, showing the educational value of these posts alongside relevant links to Harry's products: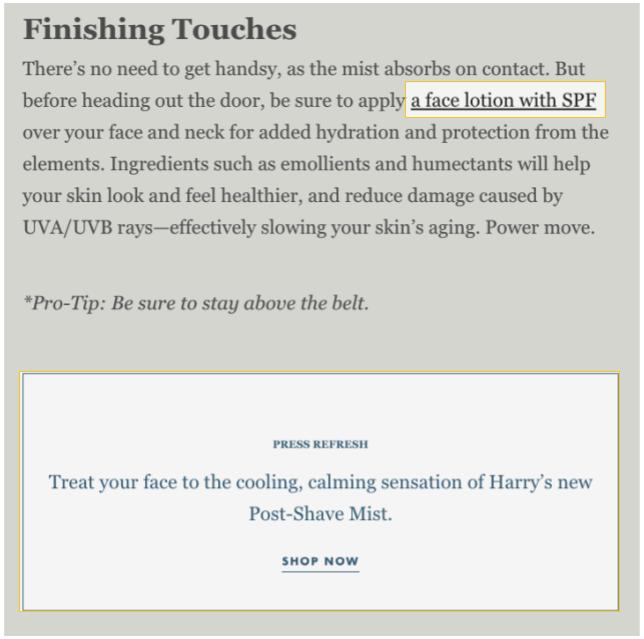 Final Thoughts
The honest answer to "Can my ecommerce company get something out a business blog?" is yes, albeit with some effort.
My chief takeaways:
Do you research to A) Determine what your target market is interested in and B) Become an authority on that subject
Determine what you want your brand to be about and create content (and a blog design) which matches that identity
Determine if you want to stand for something, and if you want to use your blog to communicate that stance
Add website add-ons (CTAs, in-line links, etc) to relevant products from your blog articles.
Create product pages specific to the campaigns and products you promote on your blog
And if you have any questions, come back to this post and ask them in the comment section!
Related Reading: