How to Seriously Master Instagram Like a Pro
Believe it or not, some people might not see the impact that Instagram can have on their business.
But we've seen it before, ordinary people gain thousands of followers on Instagram and later use that following to promote any number of products or services.
But how can your business do the same on Instagram?
If you're just starting as a business on Instagram, don't panic, there's an audience on Instagram that's waiting just for you.
In this article learn how to seriously master Instagram like a pro.
1. Complete your Instagram Business Profile
One thing that prevents businesses from getting the most out of Instagram is leaving out important information from their profile.
Or even worse, having outdated images that can leave people wondering if they're on the right Instagram account.
So regardless of whether you created your Instagram account years ago or last week, take the time to ensure you're profile is complete, and that you're displaying the right information.
Use a Branded Username
Having a username that's similar to your brand name may seem like an obvious choice, but you'd be surprised at how few people actually do this. Try to make sure that your username isn't overly complicated because people will use this to find your brand on Instagram.
It's also important that you try to make your username similar or close to your other social media handles so your brand looks more cohesive online.
For example, Dunkin Donuts recently changed their name to Dunkin, they made sure to change their social media handles including their Instagram username to match that change.

But maybe your brand's name is already taken. Since no two Instagram usernames can ever be the same you can try improvising by making your username longer or shorter. Take TGIF for example. They made @officialtgifridays their username so their fans would be able to know it's their official account.

Add Your Website Link
Instagram allows you to add a URL to your profile. This will be the only clickable URL on your Instagram page. If you don't have a website you can add a blog post, promotional page or an ebook. Anything you'd like to share with your audience really. Check out how KMart gives their followers the chance to go on their website with their Instagram bio link.

Use Call to Action Buttons
Call-to-Action buttons (CTA's) help you to add important contact details without taking up space in your bio. They can only be used and seen in the app view, currently not available on web view. Keep in mind that CTAs are only available for Instagram Business accounts.
You'll get the option to use three CTA buttons like:
Email
A viewer can clicks "Email", Instagram will prompt them to open their default mail app on their phone so they can instantly start emailing you.
Directions
This is perfect for brands that have a physical store like a restaurant. Directions prompt users to open either Google maps or another map product so they can immediately start navigating to your location.
Call
When a viewers wers clicks the "Call" button, your number is automatically added to their dial pad so they can call your business directly from their phone.
To add CTA's click "Edit Profile" and then "Contact Options". From there you can add your information. If you don't see this option you need to switch to an Instagram Business account.
Click "Save" and the buttons will automatically show up on your profile.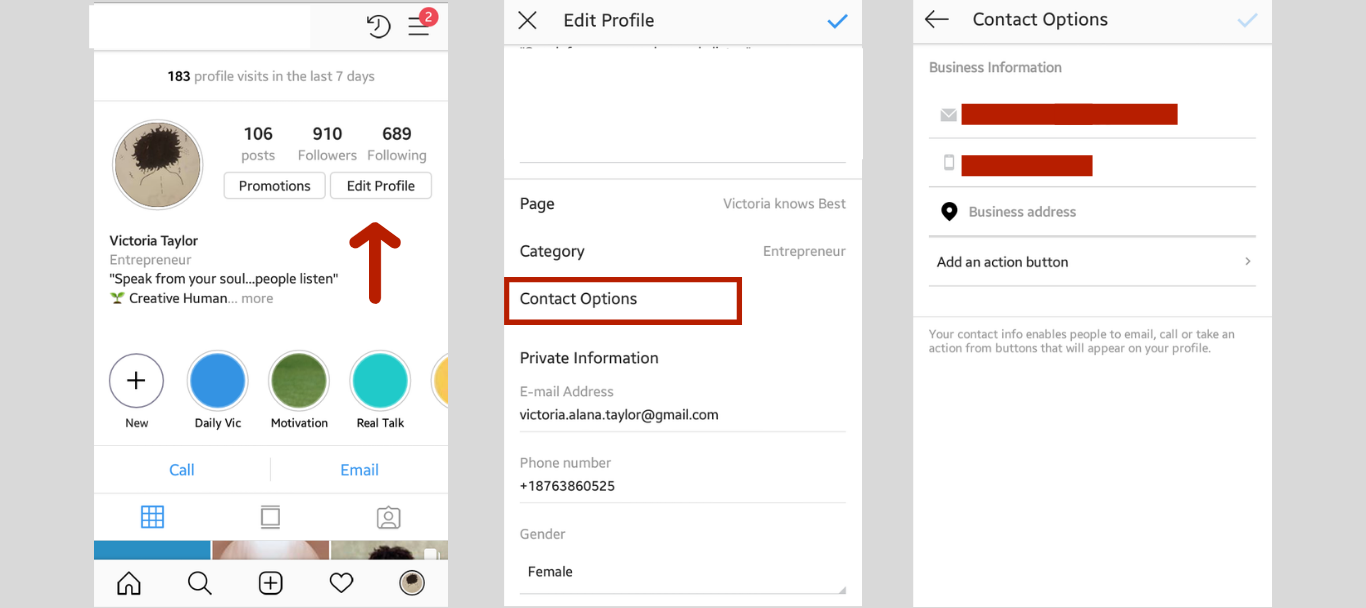 Use a Great Profile Image
Adding a profile image allows your audience to trust that your account is real. Without it people can be skeptical that this is your brand's official Instagram business page.
Choose a profile image that's relevant to your brand. Profile images can be logos, a product photo, or the face of your brand. Ensure to make whatever you choose large and easy to see as it will increase your visibility as people are scrolling through their feed or searching for your account.
Starbucks uses their logo as their profile image for their Instagram Business account.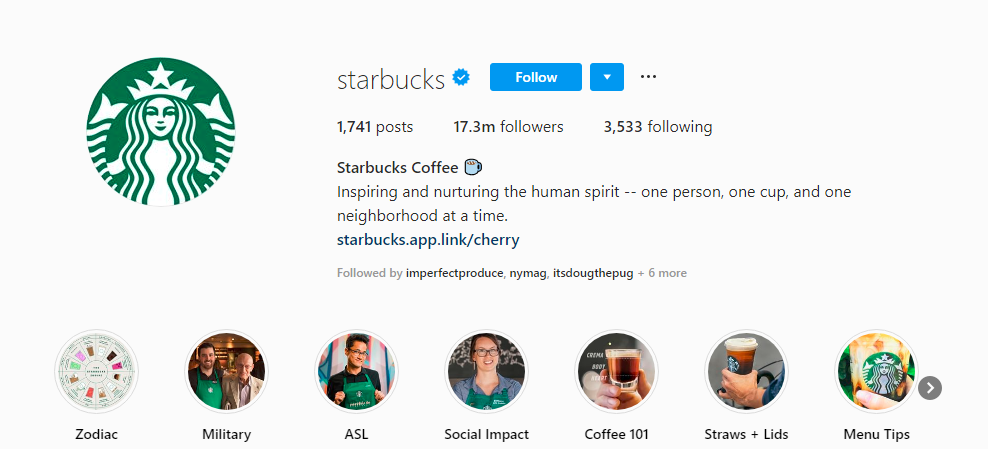 Whereas Red Lobster decided to take a creative approach by using two red lobster claws as their profile image which pretty much sums up what and who they are.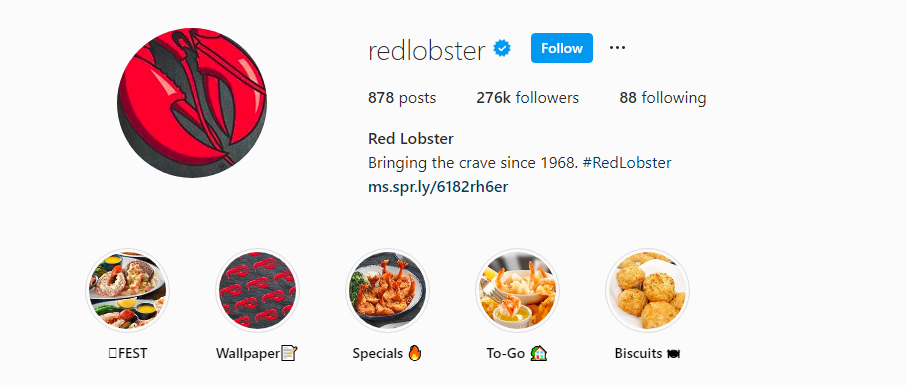 5 Tips for an Amazing Instagram Business Profile Image:
An image of your brands logo
A captivating image of your product or service
An image of the brands founder
An image of your brands mascot
Keep in mind that the best size for your Instagram profile photos should be 110 x 110 pixels. But for a photo to posts on your feed make sure your images are at least 1080 x 1080 pixels. Feel free to use this social media cheat sheet to help you out every now and then.
Add a Bio to your Instagram Business Account
Your bio is like a mini elevator pitch written on your Instagram account. It has to capture your viewer's attention. You're only allowed to use 150 characters so you have to be creative. Keep in mind that your bio should be app and desktop friendly. This means that whatever device your followers choose to view your account on, it should be easy to read.
You can use your bio to describe your business, show-off your brand's slogan or mission statement (or all of the above). But don't worry about getting it right at first, you can always change it later if you think of something better along the way or want to highlight a special promo or offer.
Most big brands go for a simple approach when it comes to writing their company bio. Chick-fil-A uses this approach for their own account.

Or you can use all your character and tell your audience a bit about yourself, like Later app.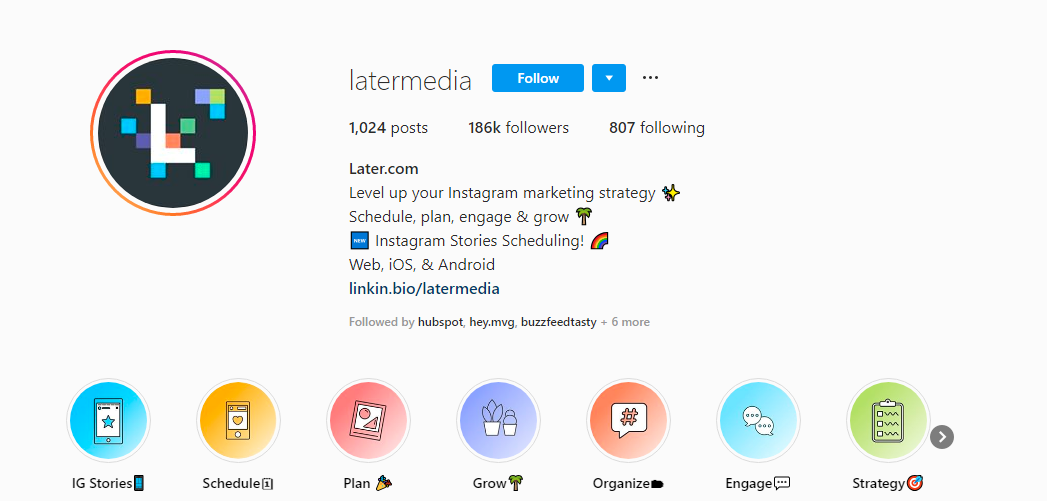 If you have a seasonal promotion going on, you can use your bio to let your followers know. Check out how Tattly did this with their bio.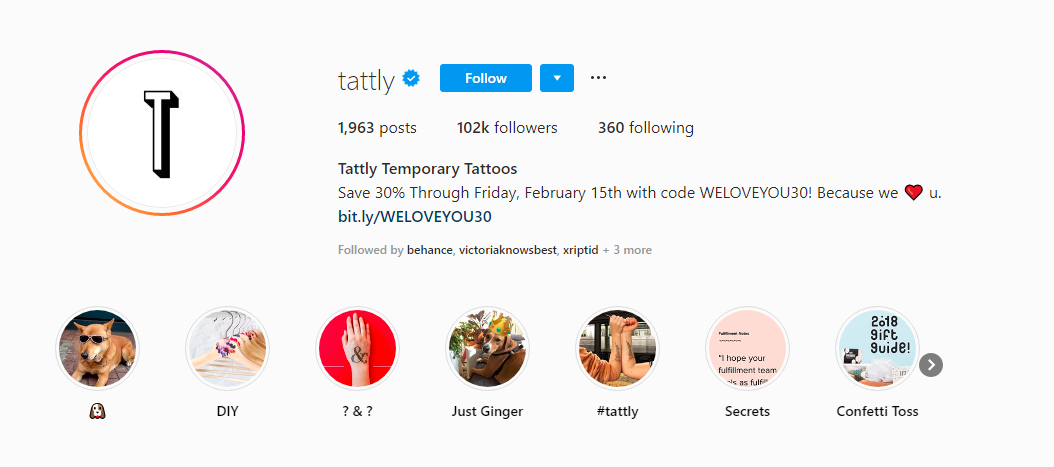 5 Tips for an Incredible Instagram Business Bio:
Your Company Slogan
Your mission statement
Seasonal Promotions
Monthly Specials/Sales
Goals and Achievements
Brief History of Your Company
2. Post Great Content on your Instagram Account
Have an Instagram Theme or a Distinct Brand Aesthetic
It's best to have an Instagram layout or aesthetics that reflects your brand or company culture so as soon as someone scrolls through they know instantly what your brands all about.
Having a theme or aesthetic is important because It's been proven that with the right Instagram theme or brand aesthetic on your account companies can attract more attention and gain more followers.
Take a look at Medium's Instagram account, the choice of text, color and illustration match their website so much that once you see a post from them you can easily identify it as Medium's content.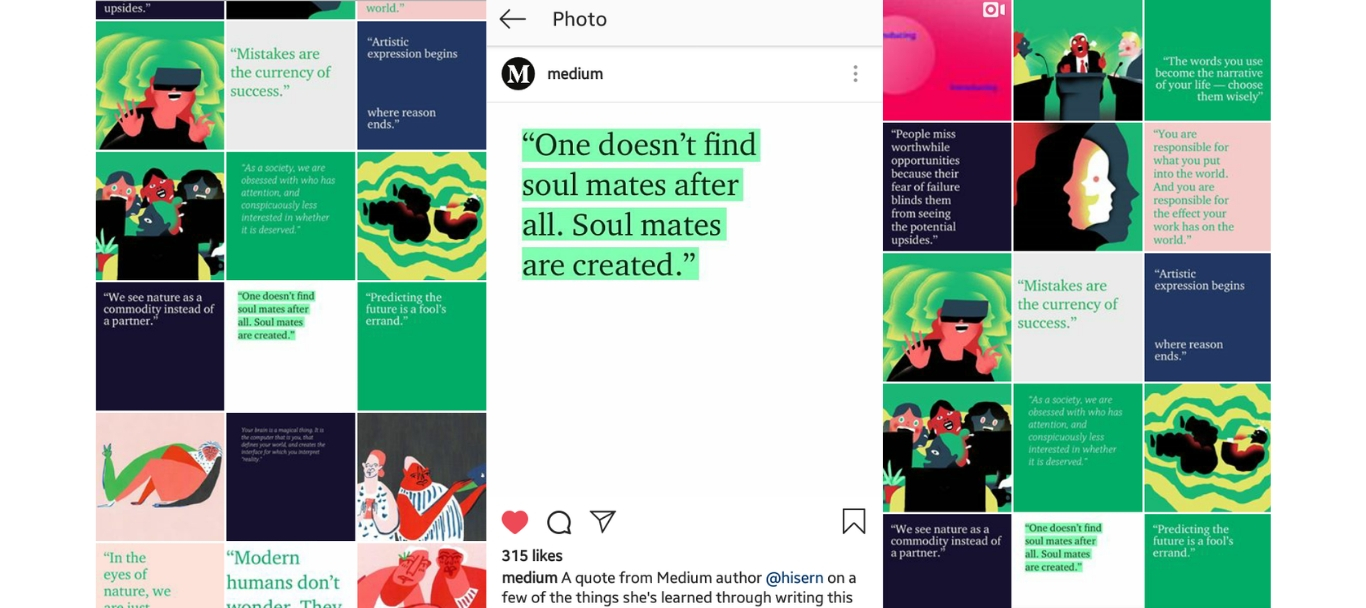 3 Ways to Create a Killer Instagram Aesthetic
If you thinking about taking your Instagram theme or aesthetic to the next level you can start off with these three steps:
A mood board (or inspiration board) is a physical or digital collage of ideas to visually represent your brand or idea. If you think a mood board might work for you, you can try using Canva, an easy to use and free graphic designing tool, to make one.
Maybe mood boards seem to much for you? Use can use color swatches instead to help keep your color scheme consistent. You can create fast and easy color swatches with Coolers if you're ready to start.
If you'd like to dive deeper into the world of Instagram aesthetics I found that this Later guide on How to Create a Cohesive Instagram Aesthetic seems to do the trick. It gives you step by step instructions and great examples to follow, take a quick look if you're interested.
Share Content You & Followers Will Love
Most people will tell you to share content that your followers will love, which is right, but first you have to make sure you share content you love first.
Create content that speaks to your brand's lifestyle, products and services, mission, or long term goals.
Never limit yourself to only a few content types. Here are a couple different categories of content you can share on your Instagram account.
If your still not sure what type of content to post, look for other Instagram accounts similar yours to see what types of content they're posting for inspiration. You can have a look at these 21 Top Instagram Post Ideas & Examples and see which works best for you.
If your thinking of using photos for your content take a look at how Etsy shares product images from their seller. They have a community of creative crafters and they ensure that the content they product highlights or connects with them.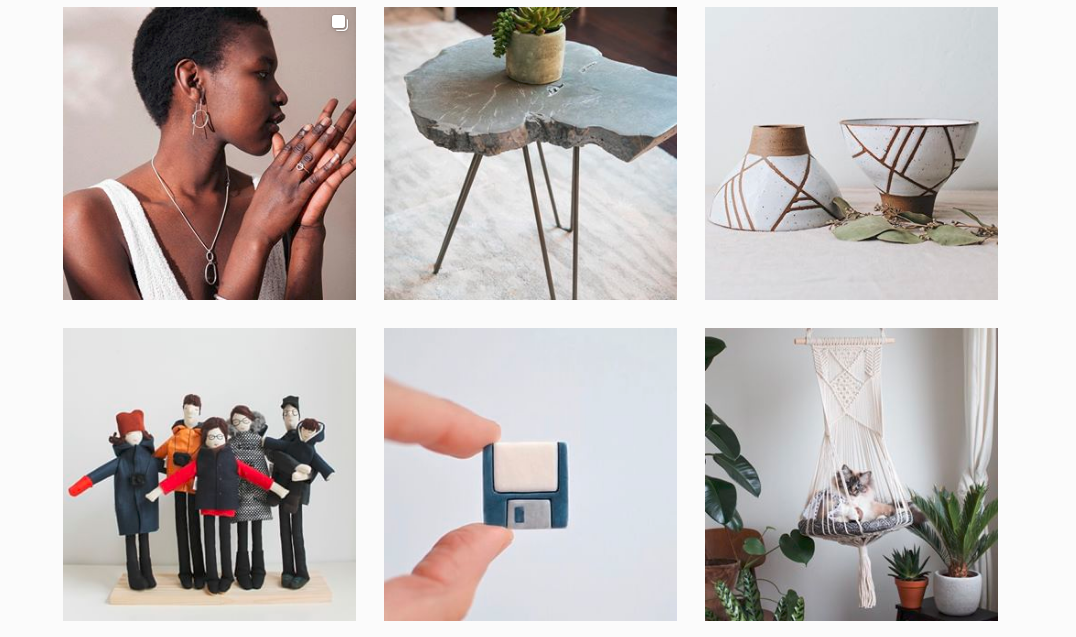 Taking a page out of Etsy's book, having quality images on your Instagram account can go a long way. It shows people you're a professional company and that quality means something to you.
You don't have to hire a professional photographer to get good images. You can use the following to create beautiful images for your business Instagram feed.
Lighting is Key: When taking an image ensure that you get as much light as possible so the image doesn't come out dark.

Using a Filter: An age old question since Instagram was invented, no filter or not to filter? Using a filter is very optional, you don't always need to add a filter. There are times when adding a filter can really make your picture pop.
Having a second opinion on an image can go a long way. Sometimes we're too close to our product or brand that we may start to think that an image is great when in reality, it's a hot mess.
Getting someone from the outside to give you a second opinion can save you time and embarrassment.
A perfect example of this is Dolce and Gabbana "I'm thin and gorgeous" sneakers post. It received massive backlash from those in and outside of the fashion community which lead to the post being deleted and the product shelved for good.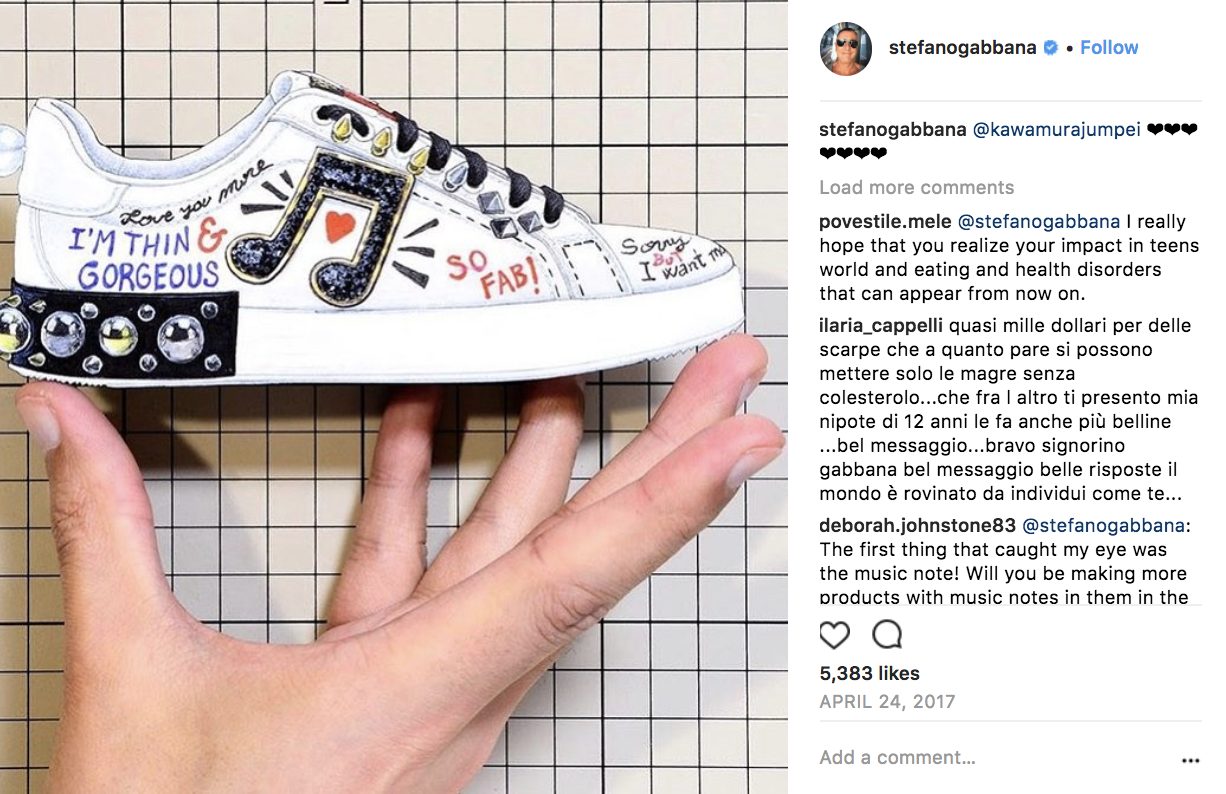 Find Your Best Time to Post
There thousands of blogs out there that tell you the "best time" to post on Instagram but is that the best time to post for your business?
The best time to post isn't for everyone. Every brand has their own best time to post.
If you're a restaurant like iHop, posting early in the morning might be ideal because of their emphasis on breakfast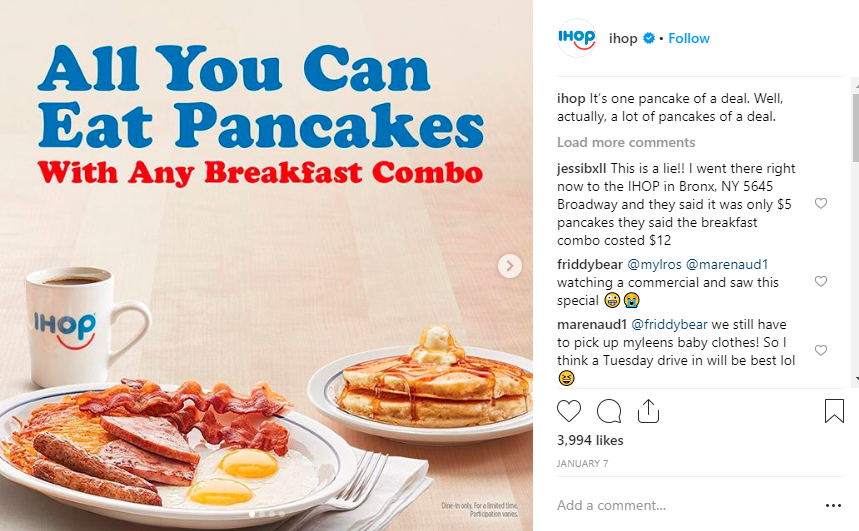 The only way to find out your best time to post is to do the following
Know your Audience: Find out the demographic (age, income, etc) of your audience. It can give you insight on what time(s) they maybe online, using Instagram and scrolling through.
For example: If your have a restaurant, posting a picture of your lunch menu before peak lunch hours would be best time for because your target audience would be on their phone at that time trying to decide where and what to eat.
Experiment: Nothing's wrong with following standard best time to post but if you really want to see results try posting at various hours or days and not which days and times get the most likes, comments and engagements. You can try these Later's "Best Time to Post" on Instagram, for the best time to post according to 12 million Instagram posts.
It is a bit of work but it pays off in the end because you'll understand your audience and know your own best time to post.
Find your Brand's Voice
Finding your brands voice on Instagram is just as important as the content you put out. It's the tone you use to write captions and connect with your followers.
To find your brand's voice, ask yourself, if my brand was a person who would they be, what would they say or even sound like?
Here are some examples of brand voices being used on Instagram:
Converse has a playful brand voice, because their demographic is mainly the young at heart, creative and determined. They use the same voice as their audience. If this brand was a person they would be a young skater with a corporate job.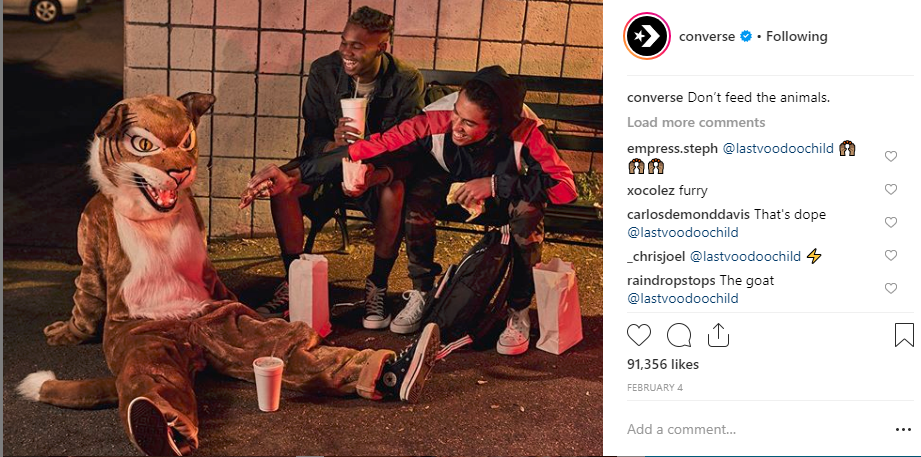 GirlBoss is a popular female brand on Instagram. Their brand's voice is a perfect balance of fun and witty, yet professional and respectable. If this brand was a person it would be a driven and funny entrepreneurial woman.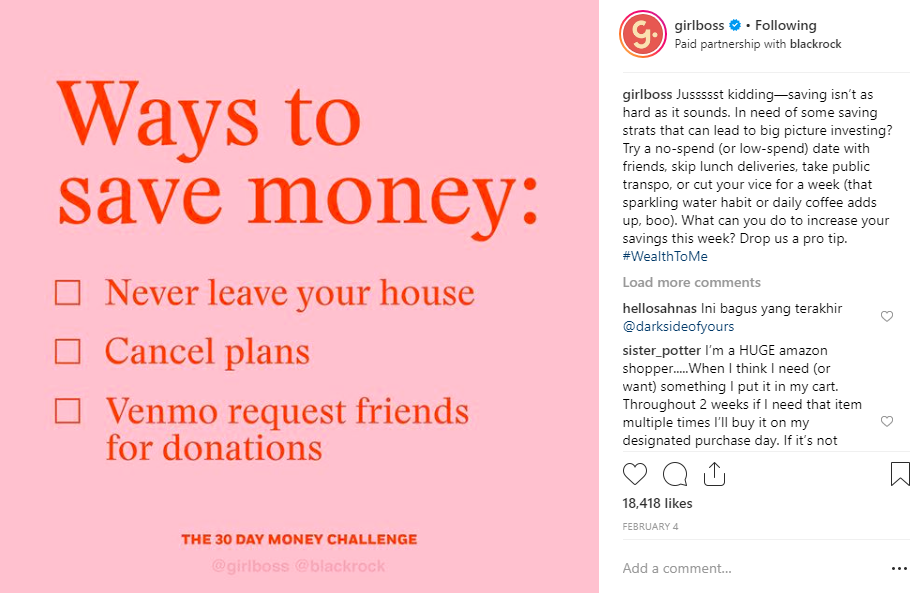 Whatever you choose to be your brand's voice will set the tone for the type of followers you'll attract so just be sure it's authentic to what your brand stands for.
3. Managing your Instagram Account
You have a business to run so you can't allow Instagram to run you. Don't fall into the trap of constantly liking posts, replying to comments, and following every account you see.
If you want be able to manage your Instagram account and business effectively, that means setting time aside to manage it properly.
Here are a few ways you can effectively manage your Instagram presence to get the most out of it.
Post Consistently
Now that you have your Instagram account up and running don't expect sales, followers or dare I say it, Instafame to start coming to your way. It takes time, work, and lots of consistency.
Being consistent doesn't mean posting everyday. It means if you have a "Wisdom Wednesday" post that always comes out every Wednesday, ensure you follow through with posting weekly to keep it up.
Humans are creatures of habit, so when brands don't post consistently they lose interest easily. Hootsuite found that 70% of users look up a brands on Instagram to see if their Instagram account is up-to-date and quickly lose interest in the brand if the Instagram content is outdated.
So if you're going to post everyday, post everyday day. Whatever you decide do it consistently.
Don't be all over the place or wait days, weeks, months between post. That's another sure fire way to lose followers you've gain over time.
Using Social Media Management apps is a proven way to post consistently on Instagram. You can try apps like
Hootsuite
Buffer
Union Metric
Simply Measured
Iconosquare
Crowdfire App
Later
3 Proven Ways to Post Consistently on Instagram
Create a Marketing Strategy
Scheduled Post Ahead of Time
Set Aside Time Daily to Manage your account.
If you're stuck at step one, don't worry, you can use this how-to guide to Create a Winning Instagram Marketing Strategy so you're not just posting content but maximizing your returns on the Instagrams.
Engage with Followers
No matter how many followers you have, engaging with your followers is another key way to master Instagram. It Increases your engagement rate which is a big plus when it comes to growing followers and reaching people.
Bath and Body Works Instagram account has over a 4 million followers and yet they still make time to reply and like comments from their followers.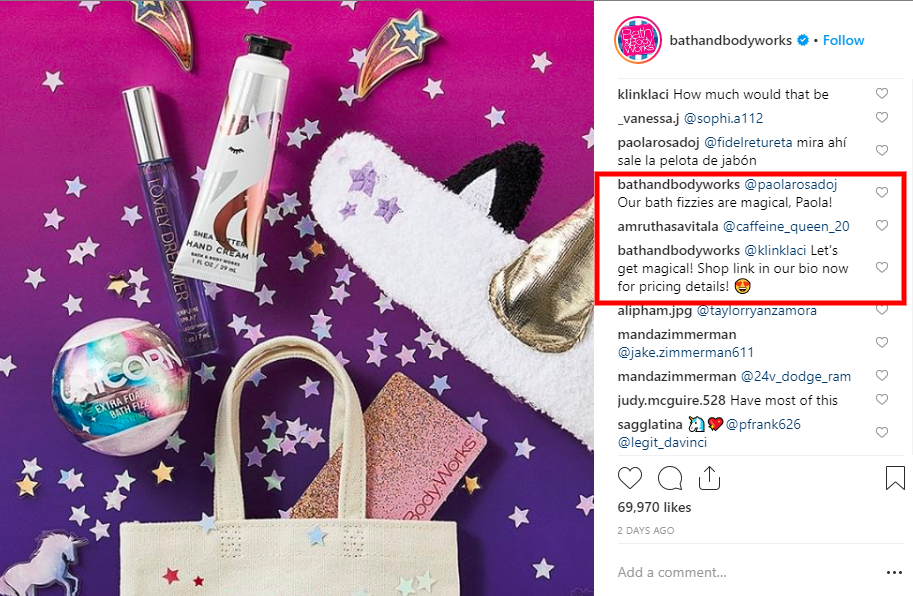 You can also engage by using the comment section to help customers with their questions or concerns. You can do this in your Instagram dm's (direct messages) but when brands take the time to answer comments it show your followers that you care about their concerns.
Target does this on their social media page no matter the person or the query.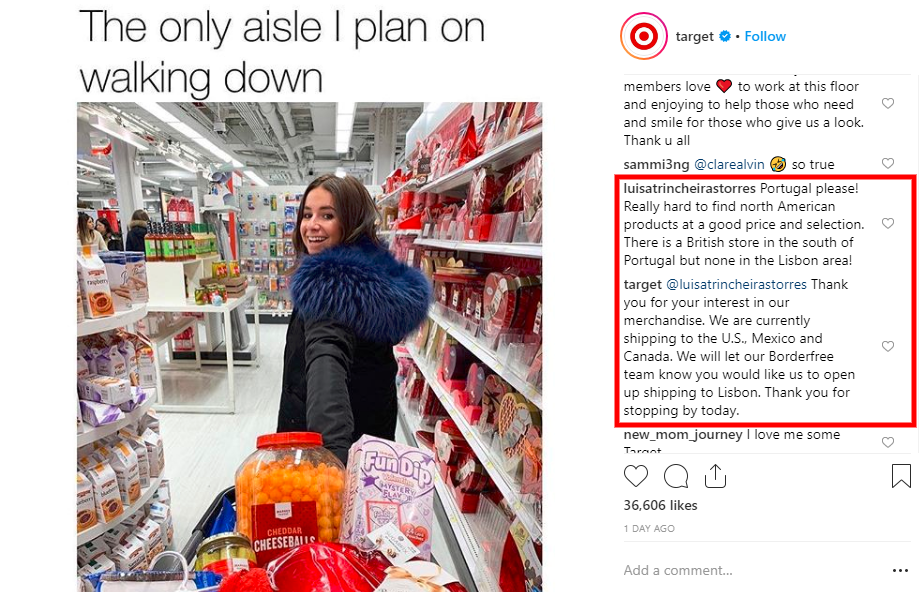 When you engage with followers you can also naturally promote your product website or store. Try not to make it seem forced, Primark's Instagram account occasionally suggest to customers to come in store to buy their products. Here's an example below.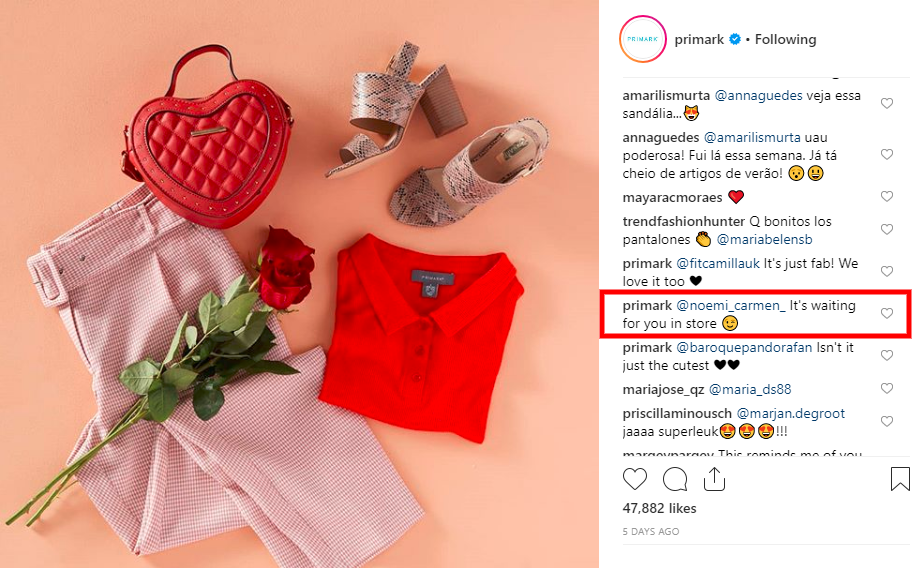 Engagement can also be a way to get real feedback on your products or services. Once you have enough followers you can tap into the potential to get real life survey on your brand. That's what 7eleven did when they wanted to know their followers favorite coffee combos.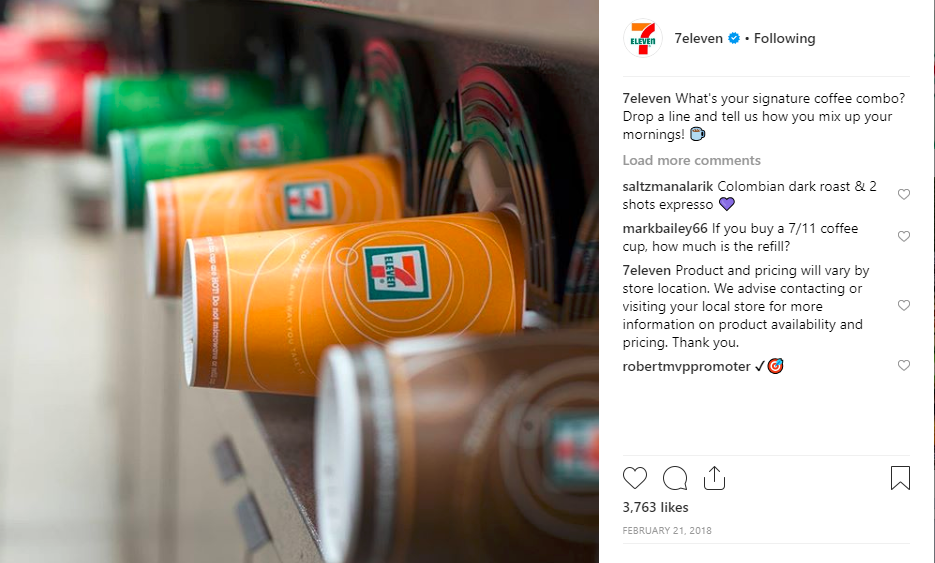 4 Effortless Ways to Engage with Followers on Instagram
Ask them a question about your products
Answer their questions in the comments
Recommend products they might need or want
Talk with them in the comment section
Use Hashtags on Your Instagram Account
When it comes to Instagram hashtags are everything. The only brands you'll see use little to no hashtags are big brands that already have a following of a million followers or more. But for everyone else it's the holy grail of brand awareness, increasing followers, and boosting engagement.
Maybe your not sure how to use
Finding the Right hashtag
Hashtags are a great way for people to connect and find each other, especially in specific niches or celebrated holidays. With the right combination of hashtags you can get major engagement and reach for your content. Hashtags are also one of the key ingredients to viral content.
Instagram allows you to use 30 hashtags per post, however according to a report by TrackMaven, posts with nine hashtags receive the most engagement. Some brands like Preview still use all 30 hashtags and get high engagement due to their content so ultimately how many hashtags you use is your choice.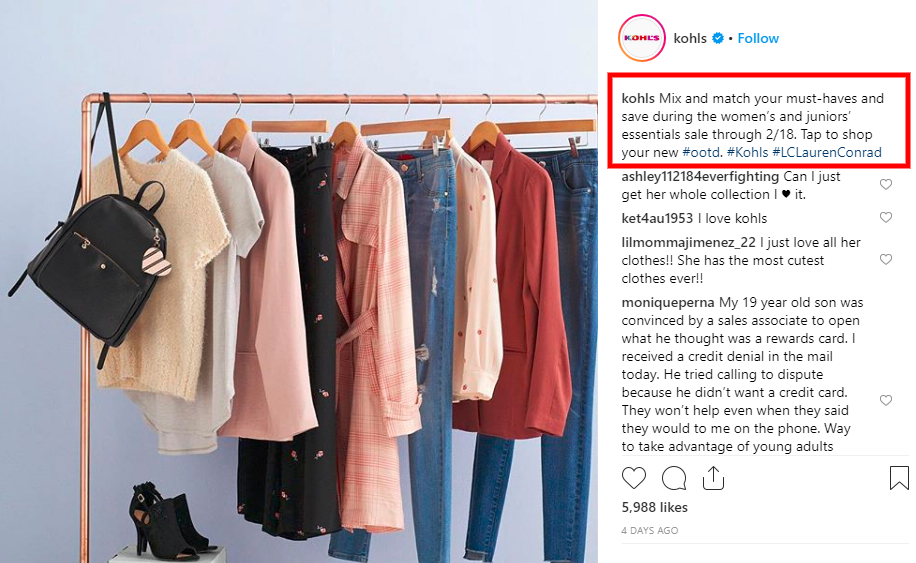 The amount of hashtags you use is not as important as the type of hashtags you use. Using too many hashtags that isn't related to your content can be confusing or seem like spam to followers.
In this Instagram post by Kohls uses the hashtags #ootd #Kohls and #LCLaurenConrad. The hashtag "ootd" is a popular amongst fashion enthusiast because that means "Outfit of the Day". They also use two branded hashtag (which we'll talk about later) for Kohl's and the LC Lauren Conrad clothing brand.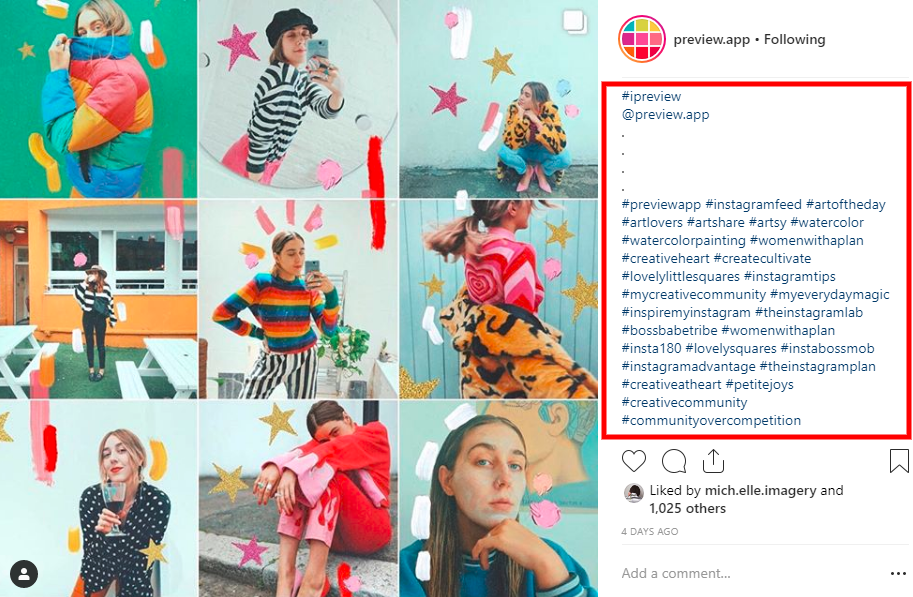 If you're not sure which hashtag's fit your brand find brands similar to your own and see what they're using and find out what each hashtag means. The last thing you want is a hashtag misuse like DiGiorno Pizza, they tweeted a funny joke with the hashtag #WhyIStayed which turned out to be a hashtag used by domestic abused victims sharing their story of why they stayed so long before getting help.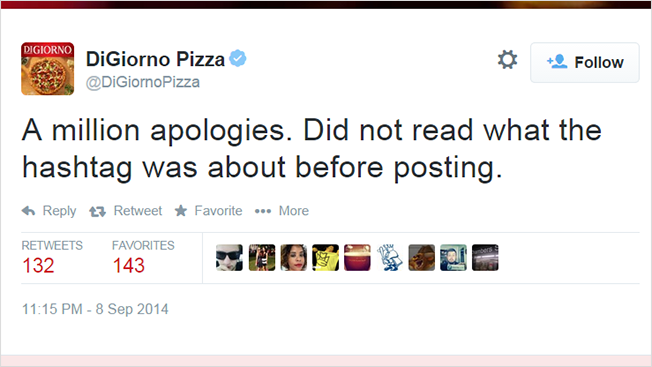 Use a Branded Hashtag
Earlier we mentioned that hashtags are a great way to connect and find people. Having a branded hashtag for your own content is a great way for people to find you and for followers to connect with you. The top brands on Instagram like Doritos don't just have branded hashtags for their business but for their products.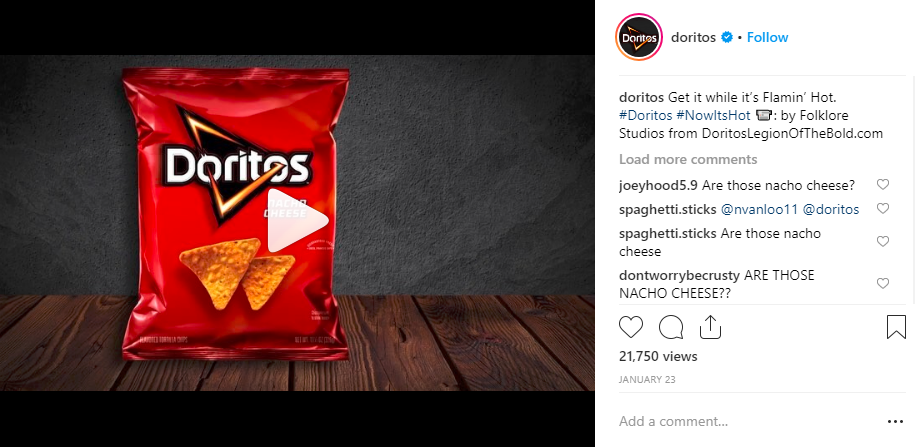 For more on here's 20 Excellent Instagram Examples & Ideas, including how to use branded hashtags you can read up on so you the right way to use them and get results.
Summary
Those were the best ways to seriously master your Instagram like a pro.
It's never too late to start Instagram or to master it. Don't let brands with lots of followers intimidate, we all start somewhere and there's never been a better time to start than now.
If you have any questions or want to share your own amazing Instagram tips, reach out to me in the comment section below.