7 Genius Tips for Better Landing Page Headlines
Your landing page headline can be the first impression people have of you. Your headlines can either be a gateway to gaining new customers or a gatekeeper turning them away.
In fact, 80% of readers never make it past the headline and that can deeply affected your landing page conversion rates. So, the better your landing page headline, the better your conversion and click-through rates. But the best headlines aren't click bait or misleading; they're easier to write than you think.
In this article, I'll be showing you seven genius tips for better landing page headlines.
1. Write Clear Landing Page Headlines
The best headlines are specific and to the point. Viewers need a clear idea of what or why they should click on your landing page.
If a landing page headline is too ambiguous or vague, viewers won't have a reason to convert on your call to action.
Save yourself the trouble of trying to come up with dramatic or mysterious headlines and instead focus on conveying clarity right from the start.
Landing Page Headline Example: Uber Eats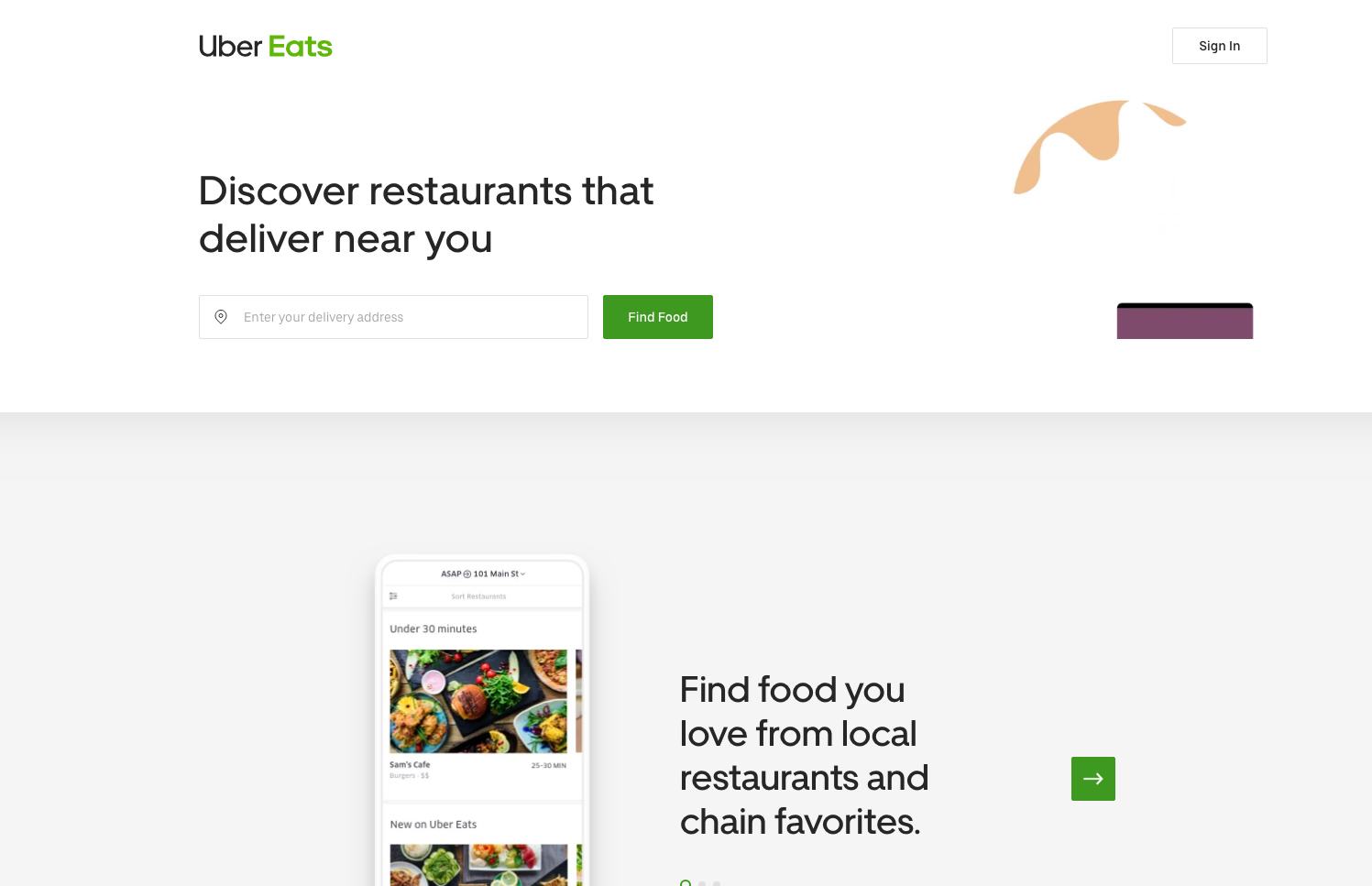 Take a look at this UberEats landing page. Right away you know right away that by entering your address you'll be "discovering restaurants that deliver near you".
Think of your headline as your 10 second elevator pitch that has to clearly communicate the value of why someone should convert on your page. It may help to write down 20 - 30 different headlines then filter down to see which ones are the most clear.
It's a little more work at first, but it'll make a big difference in the long run.
2. Write Landing Page Headlines that Focus on a Benefit
Headlines should call out to viewers looking to solve a problem or find a solution. Focusing on a benefit is key when writing a great headline. The more specific you are, the easier it is for your target audience to come to you.
Your landing page is a landing page sales funnel but your focus shouldn't be about making sales. When you craft headlines that provide a benefit visitors are more likely to stay and convert on your offer. If your headline fails to impress, your visitors might abandon the page. Highlighting your benefits also allows you to position your services differently or even better than your competitors.
Landing Page Headline Example: Moz
There are a lot of SEO tools out there, but MOZ decided to position themselves as the solution to your SEO problem rather than purely focusing on selling their software.
The headline example for this landing page points out that there are over 5 billion searches performed every day, but with Moz SEO tools you'll be able to be found. If you look at the landing page's content, you see that they drive that point even further with added benefits.
One great example of features vs benefits is this example from Apple.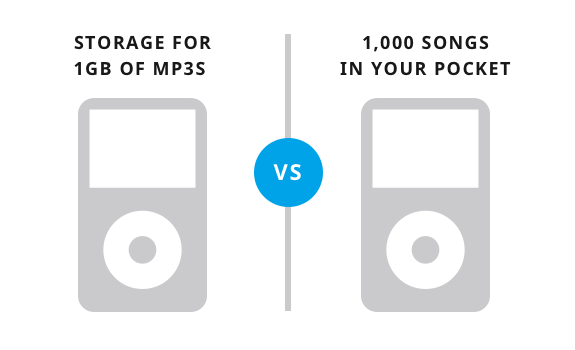 Now, Apple could have lead with the feature of "1 GB of MP3's", but that's a technical specification that the average consumer might not get excited about.
But, by leading with the benefit of having "1,000 songs in your pocket", suddenly Apple's appealing to a much wider non-technical audience.
So ask yourself, what are your benefits? And how can you present those on within your headlines?
3. Write Landing Page Headlines That Match Your Message.
Consistency is always key. As stylish as your headline can be if it's not consistent with the message or look and feel of your landing page it can be confusing for some visitors.
For example, if your headline says "Free E-books to Grow Your Business," but your landing page content speaks more about your services rather than the ebook itself, then your headline can seem misleading or give the impression that you don't know what you're selling.
I see a lot of first time landing page creators make this mistake. Between working on each piece of content individually when it's time to tie it all together things don't always fit as well as you'd think.
One of the best ways to avoid this mistake, get a second pair of eyes to check your landing page. Sometimes it's best to get feedback from people who aren't as working as closely to the page as you are.
Landing Page Headline Example: Slack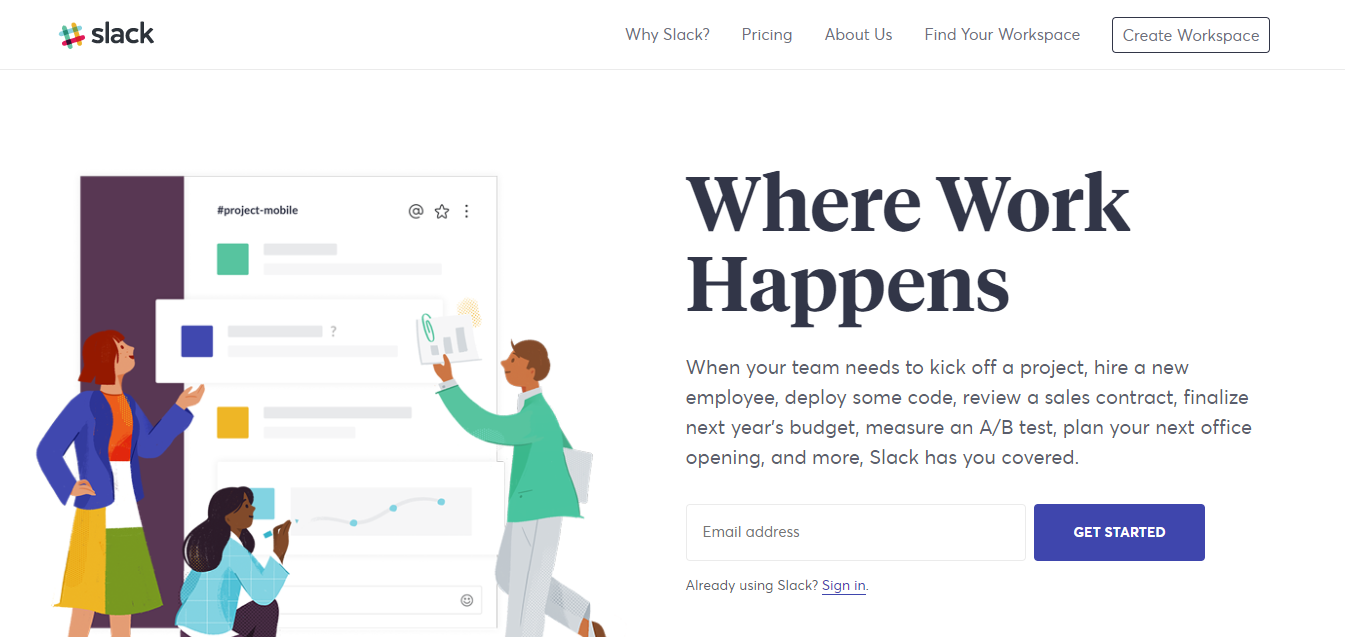 Slack's landing page headline and content is consistent across the board. From the content, images and even the call-to-action, everything follows the same message: Slack is the app to do to get work done and collaborate. That's the same feeling you want your headline and content to give visitors.
4. Write Landing Page Headlines with Power Words
Power words are magic words that copywriters use to get a psychological or emotional response from readers to persuade them to read or do something. That's why they're called "power words."
But power words aren't just for copywriters. Anyone can use them to motivate people to take a specific action on their website.
If you're interested to see the magic of power words for your landing page headlines? Why not try Wishpond's list of 100 Powerful Marketing Words to Boost Your Brand (plus 75 words to Avoid Like the Plague)
Landing Page Headline Example: Wishpond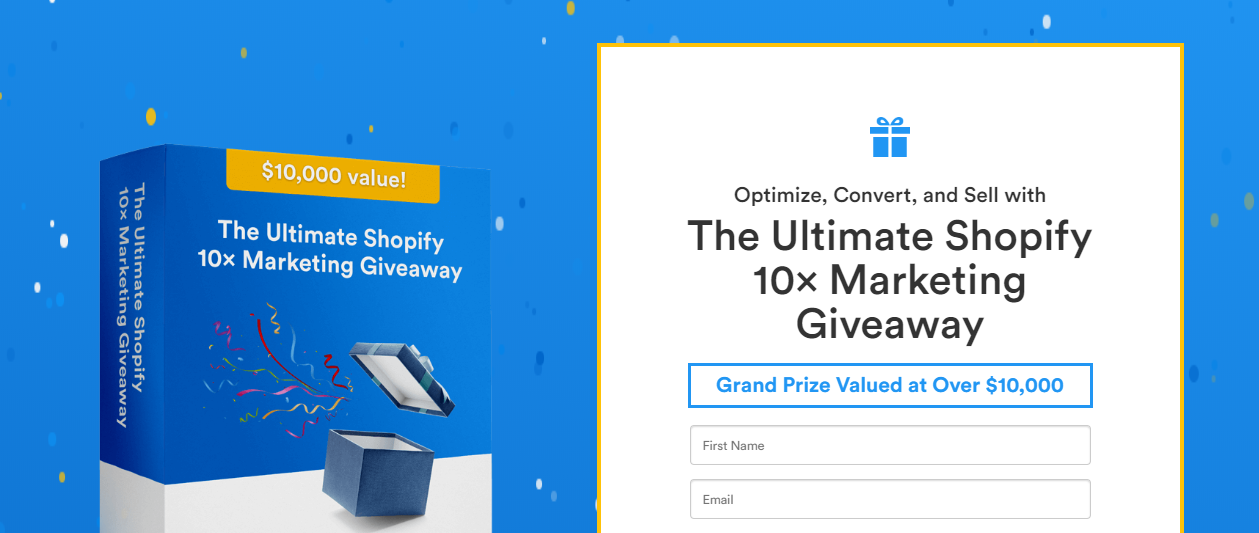 We created a landing page for our Shopify Marketing Tools Giveaway. We used power words like "Ultimate," "Optimize" and "Convert" to peak interest and let our visitors have an idea of the massive value our prize can have for their business. Words as simple as these can be the difference between a successful campaign and a flop.
5. Proofread Your Landing Page Headlines
Yes, you read that right, proofreading your landing page headlines is a genius tip. When your busy working on content for your landing page sometimes your brain forgets to pick up simple typos or misspellings, so we end up glancing over them while trying to finish up.
To proofread your headlines use grammar tools like Grammarly, Pro writing aid and Wordrake or ask someone proofread your headlines for you.
The last thing you want to do is publish a landing page with spelling mistakes because it can make you look unprofessional and untrustworthy.
6. Use Headline Formulas for Your Landing Page
Having good copy for your headlines is crucial in getting more conversions.And one way to get that is by using headline formulas trusted by professional copywriters themselves.
What if I want to be original with my headlines?
Well, contrary to what you'd think the best headlines aren't original or as creative.
WordStream found that in '99, 200 of the best ads that resulted in massive sales and gained global recognition from industry professionals were actually very similar to one another.
After taking a closer look about 89% of those ads could be classified into six headline formulas.
And the headline writers who didn't make the list of 200 were the ones who created original or creative headlines outside of those six headline formulas. So really there's no need to rattle your brain reinventing the wheel, stick to the trusted headline formula instead.
Six Landing Page Headline Formulas You Need to Steal
Here are examples of the six headline formulas you can steal to get better conversions and clicks on your landing page.
Headline Formula #1: To the Point Headline
This headline is straight to the point and direct, it says it all without the witty fluff. Sometimes people just want to know right away what your content is all about.
If you plan to use this headline, it's best to know what your buyer's persona is so you craft headlines for your landing page accordingly.
Headline Formula Example: Match Pool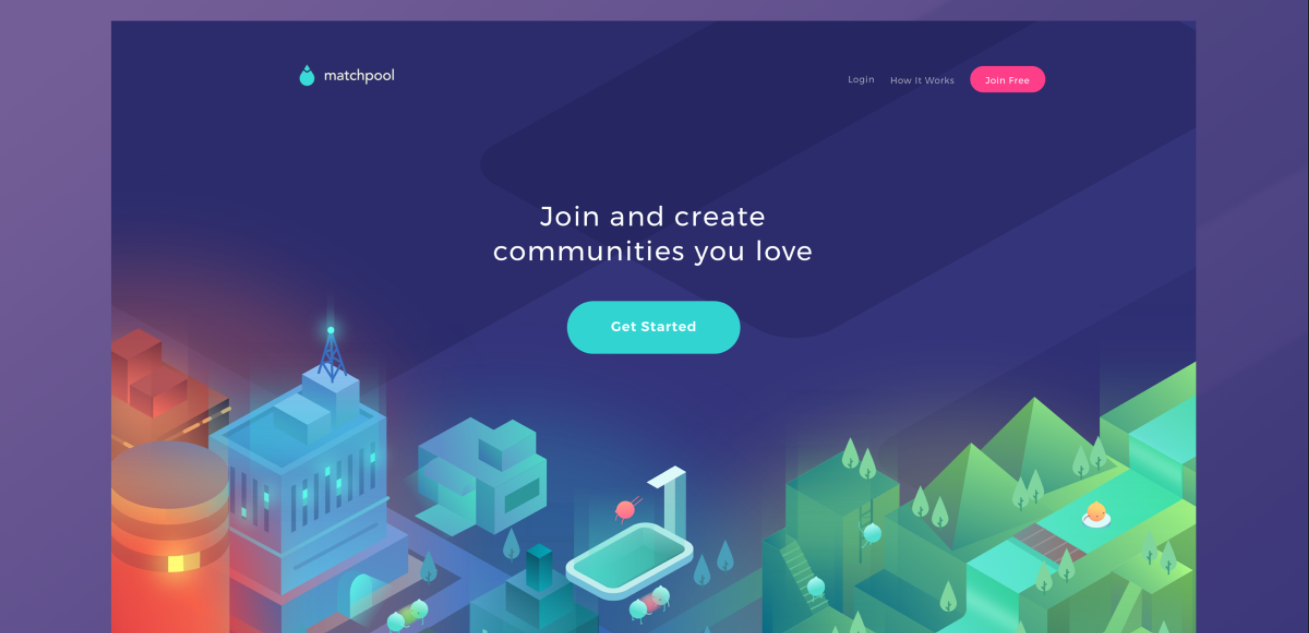 Headline Formula #2: The Listicle Headline
People just seem to gravitate towards these headlines more; in fact, Neil Patel stated that it's one of the top five characteristics of a headline that converts.
This is one of the most used headline formulas, and you've probably seen one today, for example, this blog's headline " 7 Genius Tips for Better Landing Page Headlines."
If your no stranger to Buzzfeed articles, if not all, most of them are listicle headlines. Taking a closer look, you'll also realize that most of them are odd numbers.
9 Of The Hardest "Game Of Thrones" Season 1 Would You Rather Questions
23 Unpopular "Harry Potter" Opinions That'll Have You Looking At The Entire Series In A New Light
12 Egg Hacks Straight From Pro Chefs
That because listicles headlines with odd numbers just seem to do better. In fact, Outbrain and the Content Marketing Institute did a study that showed listicle headlines with odd numbers did 20% better than listicles with even numbers. Going deeper Outbrain also found that a colon or hyper in your title can bring a 9% improvement.
With listicle headlines, the little things make a big difference.
Headline Formula Example: Drip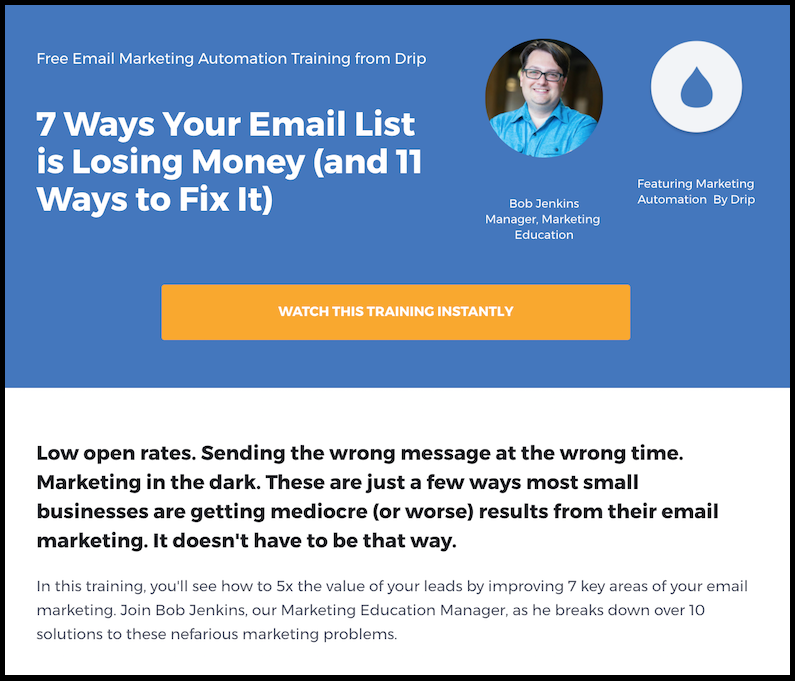 Headline Formula #3: The Cliffhanger Headline
One of the most popular headlines around is cliffhanger headlines. These headlines tend to be more on the clickbait side but for a good reason. Buffer analyzed popular words and phrases and one phrase that repeatedly showed up was "This" or "This is". Which are usually how most cliffhangers start.
The best cliffhanger headlines are very specific while grabbing the reader's interest to learn more. Most people also tend to click on cliffhangers with numbers or stats included, for example, "9 out of 10 people are guilty of this..."
Headline Formula Example: Netflix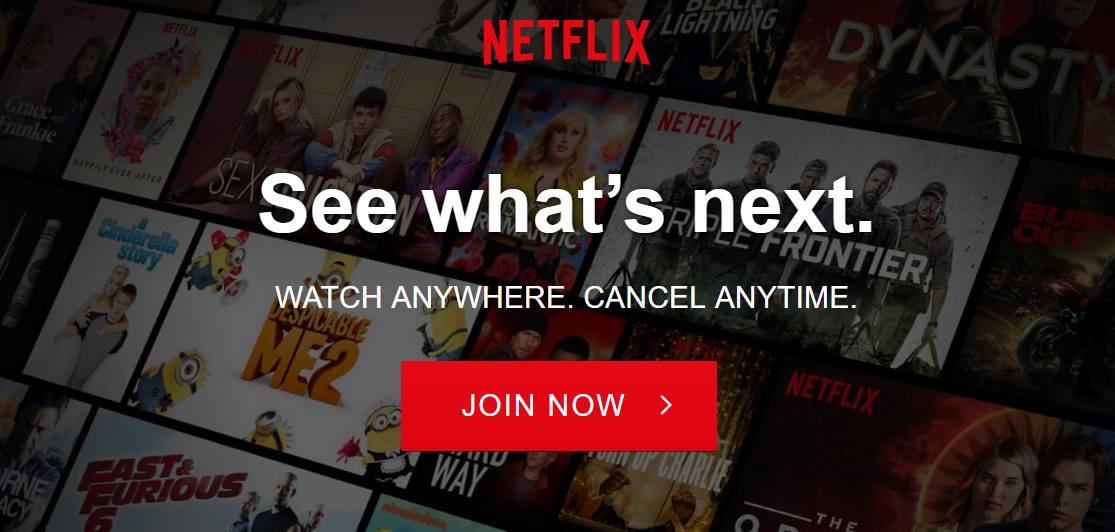 Headline Formula #4: The Number Headline
A number or statistic headlines help you to attach some value to your product or services. This headline is a slight variation of a value proposition headline but tends to do better because people can see the value of the solution they need.
If you plan to use this headline with specific statistics, it's important to use accurate numbers or show proof so people can validate the value of the service your providing. Don't say "Get 85% Conversions", when your overall report says otherwise. This can backfire with unsatisfied customers.
Headline Formula Example: Hourly Nerd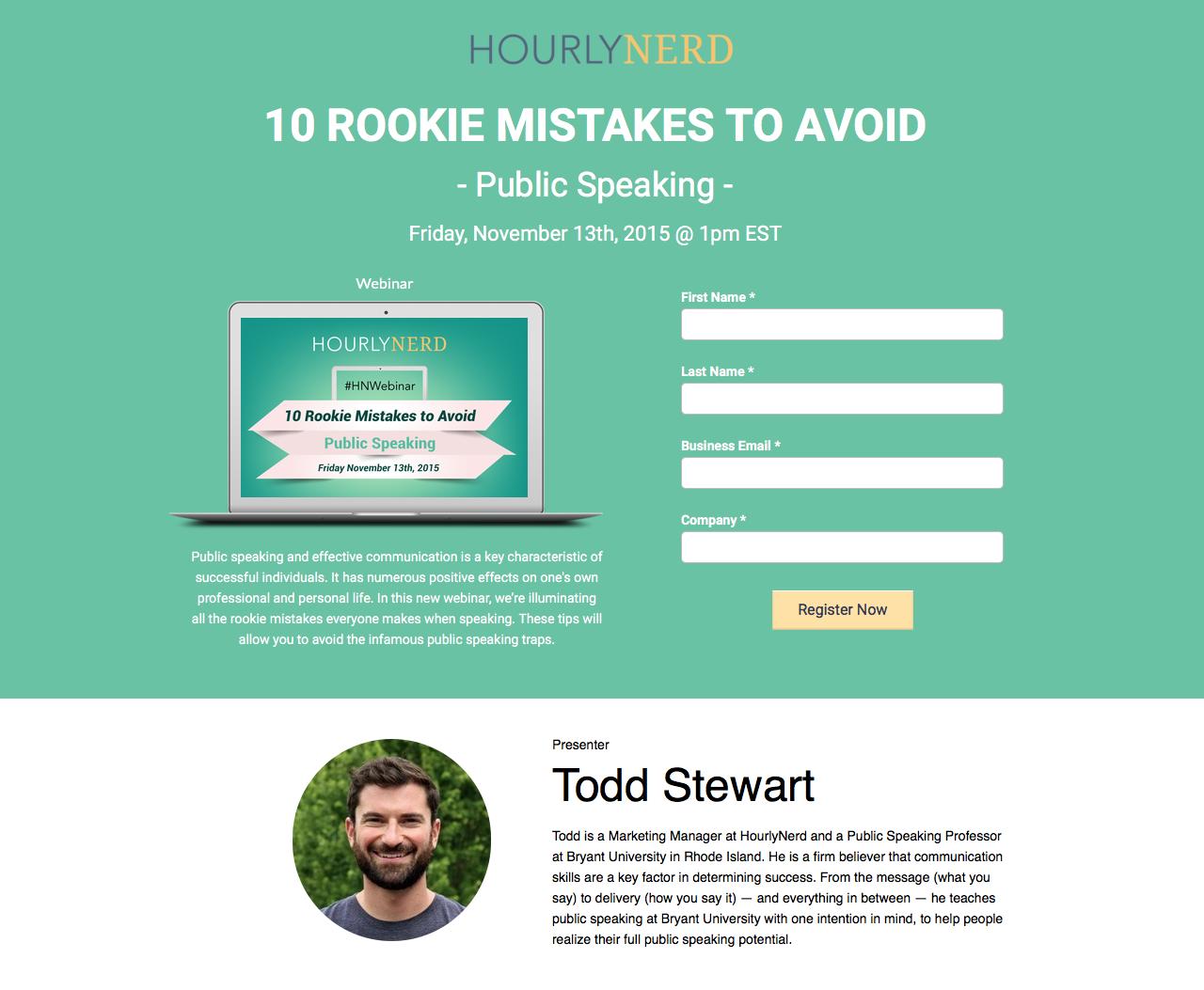 Headline Formula #5: The Testimonial Headline
Testimonial headlines are one of the easiest ways to start getting clicks on your landing page. These headlines can add to your credibility because you're allowing a third party to refer your visitors to you.
It can be a bit tricky to use if you're just starting your business or you're introducing something new. On the other hand, even if you've been around for a while AMA found that 83% of clients are willing to provide testimony or referral, but only 29% of them follow through. So you can ask, but you might not get as much as you want.
Sometimes you don't need a landing page filled with customer testimonies just the ones that are the most impactful or from influencers in your industry, because at the end of the day real customers bring real results.
One key takeaway is that your landing page should speak about your customers, there should be no "our" or "we" in your headlines, that's what your website is for, your testimonial landing page should speak only about your customers, after all that's why they click on your headline in the first.
Headline Formula Example: Shopify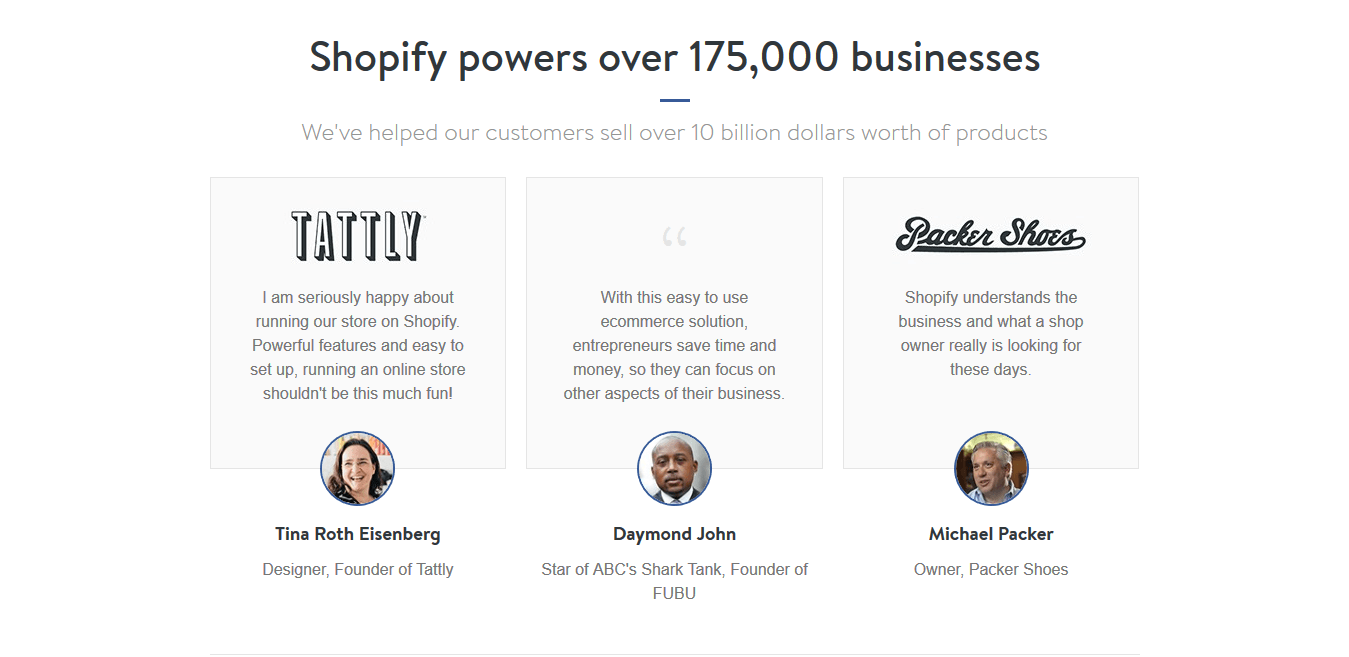 Headline Formula #6: The "How To" Headline
According to Conductor "How-To" headlines are just behind cliffhangers and comes in third as the most engaging headline.
Similar to listicle headlines, but without the heavy reliance on numbers. This type of headline helps people to see the solution to their problems right away.
The good thing about this headline is that there are a lot of different ways to write "How-To" without using the actual words. For example, you can say "How to Set Up Your Google Analytics Account" in two very different ways, like:
Easy Ways to Set Up a Google Analytics Account

Beginners Guide to a Google Analytics Account
As long as your teaching the person how to do something you're writing a "How-To" headline.
Headline Formula Example: Mix Panel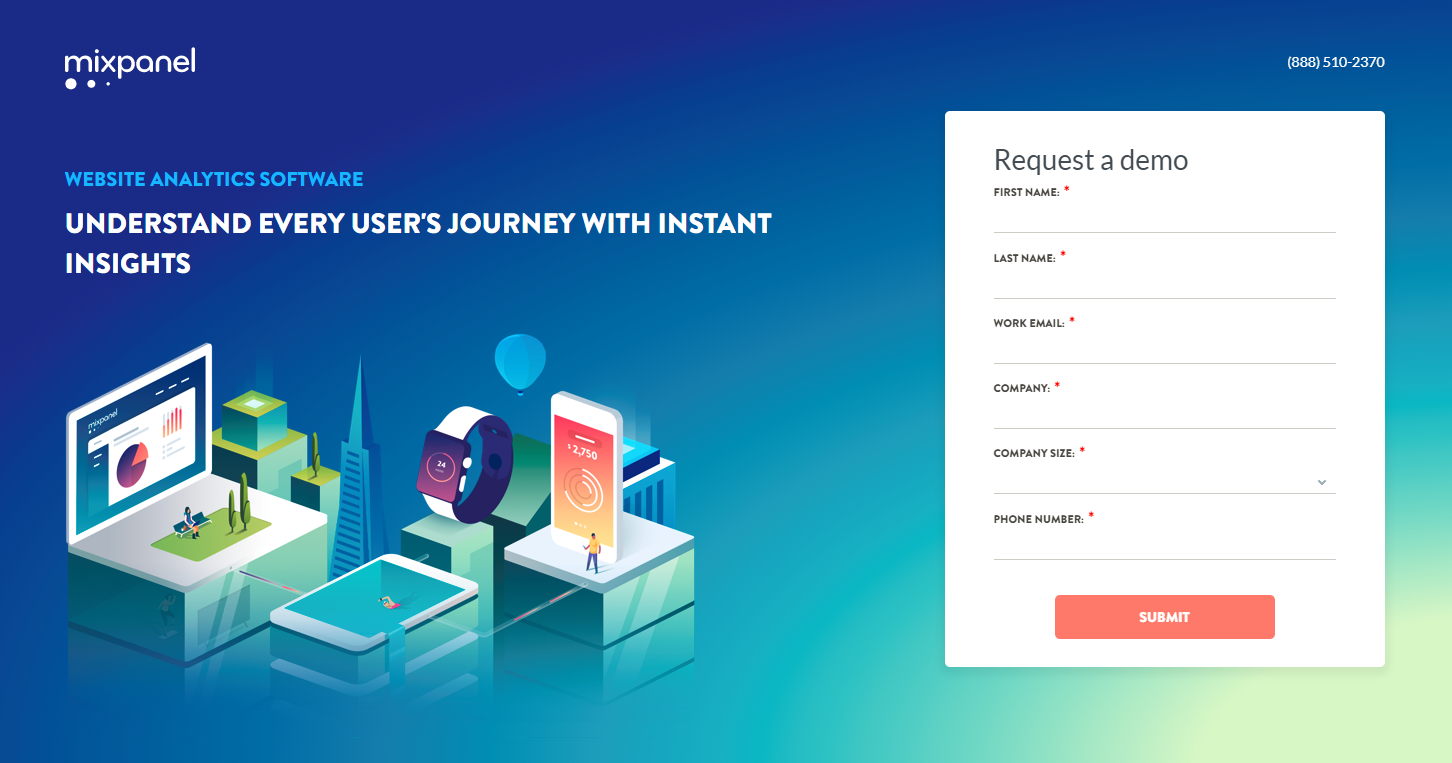 7. A/B Test Your Landing Page Headlines.
My final tip would be one of the most important, A/B test your landing page headlines. It may seem like a lot of work, but this practice can help you to find the headline that generates the most leads.
Sometimes it's not that the headline isn't good, but it just doesn't grab your target audience but with A/B testing you can find out much faster and easier than guessing.
Don't take the lazy route of solely relying on headline analyser like SumoMe's Headline Generator and CoSchedule's Headline Analyzer to test your landing page headlines. They're great for helping you to find out your headline score, but they aren't accurate to show you which headline works best with your target audience.
If you're new to A/B testing, it's not as complicated as most people make it out to be. A/B Testing is simply a marketing strategy were two versions, A and B (the control and the treatment) are tested against each other. At the end you can see which brings version offers the most results.
At Wishpond we offer A/B testing tools, and your test continues until one variation is more successful than the next, back by a 95% confidence level.
If you are still having problems getting conversions your landing page headlines could be suffering for these five reasons.
Summary
As a recap, here are seven genius tips for better landing page headlines you can start using today:
Write Clear Landing Page Headlines
Write Landing Page Headlines that Focus on a Benefit
Write Landing Page Headlines That Match Your Message.
Write Landing Page Headlines with Power Words
Proofread Your Landing Page Headlines
Use Headline Formulas for Your Landing Page
Have a genius headline tip or some landing page experiences you'd like to share? Drop them in the comment below; I'd love to hear them!