Digital marketing and content writing in particular is a challenging task. To create an engaging, customer-centered piece of content, you need to research, collect evidence, come up with an original idea, write about it, edit the text, proofread it, and do many other small things to ensure the highest quality.
New approaches and strategies in digital marketing emerge regularly, but one thing is clear: content marketing is here to stay. Since ranking high on Google with quality content is much more affordable for businesses, writing articles remains an effective channel for lead generation and improving SEO.
That's why most B2C businesses, for example, are committed to content marketing, according to a recent report by the Content Marketing Institute.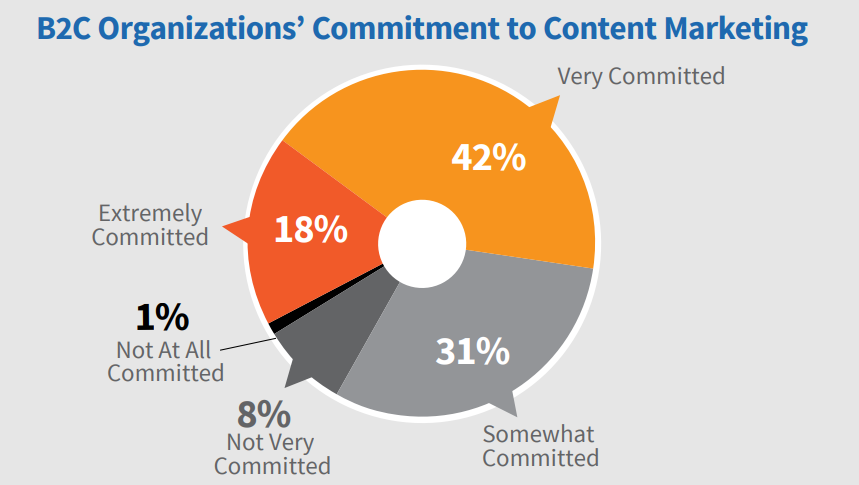 Credit: Content Marketing Institute
While widespread adoption of content marketing means fierce competition, it also gave the rise of numerous online tools for achieving digital marketing goals. If you're looking for some options to assist you with the tasks involved in the creation of marketing copies and automate some of them, then feel free to check out the list below.
1. Blog Post Idea Generator from FX Tools
Writer's block is a widespread problem among content writers. One of the main reasons for experiencing a creative slowdown is an intense workload, which is something that many content producers know very well. For them, this problem could lead to a plethora of unwanted consequences, including missed deadlines.
Blog Post Idea Generator was designed specifically for those who need to come up with creative blog topics very quickly. All you have to do is provide some keywords and hit "Give me an idea" button.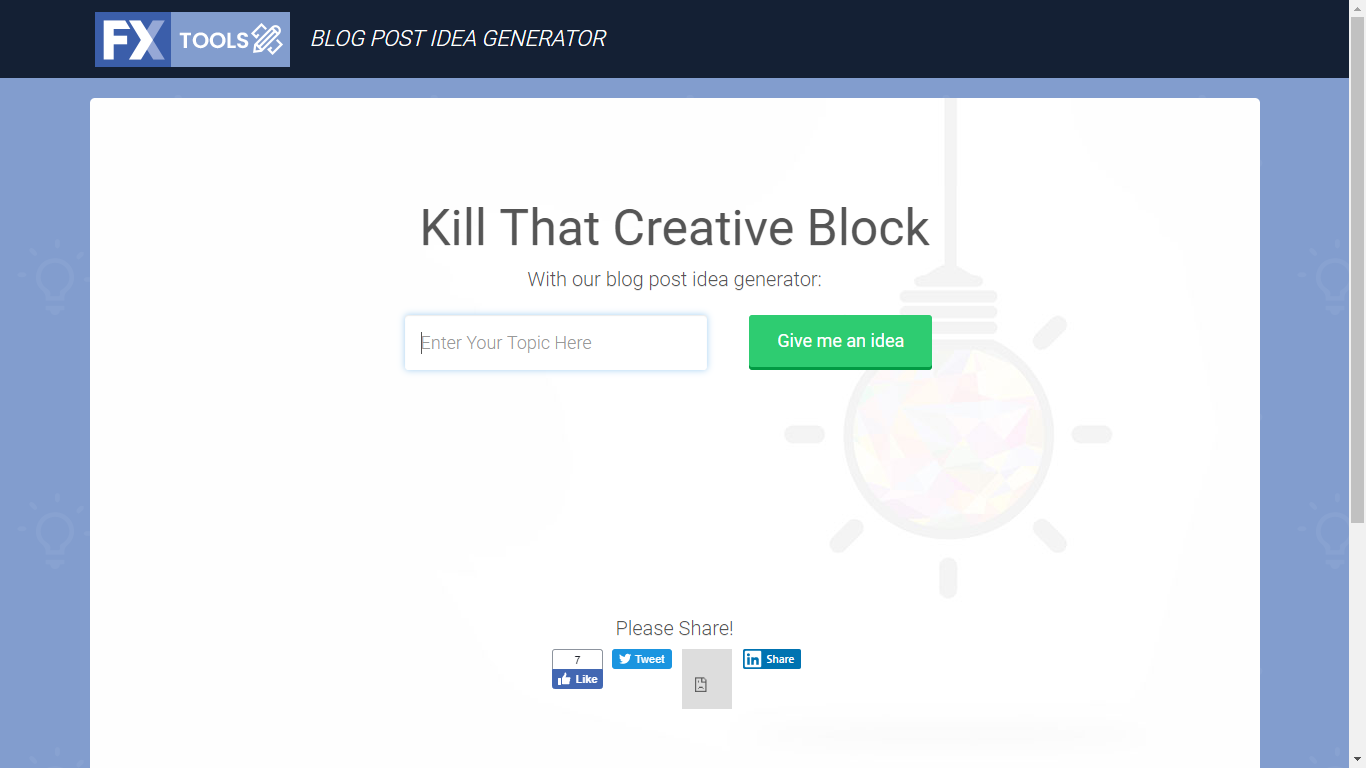 For example, here are the topics generated by the tool for "Content Marketing:"
What Sean Connery would say about Content Marketing
16 Of The Best Content Marketing Bloggers
Do You Make These 5 Common Content Marketing Mistakes?
The World's Worst Content Marketing Advice.
Not bad. While some of them may sound pretty generic, they can inspire you to come with your own, more engaging topics. Feel free to hit that "Give me an idea" button as many times as you want: the tool is completely free and there are no limits on topic generation.
2. BuzzSumo
It's a known fact that posts about breaking news get a lot of views and engagements because they offer a popular topic that many are talking about. If you would like to know some of the most debated topics online and see what's working for your competitors, you can. With Buzzsumo, you can search for the articles that have the highest number of social media engagements based on your keywords.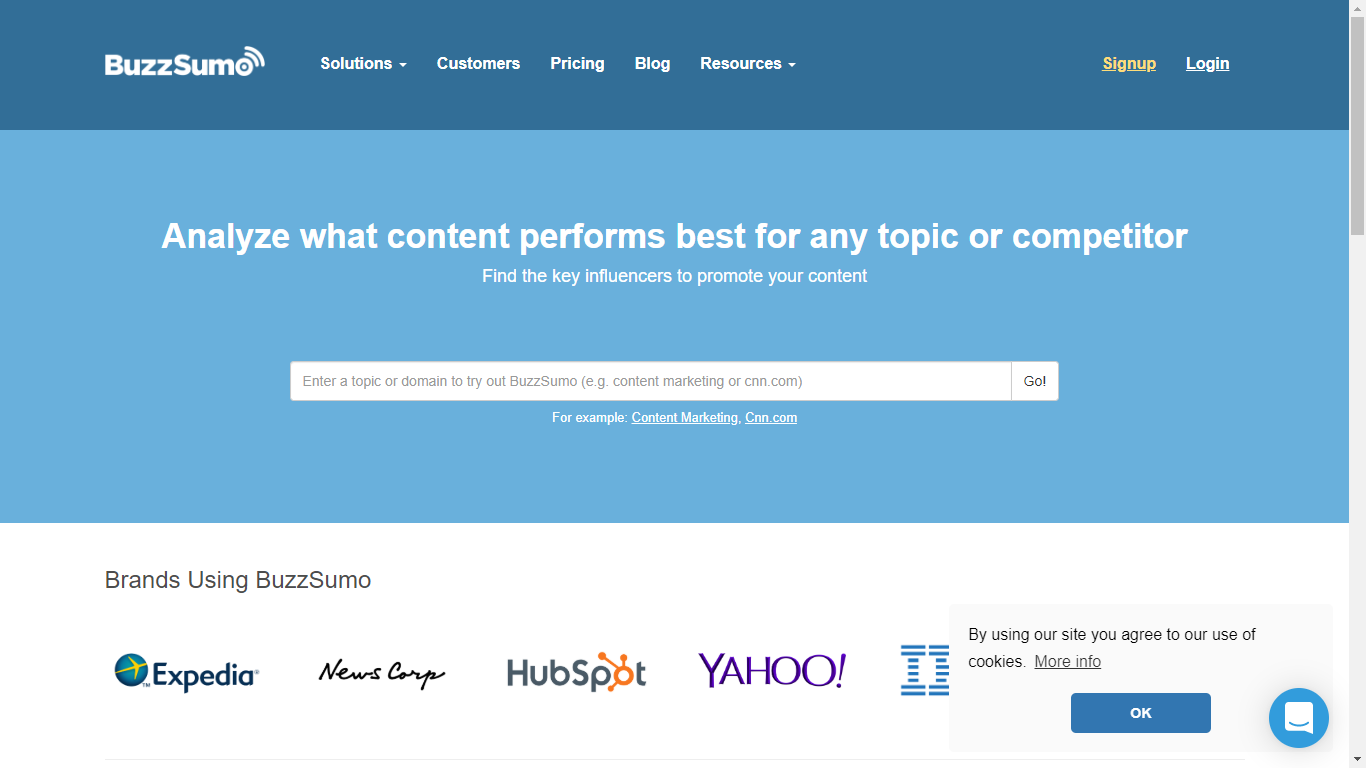 For example, you can look for a set of specific keywords that you use for the content strategy and see what's attracting the attention of online readers. By doing so, you're also performing content research, which could be helpful to identify the most relevant keywords used by your target audience the most.
So, you can get inspired to come up with your own, unique perspective on the best-performing online topics as well as to conduct keyword research to help with SEO.
3. CoSchedule's Headline Analyzer
Since a headline is the main tool for attracting the attention of online readers and convincing them to click on it, you have to do everything to make sure that your headlines are both engaging and optimized. While the previous two tools can help you with creativity, this one is definitely useful for optimization.
CoSchedule's Headline Analyzer was specifically designed to help content creators to evaluate the effectiveness of headlines based on research. Type your headline and you'll get a personalized report providing improvement suggestions.
For example, let's analyze one of the headlines created by Blog Post Idea Generator: "• Do You Make These 5 Common Content Marketing Mistakes?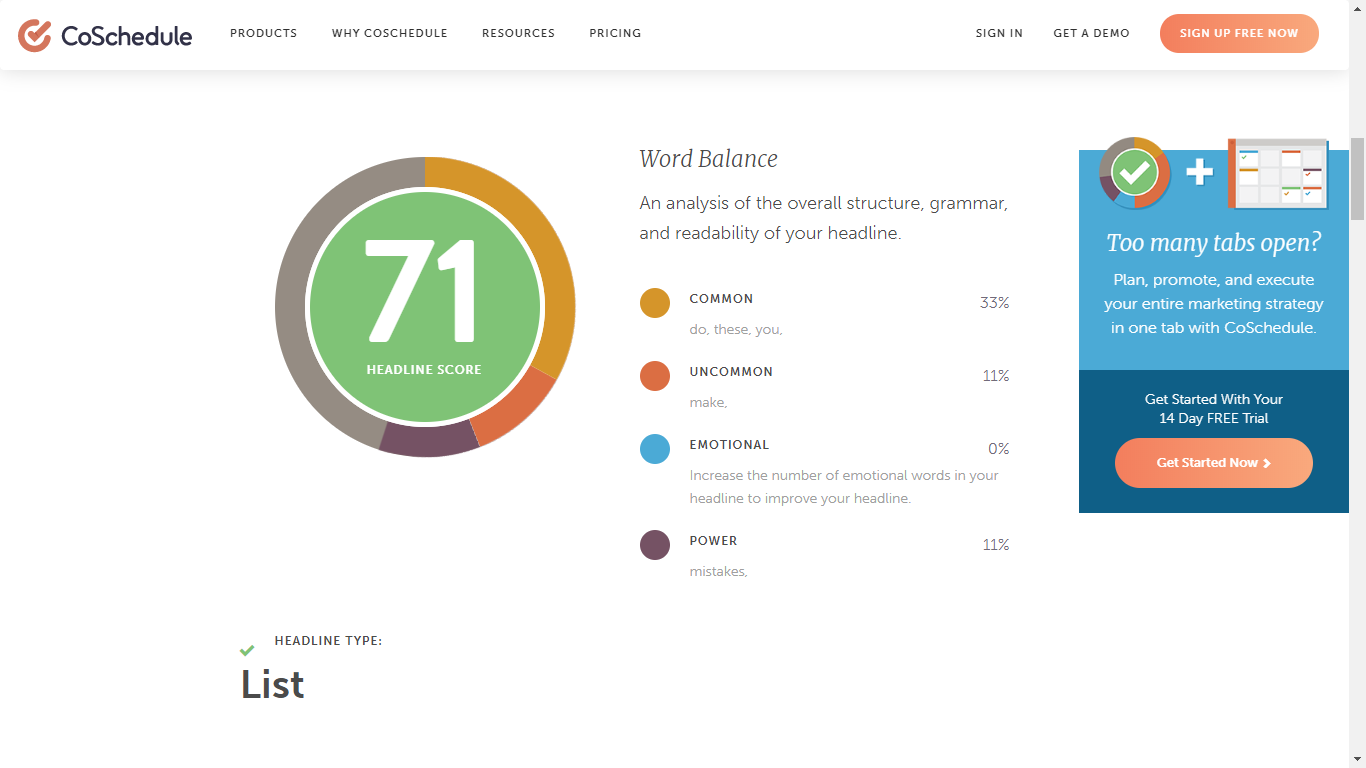 The analyzer gave it a decent score of 71 points out of 100 and explained a lot of other useful things that a content writer can use to improve their headlines. For example, every section of the report generated by the tool – headline type, length analysis, keyword analysis – comes with explanations and tips on improvement.
Aim for a higher score but also keep in mind the best practices and tips provided by the tool. Also, I advise you to test several versions of a headline, evaluate the reports for each, and then pick a winner.
4. Emotional Headline Analyzer
As a digital marketer, you know it pretty well that emotional marketing is something that can increase content engagement. For example, research of 1 million headlines found that emotional headlines (those with a high Emotional Marketing Value (EMV) score) get more shares on social media, therefore, have a better chance to improve the performance of your content marketing.
Another research also found that emotional content can give your work some advantage; for example, here's the list with the most popular phrases used in popular articles.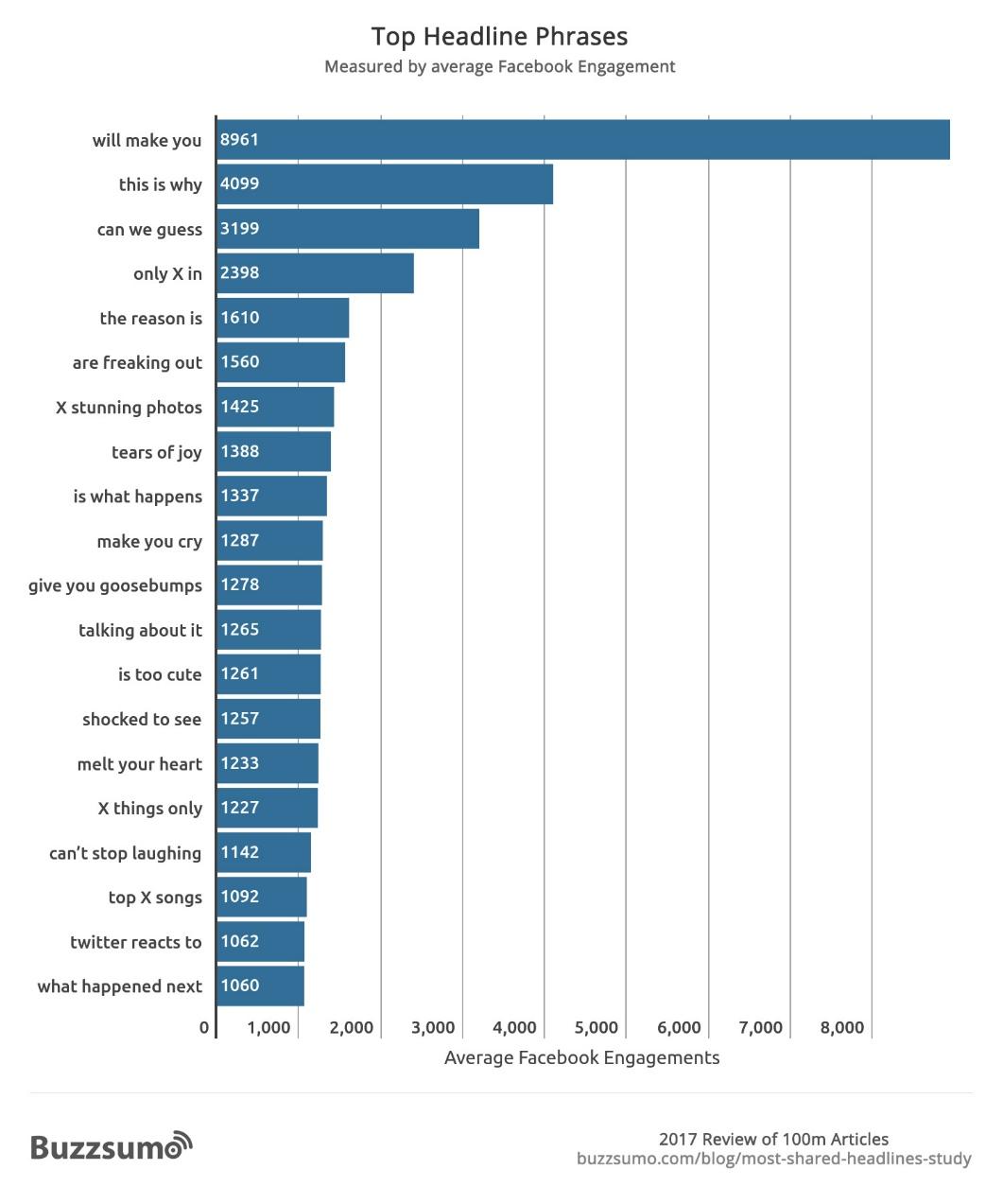 Credit: Buzzsumo
As you can see, many of the phrases – including "met your heart," "make you cry," "are freaking out," and "tears of joy" – are based on emotions, mostly positive ones. Fortunately, you can calculate EMV of your content with Emotional Marketing Value Headline Analyzer, a tool developed by Advanced Marketing Institute.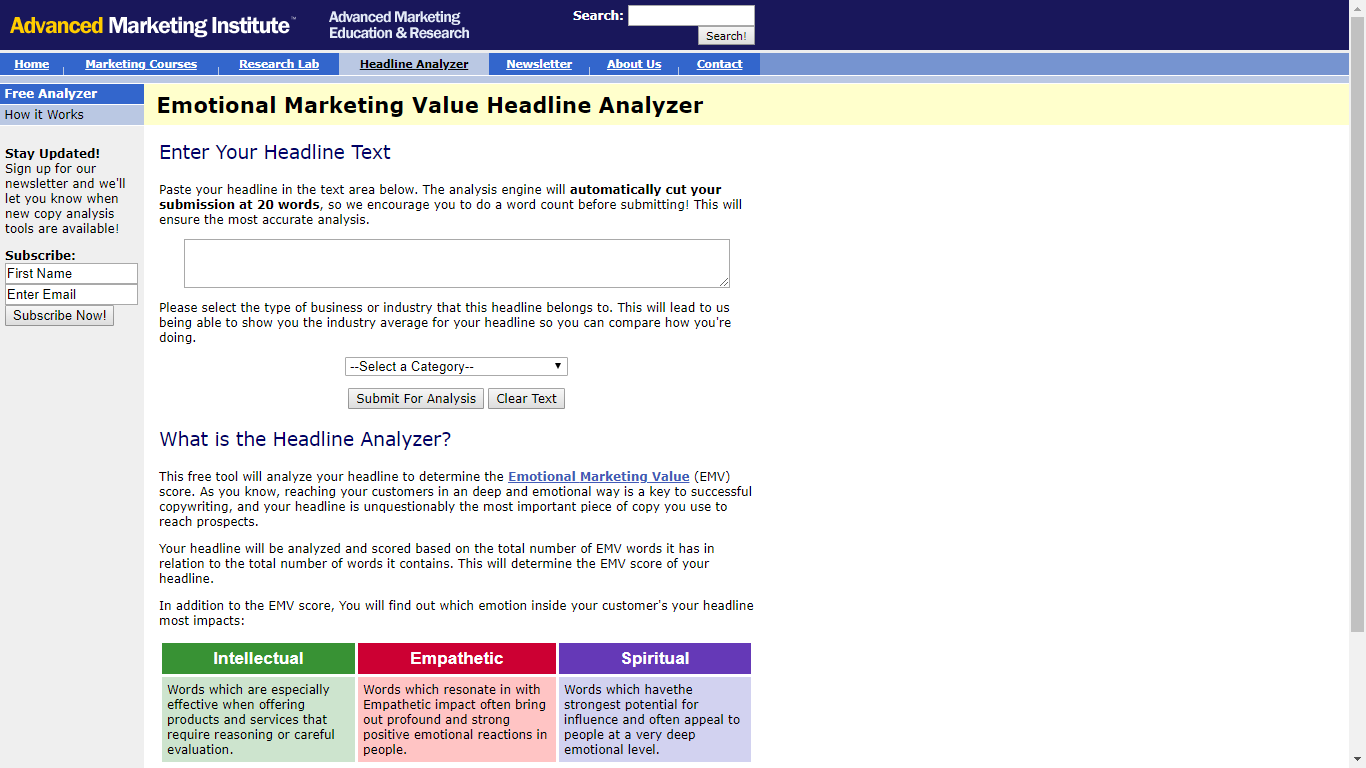 In addition to defining the EMV of your headlines, the Analyzer also shows provides characteristics of the emotion that you used.
Try headlines that include some of the most popular emotion-based phrases and see what happens, and soon you'll be in a much better position to create headlines with the strongest potential to appeal to your audience on an emotional level. If you need professional help with using emotionally powerful words in content, consulting with experts like WowGrade.net is recommended.
5. Hemingway Editor
The tone of writing is without a doubt one of the most important characteristics of a marketing copy. To ensure that your articles are customer-focused, you have to write in a specific tone your target audience considers appropriate.
For example, if you're running a blog whose target audience is Millennials, you want to write in a conversational, natural language that you use to communicate with your friends. This is the language they "understand the best," therefore, they will be much more willing to consume content written according to their preferences.
On top of that, it's also worth to remember that unnecessarily long and complex sentences are also a good way to make your texts difficult to read. You need to check your text for these mistakes and ensure that it's easy to read by most audiences.
That's where Hemingway Editor comes in. The developers of the tool are on the mission to help content producers make their writing "bold and clear."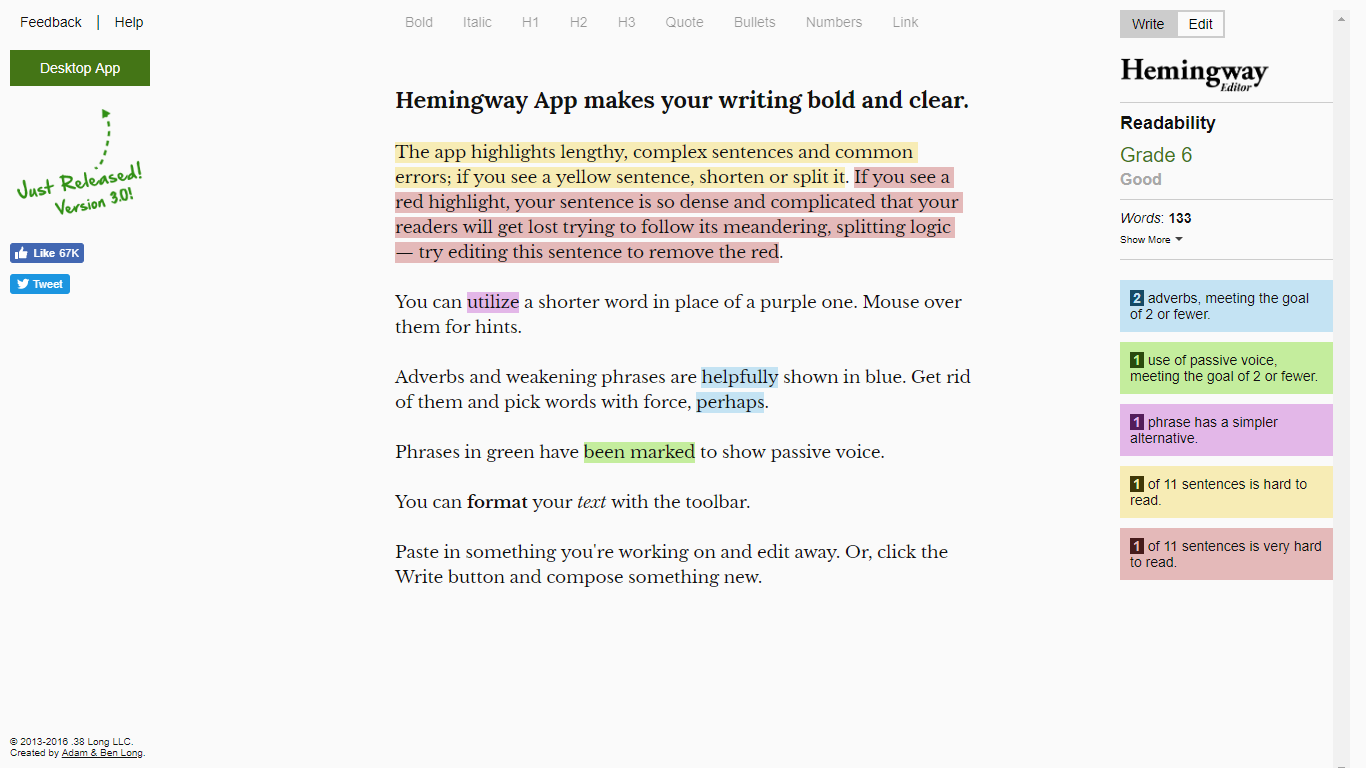 To achieve this goal, they provided the app with a powerful style checker. For example, it identifies such popular issues as complex sentences, passive voice overuse, unnecessarily complex words, and other things that reduce readability. This makes Hemingway a great companion for delivering content in a simple form, which is exactly what Google needs to understand the text and display it in the search results.
Quality, Audience-Centered Content Always Wins
As a digital marketer, you know that content competition is getting more and more complicated every day. However, one thing still holds true: if you create content that both Google and your target readers love, you won't have to spend a lot of money on promotion. Hopefully, these tools will help you to achieve this goal and save a lot of time during the process.
---
AUTHOR BIO
Emma Robertson is a content marketing writer who is on the mission to help B2B companies to improve the quality of their blog content. Her real passion these days is writing a book on B2B content marketing use cases that businesses can learn from to create amazing copies. In addition to writing, Emma also works as an editor and coach at Studicus.com.
amir