60 Epic Ways to Get More Leads Today
Between trying to keep up with your monthly sales and following through on your marketing plans, generating leads can feel a bit overwhelming. You're not alone, 65% of businesses say generating traffic and leads is their biggest marketing challenge.
But there's more than one way to skin a cat, which means there's more than one way to get the leads you need for your business.
In this article, I'll be showing you 60 epic ways to get more leads today.
Let's get started.
1. Generate More Leads With Your Business Website
According to the eCommerce Foundation, 88% of consumers will research product or service information on your website before they make a purchase online. This means if you don't have a website, you're missing out on getting a huge chunk of leads for your business.
Don't take it for granted, there is a lot of business out there that either have no website or a poorly designed one.
If you don't have a website, I've reviewed the ten best website builders you can use along with their pros and cons, so you decide which one works best for you.
Maybe you already have a website up and running, but you're not getting any leads. The truth is a well-designed website may get leads, but a poorly designed website design will prevent it altogether.
It only takes 0.05 seconds for new visitors to form an opinion about your website that determines whether they'll stay or leave.
First impressions do matter. The old saying of don't judge a book by its cover doesn't hold water when it comes to your website design.If you're worried you're website design might not be up to par I found Crazy Egg's article on the Best Website Layouts for User Experience and Conversions to be helpful.
2. Generate More Leads With Live/Online Chat
Having a live or online chat service for helps to generate more leads for your business because unlike an email that can take hours if not days, a chat conversion takes seconds to turn your visitors into leads.
You can even go as far as qualifying leads directly with (automated) questions and evaluating their current needs with a chatbot service like Botsify.
You can also use chat to discover information your website might lack or bury from first-time visitors who might not know how to navigate through your site as well.
Online Chat can benefit as listening tools so you can learn about the pain points of your current customers or common questions to add to your FAQ new visitors might have. Ultimately this can not only help to bring in more leads but upgrades.
Here are the top 10 best chat software services you can use for your business today:
3. Generate More Leads With Custom Chat Messages
In April 2019 the Wishpond Marketing team tapped into the power of chat marketing.
At Wishpond, when we started using chat, we had one message that would pop-up and ask people if they needed help with anything. We noticed that most of our chat interactions came from people reading articles on our blog; each chat inquiry was specific to the topic they were reading.
We made some notes and decided to go the extra mile to make each chat message customized to the blog article it would show up on.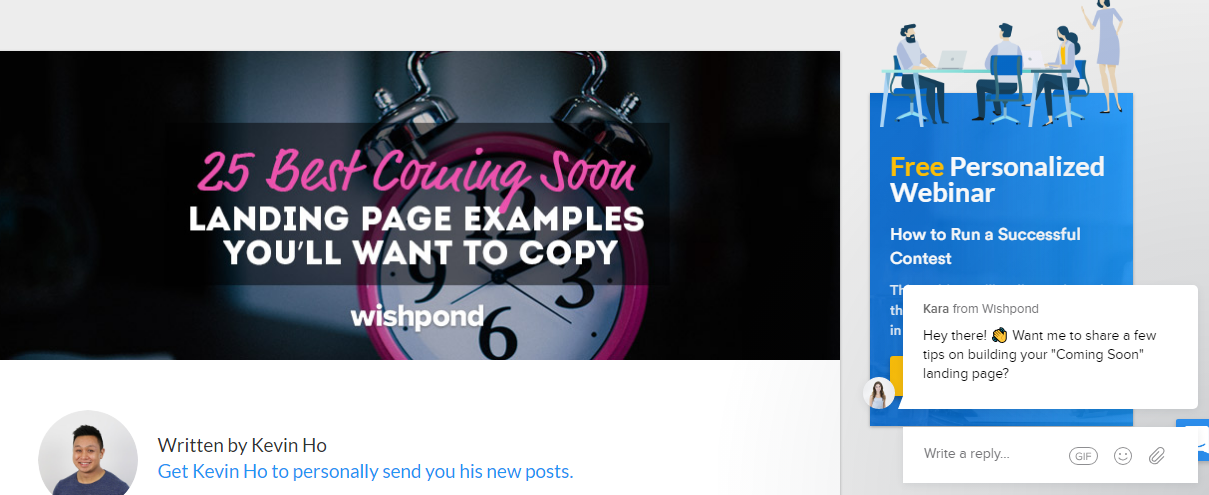 So for instance, if there was a Facebook article on how to run a Facebook contest, the chat message that pop-up would ask them if they need help with planning their next Facebook contest.
This simple change of customizing our chat messages instantly brought more conversions
leads when compared to our "one size fits all" message.
Now we have a lot of articles so customizing the chats did take time, it was a team effort but as soon as we started making changes to only a fraction of our articles we started to see the results instantly.
It was a labor of love that brought in some qualified leads. Have a chat message on your website, why not give custom chat messages and try and see what happens.
4. Generate More Leads With Lead-Generating Landing Page
With the right landing page, you can get more leads for your company with just a few clicks.
But a landing page can only generate leads if it's adequately designed to do so. Maybe you currently have a landing page that isn't bringing as many results as you'd like. Try to see if you're making one of these 7 Landing Page Mistakes that are Costing you Conversions.
With Wishpond we've helped to generate over 75 million leads with our features and software. Namely our Wishpond landing page templates.


Create beautiful, high-converting landing pages for your business with mobile-responsive templates designed to fit any industry. Click here to get started.
5. Generate More Leads With SEO Keywords
Optimizing your content with SEO is key to bring more leads your way. The right keyword can put you directly in front of the right audience looking for your products or services.
The trick to using the right keywords so that you can get better searches and clicks is to find lower search volume keywords, so you don't have to compete with high keywords that are being used by almost everyone. Because you're competing with a wide range of other business locally and globally, you want to take every chance you get to stand out and grab potential customers attention.
Here are the top 5 tools to find keywords for your online platforms:
6. Generate More Leads By Updating Your Website
You can generate more leads with an updated website. If visitors make it to your website, congrats they're considering your services, but if your website information is out of date then, you might have just lost a potential customer reaching out to you.
That means no appointments, no sales, and no new customers. Your website is once again blocking the door to new leads.
The little things matter, take the time to update your website with the following:
Store hours
Name, address, and phone number
Products (descriptions)
Testimonials
Promotions
Parking availability
Google Maps attached to each location page
Images and videos
Client Portfolio
New products and services
7. Generate More Leads With A Mobile-Friendly Website
Sweor reported that about 57% of internet users say they won't recommend a business with a poorly designed website on mobile.
If your website doesn't have a seamless experience across all devices, especially when more than 52.7% of global Internet users access the Internet using mobile, you'll not only miss out on getting leads from your website's mobile designs, you'll also lose recommendations and referrals as well.
Take the time to optimize your website for mobile. Most website builder's allows you to see your website design on tablet and mobile so just as you like reviewing the desktop version, you can do the same for the mobile and tablet version.
Instead of clicking around to see what kind of mobile design works for you can use Quick Sprout's guide to a Mobile Friendly Website to help you get it right the first time.
8. Generate More Leads With Local SEO keyword strategy
Generate more leads for your business with the help of local SEO keyword strategy. This means optimizing your local SEO for more website traffic, leads, and conversions aimed towards local customers in your area or location.
Having a local SEO keyword strategy can be as simple as creating content based on local news stories or events in your blog or online platform so that locals can find out who you are and the services your offer easily.
9. Generate More Leads With Update Your Google My Business Account
Have you ever search for a company or service in Google and then you see a little sidebar with all the relevant information like this: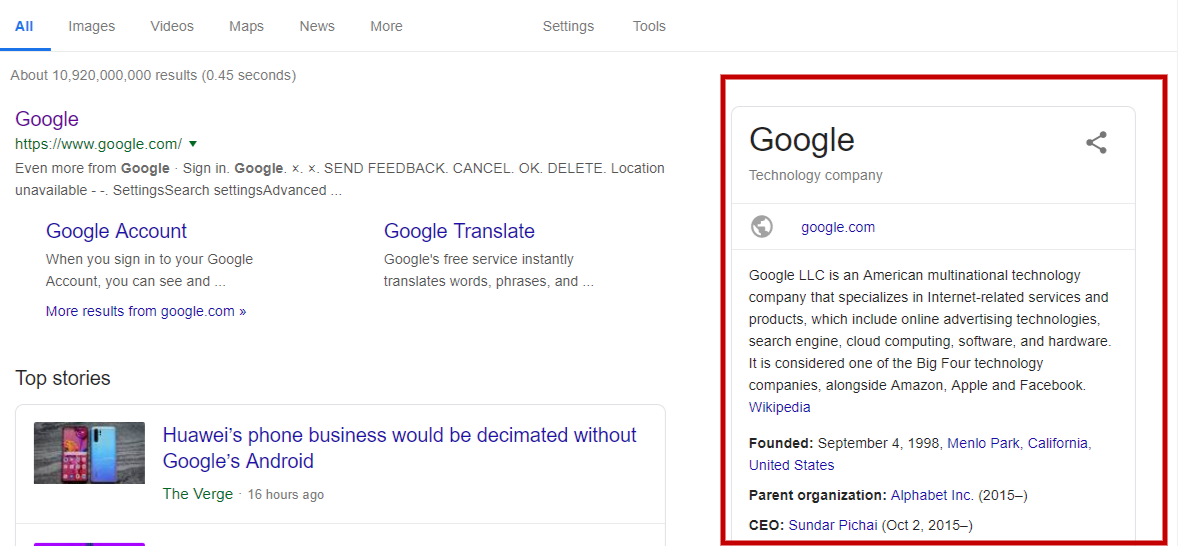 This is one of the many things having a Google My Business Account can offer you. It allows online users to find everything they need about you with just the click of a search button.
You can sign up for free anytime. Plus you're added to a Google My Business listing when you create a with a Google Account.
10. Generate More Leads With Google AdWords
If you're looking for a powerful paid tool in marketing to get more leads, Google AdWords is the best way to go. With it, you can run highly-targeted, low cost, high conversion campaigns on the world's most popular search engine, Google.
However, if you don't know what your doing it can cost you more money than results, you might end up making one of these 10 Avoidable Google AdWords Mistakes Only Beginners Make. So be sure to know the in's and out's of Adword campaigns or hire an expert before you start.
If you're ready to tap into the power of Google Adwords, you can use this guide to Create a Google AdWords Plan in 10 Easy Steps.
11. Generate More Leads With Online Directories.
A physical directory might not get you many leads, but an online one will work just as well, if not better.
Placing your business in an online directory helps to increase visibility because they're one of the first places today's buyers look when they need to find a supplier/partner/provider. It can also help you with your local SEO strategy.
If you're not sure which online directories would be the right fit for your brand you can use Hubspot's Ultimate List of 57 Online Local Business Directories.
also we recommend: Orbit Local's list of 217 Best Online Business Directories For Local Marketing & SEO
12. Generate More Leads With Website Pop-Ups
Website pop-ups are a great way to get emails from visitors so that you can retarget and turn them into customers.
Sumo Analyzing 2 Billion Pop-up Examples found that if you get even 150 visitors per day to your site, you'd have 418 signups in a month. That's 418 visitors you can turn into qualified leads and customers.
But as useful as pop-ups are if you don't construct, timed properly or worded right then well you'll end up losing conversions on your site instead. Try to avoid these 7 Website Popup Mistakes That Are Hurting Your Conversion Rate.
If you don't have a website pop-up, you can easily create on with Wishpond's Pop-Up Builder in minutes and start gathering leads.

Get started with Wishpond and create your popups, welcome mats, slide-in popups and opt-in bars for your website, e-commerce store, or blog.
13. Generate More Leads With an Exit Strategy
If your first attempt didn't work, you could increase your chances with an exit strategy intent popup strategy.
You can use an exit strategy to as your last chance to grab your visitor's attention and turn them into a possible lead before they disappear and go to a competitor's website instead.
Online shoppers are just like offline shoppers. People are always on the lookout for the best offers, deals, and product quality. Sometimes they just want to shop around to see what works best for them.
That's why having an exit strategy is essential. Simply put, an exit strategy is based around providing a piece of value to a user as they attempt to leave your site.
This might include adding:
Follow up emails
Free shipping offers
Downloadable content
14. Generate More Leads With Discounts & Deals
Online visitors are always looking for the best deals and discounts they can use to save on their purchases. Convince and Convert found that 93% of Shoppers use a coupon or discount.
You can place discounts everywhere, on popups, website banners, and sidebars. Never wait until after a user reaches the checkout or leaves to give them a special promotion.
Offering a discount doesn't always mean lowering your price or quality; there are a few smart ways to offer discounts, so you're not losing money. You can use this helpful guide I found on How To Use Discount Pricing Strategies to Make More Sales.
15. Generate More Leads With Free Shipping
Admit it, when your shopping online and you see that free shipping option you're excited.
That's because offering free shipping (if you have an e-commerce store) can help you to generate more leads and purchases.
Four out of five consumers are more likely to purchase if you offer free shipping. Shopify listed offering free shipping as one of the top 19 ways to increase sales.
Thinking about offering free shipping? Great! Learn about The Psychology Behind Free Shipping and how to use it to make more sales.
16. Generate More Leads With Positive reviews
Reviews have so much power when it comes to swaying buyers purchasing decisions. 22% of online users won't buy your product or service after reading even just one negative review, not to mention four or more bad reviews can take up to 70 percent of a business's potential customers away.
So that one-star review you're ignoring on your website or e-commerce store could be the deciding factor for potential leads.
If your customers are reaching out to you via email or social media, and excited about your products, feel free to show them off on your website. You can also use these 7 Ways to Display Business Reviews on Your Website.
17. Generate More Leads With Email Marketing
Hubspot reported 73% of millennials to prefer when businesses communicate with them via email and with 99% of consumers check their email every day it allows your brand to generate leads through email marketing. If you're a B2B company you can use tools like Aeroleads to help find leads.
You can increase your leads by sending emails with:
Discount & Deals
Product updates
Blog Articles
You can use "email drip campaigns" and "marketing automation" to drive leads your way. Get started with Wishpond Email Campaigns, so you can send emails and nurture leads into sales.

18. Generate More Leads With a Shopping Cart Abandonment Strategy
If your e-commerce store is suffering from shopping cart abandonment, it's the perfect opportunity to turn those abandoned carts into paying customers.
Studies show that almost 70% of purchases are left unfinished. And if you're not taking this number seriously, chances are, you're losing more money and leads than you thought.
Recover your leads with 10 Expert Ways to Reduce Shopping Cart Abandonment.
19. Generate More Leads With Webinars
Webinars have always been one of the top ten ways to generate leads for your business; maybe it's because 72% of online users are willing to give contact information for a webinar. With that information, you're able to turn attendees into qualified leads for your business.
You can have a pre-recorded webinar or a live webinar though I found that live webinars attendance and engagement are 46% more when compared to other webinar methods.
Marketers know lead generating webinars take work, there's no way around it. In the end, the results you get outweigh massively outweigh the effort it takes to create them. So if you're on the fence, give it a try.
If you're up to the task with hosting a webinar, you can use Neil Patel's Guide to Running Successful Lead Generation Webinars
20. Generate More Leads With Content Marketing
Bill Gates once said that "Content is king," but expert marketer Lee Odden says it's not "King, it's the Kingdom."
Content marketing can Improve brand reputation by building trust through your online content. Content marketing has proven to effectively generate leads, in fact, after reading recommendations on a blog, 61% of online consumers in the U.S. then decided to make a purchase.
For more tips on getting started with content marketing, check out 6 Types of Content We Used to Grow a 250,000 Reader Blog.
21. Generate More Leads By Including Alt Tags In Your Images
Image search is still on the rise despite Google 2019 update to remove search by image; with the new update, users can now only view images through the "Visit" button, which takes them to the webpage that contains the image.
When you add ALT tags to your image, you're expanding your brands SEO so that you can be easily found or considered by your lead across the board, from your website to your blog and now the images you use as well.
It may seem like a simple task, but these little SEO trick pay off over time and helps to bring in leads for your business in the long run as your business grows.
22. Generate More Leads With Guest Posting
Guest posting is inviting or allowing someone who is outside of your business to write an article that will be featured on your blog and promoted on your platform.
Guest posting isn't just great for SEO; it helps to build credibility for your brand. When your readers see an influencer, they trust writing for your brand or about your services you have a traffic of potential leads.
Guest posting works both ways; you can also guest post on other popular blogs as well to increase brand awareness and opens the door for networking with other brands for future projects.
23. Generate More Leads By Sharing Your Content
Digital Influencer Gary Vee once said, "What you do after you create content is truly what counts." He's right; most businesses think that once they publish their blog articles, traffic will come rushing in to read. I'm here to tell you it doesn't matter how good your SEO or topic is you need to get the word out.
Strategically plan how you want to promote your content ahead of time helps to amplify your brand, target audience, puts you in front of the audience you want to convert into buyers.
Looking for the right place to start sharing your blog? I found this article on 101 Effective Ways to Promote Your Content in 2019 that's sure to get you off on the right foot.
24. Generate More Leads With CTA's Your Blog Posts
Congrats you're getting a steady flow of traffic to your website and blog, now what? Capture leads with in-line CTA's in your blog post.
Here are two of the best examples of CTA's for blogs:
Wishpond

Hubspot

You can add them at the beginning, middle or the end of your article. Just like a landing page, you'll have to test out your CTA's position and copy to see what works best to generate the most leads.
To quickly and easily test out different CTA's on your blog, check out Wishpond's CTA builder.
25. Generate More Leads With Opt-In Forms on Your SideBar
You can use the sidebar of your blog or website to capture leads for your business. You can use calls to action like free trials, free consultations, or a simple mailing list opt-in form.
If you really to increase your lead generation adding downloadable content, forms or reports for your opt-in bar is an excellent place to start as well.
Social Media Today uses an opt-in form for email subscriptions and downloadable content so that they can grow their list and later send sales or content emails.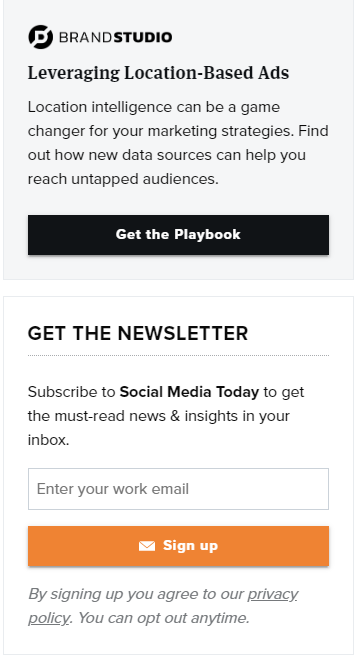 26. Generate More Leads With With a Referral Program
What's better than offering free content to capture leads for your business? Offering more free content to anyone who brings you more leads.
When word-of-mouth referrals make up 20-50% of most purchasing decisions, a referral program is sure to bring leads your way.
Ask people to enter your affiliate program or sign up a friend for a chance to get discounts and products. Just ensure that your referral program rewards are enticing enough for your customers to go the extra mile.
Here are ten referral programs you can integrate with your business:
27. Generate More Leads With A Giveaway
Having a giveaway is a great way to boost engagement and leads for your brand. There have been a lot of brands out there that have gained a massive following and loyal customers just by hosting giveaways.
You can choose to have an online giveaway with a landing page or host your giveaway purely on social media.
Ready to start your giveaway? Wishpond offers Contests & promotions features that make it easy to get the most out of your contest and giveaways.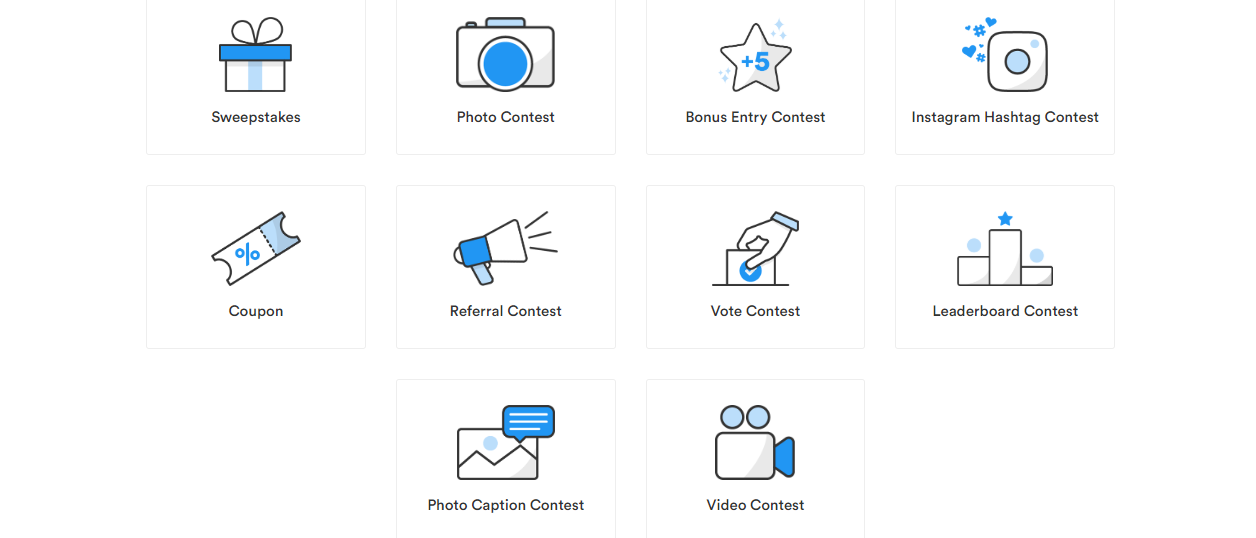 28. Generate More Leads With Video Content
Create video content centered around a specific keyword or popular topic. When you start thinking about what type of keyword you want your video to be about, it helps viewers to see and know what your video is about without a second thought. Optimizing your video content with SEO helps to boost its visibility.
You can use video content in a wide range of ways to generate potential leads:
* Behind the Scene * Products Updates or Uses * DIY's or How-To * FAQ * Customer reviews
29. Generate More Leads With Keywords In Your Video Filename.
Yes, your video file name does make a difference. It can be the difference between your video's ranking in Google search engine.
For example, if you upload your video with a change your video's default name from "18877613.mp4." to "howtolose_weight.mp4" Google will automatically focus on the keywords in your video's title. Doing something as simple as this can bring a dramatic jump in your video's ranking.
It's also important that use long tail keywords in your video titles. You can still use long, detailed video descriptions and titles so Google can find your video for relevant and highly-specific long-tail phrases. Just don't go over overboard, so your titles cut off.
The easier your video content is to find, the easier it is to outdo your competition and be front and center before your potential customers.
30. Generate More Leads With Backlinks & Links in Your Video Descriptions.
Tubular Insights found that 52% of shoppers agree that watching product videos makes them more confident about making a purchase.
Add that to the fact that 46% of shoppers said they would be more likely to seek additional information about a product after watching an online video about it putting backlinks and links in your video description increase your chances of increasing leads.
Link building isn't just for websites. It's another great way to let Google know what your video is about in the description, so you rank for the keyword in Youtube and Google better.
31. Generate More Leads With Seasonal Sales
Holiday sales are one of the best ways to capitalize on getting new paying customers. Host a seasonal sale for your services or products with a discount, holiday bundle, or offer seasonal products at a good price.
That's what the Dollar Shave Club did with their Holiday Shave Set.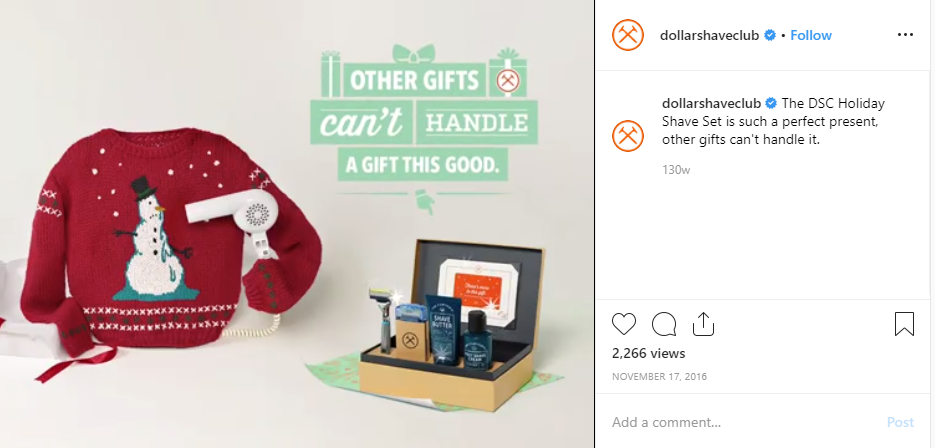 32. Generate More Leads With A Podcast
Podcasts help you to reach out to new leads for your business. Podcasts can help in building familiarity with a wide range of audiences. At least 51% of U.S population listen to podcast, imagine how many people listen to podcasts on a global scale.
Listeners usually subscribe to the series and regularly listen. As long as the audio series continues, your audience is quite likely to keep listening, which provides the perfect opportunity to talk about how your products and services can help customers.
For example, Buffer has a podcast called The Science of Social Media where they talk about everything social media and from time to time Buffers amazing social media management features.

33. Generate More Leads With Backlinks in Your Blog
Simply put, a backlink, also known as an external backlink, is when another site owner links to your website somewhere in their content. This could be on a blog post, a service page, or on any other page on a website.
Backlinks are important for SEO because it helps to boost your content's keywords; it also authentic, when you use high-value backlink it backs up the quality of the content on your website.
34. Generate More Leads With Infographics
Educating your audience is the key to content marketing, and infographics can be one of the easiest ways to do it. They're also shareable content that bring engagement your way, with engagement comes the possibility of generating quality leads.
Infographics work well because people are 30x more likely to read an article with more visuals than words. It also allows viewers to break down complex information.
If you interested in creating infographics Canva provides free templates and customizable designs you can use.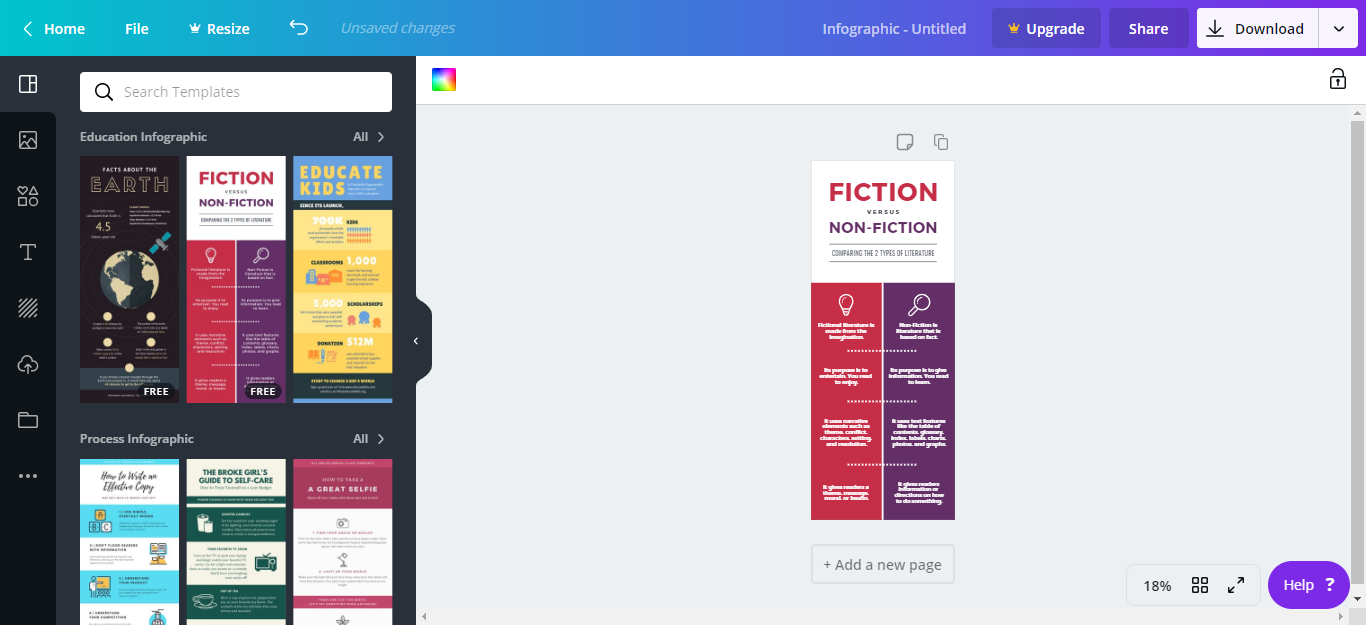 35. Generate More Leads With Instagram
Instagram has more than 500 million daily active users, with 83% of them discovering new products and services on Instagram.
With an audience ready to discover your brand and services, you can use Instagram to generate leads and sales. The key to generating leads on Instagram is consistency. To do that you'll need a Winning Instagram Marketing Strategy.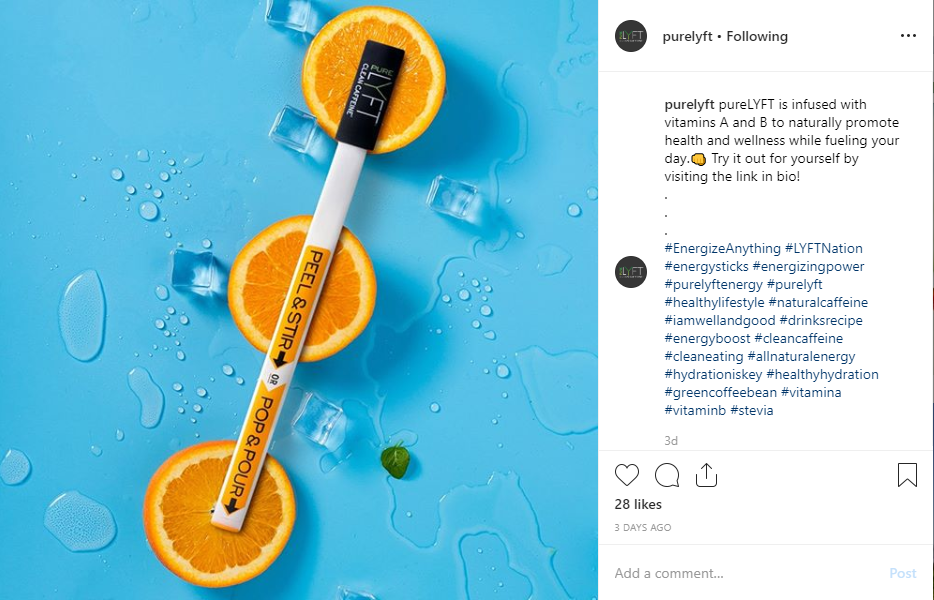 36. Generate More Leads With Instagram Stories
Instagram stories are images or videos that you can upload on your account that disappear after 24 hours.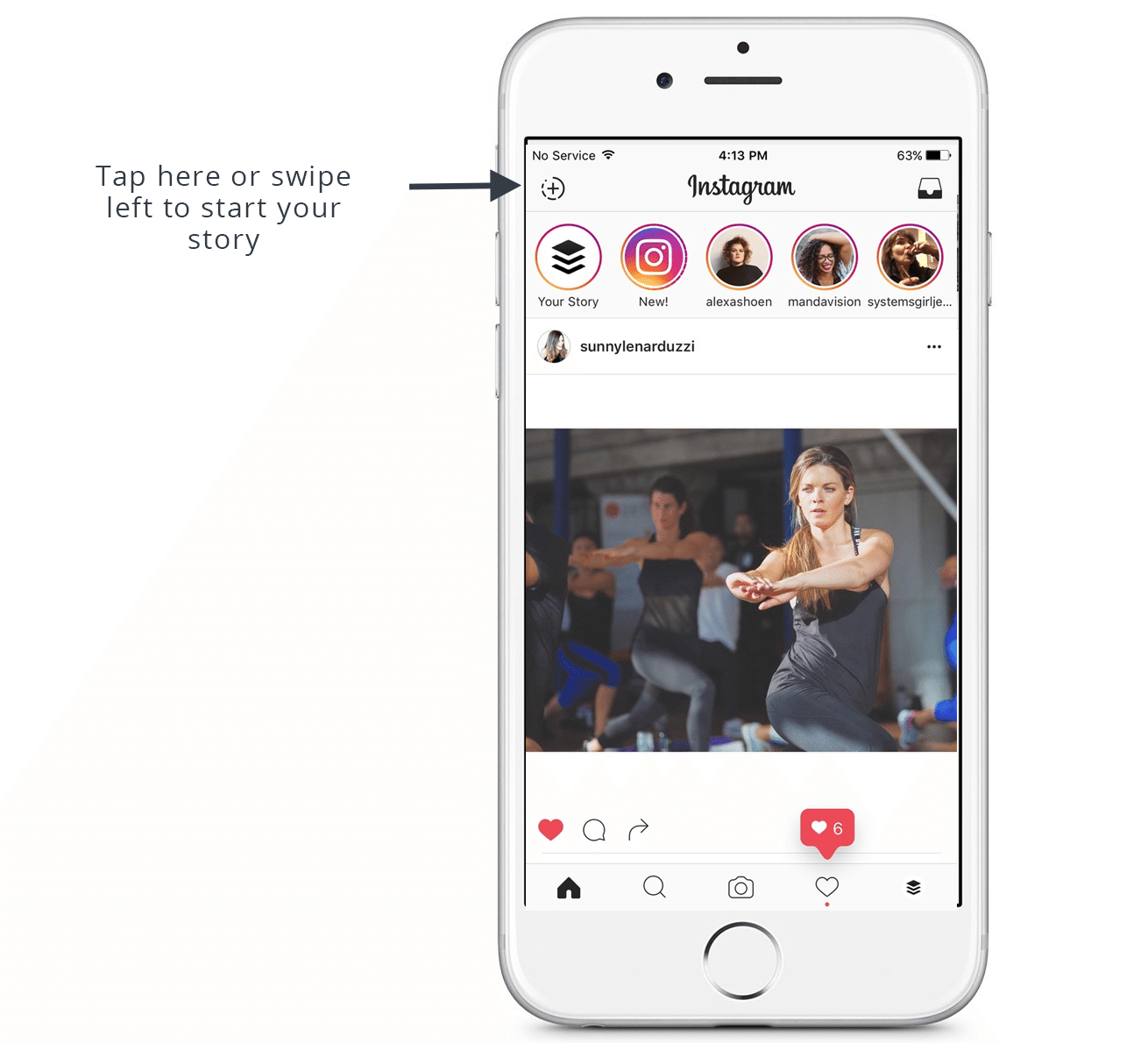 If you're able to, you can add a link to your story and direct viewers to your website, offer or landing page effortlessly converting them to leads. You use this guide to learn How to Add a Link to Your Instagram Story.
You can incorporate Instagram Stories to your social media marketing plan. Shopify's step by step guide on How to Use Instagram Stories for Marketing (And Why You Should) can point you in the right direction to get started.
37. Generate More Leads With Instagram Name Tags
Around October 2018, Instagram launched a new feature, Instagram Nametags. Essentially this allows you to create and customize a name tag that can be scanned by other people so they could find your account easily on Instagram.
Likewise, you can scan other people's Instagram Nametags if you need to find them. Your Instagram Nametags allows people to quickly find and connect with you without having to type in your name in the explore page.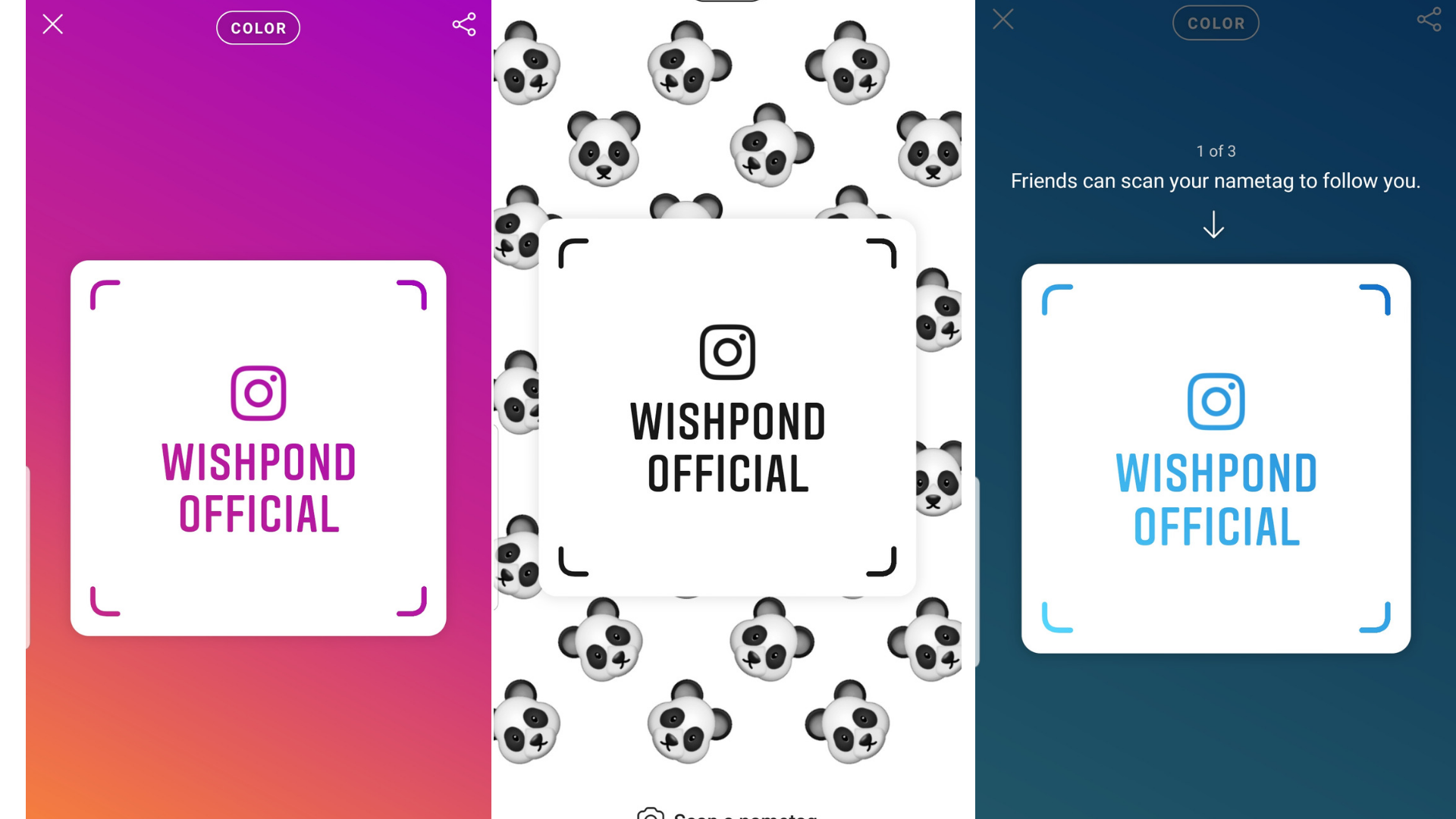 Five Creative Ways to Use Your Instagram Nametag: *Print your Instagram Nametag on your business cards *Place your Instagram Nametag in your store *Add your Instagram Nametag to your videos *Add it to your blog or website *Share your Instagram Nametag at events
For more creative ways to here are 30 Ideas, Tips & Examples to Market on Instagram.
38. Generate More Leads With Instagram Hashtags
Never underestimate the power of hashtags, they can be your driving force for engagement and the key to being discovered by your target audience.
If you're promoting your brand on Instagram then it's best to use hashtags that are related to your business. For example, the Preview App uses hashtags that it's customers use or their potential leads usually follow on Instagram.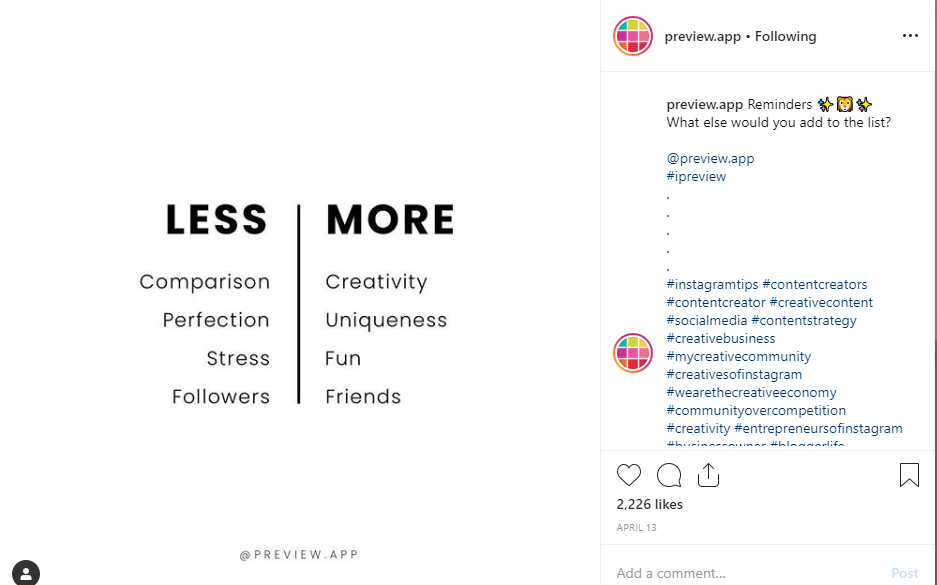 For help getting started with Hashtags, check out 150 Best Hashtags to Get More Likes.
39. Generate More Leads With LinkedIn Connections
LinkedIn is the perfect place to find B2B leads for your business. It's one of the most popular business social media platform, next to Behance.
You can find potential leads by taking a look at your LinkedIn contact connections you'd like to prospect. You can also find more leads when you join LinkedIn groups.
Word to the wise, avoid spamming or appearing spam-like when you reach out to people, this can sour any possible future relationships or leave people with a bad impression of your business.
Try these 9 Best Ways to Grow Your Network on LinkedIn and use LinkedIn to grow your lead list.
40. Generate More Leads With LinkedIn Articles
Writing articles on LinkedIn doesn't just prove your credibility as a professional in your field, but it also helps with SEO and lead generation. Just like your blog, you can rank in content, use CTA's, and drive traffic to your website and products and services.
Not a writer? Don't worry; you can try these 5 Must-Read Tips for Writing a Killer Linkedin Article.
41. Generate More Leads With Twitter
Twitter is still alive and well, with over 326 million monthly Twitter users every month. You can use Twitter to promote your social media content, contests, giveaways, blog post, or new updates.

Twitter may not have the longest content shelf life, but it makes up for it with its ease of engagement with a global audience with just the click of a tweet.
Twitter hashtags and search is also useful for finding a person interested in niches, hashtags or topics related to your brand that way you can find influencers, leads and new customers to engage and connect with on Twitter. You can try these guides on How to Rapidly Grow Your Twitter Following.
42. Generate More Leads With Facebook
Having a Facebook account for your business isn't just essential for leads, but it's important for ads, customer service, and even acts as an online directory for any looking for information on your brand.
You can use Facebook to generate leads by sharing content that links directly back to your website or prospecting page. Feel free to try these 45 Best Facebook Business Page Tips, Tricks, and Optimizations to get your lead generation started.
43. Generate More Leads With Facebook Live
Since it was launched in 2016, Facebook Live has grown to be one of the most powerful marketing tools on the world's largest social network. With viewers spending over six hours a day watching Facebook Live video since 2018, you can expect to grab an audience along the way.
Going live on video isn't as scary as it sounds, it's just like making a YouTube video for your brand, only well..it's live.
Don't worry, try reading Hootsuite guide on The Complete Guide to Facebook Live-Streaming for Business before you start to get the hang of things.
44. Generate More Leads With Facebook Pinned Post
When you pin a post on your Facebook page, you allow viewers to see this post at the top of your page before they even start scrolling. The pinned post puts your content in the spotlight and typically results in higher engagement rates since it's the first thing visitors see.
If you have a link, promotion, or discount going on, then it's the best thing to do if you want to generate leads for it.
Target decided to pin a Valentine's Day post on their Facebook business page to promote their sales for a holiday. This V-day pinned post got over 22,000 likes, 1000 comments and 1000 shares since being posted on February 1st.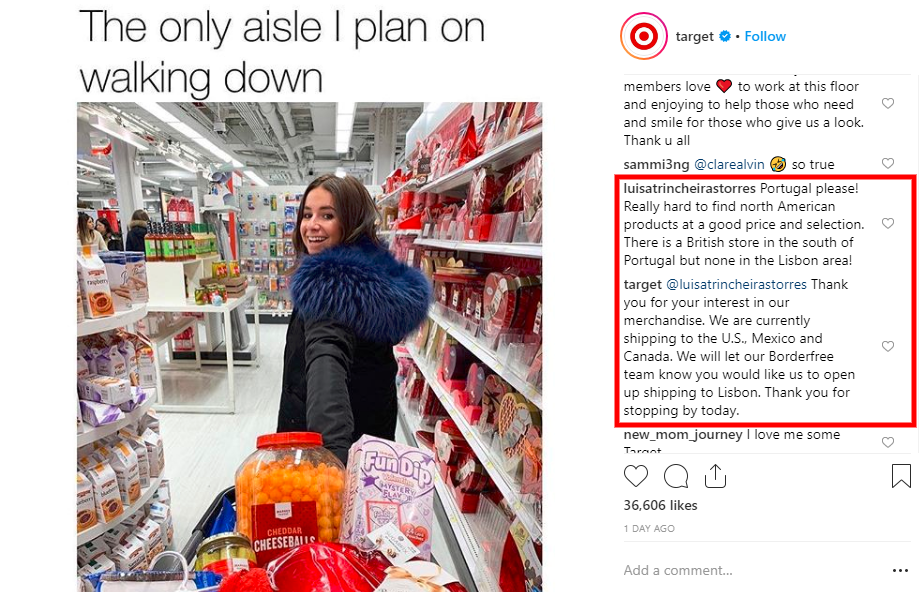 45. Generate More Leads With YouTube
Not to brag, but YouTube is technically the second largest search engine in the world.
YouTube is one of the best places to place your content because it has such a long shelf life, which means you can still grow in views and subscribers even years after you publish your video content.
For example, popular YouTube Channel 5-Minute Craft, they post fun and creative DIY projects that anyone can try. They place links to sell products, get subscribers, and more in their video description.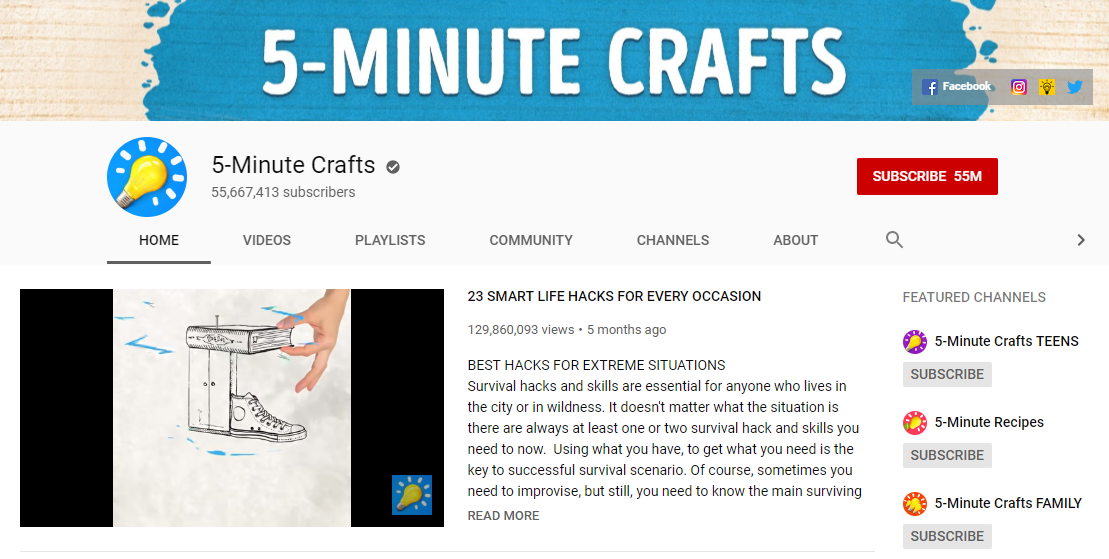 If you're going to use YouTube to get leads you'll need the right content strategy to get growth instantly. You'll have to be in it for the long haul if you want to see consistent leads coming your way.
46. Generate More Leads With YouTube Cards
YouTube cards are interactive "panels" that slide in and out when your video is almost done playing; the aim is to encourage viewers with content that might be interested in. You can add up to 5 cards, which include images, text, or clickable links.
Here's an example of YouTube Card by Buzzfeed's Worth It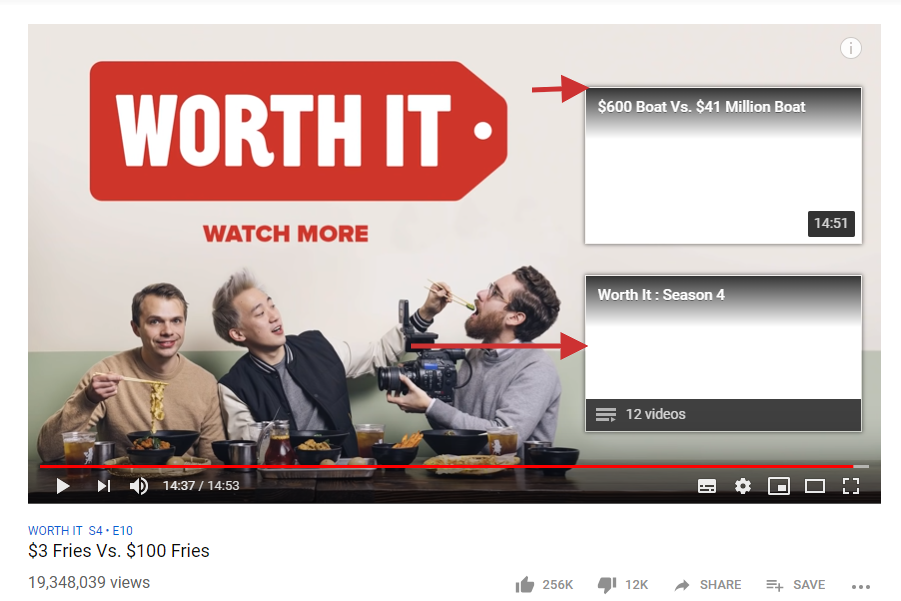 You can push videos you want viewers to see that can lead them to your website or landing page.
47. Generate More Leads With Social Media Plug-Ins
Adding social media plug-in on your website, contest pages, or blog helps to share your content around.
The more people view your content, the more chances you have of getting more leads your way.
You can either of these guides to finding the right social media plug-in for your platform:
10 Best Social Media Plugins for WordPress
150 Best Shopify Apps (Paid & Free) To Increase Sales for 2019
Here are the top five social media plug-in's you can use today:
48. Generate More Leads With Influencer Marketing
Influencer Marketing has been in the top five marketing tools and strategies for the past four years and counting.
Adweek reported that Influencer marketing would become a $10 billion industry by 2020. That's how invested marketers are in influence marketing. You can use influencer marketing to generate leads for your business.
You can use influencers in a wide variety of ways. One way is to partner with an influencer for a do co-promotions like a give away a special discount or prize package.
That's what lifestyle influencer Darina did when she posted for SmartyPants Vitamins.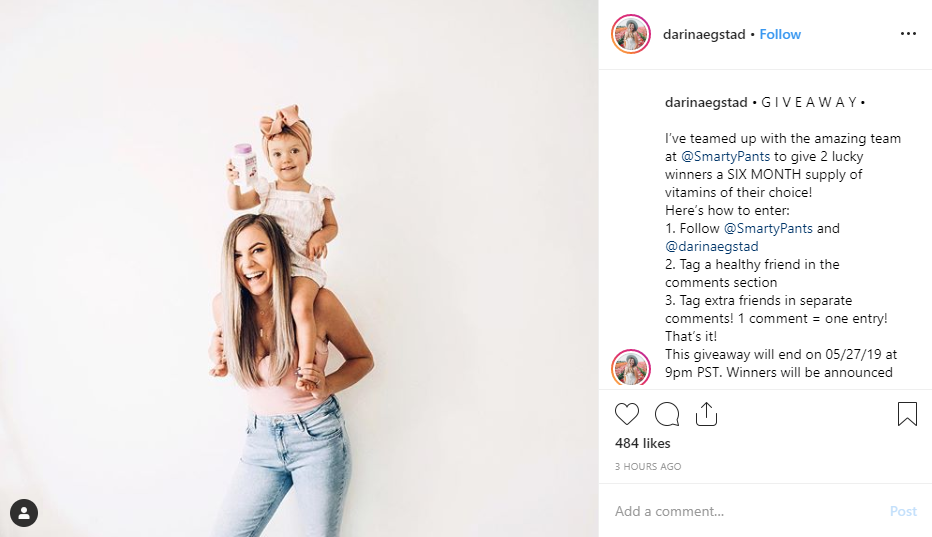 49. Generate More Leads With Google Analytics
Google Analytics is your secret weapon when it comes to finding and keeping leads for your marketing strategy.
If you're new to Google Analytics or you'd like to create an account you can use this guide to help set up Google Analytics in under 15 minutes. to follow along better in this article.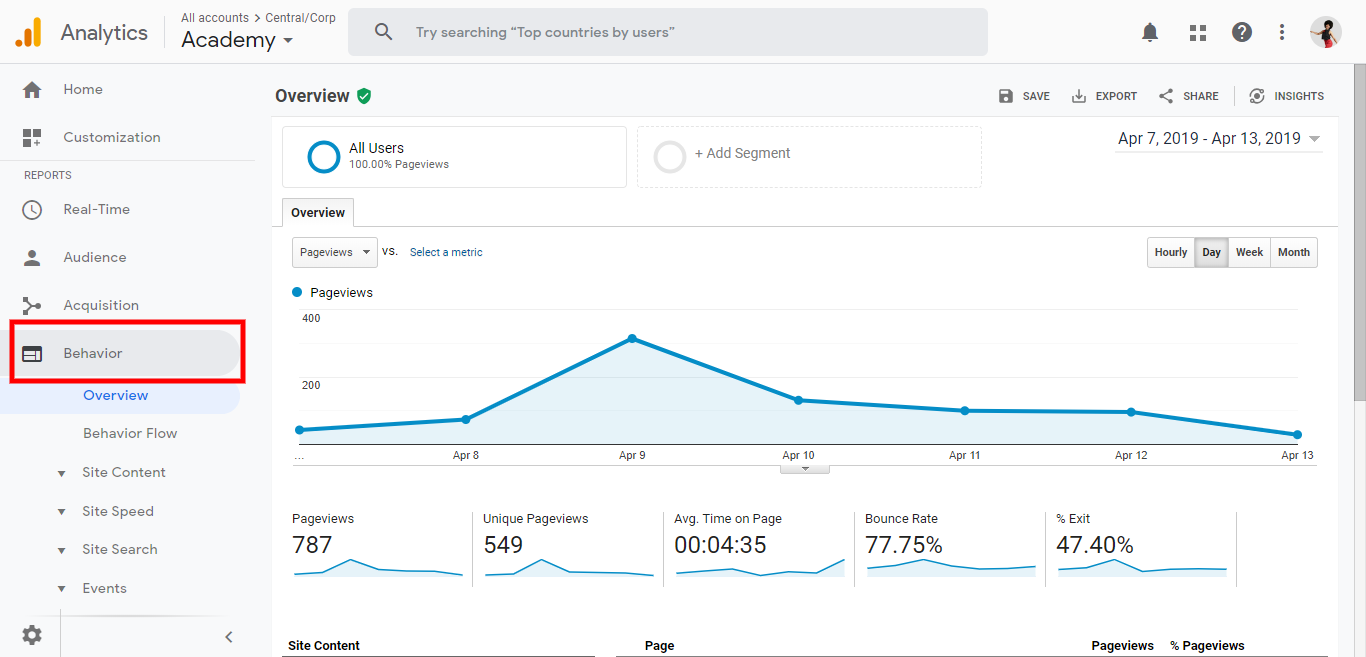 Use Google Analytics to track and capture any potential leads that might have visited your website, landing pages, or campaigns.
If you're losing or not getting enough leads, you can monitor and track your lead's path and see which pages or CTA's they tend to fall off from so you can make changes.
50. Generate More Leads With Social Media Ads
You can create a lead path to generate more leads for your business with social media ads like Facebook and Instagram. You can create tailored ads with a custom audience to narrow down your chances for more click and more leads.
Need help running your social media ads?
Here are social media ads guide to help you to get more leads:
The Anatomy of a Perfect Instagram Ad
How to Generate Qualified Leads with Facebook Advertising
51. Generate More Leads With Online Engagement
Having content is great, but if you're not striking up a conversation with the people, it's tailored for then how can you convert them into leads. Companies with the strongest omni-channel customer engagement strategies retain an average of 89% of their customers.
Online engagement includes replying to comments, replies, direct messages, and even repost/retweets. The more comments and engagement a post has means the more people will be drawn to it to join in as well.
When you foster engagement, you more likely to build loyal customers and a stronger fan base for your business.
52. Generate More Leads With a YouTube Ad Campaign
YouTube ads campaigns are an effective way of generating leads for your brand; earlier I stated that it was the second largest search engine online, well it's also one of the top three social media with people worldwide watching over 150 million hours of YouTube every day.
Wouldn't it be great to place an ad there for everyone to see.
Add that to the fact that 60% of people prefer video platforms to live television.
Get started and Setup a YouTube Ads Campaign in 10 Easy Steps.
53. Generate More Leads With Google Ads
Google Ads can be a hugely successful tool for driving traffic, marketing your product, and getting leads.
AdWords gives you location targeting options. So if you're a locally based business or even an e-commerce site, you can geo-target to get seen by your customers.
The downside to Google Ads, like any advertising platform, is that to get real results, you do have to pay to play. It's best if you have a Google AdWords Plan to help you along the way.
54. Generate More Leads With In-Store Promotions
If you have a brick and mortar store, you can do in-store promotions, deals, and discounts to get sales for your business.
If you want to make it even more enticing you can offer exclusive deals only in store customer received when they visit to make a purchase.
United By Blue is one retailer that has hosted brands that it sells for in-store pop-ups. For the Oxford Pennant pop-up that they hosted in April 2017, they drove 250 people to the event and increased month-over-month sales by 155%.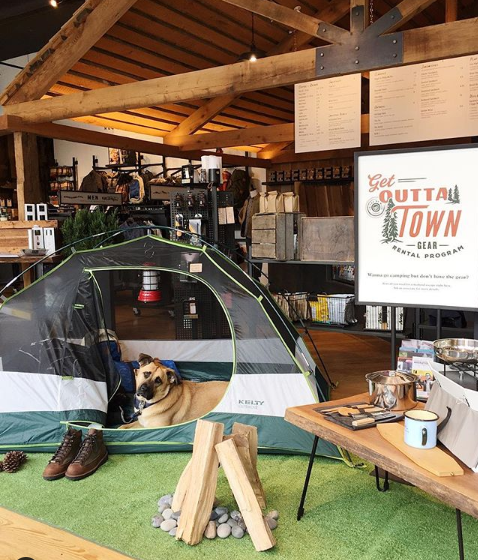 55. Generate More Leads With Network Events
Don't just in front behind your desk online all day, go to network events or seminars, and meet new people.
You never know you just might meet. A handshake could turn into a brand collaboration or a new high paying client.
In reality, budgets won't always allow us to go to every event. You'll have to choose which events you'd like to budget and plan for this year.
If you want to know which event(s) you should attend, ask yourself what is your most important business or the professional goal you'd like to accomplish.

What do you want to walk away with from the event?
Maybe you just want to network with like-minded people or to get new insights to bring home. Or maybe you're looking for new leads or strategic partnerships. Whatever you want, decide ahead of time to make sure you can get the most out of your conference experience.
Take a look at the speakers at each event, are these people you want to learn from? Are they in your field or the expert specifically in your industry? Don't just go to a conference because
56. Generate More Leads With Business Cards
Business cards still have a place in the business world, especially for your older demographic. You can hand out business cards at events and seminars.
You can use your email signature as a virtual business card so every time you send an email, your leads know where just to find you if they need you.
57. Generate More Leads With Brand Collaborations
Co-branding is a strategic marketing, and advertising that can help to generate leads for both brands.
You would have to pick a brand that has a service or product that compliments your own for it to work. If done right it's a win-win for everyone.
When they say that two heads are better than one, it's true, you have double the audience and double the manpower to do digital promotions, social media contest, giveaways, and promotional projects.
For example, GoPro & Red Bull for their Stratos marketing campaign that showed the two brands were a match made in heaven.
This can be helpful if your a startup trying to get your lead generation started.
58. Generate More Leads With Employee Advocacy
Getting leads isn't a one-man job, I don't mean your sales or marketing team, why not include the entire company with employee advocacy.
Ask your employees to promote your brand on social media platforms like LinkedIn or follow your social media pages like Instagram to help with engagement or comment.
Starbucks has an employee advocacy program on various social networks enabling employees to make posts – pictures, stories, and discussions all about Starbucks.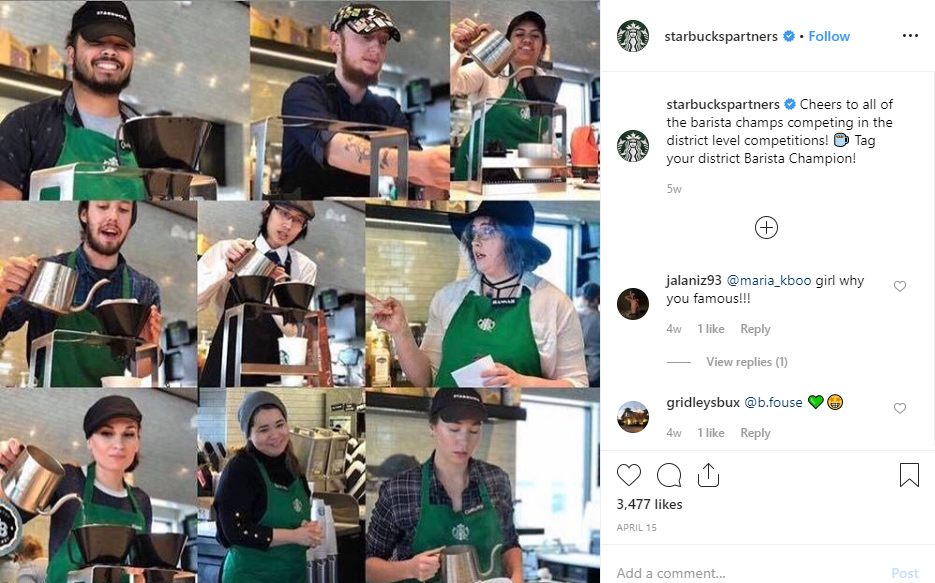 .
59. Generate More Leads With Promoting Your Company Success & Awards
Be proud of your brand's awards so much so that show your potential leads why they should trust and buy from your brand and not competitors.
Talk about your success on your about page, if you'd like to take it a step further post them on social media and celebrate with your fans.
60. Generate More Leads With Sponsoring an Event
Sponsoring an event, digitally or offline, has massive benefits for your company. With each event, you'll be getting brand visibility in front of new clients, customers, and businesses.
Based on your event speakers and the topic, you'll not only bring credibility, but your services will receive them as well.
But new leads don't just magically appear from sponsoring the event or by standing in your booth. You need to get out there, talk with the crowd.
If your still not convinced here are 7 benefits of sponsoring an event for you to consider.
---
The Summary
There you have it sixty ways to get more leads for your business you can use to increase sales today.
You can use all these to get leads, but the real work begins when you have to turn that lead into a loyal customer.
Don't make the mistake of collecting leads and leaving to fend on their own. So here are Four Things You Need to Do After a Lead is Generated.
Have you had success with getting leads for your business? Share your trade secrets below for us all to see.