4 Travel Contests & Lessons for Your Next Campaign
The savvy content marketer knows that the most direct path to a consumer's conscious awareness is through offering them what they both want and need to see.
For some, that's information. For others, that's humor. For many, that's great deals.
For almost everybody, that's an escape.
Travel contests, therefore, have become hugely popular with brands looking to boost their following and reward their consumers. With trends in consumption leaning more towards experiences than things, customers flock to them. They're a smart marketing move, they're a very good way to get a wide base of appeal and engagement, give information about your brand, win loyal customers and showcase testimonials.
Four companies' travel contests reveal a lot about how to leverage travel contests for maximum ROI: before, during, and after a contest.
These four contests offer brilliant insight for companies wondering if launching a travel contest is the right move for them and those who just want to understand the psychology of contests, customers and engagement.
Read on for four case studies to see four real-life examples and takeaways for running your own travel contests.
Lesson One: Don't Underestimate the Value of an Experience.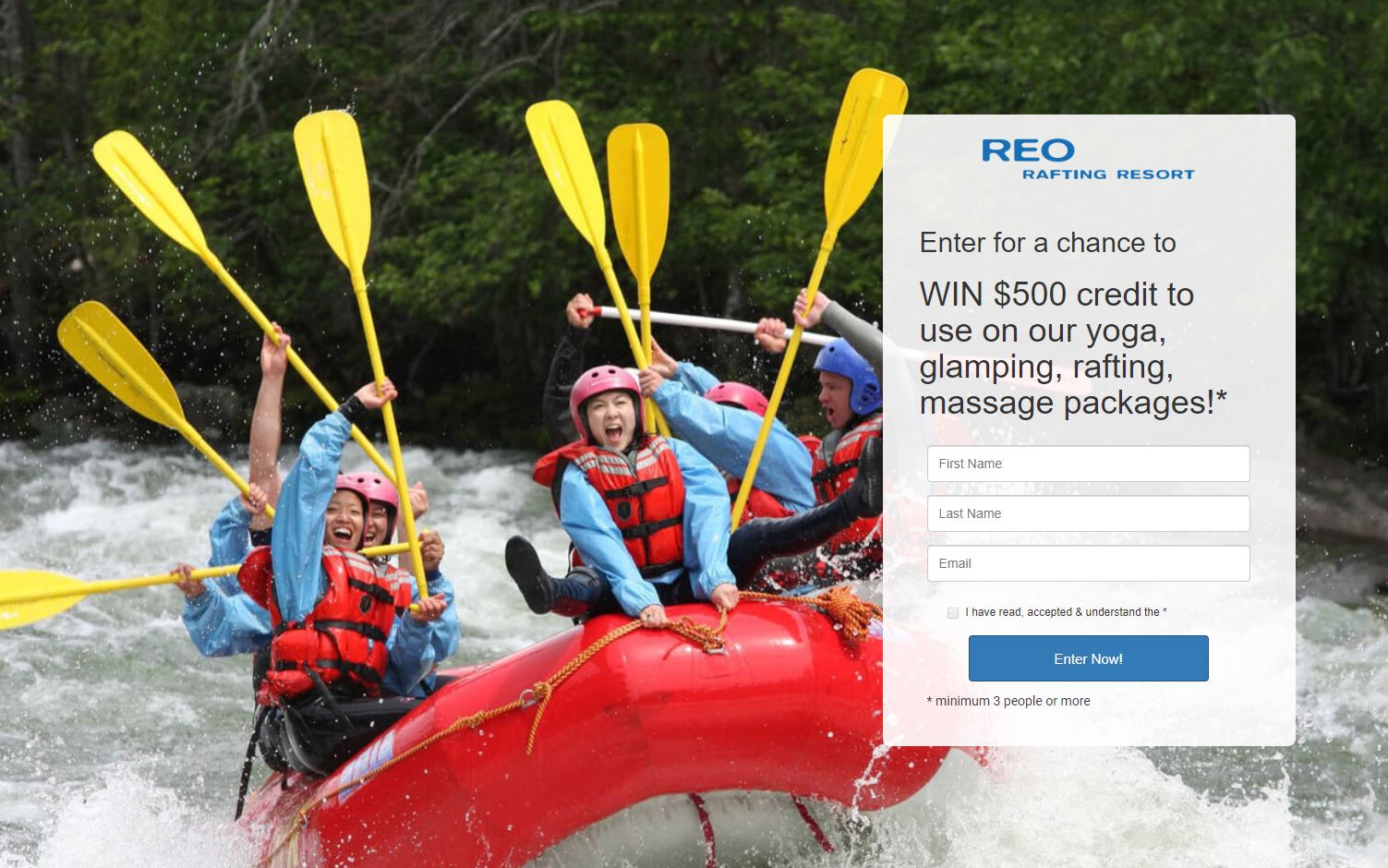 Company: Reo Rafting
What it was: Enter to win, $500 credit towards an adventure package (yoga, glamping, rafting, massage).
What to learn: Reo Rafting understood that people don't always need a fully paid trip to an overseas hotel: sometimes, they just need a little encouragement to take the leap and go on that adventure.
Reo Rafting's competition appealed to a wide base, and their travel contest allowed customers to see they offered much more than just the sport. With glamping, yoga, and massage added, even non-winners were now aware that the company catered to a much bigger market than their name alone suggested.
With a $500 credit reward, the company minimized the cost of their giveaway, and their customers still got an amazing deal on an unforgettable wilderness getaway. (Sounds like everybody won!)
Lesson Two: A Happy Customer is the Best Promotion.
Company: Fonte Travel
What it was: Enter-to-win, flights, accommodation, activities and transportation to the Azores.
What to learn: Fonte travel shows that, particularly for companies that cater to tourists or travelers, travel competitions can offer ongoing returns. The dividends aren't just the leads or the increased engagement (although those are great in and of themselves).
As an additional reward for a well-run contest, your winners can also become stellar brand ambassadors - without doing anything.

Check out the reviews of the trip on the contest landing page, which don't only talk about the destination, but about Fonte's impeccable customer service and planning.
This is the most valuable promotion a company could ask for: authentic and positive reviews that potential customers will be bound to see (as they'll be searching the page for more information about this prize and how to get it!)
Travel marketers, are you looking for more insight into ways to design your online experience to cater to today's digitally savvy, globetrotting consumers? Read our free ebook, The Complete Guide to Online Marketing for Traveling Marketers!
Lesson Three: Let Your Users Do The Talking
Company: Honua Kai
What it was: Photo contest, five-night visit, daily breakfast with an ocean view, $300 credit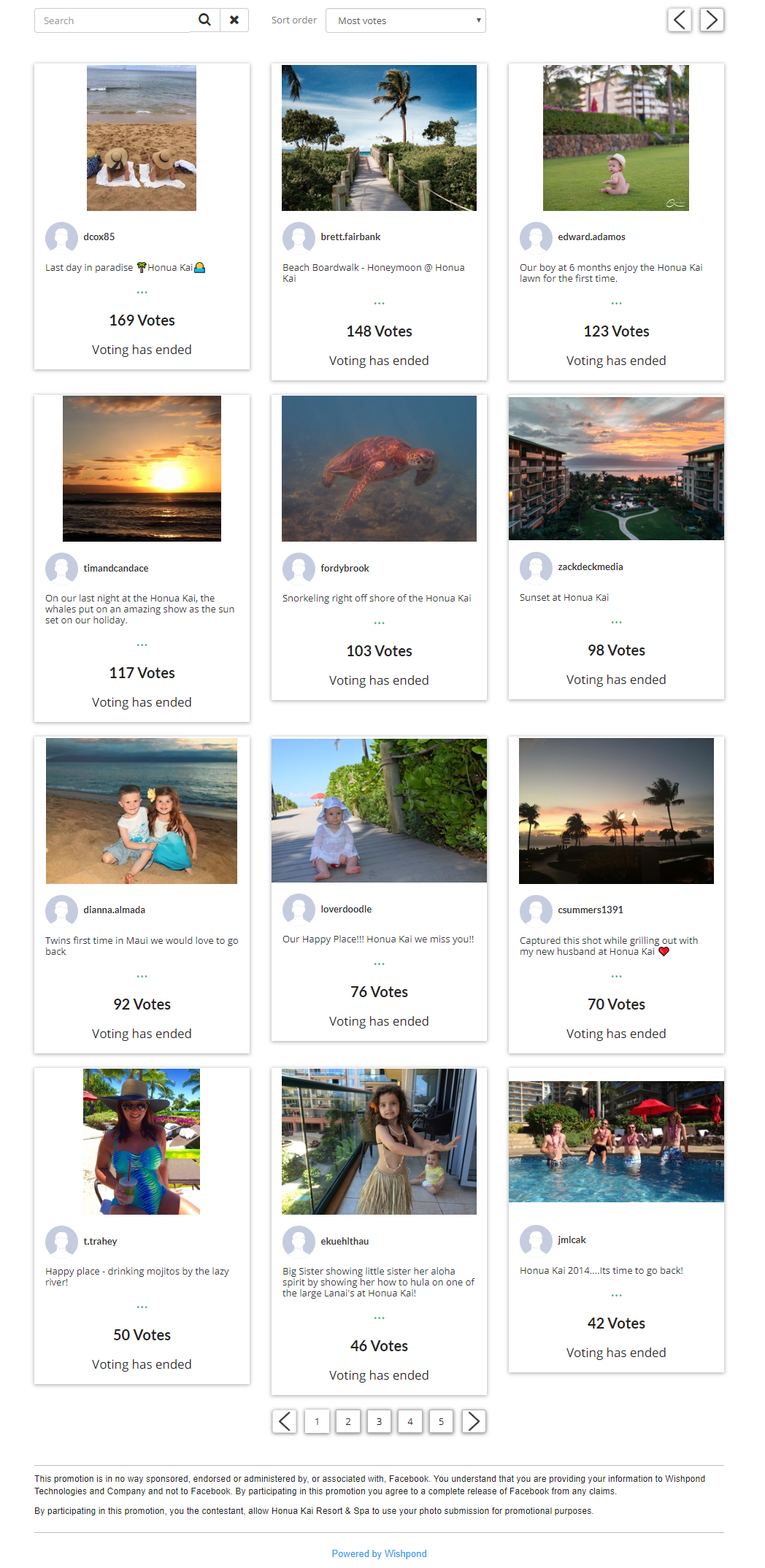 What to learn: Honua Kai cleverly targeted former guests for this competition, asking them to share their best memories from their time at their resort for the chance at a five-night return trip. The result was a user-generated gallery of personal snapshots of crystal clear oceans, turtles gliding underwater, striking sunsets, cocktails by the pool, and happy families soaking in the island sun.
Consumers trust few things more than other consumer experiences. Travelers are especially likely to check reviews, as they're concerned not only about the money they're spending, but their safety and enjoyment over hours, days or weeks.
Honua Kai's photo competition not only raised engagement and secured the loyalty of a set of customers but provided them with valuable user-generated content, social proof they can use and re-use and powerful free promotion for the duration of the contest. Their 'ask to vote' feature ensured that their guests' friends and family saw the resort's offerings (and everyone else's top photos) as well.
Lesson Four: Tap Into Your Local Audience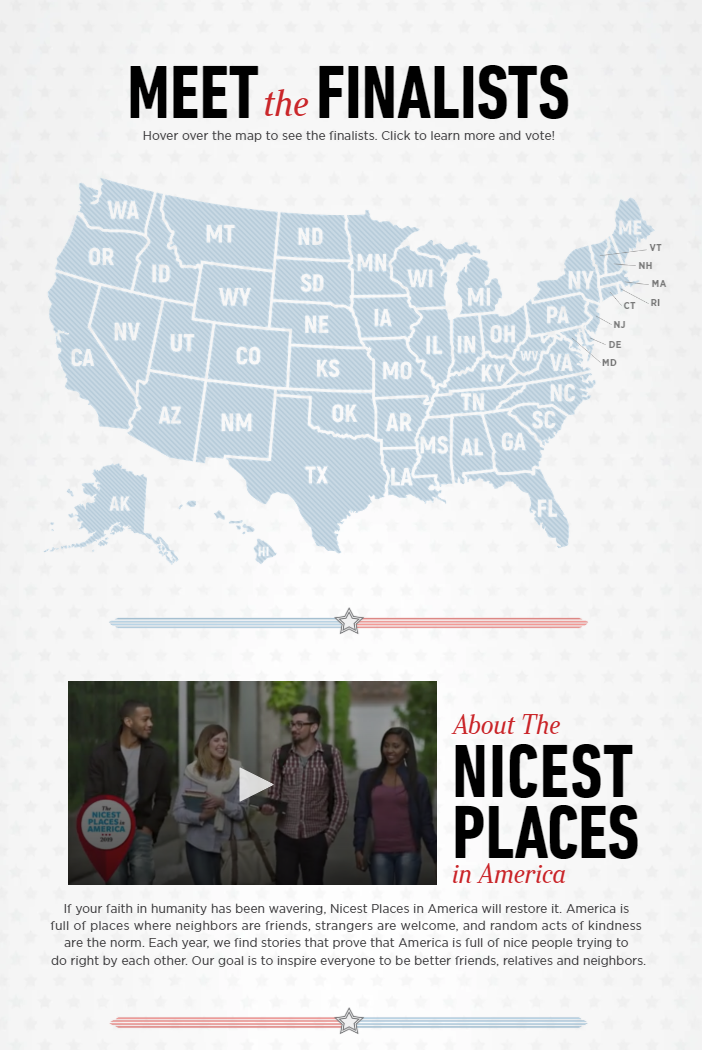 Company: Reader's Digest
What it was: Nominate, then vote-to-win contest. The 'Nicest Places' contest asked American readers to send in their candidates for the "Nicest Place in America", with stories and pictures to prove why. (Their definition of 'nice' being, "It's a place where the people believe in kindness, civility, and each other, neighbors help each other out, and strangers are welcomed as friends.")
Winning place would be on the cover of Reader's Digest.
What to learn: When we think 'travel contest', we often think exotic and expensive - all-expense-paid trips to places like Bali, New Zealand, or Paris. However, Reader's Digest turned the idea on its head by asking their readers to vie for a prize much closer to home (quite literally). They proved that a travel contest doesn't have to be exotic and expensive to be effective. It doesn't even have to involve moving! Rather, companies can tap into hometown pride.
Personal gain is a primary motivator, but people are also driven by altruism, pride, friendship, and gratitude, and these are less catered to. Reader's Digest managed to tap into that for its 'Nicest Place' contest, winning itself greater exposure and a fanbase that would return to see their town on the cover of Reader's Digest.
Summary
Running a travel contest can have a great ROI, but it isn't just a matter of offering a prize and drawing a lucky winner. Use these tips to help you design and run a travel contest that works for both you and your customers.
Don't Underestimate the Value of an Experience
A Happy Customer is the Best Promotion
Let Your Users Do The Talking
Tap Into Your Local Audience
Looking for more about the nuts and bolts about running contests? Check out our free courses on Wishpond Academy!
Need Help With Your Travel Contest?
Book a free call to learn how our team of contest experts can help you create high converting travel contests today.
Whether we're sending your contestants on an African safari, on a yoga retreat, to the beaches of Rio de Janeiro, or for a five-star meal at their local restaurant, our friendly expert team is excited to bring your next contest to your customers.