50 Affordable Giveaway Ideas You Can Use Today
You've thought long and hard, and you're ready to host your giveaway.
But wait - your budget might not be as ready as you are.
Without a giveaway, you miss out on getting priceless leads before the end of the month, so you don't want a tight budget to hold you back. The good news is, with a little ingenuity, you can host a great giveaway without an expensive prize.
Pick, choose, and reuse: here are 50 giveaway ideas you can use that won't break the bank.
Giveaway Category
E-commerce Giveaways Ideas
Makeup & Beauty Giveaway Ideas
Fitness & Gym Giveaway Ideas
Photography Giveaways Ideas
B2B Giveaway Ideas
---
E-commerce Giveaways
1. 50% off Any Purchase
You can offer the winner of your giveaway the chance to win 50% off their next purchase at your store. Discounts help to attract new customers, drawing them in to make a sale. This kind of giveaway encourages your existing customers to come back, building trust through experience with your customer service and reliability.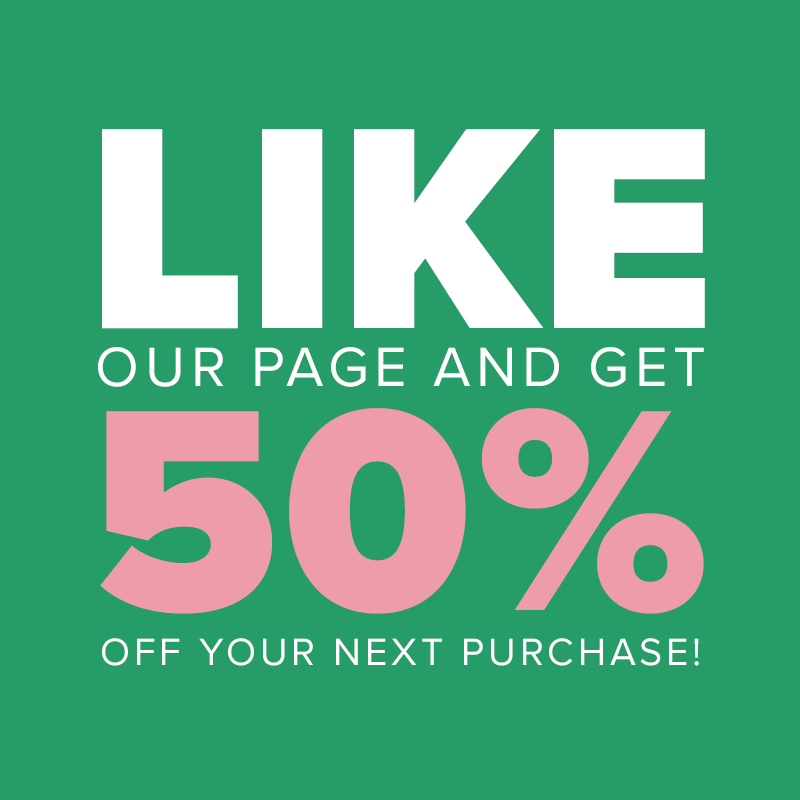 2. Black Friday or Cyber Monday Giveaway
In 2018, Cyber Monday sales topped $7.9 billion, making it the single largest shopping day in U.S. history. That also makes it one of the best types of giveaways to host for your e-commerce store, as customers are primed to be on the lookout for deals, sales and giveaways.
3. Free Shipping for a Year
Host a giveaway where the winner gets free shipping for a year. Free shipping is one of the most enticing offers for online shoppers. Offering to cover shipping costs for a year can actually make you more money: 93% of online buyers are encouraged to buy more products if free shipping is available. It's a win-win for you and the customer.
To regulate the cost of offering free shipping to the winner, you can add some qualifications, like:
Free shipping if your shopping cart costs x amount to meet the minimum order threshold
Free shipping a certain number of times per month
Free shipping for a certain number of times per year
4. Accessories
An accessory giveaway is a great idea if you're on a budget. Accessories can be as big as handbags and shoes, or as small as necklaces and rings. You can decide to give away one item or a set; like a necklace and matching ring or stack of bracelets. The key to promoting this kind of giveaway, like any other, is great product photography.
5. A Night Out in Your Clothes
If you're an e-commerce clothing store, you can host a giveaway giving a complete date look for him or her, from clothes to accessories. This is particularly tempting because contestants will be able to win more than one item for their prize. It's sure to attract fashionistas who want to add a new look to their closet.
6. Shopping Spree
Give people the chance to win their very own shopping spree in your store. You can regulate the shopping spree by adding a limit to how many products, or limit on cost so that the winner doesn't go overboard on your online store. (You can also add free shipping as a bonus if you're feeling generous.)
7. Partnered Product Giveaway
Reach out to a brand that complements your products and joins forces to host a giveaway. Partnering with a brand for the giveaway can double your giveaway entries and promotion efforts. This can also help to build lasting business connections in the future.
8. VIP Access to Products
If you want a different spin on a giveaway, you can create an exclusive group of VIP shoppers. They can benefit from massive discounts, product previews pre-launch, and shipping deals. For this giveaway to be successful, you'll have to have a community of loyal buyers buzzing for your brand.
9. Holiday and Seasonal Giveaways
Holidays are the best times to host giveaways. Between looking for deals and the best sales, there's ample opportunity to attract consumers clicking around for deals for friends, family, or even themselves. For example, you can host the following holiday giveaways:
* A "his and hers" package for Valentine's Day * Summer Product Giveaways * Christmas Decor Giveaways
10. Bestseller Product Set
Choosing your best sellers, you can create a product kit or set, using the momentum of your product popularity to promote your giveaway. This gives customers the chance to win their favorite products for free, and attracts new customers who might have considered buying from you.
Makeup & Beauty Giveaway Ideas
1. Makeup Kit Giveaway
You can give away a small makeup kit with tools and makeup essentials like eyeshadow, lipstick or blush. Your prizes don't have to be large, but keep in mind each item placed in your collection should complement the others. For example, you could create a kit focused on the eyes, bundling mascara, eyelash curlers, and eyeliner. You can also throw in a make up pouch to package it all nicely.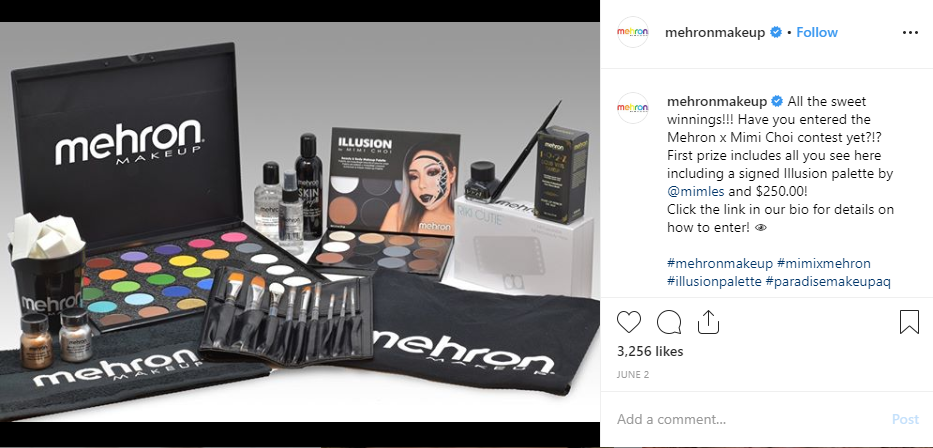 2. Makeup Influencer
You can host a giveaway where you offer entrants a chance to be an influencer for your brand. (This giveaway slots nicely into a social media strategy.)
Giveaways like these work best on Instagram or Twitter, so you can easily see each contestant's account and choose someone who really fits your brand. After, you can send them products at discounted prices to have them promote your products on their social media platforms.
3. Free Product Samples Exclusive access can make your winners feel like a part of your brand and your inner circle. Why not host a giveaway where the winner gets free access to samples of new products or tools before you launch them on your store?
This will work particularly well if the winner promotes it on their social media platforms - referrals are one of the most powerful ways to build brand authority.
4. Win a Makeover
In place of giving away free products, you can do the next best thing: give away a free makeover. You can give the winner the chance to claim a free makeover so they can look their best for their special day, whether that's graduation, a wedding or a speaking engagement. If you already sell makeup and beauty products, you can partner with a makeup artist or beauty salon to sweeten the deal.
5. Win a Year's Supply of Products
One of the not-so-secret tips to having a massive giveaway is the size of the prize. A year's supply of products might seem an expensive undertaking, but you can add in restrictions to ensure that you're not losing money. E.g. you can place a limit on the cost of the cart or let the winner pay for shipping.
6. Win Beauty Tools
Beauty tools as small as jade rollers or Korean sheet masks (which sell for as low as $8, depending on the brand) can be a budget saver for a beauty giveaway. You can choose beauty tools like makeup brushes, sponges, and cleaning tools.
7. Win a Gift Card
Allow your winner to purchase their prize of choice using a free gift card for your e-commerce store or from a popular brand. Holidays are the best for this type of giveaway since gift cards are one of the most requested items during that time. You can also make money back from your gift card since approximately 72% of customers spend more than the value of their gift card.
8. Win a Beauty Organizer or Case
Selling a makeup or beauty organizer or case can be your next giveaway idea. These items vary in size and price and can be a great gift for a makeup lover who wants to get their space organized.
9. Travel Kit
You can offer beauty products in small travel sizes for your giveaway. These days, almost everyone travels, and it's always a hassle packing the essentials when everything is essential. To help boost your giveaway, you can partner with a travel influencer or brand.
10. Spa Treatment
Nothing beats a day at the spa! Partner with a local spa, and offer your contestants the chance to win a free spa treatment.
Your spa treatment can be as simple as a free facial or a full body massage; it all depends on your budget. If you want your brand front-and-center, you can use your product during the spa treatment.
Need help with your giveaway?
Book a free call to learn how our team of marketing experts can help you create lead generating giveaway today.
Fitness & Gym Giveaway Ideas
1. Gym Membership (3-6 months)
Gyms are popular and in vogue, and memberships are expensive, making these giveaways popular. For the best results, try hosting this giveaway in the first half of the year. January and summer are the hallmark seasons for people getting ready for summer, living up to New Year's Resolutions, or trying to shed holiday weight.
You'll also have to start marketing this giveaway ahead of time for it to drive some foot traffic to your store or your social media pages.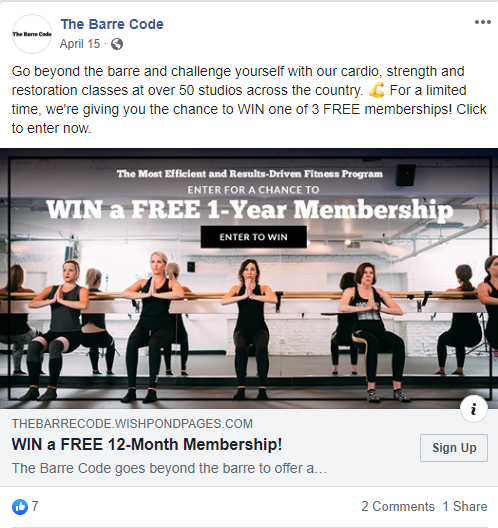 2. Giveaway Yoga Gear + Free Classes
Trying to promote a new yoga studio or online store? How about giving free gear and lessons to boost your brand awareness? Gear can range from yoga mats and balls to work out clothes. Classes can be a group class pass, multiple sessions (which sometimes work better to get potential customers into the habit), or even online video tutorials for people to do at home.
3. Workout Plans
If you don't have any products to give, you can offer to create a customized workout plan for your winner. Sharing a workout plan shows your fitness credibility, and you can follow up with the winner to get user-generated content, like before and after images to repost on your social media.
4. Free Meal Plans
Meal plans are popular with anyone who wants to take their health and fitness seriously for weight loss or gain. You can offer free, customized meal plans as a giveaway prize. You can also tailor the meal plan to their personal lifestyles or fitness goals, and offer vegan or vegetarian meal plans.
5. Free Protein Shakes & Healthy Snacks
Water and protein shakes are the two most consumed items in the gym, so it's only natural that a giveaway with free protein shakes, powers, or snacks would work well for a fitness giveaway.
*6. Gym Gear *
There's always room for more gym gear, gym clothes, and accessories. If you have a fitness clothing brand, this giveaway is also a great way to find an influencer who can model your products.
*7. Sneakers Giveaway *
Everyone wears sneakers to the gym. Even if they're outdoors, running shoes can be your next best bet. You can offer popular sneaker brands like Nike or Adidas for your sneakers giveaway. Just keep in mind that the shoes you select have to be for practicality and not just based on style.
8. Win a Class For You & Your Friends
Turn your giveaway into a fun experience and give people the chance to win a free class at your gym with a friend. I've found giveaways that have multiple winners get far more engagement.
9. Sessions with a Trainer for 6 Months
Taking your giveaway a step further, you can give contestants the chance to train with you or a trainer for six months. With the winner's consent, you can video or capture moments during your free training and share the content on your social media platforms to show real people benefiting from your expertise.
10. $50 Gift Card To Use At Your Fitness Center
Not sure what to give as a prize for your fitness giveaway? Let the winner decide! Give the winner a gift card to shop at your fitness center. This can push foot traffic to your store and show off the products and services your fitness center can provide.
Photography Giveaway Ideas
1. Share Winning Entries Online
Once your brand has a decent following, you can host a giveaway where you reshare the best images on your website and social media. You can also use the images for a magazine publication or calendar to showcase your photography winners' skills.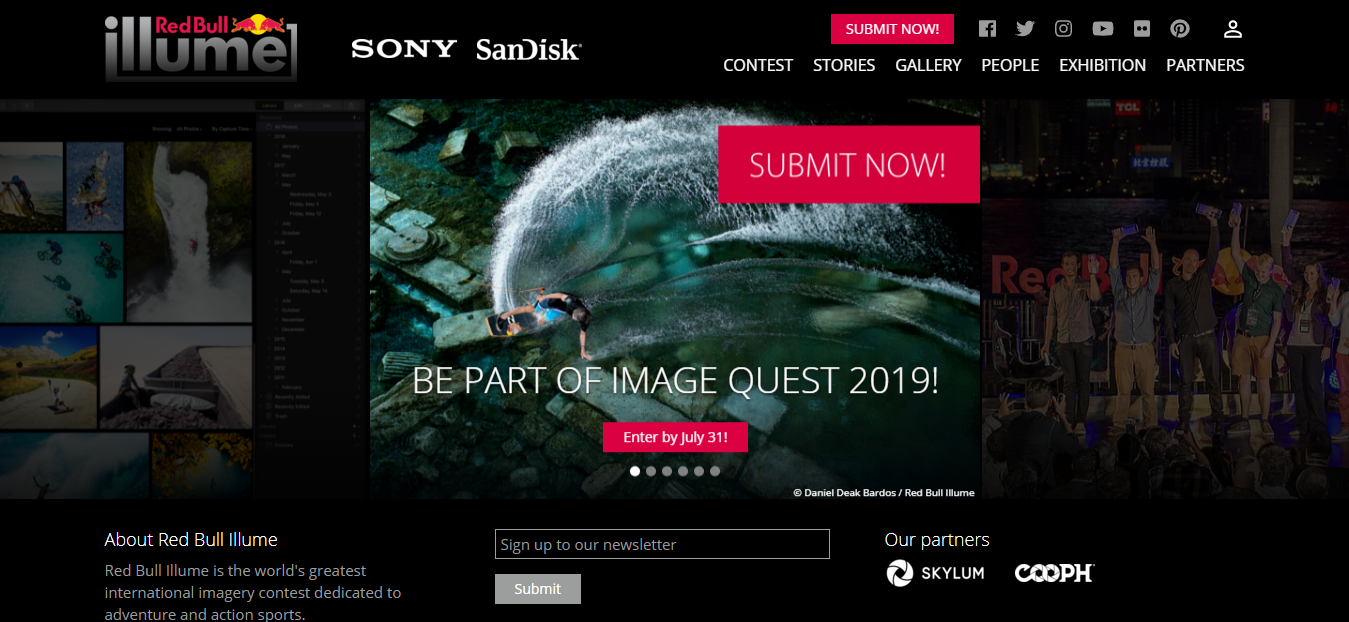 2. Free Photo Editing
If you're a photographer, instead of a giveaway product, you can use your services as a prize by giving your winner free photo editing or retouching.
3. Baby/Pregnancy Shoot
Maternity and baby photoshoots are one of the most sought after when it comes to photography. To limit the effort to you (and therefore the cost in time spent), you can put a limit on the number of images and edits you'll be providing the winner.
4. Graduation Pictures
Graduation comes once a year, which makes them even more special. You can host a giveaway capturing graduation images in your studio or right after the graduation ceremony to capture candid moments professionally.
5. Lens & Camera Accessories
Lens and camera accessories can sometimes be just as expensive as the camera professionals use. You can find an affordable lens set and a camera bag for your giveaway prize. You can also offer a camera lens for your smartphone if a professional camera lens is too much.
6. Ultimate Glam Shoot
Grab your camera, team up with a stylist and a makeup artist to give one person the ultimate glam photoshoot of their life. With the help of the stylist and makeup artist, you can get an extra push in promoting your giveaway.
7. Photography Lessons
With several passionate hobbyists wanting to level up their skills, free photography lessons will appeal to enthusiastic followers. Lessons can be done in person or online. For this to be appealing enough for viewers to enter, you will have had to establish an online presence already, and some personal brand authority.
8. Camera Cleaning Supply
Camera cleaning supplies cost $6-$30 on Amazon, making them an affordable item for your next giveaway. If you sell camera cleaning supplies, you can give a cleaning shopping spree or gift card to buy supplies from you directly.
9. Holiday Shoot
Capture loving moments with a free holiday shoot as your giveaway prize. You can have themed holiday giveaways shoots for the New Year, Valentine's Day, summer, Thanksgiving and Christmas.
10. Photo Frames
Photo frames add something extra to a photo, making it more meaningful, and is something we generally only do with our more treasured memories. A giveaway to frame an important photo for a lucky winner will likely take you a step towards earning their loyalty, as well as their business.
B2B Giveaway Ideas
1. Software Subscription Giveaway
Give people the chance to experience your software by hosting a software subscription. You can also team up with other software brands to make your prize even bigger, and offer a bundle subscription.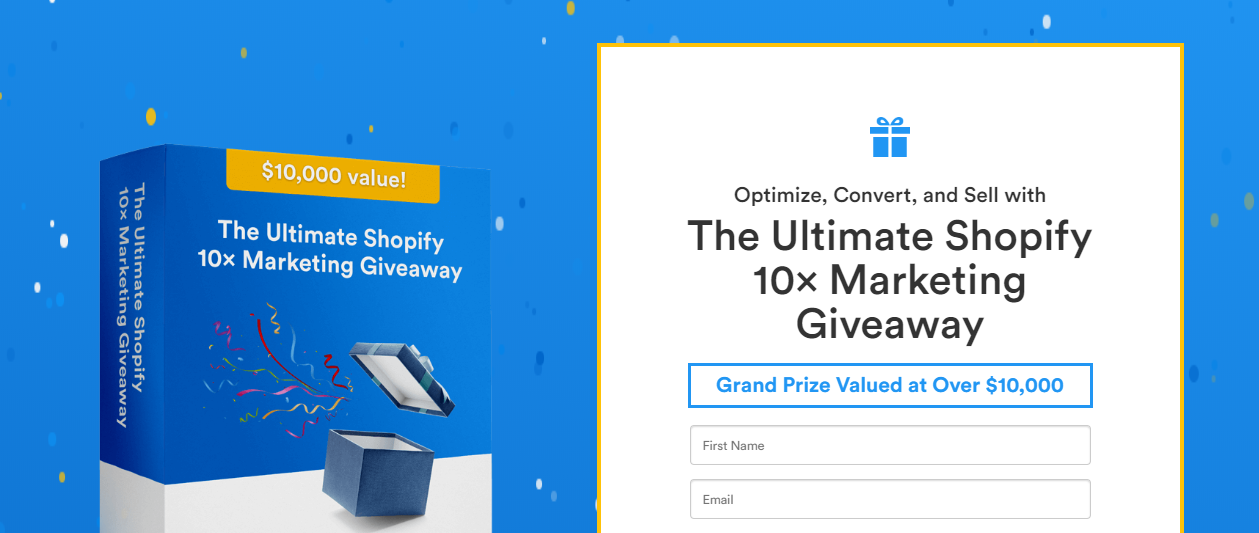 2. Free Delivery for a Year
Most people spend a good amount of their budget each year delivering merchandise and files via couriers. If your business does physical deliveries, you can run a giveaway offering business owners free delivery for a year.
3. Sponsored Corporate Retreat
Employee satisfaction is at the forefront of many companies' minds, as study after study shows that happier workforces have the competitive edge.
Use this to your advantage and host a giveaway for small businesses and start-ups to win a chance for a fully-paid staff retreat to a local hotel or restaurant. You can add some company branding or give a motivational speech at the retreat to raise your brand visibility.
4. Sponsor a Charity
Corporate social responsibility has become a big topic, especially when it comes to public opinion. Ask your followers to nominate charities for you to donate to, either once or monthly.
*5. Special Monthly Discount *
Give people the chance to win a special package or exclusive discount on your services and software. This can be great for lead generation to attract customers who are interested in purchasing from you but haven't made a purchase.
6. Internship & Mentorship Program
This is a win-win for you and your company, as skilled recruits are an investment that can pay off tenfold in the future. For your giveaway, you can make your entry method a video interview asking contestants why they'd like to intern at your business.
7. Consultation Services
If you're not up to using your software or products as prizes, you can offer free consultation services to customers. You can add time restrictions so that you're not giving too much of your time or advice.
8. Co-working space
A good coworking space is high in demand in the age of the remote worker. You can offer to pay for a seat at a desk or at a coworking space for a day, a week or longer! (Remote workers weary of hunting for reliable wifi and decent coffee will thank you for it.)
9. Best Customer Award
Shine a light on your customers and offer them a "Best Customer" award. Your current and new customers can enter for a chance to be named your best customer. To make it worthwhile, you can have them come in and do a testimonial video on how your brand helped their business to promote on your website and social media platforms.
10. Logo Design
Every business needs a logo, and some that already have one would revamp theirs if they had the budget. If you have a marketing company or a media house, you can run a giveaway with a free business logo design or redesign as the prize.
Summary
There you have 50 cheap giveaway you can use again and again. Now that you have your ideas, you need to make sure that you monitor, promote, and manage your giveaway effectively if you want it to be successful.
Have some giveaway tips of your own? Share them in the comments below!
Related Articles