7 Deadly Sins of Online Copywriting
Whether you're working on your newsletter, blog, website, or a social media caption, ultimately, the bells and whistles and UX optimization will mean little if the words on the screen alienate your audience.
Today's readers expect a certain structure to online copywriting, and demand a certain quality to be kept entertained and engaged.
Here, we've gathered the most common, but most critical sins in B2B and B2C copywriting.
Copywriting Sin 1: Writing for a novel, and not the web.
Readers on the web approach a text differently. They're not here to cozy up with your piece of online copywriting and enjoy it sentence-by-sentence (although bonus points if they do.) They're probably scanning it during a morning break or in the middle of meetings, maybe on their mobile phone on their commute or waiting in line for coffee.
Their attention is strained, and often, they can't be working too hard at finding what they need, or they'll get frustrated and look somewhere else. To cater to today's readers, construct your articles like maps and direct them to their information they need.
Use bullet points to highlight and summarize.
Keep your paragraphs short (try and break a paragraph every 3-5 sentences.)
Use headings and subheadings as signposts to where to find information.
Include infographics, timelines and pull-out quotes to draw attention to the important information
For help creating newsletters and landing pages that are easy to read at both a desktop or on the go, check out our extensive libraries of expertly crafted templates for both landing pages and email newsletters - made specific to industry and audience type.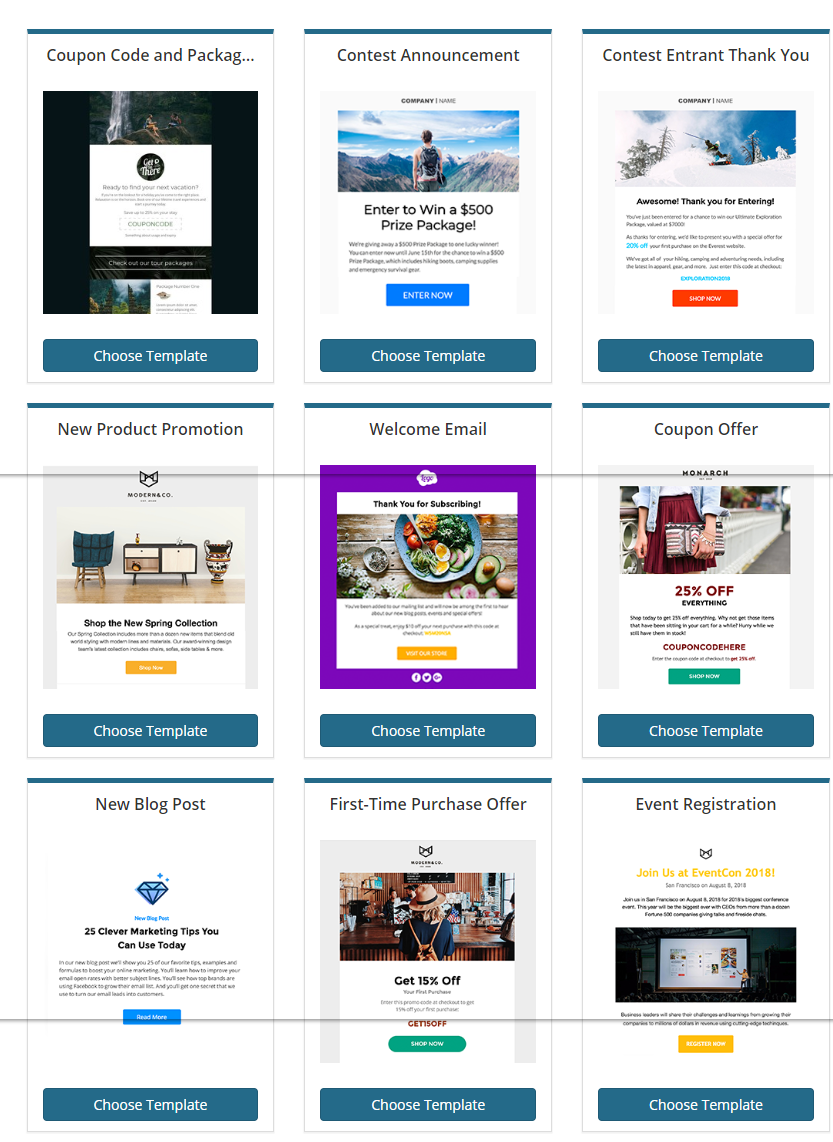 All that's left is to add your great copy!
Copywriting Sin 2: Sounding more keyword than human.
SEO used to be a quantity-as-good-as-quality game. The more keywords, the better - and if you had to sacrifice a little style to get a higher keyword density, so be it.
But algorithms are evolving and times are changing. Keyword stuffing can now actually hurt your SEO score.
There's no golden rule as to what the perfect amount of keywords is, but overall, experts recommend having your keyword appear in your title (if it doesn't sound awkward), your headings, and a few times in the body of your piece - the further up the page, the better.
Copywriting Sin 3: Writing for yourself, and not your audience.
As marketers and copywriters, it's easy to get excited about our own products and services. We know the ins and outs, the features, the great team behind the product - it's tempting to spend valuable real estate in an article waxing poetic about our company and our product.
In the age of the consumer, however, we have to keep everything about our messaging centred squarely on them. For example, your long-awaited version update is exciting to you, but isn't relevant to your customers by itself - how does it improve their lives? How does it solve their problem?
Luckily, getting into your customer's mindset is a science. With some reading, some practice and genuinely making the effort to know and help your readers, you can start creating sales-generating copy.
Treat your articles like a first date. If you're spending the entire time talking about yourself,and not making a real effort to get to know about the person you're talking to, you're probably not going on a second.
Copywriting Sin 4: Making the same adjectives do all the work.
We hear some words and phrases many times that we become numb to them. (How many times on the internet have you been told that you won't believe what this article has to say?)
Mix up your adjectives. (If your browser starts autofilling links with thesaurus.com, that's a good thing.) Be specific if you can, and add colour and imagery if possible. Use verbs, as an action-oriented piece is far more likely to hold readers' attention.
E.g. "Our copywriters can create quality content, from blog posts to research papers to speeches."

Vs.

"Our team of copywriters is experienced in crafting a range of content across industries: from snappy blog posts to in-depth research papers."
See the difference?
Copywriting Sin 5: Not playing with the other kids.
The internet is a social place, and search engines reward social websites. Link back to other websites, trustworthy bloggers, case studies, and data. Invite guest bloggers to contribute to your site, and share your expertise with others.
It isn't just good internet social etiquette. Networking is a big part of a successful content strategy, and an important part of building domain authority.
Which leads onto...
Copywriting Sin 6: Not doing your research.
Five and six are somewhat interlinked. In content marketing, if you're not collaborating with other outlets and writers, you're not backlinking, and you're not talking, you're likely not dedicating the proper amount of time to good, in-depth, original research.
You don't have to be a think tank, but you should be sourcing opinions from your own following, or experts on your own staff.
As copywriters, our job isn't just creation, its curation and translation. If you want to be a leader in the field, you shouldn't just be creating content: you should be keeping up on current trends and events in the industry, reading updates, doing your own analysis and contributing to the space.
It's a heavy demand. However, with so many content aggregators and so much content itself, resharing or relisting content can only fuel your brand's reputation so far.
As the field gets more crowded, what will make an impression on consumers is well-written, insightful, clear and useful content from personalities they can recognize.
Copywriting Sin 7: Skipping spellcheck.
It's one of the most tedious parts of the job, but a hefty chunk of good copywriting is solid copyediting.
Entire services have been built on the power of spellcheck. While we don't mean you need to splash out on the Cadillac of grammar-checking software, it is important to have fresh eyes on your work, whether that's a friend or another colleague.
After writing a piece we've spent a long time on, we're particularly prone to skip over small mistakes, or subconsciously mentally autocorrect them. These errors, however, can stick out like sore thumbs on a published piece on the web.
(If you need a case for a copyeditor, have a look at the most expensive typos in history, featuring an 80 million dollar hyphen and a Bible that accidentally reversed one of the Ten Commandments.)
There you have it, 7 mistakes writers make over and over again on the web. Before you hit 'publish', check if you're guilty of:
Writing for a novel, and not the web.
Sounding more keyword than human.
Writing for yourself, and not the audience.
Making the same adjectives do all the work.
Not playing with the other kids.
Not doing your research.
Skipping spellcheck.
Interested in learning more? Check out these articles for copywriters: