4 Email Marketing Trends You Need to Know for 2020
Email marketing is making money moves.
It constantly adjusts, adapts, and advances with the shifting technology landscape. However, its relevance in the modern marketing stack remains as prevalent as ever.
Marketo estimates that checking email is the #1 activity on the internet with 94% of internet users getting online for this reason alone. Email marketing's power is rooted in its ability to break through cultural, generation, and class barriers. Its effectiveness for marketers lies in its steady return on investment, about $39.40 on each email.
While Facebook's Sheryl Sandberg famously decried the "end of email" in 2010, she may have jumped the gun on that assertion. While social media and audio/visual channels have seen a sharp rise in the last decade, email has remained a mainstay. It is estimated that about 247 billion emails were sent per day in 2010, compared to a projected estimated of 307 billion per day in 2020.
Top email marketing trends
Given the foothold that email marketing has on every consumer, it's paramount for both B2B and B2C enterprises to stay on top of their email marketing game heading into the next decade. Let's highlight the email marketing trends you need to know heading into 2020.
4 Email Marketing Trends You Need to Know for 2020:
User-generated content
Responsive interactivity
Accessibility
Automation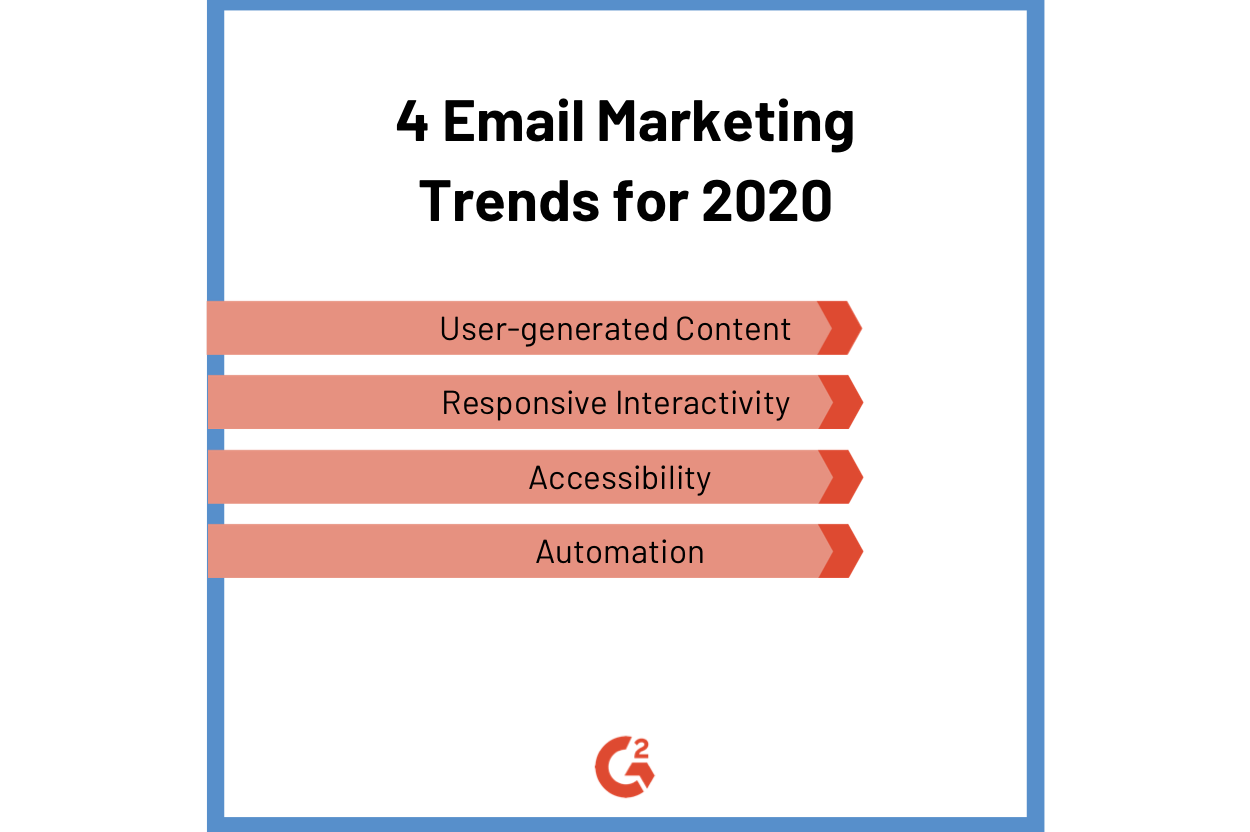 Let's dig in and uncover how you can implement these efforts into your email marketing strategy.
User-generated content
User-generated content (UGC) is defined as any form of content (text, images, audio and visual) created by the product's end-user. Like many other marketing channels, user-generated content drives real-time engagement with brand evangelists and prospects alike. Incentivizing and motivating your consumer to contribute content via email marketing promotes authenticity and directly improves conversion.
E-commerce leader 3dcart asserts that 82% of consumers consider user-generated reviews extremely valuable and 70% of all consumers will look to reviews or ratings before making a purchasing decision. In addition, given that email subscribers are 3x more likely to share content on social media than leads that came through another channel, email marketing provides a symbiotic relationship with social media, leading to more user-generated content to leverage in the future.
It's easier than ever to gather user-generated content instantly from your email marketing efforts. Knowing how, when and why to gather feedback is a good starting place for your efforts. Drip emphasizes quick, easy-to-digest feedback modules embedded into your email efforts. Posing a simple question that directs the user to a broader survey can help solve for the "how."

Knowing when to ask for the feedback is crucial to success. It's important to give the user a chance to experience the product or service before asking for user-generated feedback. Selecting the right email marketing software for your organization helps to target your feedback outreach and go a long way in securing that sought after content.
Finally, understanding the "why" might be the most important aspect for most consumers. While many companies are able to gather user-generated content behind the power of the brand's market value, some organizations have found that adding gamification or interactivity to their email marketing efforts helped to drive robust and diverse user-generated content.
Interactivity Drives Engagement
2020 could be the first year that more emails are opened on a mobile device than a desktop or laptop environment. Given that ⅔ of mobile users will delete your email if it's not optimized, taking a multi-device responsive approach is the only way to stay current.
Combining responsiveness with interactivity challenges even the most advanced email marketer. In the olden days of email marketing, interactivity was designed to entertain the recipient. In 2020 and beyond, it will be used in more functional ways, promoting engagement and preventing consumers from leaving the emails.
Some of the hottest interactive email elements heading into 2020 include:
Animated buttons and calls-to-action
Rollover effects to showcase product offerings
Interactive image and product carousels controlled by the user
Accordion features designed to make long-form emails more compact
Surveys, polls and user-generated interactive content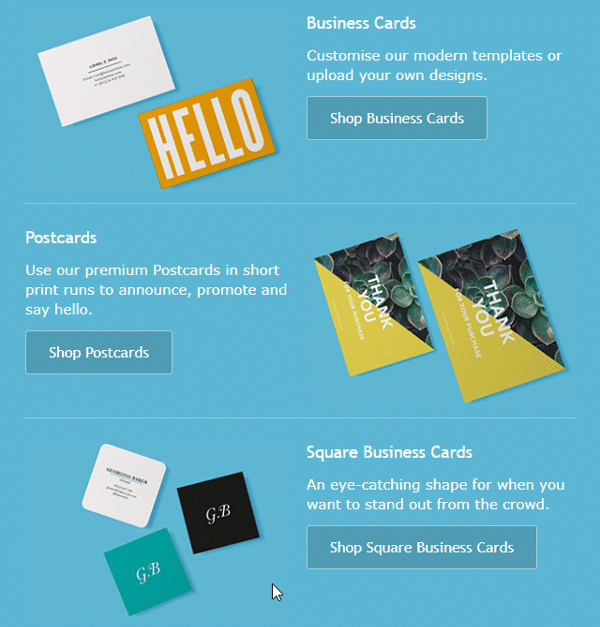 Need help with your business email marketing ?
Book a personlized webinar to learn how our team of marketing experts can help you create high converting email marketing campaigns today!
Accessibility
2020 will continue to see the rise of smart speakers with voice assistants reading emails aloud to consumers. With roughly 250 million smart speakers to be installed worldwide by 2020, smart email marketers are already designing with accessibility at the forefront.
The World Health Organization estimates that about 1.3 billion people live with visual impairments, 36 million of which are considered blind. This poses a delicate challenge for email marketers. In addition to the diverse abilities of the human body, many parts of the world have limited data connections and a lack of access to the latest technology.
While accessible email design may seem like a daunting task to most email marketers, the emergence and improvement of assistive technologies help to simplify the process for the reader and marketer alike. According to Litmus' Ultimate Guide to Email Accessibility, "77% of brands say accessibility is a priority— but only 8% rigidly follow accessibility best practices." There are some attainable ways to make your emails more accessible to every reader.
Accessible Content
Keep your email copy concise and to-the-point. Litmus' research suggests that the average attention span in an email is just 13.4 seconds and since the average adult reader can read between 250 and 300 words per minute, the ideal length of copy in an email is around 50 words. The experts at Litmus recommend the following tips:
Use shorter sentences
Limit jargon and difficult words
Localize your content for global audiences
Need more help with your email copy? Check out 23 Email Copywriting Tips to Skyrocket Conversions
Accessible Design
Designing for accessibility means pulling back on all-image email templates and emphasizing real text in HTML. There are simple ways to make your email design more accessible and effective to a broader audience:
Use real text HTML
Create a strong visual hierarchy within your email
Be cognizant of text justification; avoiding long sections of center-justified text
Use appropriate font sizes
Optimize line spacing
Use high contrasting colors to ease the reader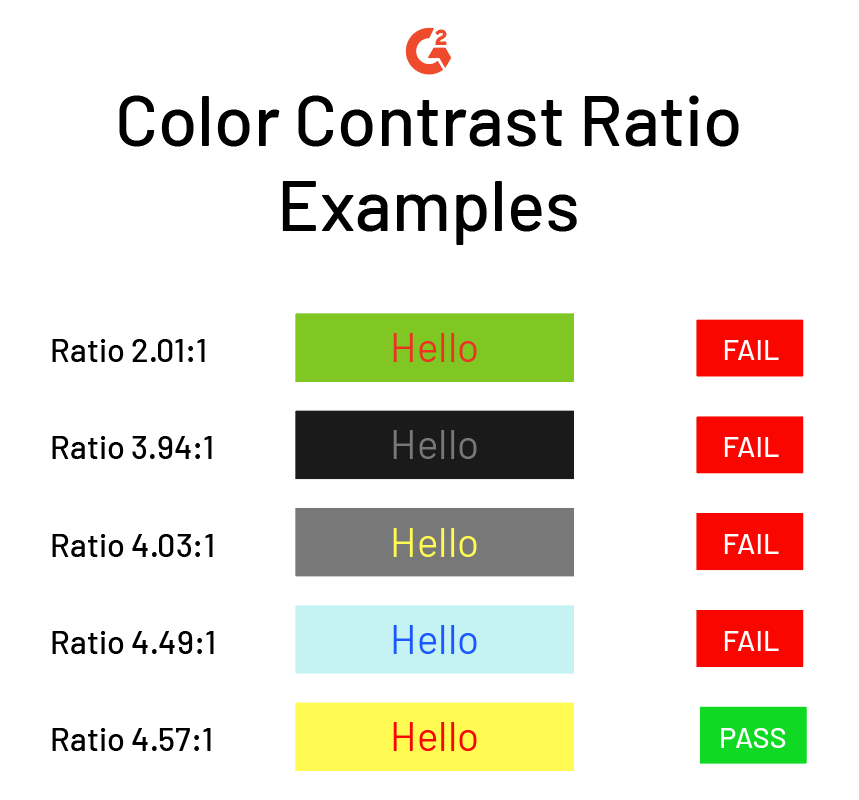 Accessible Code
The sure-fire way to create accessible emails is by manipulating the code to work for every user. Most of the assistive technologies assess the code first and foremost. Having a strong code-base behind your email is the best way to assure accessibility.
Ensure that alternative text is used for all images
Make sure your HTML tables are accessible to screen readers
Use semantic HTML
Specify a language in the HTML
Email accessibility is a journey, not a destination. Each small step leads to significant improvement for every reader. Increasing usability and accessibility promotes inclusion and increases ROI by increasing the reach of your email marketing strategy.
Automation Rules the Nation
The last decade saw major advancements in email automation. The next decade could change the way we use the channel entirely. Integrating email into the full marketing stack is a fast-moving train that cannot be stopped. Marketing cloud services have successfully armed themselves with more data and processing power, allowing for improved stat models, cross-channel optimization and paved the way for machine learning and automation to rule the email landscape in 2020.
Establishing performance benchmarks will become easier for email marketers with the rise of machine learning and deep learning in email marketing platforms.
Automating the customer lifecycle stages and workflows will increase.
Smarter automated segmentation will lead to increased performance, customization and accessibility. The automation of reporting will ease the burden of email marketers and trim costs, leading to increased ROI in an already ROI-positive channel.
Platforms are better able to support A/B testing and multivariate testing, freeing up resources for other channel optimization.
Increased integration between marketing cloud services will pave the way towards an improved digital experience for consumer and marketer alike, leading to that joyous "single customer view".
Foresight is 2020
Predicting the future is not easy. Luckily, the future of email is strong as it continues to evolve to a shifting tech landscape. Advancements in nearly every aspect of the channel will allow marketers to be more impactful in their iterations, more accurate in their reporting and more bring more delight to the inbox of every reader.
About the Author​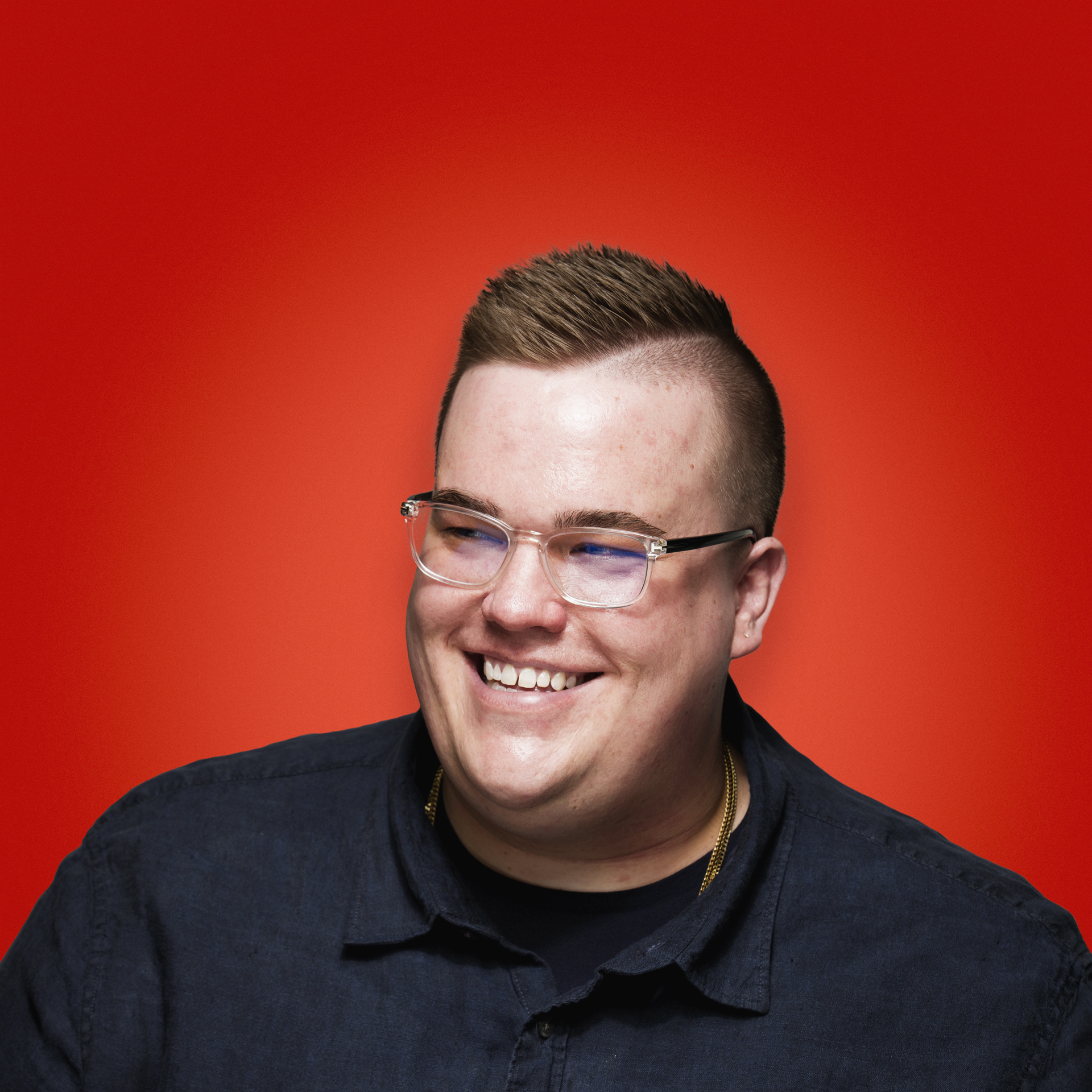 John is Head of Content Marketing at Amount and possesses a passion for brand, content, and funnel optimization. Before joining G2, he played a key role in scaling multiple award-winning tech startups in Chicago. A proud Colorado native, you can likely find John digging through the crates for vinyl records or supporting the Chicago music scene.

Related Articles