How to Drive More Organic Reach With Facebook Live
The Facebook algorithm seems to be the all-powerful curator of Facebook content. And it feels like the algorithm arbitrarily selects which posts get shown and which ones get buried in the newsfeed.
Nobody knows exactly what makes for a wildly successful post, because the algorithm is complex, and Facebook changes the algorithm frequently to keep up with user behavior.
However, there are a few things we know for sure:
Facebook prioritizes certain content.

Facebook's objective is to encourage conversations and engagement.

Facebook competes with other social networks for user attention.
This means that Facebook gives preferential treatment to content that gets people talking and spending more time on Facebook. Facebook also favors their new content formats, since they want users to play with their new toys.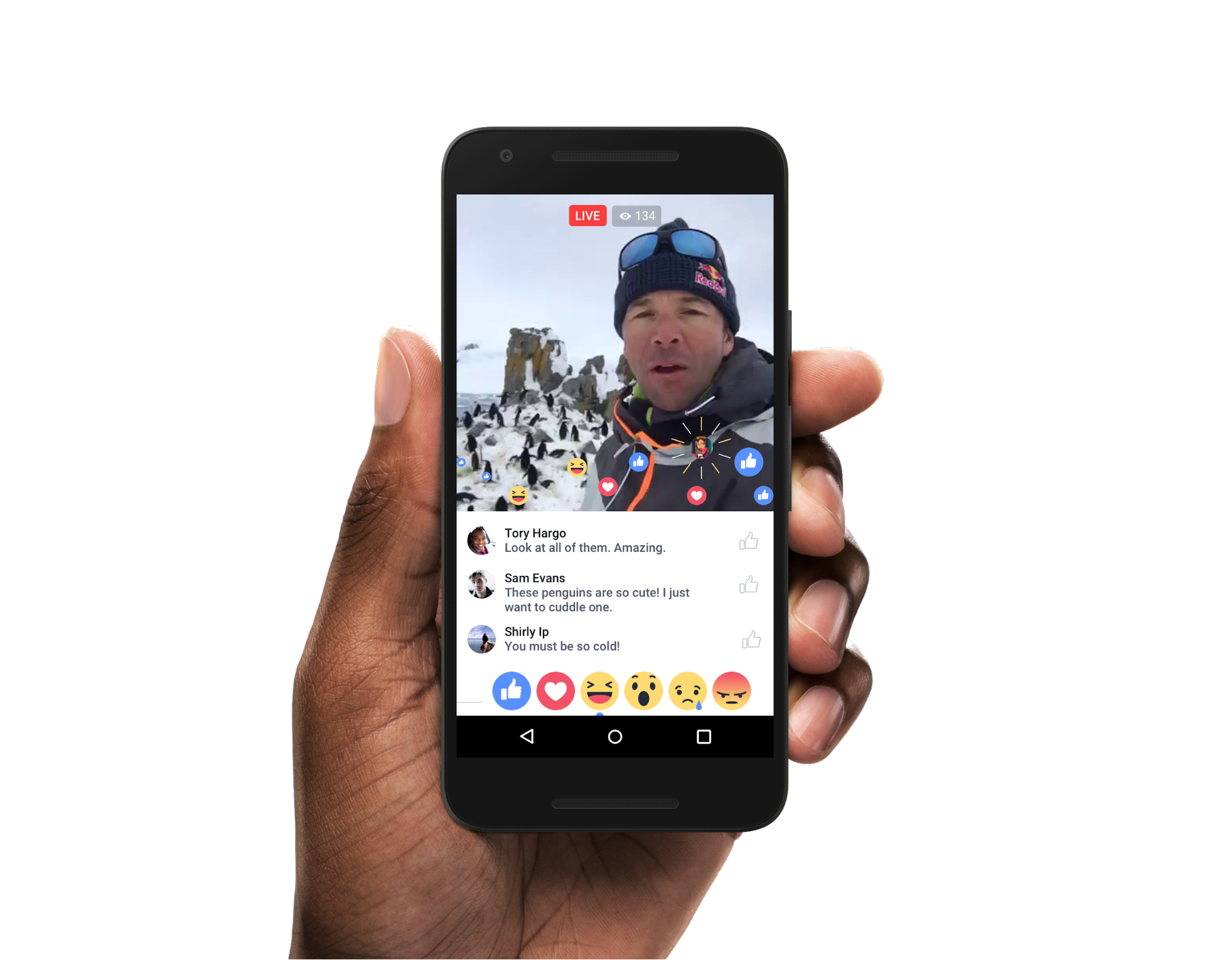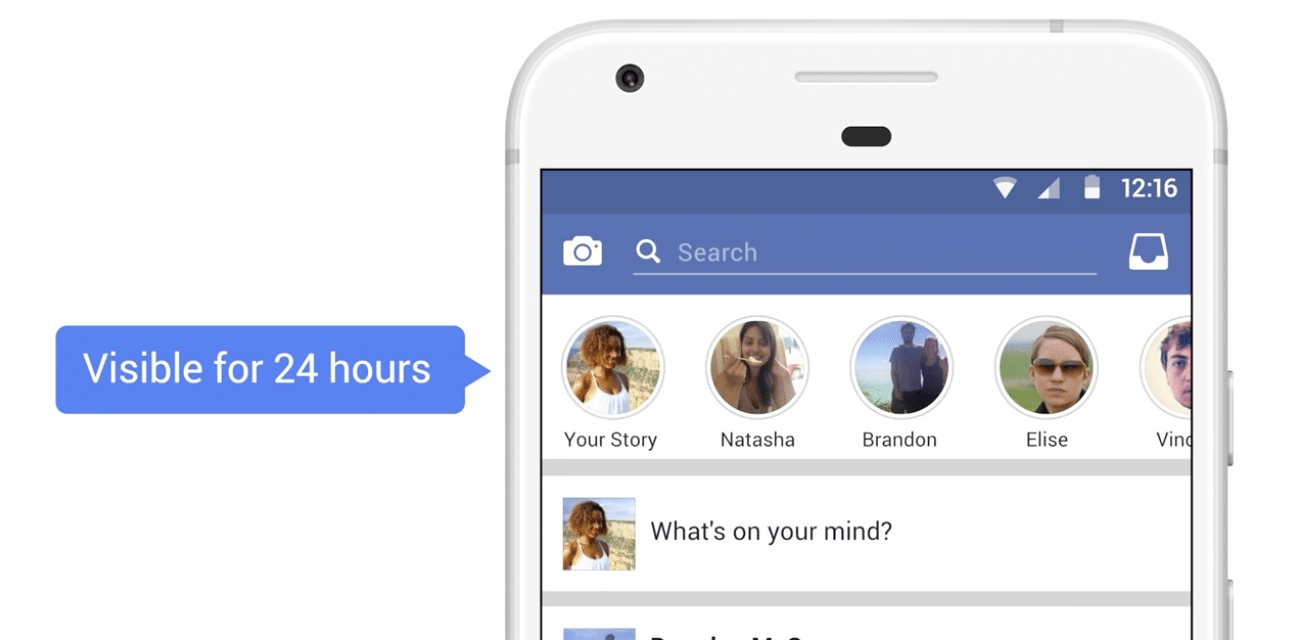 Both Facebook Live & Stories meet both of these criteria.
These vehicles are interactive and fairly new to the Facebook platform. So, Facebook Live and stories still get good organic reach, even though Facebook has seriously curtailed organic reach to encourage businesses to run paid ads through the Facebook Ads Manager.
Facebook Stories have their place, but we'll stick with Facebook Live for now.
The cost of producing Facebook Live broadcasts is very low. It's totally acceptable to use your phone camera. So, live broadcasts are an excellent option for businesses that don't have the budget for paid ads or boosting their organic posts.
However, getting on camera is tough for a lot of people, and Facebook Live broadcasts need to be fairly long to get the best reach. Additionally, you probably have videos prerecorded and ready to post to your timeline.
So, even though Facebook Live broadcasts are free, there's still a considerable time investment in running regular Facebook Lives.
This probably leaves you wondering if Facebook Live is worth the time and effort, since organic video posts perform fairly well. Or, if you want to supplement your video ads with live broadcasts, how much time should you dedicate to your Facebook Lives?
Hard numbers make it easier to make decisions. So, we ran an experiment to discover just how much organic reach Facebook Live broadcasts get, and how that organic reach compares to the reach of a standard video post.
The results of our experiment were mind-blowing. Our hypothesis was correct. But the numbers were staggering.
Before we wade into the experiment, let's talk about the basics of Facebook Live, so you understand what it is and how to use it.
What is Facebook Live?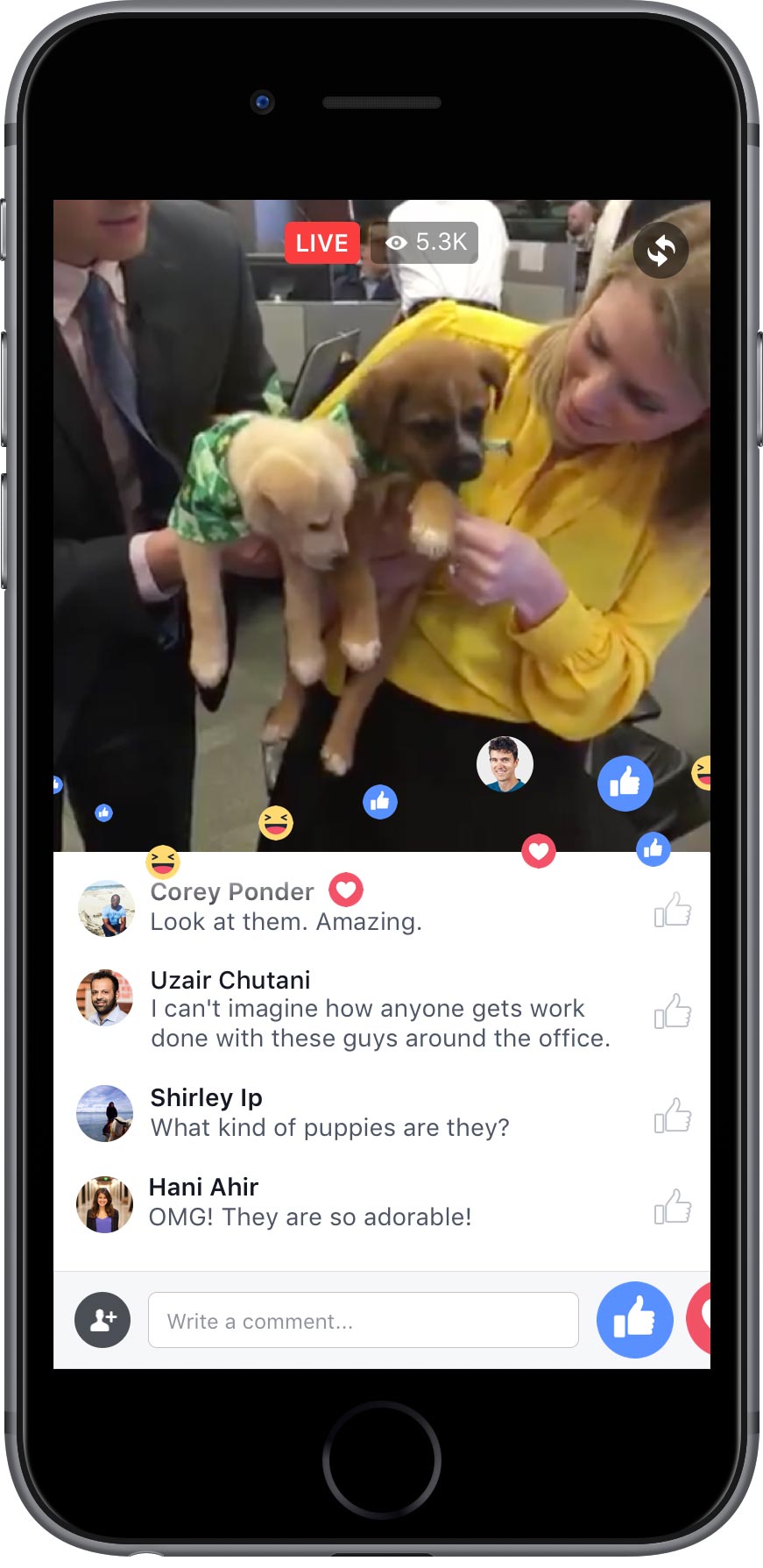 Facebook calls Facebook Live "a fun, powerful way to connect with your followers and create new ones along the way."
Facebook Live offers businesses a tool for creating authentic video content that humanizes their brand and gives customers a glimpse behind the curtain. It's a great channel for showcasing day-to-day operations, covering events, and showing off new products. Facebook Live is also a great way to personally interact with your customers.
As the broadcaster, you can see comments and likes in real-time. So, you can respond to questions and interact with viewers and check engagement on the fly. It creates a viewing experience that's much more interactive than regular video and offers an amazing opportunity to get feedback from your customers.
Another advantage Facebook Live has over standard video is that it encourages users to interact with each other, in addition to liking and sharing. So, Facebook Live is a powerful community building tool that drives conversations around your brand.
All this interaction is great for you, but it also makes the Facebook algorithm really happy. This is why Facebook Live broadcasts fare so well when it comes to organic reach.
You can also support your Facebook Live broadcasts with paid advertising. Here's the good news for paid advertisers: When it comes to reach and CPM, Facebook Live absolutely smashes normal Facebook video posts.
The results of our experiment prove it.
Facebook Video Experiment: Facebook Live versus Video Posts
To get some really good numbers on the organic performance of Facebook Live Broadcasts and normal video posts, we ran a five week experiment.
Our goal was to discover exactly how much organic reach advantage Facebook Live broadcasts have over standard video posts.
During the experiment we made two posts each week:
A 30-minute Facebook Live broadcast. This is one of our Facebook Live broadcasts
A 30 to 60-seconds video post. Here's what our video posts looked like
Our Hypothesis
We anticipated that our Facebook Live broadcasts would get more reach and better engagement since that's what live broadcasts are designed to do.
However, our experience with video led us to believe that our video posts would hold their own.
We were right about the Facebook Live broadcasts. But, we missed the mark a bit with how close the race was.
The Results: Facebook Live Outperformed Our Video Post in Every Category
Once the dust settled and we'd collated the data, this is what the numbers looked like.
Reach
Altogether, our Facebook Live broadcasts reached 12,929 people. That number was almost double the reach of our video posts, which were seen by 6,729 Facebook users.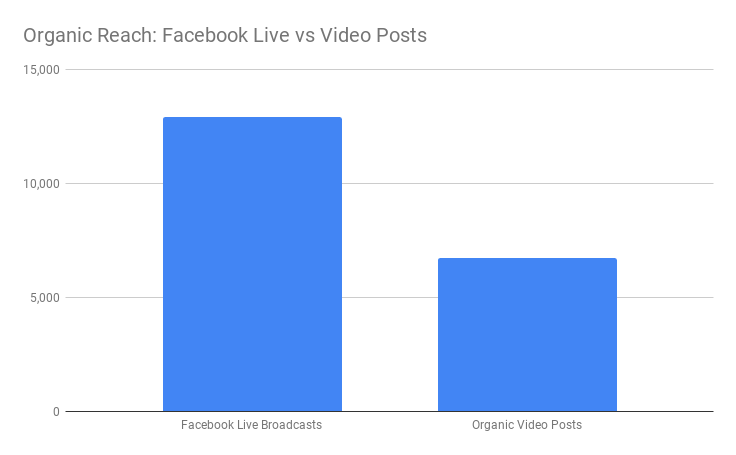 Engagement
Engagement is where Facebook Live really blew our video posts out of the water. Our live broadcasts garnered 469 engagements. At the other end of the spectrum, our video posts got a measly 28 engagements.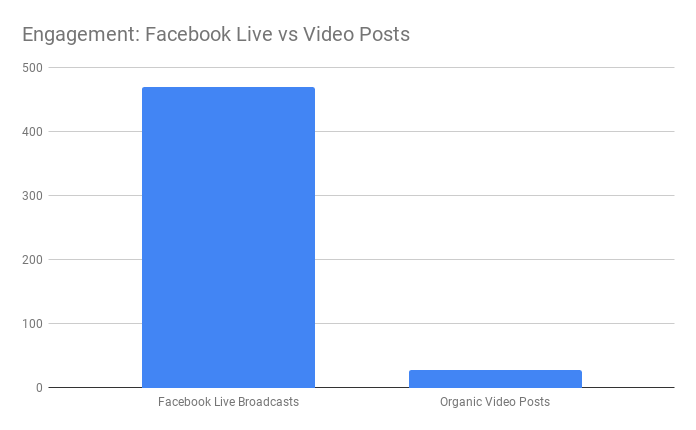 Views
Our Facebook Live broadcasts crushed it on views, raking in 5,395 3-second views. In contrast, our organic videos picked up just 1,714 3-second views.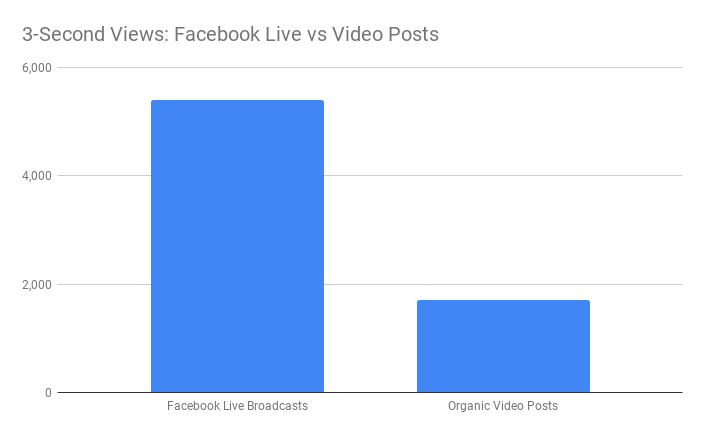 You can also learn How We Used Facebook Live Video to Grow Organic Reach 300% (+ 3 Bonus Case Studies)
Why The Numbers Matter
The Facebook Live broadcasts were many times longer than our video posts. But, they also performed far better. The Facebook Live numbers are so strong that you could use Facebook Live as an alternative to paid video ads, if you don't have the budget for them (yet!).
If you're already running paid video ads, adding Facebook Live broadcasts to your video mix will improve your Facebook video marketing results.
In either case, start with basic Facebook Live broadcasts and focus on interacting with your audience. Then, work your way up to more in-depth live videos. This way you can build your Facebook Live audience, without having to learn hard lessons on camera.
Here are a few best practices to help you go live.
Facebook Live Best Practices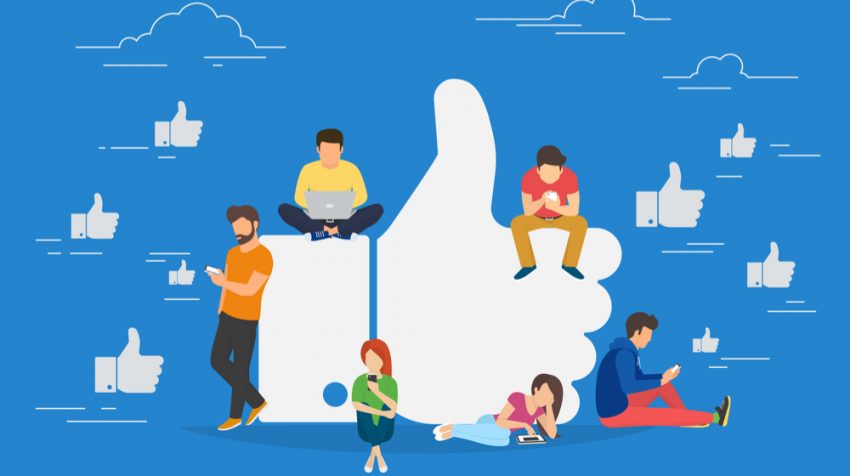 Facebook Live should have a different feel than a paid video ad. Your live broadcasts should be authentic, with an unrehearsed feel. It's just a real conversation between you and your viewers.
Even though you don't want your live broadcasts to seem overproduced, there are some best practices you should follow to get the best results.
Use Long Broadcasts
It takes some time for your audience to start watching and interacting with your Facebook Live. So, your broadcast should be rather long. It usually takes about 10 minutes to see a real increase in viewers and engagement.
But, you don't want people to arrive at your Facebook Live broadcasts just as it's ending. So, you should plan to run for 30 to 60 minutes. Just make sure that you've got enough content to fill your entire 30 to 60-minute broadcast, even if you're not getting a lot of interaction from the audience.
Schedule Your Broadcasts
Even though you need to give viewers some time to show up for your broadcast, your video will get more organic reach if you start getting viewers in the first few minutes.
Scheduling your broadcasts helps you get an audience faster because your viewers know when to show up. You can also promote your scheduled broadcasts through other channels—like email—to help ensure that you'll get viewers early in your broadcast and increase your organic reach.
Encourage Engagement
The Facebook algorithm rewards engagement with more organic reach. So, answering viewer questions and encouraging people to interact with each other goes a long way toward getting more viewers.
Speaking with your viewers also gives you information about how people view your brand, what they want to know about you, and what they think of your product. So, your Facebook Live broadcasts are a great way to improve your brand messaging.
Take Advantage of Facebook's Creative Tools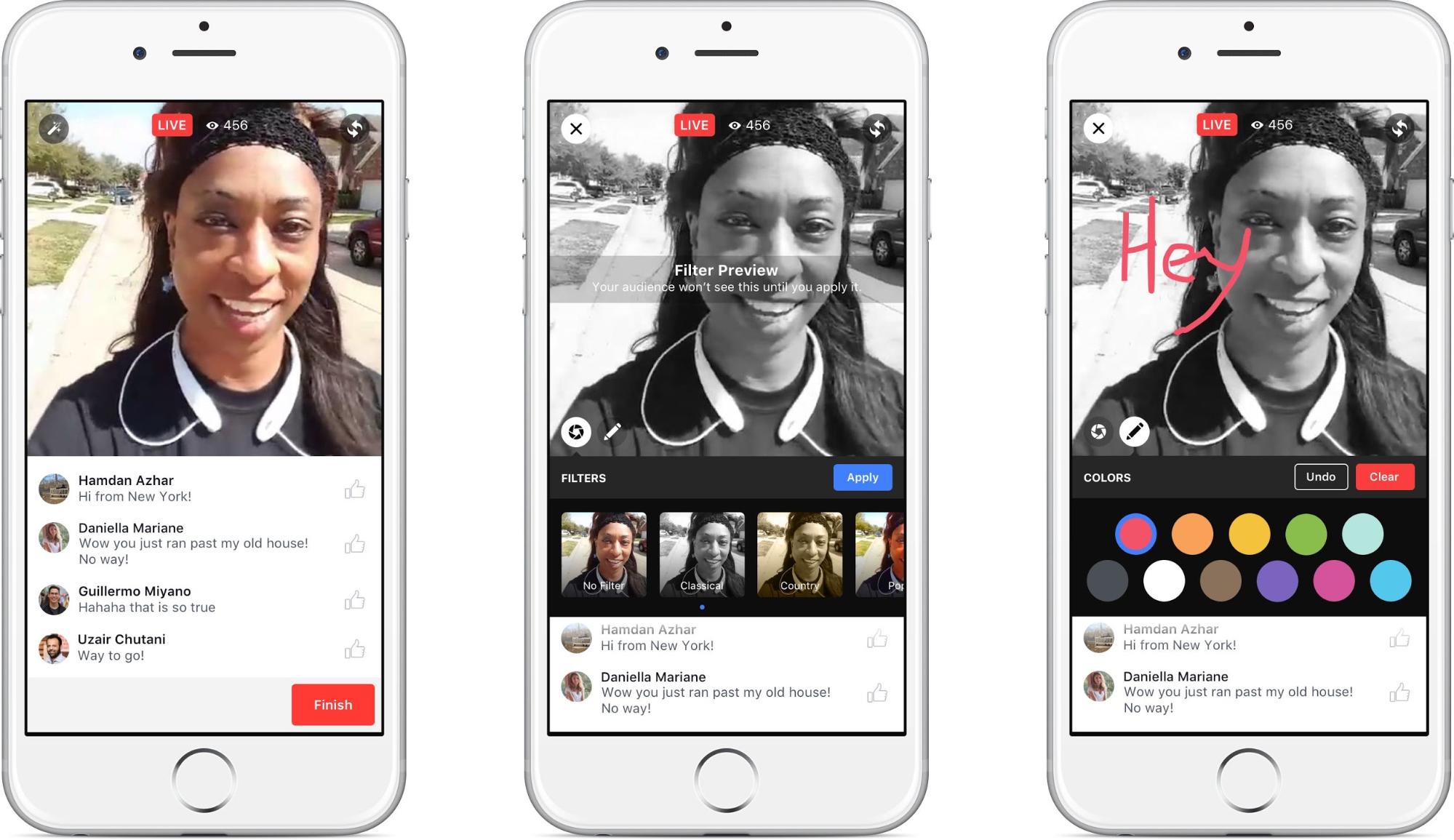 Facebook offers filters, themes, and effects to make your broadcasts more visually appealing. You can also add captions to your live broadcasts.
Really, you should add captions to your live broadcasts. Captions on Facebook increase almost every performance metric:
Average total view time is 5% higher with captions.
Average reach is 16% higher with captions.
Videos with captions get 17% more engagement.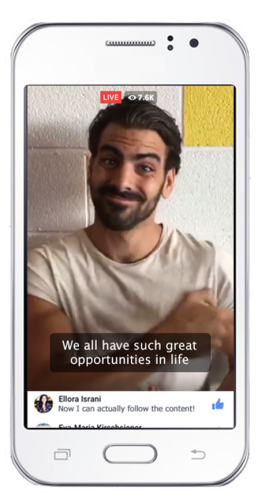 So, your broadcasts will be most successful if you use the creative tools that Facebook offers on the platform.
Boost Your Broadcasts
If you have a bit of a budget to put behind your Facebook Live broadcasts, you can use the Facebook boost feature to keep getting views and engagement after your broadcast has ended.
Facebook posts your live broadcasts as video posts. You can use the Facebook boost feature to promote your recorded broadcast. Live broadcasts get priority from the Facebook algorithm, even after they've been recorded, so boosting your broadcast post will get good results.
However, you should only boost a Facebook Live broadcast post if the broadcast got good viewership and engagement while it was live. Boosting a post for a live broadcast that got marginal engagement won't give you very good ROI.
Here are 4 More Simple Ways to Use Videos on Facebook to Boost Engagement
That's a Wrap
If you're looking for a way to supplement your Facebook ads, or get that organic reach that Facebook was once famous for, Facebook Live is an excellent way to get your business in front of more people, without paying much.
If you're ready to get started with Facebook live, schedule a few 30 to 60-minute broadcasts, and let your email subscribers and Facebook followers know when you'll be live. Then, set up your camera and show them what you're all about.
About the Author ​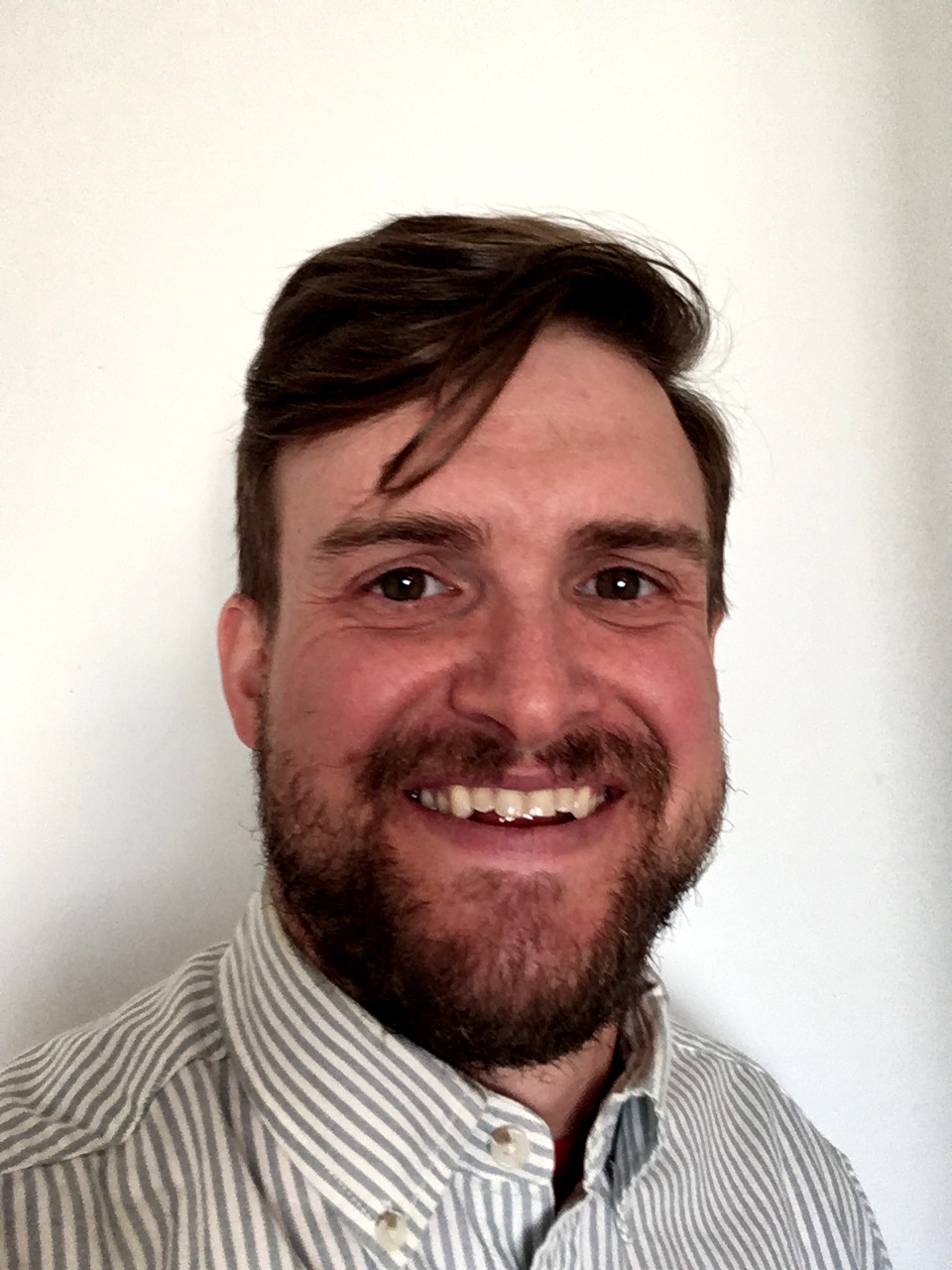 James Miller writes for Biteable as a software and tech content writer and copywriter. He also writes fiction and skis as much as possible. Stop by the Biteable Facebook Video Marketing Lab to master your Facebook live.