How to Improve Your Email Marketing Strategy with AMP for Email
Despite being the most pervasive form of online business communication, email hasn't had any major updates in many years. When the news about a number of major email providers such as Google and Outlook introducing AMP started appearing on the net, businesses couldn't be happier.
Simply explained, AMP (Accelerated Mobile Pages) is a technology that allows embedding interactive elements like direct purchase buttons, survey buttons, simple menus, confirmations, and carousels into emails without having to redirect the recipient to a website or another online destination.
Since email marketing is an incredibly popular form of communication with customers - in fact, there were about 281 billion business and consumer emails sent in 2018 - this upgrade was well-received. But why are businesses so excited about AMP for emails? How can they take advantage of the technology to improve the experience of their customers as well as the effectiveness of email marketing campaigns?
Let's find out.
A Few Words about AMP for Email
AMP allows its users to create emails rich in content which help save their recipients time and effort by allowing them to access all the information they need through that one simple email.
Using this open-source technology helps companies improve the performance of their web content, keep their audience engaged and add more interactivity to the emails they send out.
This is done by including several AMP HTML components that make emails dynamic. Even though an AMP email is a typical HTML-based email, there's one difference: it features limited JavaScript markup where AMP elements can be added.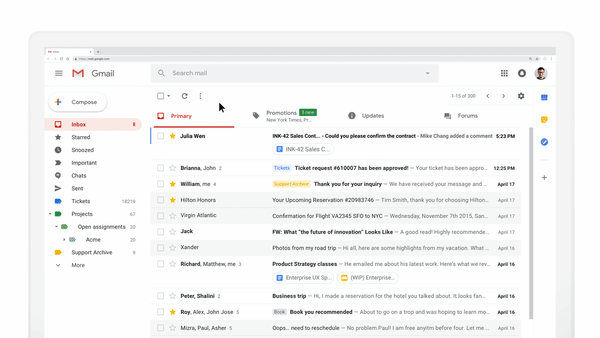 By using these elements, the recipients of emails can interact with the content directly in the message. As a result, email marketers can make completing such actions as booking a calendar appointment or confirm a subscription without leaving the message possible.
This essentially gives AMP emails the power of a website but in a much more compact form. A simple example can be viewed in the form of promotional emails and seasonal offers.
Many big clothing brands often send out emails with discounts on their newest items and seasonal collections. By using AMP-styled emails, they can replace any out-of-date offers in previous emails with their current promotions.
All of these actions are becoming possible for one simple reason. Google is giving its users the chance to store their emails on a server and gives them access to changing the contents of each email to their liking, as many times as they want.
The information included in the emails is no longer encoded in the emails and that means that it can be changed.
Without a doubt, this is a big update to the email technology that hasn't seen a major improvement in years.
Why is AMP Important for Businesses?
When Google announced bringing AMP to Gmail through Gmail Developer Preview, the company said that some companies were already using the new function to improve the experience of their customers.
For example, they cited Booking.com, Doodle, and Pinterest as pioneers, and called to other companies to begin adopting the technology as well.
Booking.com, for example, used AMP to see more deals directly in an email while Pinterest allowed the recipients of their emails to browse and save favorite pins (see the image below). Indeed, doing so improves the experience of email recipients because there's no need to go to the website to do these actions.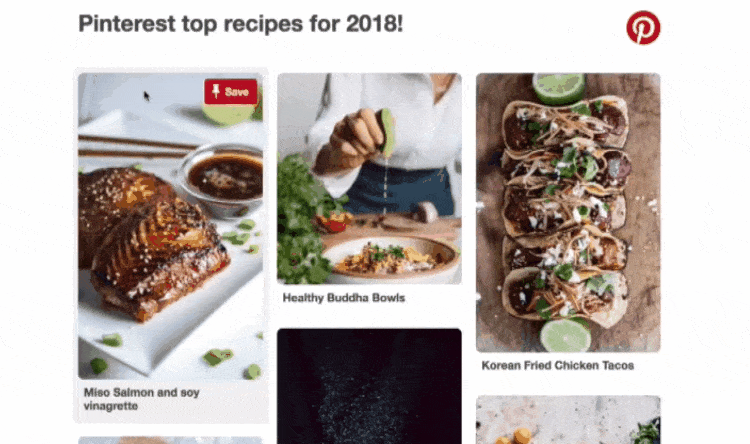 Moreover, any business doing email marketing should consider using this technology because of the following reasons:
Make your newsletter more interesting: Undoubtedly, AMP is a big upgrade, so you can use it to make your emails more interactive and engaging. With so many emails that people receive daily, static messages become kinda boring, for sure
Take personalization to a new level: Email personalization is huge in marketing. According to 2018 Trends in Personalization report, 77 percent of marketers were using personalization to increase the effectiveness of their email campaigns.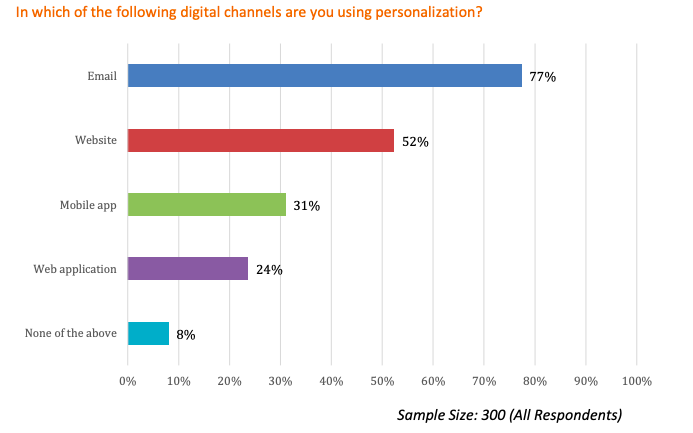 If you're also using email personalization - and you should - adopting AMP will be the next step in increasing its effectiveness.
Open new email use cases:The ability to embed interactive elements into emails can allow you to discover new opportunities for email usage. For example, now you can send invitations and have recipients confirm that they're going with one click instead of sending them a link to your website with the registration form.

Stand out from the competition:AMP for email is still a fresh technology, so it'll take some time before it's widely adopted by other companies in your market or niche. By becoming an early adopter, you can make your emails more interesting and engaging, which can give you a competitive edge.
How to Use AMP for Email to Improve Email Campaigns
Many industries stand to benefit from using AMP in email campaigns. Every business involved in email marketing should consider it as a tool for increasing customer engagement; for example, let's give you some use cases of AMP in different industries so you could think about how you can take advantage of the technology, too.
Ecommerce Businesses
Any business selling products or services online can benefit from interactive, dynamic emails. For example, an AMP-enabled eCommerce campaign can:
Allow completing a purchase without leaving the email.

Enable to change the size/material/color or other characteristics of a product.

Show the current location of a parcel and allow tracking it instead of getting notifications about the change of status.

Share carousels of products that are close to selling out and encourage customers to check them out.

Allow to conduct customer surveys via email and potentially increase the response rate.

Send simple questionnaires and encourage more customers to leave reviews.
All these features create a more efficient and streamlined experience, which is always a good idea for any eCommerce business.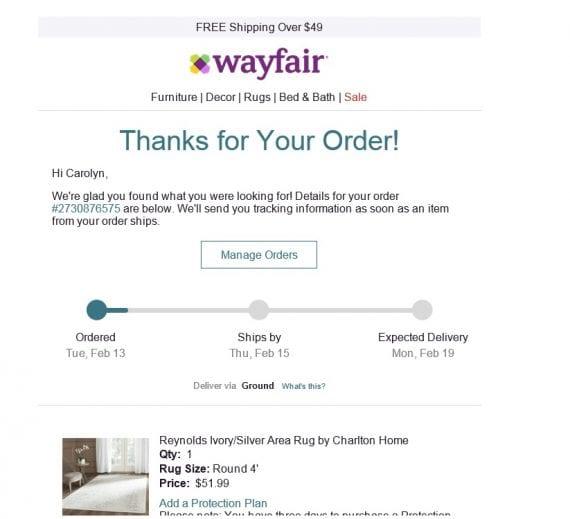 Businesses in the Travel Industry
An email marketer working in the travel industry can use dynamic emails to allow customers to check the availability of tickets for certain destinations and even make a booking. All that, without going to a business's website.
Booking.com allows recipients to filter destinations right in the email.
Businesses in Finance
Wouldn't it be great if your bank could allow customers to complete such actions as calculating loan payments and duration or doing other financial calculations easy without even leaving an email? AMP makes all of this possible; moreover, financial businesses can show customers how much they can save or gain by creating a savings account, etc.
Event Planning Businesses
Dynamic emails can improve the experience of people by allowing them to make and manage events and invites easier. As a result, event planners can increase customer engagement levels as well as improve UX.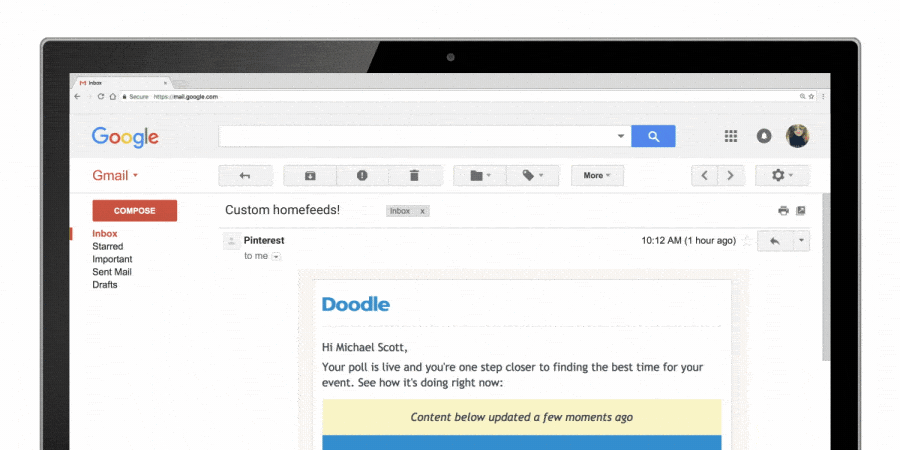 Doodle allows recipients to make appointments without leaving the email.
While the above-mentioned use cases are by no means exhaustive, keep in mind the following tips when choosing the use case for your business:
Using AMP is perfect for emails and actions that require instant reaction and limited input from recipients. These include subscribing to a newsletter, selecting and confirming a date, etc.

Make sure that using the dynamic form is easy when your target audience is not tech-savvy, as there's a chance that they'll find interacting with them a bit challenging. To guide the people, you'll need clear UX writing, which can be done with highly-rated writing agencies found at review sites like Top Writers Review. Ultimately, running A/B tests testing different designs and email copies will help to define the best-performing versions.

Try to make interactive forms as simple as possible. If an email displays a complex form in a format that's also not user-friendly (lots of links and sections, etc.), chances are high that recipients will be reluctant to interact with them.

Try using AMP for time-limited deals and cart abandonment emails; for example, you can include a timer in the email along with the form that allows completing the purchase.

AMP is generally good for all emails that contain some kind of a form; these are surveys, user preferences that require simple input, etc.

How to Get Started with AMP Emails
According to Google, you can find out if you can use dynamic emails by going to Apps > G Suite > Settings for Gmail > User Settings in the Admin Console.
There, you'll see three options: Disable, Enable now (Beta), and Enable when the feature is generally available. There's a chance that you'll see the third option activated as Google made the feature available on July 2, 2019.
Final Thoughts
Static and non-interactive nature of emails is a thing of the past that probably needs to go. That's why we welcome AMP as a technology that can make the most important form of online communication more relevant, personalized, and engaging.
Indeed, interacting with emails without having to go to a website is a big step forward that will bring a lot of benefits to online businesses in many industries.
Moreover, this is a big step for improving email user experience as well. Dynamic emails enabled by AMP technology are really customer-centered, as they make it easy to complete a range of simple tasks quicker and easier.
Although the technology is just getting started and nobody knows if it's going to perform well, we can say with some confidence that it'll be a success as long as you follow the above usage recommendations.
About the Author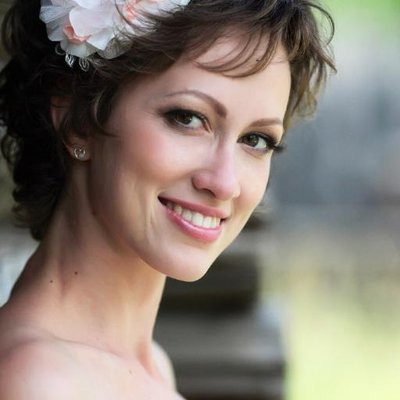 Daniela McVicker is a blogger and a freelance writer who works closely with B2B and B2C businesses providing blog writing, copywriting and ghostwriting services. When Daniela isn't writing, she loves to travel, read romance and science fiction, and try new wines.