Salon Social Media Marketing Tips: A Platform-by-Platform Guide
As the owner of a salon, you have a jump ahead of most other businesses.
The majority of people are exhausted, frazzled and looking for a reason to indulge in some long-overdue self-care. Your job with your salon's social media marketing is to give them that final nudge towards some me-time.
There are numerous elements to communicating effectively on social media, especially when it comes to personal services like salons and spas.
Customers and potential customers want a vibrant brand voice they can relate to personally, a track record they can trust, photos of your work that inspires them, content that makes them feel rejuvenated and understood, and offers that make your services within reach.
We're written a set of guidelines by platform for salon business owners and marketers to help guide their social media marketing efforts. In this post, you'll find helpful guidelines to:
Instagram for Salons
Facebook for Salons
Twitter for Salons
Enough pre-amble! Ready, set, SALON!
Salon Social Media Marketing Tips: Instagram
We put Instagram first on our list deliberately.
Although Facebook is the name you see in the news most often and Tik Tok is creating a lot of buzz, Instagram still has huge business opportunities, especially for salons that cater to a demographic that is highly into visual self-expression and sharing it online.
In fact, London hair salon Not Another Salon was featured on Business Insider for its ability to capitalize on its famous Instagram
Your Account Type
First things first: your Instagram should be a business profile, not a personal one.
This will give you more options on the backend, and add legitimacy to your profile to browsers on the front end. If you're using a personal account, here's how to switch it over.
Once you have a business account, you'll have a better understanding of analytics, what's working for your customers and what could be improved, and you'll be able to add information to help them find and contact you more easily (an absolute must.)
Your Instagram Bio
Your Instagram bio is as short as it is crucial.
It's your introduction before the big speech, your elevator pitch, your online business card, your first chance to make a good impression.
"Your #Instagram bio is as short as it is crucial."
With the option to now pin IG stories to your profile and set your cover photo, you can use those as an extension of your bio, putting less pressure on your word count.
Check out these three very different Instagram bios for ideas of how to tackle it: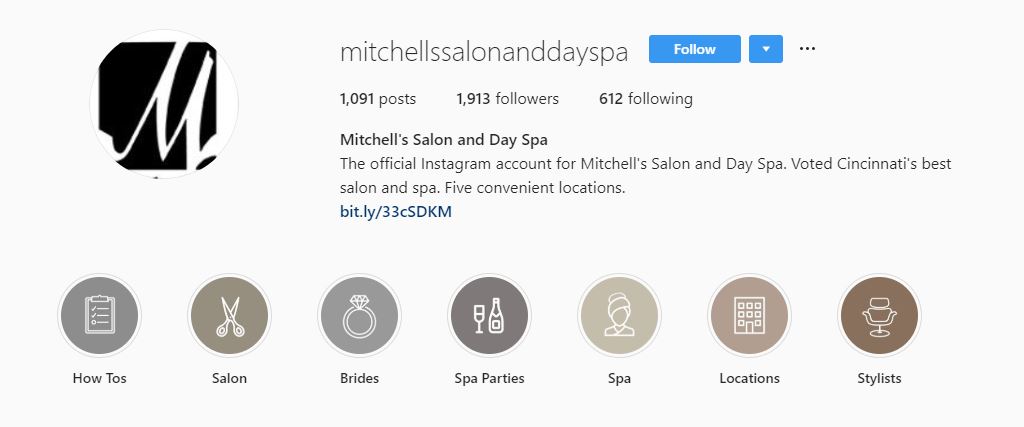 This bio is minimalist, clean, and offers powerful social proof in the second sentence by showcasing its accolade. By using its Insastories as an extension of its bio, offering a standard menu of its services, locations and stylists, it makes maximum use of the real estate on offer.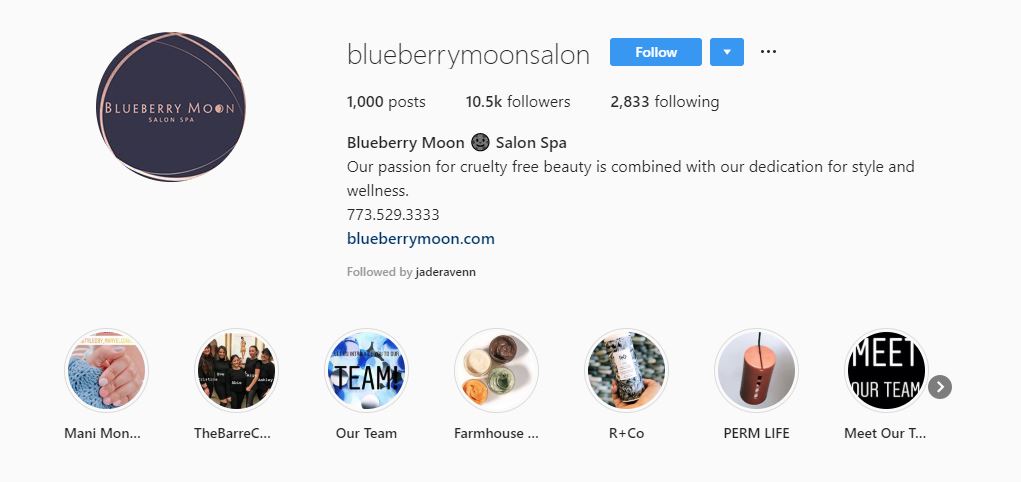 Blueberry Moon Salon takes a different approach, attracting followers who share the same values. Take a look: of the three things that you learn from this bio: the business type, their commitment to cruelty-free products and how to get in touch with them.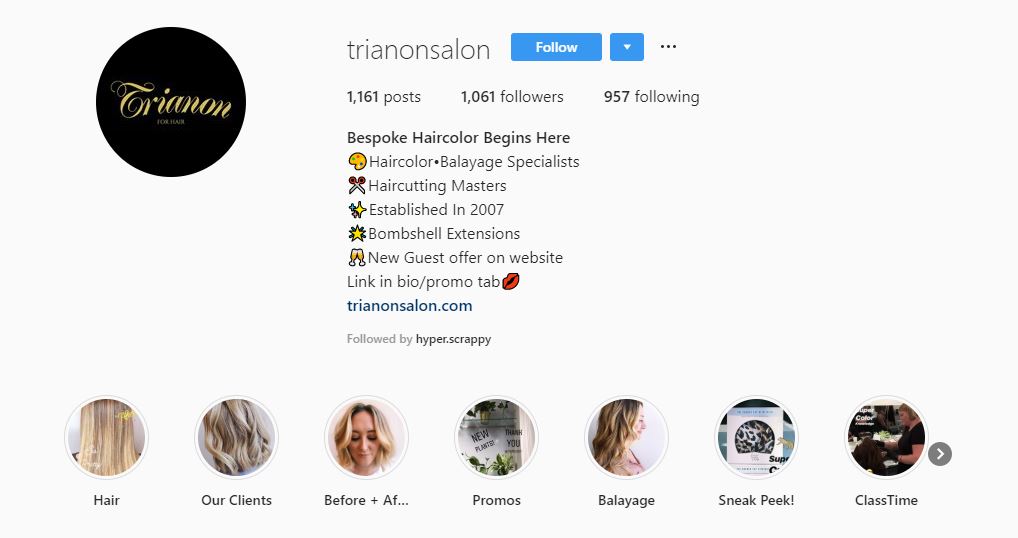 Trianon Salon has a more lighthearted take on its profile, using emojis as stand-in bullet points. Their pinned Instastories might be mistaken for personal selfies, but they show clients (and before and afters, which can be especially compelling for customers).
Engaging Followers
Engaging Instagram followers has become one of the holy grails for social media marketers: highly desirable and very elusive.
Instagram engagement through followers and posts is no alchemy. Salons can boost their engagement through different kinds of posts:
How-to posts and style tips
Style ideas
Self-care and health tips
Behind the scenes from your salon
Did you know?
Running an Instagram contest is one of the best ways to generate engagement and drive sales through Instagram. Wishpond's Instagram contest builder features dozens of templates that that make creating an Instagram contest simple.
Try Wishpond free!
Salon Social Media Marketing Tips: Facebook
Your Profile(s)
The Facebook ecosystem is slightly more complex than it used to be. Given that you can use your page as an avenue to book appointments, it might be a good idea to have separate pages for each of your locations, if you have multiple.
Check out what multinational salon chain Toni&Guy did. With brands, stores and academies, it was imperative that the company have a comprehensive social media presence.
The Academy pages are identified clearly by name and location, with the brand's logo as a profile picture.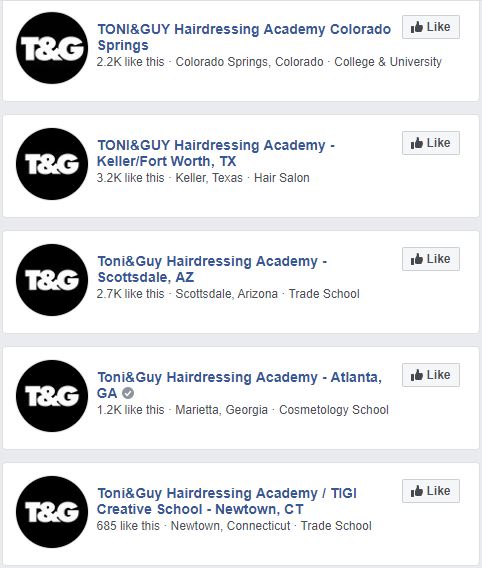 In contrast, each salon has a picture of a person as a profile picture.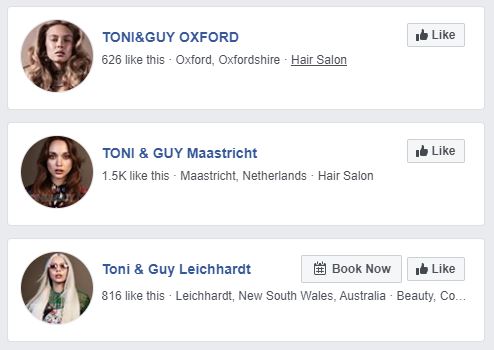 And only one has a picture of one of the founders themselves: the head office in London.

Your info
Facebook now acts as an unofficial business directory, with many consumers looking at pages for opening hours and locations. (It'll help if you include details like parking and how to get there by public transportation if your location is in a big city.)
Facebook now acts as an unofficial business directory. Keep your information up to date for happy customers.
It can be frustrating if they go to a page and see an empty 'About' page. Post accurate opening hours and location information, and post on your page if you're going to be closed for holidays or taking inventory.
Your Posts
Use Photos, and lots of them: People might read long text updates from their friends and family, but they're not so eager to sit through blocks of text from a business.
Check out this post from Salon Next for an idea of how to combine quick captions and an inside look at your salon.
Your Ads
Prolifik Hair Salon has run some eye-catching campaigns in the past, capturing both their personality and their dedication to their craft.
This example shows some ingenuity in combining showing a human side to their brand, as well as their messaging and their distinct personality.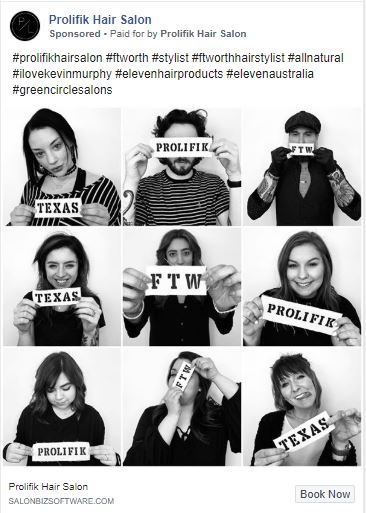 Another tactic is focusing on reviews or photos of your work in ads, as clients will be unlikely to book a complete unknown without some idea of what they're getting into.
Peruvian company Montalvo Salon and Spa did this brilliantly, showing a before and after picture with a dramatic difference.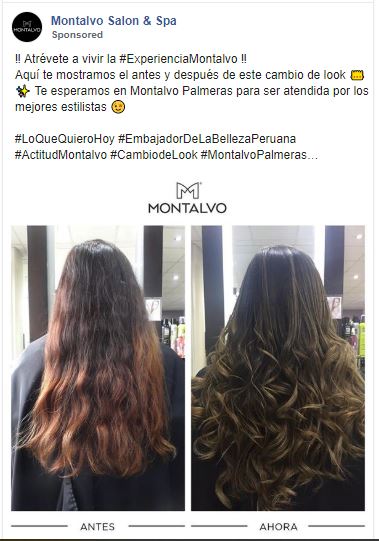 Salon Social Media Marketing Tips: Twitter
Twitter doesn't traditionally have the highest ROI of the social media platforms, but it is nonetheless a powerhouse for getting the word out about your brand.
Your Twitter Header and Profile Pic
Twitter is one of the fastest moving social media platforms, and one of the most playful. It's a great place to get creative with your brand.
For example, around seasonal holidays, brands are known to get decorative on Twitter, changing their Twitter handles or profile pictures. Because it's more fast-moving, it's more forgiving of a slightly more flexible brand identity, and you can take advantage of this to have a little fun with your brand!
Your Twitter Feed
Since twitter's expanded the number of characters per tweet, it can be tempting to use them up. But more important than quantity is showing personality.
The tweets that have gotten the most mileage are often as short as they are memorable. For example, although it's not a salon, there's a lot to be learned from Burger King's social media savvy:
Explains a lot https://t.co/CalmlcD3eu

— Burger King (@BurgerKingUK) November 5, 2018
Twitter runs on hashtags and mentions.
Tag influencers and users you want to see your posts to avoid them getting lost in Twitter's incredibly fast-paced streams, and use hashtags to help connect to communities interested in your services and content.
Tools to help you find relevant hashtags include RiteTag or Hashtagify.
Also, reply to your comments on Twitter! The good AND the bad! Even a simple 'thank you' to a compliment or 'We're sorry you had this experience. DM us so we can help further.' will look a lot better than stone silence.
Twitter Lists
An underused feature, this is a way to monitor competitor twitter feeds and social chatter without directly following anyone.
Twitter lists automatically curate members' tweets for you to review in one place, without you having to view each and every profile separately. You can make a list for competitors, trends, ideas, even your own biggest fans to see what they're saying.
Need some help?
Each platform -- Facebook, Instagram and Twitter -- has its own strengths and immense potential for your business. If you need help leveraging social media for your business and your marketing, Wishpond's expert marketing team.
Try Wishpond free!