Event Management: Social Media Tips for Event Planners
With so much to do in your business, spending time on social media strategy and content can seem frivolous compared to budgeting, networking, or actually planning events themselves.
So why invest in mastering the science of social media?
The event planning industry is, by nature, a social industry. An event planning business's success hinges on effective communication and connection.
Social media is one of the primary ways people today talk and connect. In fact, according to Oberlo, there are 3.2 billion active social media users.
What exactly can a strong social media presence do for you?
Aside from the general 'boost your presence', what can a strong grasp of social media do for your business? Just some benefits:
Market your events themselves to a mass audience
Markets your products and services even when your events aren't active
Establish you as an industry leader and guide
Maintain a constant channel of communication between you and your clientele (past, current and future!)
A visibly large and active following makes you an attractive partnership option for major brands and venues
Sound good? We think so too.
So, let's get down to brass tacks. What are the best social media tips for event planners?
Leverage Each Platform's Strengths
Instagram, Facebook, LinkedIn, Twitter: each are powerhouses in each of their own way, and each has their own specific strengths and particular audience preferences.
Here, we've listed ways to get the most of out each.
Facebook
Despite the proliferation of new social platforms, Facebook is still a behemoth. Facebook ads, Facebook contests, Facebook business pages, professional groups: all of these are powerful extensions of your event planning business.
The social platform has embraced its role in business and now, you can take advantage of a page to:
Use your page to take bookings and inquiries
Instead of just providing your phone number, do the equivalent of dialing it for potential clients. Facebook lets businesses add 'Book now' or 'Learn more' buttons, prominently displayed on their profiles.
This makes it easy, doesn't add an extra step for busy potential clients and already positions your business as convenient and looking after their needs.
Get a Chatbot Assistant
People do love to get their answers fast, but they also hate reading through long pages to get the information they want.
Instead of fielding the same questions over and over, you can set up a chatbot to answer your most frequently asked questions (opening hours, rates, availability, etc.).
See, for example, how The Event Planner offers their most asked questions immediately for answer as soon as you visit their page with a chatbot window.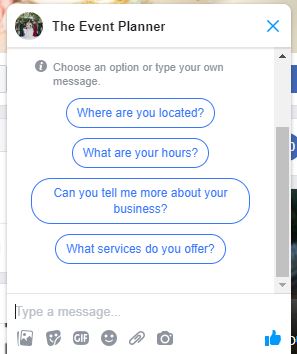 Display glowing testimonials
Testimonials are the most powerful form of social proof, and Facebook knows this. They display them prominently on your page, and make it easy for users to rate your business by stars and leave comments. Companies that provide great service can expect a happy return on their reviews page.
Check out the reviews from Sensa Salon -- one customer from out of town even states she was pulled in the doors by the other reviews.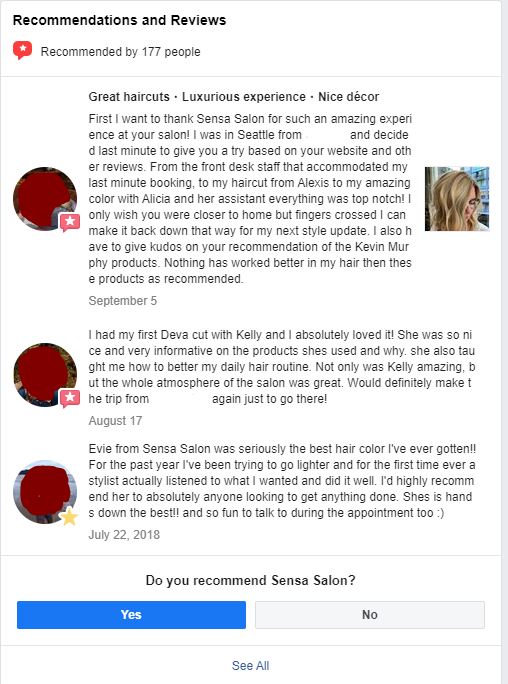 If you find yourself lagging in reviews, there are also a number of creative and fun ways to encourage customers to do a write up.
LinkedIn
Though it's come a long way from its days as a job-seeking site, LinkedIn is still known to be the most suit-and-tie of all the social media networks.
The best way to get momentum for your posts here isn't by straightforwardly promoting your own products or even high quality, aesthetically appealing images (save those for Instagram). Rather, people here are talking about what issues at work are really affecting them.
Think of LinkedIn as a relaxed networking room at a conference.
Talk about how events can help level up their career, talk about what you can do to further their work life, talk about your own struggles promoting your business, talk about how you get clients, talk about what they can do to better their business.
Instagram
Instagram is a hot topic today, and for good reason! A highly visual platform, increasingly more powerful for business, with more tools and more entrepreneurs, and more people using it to interact with businesses as well as friends, it's quickly becoming an extension of any online business presence.
Post updates, live streams and behind-the-scenes photos of events
It's not uncommon for customers to crave a little humanity from their businesses. A peek at life behind the business doors adds personality and charm, and draws clients who you may get along with personally!
The great thing about social media live streams is that in some cases, their low-budget, mobile-phone look can be part of the appeal. For most video PR, you might need a pricey camera team. For a live stream, the authenticity is that it is snapped from your phone camera.
(That being said, if you're live streaming your conference, for example, invest in a camera stand, a high-quality phone camera, and some good lighting.)
Check out this example from District Event Planning, for example, where they share a little love for their vendors. It's short, bursting with positivity and makes you feel like you've seen a bit of what might go into making your own event if you ever work with them.
Post How-To Content
The best way to show you can do something...well, is to show you can do it!
Posting mini-tutorials is a good way to not only foster goodwill in your own professional community and build your credibility, but it shows you know your business inside out.
On Instagram, callacreations dedicated a month to posting advice about the details of planning a successful event: everything from the guest list to the vendors.
Cross-Platform
Of course, there are some things that work across all platforms. Here are things you should be doing, no matter the medium.
Promote Your Own Events and Creativity
Don't let only your guests know how great your events are! Show off photos, guest testimonials, live-action shots, decor...give potential clients an idea of your style, creativity, range and inspiration for their own events.
Monsters Inc themed birthday party. We ? it! #partydecoration #themedparty #partytime #event #eventplanning #monsters #monstersinc #entertainer #boysparty #partygames #partyfun #WednesdayVibes pic.twitter.com/Udz9sWMSZv

— The Party Belles (@PartyBellesUK) November 13, 2019
Host Contests and Giveaways
One of the most effective methods, and one of the most varied, social media contests are the ways to a customer's heart. And a business has a variety of options when it comes to the kind of contest they feel best suits their goals and personality: On Facebook, Twitter, or Instagram; vote-to-win, caption contests, tag-a-friend, sweepstakes, number of likes.
Time and effort spent running a successful social media contest can pay back in a number of ways:
Increasing your number of followers and leads
Providing User Generated Content
Driving traffic to your website
Elevating your brand's profile
Summary
Social media is a powerful event management marketing tool. Here are social media tips for event planners, for each platform:
Use your page to take bookings and inquiries
Get a Chatbot Assistant
Display glowing testimonials
Post updates, live streams and behind-the-scenes photos of events
Post How-To Content
Host Contests and Giveaways