If Google Shopping doesn't play a significant role in your online marketing strategy, then you're almost certainly missing out on substantial eCommerce sales opportunities!
What makes Google Shopping so special?
With Google Shopping ads, you are tapping into high-intent target audiences that are very actively looking for products you are selling.
Which, as you may have guessed, when strategically created and optimized, can drive higher conversions. In fact, some studies put the conversion rate as high as 30% above that of traditional Search ads.
And the growth shows no sign of slowing down: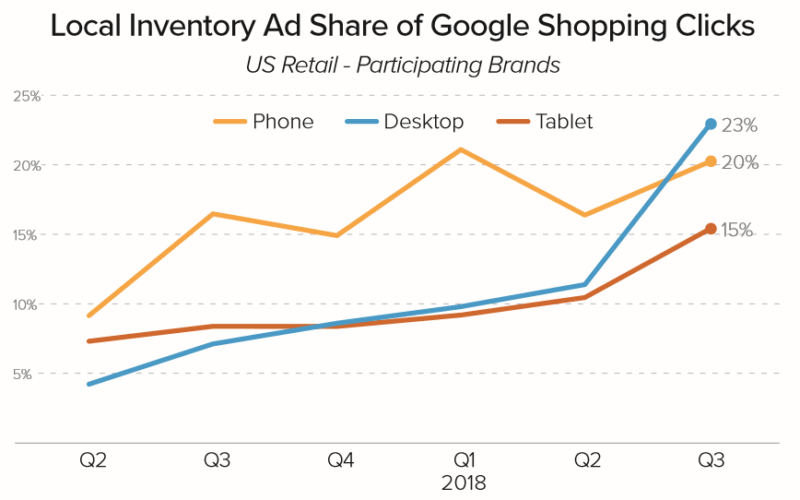 Just look at some of these powerful stats from online stores who added optimized Google Shopping campaigns to their marketing strategy:
Bathroom Sales Direct increased their Google revenue by 700% since implementing Shopping ads
Hand In Pocket, who is getting 5 X better ROAS, has also been able to double their Google revenue since implementing Shopping ads
EnvyStylz is getting 6 X better ROAS since launching YouTube Shopping campaigns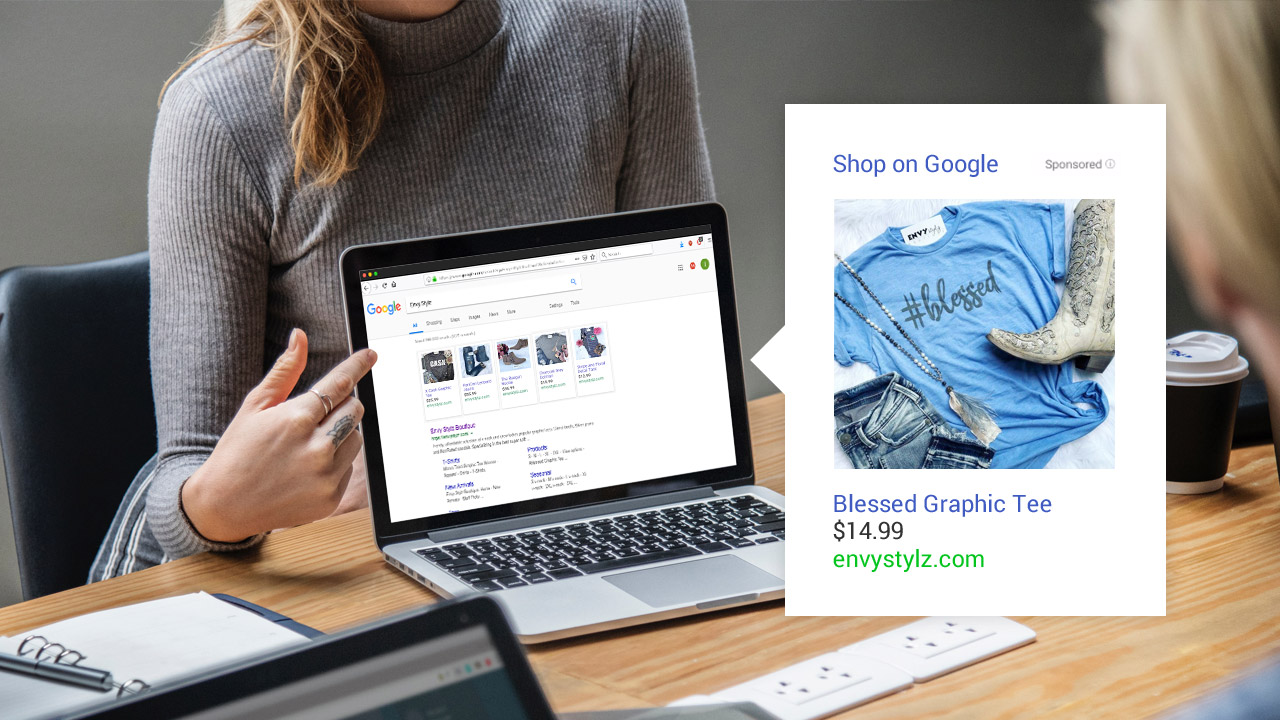 So, how can online sellers such as yourself use Google Shopping to dominate eCommerce sales?
By creating a strong foundation and optimizing your campaigns for peak performance.
In this post, we give you our top 7 tips, hacks and strategies to help you capitalize on one of Google Ads' top eCommerce ad types to boost sales.
1. Have a Good Google Shopping Campaign Structure
The first and most important step to ensuring you win at Google Shopping is starting with a strong campaign structure. In short, the way you organize your campaigns – what products you include or the priorities you set – can make or break your success. Here are the most basic Google campaign structures every online seller should try.
Beginner Google Shopping Campaign Structure 1: One Campaign with One Ad Group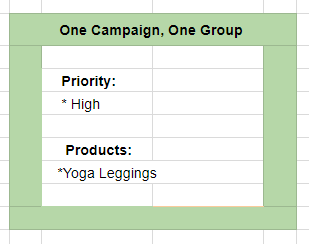 Best suited for absolute beginners, this would be the first Google Shopping campaign you should try if you're a newbie. As the table above shows, this structure includes one campaign with one ad group and is ideal if you are selling in one category.
For the sake of the table, let's use the example that you're an online store that only sells yoga leggings; you would then create one campaign with one group of products – all yoga leggings.
The biggest disadvantage of this campaign type is that it doesn't allow for much segmentation and, as we know, segmentation is an essential part of PPC optimization.
Beginner Google Shopping Campaign Structure 2: One Campaign with Multiple Ad Groups
Once you have mastered and tested the above Google Shopping structure, it's time to try one campaign with various ad groups. Following on from the above example, let's say that you're looking to segment your campaign for your yoga leggings store.
You could then add multiple ad groups within your campaign with smaller product segments, such as the example table shows below.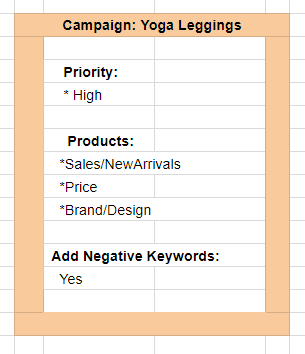 The advantage of this campaign structure is that it offers more ROI tracking per your product types or categories and of course, you can then include your negative keywords. The disadvantage of this structure is that you're using one budget for all your product types.
Beginner Google Shopping Campaign Structure 3: Multiple Campaigns with Multiple Ad Groups
The last beginner Google Shopping campaign structure is one where you have a variety of campaigns that include a variety of ad groups. Which is very effective for those online stores that sell a range of products.
Using OUR yoga leggings store example again, let's say that you've branched out to now sell running leggings, sports leggings, and athleisure wear leggings, as well as other 2019 best-selling products like sports bras.
This campaign structure will allow you to run different campaigns, with different budgets, per product category.
Pro Tip: You can also use this strategy, even if you have fewer categories, by dividing your campaigns by Google Shopping priority settings.

Ultimately, every online seller should be aiming to segment Google campaigns as much as possible. This will allow you some sort of control over Google Shopping, help you fine-tune targeting – and therefore boost eCommerce sales chances – and ensure you are investing in product ads that have good ROIs.
2. Segment Your Google Shopping Ads by Product ID
Once you have tested a few campaign structures, it is time to experiment with segmentation. The best place to start is segmenting your products by their product ID, thus creating ad groups that include one or a tiny group of products that you can then bid on individually.
The advantage of this is that you will be able to test different products and maximize their performance, thus increasing your sales.
If you're currently using the one-campaign-one-group beginner structure, changing to multiple groups segmented by product ID could boost sales by over 200%.
However, it's important to point out that if you have hundreds and hundreds of products on your store, then this sort of segmentation can be extremely time-consuming – worth it, but time-consuming.
3. Work Around Keyword Limitations With Strategic Keywords
One of the biggest hurdles eCommerce advertisers initially face with Google Shopping is that the PPC platform doesn't allow for keywords in campaigns. However, that doesn't mean you don't have opportunities to be strategic with your keywords. This is where product feed optimization comes in.
By using keywords from your own data in your product titles and descriptions, you can boost impressions.
Let's say your data shows that your potential shoppers are searching for products with seasonal adjectives such as 'fall'; you could then add 'fall' to your product title, such as "Fall light jacket with pockets," or in your descriptions.
But remember: you don't want to keyword-stuff, or you'll be penalized. The idea is to keep your product titles straightforward, with the most important information first and keyword included.
Besides adjectives, you want to ensure that your product titles and descriptions include top info such as:
Product type
Brand
Sizes and/or patterns
Material
Design and/or technical specs
Special features
4. Add Negative Keywords

Like other Google Ads campaign types, negative keywords play a big role in your Google Shopping success and conversion potential. First, you want to access your Search Terms report to find those queries that are triggering your ads, and look for any:
Irrelevant search queries: such as products, colors or variations that you don't sell in your online store.

Generic search queries: such as non-specific category searches where the chances of searchers looking to shop are very, very slim. (A simple example of this would be if you are selling travel accessories, but your products are showing up on search pages for someone searching 'travel.')
Once you have irrelevant and generic search queries, add them to your negative keyword list to ensure you're not paying for clicks from people with very low buying intent, which wastes unnecessary budget by killing your conversion chances.
5. Remarket, Remarket, Remarket
Want to take the spark of Google Shopping buying intent and amplify it into a raging conversion fire? Then Google Shopping remarketing campaigns are a must.
Google Shopping remarketing lists ensure you are attracting potential shoppers who are already familiar with your brand or visit your store right when they are actively looking for products you are selling.
The result? More chances to boost eCommerce sales! It's not just Google Shopping remarketing campaigns and higher CTR & CVRs you could be celebrating, but the lower CPCs of those campaigns.
In other words, big ROI increase potential.
Here's Google's step-by-step guide to creating Shopping remarketing lists to get you started:
Create a new Shopping campaign, or select an existing Shopping campaign and ad group.
From the page menu along the left, click Audiences.
Click the pencil icon .
Under 'Add to', select 'Campaign' or 'Ad group', depending on which level you want to apply the audiences.
Select a remarketing list by ticking the box next to it. To select all remarketing lists, select the tick box near the 'Audience' column header.
Next to 'Add to', select either 'Select a campaign' or 'Select an ad group', depending on which 'Add to' option you've previously selected.
For the option to add to a campaign:

Select the campaign which you'd like to target your list.
Choose the targeting method of either 'Targeting' or 'Observation'. To learn more about these targeting options, read About Targeting and Observations for Display Network campaigns.
(Optional) Add additional remarketing lists or in-market audiences to your campaign.

For the option to add to an ad group:

Select a campaign and then an ad group.
Choose the targeting method of either 'Targeting' or 'Observation'.
(Optional) Add additional remarketing lists or in-market audiences to your ad group.

Click Save.
Add the remarketing event snippets across your entire site.
6. Test Your Google Shopping Bids
The next Google Shopping hack to try, to ensure your campaigns are performing well is to test your Google Shopping bids.
Simply put, instead of throwing all your budget into your Google Shopping campaigns, you want to test your bids in small increments.
This will allow you to test impressions and conversions and tweak (optimize) your bids to improve campaigns for less spend.
Because even the smallest changes to bids can have significant effects on your Shopping campaign success, you want to adjust bids in low percentages and then closely track metrics, revenue and profit.
Thus ensuring you are paying as little as possible for the best results possible. You can either do this manually (expert) or by using Google Smart Bidding (intermediate).
Here are three Smart Bidding types for Google Shopping: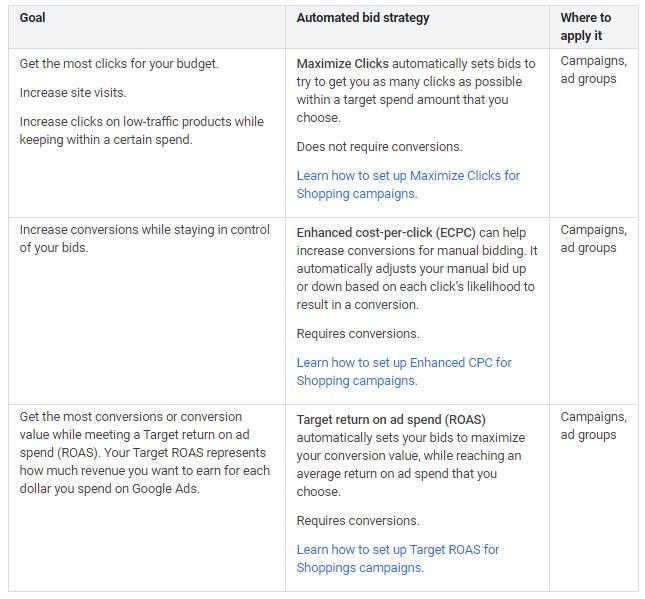 7. Consider Competitive Pricing
Lastly, if you want to dominate eCommerce sales with Google Shopping, then product pricing is going to play a big role.
In a Search Engine Land study, they found that Google penalizes selling price increases and that you can't fix below-optimal pricing with bidding strategies. In another study, they found that cheaper products in one store got 134% more impressions than expensive products in the store.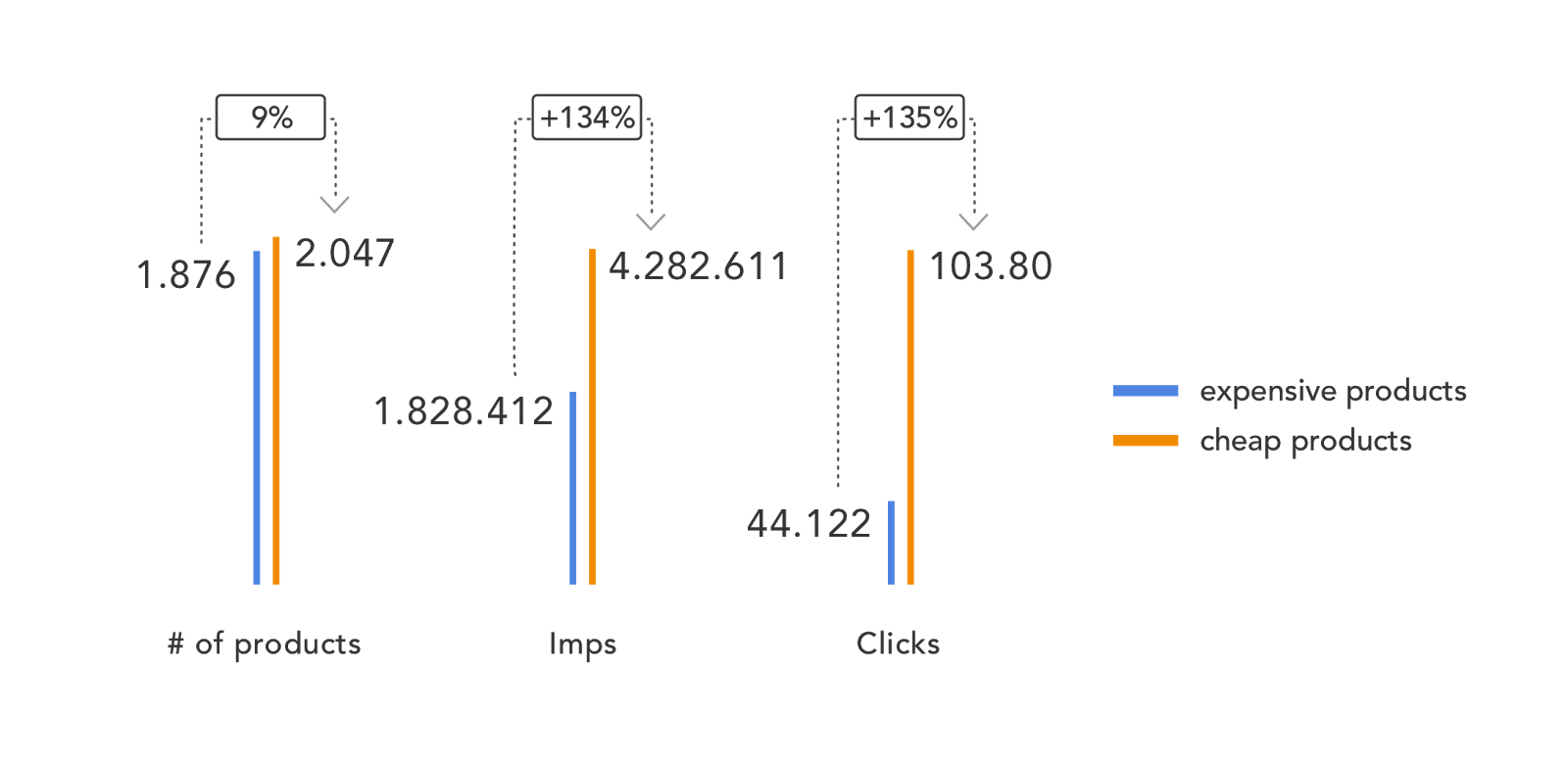 If you haven't positioned your brand or product in a way that separates from your biggest competitors, then outpricing your competition could be costing you sales. Especially for those campaigns targeting brand new shoppers and not previous traffic.
Conclusion
There is no doubt that Google Shopping is key to helping online sellers dominate eCommerce sales.
However, to really win at this top PPC platform, you need to be testing, tweaking and optimizing campaign structures, product groups, priorities, pricing, bids and segmentation.
It may seem like a full-time job, but roll up your sleeves because the results – sales – are worth it!
Author Bio
Nicole is a content writer for the eCommerce PPC and marketing platform StoreYa. With over 18 years of content, eCommerce and marketing experience and a flair for storytelling, she runs on a healthy dose of caffeine, enthusiasm and online shopping. When she's not researching the next eCommerce trend or creating informative content to help online sellers, she's an avid beachgoer, coffee shop junkie or hanging out on LinkedIn.
Related Articles
amir