8 Smart Ways to Grow Your Email List with Instagram Marketing
Instagram marketing isn't just for gaining more followers, boosting ecommerce sales, and getting traffic to your website.
It can also help you to grow your email list, which is a powerful tool for your business's goals.
Email marketing is still effective to this day. Take a look at the numbers for yourself:
Email marketing is said to provide a $44 return for every $1 spent.
Email is 40 times more effective at acquiring new customers than Facebook or Twitter.
Bloggers who earn over $50,000 per year are more than 2x as likely to focus on email marketing technology compared to less-successful bloggers.
Sounds good, right? But how does email marketing fit in with Instagram - a site for endless scrolling and selfies?
Instagram's one billion active users are looking to connect. 80% follow at least one business, and over 200 million people visit a business profile every day, making Instagram a great way to foster a relationship with customers.
Followers who already know, like, and trust you because of your Instagram presence will be more willing to provide their emails.
Factoring in the power of email marketing, you have a perfect formula for increasing sales.
Here are 8 smart ways to grow your email list with Instagram marketing.
1. Provide Customer Support via Email
Most users prefer to communicate with brands in-app with the help of comments and direct messages (DMs), but there are still some actionable ways you can encourage followers to send an email.
90% of social media users use social media to communicate with brands. Not only do they use platforms to discover products, but they also frequently want to get customer support and answers to questions.
When you use Instagram for business, it's important to set up an Instagram business profile and add your email address as a contact option to let followers send you requests directly.
For brands, this is an opportunity to start up a conversation without annoying followers. Plus, you can always invite followers to send an email to connect with them personally or offer further assistance.
Here's how ASOS encourages followers who need customer service to send an email: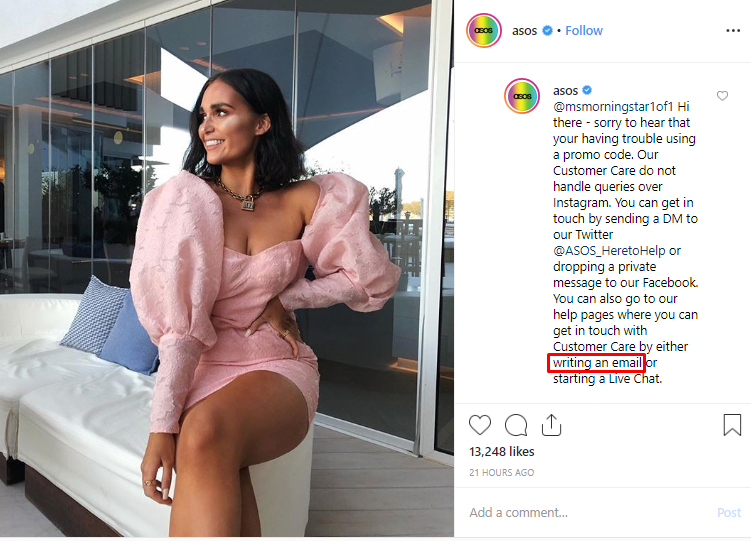 2.Promote Your Newsletter on Instagram
Instagram posts do have a character limit, so it might be difficult for companies to cram all that info in one caption.
Luckily, most users know that, and they are open to clicking on the link in your bio and signing up for your newsletter to get more information about a brand they love to follow.
So when followers click on your link they can automatically sign up for your newsletter!
Check out how Forbes did it: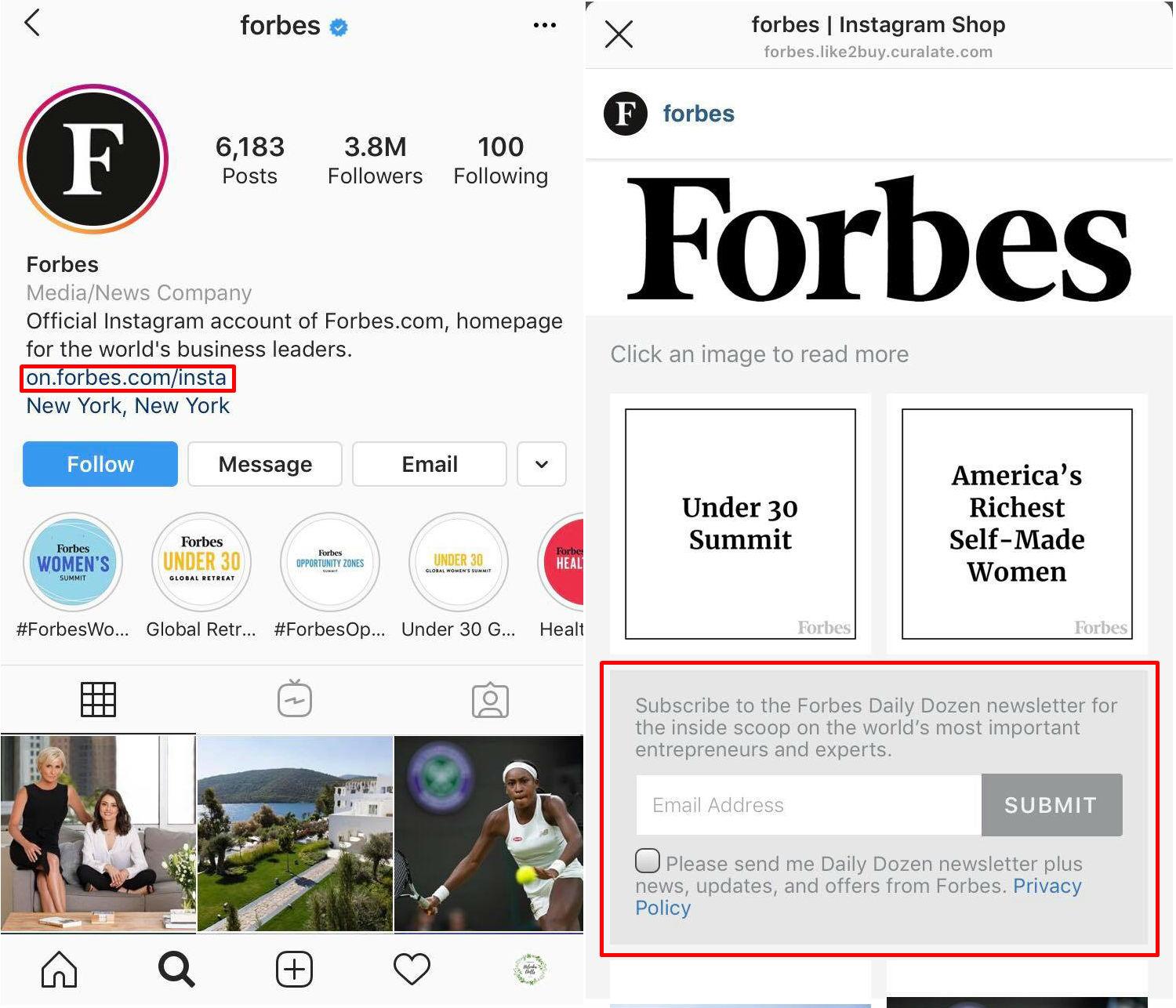 The best part? When Instagram followers subscribe to your newsletter, it's more likely that they are genuinely interested in your brand, its news, updates, and offers.
3. Share Exclusive Discounts and Offers
Who doesn't love a discount or a special offer from their favorite brand?
In fact, 58.8% of users follow brands on social media to get access to offers and discounts, making discount codes are an effortless way to increase sales and collect emails.
From there, you can send helpful links to gated content offers to encourage them to join your list. Gated content is content hidden behind a virtual barrier. If the content is enticing enough, viewers will provide their email to get access to your content.
If you want to get emails from your Instagram followers, this is how to do it!
Start by writing a clear CTA in your Instagram bio, for example: Skin Laundry lets Instagram followers book free laser and light facials with the link in their bio. Once they click on the link, they'll be asked to join their email list to get more exclusive offers: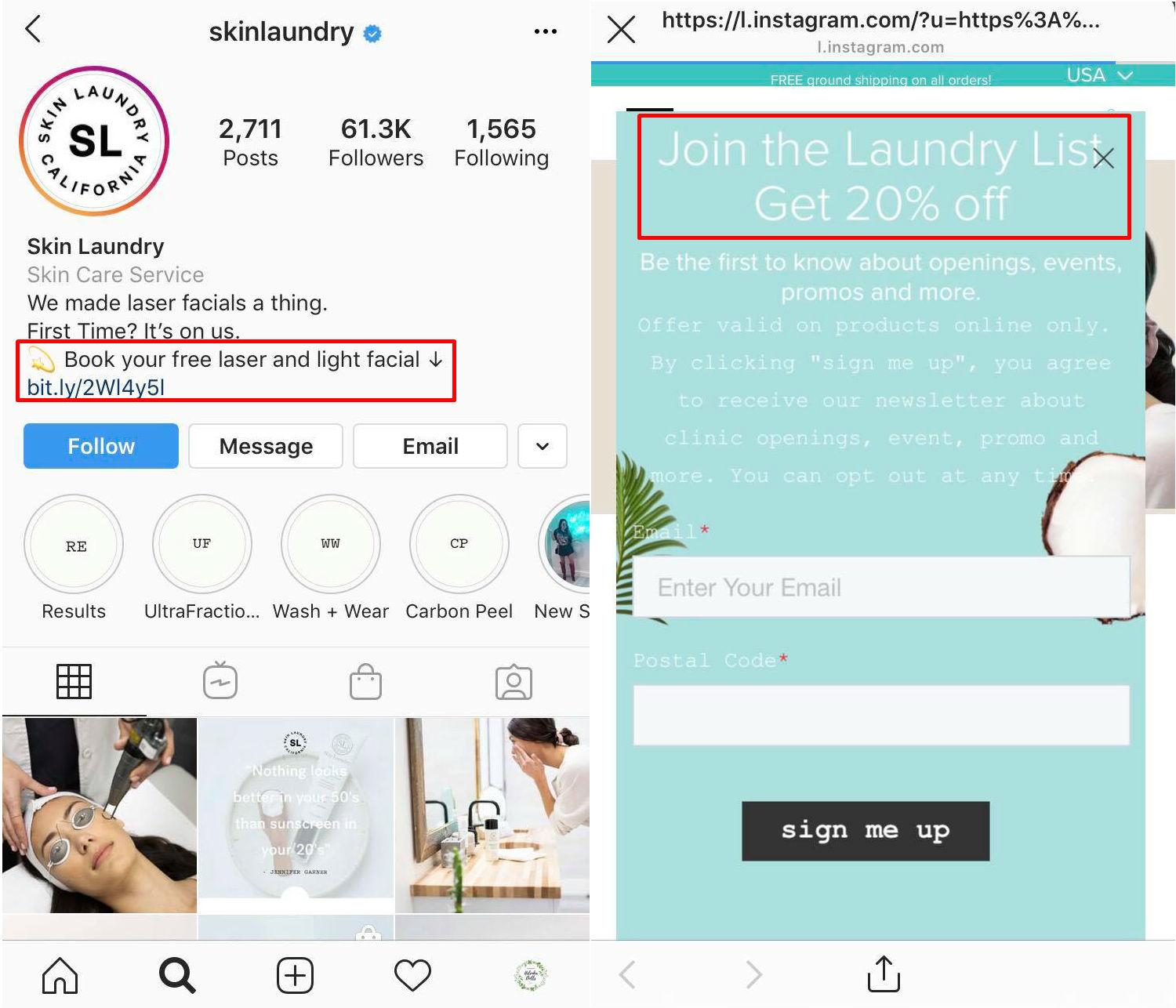 Another example is Passion Planner. They encourage followers to leave their emails with the Instagram post: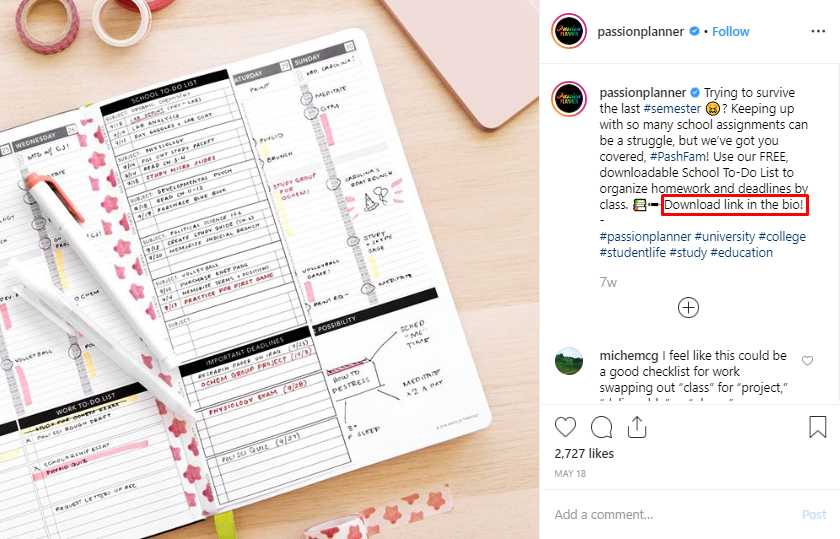 Truth be told, it can be difficult to run discount campaigns and huge offers for most small businesses. After all, discounts do cut into profit. Here's a brief guide to help you to learn how to use incentives to get more fans & followers
4. Invite Followers to Join Loyalty Programs
No matter what your business size is, it's important to seek out creative ways to retain your existing customers and reach out to new ones.
To help buyers feel valued, having loyalty programs allows you to thank your followers for choosing you over your competitors.
What's more, loyalty programs hint to potential customers that there are exclusive benefits they can get with your company. You can collect emails from interested buyers when they sign up.
For example, MyChelle Dermaceuticals promotes its loyalty program and offers a 20% discount: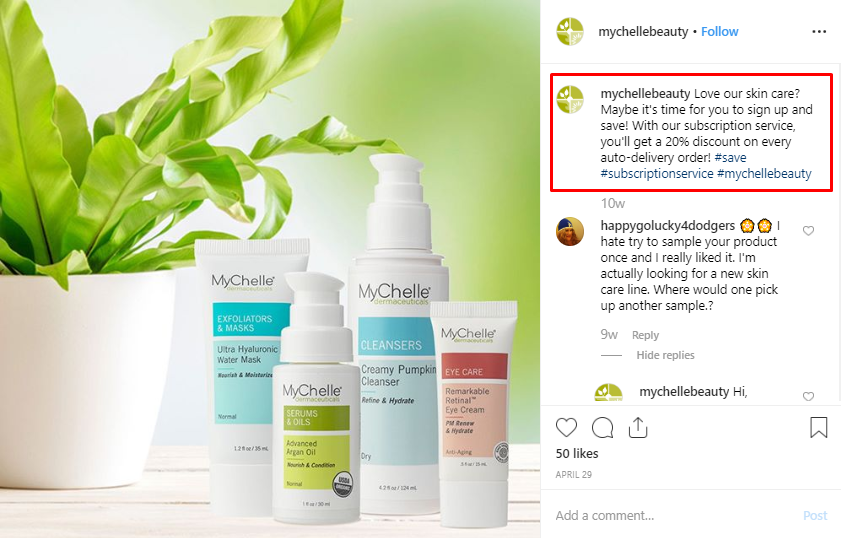 5. Use Stickers in Your Instagram Stories
With over 500 million daily users, Instagram Stories have gained in popularity over the last three years. Today, people spend 2x more time watching this short-lived content than scrolling through posts, as they are afraid of missing out on something important. After all, Instagram Stories disappear after 24 hours!
Instagram Stories packs a ton of tools and stickers to engage with your audience further. For example, you can use question stickers.
Let's take a look at Hubspot. The company invites followers to ask their social media video editor questions. The next step is to ask interested people to share their emails to get a personal response.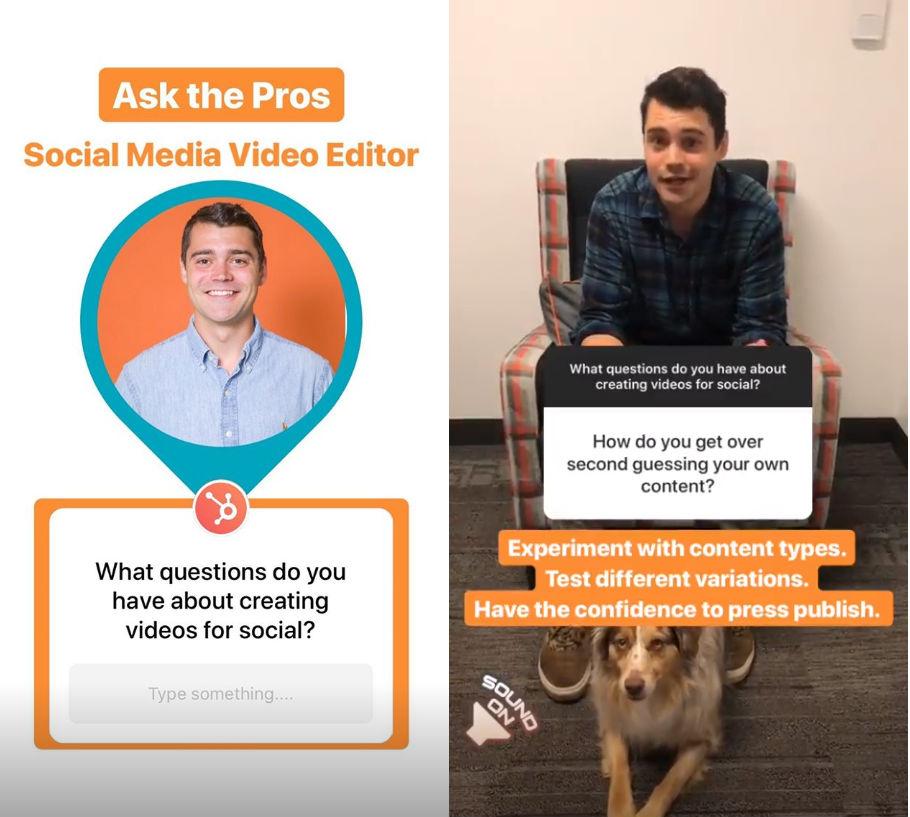 But if you're not a big brand that collaborates with niche experts, there is another great way to use the question sticker and collect emails - simply ask your followers for them!
6. Use Instagram Swipe Up Feature For Your Landing Page
Once your Instagram account has grown to 10k followers, you can add a clickable link to Instagram Stories, and take users to the target website page. This feature gives businesses of all sizes the opportunity to drive traffic to their website and boost sales.
Nick Dimitriou, the Head of Growth at Moosend, states that clickable Instagram Stories help to collect followers' emails when done right:
"A great feature that allows you to promote your content on Instagram is the "SWIPE UP" feature in Stories. Through that, people can swipe up and get redirected to a specific page on your website. This action will allow you to promote, for example, a blog post that has a great lead magnet like a free eBook which will be enticing enough for people to enter their email address to get it. And make sure to mention your free eBook or whatever lead magnet you deem appropriate, in the copy of your Instagram Story."
Here's a great example of this strategy in action from Bali Body. With a creative image and clear text CTA, the company takes interested followers to the site to fill in a simple form: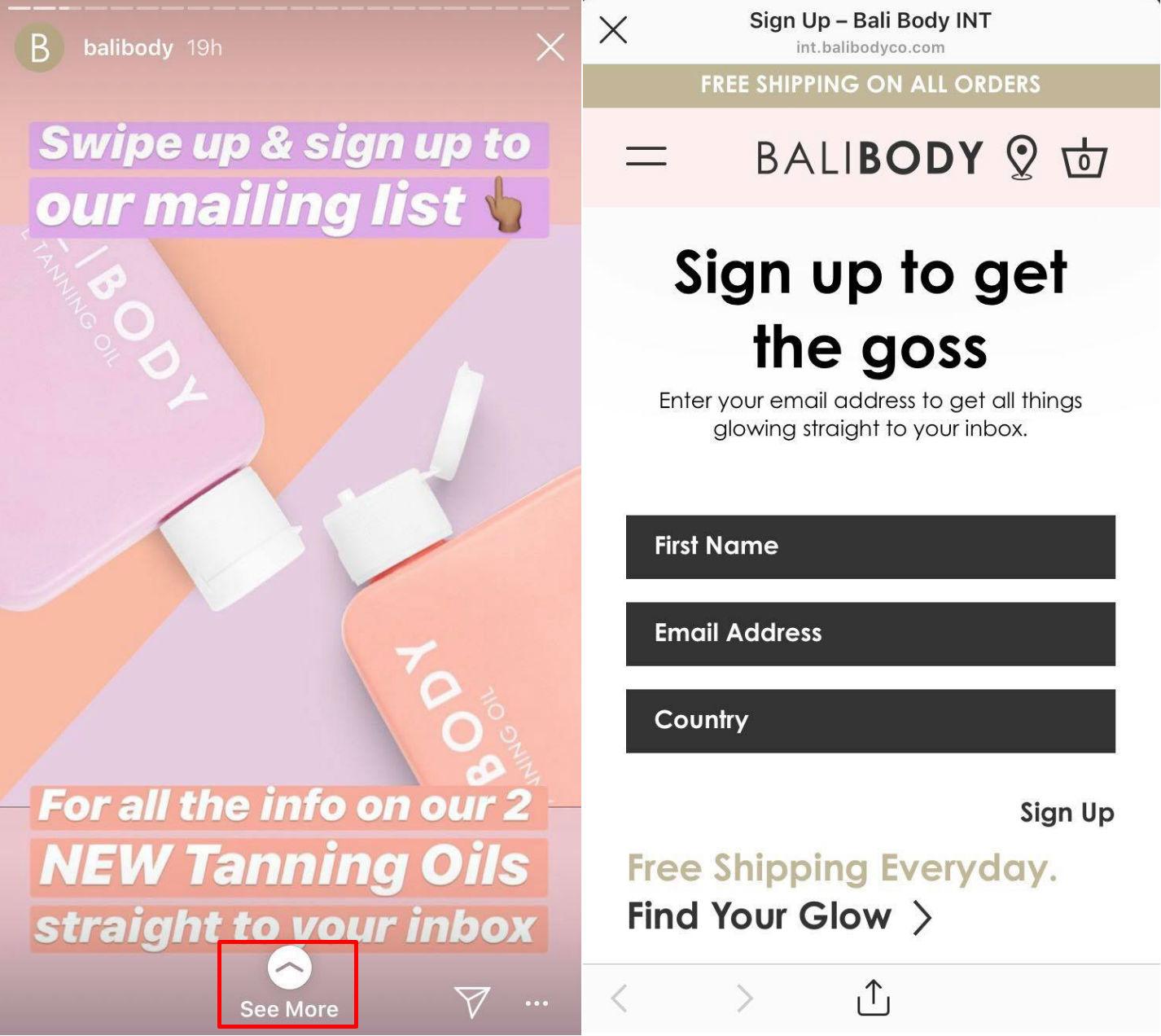 To grab your followers' attention and convince them to share their emails with you, create Instagram Stories with free design tools.
7. Run Сontests
If you're just starting out, generating leads for your business may take a lot of time and effort. Luckily, running contests is a powerful marketing method for both big and small companies. After all, everybody loves free stuff!
Contests can also help you grow an email list. How? It's you who decides what participation requirements your followers should follow to enter the contest, so you can easily grow your email list by asking followers users to share their email addresses for a chance to win.
Here's an example from Ebates: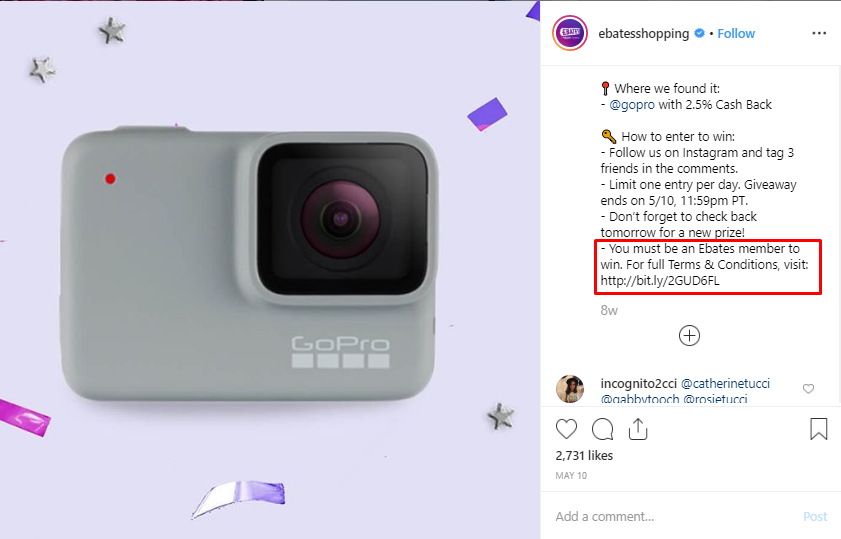 Need help with your contest or giveaway?
Book a free call to learn how our team of contest experts can help you create high converting contest today.
8. Collaborate with Influencers to Increase Reach
You can spread the word about the contest and increase reach with the help of influencers with an established following.
Instagram influencer marketing is on the rise. Whether you work with celebrities or micro-influencers, there are some great ways to make the most out of your influencer campaign.
Let's take Seventh Generation, for example. In partnership with a blogger Joy Green, the company entered an already-established community of its target audience to promote its VIP trial: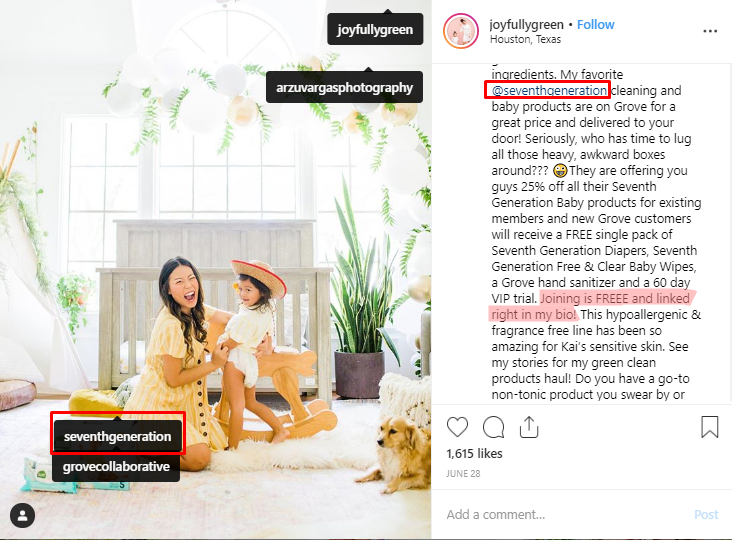 And if you're about to run a contest, you can invite niche influencers to become sponsors. As a small business, you can work with nano-influencers. Since they have a smaller but more engaged following, you can get more participants without spending as much money on the promotion as you would with a more established influencer.
Growing Email List with Instagram Marketing - Key Takeaways
The days when Instagram was a simple photo-sharing app are far behind us.
Over the last few years, it has become a powerful marketing tool that helps companies achieve their business goals!
With a variety of in-app features, it's easier than ever to grow your email list on the platform. Here are the main principles of collecting emails on Instagram:
Give followers a solid reason to join your list: If you want your followers to share their emails with you, share exclusive offers within your community, know your followers' pain points, and solve them.
Protect customer data: Living in the digital era, data protection should be a top priority. You should never share or sell followers' email addresses if you want to protect your reputation and build brand trust and loyalty.
Make it easy to sign up for your email list: Make it easier for them to sign up. It's better to insert a link to your bio, add an email address as a contact option, and include a clear CTA to your posts so your followers can sign up with ease.
Understand your followers and their preferences: While there's no one-size-fits-all method to collect emails, you should pay attention to social media metrics and track your posts' performance, to understand what type of posts and CTAs work better for your target audience. This will make it easier to tailor your messaging and get signups.
Never limit yourself on Instagram: Explore brand mentions and relevant hashtags, enter an already-established community of your target audience when working with niche influencers, and run ads to put other Instagrammers on your email list.
Ready to grow your email list with Instagram marketing? Give it a try and tell us what works best for your business!
About the Author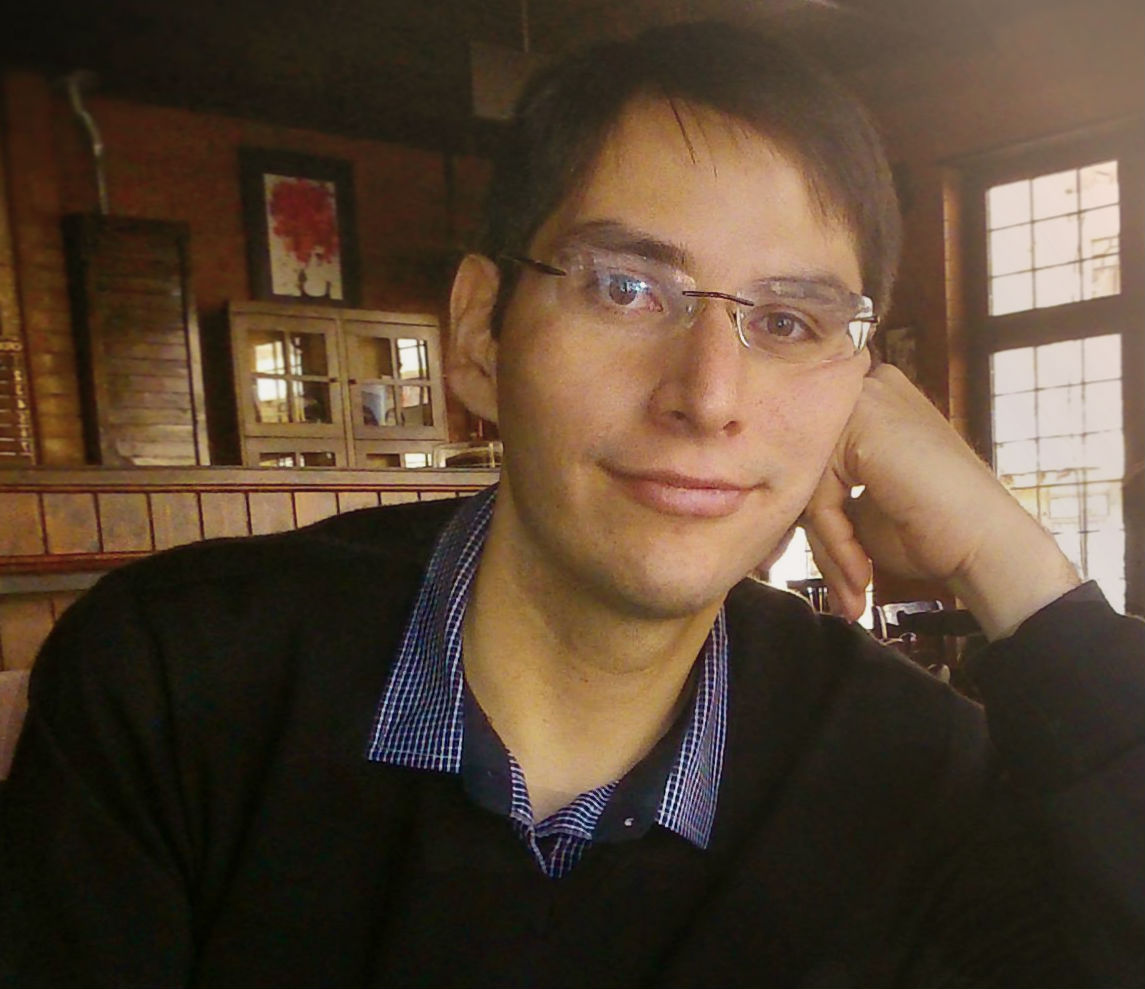 Hugh Beaulac is a guest blogger and content strategist behind MC2 website who also works as a freelance SMM manager to help SMBs grow online. Twitter | Facebook