15 Mouth-Wateringly Good Restaurant Marketing Ideas
I take my hat off to restaurant owners: your job isn't easy.
Today, getting people to your restaurant is more difficult than ever. Depending on your location, fighting for your spot among the competition is tough. It's not just about the food now: the ambiance, music, lighting, and so many other tiny details can make or break the dining experience.
But you've gotten everything just right, but your restaurant still isn't reaching its potential?
Thankfully, the success of your restaurant doesn't depend on simple luck. There are practical steps you can take to boost the popularity of your restaurant and increase your revenue.
It's time to put into practice these 15 essential restaurant marketing ideas:
1. Do Samplings at Local Events
According to one survey, 72% of restaurant guests said that the quality of the food was the most important factor in choosing a restaurant to dine at.
So, it's time to get people hooked on your fantastic food.
Your core customers are currently attending local events, and getting to know the businesses that are represented there. Any local event could be a prime opportunity for you to get the word out about your restaurant and get people's taste buds excited for a visit.
First, get a list of all the events coming up in your local area. Then, match those events to what you know of your ideal customer. Where will your customers be hanging out?
When you've narrowed down a list of events that fit your ideal customer profile, it's time to get in contact with the organizers. Tell them you'd like to set up a stand at the event and offer free food to visitors.
If they agree, make sure to do the sampling right. Get a selection of your best dishes, and build a stand that shows off your restaurant and personality.
2. Make Good Use of Local Instagram Influencers and Food Bloggers
People love to follow influencers nowadays, and influencer marketing is a serious opportunity for your restaurant to grow and thrive.
With thousands of their own followers, these influencers have a powerful reach, and their words have an impact on the community.
Springbone, a health-focused restaurant in Manhattan, uses Instagram influencers to promote their business online, and they estimate that on an average day, about 5% of their new customers come from Instagram.
They offer tastings to local influencers, and have them come in to try the food for free with the promise that later they'll post pictures online.
This picture, from food and travel blogger Kaitlin Orr, got an astounding 1,187 likes and 24 comments: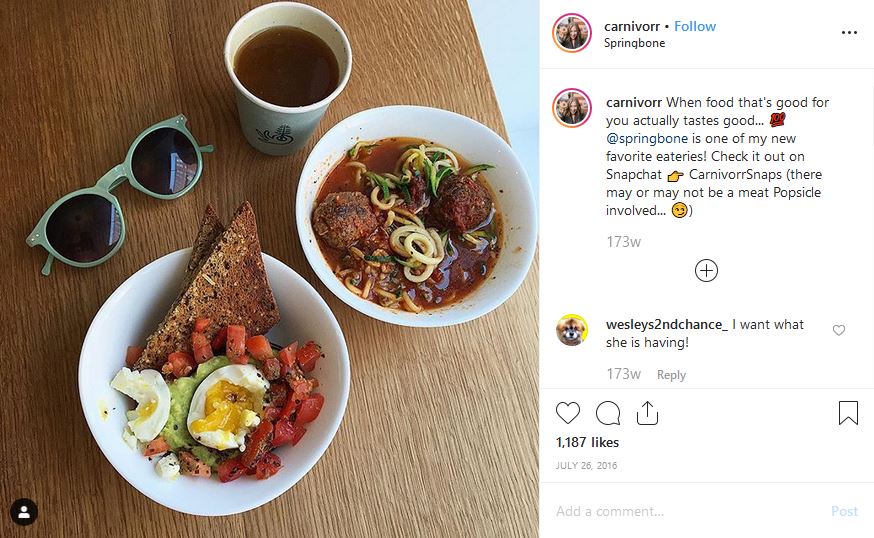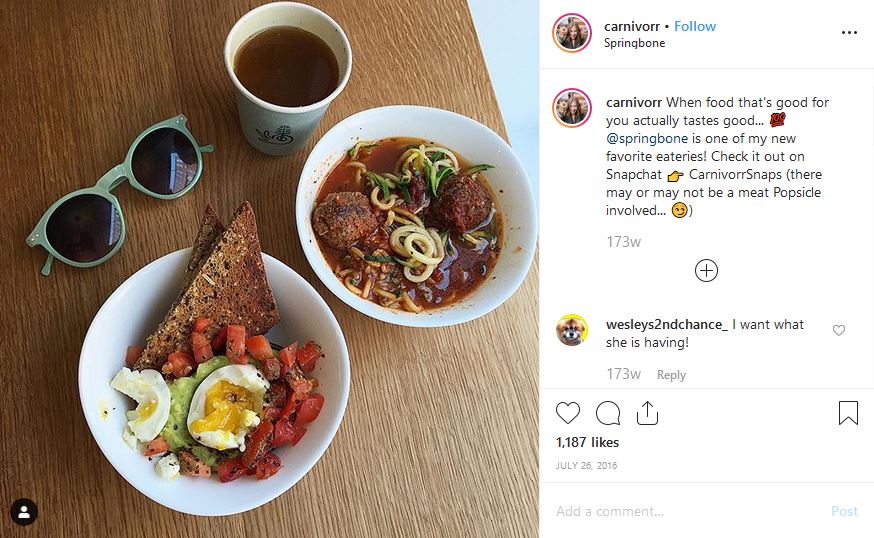 Later, another picture posted by instagram food influencers was reposted by one of the biggest NY food Instagram accounts, and got a whopping 16,500 likes: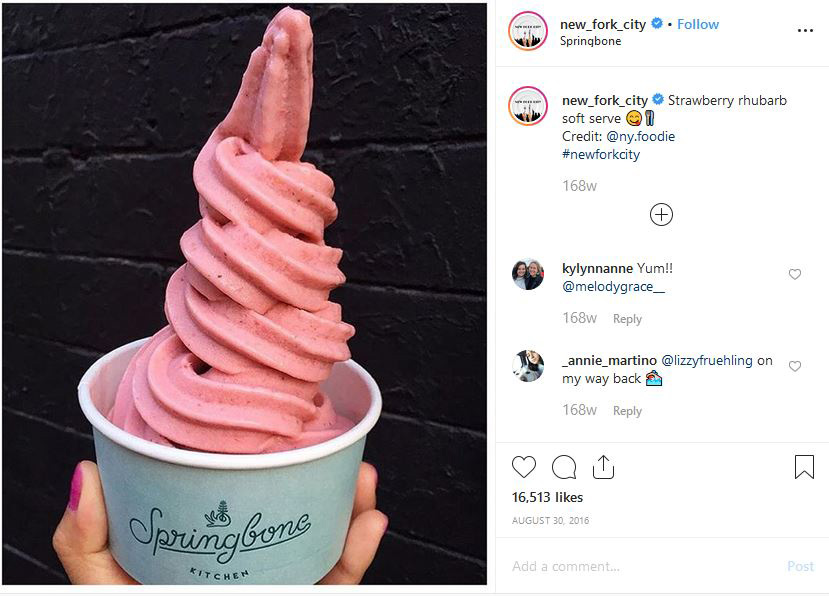 How would you like your restaurant to have that kind of reach?
3. Get Professional Pictures and Videos
Many restaurants have been turned on to the Instagram-worthy food craze, posting delicious pictures online and making the rest of us hungry all the time. (Thanks a lot.)
But if you're going to be posting pictures of your food or your restaurant online, they need to be excellent quality. Customers get enough blurry pictures of food from their friends and family, they don't need you to add pictures like this to their feed: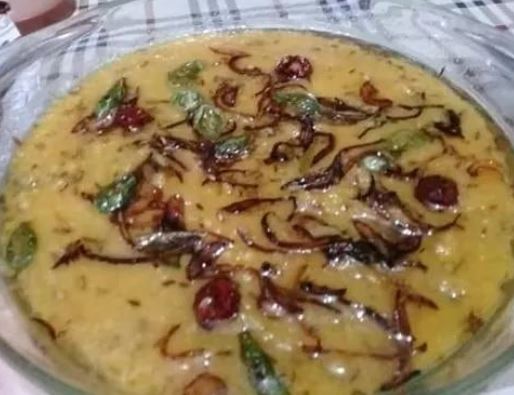 Instead, get professional pictures done and create an eye-catching feed that will attract new followers (and customers). If you have a high-end smartphone, you might be able to take these pictures yourself. If not, hire a professional to get excellent pictures.
Then, your social feed will look more like this: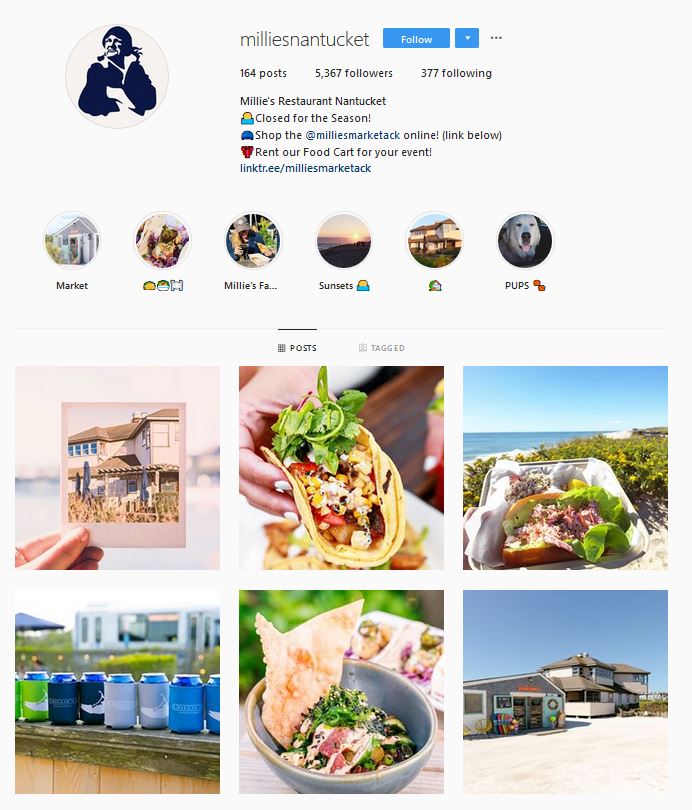 Millie's Restaurant in Nantucket is a seasonal restaurant that caters to the summer crowds. But with an Instagram feed like this, they've amassed over 5,000 followers!
What could your restaurant do with professional pictures and videos?
4. Go Local With Traditional Marketing Methods
Don't reject traditional, paper-based marketing just because it's been done. Many local businesses still use traditional marketing efforts and get good results.
The key is to use traditional marketing wisely, and don't go overboard with methods that will break the bank.
For example, why not design and print up flyers? Use a professional designer to get these done, and include specific branding features from you restaurant. Also, highlight your social profiles and hashtags in order to connect your traditional marketing efforts with your digital efforts.
Also, be smart about where you leave these flyers. For example, why not seek out local businesses that have a similar client base?
Let's say your restaurant is focused on healthy eating. You could leave flyers at related businesses, such as yoga studios or health-food stores. If your restaurant is high-end, you could leave flyers in a nearby spa, or in the lobby of a building that rents space to law firms or other high-end businesses.
The key is to use traditional marketing in spaces where your ideal customers will be looking.
5. Run a Contest With a Sweet (or Salty) Prize
By running a contest on social media, you are guaranteed to get the word out about your restaurant. Using this method, you allow your happy customers to market your restaurant for you.
How so?
Let's take this content post from Cactus Club Cafe as an example: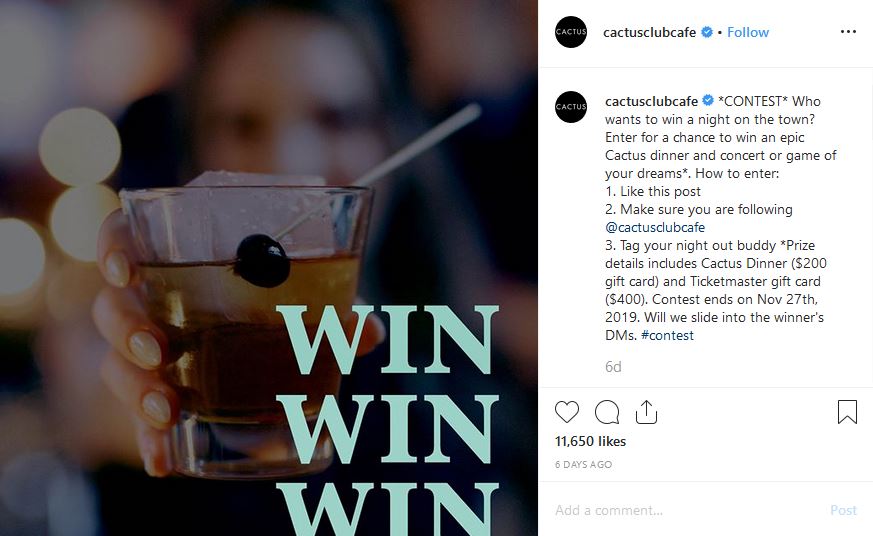 In just six days, this post generated 11,650 likes, and over 19,800 comments!
Since the contest required participants to tag a friend, that means most of those 19,800 comments included tags to other users, drawing them to the post and the restaurant's Instagram page.
In other words, Cactus Club Cafe's own customers were introducing new customers to their business.
Another way to run a contest is by asking followers to post a picture. You could ask them to post a picture of their favorite meal, or of the last time they visited your restaurant. By running a photo contest, you encourage happy customers to post pictures that all of their followers will also see. That's (almost) free advertising!
6. Promote the Content Your Customers Post Online
Whether or not you run a photo contest, people are probably posting pictures of your food and your restaurant online.
You can feature the content that your customers are posting on your own feed, and give them a shout-out or a special gift for talking you up.
By promoting user-generated content, you encourage your biggest fans to keep talking about you online. This will not only help others to learn about your restaurant: it will also help you build loyalty in your current customers.
7. Geo-Target Your Social Ads
Obviously, running ads on social media such as Facebook or Instagram is an essential restaurant marketing idea that you need to implement.
But for these ads to be successful, they need to be seen by the right audience.
That's why your social ads should be targeted to the location where your restaurant is.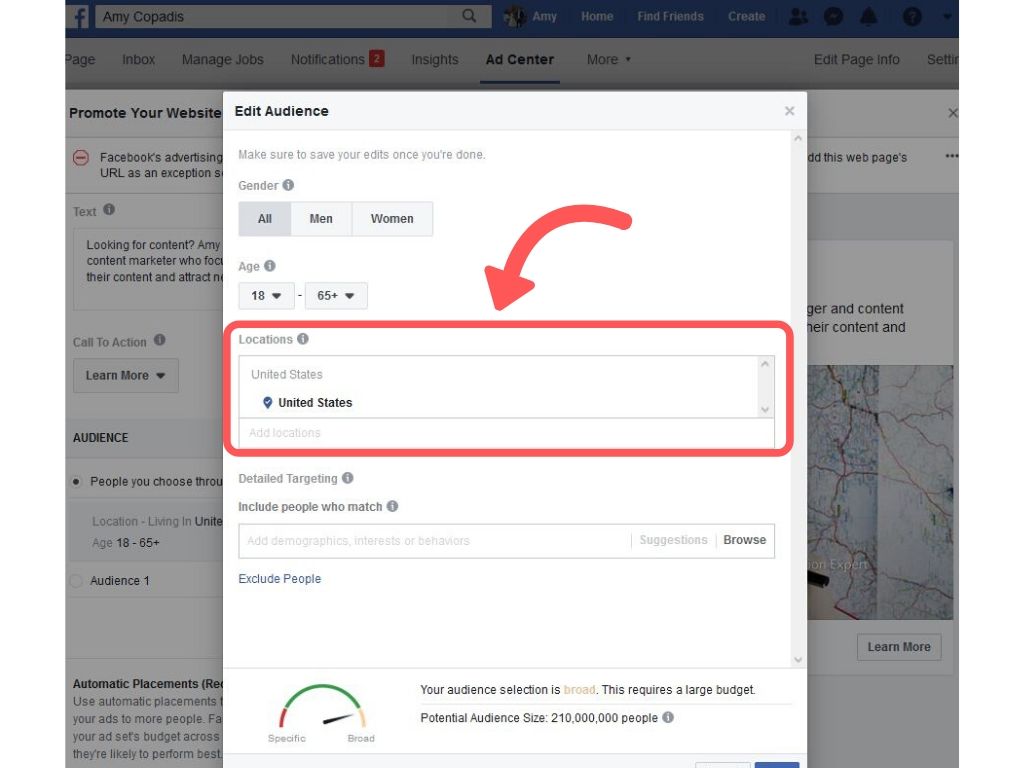 If not, you risk showing your ad to people who aren't even near your business.
Facebook ads also allow you to match your ads to people with specific interests. So, for example, a good social ad for a vegan restaurant in Boston might be targeted like this: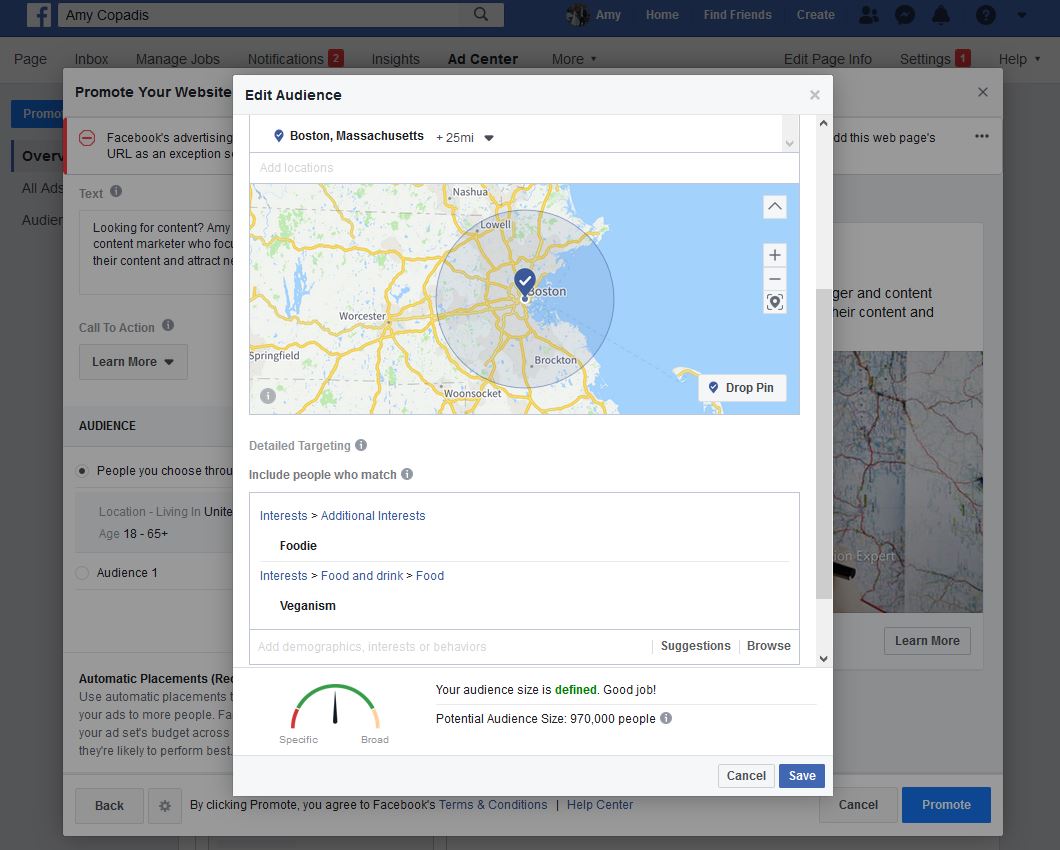 Also, if you have multiple restaurant locations, you can add multiple locations to your ad targeting.
By correctly targeting your ads, you can ensure you're reaching the right audience, and not wasting your precious ad budget.
8. Learn (and Use) All the Features of Google My Business
If your restaurant doesn't have a Google My Business page, stop reading this article right now and go make one. (Or, do it after you finish reading!)
A Google My Business page allows you to put essential information about your restaurant right into Google. That means, when people search for your restaurant online, they'll see something like this: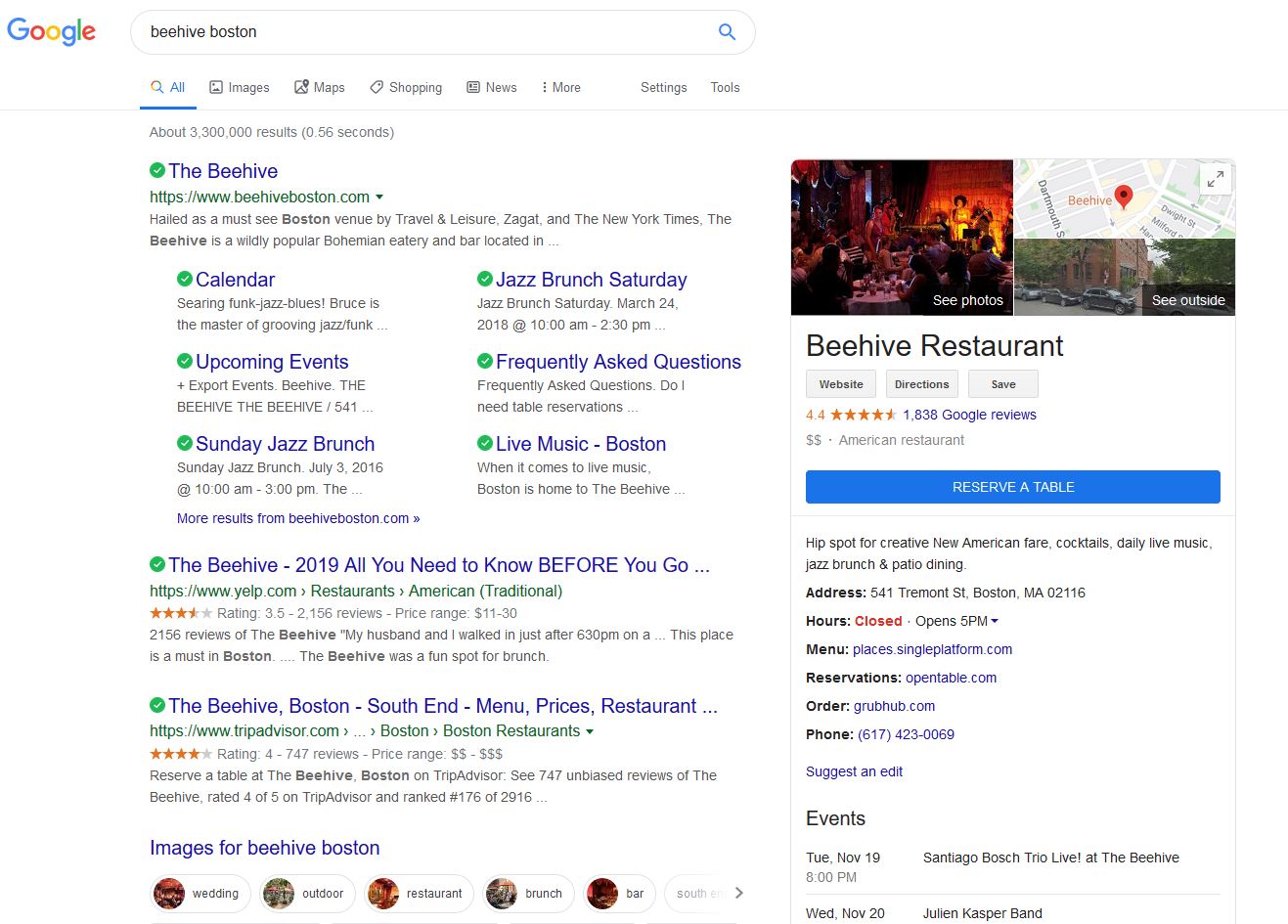 It also means that Google will show your restaurant as a result when people search for restaurants near them.
As you can see in the picture above, having a GMB page allows you to add essential details about your restaurant directly into Google, such as:
Address
Hours
Menu
Phone number
Website
You can also add CTA buttons to get directions, call, send a message, reserve a table, or even order food directly. Your GMB page also lets you post as you would on social media, or keep a calendar of upcoming events.
Best of all, this is an excellent place to collect fantastic reviews and display your 5-star rating to the world.
9. Use Email to Show How Much Your Customers Mean to You
Email is an essential part of restaurant marketing: in fact, 80% of business professionals say that email marketing has a direct impact on their customer retention.
In fact, email can be a great way to show how much you appreciate your loyal customers.
For example, when they sign up for your email newsletter, collect important data like their anniversary, birthday, etc. Then, celebrate with them in a special email: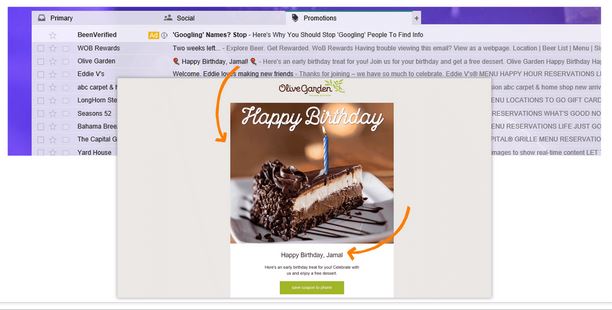 You can also celebrate how long they've been coming to your restaurant by sending a special gift card or discount.
By popping into their inbox at special times, you can show customers how much you care about them, and build loyalty.
Pro-tip: Use a marketing automation tool like Wishpond to create loyalty-building email campaigns that your customers will respond to.
10. Read and Respond to Online Reviews (Yes, Even the Mean Ones)
We all know that customers love to read reviews, but did you know that people are more likely to read restaurant reviews than reviews from any other industry?
But people aren't just reading the reviews of your business: they're also reading your responses.
In fact, 89% of consumers read businesses' responses to both good and bad reviews.
Here's the point: you need to be on top of responding to reviews, whether they're good or bad.
Check out how Olive Garden used this comment as an opportunity to promote their eClub:

Also, check out their calm response to an unfairly critical social comment: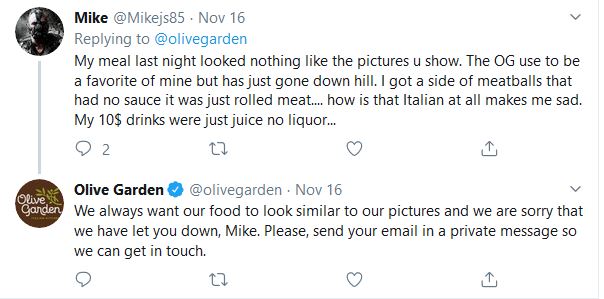 When responding to negative reviews, don't let what people say ruffle your feathers. Apologize, and try to remedy the situation if possible. Keep it quick, and you'll avoid saying something you'll regret later.
By responding kindly, you might actually help turn a negative review into a positive one!
11. Offer Rewards to Your Social Followers
58% of Facebook users expect to see exclusive offers, events, or promotions when they become fans of a business.
So, give the people what they want!
For example, why not shower your social followers with an exclusive giveaway that's just for them? Or, let your social followers first have a sneak peek into your latest kitchen creations.
Either way, exclusivity is a great way to sell your business, and it'll encourage more people to follow your restaurant on social media.
12. Give Your Marketing Copy a Human Touch
When it comes to marketing, your restaurant is no longer just a business: it's a living, breathing entity with its own unique personality.
To make sure that personality appeals to your customers, you need to know who your customers are, and what features of your restaurant or menu will really stand out to them.
For example, does your restaurant offer gluten-free or vegan options? Do people come to your restaurant to celebrate a special occasion, or is it a more casual place where friends meet to have lunch and catch up?
To understand why your customers come to you, you could even run a short survey of current customers. Ask them what they like best about your restaurant, where they first heard of you, and what keeps them coming back.
Now that you've gathered information about your clientele, it'll be easier to build a brand personality that will appeal to your ideal customers.
When you're writing social media posts, emails, or even copy for your website, feel free to get funky and add some personality. Check out how Olive Garden does this with funny relatable tweets: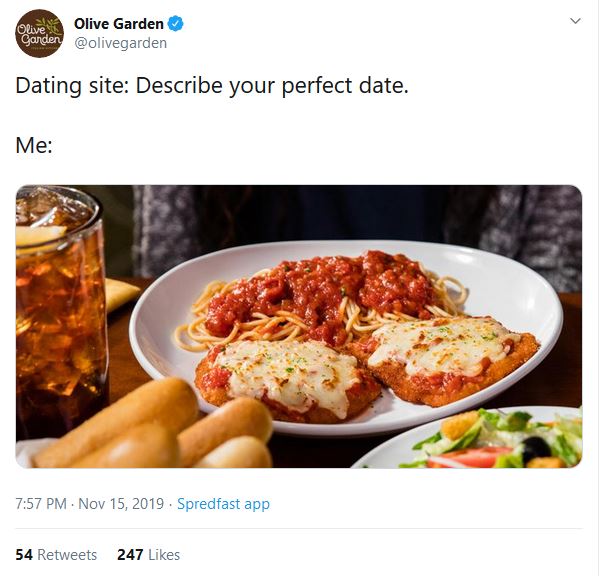 Another way to add a human touch to your marketing efforts is to have your marketing copy written in the voice of someone from your restaurant. For example, your emails could be sent from the chef. Or, if a particular waiter or waitress is known in the community, have them become the face of your marketing efforts.
By building a human voice for your brand, you'll encourage loyalty among your customers.
13. Promote Food Orders From Your Website
Digital ordering and delivery have been growing 300% faster than dine-in traffic since 2014.
Like it or not, it's time to jump on the bandwagon.
If you want, you can set up your food ordering directly through your website. Or, you can set up ordering through a service like Uber Eats, GrubHub, or others.
This allows you to bring the kind of service that people are starting to expect from restaurants, and live up to your customers' expectations.
14. Implement a Loyalty Program
According to one survey, 54% of people said that loyalty programs were extremely important to the guest experience in a restaurant.
Basically, people who like your restaurant expect you to offer a loyalty program, and they plan on using it to the full.
Starbucks is renowned as the master of restaurant marketing, and their loyalty program is no exception. Participants get tons of free gifts, and other fun bonuses: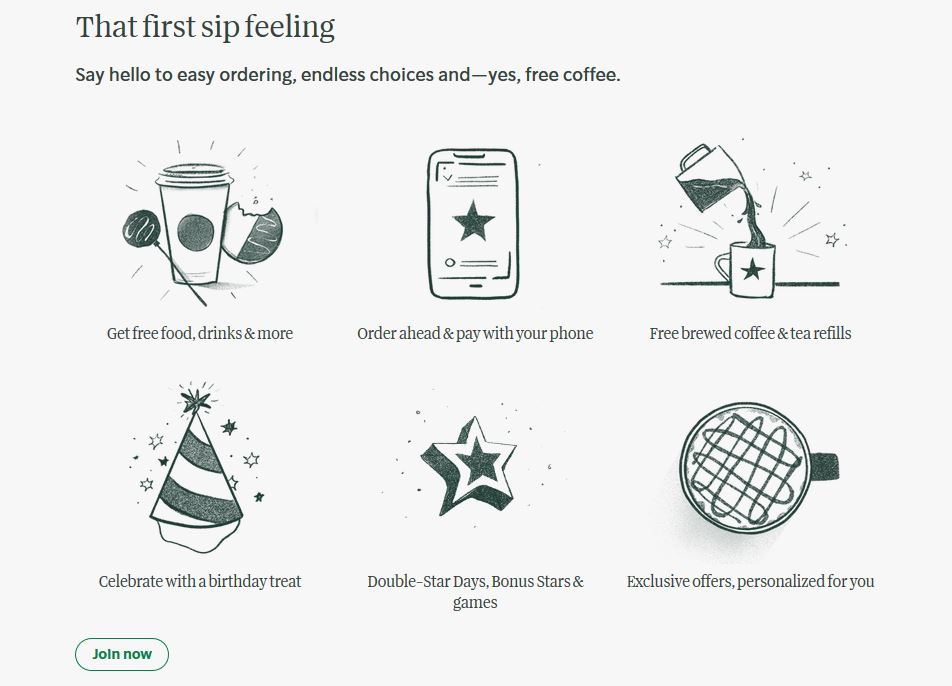 By collecting stars, you earn your way up from free coffee to free meals and merchandise.
Your restaurant can imitate this loyalty program by implementing a program that rewards customers for coming back, and gives them special prizes that build (you guessed it) loyalty.
15. Make Your Menu Available Online
Before coming to your restaurant, people will likely want to know what's available. This is especially true of first-time diners, or those who have specific food allergies or needs.
That's why it's essential to include your menu online. This means more than just uploading a picture of your physical menu of a PDF to your website. On your restaurant's website, include a specific page for your menu, like Spanish restaurant Toro did: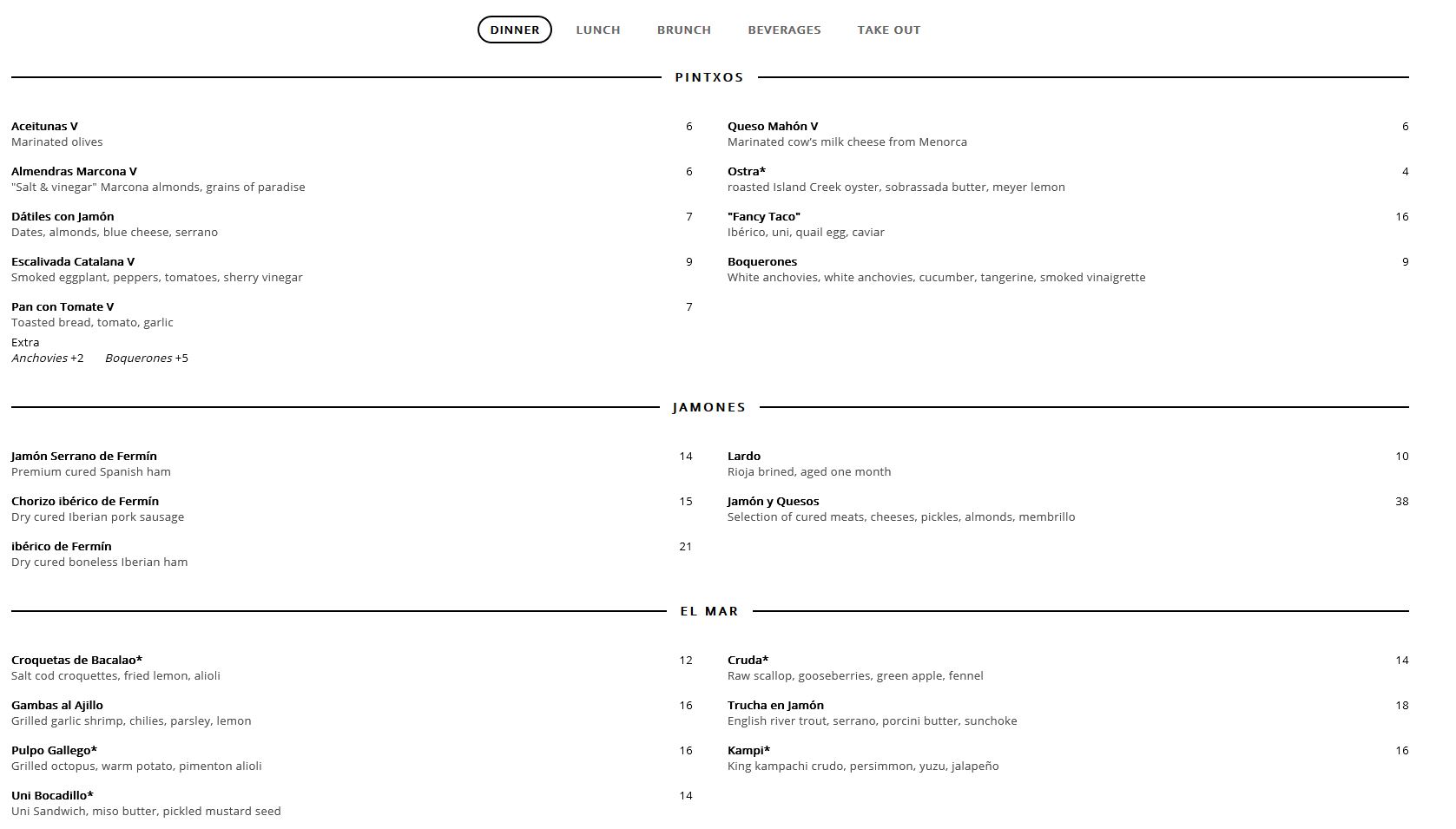 That way, people can easily see your offerings and prices before they come in.
Start Using These Restaurant Marketing Ideas Today
You've put the time and effort into building a business that you're proud of. The food is great, the atmosphere is on fire, and you're ready to share this experience with the world.
These are the 15 restaurant marketing ideas you'll need to succeed:
Do samplings at local events
Make good use of influencers
Get professional pictures and videos
Use traditional marketing methods
Run a contest
Promote user-generated content
Geo-target your social ads
Learn and use Google My Business
Use email to celebrate your customers
Read and respond to online reviews
Offer rewards to your social followers
Give your marketing copy a human touch
Promote food orders from your website
Start a loyalty program
Make your menu available online
By using these essential restaurant marketing ideas, you can start building a loyal clientele for your restaurant, and get the word out to even more hungry customers.
Need help getting started? Wishpond is the perfect companion to help you build email campaigns, landing pages, contest pages, and more. Book your free demo to see how Wishpond can help you market your restaurant.