5 Proven Ways to Get More Conversions & Sales from Your Blog
The biggest misconception about blogging is that it's just a brand awareness play. That it can help you reach your audience and tell your brand's story, but not much else. But the truth is, a blog can be (should be!) so much more than that.
Of course, that's not to say brand awareness is a bad thing. Far from it! More and more eCommerce marketers are successfully using content marketing to attract new audiences and build their brands. But that's not all a blog can do for your business.
You wouldn't buy a two-story house just to move into the basement. So why would you create a blog and only use it for a fraction of its benefits?
Kami York-Feirn, who manages social media and content marketing at Osprey, puts it like this:
"Content is well-understood as a tactic to increase awareness at the top of the funnel by introducing the brand and our products in a more personalized way. But we think content is the fuel that influences people across the funnel. It's not only top of the funnel; it's also critical for deepening consideration and increasing retention."
And she would know! Osprey's blog drives 300+ new subscribers each month, and it consistently keeps customers coming back for more.
By following five proven tips, you too can not only grow site traffic, but also convert more visitors into subscribers and customers. Instead of over-relying on increasingly expensive ad channels, use your blog to own your marketing and build a list of people you can market to for free in the future.
Let's take a look at the five tactics that will take your blog from nice-to-have to a critical part of your store's growth strategy.
Use popups that offer valuable
Use popups that offer valuable content to capture more email addresses on your blog.
One of the easiest ways to grow your email list is by using website popups. By offering something valuable in exchange for your site visitors' email addresses, you can consistently convert readers to subscribers.
Popups offering relevant content can capture 2x to 5x as many email addresses on average than offering discounts and newsletters often seen in popups.
Be contextual by offering the right popup to the right person at the right time.
Popups are exponentially more effective when they're highly targeted. For example, if you sell women's clothing and your blog is all about fashion trends, you can't expect a popup offering skincare tips to bring in tons of subscribers.
But if you sell women's clothing and your blog is full of women's lifestyle content, that's a different story. You can place a popup about skincare tips on articles about beauty, and a popup about fashion trends on articles about fashion. Context makes all the difference.
Here's a real-world example. Everly, a CPG brand that sells sugar-free drink mixes, has increased conversions on their blog by 20x(!!) with this popup.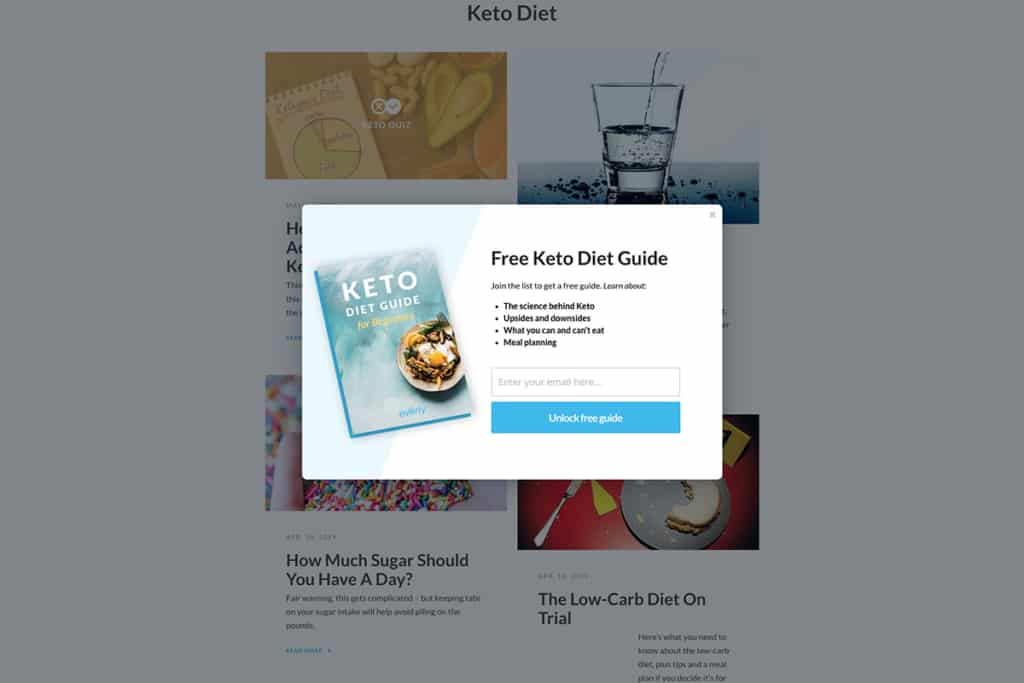 This popup converts so well because it offers high-quality, contextual content. It only appears on content about the keto diet, so Everly doesn't run the risk of annoying visitors with irrelevant popups. Instead, they can delight readers with a useful offer — and as their conversion rate shows, it's working!
Pair locked content with CPL campaigns on Facebook to inexpensively grow your email list.
Locking your blog content is a simple way to convert site visitors without publishing anything new. Use a tool likeWishpond's Form Builder to gate existing blog content and capture more email addresses.
But don't lock content willy-nilly and expect to generate tons of new leads. You need to be actively promoting the gated article via content ads that are optimized for leads in order to get the results you're looking for.
When Matcha customers use this approach, they typically see 15-25% of visitors convert to subscribers.
Use blog data to send segmented email sequences.
It's not just the size of the list that matters; it's also what you do with it. Don't make the mistake of blasting your new subscribers with product emails from day one. They signed up because they're interested in reading content on a specific topic, not to be inundated with promotional messages.
Segment your email list based on the content that shoppers download, and create targeted email sequences to nurture subscribers and introduce them to your products without being overly promotional.
This graphic shows what a simple, four-step email sequence might look like.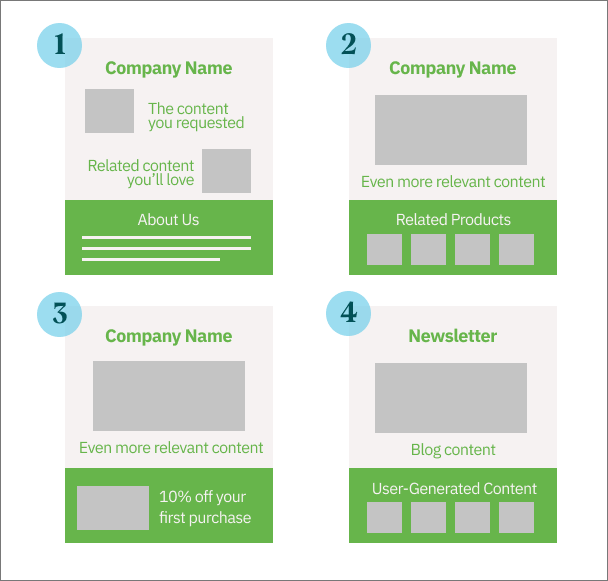 The most successful ecommerce brands create unique email sequences for different segments of their audience, but they typically only have one version of their newsletter that's designed to appeal to their entire audience.
Add blog content to your customer newsletter to increase engagement and retention.
A marginal increase in repeat purchase rate can have an exponential impact on a store's long-term growth. But unfortunately, it's common for brands to bombard customers with products and discounts instead of providing an engaging experience.
The solution? Use blog content in your email newsletters to make them more engaging and drive customers back to your site without always pushing products. With content, you'll see an increase in open and click-through rates — so when you do promote your products, your audience will be primed to engage.
One of Matcha's customers sends emails that combine both products and content, and they also send product-only emails. They've found that emails that include blog content earn them a 145% higher click-to-open ratio (CTOR) than product-only emails.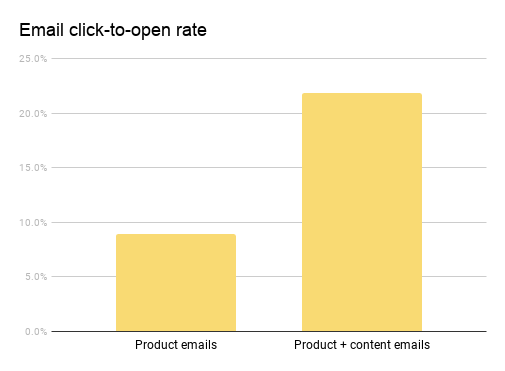 The best ecommerce companies are investing in the marriage between blogging and email marketing, using content to their advantage from the time a subscriber signs up all the way through the customer lifecycle.
Add related products to blog posts.
The most direct way to turn readers into shoppers is to include call-outs to your products on your blog. As always, context is important here. You shouldn't feature camping gear alongside a post about fishing, for example.
Take a look at this example.
While People's Choice Beef Jerky is very different from Everly, who we talked about in #2, their products are also relevant to people on the keto diet. They've tapped into an engaged audience for their high-protein, low carb snacks by publishing content about keto, among other topics.
At the bottom of each blog article, they include a product link with messaging that's tailored to the audience reading the post.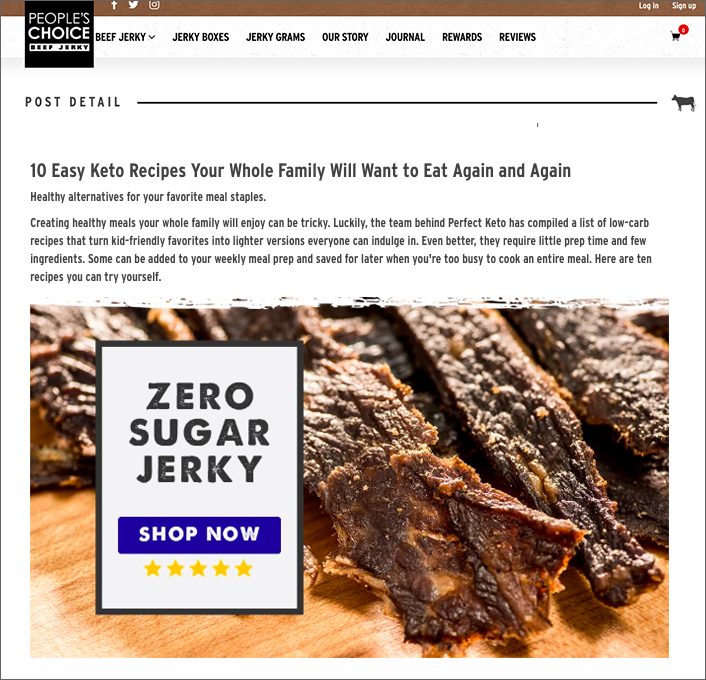 And this tactic is working!
Readers of this article, which People's Choice is promoting via social media, have made $1,600 in sales in just 6 weeks!
Who said blogs are just window dressing?
With these tips, you can use content to turn readers into shoppers, and shoppers into customers. And best of all, you can do it while building trust with your audience and without relying on revenue-crushing discounts.
About the Author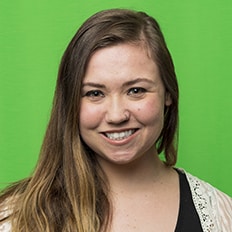 Shauna Ward is the content marketing manager at Matcha, the leading blogging platform for ecommerce businesses. Matcha makes it easy to publish engaging articles, grow your email list, and see how content influences online sales.