7 Types of Lead Generation Content to Boost Landing Page Conversions
With the rapid expansion of the digital ecosystem, getting yourself noticed out there is a real challenge. Ever heard of the 15-second rule? Yep, that's how much time people spend on your website.
That's exactly why many marketers that spend significant resources on organic traffic and quality content turn to email list building.
They encourage users to sign up for their email list so they can build relationships with them and send them important updates, latest deals, and fresh content organically. The idea is to gradually turn leads into sales and brand advocates.
However, customers want to have a good reason to give you their email address. That's where lead magnets shine. These are incentives you offer to your customers in exchange for their email addresses.
Lead magnets are often in the form of downloadable content, audio content, or video content. They need to be paired with a well-optimized landing page that includes a user-friendly newsletter form and a persuasive CTA.
Lead Generation with Ebooks
Ebooks educate your audience about certain industry trends and expand your email list. At the same time, you will gain credibility in your industry. When creating a landing page for your ebook, you need to highlight the value it delivers, provide a table of contents, and insert a prominent and catchy call-to-action.
This is how a Content Marketing Institute does. In this example, you can see that their landing page focuses on the major benefits of their ebook for a reader, as well as provides a CTA button and a sign-up form above the fold.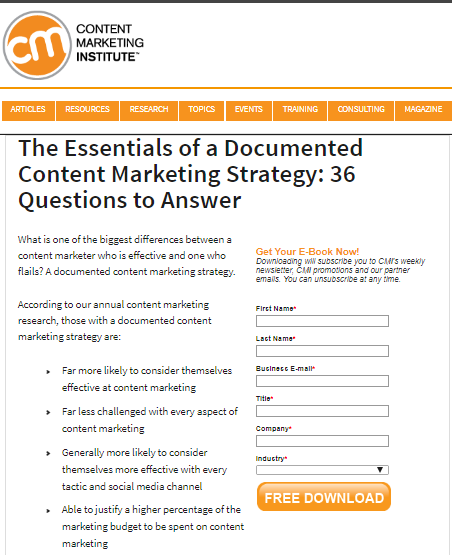 To resonate with your audiences, your ebook needs to be highly valuable. Provide informative statistics, insights, and tips. Make it detailed and insightful.
The minimum size of an ebook is 10,000 words.
Boost its value with quality visual content, such as original images, photos, charts, graphs, and illustrations. Content needs to be properly formatted, easy to read, and visually appealing.
Ready to start your ebook? Here are some amazing ebook guides to get you started:
Lead Generation with Gated infographics
Infographics are one of the most powerful content forms that let you pack lots of data in an engaging and easily digestible content format.
As such, they improve your traffic and boost your shares and backlinks. By creating gated infographics, you can turn them into powerful lead magnets.
Simply put, instead of publishing an entire infographic on your site, you will hide it. You will provide only the introductory paragraph to intrigue users and inspire them to fill out a form to access the rest of the infographic.
Sure, to give you their email address, your audiences expect your infographic to be fresh, data-backed, insightful, and informative. Pay special attention to its design. Colors should be pleasant to the eye, typography legible, and sentences short and clear.
Avoid the unnecessary part, focus on the key information, and make sure the information flows logically logical. Use lots of white space to make the content easier to follow.
If you look at this infographic created by Infostarters for Domain.ME, you will see how harmonizing fonts, colors, shapes, custom-design icons, and rich illustrations can make your infographic more appealing and easier to absorb.

Lead Generation with Case Studies
Customers at the bottom of the sales funnel have already researched your brand and products and they're ready to purchase. But, before they make their purchasing decision, they will want to compare you to your competitors. That's where case studies step in.
Case studies help to explain your specific problems customers might need to resolve. They include specific results, statistics, metrics, charts, clients' testimonials, and examples. Their purpose is to show how you helped customers/clients overcome problems and achieve certain goals.
Now, while it's always a good idea to include case studies and testimonials on your website, you can also consider offering downloadable case studies. For example, you could focus on a single client and explain how you contributed to their bottom line and improvement.
Take a look at Wishpond's case studies and success stories: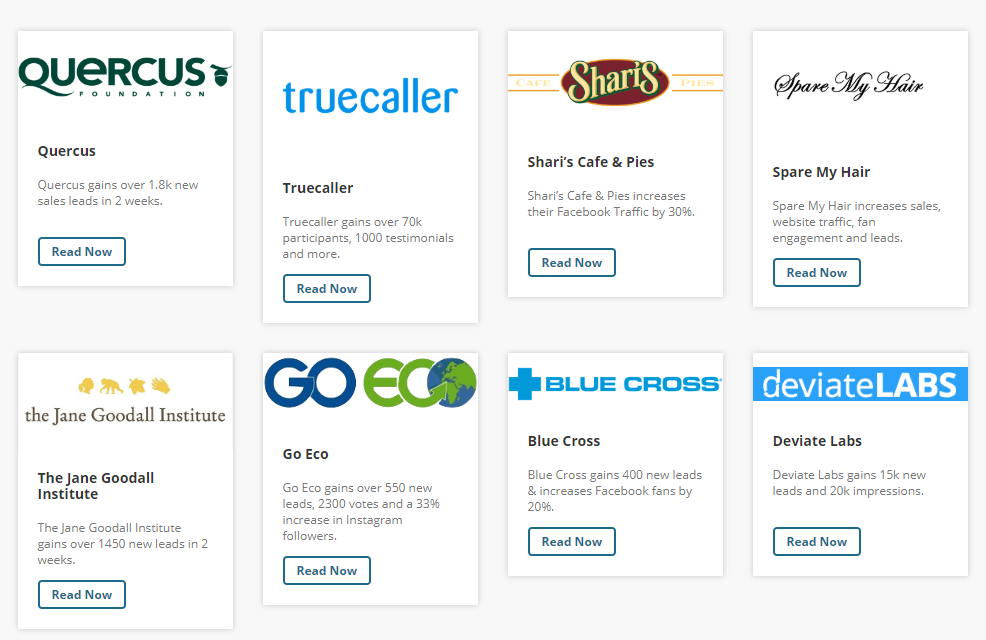 Lead Generation with Webinars
A webinar is a powerful content format that informs the audience about a certain topic and provides them with the right tips and examples.
This is a great opportunity to establish yourself as the industry thought leader and boost your traffic and conversions.
Sure, planning a successful webinar requires a hefty amount of work, but the effort pays off. For starters, you will need to promote your webinar extensively, via blog posts and social media content.
You could even create dedicated hashtags to build buzz. Check your sound and always consider audiences from other countries and continents to adapt your webinar to their time zones, as well.
Above all, people will gladly fill out your form, when explained the benefits of the webinar. That's why you need to create an informative landing page.
This HubSpot's landing page promoting their GDPR webinar informs users what GDPR is and explains why it is important. It informs users about the webinar agenda, speakers, and even lets users improve the agenda. The registration form is simple and it is followed by a large and catchy CTA button.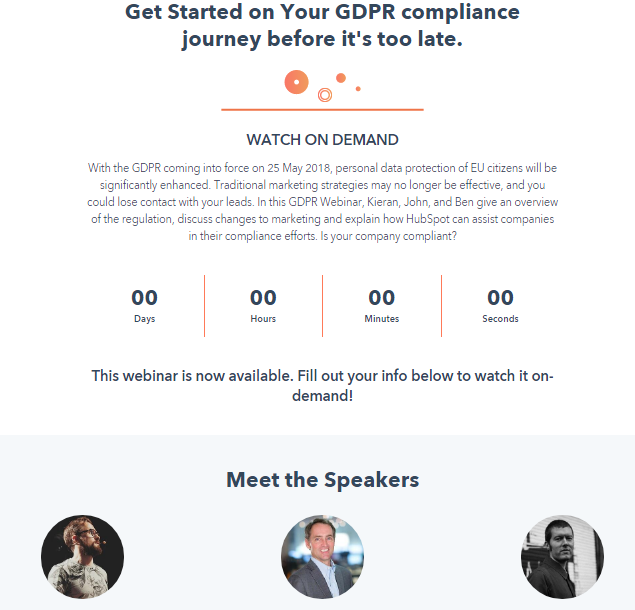 Lead Generation with Guides
There are different forms of guides you could create. For example, comprehensive, or ultimate, guides are in-depth, long, and contain step-by-step descriptions, lots of images and screenshots, and illustrations. There are also simple, pocket guides, as well as beginner guides, advanced guides, and so forth.
Irrespective of their length or format, one thing remains the same – guides are valuable types of content that will increase your niche authority and build trust with your target audiences.
These are the benefits your landing page should emphasize. It should address the customer, informing them what they will get out of the download.
Here is an example from HubSpot: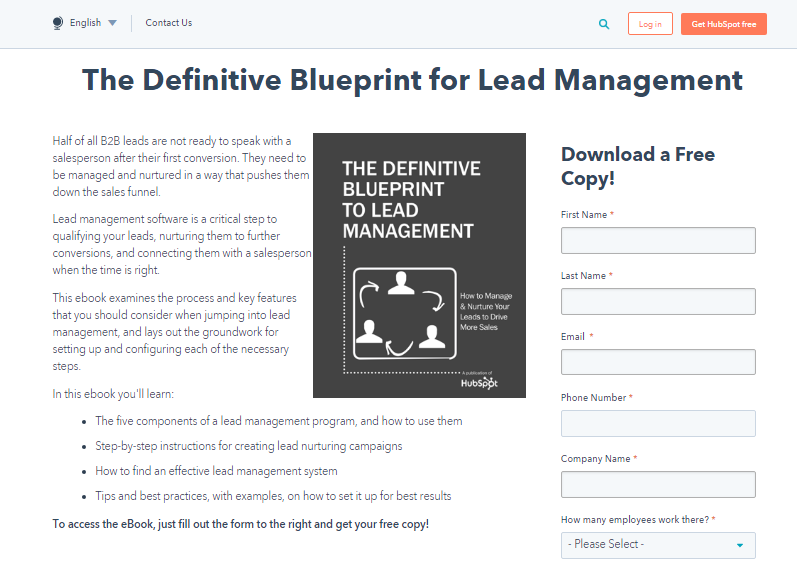 Lead Generation with Podcasts
Podcasts have become extremely popular over the past few years. Statistics say that there are over 700,000 podcasts and 51% of the population have already listened to them. People love them because they are highly interactive.
Instead of reading a 5000-word how-to guide, online users can now listen to their favorite podcasts on their mobile phones, irrespective of their location.
Marketers love podcasts, too.
They're relatively low-budget. All you need is a good internet connection and a decent microphone. A host needs to be highly knowledgeable, as well as fun. Your goal is to bring value to your listeners and inspire them to come back again and again.
As for seeking contact information, let users listen to the podcast without filling out the form and ask them to subscribe to your email list to start receiving updates about your podcast.
If they consider it valuable, they will want to receive the latest news and sneak previews of future episodes from you. This is a subtler way to generate leads. Many popular digital marketers, including ProBlogger's Darren Rowse, rely on this tactic:
Lead Generation with Whitepapers
Whitepapers are more professional, strict, and persuasive than ebooks and ultimate guides. By creating industry reports, you demonstrate a particular problem in the industry then provide a solution to it.
Similar to ebooks or guides, whitepapers need to be visually appealing. Break the text up into logical sections. Use everyday language and shorten your sentences.
Write smaller paragraphs, write informative headlines and subheadlines, and leave lots of white space. Choose appealing colors, legible fonts, and original images.
Over to You
From case studies to gated infographics, each type of lead magnets has a specific purpose. While some content forms help you increase industry authority and educate your target audiences, others will engage your audience and build stronger relationships with them.
By experimenting with different content formats and testing their effectiveness, you will create content that resonates with your prospects and turn them into profitable leads.
What content do you use to generate leads?
About the Author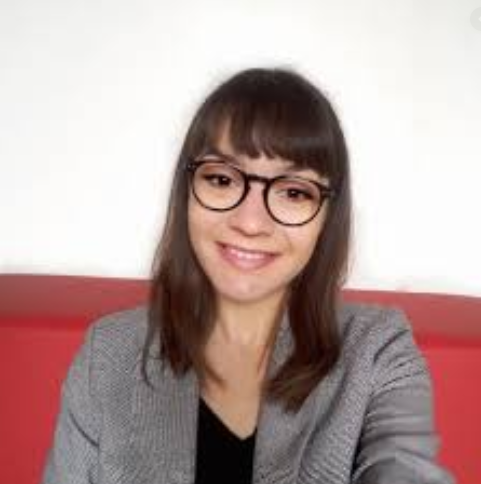 Elaine Bennett is a digital marketing specialist focused on helping startups and small businesses grow. Besides that, she's a regular contributor for Bizzmark Blog and writes hands-on articles about business and marketing, as it allows her to reach even more entrepreneurs and help them on their business journey.
Related Articles