10 Expert Tips for Photography Business Marketing to Increase Bookings
As a photographer, digital marketing has opened doors to brand new and global opportunities to expand your reach. Never has being a photographer become so envied and wanted amongst brands and influencers.
If you're looking for a way to increase your bookings for your photography business, you're in the perfect position to market your brand on and offline.
Here's why, you're naturally a content creator, not only do you take pictures, but you capture moments that can help to increase your engagement and brand exposure.
Here are 10 expert tips for marketing your photography business to increase bookings:
---
1. Use Instagram to Market Your Brand
Instagram is one of the top social media platforms for hosting images, next to Pinterest (but that's further down). Over 1 billion people use Instagram every month. There are thousands of users who :
Have almost 40% of Instagram users have high levels of disposable income.
Spend an average of 28 minutes per day on Instagram as of 2020.
Say they have become more interested in a brand or product after seeing it in Stories (%65).
Not to mention that Instagram is considered as a digital portfolio for customers to review your photography and work history/achievements.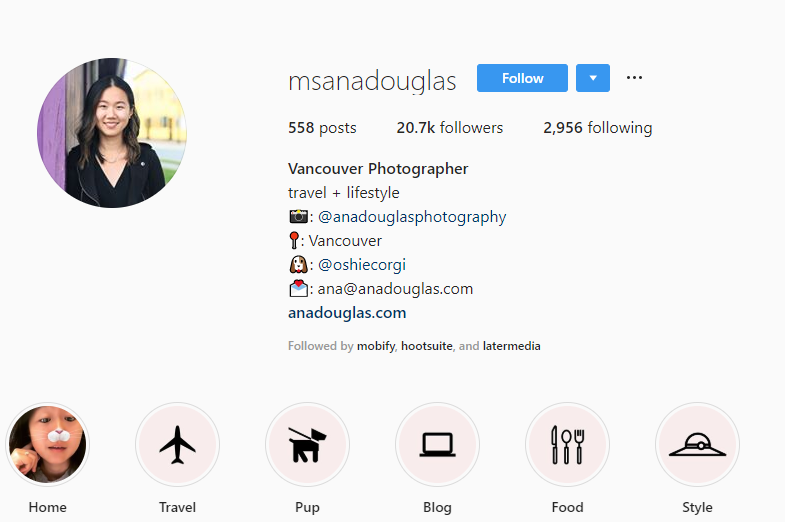 5 Things Your Instagram Business Should Have
1. Fill Out Your Profile: It's 2020, and some professionals are still leaving out crucial information that builds trust. Add a profile image (lack of one does not make you look exclusive; it sketchy. A profile picture helps to build trust. It can be a logo or photo of your executive.

2. Switch to business: When your profile is personal, you won't be able to access extra features for business owners. Get free insights, the best time to post for you, contact features, ad promotions, and more.
Here's how to switch to a Business Profile on Instagram.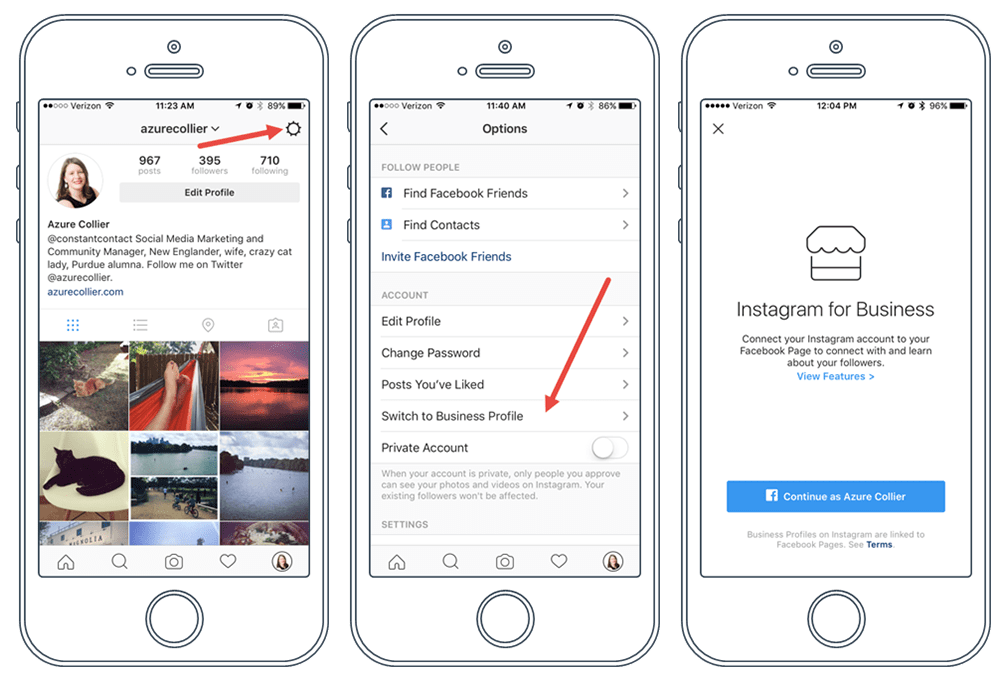 3. Link in the Bio: Once you've switched to the business, you can add your Behance, LinkedIn, or website link for followers to get more details about your work.

4. Invest in Instagram Tools: You may have endless pictures to post on Instagram, but if you really want to see some results, you'll have to invest in some Instagram classes or business tools to help you create better content.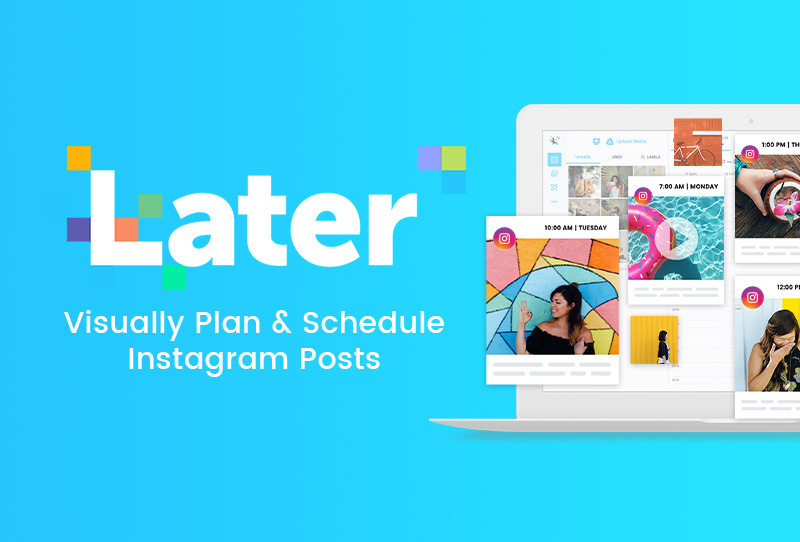 5. Post Consistently: Posting now and then will not help to build your online presence, you'll need to be consistent and ready to engage with your audience. Invest in Instagram marketing tools to help manage your Instagram and workflow simultaneously.
2. Create a YouTube Channel for Your Photography Business
Video marketing is one of the most beneficial content marketing tools to help grow your business and increase bookings. YouTube is technically the second largest search engine in the world. Building up an archive of video content can also help to boost your brand's SEO.
YouTubers Patrick Hall and Lee Morris created a channel called Fstoppers in 2010. Fstoppers is a vibrant online community of photographers, cinematographers, and other creative professionals. Fstoppers creates video content ranging from gear reviews to business tips and industry reviews. They also add affiliate links and have gained clients with the help of their YouTube channel
.
4 Things Photographers Must Master on YouTube
1. Master Your Brand: Before you start posting videos and promoting your channel, you'll need to get your branding right. Pick a color or look and feel that best represents your brand. You want to make sure that it's cohesive current online presence.

2. Master YouTube SEO: SEO plays a role in almost every aspect of marketing. From the moment you upload your videos to the minute you write your description. Here's a detailed on guide on mastering YouTube SEO.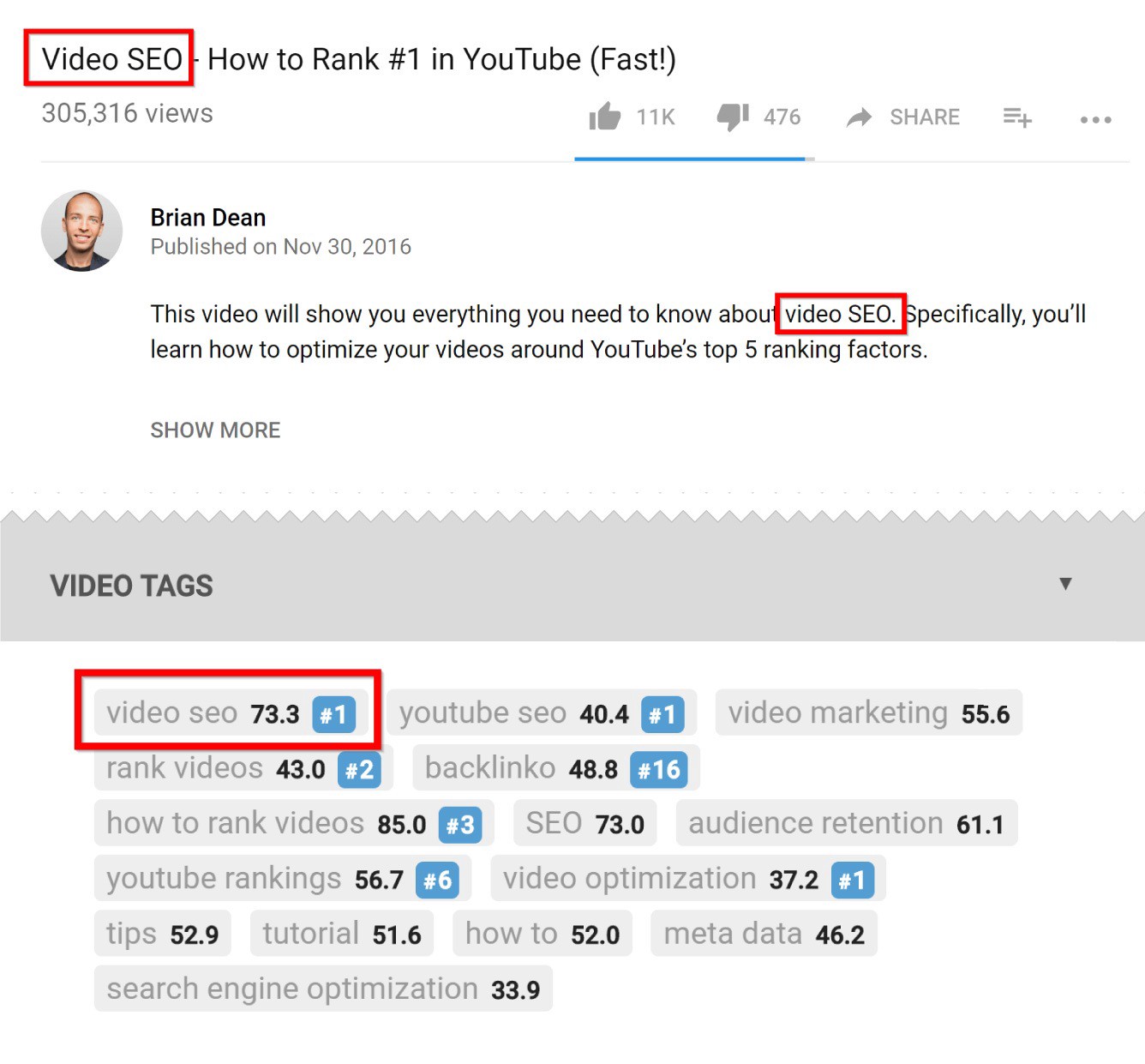 3. Track Your YouTube Analytics: Keeping an eye on your metrics allows you to understand what's working and what's not. Where your videos are getting the most love, views, and shares and which videos are performing better than others. Here are 12 Youtube analytics every YouTuber should know.

4. Promote Your Videos with Ads: Grow your channel and promote your photography business with a YouTube ad campaign. YouTube allows you to create targeted ads that will help to drive traffic, increase sales, and books. Here's how setup a YouTube ads campaign in 10 easy steps.
Need more help growing your YouTube channel, here are 18 powerful ways to grow your youtube channel.
3. Update or Create a Photography Website
Customers now expect businesses to have websites; it's become a right of passage for brands that want to build a solid online presence. About 88% of consumers will research product information on your website and social media pages before they make a purchase online.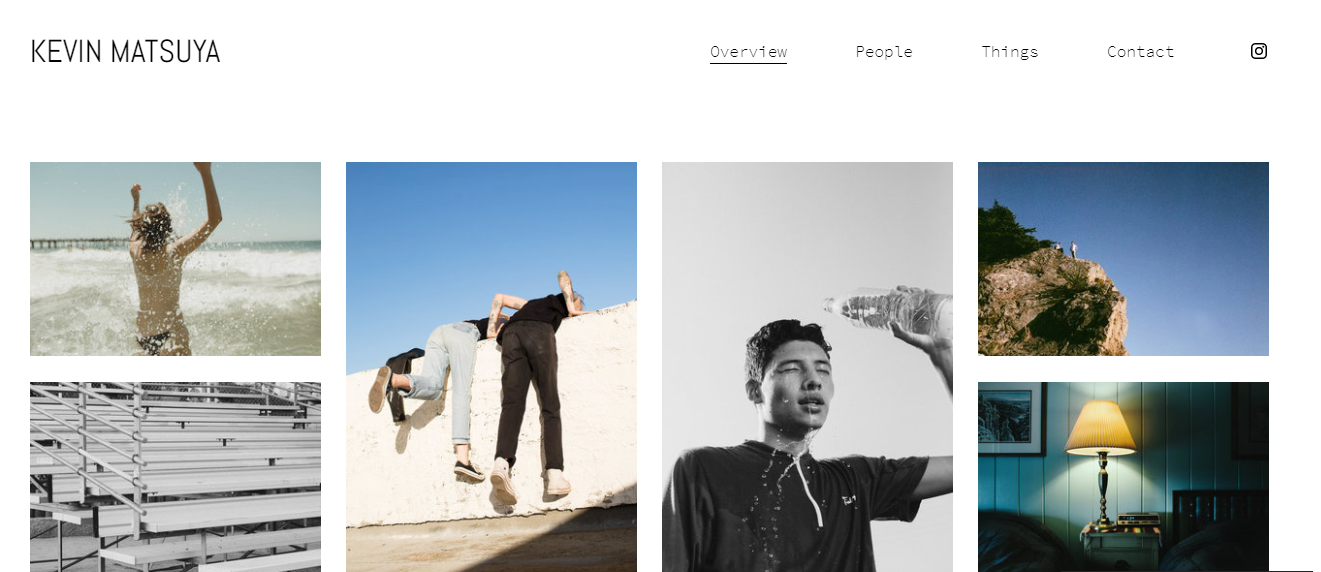 Today you can choose a website builder and have your website up and running in under an hour. Having a Behance website isn't enough to cut it against the competition; you need to widen your online grasp. Here are the 10 best website builders ranked you can choose from for your photography business.
3 Things Photographers Can't Ignore on Their Website
1. Make Your Website Mobile Responsive: Around 72% of people want mobile-friendly websites. Ensure that your website design looks seamless on desktop, tablet, and mobile screens. Remember 94% of people judge sites on responsive web design, and you only get one chance at a first impression.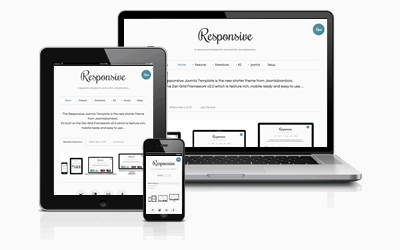 2. Manage Your High-Quality Images: It goes without saying that you should always upload your best pictures, but high-resolution images carry a lot of weight, the longer your website page will take to load. You'll lose out on sales and traffic if your site loads slowly.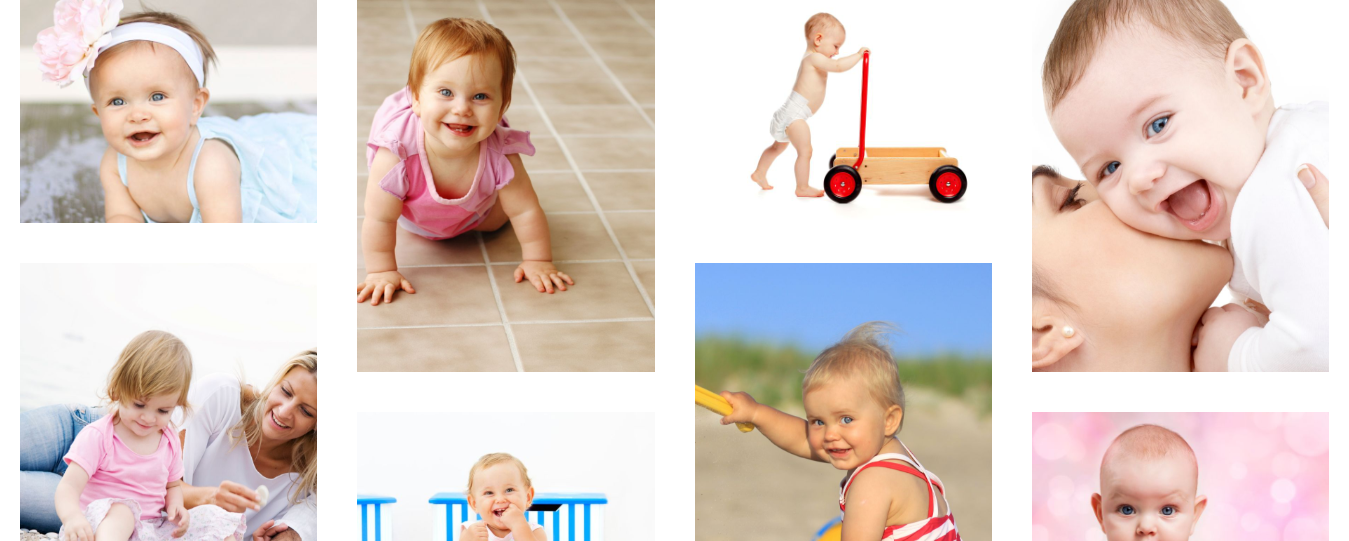 3. Seamless Navigation: One of the most unstated features of a great landing page is simplicity. A landing page design should be simple and free of clutter. It also prevents viewers from being distracted by colorful backgrounds, unnecessary information, and more focused on making a reservation or call from your page. You want your customers to click through your site from point A-B effortlessly.
4. Use the Power of Email Marketing
Email marketing has been listed in one of the top marketing trends for 2020 and 2024. 81% of businesses say that email drives customer acquisition, and 80% for retention.
Collect all your past/current clients and send emails informing them of seasonal packages, discounts, and open bookings that you may have for the month. Try to create an email list and collect emails from your website with lead management tools to keep organized.

Request an email for every job that you accept. A phone number may suffice, but an email is great for future contact.
Send follow-up emails to clients. After you've finished a job, send a follow-up email, and ask for referrals. You can offer discounts or some form of incentive to encourage them to provide you with clients.
5. Host a Photography Giveaway
Looking for a way to increase your social media followers and brand awareness? Host a giveaway on Facebook or Instagram and watch the numbers roll in. Okay, you'll have to put in some work, but the results are worth it.
Giveaways aren't just for giving away free prizes, 33% contest participants are open to receiving information about the brand and partners. This means you have a better opportunity to advertise your services and collect some emails to reach out to for business along the way.
Thinking of running a photography contest, here's a quick guide to get you started.
Need help with your next contest ?
Book a free call to learn how our team of contest experts can help you create high converting social media contests today.
3 Tips to Follow When Hosting a Giveaway
Anyone can run a social media contest. Here are three tips you should follow when hosting a giveaway.
1. Set concise rules and guidelines: Each platform (like Instagram and Facebook) have contest/giveaway guidelines that brands should follow or mention in their contest. You should make your contest rules idiot-proof, to avoid angry contestants once you've announced the winner.
2. Pick a prize worth winning. Choose a prize people will love. Cheap prizes will attract cheap contestants, which means no new clients. A giveaway prize can be a photoshoot, equipment, filter, free classes, and more. Let it tie back to what your business is about photography!
3. Create a landing page for your contest. With Wishpond's social media contest and landing page features, you can create beautiful landing pages like Luna Patches and monitor and make changes from the back end. Need help starting your social media contest, or maybe you just want a simple landing page? With Wishpond it's easy.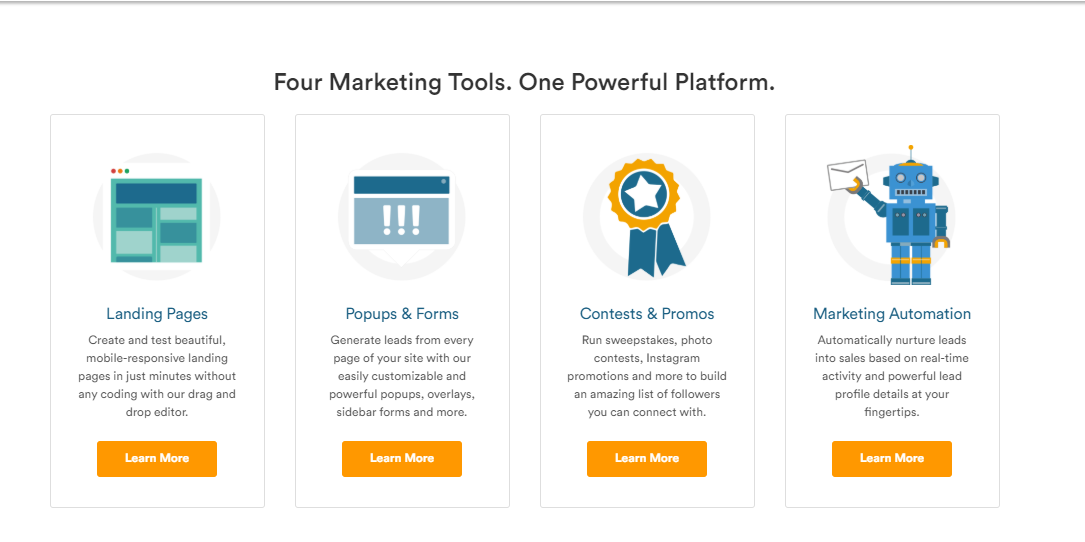 6. Attract clients with Facebook Ads
Facebook ads are still relevant today. Create targeted Facebook ads to increase bookings for your photography business. Facebook ads are now an essential tool in a successful marketing strategy, while the platform does offer businesses the opportunity to reach a global audience.
Almost 62% of marketers say that Facebook is a 'pay to play' platform and ends up missing their target market.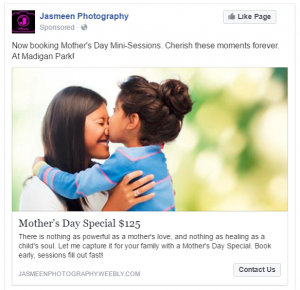 Here are some helpful guides to create a successful Facebook ad:
Need help from a Facebook Marketing Expert?
Book a free call to learn how Wishpond can help you to create Facebook ads to increase your photography bookings today!
7. Do Outreach to Businesses and Agencies
Instead of waiting for a customer to reach out to you, you can reach out to customers instead. If you want to increase a steady flow of bookings, it's time to do some outreach.

When it comes to photography, companies need help with product images, employee photos, marketing, event coverage, and more.
Set aside time during the month to make a list of companies and businesses in your local area or state and email them, introducing your photography business along with a company package.
3 Things to Consider When Photographers do Outreach
Make it about them, not you. It's an outreach, not a "why I'm the best email." So highlight the things you can do to help improve their business.

Watch for spelling and simple errors. Misspelling someone's name or placing the wrong link can easily put your email into the trash. Test, re-read and send.

Follow up at least twice. People get tons of emails every day. Send a follow-up email in case they forget to reply.
8. Host Photo Booth at Events
Find corporate or fun events that your business can cover and collaborate with event planners to provide a photo booth for event-goers. Events are held all year round. Unlike photoshoots like graduations, wedding and maternity shoots, you can fill in the gaps with events.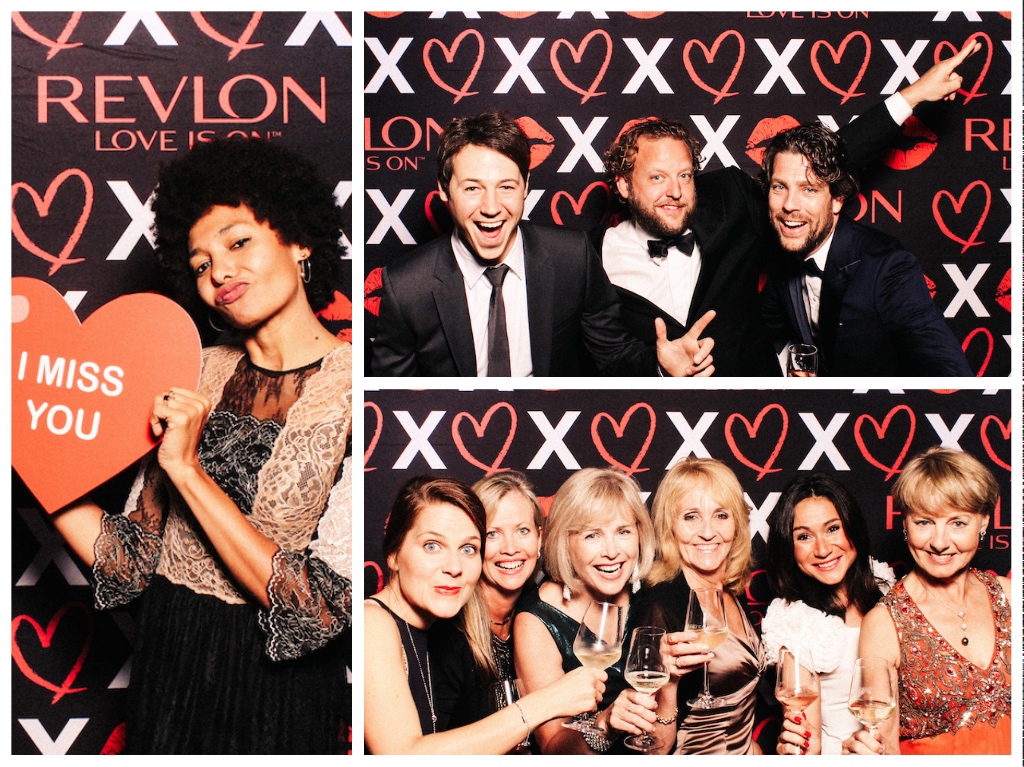 Your relationship with the event coordinator could be a quid-quo-pro relationship. You cover events at a discounted price, and they refer you to clients or add you to their budget as coverage on behalf of their client.
9. Create Google My Business Account
Before customers can click on your website, Google is the first place customers will search for your photography business.
A Google business account allows your business to show up on local searches for customers in your area. For example, if you type "photography service in new york city," you'll see: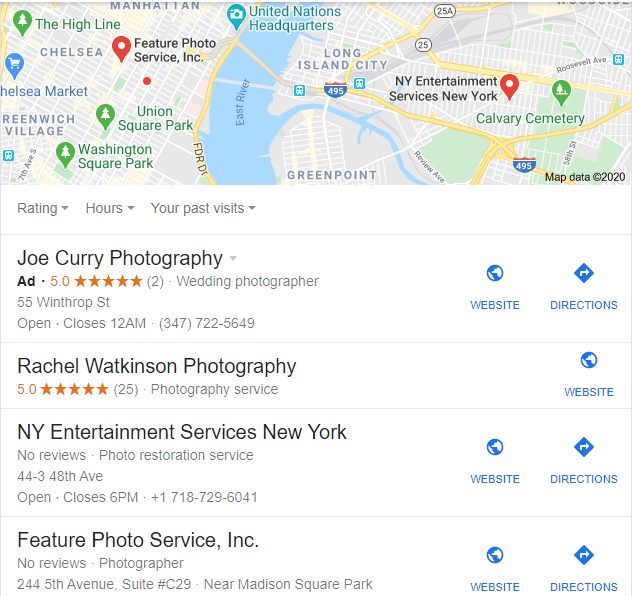 Google Business acts as an online directory to suggest your business or make it easier for customers to find information about your photography business without a lengthy search.
If someone searches for your company, then they'll see this information displayed — easy access to contact information, reviews, images, and more.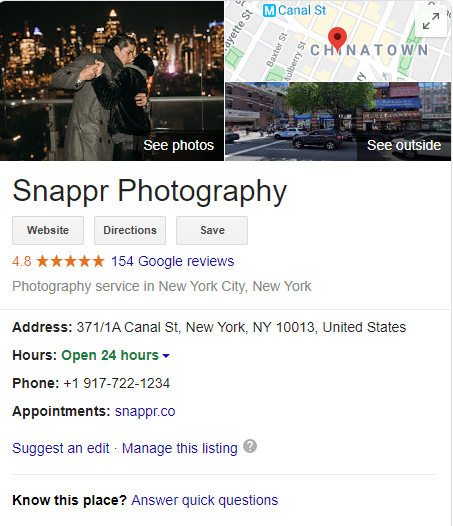 A Google Business account is free to create and manage; get started with a simple sign-up form.
10. Making Online Bookings Easy for Customers
Not everyone wants to make a phone call, some people prefer to book services online. Online booking sessions should be as seamless and easy as possible. If customers have to leave from site to app or jump through hoops your potential customer will get frustrated and head to a competitor instead.
Allow your customers to book anywhere they find you. Add a booking feature to your website, your Google Business link, and even your social media bio so customers.
You can also try booking software like calendly that merges with your Google Calendar to help prevent double-booking customers.

Pro Tip: When you post content on your social media platforms, be sure to add your booking link to the caption or as a link in your bio! Easy access means easy bookings.
Summary
Marketing your photography business doesn't have to be a chore; you can set up automated marketing to keep promoting your business while you handle clients. You can also dive deep into this ultimate guide to photography marketing: everything photographers need to know
Here's a recap of the ten expert tips for marketing your photography business to increase bookings:
Use Instagram to Market Your Brand
Create a YouTube Channel for Your Photography Business
Update or Create a Photography Website
Use the Power of Email Marketing
Host a Photography Giveaway
Attract clients with Facebook Ads
Do Outreach to Businesses and Agencies
Host Photo Booth at Events
Create a Google My Business Account
Making Online Bookings Easy for Customers