6 Tips for Branding on Instagram: How to Increase Your Brand's Value
Your brand's value determines the long-term success of your business. Having a strong brand value helps grow your company, face challenges with ease, and charge a premium for your goods or services.
Using Instagram to increase your brand value is a great tactic since many people spend time on Instagram daily. It has over one billion monthly active users and an advertising audience of 895 million global active users.
This is the reason why many businesses are embracing Instagram to build brand awareness. In fact, according to a Social Media Examiner study, 72% of marketers want to learn more about usingInstagram for business. The study also noticed a rise in the use of Instagram by marketers since 2015. If you're not leveraging social media to grow your brand, you're missing out on a lot.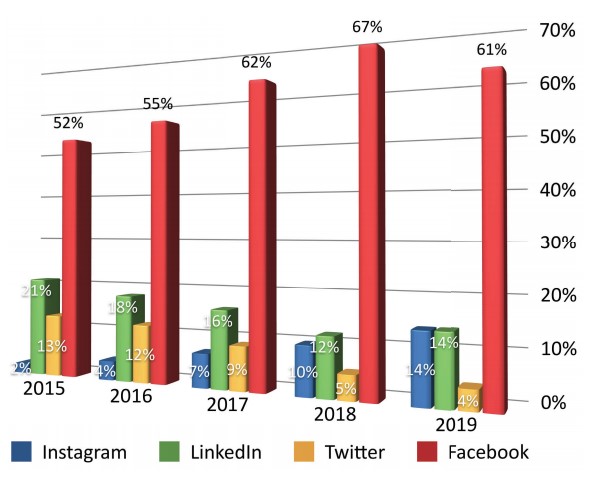 About 63% of the interviewed users also visit Instagram daily. If your brand isn't present on the platform, you'd be missing out on this audience. Instagram is, therefore, a great platform to build your brand authority.
But how do you go about increasing your brand value?
Let's dive in. Here are ways through which you can increase your brand value using Instagram.
---
1. Develop an Instagram Strategy
Social media can help you grow your brand, but without a brand-building strategy, you won't be able to grow it effectively. Thus, you should start by setting an Instagram brand building goal that aligns with your overall social media strategy.
The goal you set will help you channel your efforts to reach it. At the same time, you'll be able to find out which metrics you need to track to measure your progress.
Next, determine your target audience and competitors. You can use web analytics tools and tools to identify your audience and define it based on demographics, interests, and location.
And your competitor research will reveal the strategies they are using to build their brands. You can then use these insights to improve your strategy.
Your strategy should also include your Instagram bio. Make sure it outlines your brand values, value proposition, and other key elements you want your audience to know.
For example, DermOrganic showcases their values through their Instagram bio. They've clearly mentioned that their products are vegan and animal cruelty-free.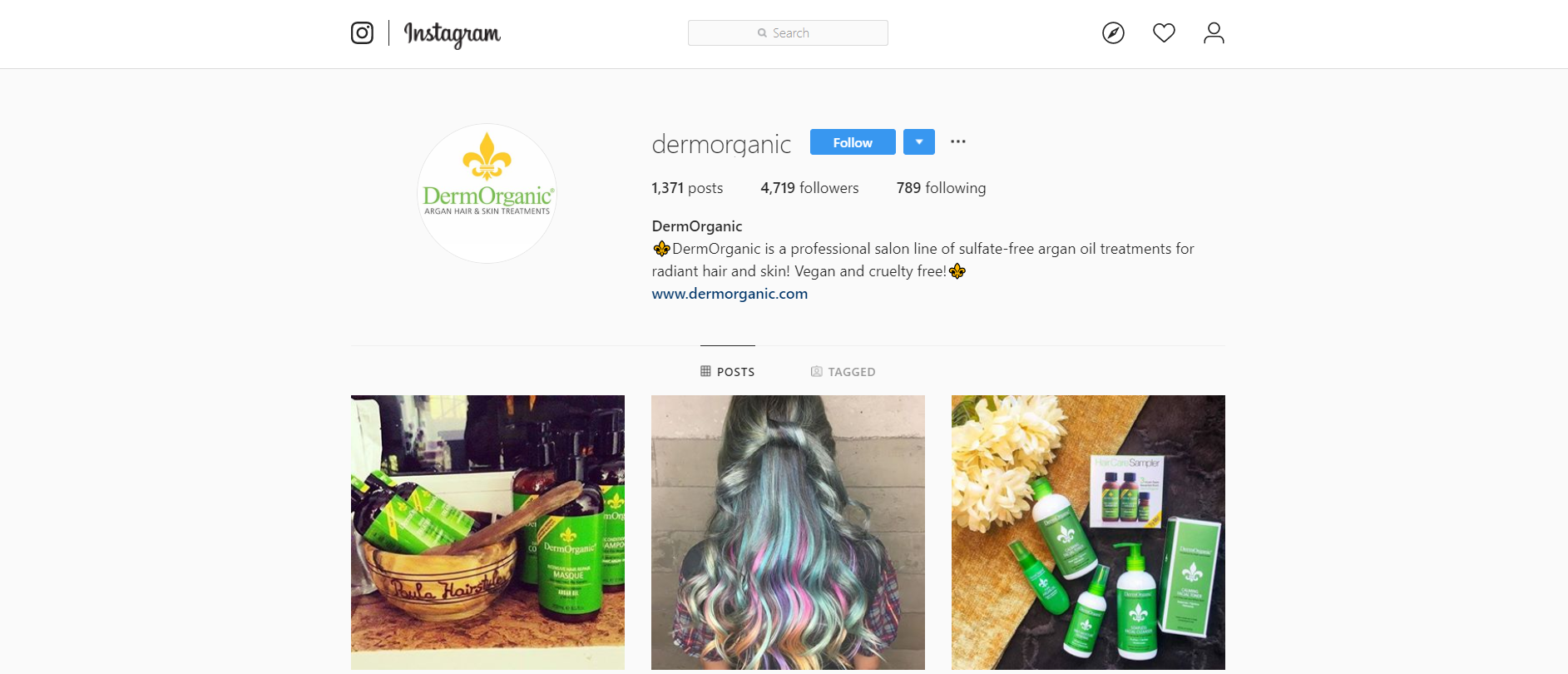 Add your main keyword, company name, a call-to-action, and a clickable URL. The URL will help you drive traffic to your website.
Once your strategy is developed, share it with your team to ensure that everyone's on the same page. This way, you can make sure that there is consistency in how your brand is presented on Instagram.
2. Have a Consistent Visual Branding Strategy
Instagram is a visual platform, and thus, it's essential to have a visual branding strategy in place to improve your brand value.
Basic branding requires that you have consistent visuals on all your social media profiles and website.
Your logo, bio, and color palette should all be consistent. Your audience should be able to recognize your brand from the profile page and visuals you upload on Instagram.
You should try to use the same colors and fonts when posting images, videos, and graphics. With time, the consistency will become apparent to your followers. They will recognize your brand even without seeing your logo or brand name. This type of brand recognition can improve your brand value.
Tiffany & Co. uses Tiffany Blue® as a key brand element. They add it to all their social media posts, which makes it easy for their consumers to identify the brand. Adding this color to their posts has also helped them increase performance and brand awareness.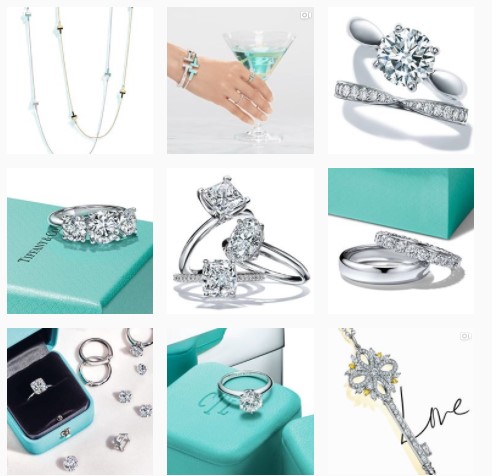 You should consider creating a visual strategy brand guide that includes colors and fonts to be used for your brand. This can help you get your team on the same page when it comes to visual branding.
You should also be consistent with your themes and styles. Give your brand a unique personality that people can relate to and identify.
3. Maintain Your Brand Tone and Voice
Your brand on Instagram should have a personality. Are you informative, entertaining, or sarcastic?
If you already have a brand voice on other social media platforms or websites, extend it to your Instagram account.
A consistent personality across channels can help you gain followers as your audience can recognize your brand immediately.
The tone and voice include the company catchphrases, language, personality, specific vocabulary, and personality traits. These can help your company stand out and make a lasting impression on audiences. They humanize your brand on Instagram so that your audience feels like they're engaging with a real person online.
Having a brand voice and tone will also help you build connections with consumers, develop trust, and create rapport. In turn, consumers will be more likely to share, like, and comment on your posts.
Sharpie is one such brand with a strong social media voice on Instagram. Their posts, videos, and images are practical, fun, inspirational, and creative.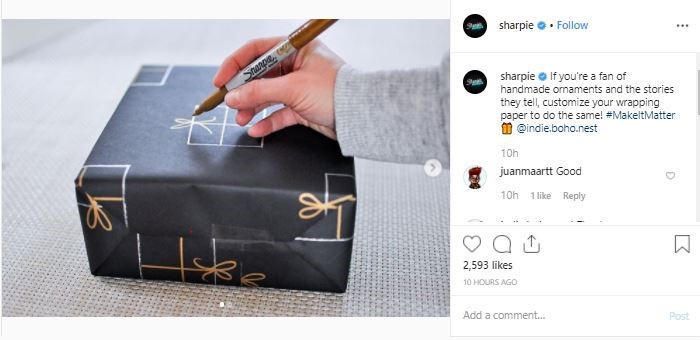 4. Provide Value in Your Content
Create and share high-quality content that offers value and evokes specific feelings in your audience. Your content should inform, entertain, educate, and inspire while delivering your brand message. High-quality and valuable content will be more likely to receive engagement that can help you grow.
Higher engagement will be a signal for the Instagram algorithm that you have valuable content. Your posts will then appear higher on your followers' feeds leading to more views.
To provide value, you need to understand a few things:
What does your audience want?
Why do your current followers follow your brand?
What makes your brand different from others in your niche?
Why is your content shared?
What is your brand mission?
Does your Instagram strategy align with your brand values?
Can you maintain consistent value in the content you share with the audience?
Once you understand these, you can create content your audience wants.
Share various types of stories and build a connection with your audience. Offer them real solutions and use testimonials and case studies to show them how your products are working for others.
Apartment Therapy is a lifestyle and design community that connects people with shopping guides. Their Instagram account inspires followers to live in beautiful homes.
They share real people's stories showing how they are crafting their beautiful homes. The account also offers design lessons, DIYs, how-tos, and advice on creating stunning homes.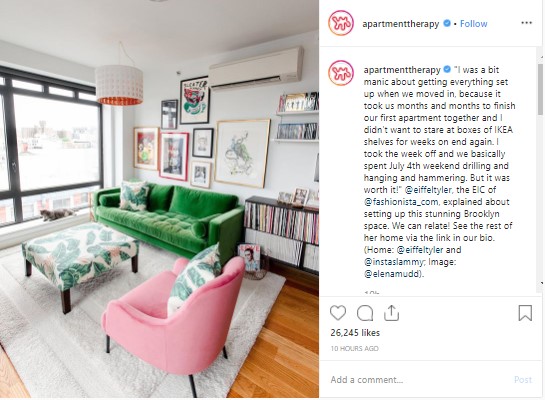 Users also crave new content on Instagram. To satisfy this need, collaborate with influencers and brands that align with your values. The content they post will expose your brand to more audiences and help your brand grow organically.
5. Employee Advocacy
You can further strengthen your brand strategy by encouraging employees to be advocates for your brand.
You should invest time into helping employees understand and feel connected to brand values. Ensure that the employees have a great experience working for your company. Doing this encourages them to post positive things about your company on social media.
You should also encourage them to post about the company through their Instagram accounts. When they have positive experiences with your brand, it'll increase the likelihood of loyalty and brand ambassadorship.
To leverage employee advocacy, you can use tools such as Hootsuite. This platform makes it simple for your employees to share posts about your brand on their social media accounts.
It also lets you measure the effectiveness of the content and the participation of your employees in promoting your brand.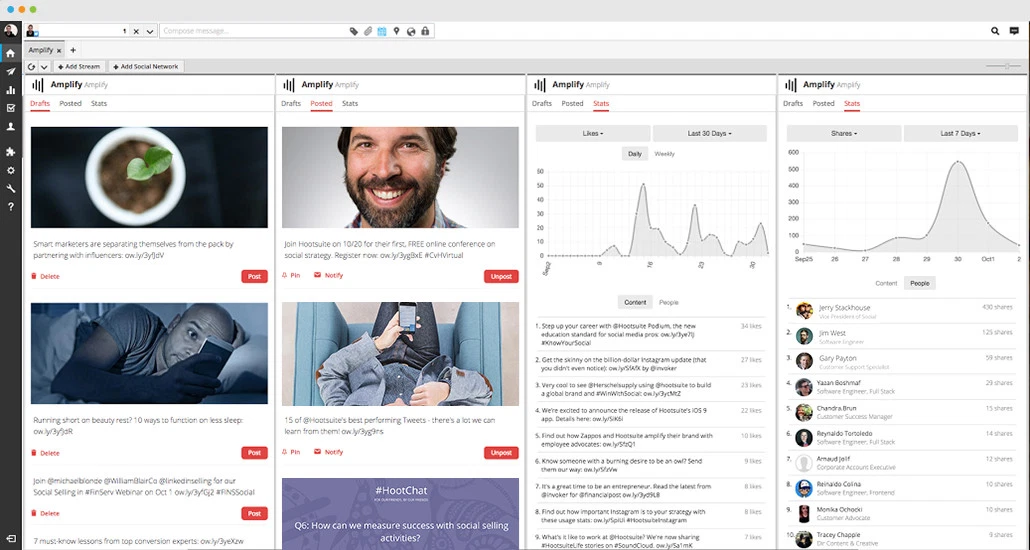 6. Use Built-In Instagram Tools
Instagram has readily available tools you can use to improve your posts and measure your performance. For example:
The editing tools have a range of filters and special effects to enhance the mood and color of your images. Just remember to stay consistent so that your audience recognizes them.
Use hashtags to increase the reach of your posts. You can track popular hashtags to discover those that are relevant to your brand.
Another option is to create a branded hashtag and develop a community around it as Infatuation did. The restaurant review site created #EEEEEATS and built a community around people who love eating out. The hashtag currently has over 18 million posts.
Use Instagram Insights to get in-depth information about your reach, website clicks, views, impressions, email clicks, and more. You also get insights into your audience, their locations, and times or days when they are the most active.
Conclusion
Increasing your brand value is a long-term project that ensures the continuity of your brand. Being one of the biggest social media platforms out there, you should consider leveraging Instagram to increase your brand value.
Develop a solid Instagram marketing strategy, along with a visual branding strategy. These can help you channel your efforts towards your final goal of increasing your brand value.
Provide valuable content to your audience and maintain your brand voice throughout the platform. You should also leverage employee advocacy and use the tools available on Instagram to promote your brand even further.
Continue optimizing your strategy until you establish your brand on Instagram.
Your successes and failures will help guide your brand building strategy and keep your company growing. Your efforts today will also ensure you become a household name tomorrow, so keep working on it.
What tactics do you use on Instagram to increase your brand value? Tell us in the comment section below.
About the Author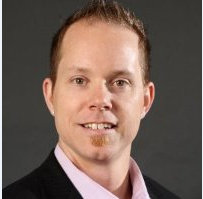 Shane Barker is a digital marketing consultant for 15 years with an emphasis on Influencer Marketing in the last 5 years. He specializes in sales funnels, targeted traffic and website conversions. He has consulted with Fortune 500 companies, Influencers with digital products, and a number of A-List celebrities.