12 Bold Ways to Sell Online Fitness Training
As a fitness trainer or influencer, you'd typically earn a living from sessions with clients or teaching classes. Now that online fitness courses are back on the rise with the help of a health-conscious generation, it's the perfect time to earn a steady income from it.
Assuming that you already had your fitness course planned and you're ready to market them you can skip ahead, here are some questions you should consider when planning your online fitness training course:
Will your online fitness training be a video course or work plan? This will determine how you'll sell or sample your items.
Who is your online fitness training meant for, for example, women, men, mothers, children, or niche (yoga, parkour, and cardio)? This question will help you with your marketing and branding efforts.
How much should I charge for my training? Finding the right price point ensures that you don't over/undersell yourself in the long run.
How much money would you like to earn or sign-ups would you like to earn from this course monthly. You can use this as a key performance indicator (KPI) for all your marketing activities.
Once you have the answer to these questions, you'll be ready to take on these 12 bold ways to sell your online fitness training course or program.
1. Update or Create a Website and Blog
How and where you host your online training course can affect your overall revenue. Even if your content goes viral and if your website isn't optimized for sales, then how can you expect to gain new clients?
Here are four ways you can optimize your website to sell your online fitness training effectively:
Make Your Website User-Friendly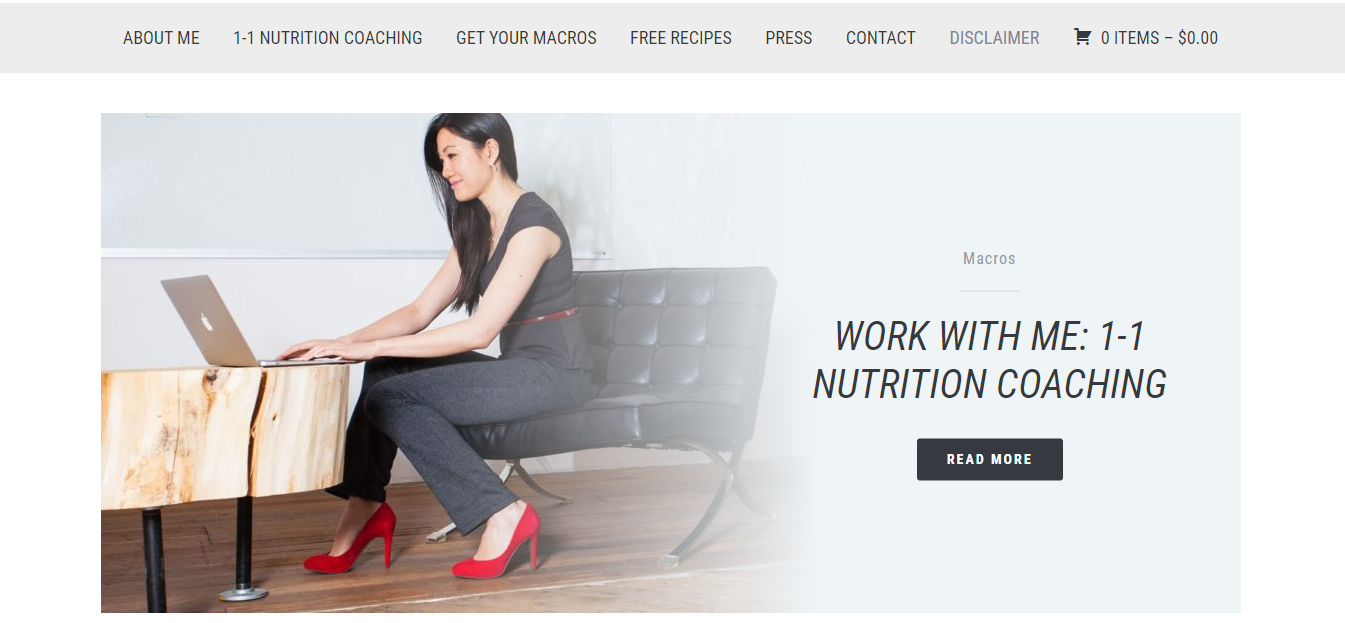 "Keep it simple," a common phrase used when website experts share advice on what makes a website successful. Your website is the central focus of your buyer's journey.
You want to make their experience as seamless as possible. They should be able to navigate through your website easily while simultaneously being able to find all the information they need to be informed and make a purchase.
You want to ensure that your website has the following:
Has a brand theme or aesthetics for your store.
Great product photos and clear product descriptions.
Easy page navigation, especially from page to purchase.
Make Your Website Mobile-Friendly
About 57% of internet users say they won't recommend a business with a poorly designed website on mobile. Lastly, 85% of adults think that a company's website, when viewed on a mobile device, should be as good or better than its desktop website.
Most website builders now automatically come with a mobile or tablet version with their desktop templates, as well as Wishpond's landing page builder. You can automatically create pages that look great on desktop, tablet & mobile devices, no coding required.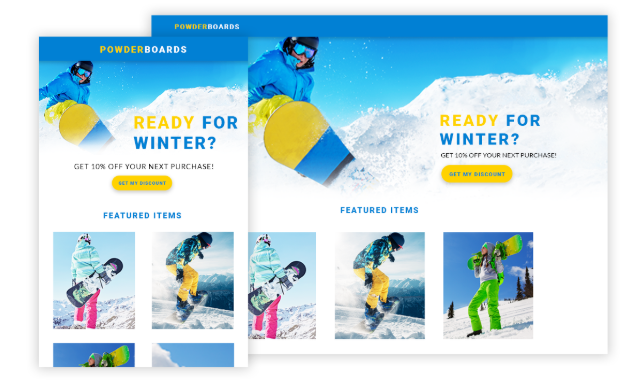 2. Add Your Online Fitness Course to an Affiliate Program
A well-executed affiliate program can help to boost your online fitness training course by allowing qualified applicants to do the leg work for you.
An affiliate program is different from a referral program. You're asking persons to market and endorse your product/services, and in return, they'll get a percentage of the profit or exclusive perks.
It's also a long term investment, and over time it can drive a steady flow of traffic and sales to your website.
You can create an affiliate program all on your own, or you can sign up for an affiliate platform. If you're new to affiliate marketing, I'd suggest that you choose an affiliate platform instead.

Most affiliate programs come with features like a built-in CRM, managing contacts/emails, track payments, and sales, and tracking your affiliates' progress.
Here is a list of the four best affiliate programs you can use to track your affiliates progress:
3. Partner with Fitness Brand for Copromotion
Boost your marketing efforts by partnering with a fitness brand to endorse your online fitness training program.
Copromotion is the act of two brands or influencers coming together to gather resources, and audience, or funds to promote a service or product for a strategize on a co-marketing effort.
A copromotion like another partnership requires working with a brand that reflects your values and niche.
For example, if you're a yoga instructor, you can do a copromotion with a yoga clothing brand. You can promote their yoga pants by offering a discount as a brand ambassador. In exchange, the Yoga brand can promote your page (thus leading to your online class) or offer a discount for your online course to drive sign-ups. Or you can bundle your products and their services as a special offer.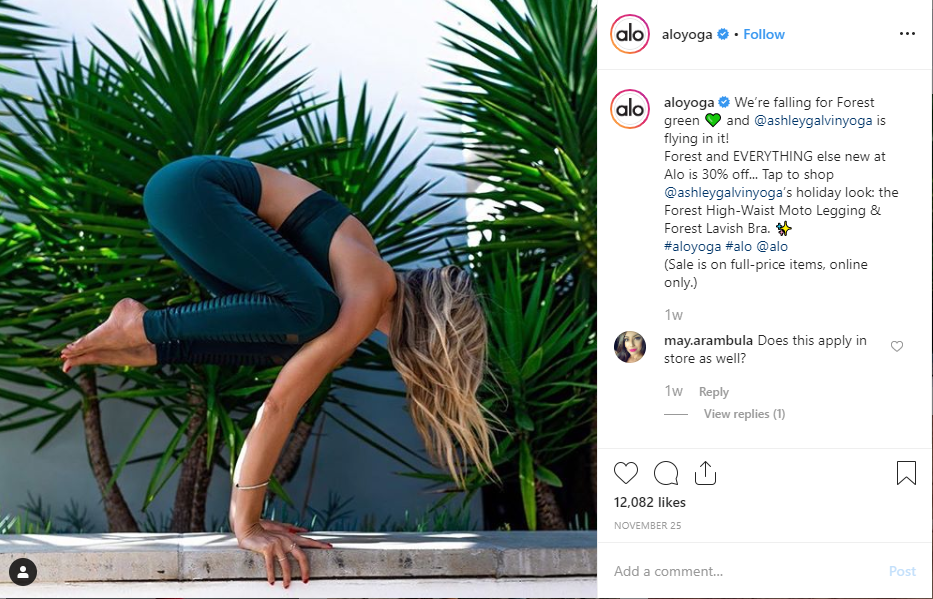 4. Use Email Marketing to Boost Sales
With 59% of respondents say that marketing emails influence their purchase decisions, it's fair to say that using emails to market your online fitness training is worth a try.
The best way to start is with an email marketing campaign and automation.
Set up an email marketing automation workflow to attract new customers for your online fitness training. Every stage, you must either be selling, promoting, or upselling your training program. Automation allows you to do just that, but instead of working hard, you'll be working smart.
Email automation is the ability to send subscribers a series of triggered emails based on an action, segment, or time frame.
Your series of emails are a part of a triggered workflow that helps to nurture new leads. For example, if someone hadn't completed their sign up when they landed on your website, an automated email will be sent to remind them to head back to your website and complete the process.
You can also send welcome emails to new subscribers and offer them a discount to seal the deal on a new sign up.

Wishpond allows you to create, manage, and monitor your email automation along with segmentation and personalization features to fit your email marketing needs.
Ready to start automating your marketing?
Book a free call to learn how our team of marketing experts can help you create high converting email marketing today.
5. Use Social Media Marketing
What would a marketing list be without social media marketing?
Social media has a direct formula, the more followers and influence you have on social media, the more customers will come your way.
First, you'll need to create a social media marketing plan;
A poorly planned social media marketing plan can leave you to lose your time and money. Instead of stumbling in the dark, start planning out your steps and measuring your results.
Download this free 11-Step Social Media Marketing Plan to get started today.
After you've done that, the next step is to create some eye-catching content to increase your following. Content allows you to keep your social media accounts active and build credibility online.
One way to increase your social media followers is by creating video content.
Did you know that marketers who use video grow revenue 49% faster than non-video users?
As we go further into and beyond 2020, video content will be in high demand. Not to mention, 68% of consumers make a purchase after watching branded social videos, and at the end of the day, you want your followers to do, purchase your online fitness training program.
Go live on Instagram and Facebook Live.
With Facebook Live and Instagram Live, you can ask followers to join and experience a few of your work out sessions, and get to know and trust you. Videos offer participants a taste of what your services are like before they make a final purchase.
Once you go live on Facebook, you can upload the video to your feed, and for Instagram, you can upload the video to your IGTV so that your video's life span is extended and new followers can stay up to date with your video content.
6. Push Sponsored Ads
Use tools like Venngage or Canva to create a social media post you can turn into a sponsered ad. Turning to the social media ad giants, Instagram and Facebook, you'll be able to reach a local or global audience of customers who might be willing to sign up for your online fitness training course.
Why Facebook and Instagram?
Instagram's potential advertising reach is 849.3 million users and the average Facebook user clicks on 11 ads per month.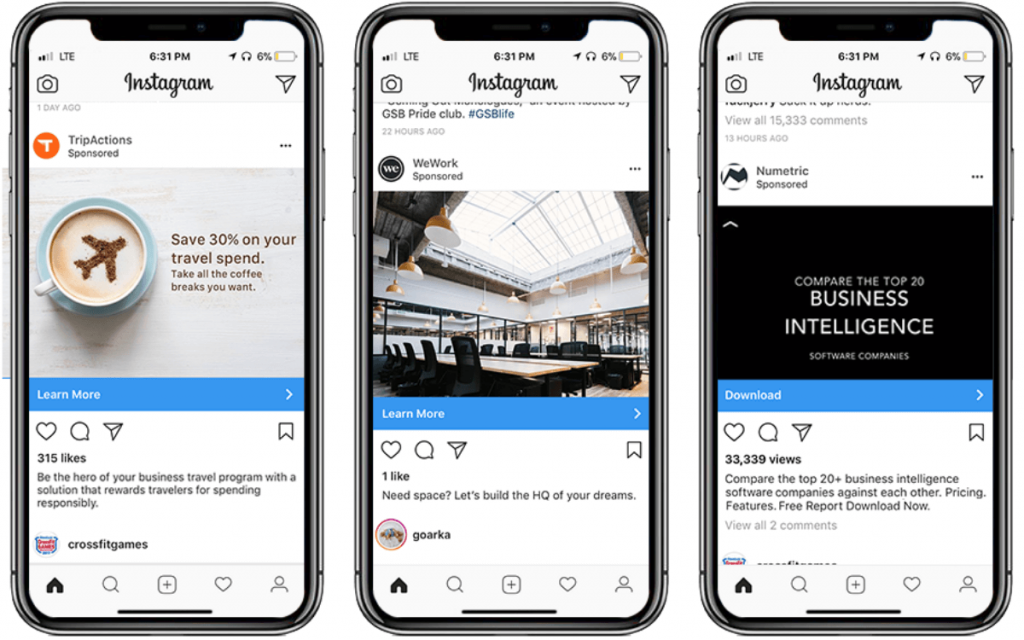 Both social media platforms have consistently proven to give marketers an increase in ROI; however, in order to see results, you have to be willing to spend.
Gone are the days when a $5 ad would bring you at least two customers. With so many brands running ads on the platform, you'll need to have a strategic plan and budget to get the reach you need.
To get started, here are some Instagram and Facebook guides you can use to point you in the right direction:
7. Create a Fitness Workshop
Get offline and find a local gym to host a fitness workshop. This provides the perfect opportunity for you to get direct sign-ups to your online fitness course, as well as building a relationship with local gym owners.
Optimal Spine Health and Fitness Workshop 12/14 Learn how to train your core muscles in safe and effective ways to protect your spine and improve your back health. https://t.co/cDM9ccHR33 pic.twitter.com/3Y5Me77QZ0

— SleepingTigerPT (@sleepingtigerpt) December 6, 2019
Your workshop can be a seminar or a workout session. The goal of your workshop is to inform and give them a summary of workout tips and techniques that customers can use to reach their fitness goals.
Once you've grabbed the attention of your attendance, you can upsell or promote your online fitness training program. Be sure to add a bonus gift or discount to seal the deal. Once people know that a free incentive is waiting for them, they're most likely going to take action.
8. Offer Freebies or Gated Content
Earlier, we spoke about how giving potential customers a bonus or discount can be an incentive for them to visit your website and sign up for your fitness program.
You can do the same by sharing freebies or gated content. Let me explain:
Freebies are not always discounts; they can be free information that can be beneficial to a customer. Giving them just enough information to prove that you're a credible source but insufficient enough that they'll want more, even willing to pay for it.

Gated content is content hidden behind a virtual gate that can only be accessed once the viewer has provided particular information or data (for example, an email or phone number). Some people might be deterred, while others might sign up. This allows you to weed out the good leads from the bad ones.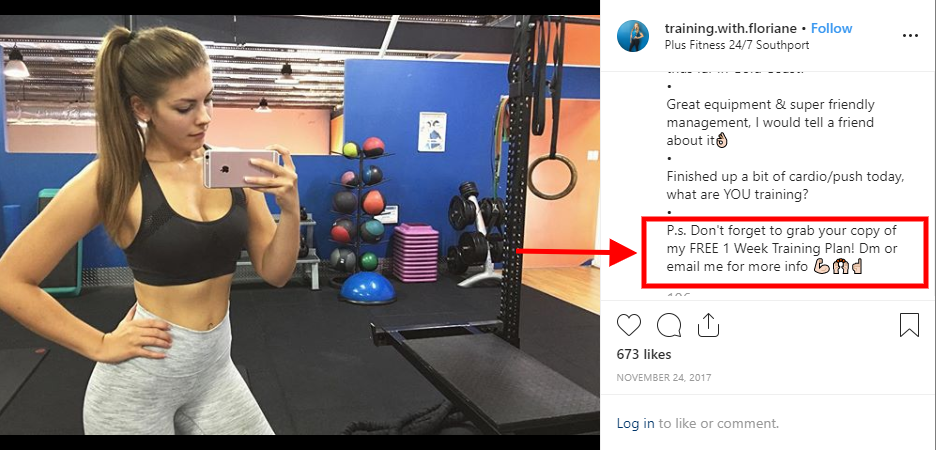 You can offer freebies as gated content to collect emails that you can use to remarket or introduce your online fitness training course.
You can offer gated content to drive customers to your fitness course like:
Free meal plan
Free workout plan
Free muscle to mass fitness chart
Best work out gear and athleisure wear
Beginners guide to X (example: yoga, muscle gain, etc)
30-Day Challenge
9. Host a Fitness Webinar
If you find that a workshop might be too much of a hassle to find the right location or you're on a budget, why not host a fitness webinar.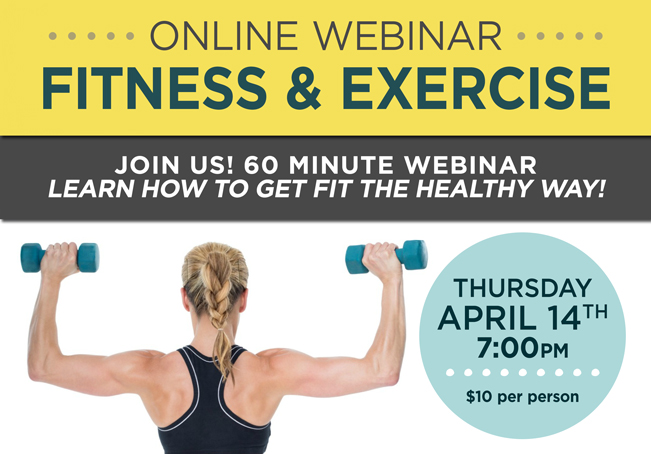 Plus, webinars are also one of the best ways to grow your email list. Since 72% of online users are willing to give contact information for a webinar, you can anticipate your email list to grow before and after your webinar.
If you're strapped for time,try pre-recording your webinar instead This gives you enough time to upload and play your webinar without being present. You can also send the recording as a follow-up email for those who failed to attend. This gives you a second chance at recapturing absent attendants as potential customers.
Check out Neil Patel's Guide to Running Successful Lead Generation Webinars
10. Use Influencer Marketing to Sell Your Program
Even if you're an influencer, you can still use influencer marketing to promote your online fitness course. Reach out to micro or macro-influencers and ask them to showcase a few moves from your work out.
My Protein UK is constantly using influencers to boost sales by offering discounts and giveaways. Check out their latest influencer Johansen Dennis.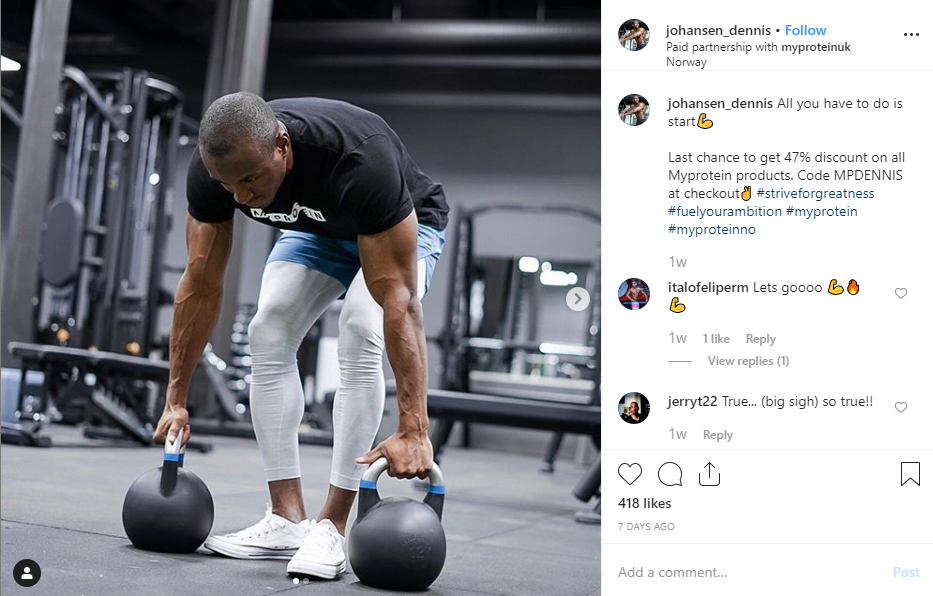 Influencer marketing is a multi-billion dollar industry and one of the most coverted occupation. Most influencers aren't willing to work for free unless you've already established a close relationship with them. You'll need to offer some incentive, like free access to your course, free branded work out gear, or even payment.
Start by making a list of influencers who fit your fitness niche, branding, substantial engagement, and followers. Once you finished listing out potential candidates, you can start doing influencer outreach.
Here's a detailed guide on how to write the perfect influencer outreach email template.
11. Use Testimonial Content to Drive Sales
Nearly 95% of shoppers read online reviews before making a purchase. Use customer testimonials to promote your online fitness training program.
The truth is you can spend endless hours talking about how great your workout programs and training can be, but they're your products, customers expect you to be biased. But when they hear or read reviews from your customers, it comes from an unbias, unfiltered, and relatable source — someone just like them. That must be why 97% of shoppers say that reviews influence their buying decisions.
Another Five star review for Credit Fitness Inc. Thank you Gregory for the great 5 star customer review!

"If there was one word to summarize my experience it would be,Family.After speaking with almetra in regards to my... https://t.co/29QLg4snlw

— Credit FiTness Inc (@tgtalkscredit) March 16, 2019
If you don't have customer reviews, ask your current or past clients for them. Even if you haven't launched your online fitness training program, you can use the reviews from clients you've helped offline to build your credibility as a fitness trainer.
Once you've got a minimum of five customer reviews, you can start highlighting them on your website. Ask for permission from your clients to post their transformation on social media or in your videos and webinars.
12. Run a Contest or Giveaway
At Wishpond, we know all too well the power of a well-planned giveaway. Once you have an entry method formula, simply wash, rinse, and repeat the same techniques over again.
Giveaways are particularly good for increasing social media followers and growing your email list — both of which you can use to promote your online fitness training program to your giveaway contestants.
You can choose to have an online giveaway with a landing page or host your giveaway purely on social media. Ready to start your giveaway?
Wishpond offers Contests & promotions features that make it easy to get the most out of your contest and giveaways.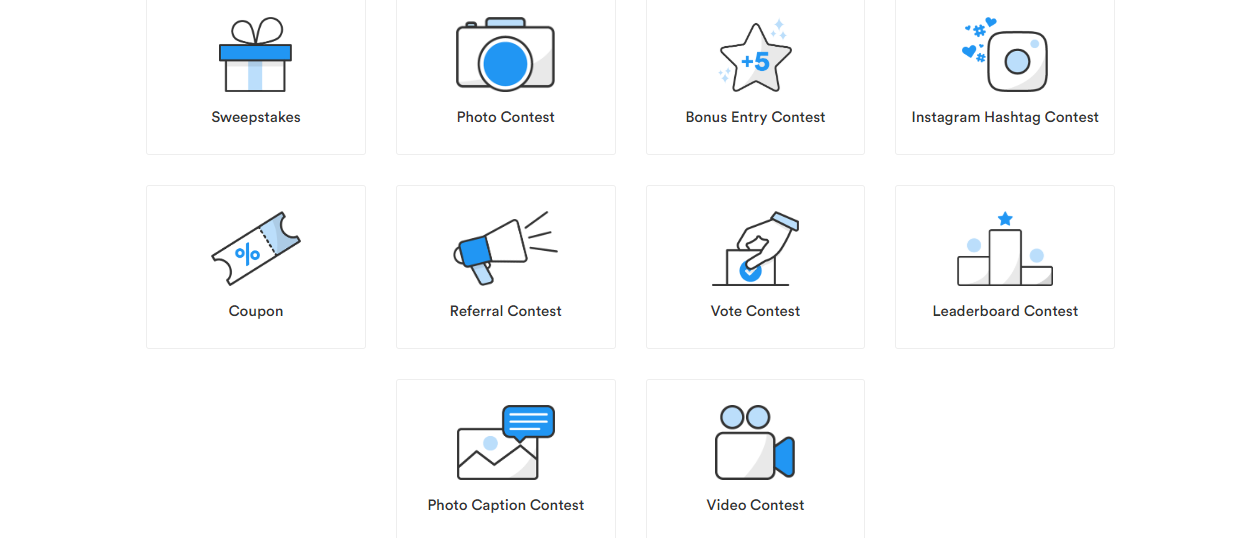 Bonus: Create an App
This tip is a bit more complex, but it's worth it in the long run. You can create a fitness app for your brand with free features and upsell your online training as a paid premium feature.
You can take the app a step further to incorporate other trainers to provide more fitness options. This is a similar business model to the fitness app SWEAT. Fitness influencer Kayla itsines offers her training programs on SWEAT with other well-known influencers.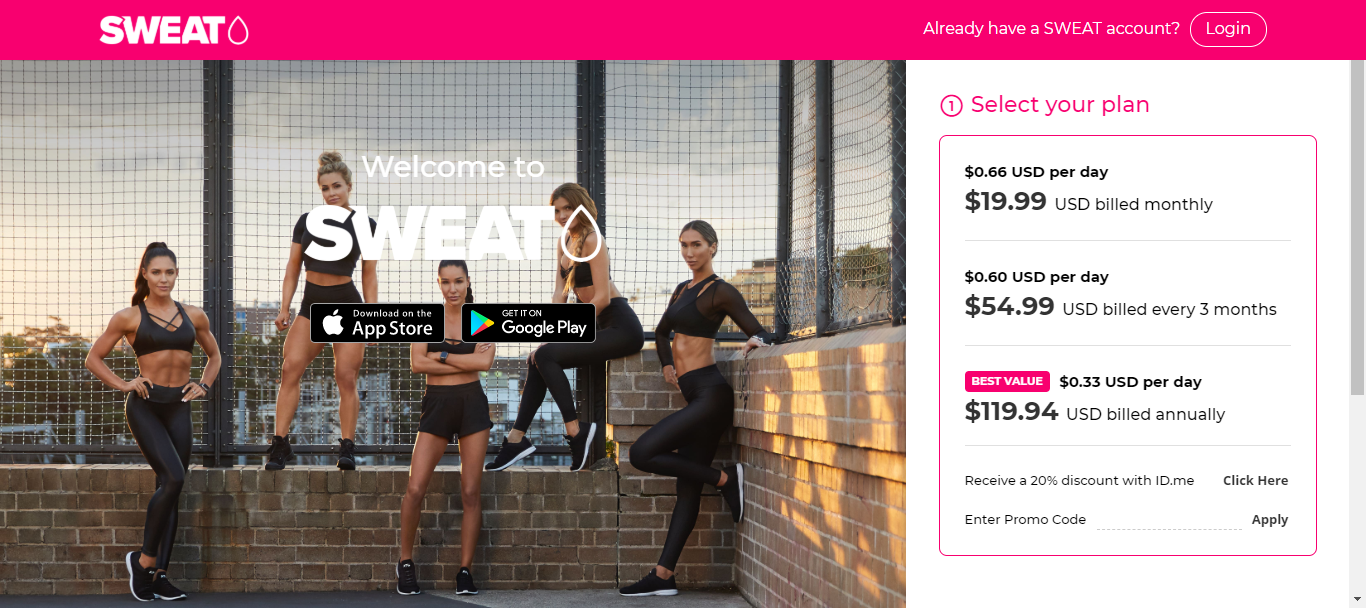 Summary
Selling an online course doesn't have to be an uphill battle. With the proper marketing tools and strategy, you can start to increase purchases and your online presence as a credible fitness influencer and entrepreneur.
Here's a quick summary of these 12 bold ways you can sell your online fitness training :
Create a Website and Blog
Add Your Online Fitness Course to an Affiliate Program
Partner with Fitness Brand for Copromotion
Use Email Marketing to Boost Sales
Social Media Marketing
Sign Up for Online Class Platforms
Create a Fitness Workshop
Offer Freebies or Gated Content
Host a Fitness Webinar
Use Influencer Marketing to Sell Your Program
Use Testimonial Content to Drive Sales
Run a Fitness Contest or Giveaway