Six Examples of Inspirational Retargeting Campaigns to Learn From
Learning how many visitors to your site leave without converting can be discouraging, can't it? But don't worry, it isn't the end of the world. Experienced marketers have faced this problem countless times.
It's well-known that a visitor is far more likely to convert upon revisiting your store than when they first visit it. In fact, according to retargeting stats, it takes an average of six visits to get a lead to become a fully fledged customer.
This stat alone does so much to validate the importance of retargeting campaigns. If handled skillfully, such a campaign can reel back an amazing number of leads.
It isn't the hardest thing in the world, but doing retargeting properly does need knowhow. If you're thinking of doing it yourself, our advice is to learn from the pros.
Below you will read about instances of companies making the best of retargeting in clever ways. From every example, you'll learn something unique to apply to your own campaigns.
So let's dive right into it!
Tableau
This interactive data visualization software company has a pretty persistent retargeting method. Visit its website once, and its ads will be following you till the end of time!
These ads aren't annoying, though. The company makes sure to make them succinct but to invoke intrigue in the viewer. Here's an example:

As you can see, it's pretty straightforward. Not only that, but it also entices you to click and learn more about what the text hints at.
However, this isn't the only ad of this kind that Tableau sends. It has several somewhat similar instances, all different in color and the "hook" text. It's a little unusual for B2B campaigns, but the company did it for a good reason.
Here's an instance of such a mildly different ad:

The brilliance here is twofold. Firstly, by crafting more than one ad, you can convey the message about your product in more than one way. If one of them proves to be ineffective, other ads might "say" just the right words to get the lead to a click.
Secondly, this idea helps fight ad fatigue. Hurling the same ad at someone's time and time again inevitably grows annoying, and people stop paying attention. But a few diverse designs keep your advertising fresh, catching the eye but remaining distinctive enough for viewers to associate it with your brand.
In essence, by diversifying its ads, Tableau managed to squeeze out more conversions.
FatFace
You probably know that the conversion process is a delicate one. There's a lot of hesitation on the leads' part, and you have to be very careful to reel them in for the purchase.
One of the biggest questions stopping leads is whether they can trust that what they get from you is of good quality. Sure, you can write endless praises about your product, but that won't convince everyone.
A clothing and accessories retailer called FatFace certainly understands this. Instead of rushing leads to the end of the funnel, its retargeting ads include user reviews.
Here's what we're talking about: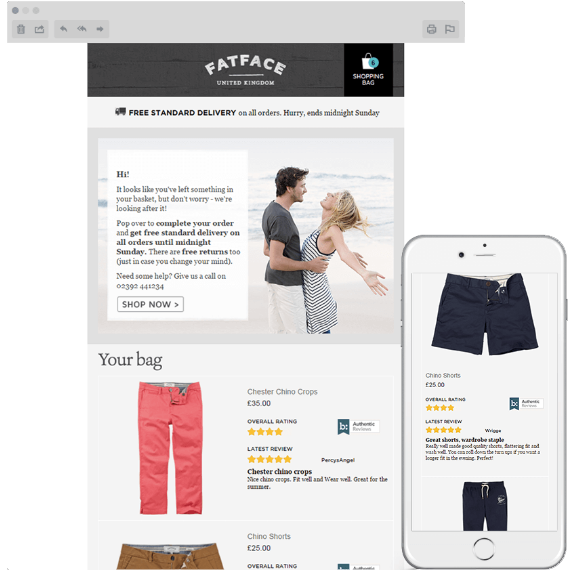 As we've already stated, people won't simply take your word for it when you tell them that your product is excellent. Reviews, on the other hand, are a great way to convince leads that you aren't lying. Positive reviews make people 91% more likely to use the services of a business, after all, so displaying them in your ad will bolster the idea that your services are genuinely worthwhile.
By including user reviews, the lead can see how good FatFace's products are, effectively removing any doubts she may have. And once she's convinced, there's little stopping her from making the purchase.
Vidyard
Do you need to use retargeting only for selling? To be sure, that's the overall goal of the idea, but you don't really need to make it as plainly obvious as that. Why not create something that's more informative than an outright prompt to buy?
You can look to Vidyard for an example of such thinking. Looking at the ad below, you'll see that it isn't just an effort to drag you into the click-through machine.
Take a look at this example: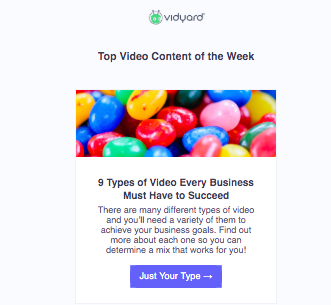 It promises real value for those who click, but it doesn't insist that you buy something. Instead, it rests on the quality of the promoted content to drive conversions. Some of those who view your posted content will take a shine to it. That, in turn, might persuade them to turn to your business, resulting in conversions.
This tactic becomes doubly useful when we go back to that statistic we brought up earlier (six visits equals conversion). The above ad encourages more interaction with leads, which will result in more visits to your website. And that gets people closer to the coveted six-visit average.
WatchFinder
Everyone loves a great success story. And the story of how WatchFinder blew up its ROI just goes to show that the power of a perfect retargeting campaign should never be underestimated.
Around six years ago, WatchFinder saw that it had less than desirable results on its online stores - not even 1% of first-time visitors ever made a purchase. Troubled by the underperformance, the company got to work and brewed up the optimal medicine for what ailed it - a retargeting campaign.
The smartest thing it did was devote time and energy to making highly detailed, well-defined lists of visitors who never bought anything. From there, it knew exactly where to send its ads.
Seeing that it sells high-end products that cost thousands of pounds, the leads usually took a lot of time to decide whether to buy or pass. A vital part of WatchFinder's strategy was keeping up a conversation with the leads teetering on the cusp of conversion. Otherwise, it could risk the lead getting cold, so to speak.
Here's what WatchFinder's ad looked like:

The WatchFinder case really demonstrates just how important preparation is. Its marketing team really did homework and made its retargeting efforts amazingly potent. The fact that it spiked ROI by a whopping 1,300% surely attests to that.
Booking.com
If you're looking for an example of a masterfully crafted retargeting ad, then you needn't look further than Booking.com. It manages to pack in so much content without being too cluttered that it's amazing.
Just have a look at the below ad:


All of these parts of the ad serve a specific purpose. The CTA and the FOMO bit compel the viewer to act immediately, whereas the guarantee alleviates any fear of coming up short. Meanwhile, the discount provides a tempting incentive for the reader.
But the ultimate goal of each part of this ad is to draw in the lead with one-of-a-kind offers. And in that sense, it works marvelously well.
It's dense with clever tactics, but there's even more to this ad, and this is the most important part. The room being displayed isn't always the same. Rather, it changes to whatever you were browsing when you were on Booking.com's site. In other words, it uses dynamic ads to show the lead something similar to what she browsed on your site.
And that's what makes this retargeting ad so special. It's personalized with great precision, which appeals to the prospects that see it. Try following Booking.com's example and personalize the ad to the individual.
Around 79% of consumers say that they will only consider engaging with an offer if it's been personalized to reflect their previous experience with the brand, so it's a powerful tool indeed.
Best Buy
Sure, a lead that doesn't convert hurts, but those who leave with full carts hurt on a whole other level. A good way to avoid this kind of abandonment is to, you guessed it, send retargeting ads.
You can take a page out of Best Buy's book when it comes to reminding prospects about abandoned carts. Here's what it sends: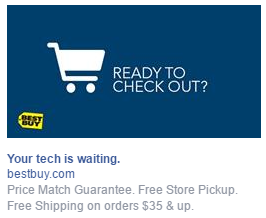 As you can see, the ad is pretty straightforward - there's a blue background with a white cart and writing. You could say that it's a bit generic, but it doesn't really need to be elaborate at this point. After all, it's just a reminder, not an attention-grabber.
So, the point here is to leverage retargeting tactics for prospects who abandon their carts. Just send them a little reminder that they still have goods waiting for them. As for how often you should retarget a single person, an average of 17 to 20 times per month is a safe bet.
What to Take Away From These Examples?
There's a little something for you to learn from each example here. So for convenience's sake, let's list off the most important lessons that they teach us.
Here's the gist of every ad you read about above:
1. Tableau: make more than one ad; not only will it fatigue slower, but it can also tell a better story about your brand.
2. FatFace: whenever possible, emphasize the quality of your product with examples rather than just empty praise.
3. Vidyard: not every retargeting ad needs to directly advertise; offer value and let it do the selling.
4. WatchFinder: careful preparation pays off tenfold - know precisely who should receive your ad.
5. Booking.com: make the most of the space your ad occupies; also, go the extra mile to personalize the ad.
6. Best Buy: cart abandonment doesn't need to be permanent - remind leads that they have some goods waiting for them, and they'll often come back to collect.
Take notes of what these companies did, and it will help you make your retargeting ads much more effective. If it worked for them, there's little doubt that it will also work for you!
About the Author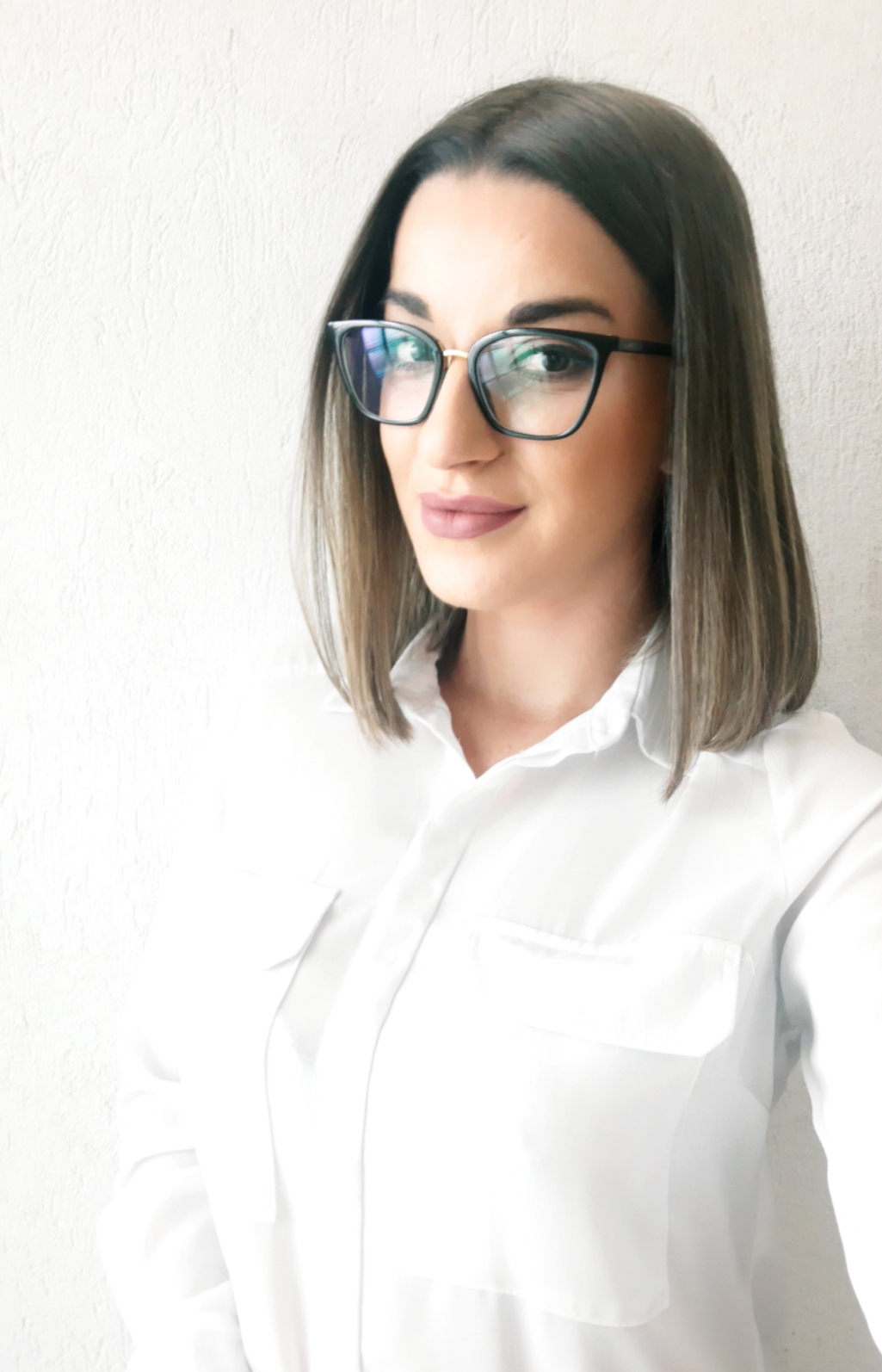 Andriana Moskovska is a content curator and contributor at Digitalmarketingjobs.io. With a passion for tech and marketing and a degree in English Language and Literature, she always manages to deliver well-researched and impeccably written content. When she's not writing her next piece, you can find her immersed in some of the classics, or planning her next trip.