5 Effortless Tips to Get on the First Page of Google
If you want to learn how to get on the first page of Google, you do need to invest a lot of time. The main obstacle is that the first page is almost always crowded by giants unless you're searching for local results. But how did they reach the first page?
Most of the giants on the first page of Google have existed for a very long time. For example, if you search "hosting" on Google, you'll see HostGator and a few other long-existing companies. But HostGator has been online since 2002, just 4 years after Google was founded.
That means they've caught the start of a trend, and you can't really compete with that. But there are other ways to reach the first page of Google. It's very likely that you shouldn't use one-word keywords though.
This article will tell you how to get on the first page of Google. But first, let's get your website indexed by Google. This process is necessary to get your website to appear in Google search results.
How to get Google to index your website?
Once your website is online, Google will automatically try to index your site. The problem comes when Google doesn't index it for a while, that's when you know something is blocking their crawler.
Firstly, be sure to register your website with the Google Search Console. It will help you see how your website performs on Google and will notify you of any issues that prevent it from appearing in search results.
The most common thing is the robots.txt file. You need to have this file in order for GoogleBot to determine where it's allowed to access and where it isn't. Here's a snippet that you can copy for basically any WordPress site.
Rule 1
User-agent: Googlebot
Disallow: /wp-admin
Rule 2
User-agent: *
Allow: /
This will not allow the GoogleBot to access your admin panel, because that doesn't need to get indexed.
Also, you need a sitemap that you submit to Google. This would help the GoogleBot navigate your website until all the pages are indexed properly.
If you're using WordPress there are plugins that will generate a sitemap for you. But if it's a static website, there are services like XML Sitemaps that will generate one for you.
1. Have a Blazing-Fast Website
Google adores blazing-fast websites. This is because fast websites provide a better user experience for the people that use Google search.
Also, a blazing-fast website will decrease your bounce rate and by decreasing your bounce rate, your SEO scores will increase.

One of Google's main ranking factors is website speed. This is more important for mobile devices, as they're sometimes limited by processing power and internet speed.
But even if it isn't, you should still have a blazing-fast website. The bounce chance increases drastically with every second the website takes to load.
The higher your bounce rate is, the worse it is for SEO.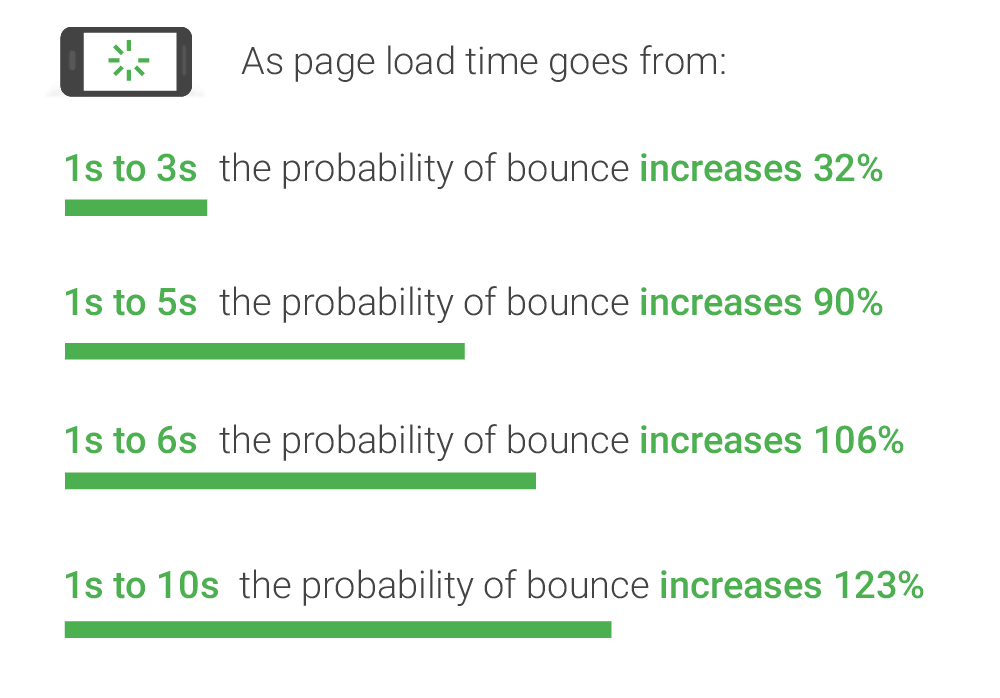 The first thing you need to consider is your hosting. Hosting your website with an amazing hosting provider that's fast and stable will play a huge role in your SEO scores.
Fast hosting is the first measure you need to take in order to have a blazing fast website. If you're using a website builder, you must choose a reliable partner because it also plays an important role in your business.
But it's not just the hosting. If you're using a WordPress theme, I've found that it's good to test the demo websites in Google's PageSpeed test. That way, you'll be sure you're getting an optimized theme.
When learning how to get on the first page of Google, it's important to know that having a slow website means you'll never reach the first page. But having a fast website just means you have a chance of being on the first page.
Also, speed is closely related to multimedia content.
How? you may ask. Well, if you use high-resolution images (or videos) in your website it will consume a lot of bandwidth from the hosting service and the page will load slowly.
You can test your website loading speed with Google PageSpeed Insights.
If you have plugins on your pages, be sure to have them up to date along with the content management system you use.
2. Create a Keyword Strategy
Learning how to get on the first page of Google starts with a keyword strategy.
A keyword strategy is basically a list of keywords you're gonna be targeting through your blog posts, ads or something else.
Find the best keywords
By using a keyword research tool, you can pinpoint which keywords can yield the best results. There are many of these tools available: Google Trends, SemRush, WordTracker, and more.
Essentially, what you want to do is find keywords that have a nice volume of searches, but aren't too competitive.
For example, let's say you're trying to get people to buy domain names from you. Here's what would be a good volume to competition ratio.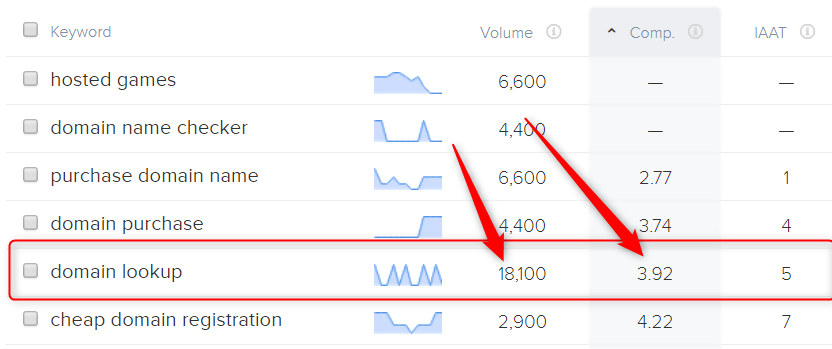 Once you find optimal keywords for your website, start adding them everywhere on your website. That includes pages, posts, products (if you have them) and basically everything else that appears as a different page on your website.
As long as it's natural and not overly forced, it will greatly improve your SEO ratings and help you rank higher on Google.
Target Long-Tail Keywords
Along with your keyword strategy, implement this to get on the first page faster. Long-tail keywords are made of 3-4 words and target very specific searches.
These are especially handy for ranking high locally. For example, let's say you do digital marketing.
The most competitive keyword is most likely "digital marketing", but if you add a city to that, it is much more specific. "Portland digital marketing" will be much less competitive.
You can add another word to it to make it even more specific "Portland digital marketing agency. Will that bring in more customers?
Yes, of course. If you only target "digital marketing", you will most likely never reach the first page of Google. It's a much more competitive search term.
You might think – But aren't there much fewer people searching for long-tail keywords?
Yes, that's true. But a more specific keyword increases the chance of a user clicking on the link. That's because when people use long keywords, it means they're looking for something specific.
3. Write Superb Content
Content is the most important part of a website and as much as it is SEO optimized, if it is not relevant for the users when they search, it will never appear in the top positions.
You need to write engaging content. Make use of real-life examples, comparisons and use a simple language.
Check your grammar and use tools (like Grammarly for example), to help you with that.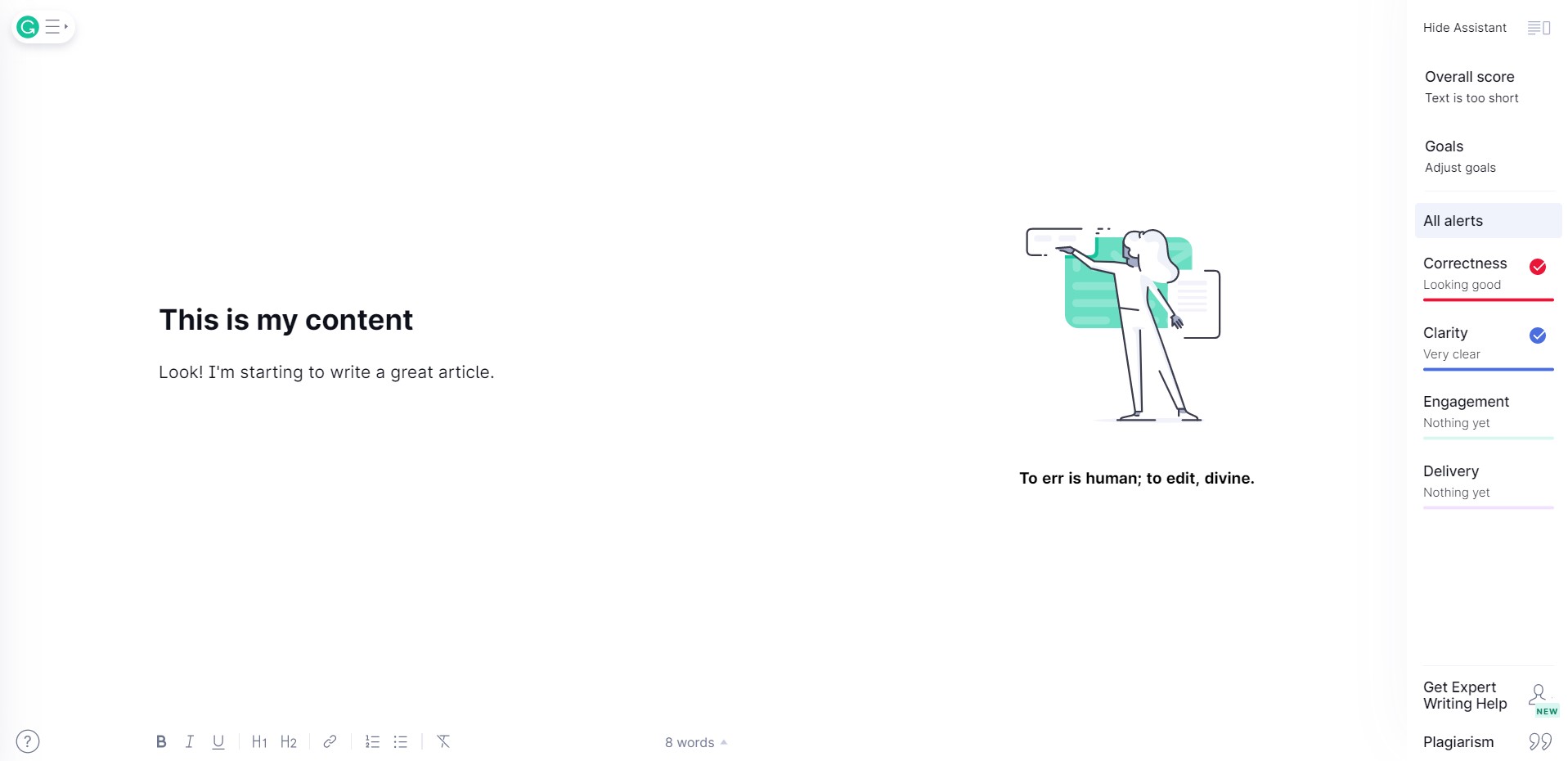 Write around a specific topic and don't overuse keywords. Structure your content in a way Google will understand it too, for example, use
tags to separate the important parts, and nest with tags for subtitles.
Avoid copy-pasting at all costs!. Google penalizes duplicate content (with, or without intent), so make sure that your content is original and unique.
You can quote small parts of other articles but be sure to refer to it with a no-follow link or mention the source.
Also, make sure to allow your visitors to share the content in their social networks, in that way it can even become viral and help you get many more visitors.
4. Optimize, Optimize, Optimize!
It's all about optimizing your website for the best SEO possible.
You might think that this tip doesn't help you learn how to get on the first page of Google, but it's crucial to your success. Let's see some tips on website optimization for SEO.
Structure Your Website
If the structure of a website is too deep Google will find it more difficult to reach and index all pages. This is because the Google crawler bot has a limited time to track the website.
So it is recommended that the structure isn't more than 3 levels deep.
Also, John Mueller, from Google, told in a hangout that pyramid structured websites work if the content is related to each other and links are relevant.
If your content appears only in the sitemap and you cannot reach it from page to page then it is useless and Google will not index it.
Focus on Your Users
Remember that the website is not entirely about you or your business, it is also about the experience you offer to your visitors (users).
Google works hard on trying to understand the content of the website to offer intelligent responses to search queries.
So, visitors need to have access to quality content in an effective way. For example, write about what your visitors should expect using simple language and clear explanations.
Don't fill the website with links, avoid heavily populated menus and use short paragraphs.
Google tries to think like a visitor when indexing pages, so make your website focusing on them.
5. Create backlinks to your website
Links are the backbone of the internet. Hyperlinks (that's the full name) allows websites to bond to each other.
This way visitors can reach content from one website and keep reading in another one if the link is relevant to them.
Hyperlinks from a website (the referer) to another website (the referral) is called a backlink. When a resource (website or webpage) gets backlinked by a lot of other websites, the authority of the owner of the resource rises and it is highly possible that Google will rank this content higher on their search engine.
The most popular way to do backlinking is to do guest blogging. It's a process where you post on another blog, usually in the same industry, and add a link to your website in that blog post.
Google counts the number of pages that link back to your page, and that's why guest blogging has become so popular lately.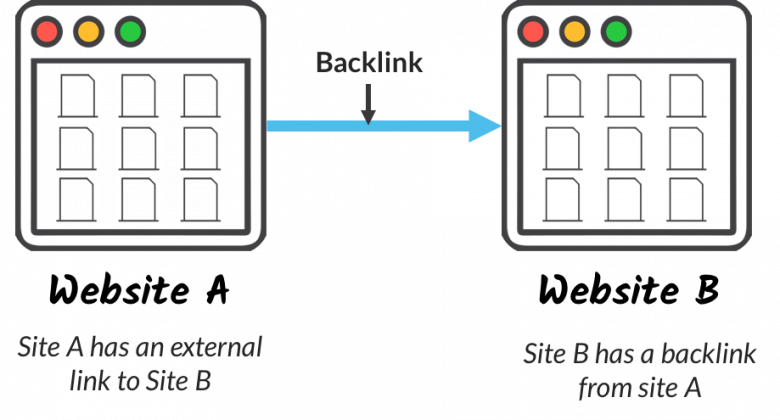 You should monitor the backlinks and make sure all of them are linked from reputable websites. Google has webmaster tools that will allow you to monitor a lot of things about the SEO on your website.
Bad inbound traffic can damage your search engine reputation, but webmaster tools will let you monitor and prevent this.
Always remember to keep your backlinks on check, Google offers ways to clean a bad backlink profile.
Ultimately, Google's WebMaster tools will show you how to rank higher on Google.
Ranking High Requires Time and Skill
An amazing SEO strategy can get you ranked high on Google in no time. Of course, if you're using very competitive keywords it'll be a long time before you're on the first page.
Industry leaders have been publishing content for dozens of years before you. That means that it's nearly impossible to compete with them.
That's why it's much better to target long-tail keywords that are a bit more specific to your business.
Be sure to utilize every tool that can show you how to rank higher on Google. Google's WebMaster tools are the first that come to mind.
Additionally, you can pay for keyword traffic to your website and it might help in increasing your SEO ranking. But in most cases, this will not result in huge traffic.
Most of the time, the organic traffic that's coming through keywords is much bigger than PPC traffic.
About the Author

Vivian is fond of writing and has been involved in the content marketing industry since 2011. She specializes in web hosting & website builder niches.