How to Maximize Your Influencer Marketing ROI Using Instagram Checkout
Over the years, Instagram has tried to make it easier for brands to track direct sales. It has also simplified shopping experiences for consumers. The Instagram Checkout channel unlocks another way for brands to leverage influencer marketing.
Before its rollout, Facebook conducted a study on Instagram's ability to boost sales. According to this study, 87% of consumers surveyed took action after seeing a product they like on Instagram.
They either visited the brand's website, followed the brand, or conducted more research. 46% of them bought the products either offline or online after seeing them on Instagram.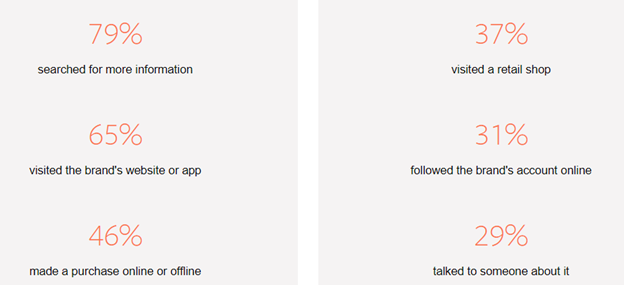 The ability to buy without navigating to the website will motivate consumers to buy more often. However, before delving further, let's try to understand the Instagram Checkout channel.
What is the Instagram Checkout Channel?
Checkout on Instagram is a secure and effortless channel for consumers to buy products that they discover on this platform. It allows shoppers to buy what's right in front of them.
It can enhance their shopping experiences by simplifying the entire buying process. Consumers can conveniently shop from their favorite brands without having to navigate to their websites.
When they tap to view the product from the brand's account, they get a "Checkout on Instagram" button. By clicking on it, they can choose from a diverse range of options such as color and size. These options depend on the product they want to buy.
Once they choose their preferred color and size, they can proceed to purchase the product without leaving Instagram.
Consumers will have to provide information such as their name, email, billing information, and shipping address. On completing the first order, Instagram securely saves this information.
The consumer receives regular updates on shipment and delivery directly on their Instagram account. This way, they can track the delivery progress of the products they bought on Instagram.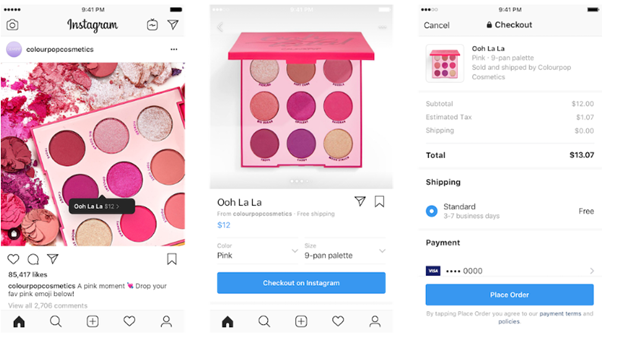 How to Use Instagram's Checkout Channel to Boost Your Influencer Marketing ROI
How often does a consumer leave Instagram, navigate to your site, fill in their details, and buy your product? Sure, it does happen, but it can be quite a lengthy process for consumers. That's why the probability of such a thing happening is very low.
A shorter and easier buying process can lead to more purchases. Asking your audience to leave Instagram and complete the buying process on your website is a tedious process. Most of them will instead move on to other posts on Instagram.
The Checkout channel on Instagram removes this barrier. Shoppers can directly purchase products they view on the posts by their favorite social media influencers. They don't even need to enter their shopping details again and again. Instagram saves these details for them after their first purchase. This helps to make the entire shopping process short and smooth.
All your influencers need to do is add a "Tap to Shop" tag on their post so that those interested in buying the product can head straight to the Checkout option.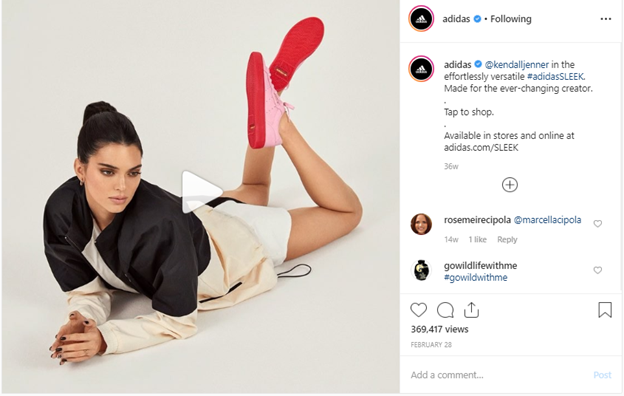 The only downside to this is that Instagram is rolling out the Checkout feature in bits. Only brands from the U.S. and select influencers have access to this feature for now.
Here are a few ways through which you can leverage the Instagram Checkout channel to increase your influencer marketing ROI
1. Use Visual Content
Most consumers spend hours requesting information related to products from influencers on Instagram. They keep asking questions such as "What are you wearing?," "Where did you buy that piece from?," and "What's the price?."
Let's assume that you sell t-shirts. In a typical purchase process, influencers will tag your brand in their posts. Then, the potential buyers will visit your website to find the t-shirt they want to buy. They will probably take a screenshot of the t-shirt they viewed on Instagram, save it, and hunt through your site to find its exact match.
Once they find the t-shirt, they'll complete the checkout process. This tedious marketing funnel drops off many potential buyers on the way.
However, with the Checkout option, now it's possible for consumers to purchase the product right away when they view your influencer's post.
All you need to do is create content that your audience wants to see. You can achieve this by leveraging data and insights from an AI-driven platform like Cortex. Once the consumers see your influencer-created content and like a product featured in that post, they can purchase it right away.
Consumers no longer need to save the post, research, and shop later. They can purchase their favorite products within just a few taps and clicks.
2. Use Analytics to Forecast Demand
Linqia found that over 50% of marketers find it hard to measure their influencer marketing campaign ROI.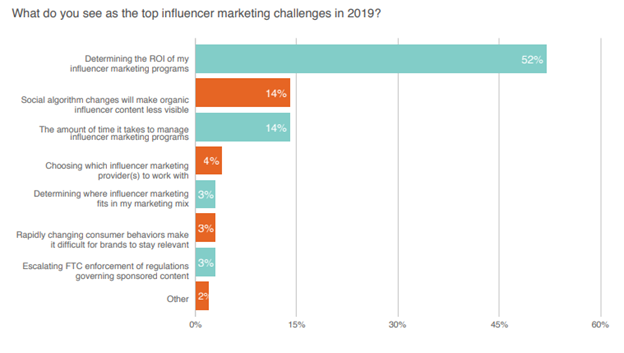 Instagramnow provides both brands and influencers access to analytics on posts. This means that you can get additional insights about the engagement generated and the number of products purchased. You can also track the ROI of your influencer campaigns to determine which type of content and which products brought in more sales.
If a particular product generates more engagement and sales, you can increase its production to ensure quick delivery and enhanced customer satisfaction. The metrics you should track include the number of actual purchases, sell-throughs, and overall consumption.
You can also track which influencers are helping you drive more sales. You can use these insights to evaluate if an influencer is genuine and has engaged followers. To find the best influencers for your brand, you need to consider more metrics than just the number of likes their posts receive.
You should ask influencers to provide detailed analytics that showcases the engagement rates for their sponsored posts and purchase patterns from their previous brand collaborations.
3. Improve Shopping Experiences
Instagram Insights will provide detailed information about customers and their buying behaviors. You can get a holistic view into their:
Demographics
Purchasing frequency
Price sensitivity
Reactions on promotional posts
Products in shopping cart
Frequent locations
Media and content preferences
This data can help you refine your marketing strategy. By understanding your consumers, you can provide personalized content to them to get more conversions.
For example, if your company sells sneakers, you can get insights about when is the best time to post on Instagram for increased engagement. The insights will also tell you which type of content works better for your target audience.
Instagram Insights can also help you offer personalized shopping experiences. And 87% of consumers expect to get consistent and personalized experiences across various shopping channels. If you do this effectively, it can help you achieve higher conversions.
Allowing consumers to shop within a few steps without leaving the app reduces checkout issues. They will not encounter problems related to login failures and credit card information errors, which often lead to a high cart abandonment rate.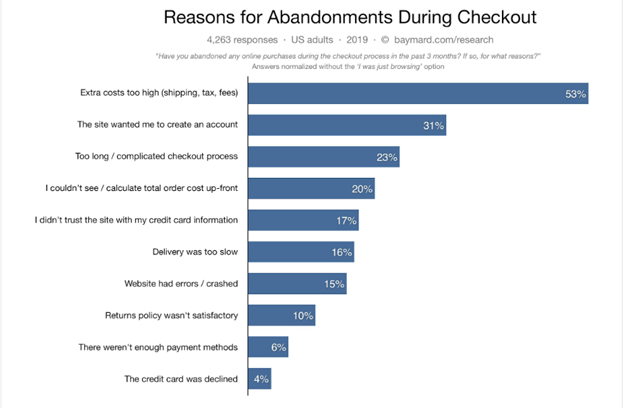 Instagram saves the consumer's credit card information after their first purchase through the app. This means that they don't need to fill in this information again during the checkout process.
It also allows buyers to purchase products without sharing their information with retailers. These factors can increase their willingness to buy.
Final Thoughts
The Instagram Checkout channel is a revolutionary move that can help you generate sales directly from the platform. It provides you access to in-depth analytics through which you can personalize the shopping experiences of your consumers.
Influencer analytics also help you see the engagement rate and the number of purchases their post generated. These insights can help you effectively choose influencers for your future collaborations. Working with the right influencers can help you improve your campaign ROI.
What are your views about Instagram's Checkout channel? Do you think it will prove helpful for brands and influencers? Let us know in the comments.
About the Author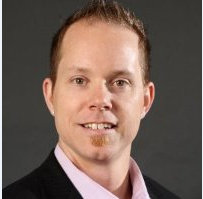 Shane Barker is a digital marketing consultant for 15 years with an emphasis on Influencer Marketing in the last 5 years. He specializes in sales funnels, targeted traffic and website conversions. He has consulted with Fortune 500 companies, Influencers with digital products, and a number of A-List celebrities.
Related Articles