9 Stunning Book Landing Pages Tips to Create Your Own
As an author, launching and promoting your hard work is essential. A landing page is an effective way to boost not only your book's online presence but your own as well.
So how do you create a landing page that not only looks good but converts visitors into buyers and fans, and delivers your new books' sales pitch?
Today I'll be showing you nine stunning book landing pages tips to use to create your own. We'll be looking at real-life examples from authors who have successful landing page designs and features.
---
1. Design Your Landing Page With Your Target Audience in Mind
As an author, you shouldn't forget that your reader is the most important aspect of your success. Likewise, no matter how amazing your landing page is if it's not designed with your target audience in mind.
When you're designing your landing page, it's a visual and online store visitor walkthrough from page to checkout. The visuals, layout, and graphics you use on your landing page set the mood to what you have to offer the reader. If your book is about mystery, then your page should emulate that feeling, likewise, if your book.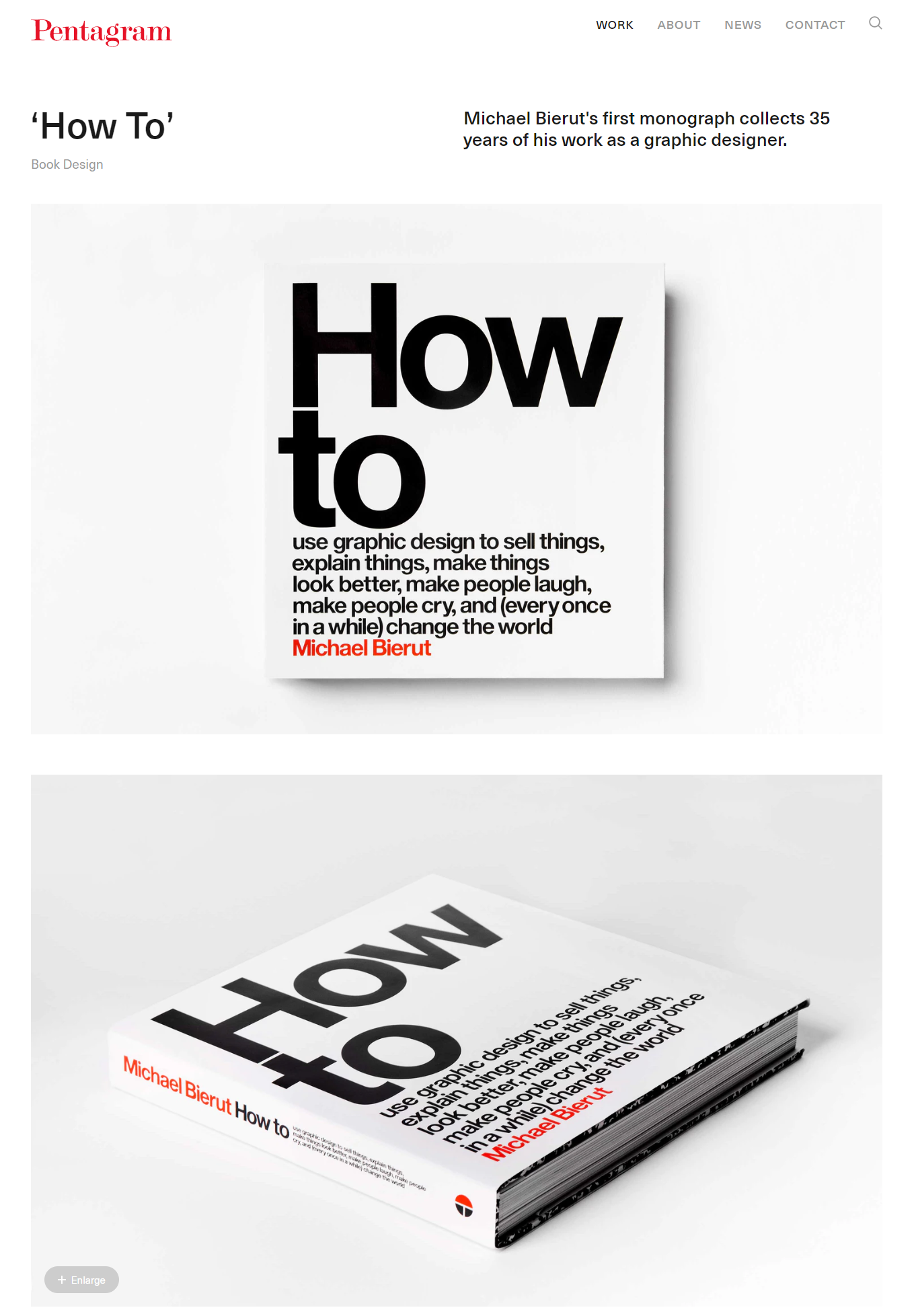 In the book landing page example above, the author, Michael Bierut, is a minimalist graphic designer, his book, and landing page both follow suit. Clean and white spaces with simple black text and limited color. Navigation is effortless and straightforward. This encourages people to stay on the page and discover more about the book or author.
This could also mean using color psychology, where certain moods evoke emotions. For more, check out Help Scouts Guide, "The Psychology of Color in Marketing and Branding."
2. Add an Amazing Book Description to Your Landing Page
Adding a captivating book description on your home landing page gives visitors an instant reason to stay on their page. Think of it as a value proposition or sale pitch, not only endorsing your brand but showing your readers why they need this book in their life.
Despite the nice cover and receiving good reviews, your book description really helps seal the deal with new readers. Book descriptions are like trailers or previews of what's to come. They give readers an idea of why your book stands out amongst others.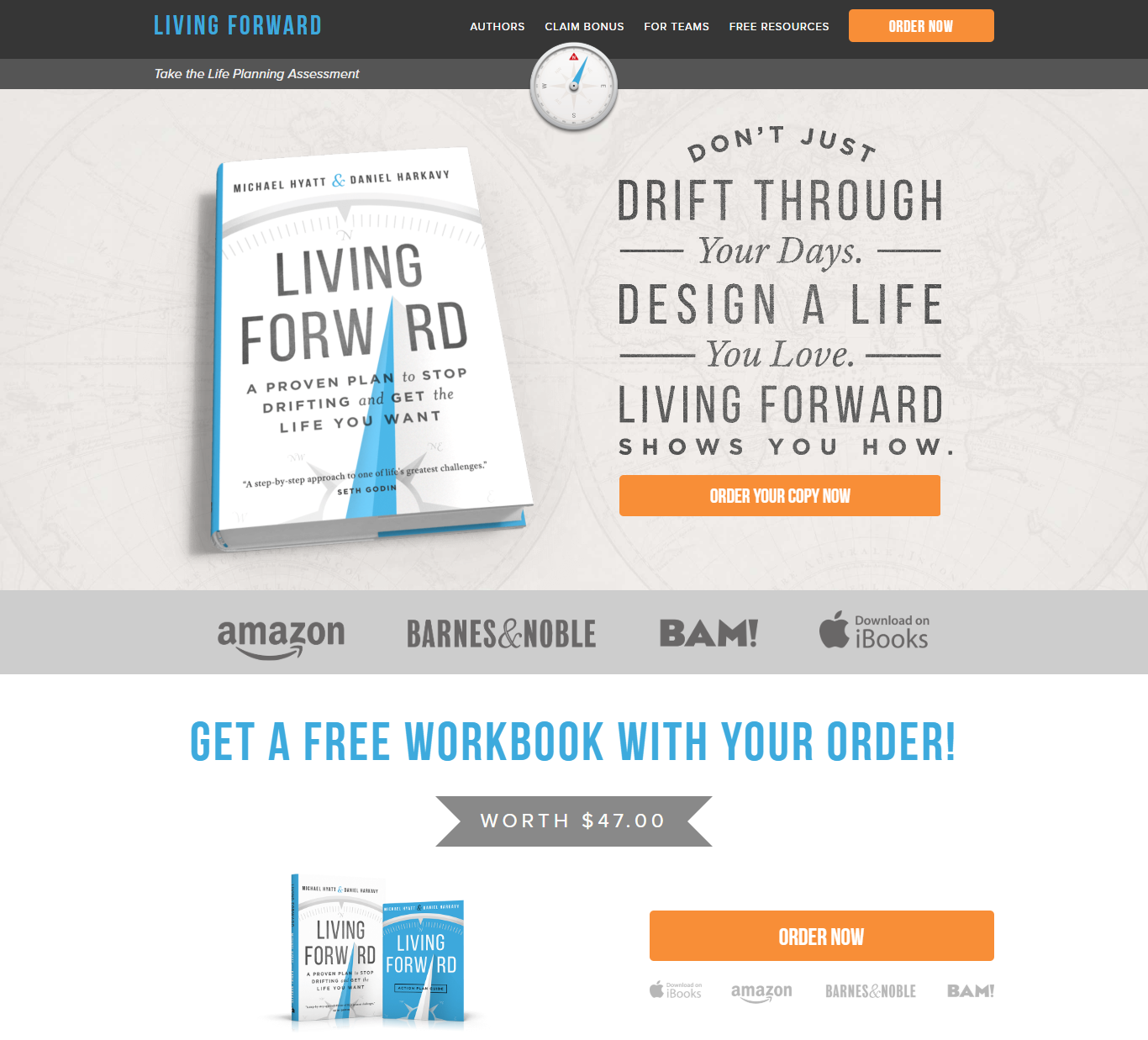 Once again, your book description is your sales pitch. Your book description should be short and concise. It should give the reader enough to describe how your book will solve their pain (boredom, need for adventure, romance, and self-help).
When you're writing a book description to place on your book landing page:
Start the first sentence with a hook to reel in your reader.
Offer hints about the plot, without revealing too much.
Focus on the book's contents, not the author.
Please don't give away the ending.
3. Add FAQs and Customer Reviews to Your Landing Page
Depending on the contents of your book, you might want to add an FAQ page. A Frequently asked question page allows you to ease any uncertainty your readers or buyers might have before making a purchase.
If your book is a self-help book, guide, or instruction manual, then explain how this book works or intends to be used over some time for the reader to get the most out of their purchase.
If you view the example above, this landing page has an exceptional FAQ page, easily accessed by scrolling down or clicking the "How it Works" tab in the navigation bar. It breaks down not only what this book does, but also how it was made, the feedback that shaped the information of this book and where to find the actionable takeaway that the book provides.
Ready to create your book landing page?
Book a free call to learn how Wishpond landing page builder and tools can help you to increase book sales.
4. Give Viewers the Option to Buy Directly or in Bulk
Your landing page isn't just for show; its primary purpose is to sell your book. Add a buy button to your book's landing page and give people the option to buy an individual book or in bulk.
The truth is you never really know who visits your landing page, and it could be a reader, publisher, book store owner, organization, or your next event. Your book landing page should be able to cater to any one of these categories.
Book Landing Page Example: The One Thing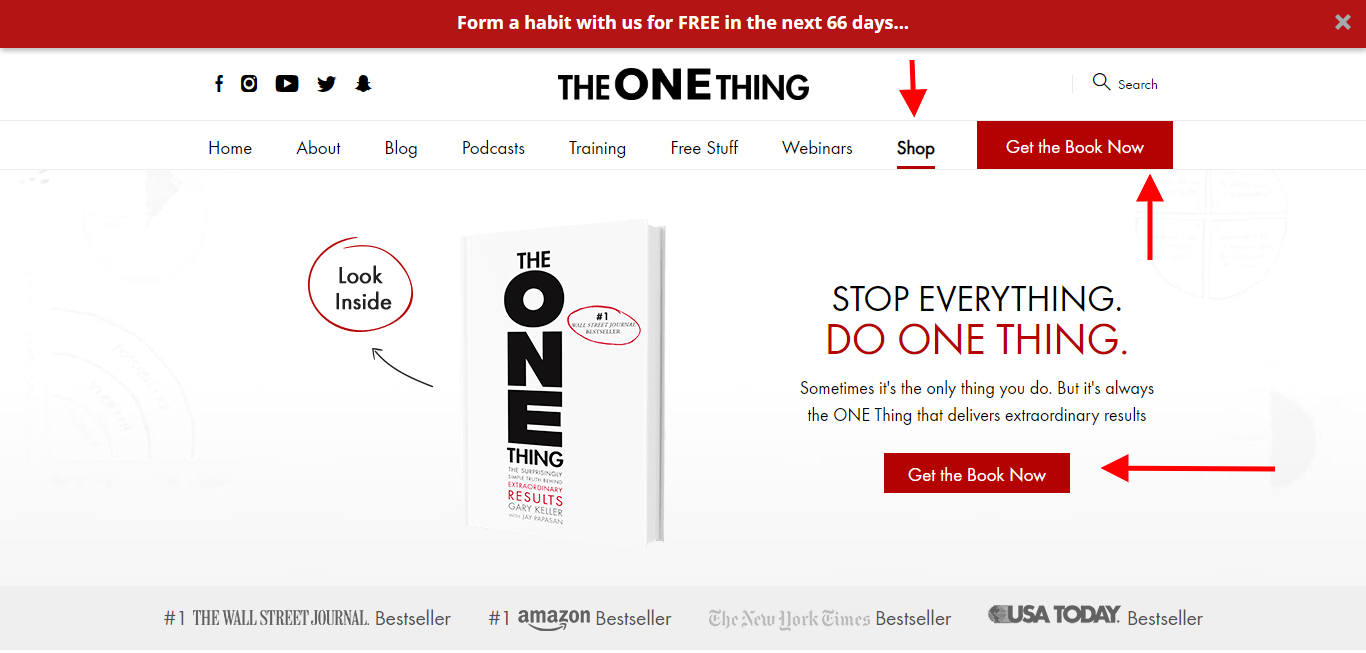 You can sell your books directly from your landing page, or you can add links to online book stores like Amazon instead. The most important thing is that you push the incentive to buy your books.
5. Keep it Simple and Easy to Use.
One of the most unstated features of a great landing page is simplicity. Keeping your landing page clear and concise, while simultaneously providing your customers with all the information they need is a skill worth mastering.
A landing page design should be simple and free of clutter. This allows visitors to focus on the most important elements of your page. It also prevents viewers from being distracted by colorful backgrounds, unnecessary information, and more focused on making a reservation or call from your page.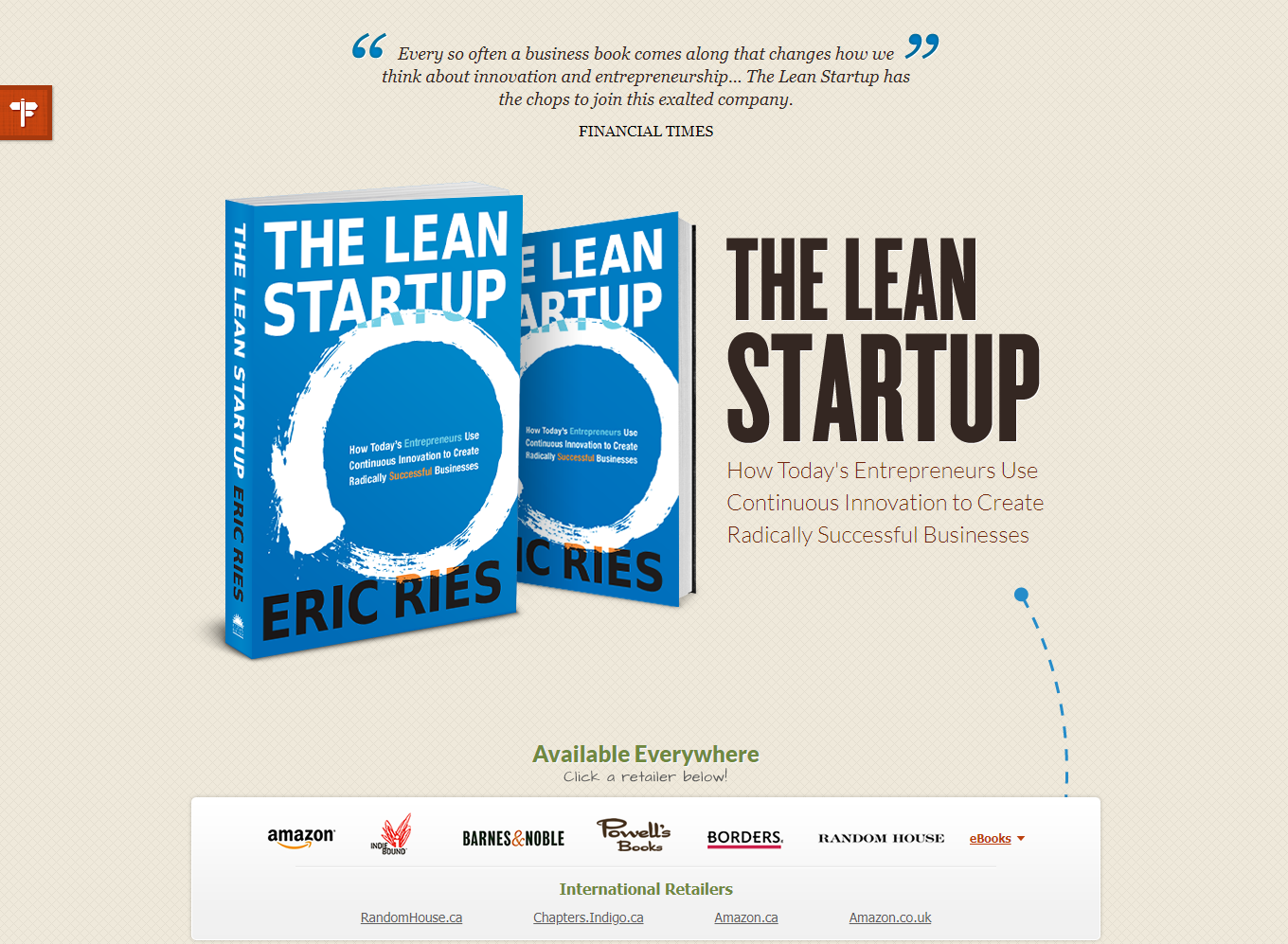 Here are 25 Best Lead Generation Landing Page Designs & Examples you can use to navigate your landing page design.
6. Integrating Your Social Media Profiles & Sharing Tools
Integrate your social media platforms and sharing tools on your book landing page. Emarketer found that 90.4% of Millennials, 77.5% of Generation X, and 48.2% of Baby Boomers are active social media users.
When you add your social media profiles to your book landing page, let readers know that you're active on social media or where to find you. This shows that they can follow your process and learn more about you outside of your book landing page. As well as adding sharing tools to your book landing page also allows your fans to spread the word about your online presence.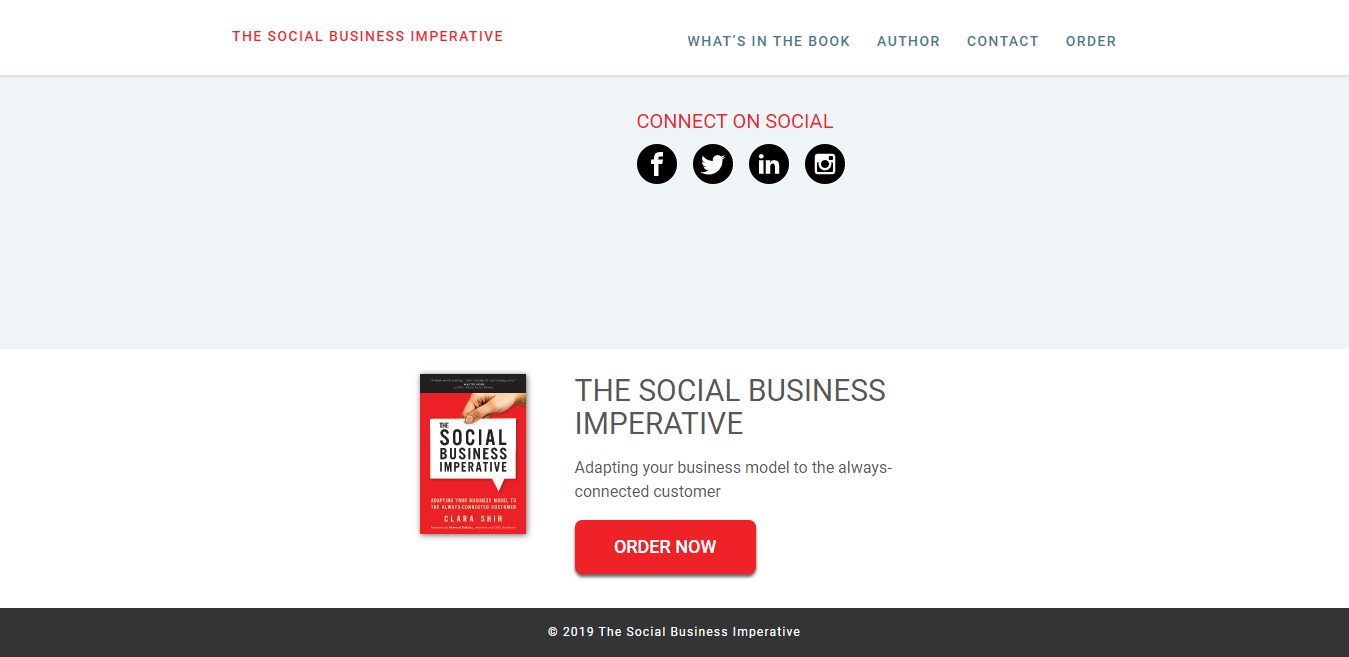 7. Add Professional and Stunning Images to Your Landing Page
A picture is worth a thousand words. It's also worth a thousand sales. Select professional and high-quality images of your book (and yourself) to display proudly on your book landing page.
A new website visitor takes merely 0.05 seconds to form an opinion of a website. Before visitors read the content, their focus and attention will be on your use of colors and the images you use. Humans are naturally visual learners, and we remember pictures far more than text.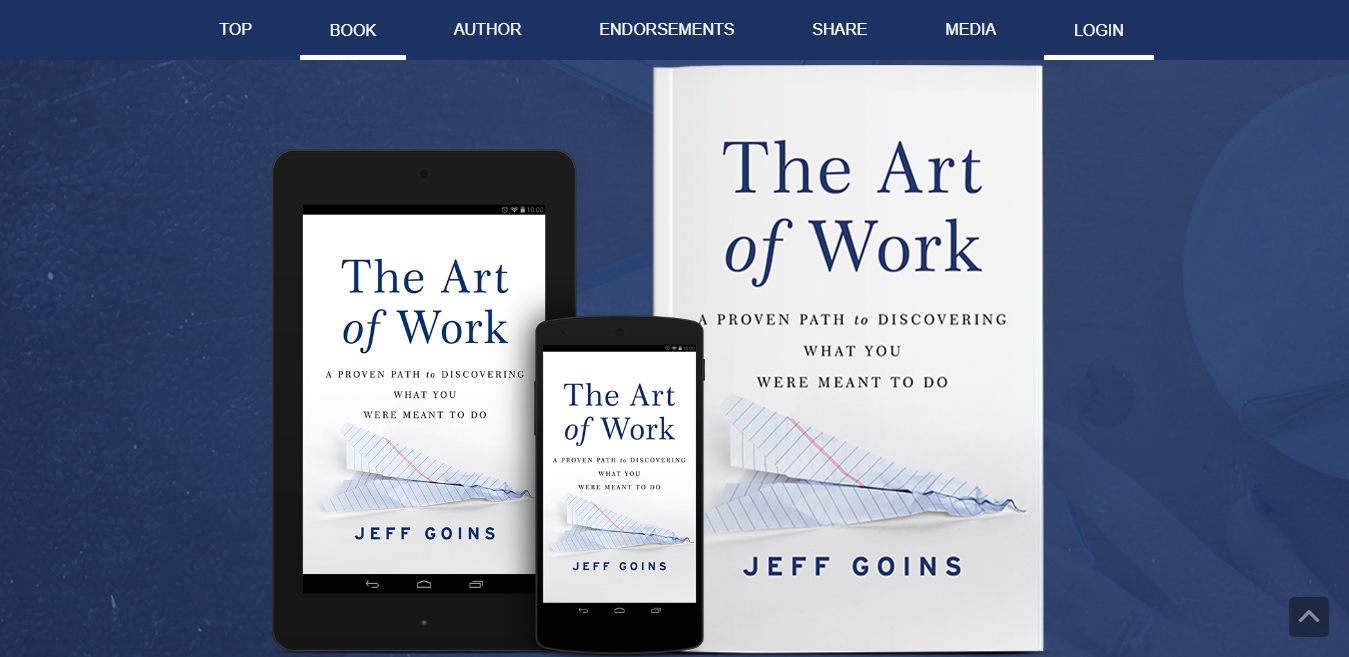 If you're adding images to your site, try to get images from a professional photographer or use tools like Canva. Canva has over 50,000 templates that you can design, adjust, and publish on your website.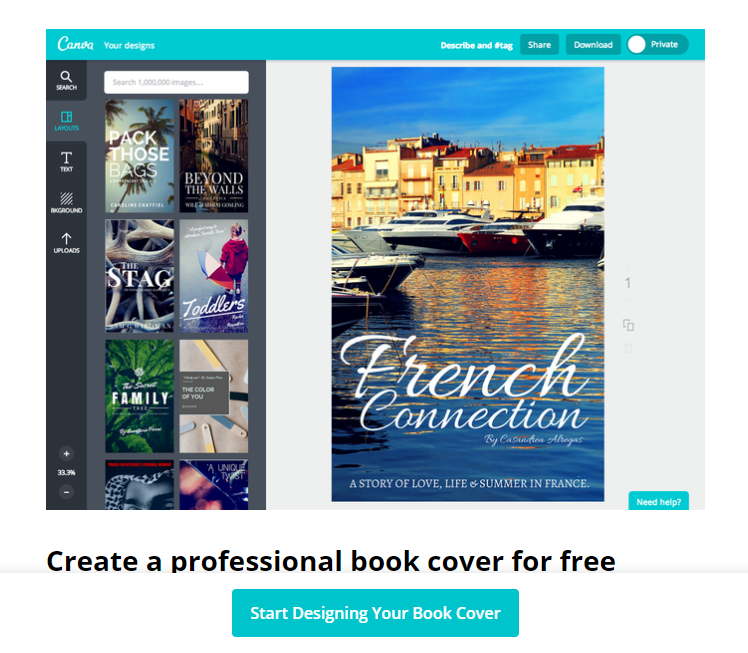 8. Add Your Published Book Collections
Your landing page doesn't have to be for one book. It's the central hub for all your content and published pieces. Create a landing page that houses all of your published book collections. Place your latest book on your home page and your other book on a separate tab, show visitors your other stories and collections to offer as well. Give visitors the option to buy, share, or leave reviews to build your book landing page's popularity.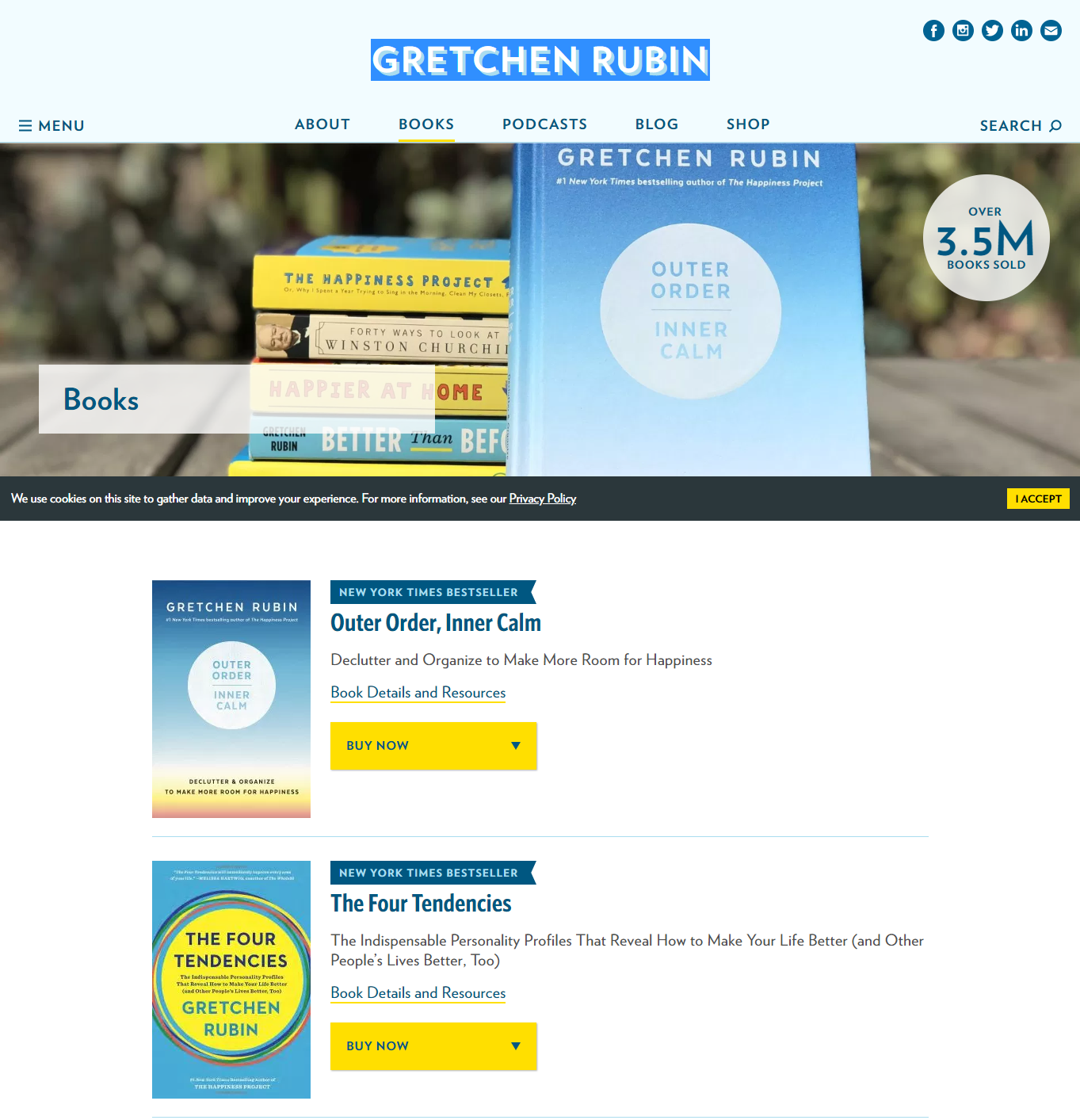 9. Add Your Author Description/Bio to Your Page
Readers want to know the author behind the book. You should add an author bio section to your book landing page. This is the blurb that will go on your Amazon, BookBub, Goodreads page, your author web page, on the back of your book, and so forth. So it's important to nail this section of your book landing page.
No matter who writes your author bio, it should be written in 3rd person, highlight your major or minor accomplishments (rake them up), and lastly, evoke emotion about who you are as a writer. An author with an exciting book never has a boring bio.
Writing Your Author Bio? Here Are 10 Great Examples.

Summary
Launching a new book or promoting it can be a task, but once you've gotten started, you'll begin to see how it is to maintain a steady flow of website traffic, readers and book sales. It just takes a bit of elbow grease.
At Wishpond, we know how important it is not only to market your book but to maintain your online presence as an author, so we created a few guides to help you along the way:
Here's a quick recap of the nine stunning book landing pages tips to use to create your own:
Design Your Landing Page With Your Target Audience in Mind
Add an Amazing Book Description to Your Landing Page
Add FAQs and Customer Reviews to Your Landing Page
Give Viewers the Option to Buy Directly or in Bulk
Keep it Simple and Easy to Use
Integrating Your Social Media Profiles & Sharing Tools
Add Professional and Stunning Images to Your Landing Page
Add Your Author Description/Bio to Your Page
Add Your Published Book Collections