5 Proven Landing Page Elements to Increase Conversions
Landing pages are arguably the most important pages on your site. They bridge the gap between marketing and sales by converting leads into sales.
The problem? Your conversions are abysmal.
It's not just you. Marketers frequently struggle with the performance of their landing pages. The average conversion rate sits at about 2.35%. That means you can expect just two conversions for every 100 clicks you send.
You might think that sending more traffic is the answer. It's not.
You don't need to increase traffic to see better results with your landing pages. Instead, you can drive more conversions by improving their overall efficiency. All without having to adjust your ad spend.
In this article, I'll cover proven landing page elements to increase conversions. Implement these tweaks on your pages to convert more visitors into customers.
1. Write Compelling Headlines
Online users don't stay on webpages for very long. But pages with a clear value proposition can hold their attention for longer.
Start with your headline. It's often the first element on a page that visitors see. A strong headline can encourage them to stick around long enough to learn more about your offer.
David Ogilvy said it best: "On the average, five times as many people read the headline as read the body copy." Headlines matter as they mean the difference between a visitor bouncing or checking out the rest of your copy.
Here's how you can craft compelling headlines for your landing pages:
Highlight a Benefit
Consumers ultimately want to know what's in it for them. Why should they choose your business over the competition?
Help them answer that with strong messaging.
As Loganix says, "Generic website copy doesn't work. When writing your landing page copy, write down the main benefit in 3 different variations. Then, determine which variations provide the reader with the most useful information."
Craft a headline that clearly communicates the value of your products or services.
Here's an example from Venngage's banner maker landing page: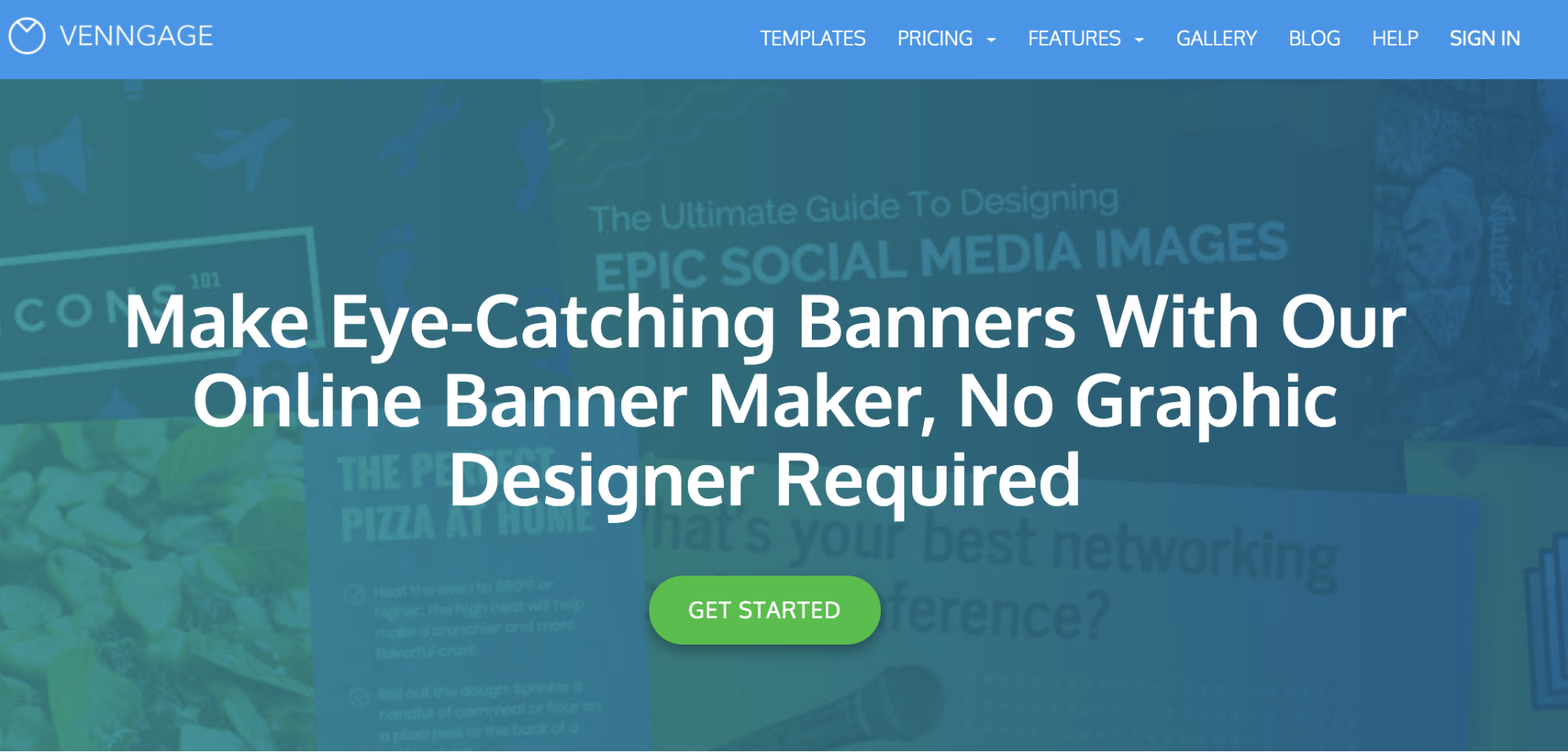 Visitors landing on this page have a clear idea of how they can benefit just from the headline alone. They can create eye-catching banners without needing to hire a graphic designer.
Keep it Short
Attention spans are short on the web. Don't try to fit a story into your headline.
Instead, keep your headline between 10 to 20 words. It may sound difficult, but it'll force you to clarify your unique value proposition in a concise manner.
Here's an example from Evernote: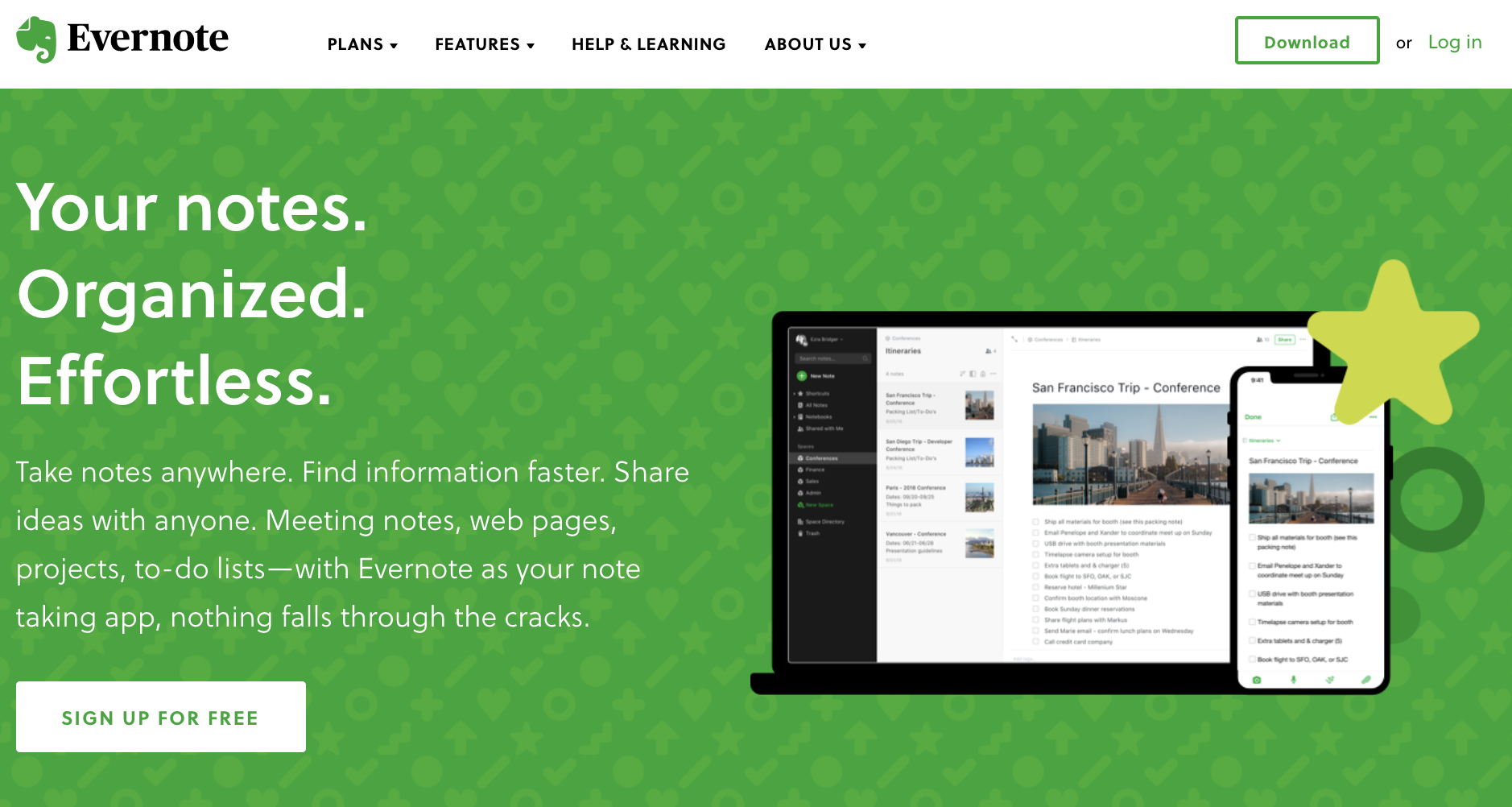 Short and sweet.
Use Clear and Concise Language
It's easy to spend hours and hours just to come up with a compelling or witty headline. But you don't need to.
Sometimes the best headlines are those that are direct. They get straight to the point and they're easy to understand. Visitors don't need to think twice about them.
Here's an example from Shopify.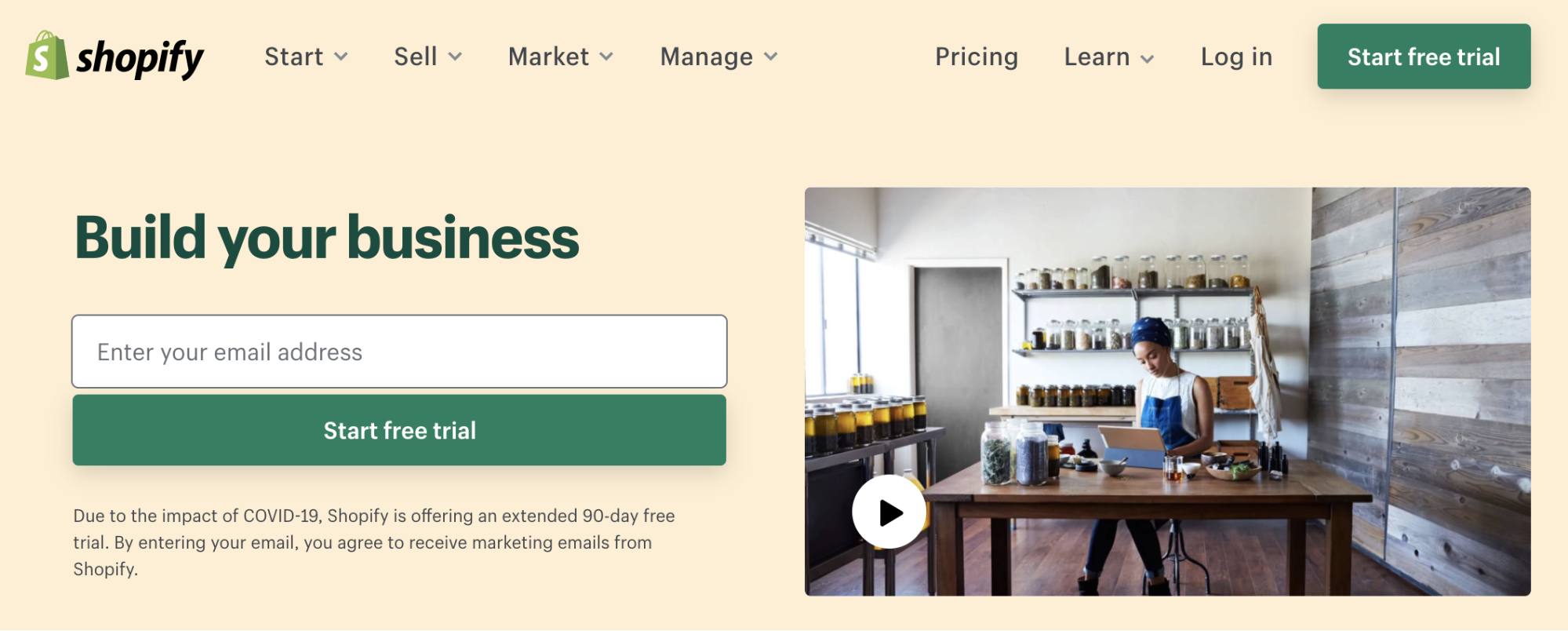 No need to beat around the bush.
Follow these tips with the rest of your copy. Use grammar tools to look over your content and double-check for any grammar or spelling issues you may have missed.
A typo may not sound like a big deal. Until you realize that tests show that typos can lead to a decrease of up to 70% in clicks!
Actionable takeaways:
Highlight a benefit in your headline
Keep your headline short and concise
Avoid jargon

2. Use Eye-Catching Call to Action Buttons
A call to action (CTA) is a prompt to encourage your visitors to, well, take action. What that action is ultimately depends on your conversion goal.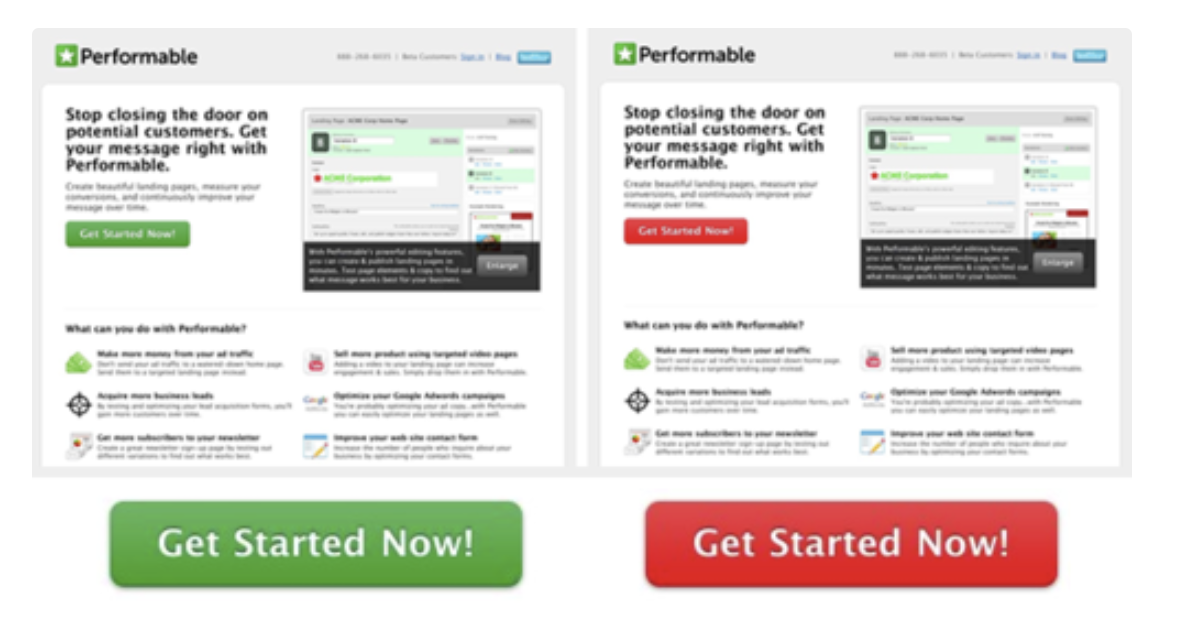 Everything on these two landing pages is the same. The only difference is the color of the CTA button — One is green and the other is red. It's such a minor distinction, yet the red button outperformed the green button by 21%.
The takeaway here is to use an eye-catching color. Here's an example of an attention-grabbing CTA button from PurplePass' event management page: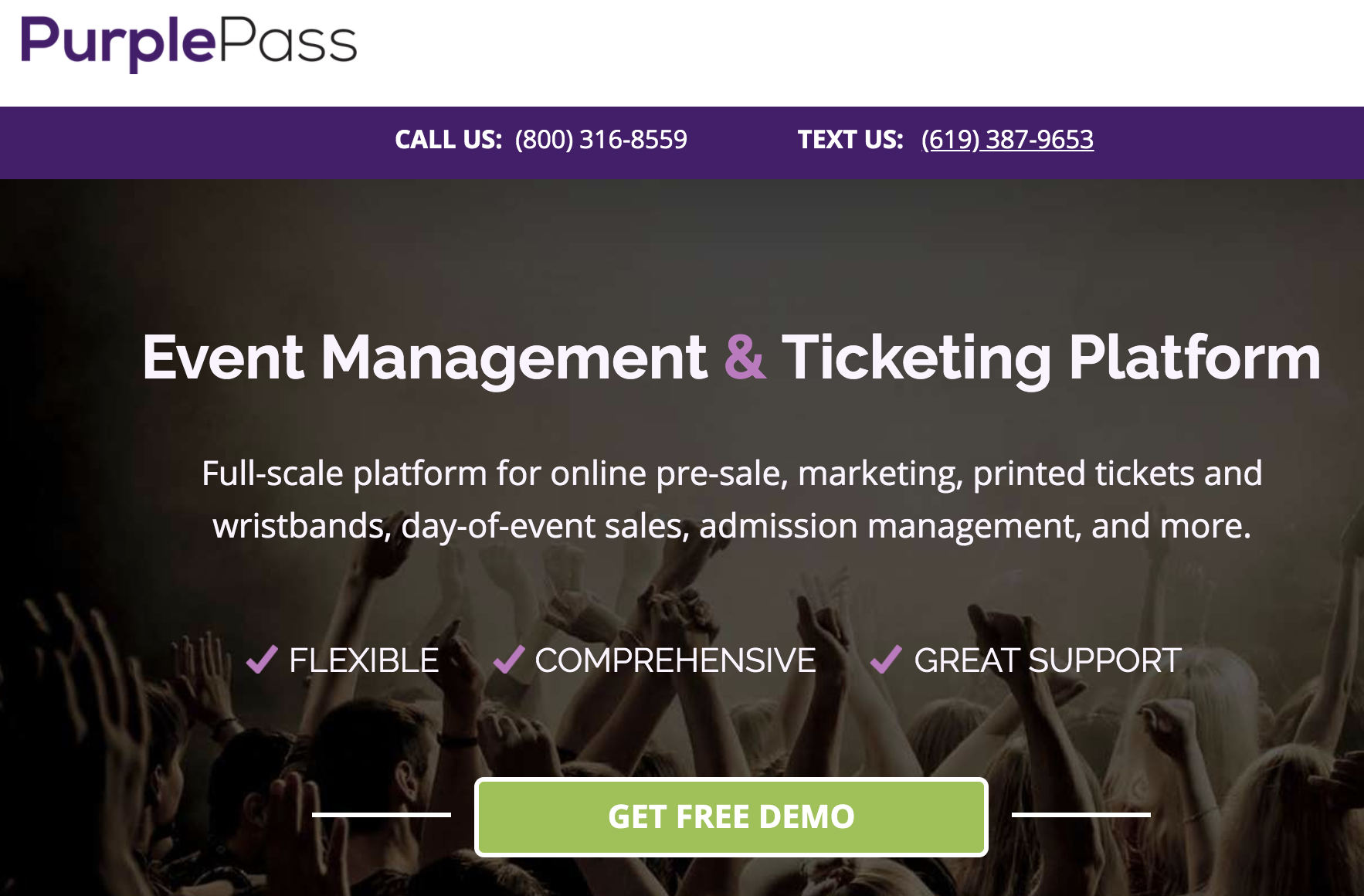 This CTA button stands out from all the other elements on the page.
Write Effective Button Copy
Yup, your button copy matters too.
Avoid using generic phrases like "Click here." Instead, write copy for your button based on what you want your visitors to do. Do you want them to purchase a product? Or sign up for your newsletter?
Here's an example from Right Inbox's reminder email landing page: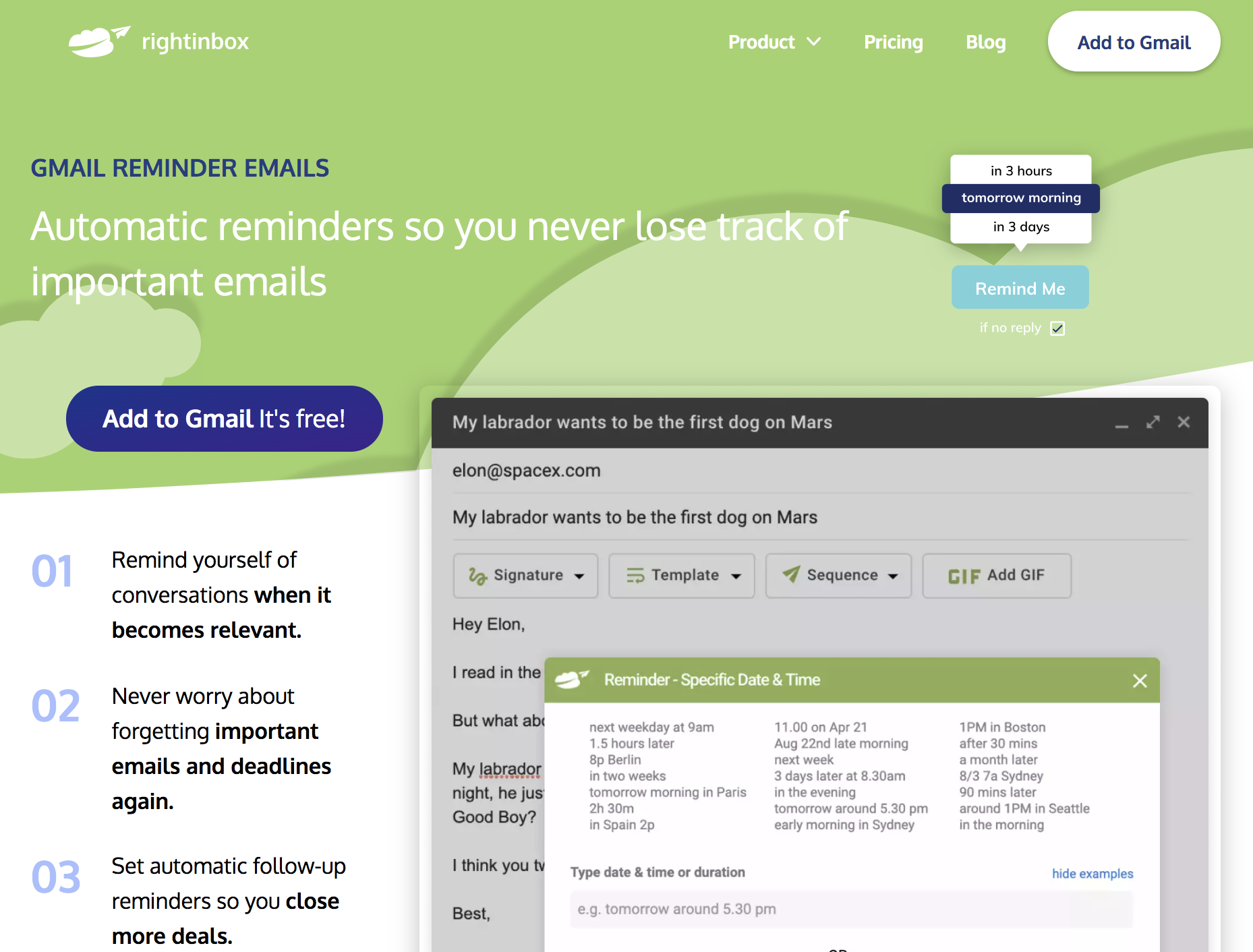 Right Inbox optimizes their button copy to encourage visitors to get Gmail reminder emails for free.
Place Your CTA Above the Fold
Notice anything about all the landing page examples so far? The CTA buttons are all placed above the fold or the upper half of the page.
There's a reason why. Eyetracking data shows that 80% of viewing time on a page is spent above the fold.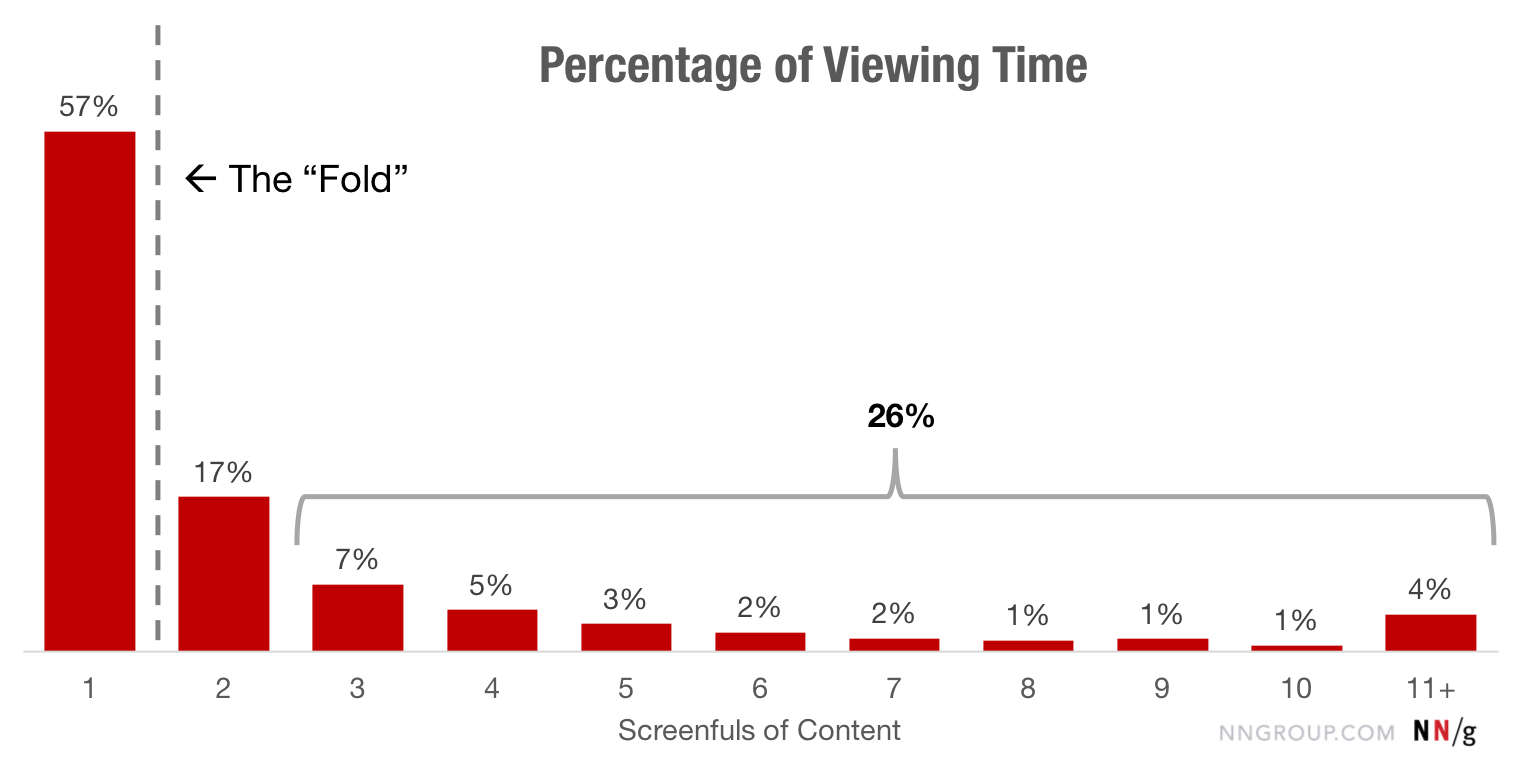 Place your CTA button above the fold, so users don't have to scroll down to see it.
Actionable takeaways:
Use CTA button colors that stand out
Optimize your CTA button copy
Place your CTA above the fold
3. Use High-Quality Visuals
The adage, "Don't judge a book by its cover" just doesn't apply to websites. Around 48% of people judge a business' credibility based on their website's design.
Just imagine landing on this site: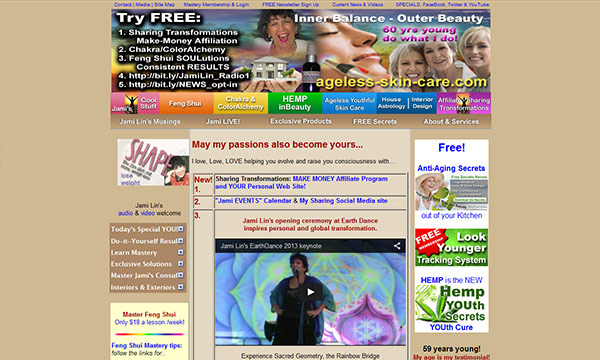 Would you stick around? Probably not. A clean design with quality visuals is a must to boost engagement on a landing page.
In contrast, here's an example of a medical alert systems landing page with a simple aesthetic.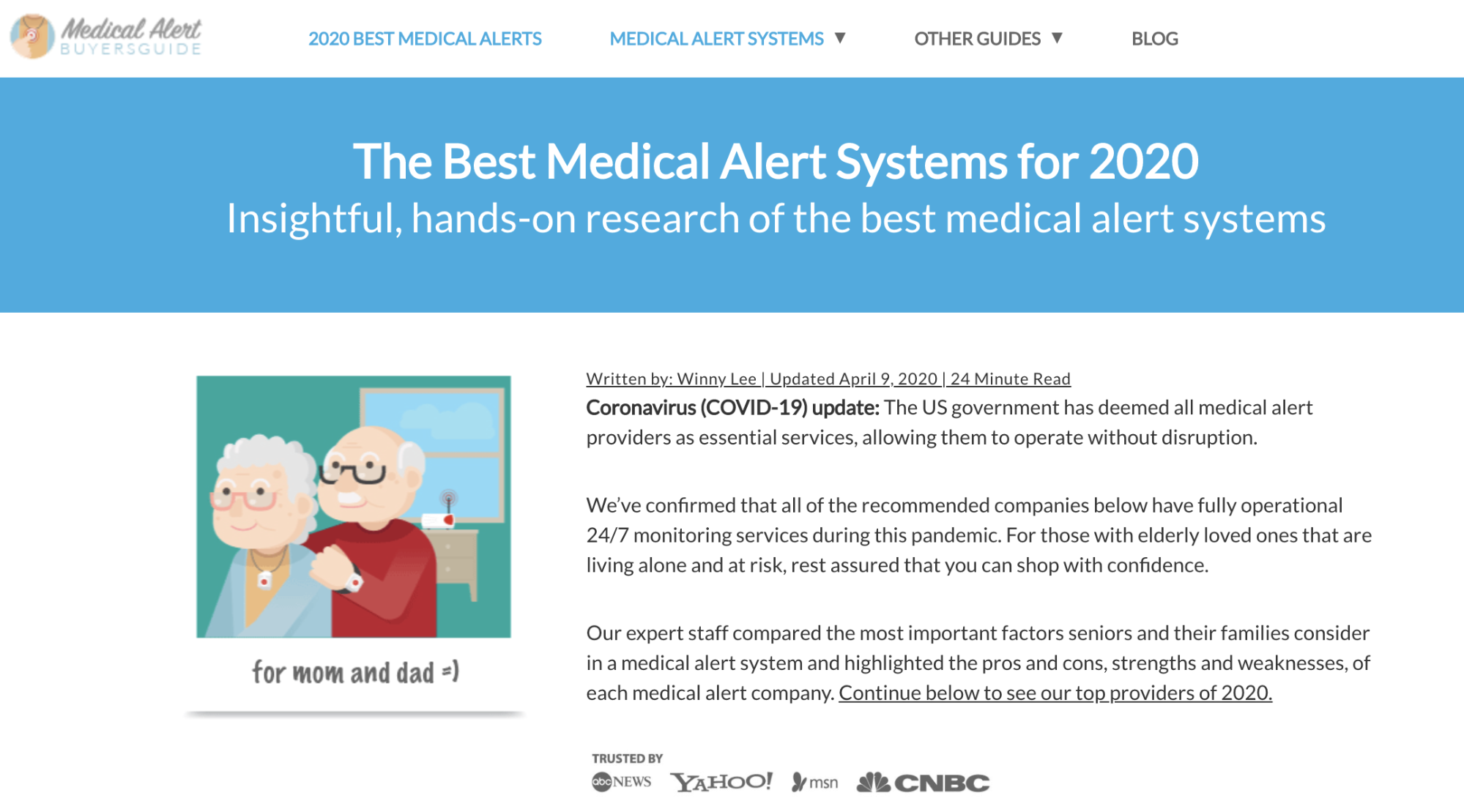 Start with attention-grabbing images that showcase your products or tell a story about your brand. You can even use images to direct attention to a CTA button like what CrazyEgg does on its homepage:
Where can you get professional images?
You have a few options. If you have a decent camera and a studio setup, you can take the pictures yourself. Alternatively, you can also use a freelancing service like DesignBro to get quality visuals for your landing page.
The last thing you want to do though is to use stock photos. Sure, you can easily find a stock photo that's post-edited and ready to use for a small price. But these types of images are mostly ignored.
Another way to increase engagement is to use videos on your landing pages. Here are a few ideas to get started:
Explainer Videos
Explainer videos are short videos, typically about 1 or 2 minutes long, that feature a company's product or service. Here's an example of an explainer video that Xero has on its homepage: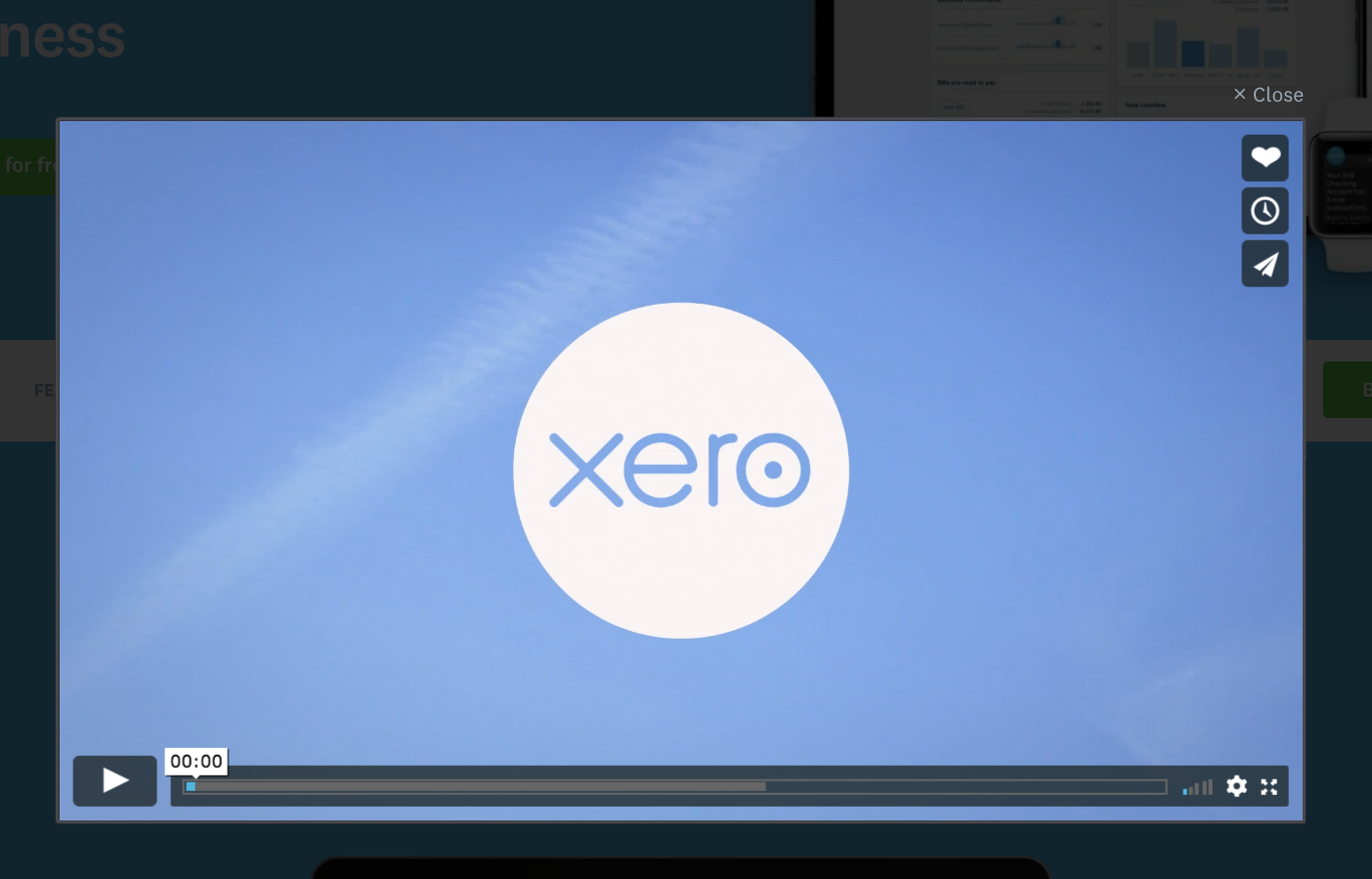 Visitors can watch the video to get a better idea of what the company offers and determine whether it's right for them.
Another option is to utilize a video background. These are great ways to capture your users' attention. Done right, they can create a certain aesthetic that static images can't.
Here's how Aura integrates a short video on its homepage: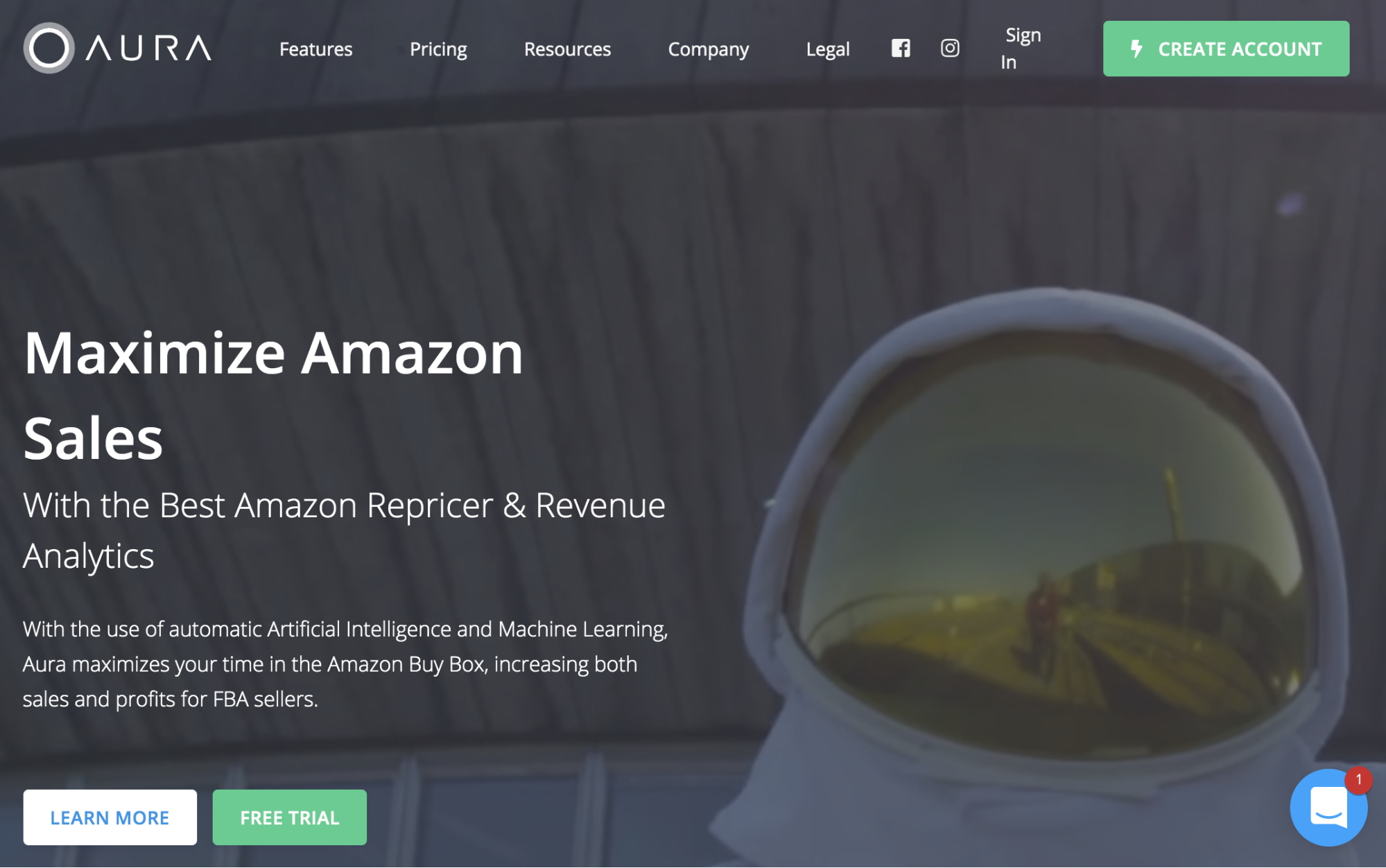 How long should your videos be? Ideally between 30 to 60 seconds.
Think of your landing page video as an elevator pitch. Prospects should know what your value proposition is within the time span of a short elevator ride. If they don't, they're likely to bounce instead.
By using professional video editing software, you can create stunning videos for your landing pages. But get right to the point and cut out unnecessary content to tighten your message.
Likewise, you can also turn to a professional service that specializes in making marketing videos.
Actionable takeaways:
Use attention-grabbing images
Implement a clean website design
Avoid using any stock photos
Use videos on your landing pages
4. Create Optimized Lead Forms
Forms are an indispensable part of landing pages. They allow you to collect leads and capture information about your visitors. But you're hurting your conversion rates if you have too many form fields on your landing page.
Follow these steps to get more visitors to fill out your forms:
Keep the Number of Form Fields to a Minimum
Online users don't like to divulge more information than they have to, especially when it comes to sensitive information.
Determining the number of fields to include is always a balancing act. Ask for too much information and you risk users bouncing out. Likewise, using too few fields makes it difficult to segment your visitors.
But data shows a correlation between the number of form fields on a page and its conversion rate. Keep the number of form fields to a bare minimum.
If you're creating a landing page for a SaaS (software as a service) product, you could require just an email address.
Here's an example from Notion: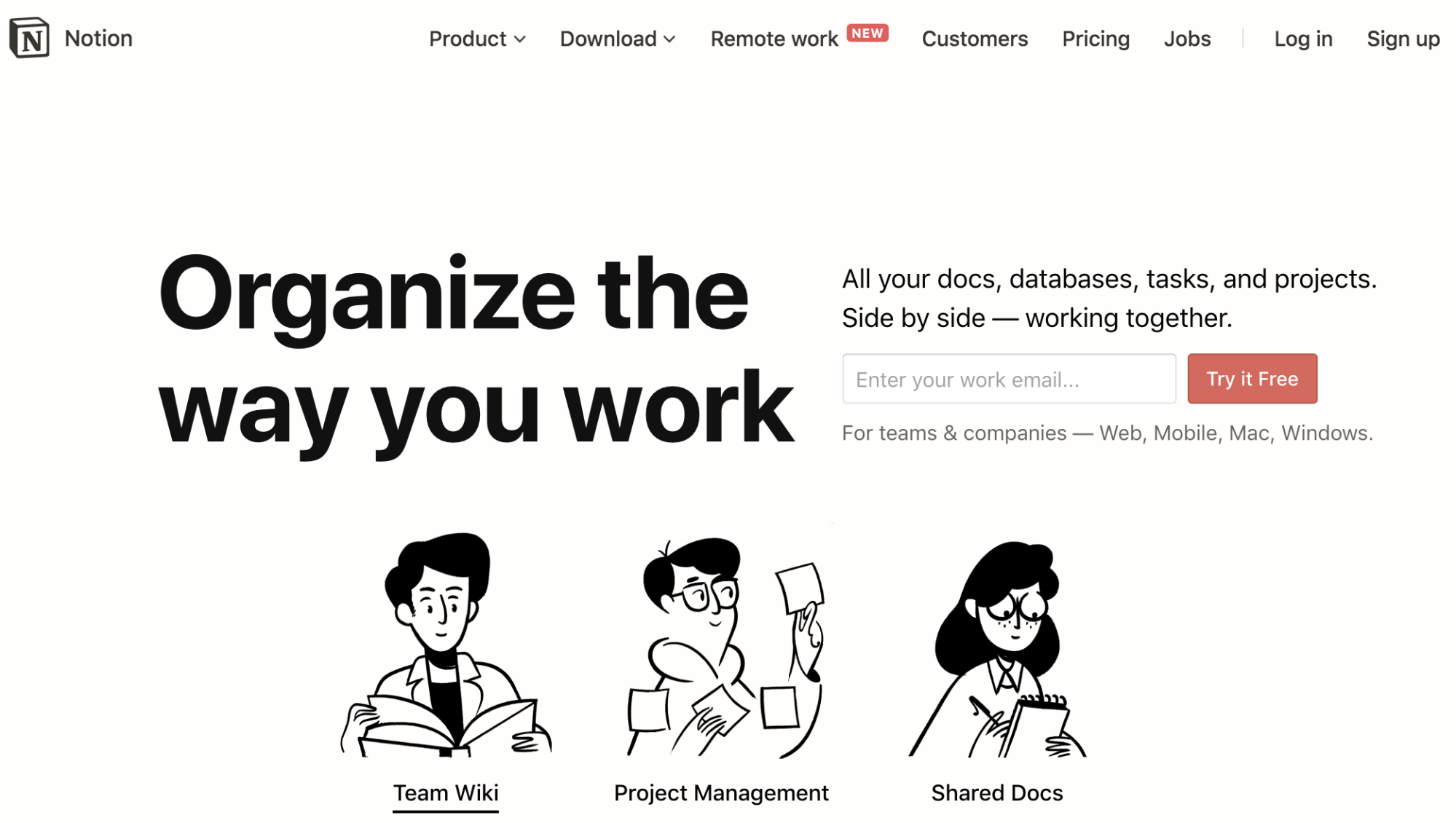 Notion minimizes friction by requiring only one form field. Visitors only need to enter their email addresses to get started.
The SaaS market is expected to reach $157 billion in 2020. Companies can capture more of these sales by making it easier for users to sign up for their service.
Use Multi-Step Forms
But what if you need to request more information?
The answer is to use a multi-step form. Multi-step forms are just what they sound like. They're long forms that are broken up into multiple pages.
An example of multi-step forms is checkout pages that many eCommerce sites use. Visitors can enter their personal information on one page, their shipping details on the next, and their credit card number on the last.
Multi-step forms let you split up long forms into more manageable chunks. Don't be afraid to experiment with your forms.
Optimize Web Forms For Mobile Devices
Smartphone usage has exploded over the last decade. Around 51.5% of all traffic worldwide is generated through mobile devices.
It's a staggering figure and one you should pay attention to. If your mobile forms aren't optimized, you're missing opportunities to convert users on mobile devices.
Here's an excellent example of a mobile-friendly form on Energy Seek's site to help users compare electricity prices: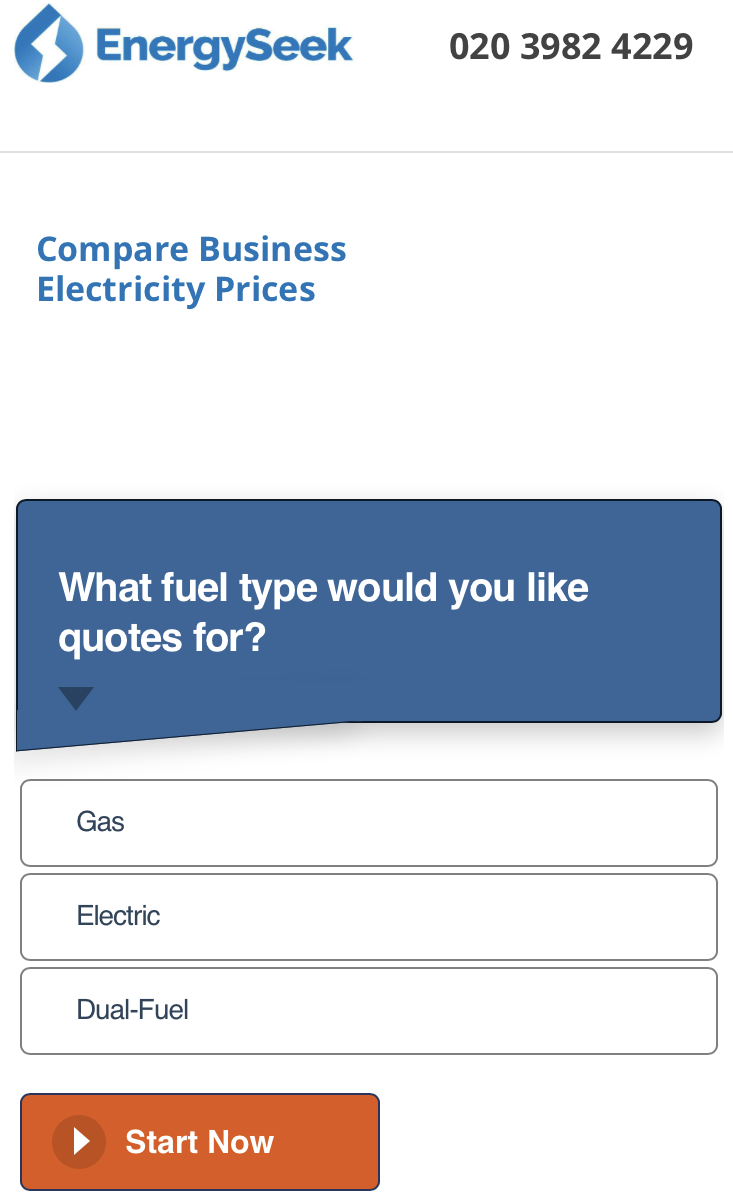 Energy Seek uses mobile-friendly, multi-step forms. Users can easily compare electricity prices without feeling overwhelmed with information requests.
Use Google's Mobile-Friendly Test tool to check if your site is optimized for mobile devices. If it is, you'll see the following:

Then, test your landing page on a smartphone and tablet. How do your forms appear on those devices? Are you able to go through your forms without a hitch?
Address any potential issues with your forms to improve your conversions.
Actionable takeaways:
Limit the number of fields
Use multi-step forms
Optimize your fields for mobile
5. Use Social Proof to Increase Sales
"People see an action as more appropriate when others are doing it."
That's the idea behind social proof—A psychological phenomenon in which our behaviors are influenced by the masses and a concept popularized by Robert Cialdini, author of Influence: The Psychology of Persuasion.
We see comfort in action if we see others doing it. It validates our decision. Social proof is a powerful persuasion tool and one you can use on your landing pages.
Here's how:
Feature Testimonials From Your Customers
Testimonials are short reviews from customers who have used your products or services. Each is a vote of confidence in your business.
Here are testimonials that FreshBooks features on its homepage: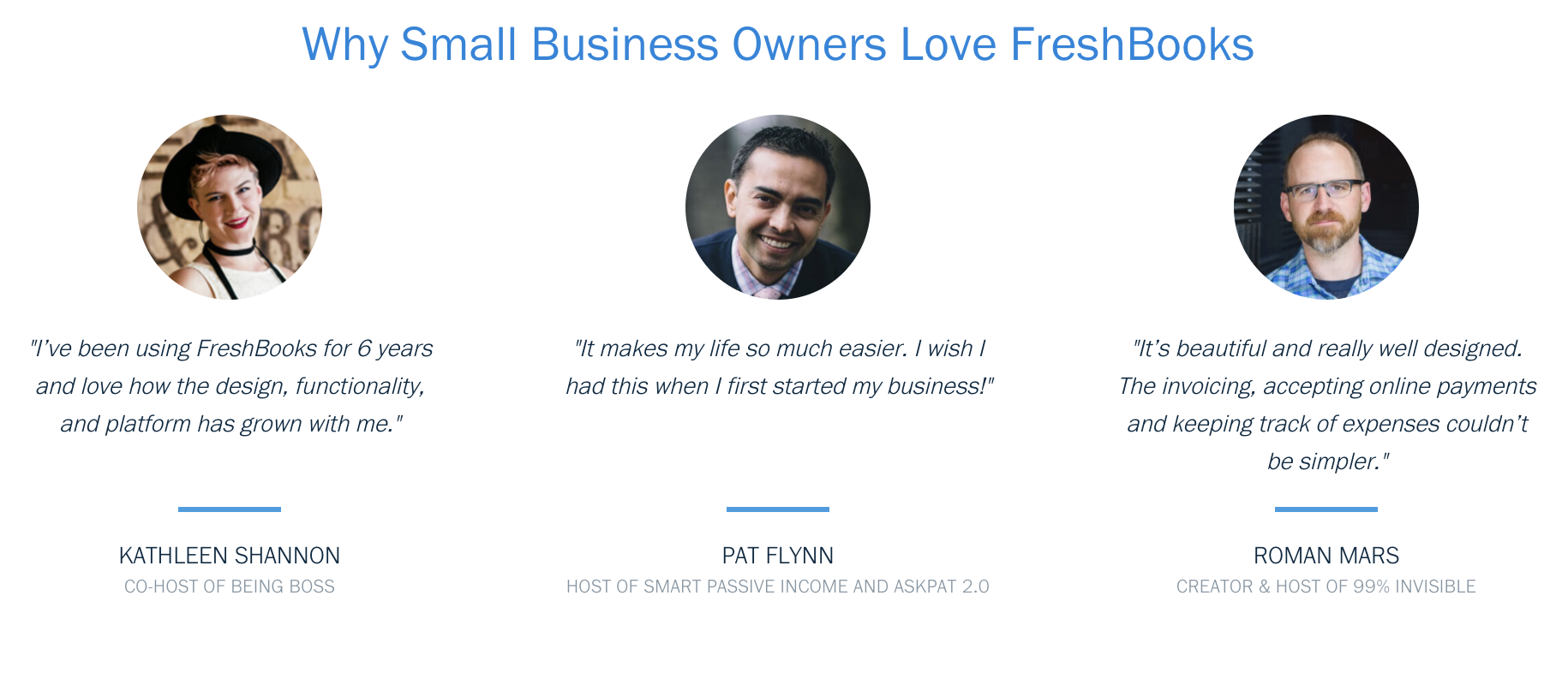 Each testimonial includes a profile picture, a short blurb, and the names of the individuals who gave the review.
Showcase Clients You Work With
If you work with well-known companies in your industry, you can leverage their credibility to get more visitors to act. Place the logos of companies you work with on your landing page.
Here's an example from Voices.com, which saw a 400% increase in conversions:

This case study is proof that social proof works.
Highlight the Size of Your Customer Base
If you have a sizable customer base, highlight that number on your landing page. It tells prospects that many customers use and trust your business.
Here's a subtle example from Basecamp: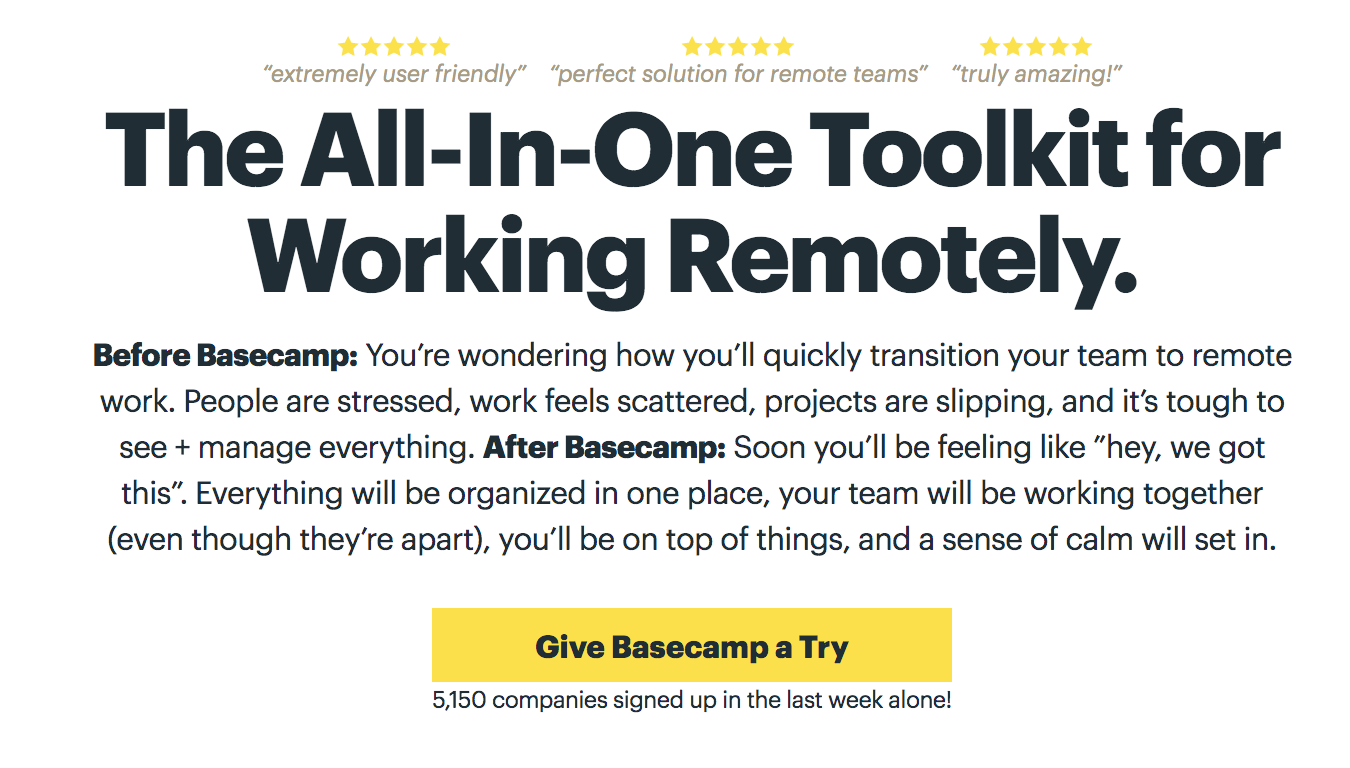 Just below the CTA button, Basecamp adds that 5,150 companies have signed up in the last week.
It can be easy to feel overwhelmed when optimizing a landing page. Use mind mapping software to help you create a plan and stay on task.
Here's an example of how you can use mind mapping to plan out your landing pages: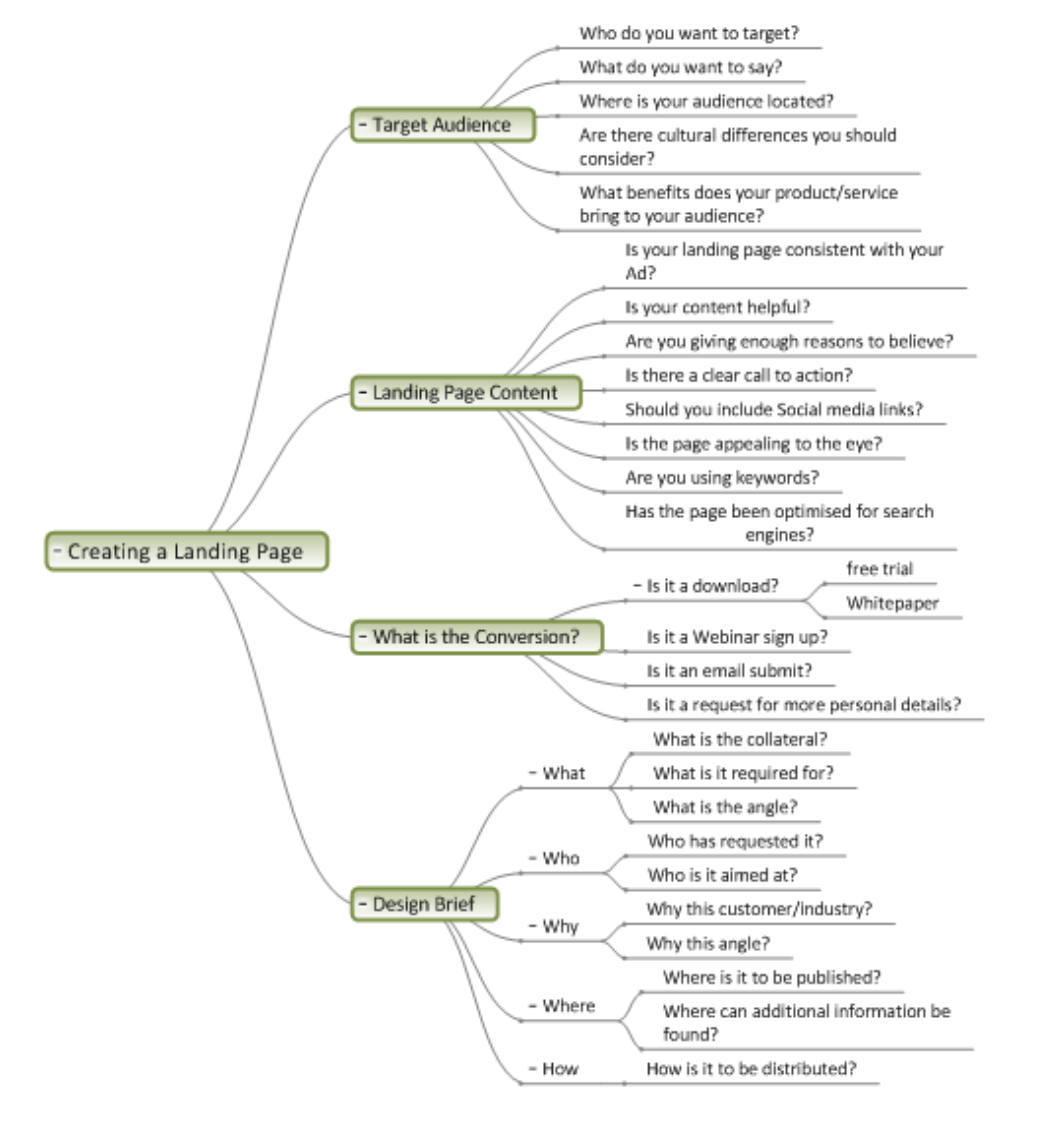 Actionable takeaways:
Feature customer testimonials
Showcase the clients you work with
Highlight the size of your customer base
How Many Landing Pages Do You Need?
Companies generate more leads when they increase the number of landing pages they have from 10 to 15.
This makes sense. The more landing pages you have, the more opportunities there are to convert prospects.
More landing pages also allow you to target different segments. For example, you can have one landing page that targets B2B prospects and another that targets freelancers.
But just remember, always focus on quality and not quantity.
Conclusion
Landing pages are indispensable sales tools that can grow your business. But you're leaving sales on the table if your conversion rates are lousy.
I've covered proven ways you can get more visitors to convert on your landing pages. Start with just one element to add or optimize and always perform A/B tests for a clearer picture of what works and what doesn't.
About the Author


Bethany is a former HR Officer who later found her specialty in digital marketing. With a keen interest in content optimization and market behavior, she's become a walking database for industry news.