6 Amazing Ways to Promote Your Sales Online Like a Pro
There are very few words out there that people love to hear more than the word sale.
It's no secret that a good sale is one of the best ways to get people into your stores and online ready to spend some (or a lot) of money. If you don't believe me, just imagine the frenzy that happens on Black Friday, Cyber Monday, and even Prime Day!
During these monumental sale days, you'll find people everywhere camping out in front of stores for hours on end, building elaborate wishlists days in advance, bookmarking "I wants", and refreshing and rebooting to ensure nothing crashes.
It's every business owner's dream to have their customers react to a sale at that magnitude. However, for that to even be a possibility, you have to get the word out that you're having a sale in the first place. It's important to be strategic with your sale promotion, and what works for one business won't necessarily work for yours.
This article will walk you through six of the best ways to promote your sales online like a seasoned professional. Let's get started.
---
If you want even half of the success that's depicted above, you're going to have to work hard to get the word out. It's one thing to have a sale, but it's completely different to have your customers anticipating it and be incredibly excited about what they're going to discover and ultimately purchase during your sale.
Regular promotion isn't going to cut it. Let's face it, sales aren't that uncommon, and a generic sale promotion will likely be ignored unless that customer already had their eye on something and was just waiting for the next sale to take place.
To be successful and get your customers to engage with your offer, you're going to have to paint them a picture. Show them what you know they want. This will pique their interest and get them to start shopping the sale.
Sales Tip 1: Send a Promotional Email to Subscribers
I know what you're thinking. Yes, sending an email to promote your sale is one of the oldest and most basic tricks in the book, but it works, so don't count this method out too quickly.
Start by building out segmented email lists for all of your subscribers and send tailored messages to each grouping. Don't just share that you're having a sale, share the message, and then showcase your products in new and exciting ways.
Trigger their imagination and show them what they could have if they shop the sale! The best part about this method is that it's free, so it's a great starting point to build off of for the next tips.
Consider using marketing automation software to help get the job done quicker and easier. These tools will help you segment your lists, build-out email campaigns, and capture leads automatically.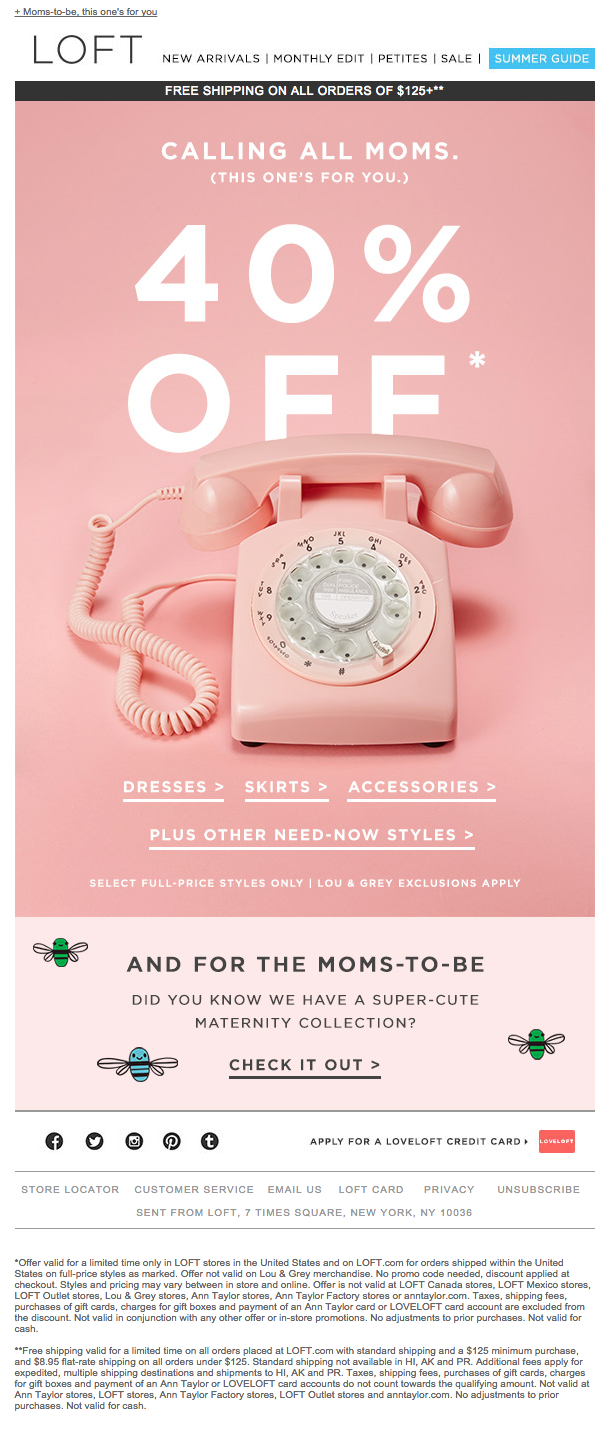 Consider this Mother's Day promotion email. The Loft specifically calls out mothers (and moms-to-be!) to shop their sale by showcasing which clothing categories are 40% off as well as the specific pieces of clothing that appeal to this target market. When implementing this technique, make sure to segment your email list into groups of people that share similar interests and buying patterns.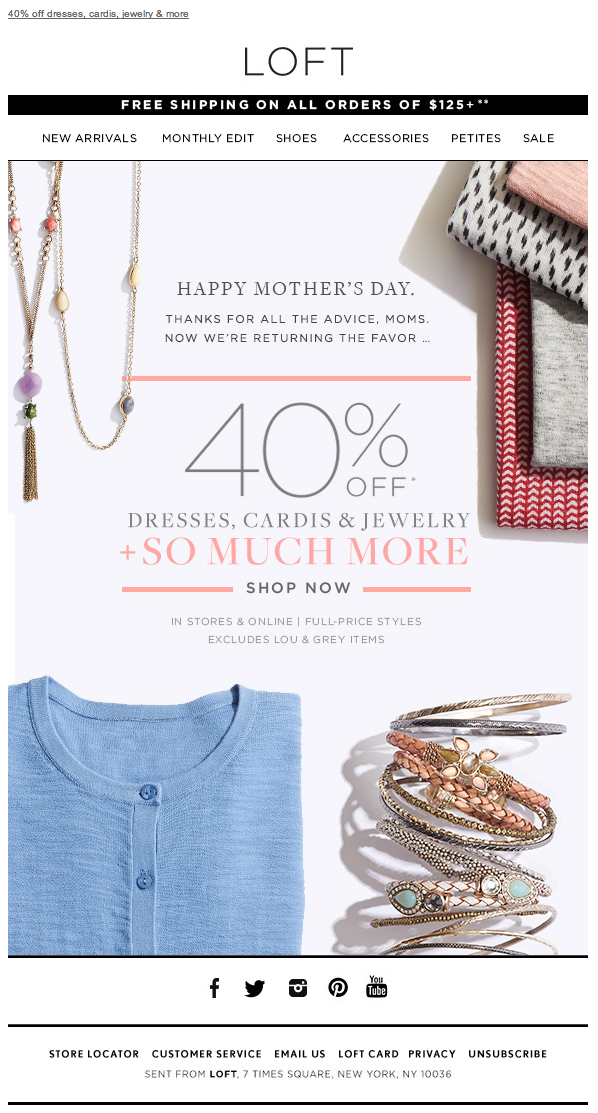 Once you have this solidified, call out the products on sale that will appeal most to this target market. Go a step further by placing your products in real-life scenarios to showcase the possibilities. This technique will get your customers thinking about how your products fit into their lives, thus increasing the likelihood of them purchasing.
Sales Tip 2: Place a Banner Ad on Your Homepage
For all your customers who may not have been notified about your sale via email, a banner ad placed on your homepage is a no-brainer. With this method, the hardest part is done.
Your customers are already shopping at your online e-commerce store. Whether they're just browsing or have intentions to buy something, a banner ad that showcases your latest sale will convince them to buy and likely encourage them to buy more than what they were originally intending to.
Get crafty with your copy. You should be as direct as possible, but if you have room to spare, persuading copy that reads "Buy more, save even more!", "Surprise steals!", and "Treat yourself, you deserve it!" are always likely to perform better.
Try out bold and simplistic banners, just like J.Crew did on their homepage. The simplistic banner in this example calls out the summer sale, but the bolded banner with an image calls out the fact that they specifically have swimsuits and shorts on sale for an even larger discount!
Be sure that the copy is clear and your promo code is obvious. Adding in a "shop now" button will eliminate any confusion and bring your shopper exactly to where they need to be.

Sales Tip 3: Blast It on Social Media
You can use social media in two different ways to get your message across. The first way is to use each and every one of your social media platforms for their standard use, meaning you would post your sale information on a main post as well as on your stories.
The second way you can utilize it is through social media advertising. This can be through the business side of each platform or through paid ads.
Get creative when sharing sale information. For example, if you own a clothing store, post a beautiful photo that showcases someone in your clothes, shoes, and accessories. Not only is the photo appealing to look at, but by adding a caption that shouts your sale out, you'll intrigue your followers to head over to your website to look at each detail further.
Through the business side of a social media suite, you have the ability to set advertisements for certain periods of time. This is a great feature to utilize for each and every one of your sales so you can target and reach those who don't follow you. All you need to do is set a budget and make your ads live to your designated target audience.
Another incredibly effective way to showcase your sale on social media is to put it in your story highlights the way Sephora does.
uThis way you can house all of your sales in one place so your customers have easy access to them. This is especially a great idea if you typically run multiple promotions at once.
Sales Tip 4: Invest in Display Ads
Have you ever noticed those ads that follow you from webpage to webpage? Those are display ads, and they're one of the best ways to reach your customers when they're not thinking about you while also exposing your brand to new potential customers.
As with most of these tactics, you must segment your audience first and foremost. You can use similar messaging that you used for your banner ads on your homepage, just remember that there will be more people than just your customers who will see these ads.
Ensure that you share enough information and detail about the sale and the store it's coming from since these ads will live on many different pages throughout the internet.
Consider working with a DSP or a social media platform such as Facebook for Business to get the best placements at the right time for your brand.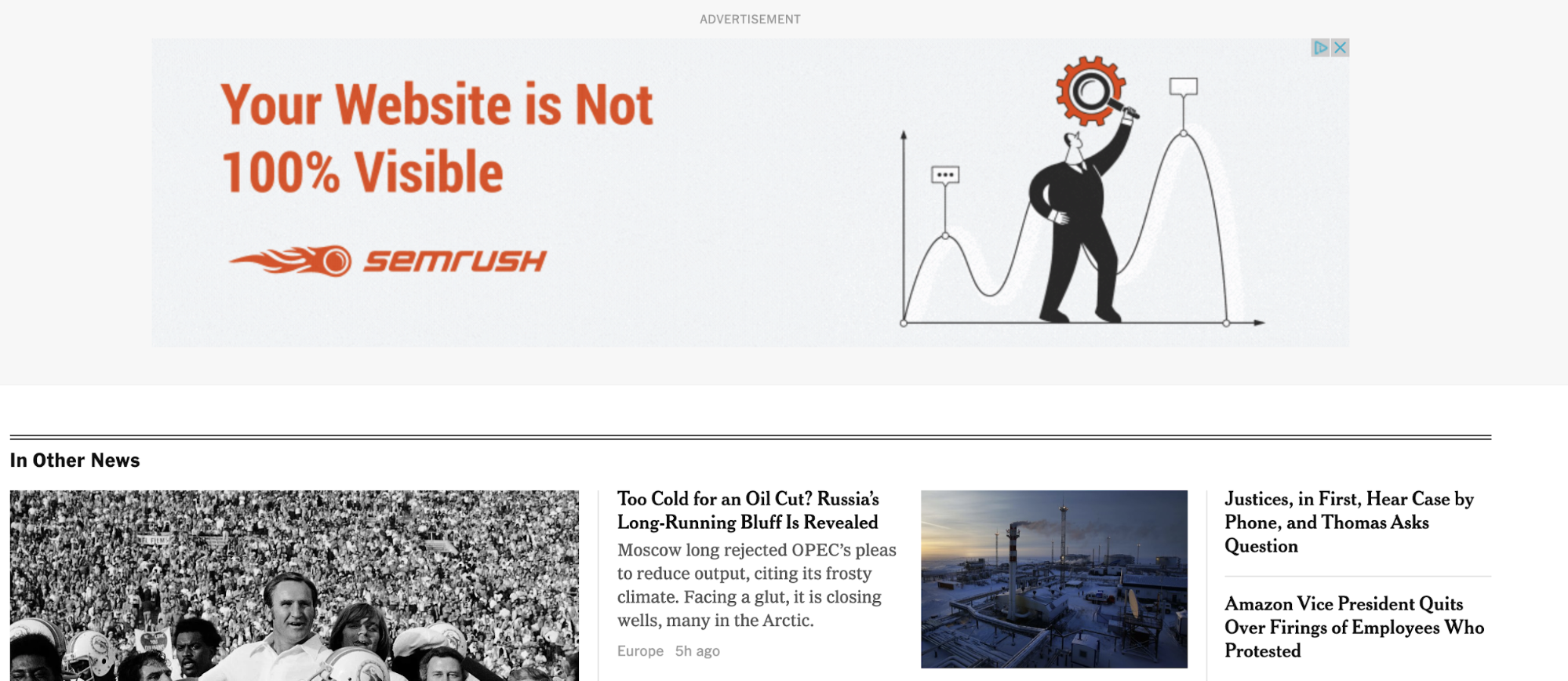 For example, a brand like SEMrush places display ads on educational and business type websites. This ad is displaying on The New York Times to reach a similar target audience.
Sales Tip 5: Publish a Blog Post
One of the most creative ways to promote your sale is through an article on your company's blog. Have a group of your employees put together lists of their favorite products that are going to go on sale soon.
Think of this as a tailored wishlist and cater to each persona of your target market. For example, if your store caters to those who like to exercise and spend time outdoors, have one of your employees who fits that bill compile a list of their tried and true all-time favorites.
Publish a blog that's titled "Best items to purchase during (your store's name) sale for those who love the outdoors". Share each blog post on social media, repurpose it for your newsletter, and call out each product through an Instagram story mini-series.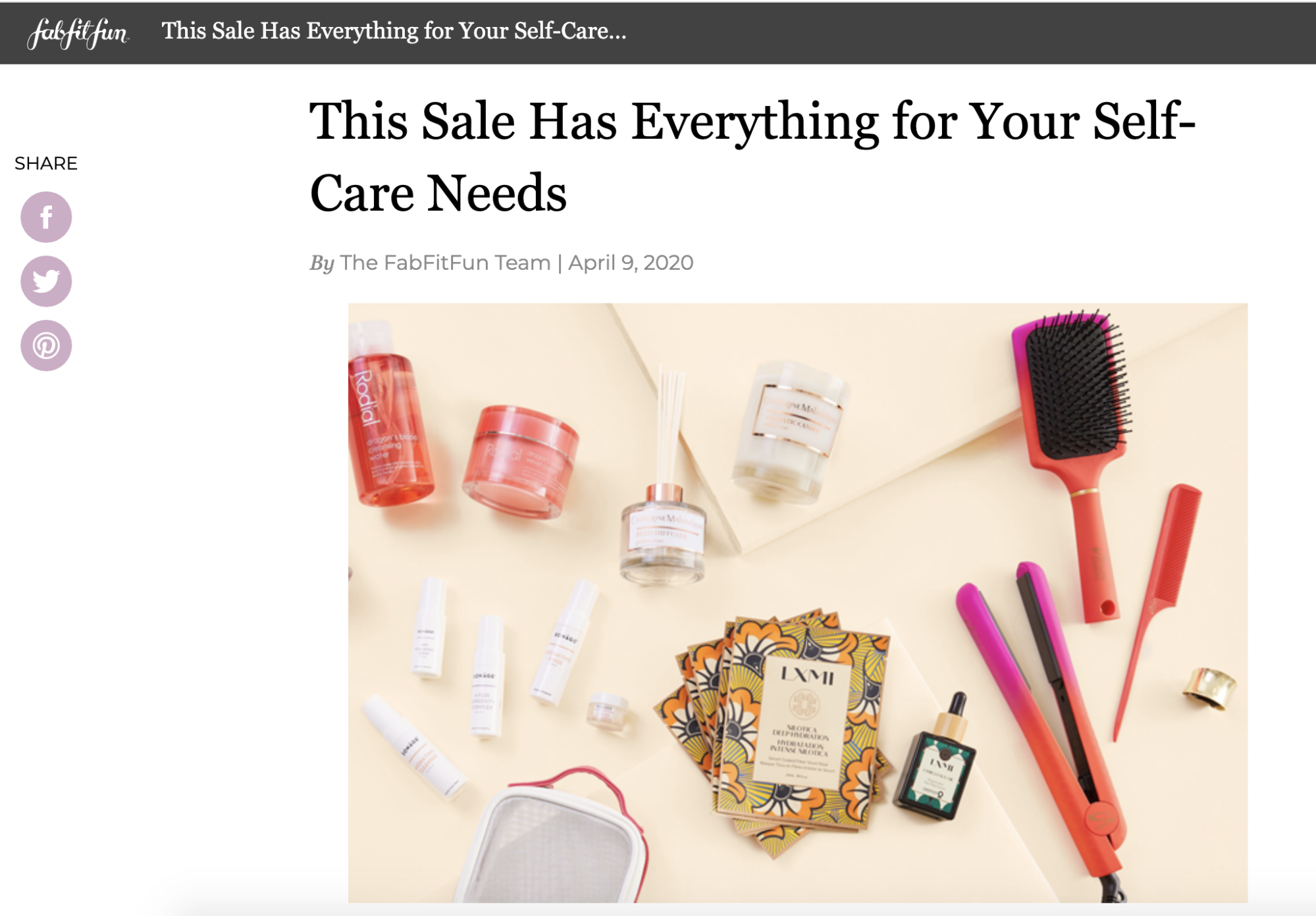 FabFitFun does an excellent job with this tactic. They crafted a blog post that features a handful of their employees and their favorite products from the sale. They shared use cases, testimonials, and the sale price to entice buyers even further.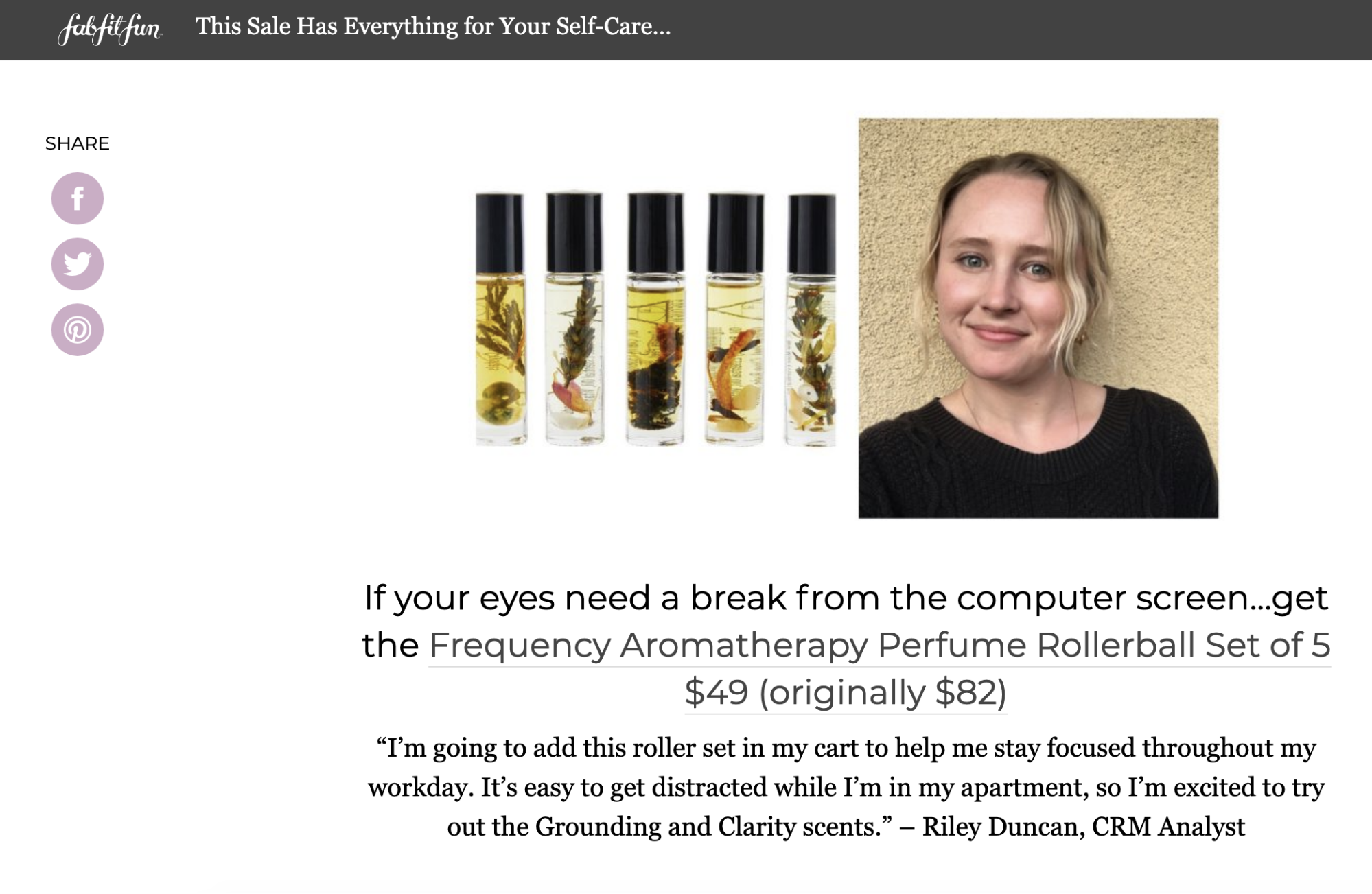 Sales Tip 6: Collaborate with Influencers
Influencer marketing is a fantastic way to get your brand out to a larger target audience. To ensure this method is effective, you'll need to be particular when choosing the right influencers.
Before you have your influencer post about your sale, make sure they've worked with your brand enough times to ensure that their followers trust the partnership between your company and the influencer. As your sale approaches, have your influencers post about the sale through a main post showcasing a product and a few stories.
If you want to sweeten the deal even further, consider offering an additional discount for those who purchase through the influencer's link. Make sure that this partnership comes off genuine, so avoid overly scripted and "salesy" messaging.
Allow each influencer to give it their own spin. You can even encourage them to post about their favorite products that are going to be on sale, similar to your blog post!
This influencer worked with Nordstrom during their anniversary sale. Not only does her outfit showcase items that her followers can purchase, she even created a blog post completely dedicated to the sale. It's filled with tips and best practices, how to be best prepared, and her list of must-haves!
Blast it, Post it, Place it
It's time to stop using the same old sale promotion techniques. Don't let your customers become bored with you. You need to spice it up and show them what you know they're looking for.
Entice them to shop your sale! Now that this article has provided you with all of the right tools to keep in your arsenal, you're ready to begin promoting your sale like a seasoned pro. The more eyes you have on your sale the better because more eyes mean more purchases, and that's the ultimate end goal.
About the Author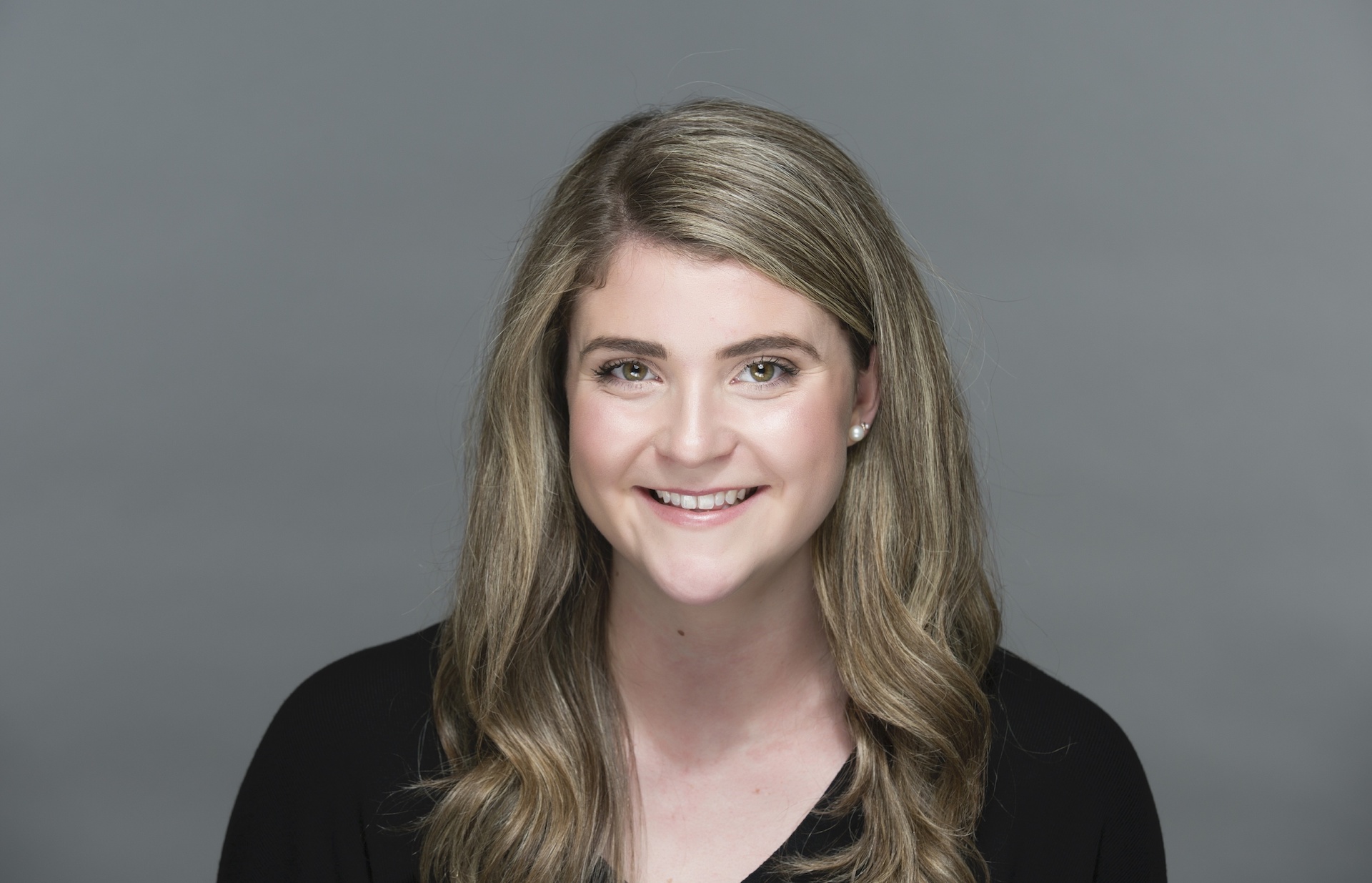 Hannah Tow is a Content Marketing Associate at G2. She graduated from the University of Missouri with a degree in Journalism and is very happy to be working in her favorite city, Chicago. In her free time, Hannah enjoys running with her dog, Teddy, traveling to new and exciting places, and capturing the beautiful places she travels to with her DSLR camera.