5 Ways to Improve Your Facebook Advertising During the Coronavirus
As just about every recent email signoff says, these are some "strange and uncertain times." But one thing is certain: more people at home means more people online.
According to The New York Times, daily Facebook traffic rocketed up by 27% since the start of the coronavirus crisis in the United States. Many brands are creating a strategy to take advantage of this increased traffic while remaining tactful and empathetic to consumers.
It's a fine line to walk. You want to spread the good word about your business, but you also want to keep a clean conscience and maintain a positive brand image.
Striking that balance is possible if you take the right approach.
Why focus on Facebook?
Statistics from Hootsuite show that Facebook has 2.5 billion monthly users. Advertisers can reach 1.95 billion of those users. That's nearly a third of the global population! And because Facebook is on the rise during COVID-19, you can't afford to not focus on Facebook right now.
However, yours isn't the only company taking advantage of increased traffic. There will be a lot of competition in the coming months. That's why your Facebook ads must stand out from the crowd.
Start with these 5 ways to make sure your Facebook advertising shines during coronavirus.
---
1.Create Ads that increase Lead Generation
A recent Wall Street Journal article revealed that the cost of advertising on Facebook is dropping. Sounds great, right? But there's a catch.
Conversion rates are also dropping. This means that even if you increase your ad spend to take advantage of the lower CPM, your conversion rates likely won't increase.
This doesn't mean you should give up on effective ads. It just means you should pivot your strategy to focus less on conversion and more on gathering emails from leads.
Change your Facebook promotion category from "Get More Website Visitors" to "Get More Leads." When consumers see your ads, the ads will prompt them to enter their contact info instead of converting on your website.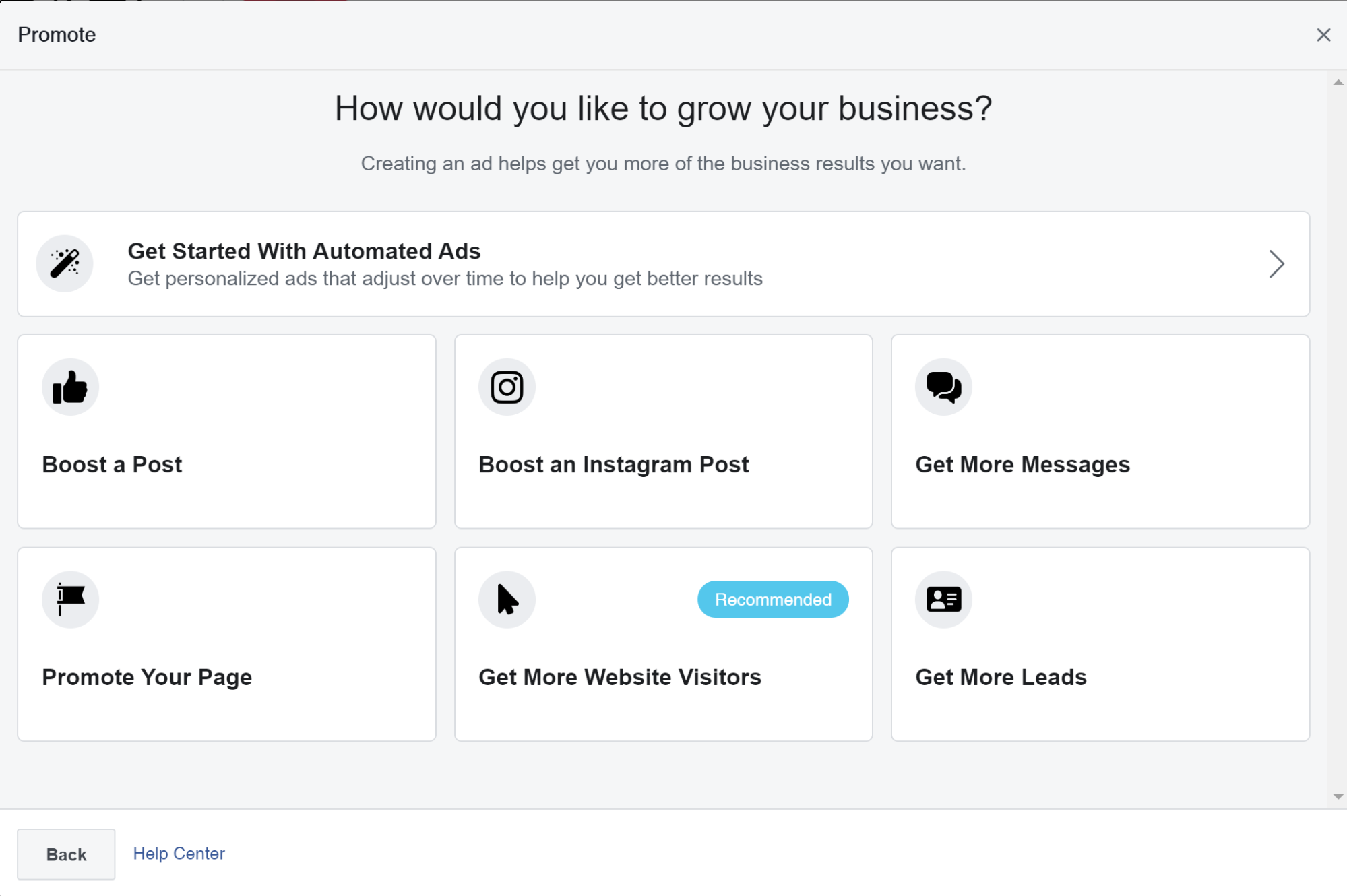 Prompting users to fill in their info instead of pressuring them to convert is a better tactic to use now that all conversion rates are down. It also makes you seem less pushy.
I know it may be difficult to pull away from conversion-based strategies for a while, but it's the best way to take advantage of the current situation.
Don't forget to downloadThe Absolute Corona Virus Facebook & Instagram Ad Guide for Brands .
2. Use Passion and Purpose to Connect with People
This is not a normal time. If you try to go on with business as usual, potential customers could see your brand as tone-deaf.
This is the last thing you want. Instead of trying to keep up a front of normalcy, don't be afraid to show a little vulnerability.
Some companies shared pictures of their employees working from home or released a heartfelt message from one of their executives. Others converted some of their facilities to create protective gear for healthcare workers. Many companies ran fundraising campaigns to support the cause.
An ad (or even just a post) about an effort like this can make it easier for consumers to relate to and trust your brand.
Additionally, see this as a time when your brand can step up. People are struggling because of this pandemic. There may be something you can do to help.
An article from McKinsey & Company phrases it this way: "Is this the moment when purposeful companies demonstrate how to use profits for good or that shows how everything a company does can be for good?"
Personally, I think how companies behave during this time is very telling. Their true nature comes out when they're under pressure.
So, what is your company's true nature? How can your company use profits for good? What can your company do to show that it cares?
As an example, take a look at this ad from eco-friendly shoe manufacturer Allbirds: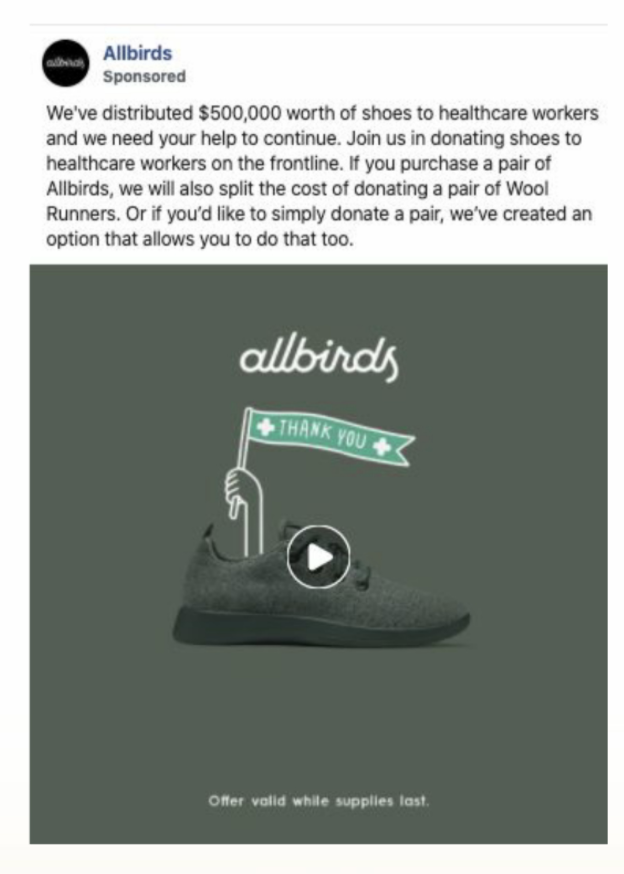 This ad does 3 things very well:
1. Clearly states exactly how the company helped people in need.
2. Explains that the company will continue to help.
3. Invites consumers to join in by purchasing or donating.
While your company may not be able to distribute half a million dollars' worth of shoes, you can definitely find a way to help, show how you want to continue helping, and invite people to join you in your mission.
Ready to start your own Facebook ad campaign?
Book a free call to learn how our team of marketing experts can help you create high converting Facebook ads today.
3. Be Informed & Lean Into the Moment
You may think constant references to COVID-19 annoy people, but the data says otherwise. This graph from ViralSpace.ai shows the increased performance of coronavirus-related posts: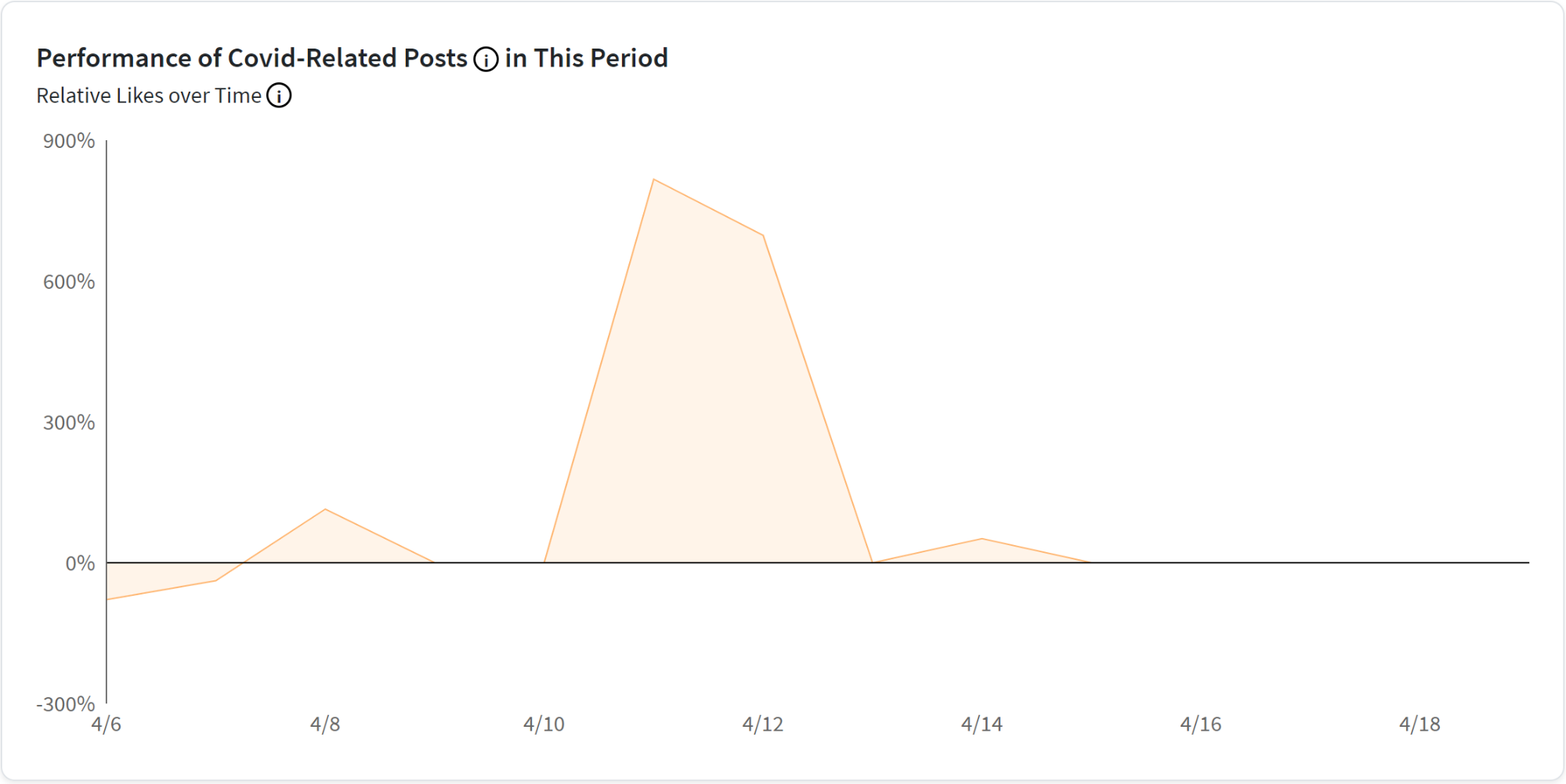 This doesn't mean that the posts have to be virus-focused or dreary. A negative tone – not the subject itself – may be what consumers are really tired of.
Again, this tactic is about striking a balance. Lean in, but don't come off as an opportunist.
Check out some of these recent apparel ads to see what I mean:

437 Swimwear subtly references stay-at-home orders by asking, "Who needs the beach?"
Everlane highlights the kind of comfy loungewear that people working from home have been living in 24/7.
Nike more directly addresses the issue by stating that "Now more than ever, we are one team." They also offer workout videos on their app that are perfect for when you're stuck at home.
None of these Facebook ads even use the words "coronavirus" or "COVID-19." Yet, they all speak to a population of consumers who are staying at home and in need of an outlet.
Even though this is a scary time, consumers want you to see them and recognize what they're going through. You can't ignore it. Leaning into the moment is the better option. Brainstorm ways that your business can be relatable without necessarily mentioning the pandemic. The content could outperform your other ads and posts.
If you're skeptical, use Facebook's A/B testing feature to directly compare a coronavirus-related ad to a regular ad. Then let the data be your guide.
Finally, make sure to use landing page software to pair your awesome ads with COVID-friendly messaging.
For more help check our 12 Savvy Corona Virus Marketing Examples You Can Steal
4. Use Humor to Increase Engagement
As you can tell from the growing number of coronavirus memes, people are using humor to cope with this situation. As long as you're tactful about it, your business can use some humor, too.
Light sarcasm, puns, or subtle pop culture references can connect with your audience in a unique way. If this fits your brand's voice, it could be even more effective.
Reformation and Bonobos struck the right chord with the humor in their Facebook ads: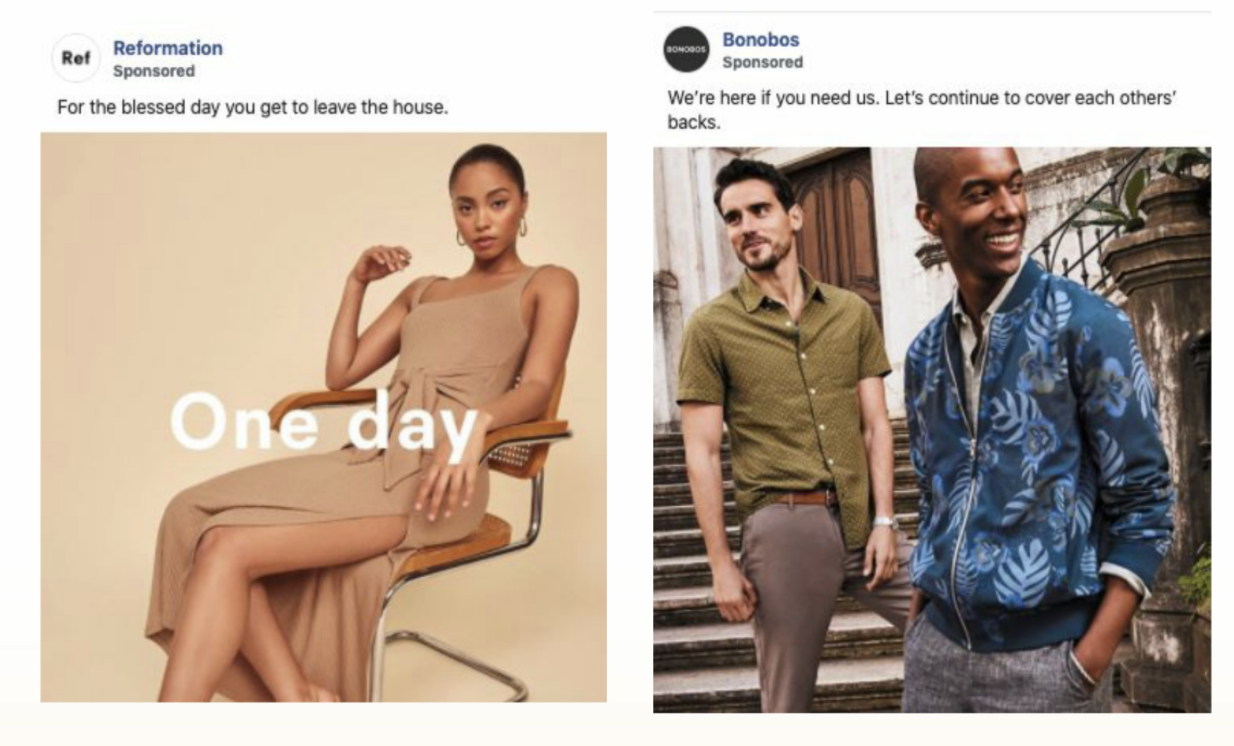 While you're also looking forward to "the blessed day you get to leave the house," try adding this kind of humor to your company's Facebook advertising strategy. A little sarcasm could even help humanize your brand.
Be careful not to go overboard, though. A bad joke can lead to some terrible publicity.
To avoid that kind of mistake, have some of your coworkers, friends, or family give your ad copy a "sensitivity read." They'll tell you if the humor doesn't land right.
5. Use Lookalike Audiences That Optimize for Ltv.
Because conversion rates are low right now, you need to be precise and optimize for average order value by picking off high LTV customers. Using LTV creates Facebook's most effective version of lookalike audiences.
When you use LTV, you target potential customers that look like your most valuable customers.
Look at it this way. Say you have two customers: one who spent $50, and one who spent $500. LTV helps you target people who look more like the $500 customer than the $50 one.
Especially now, when conversion rates are low, you need to focus on capturing a high-value audience. This guide on Growth Marketing Pro can teach you how to implement LTV for better-performing lookalike audiences on Facebook.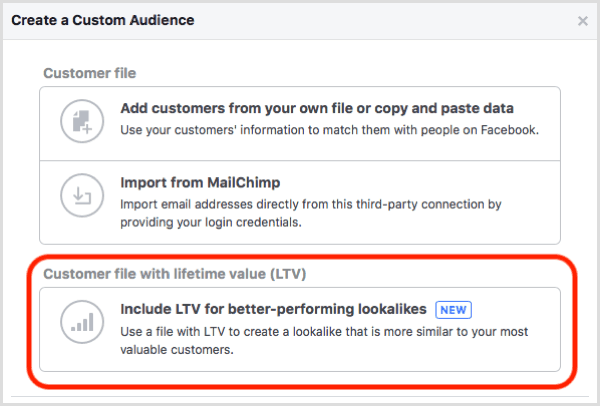 Once you start targeting an audience that's similar to your highest-value customers, your leads will be more qualified. Your email list will fill up with more valuable potential customers, and your future conversion rates could prove it.
Conclusion
Coronavirus slowed down the real world, but the online world shows no signs of stopping. In fact, it's obvious that life online is speeding up.
These tactics will help you take this unprecedented time and turn it into an unprecedented change in your Facebook advertising strategies.
Take advantage of low CPM with lead focused ads. Do something positive for those struggling. Lean in and show that you know how things have changed. Use a little humor. And don't forget to use lookalike audiences that optimize for LTV, so you only attract the most valuable potential customers.
Want to go beyond Facebook ads to step up your digital marketing game during coronavirus?
This is the perfect time to try other channels. Perhaps SEO will work for your business. An affordable software like GrowthBar can help you find out.
About the Author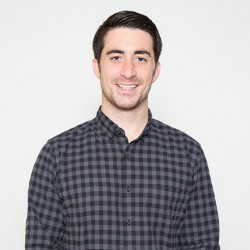 Mark Spera is a marketing guy, a pizza enthusiast and San Francisco resident. Also, he started the Growth Marketing Pro and built it into a 6-figure passive income business in 18 months.