Looking for effective ways to acquire more customers faster?
Here's a pro tip. Focus your efforts on email marketing strategies. But you're thinking, "Email marketing died a long time ago, right?"
Wrong.
Email marketing remains one of the best ways to connect businesses to consumers. More than half of consumers check their email account over ten times daily. Further, according to Litmus, brands report an ROI between 37:1 and 42:1.
To help you get started with effective email marketing strategies right now and for the future, here's a roadmap that'll show you how to:
Connect with your customer through their email inbox
Implement email marketing optimization to increase email open rates
Integrate email marketing strategies that'll make your emails mobile-friendly
Select the most important email marketing KPIs to track according to your goals
Automate email marketing planning and execution
Let's get started!
---
1. Personalization is the key to connecting with your audience
Creating personalized content for consumers can heavily influence buying decisions. In an Epsilon survey of 1,000 participants, 80% of consumers stated that they're more likely to buy from brands offering them personalized experiences.
Get to know your customers
If you want to effectively reach potential consumers, turn them into customers, and then retain their business, you've got to get to know them. You can't take a "one email fits all" approach when developing an email marketing strategy.
Adding personalization to any email marketing campaign begins with creating a customer persona, also known as a buyer persona.
Why should you create customer personas?
Not every customer is exactly the same. Each consumer has different needs, pain points, preferences, goals, and spending habits.
The more you know about your different customer segments, the more seamless the customized brand experience is for them.
How do you create customer personas?
Your best source for customer data is the customers themselves. Conducting customer discovery interviews provides you with the type of information you need to create accurate buyer personas.
Here are some key pieces of information you should have after interviewing your current customers:
Demographic Information: age, location, gender, occupation, and industry
Pain points: what challenges do they face that your product may solve?
Goals: what problem do they hope your product solves?
Competitors: what products similar to yours have they purchased from other companies?
Figuring out certain characteristics of your ideal customer helps to determine which approach to take as you create customized experiences.
Along with customer discovery interviews, use other resources like assessment tools, social media, or website analytics to gather as much accurate data as possible.
Once you have this information, you can create a customer persona to help you visualize the information. HubSpot's persona tool can help you do this quickly and effectively.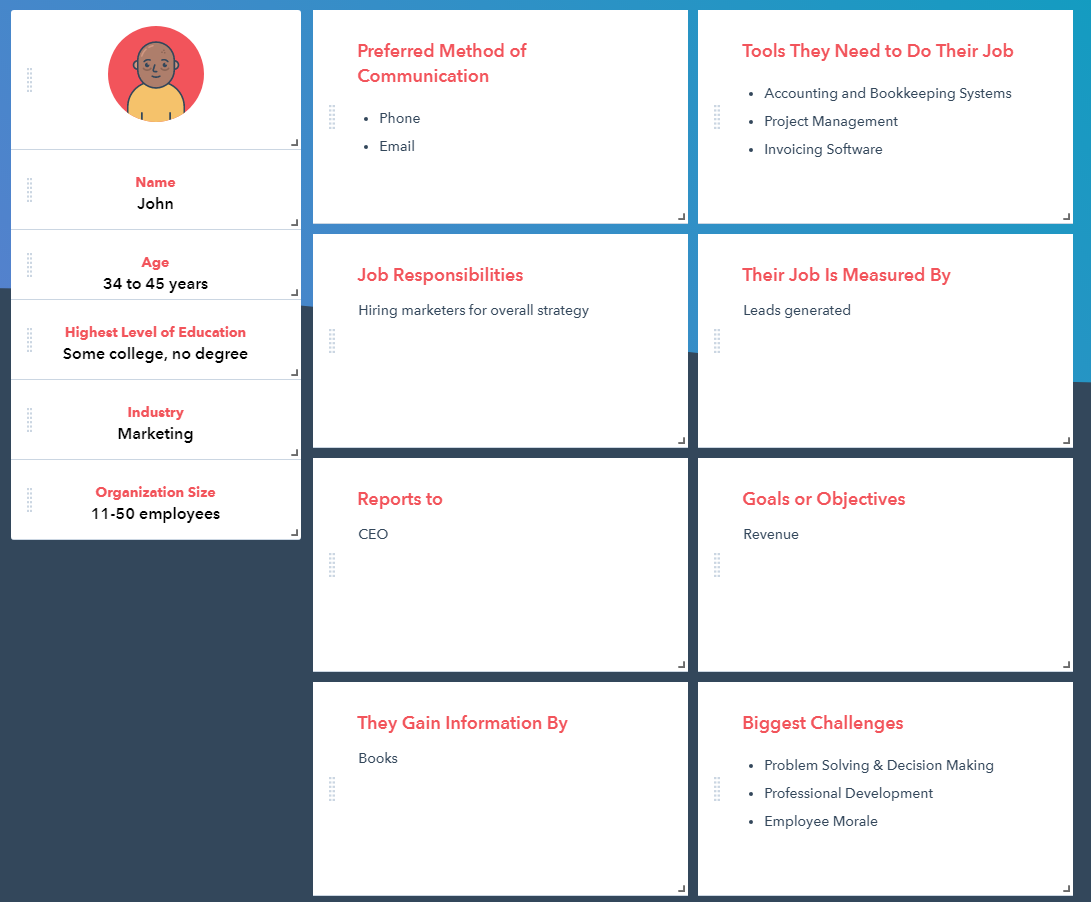 So you have detailed and accurate customer personas, what's next?
How to use customization
With all of this great data in hand, it's time to create personalized experiences for your customers through email marketing.
Segment your audience based on shared characteristics and create customized content for each group.
Consider using specific design elements for different segments. Are you trying to reach millennials and the GenZ crowd? Email copy with emojis and interactive content might grab their attention.
Or you can use your customer insights to create a hyper-personalized experience for each customer like Grammarly. Grammarly sends weekly progress reports to their users with updates on their writing activity along with encouragement to keep writing.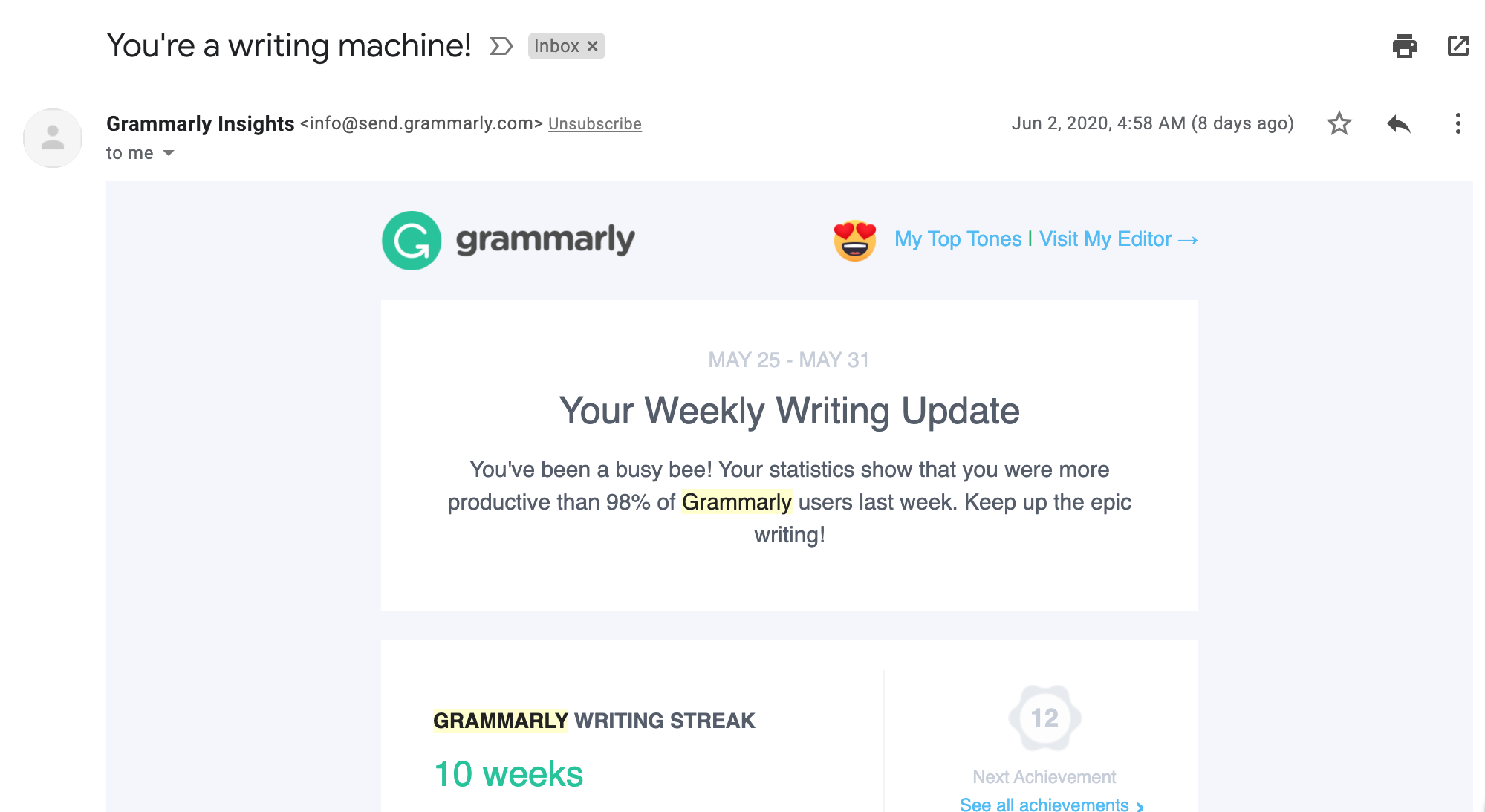 Creating customized email marketing campaigns is more than just a nice touch. Personalized emails can have a direct impact on your sales. In fact, personalized emails can yield a transaction rate of 6x greater than other types of marketing emails. On top of that, some marketers report seeing a 760% increase in revenue when using segmented campaigns.
Consumers value personalization. Don't make the mistake of mistargeting your customers. You don't want to lose customers because they felt like you sent a message that wasn't for them.
What about prospective customers?
There are people in your target market you want to connect with. The problem is that they're not on your list. This is where an outbound or outreach email marketing campaign comes in, also known as sending cold emails.
You read cold emails and the first thing that comes to mind is spam. But there's an important difference between the two. Spam emails are generic unsolicited emails that are often sent in bulk to email addresses from a purchased list. A targeted cold email is sent to a high-quality lead with the goal of fostering a new business connection.
Why should you add cold emails to your arsenal of email marketing strategies? Because they work. Taking the time to research your prospective customer and crafting a hyper-personalized email could more than double your reply rate.
Consider these tips when sending cold emails:
Research, research, research.
Sending a cold email that the recipient will respond to requires spending time researching the prospect. Read their blog, check out their LinkedIn profile, or listen to a couple of their podcast episodes.
Did you learn an interesting tip about how to start a podcast by listening to theirs? Mention it in your email to them. Highlighting key points you learned in your research shows that you know who they are and value their work. They'll be more inclined to reply to a cold email from someone who's taken the time to engage with their content.
Keep it brief.
Get all your points across in a few sentences. Introduce yourself and establish credibility right away by mentioning your company's impact within your industry.
Show you've done your homework by mentioning something noteworthy they've done.
Offer them something they'd find of value. It could be a free demo of your product, an exclusive discount code, or a free ebook with tips to address their pain points.
Don't forget to include a call-to-action. Perhaps the next step is to hop on a call. Or perhaps you'd like them to share your product with their network? Have your links ready and let them know what you'd like to happen next.

2. Optimize email open rates
You've researched your customers. You've personalized emails for each customer segment. Now how do you make sure they actually read your email?
According to MailChimp, the average open rate across all industries hovers around 21%. This means for every five emails you send out, one person opens it. Or only 1-in-8 will open an email if you're in automotive or aerospace.
What enticed that one person to click through to read your email besides recognizing your name?
An engaging subject line.
Almost half of all email recipients open emails solely based on subject lines. The trick to writing subject lines that increase open rates is writing copy that resonates with the consumer. The best subject lines trigger an emotional response like urgency, laughter, or curiosity.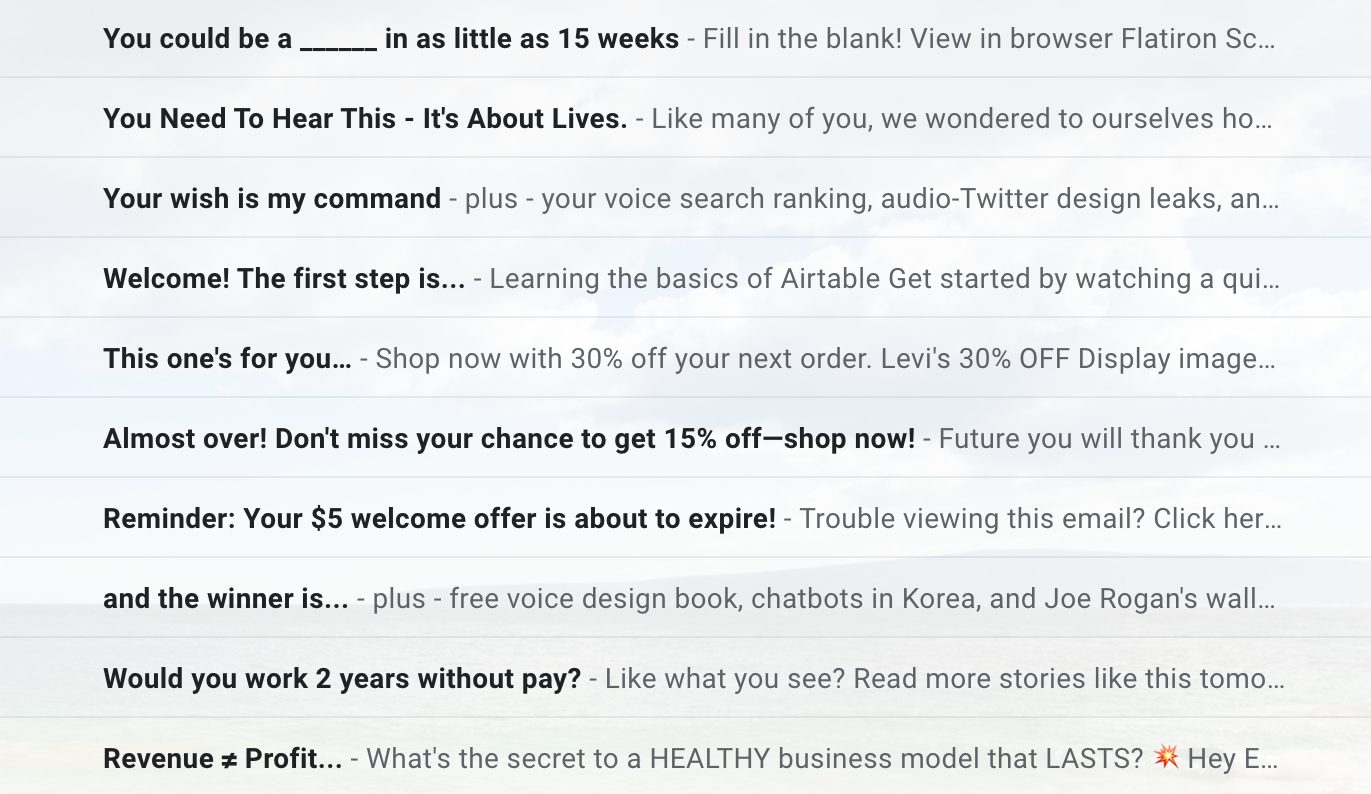 Here are some tips for crafting excellent email subject lines:
Keep it concise. Use between 4-7 words and no more than 50 characters so that the message doesn't get cut off in the subject line.
Remember personalization? Use your customer's name in the subject line to grab their attention. It could boost your open rates by 26%.
Use a real person's name as the sender. Let the recipient know that there's a human behind that email.
Let the customer know what the email is about. Are you sending them the free ebook they signed up for? Tell them that the ebook they requested is inside!
Make it fun! Use emojis when appropriate as they can help increase open rates, but stay away from ALL CAPS, too many symbols, and overusing punctuation.
Don't fall into the click-bait subject line trap. Your subject line prepares readers for the contents of the email. That awesome subject line must lead to equally awesome and relevant copy.
In addition to compelling subject lines, with email marketing, timing matters. Limit email blasts. Everyone is inundated with marketing emails. You don't want to get lost in your customer's inbox or worse, lead them to unsubscribe from your list.
3. Create mobile-friendly emails
Due to the portability and convenience of smartphones and tablets, it comes as no surprise that
62% of marketing emails are opened on a mobile device. Only 10% of email campaigns are opened on a desktop.
Optimizing your email content for mobile devices helps get your message to more of your customers. A consumer survey revealed that 42.3% of email recipients delete emails not optimized for mobile.
You don't want nearly half of your emails to end up in the Trash folder.
When designing mobile-optimized emails, keep the following in mind:
Write compelling preheader text
Preheader text is the copy displayed to the right of the subject line on a desktop or below the subject line on a mobile device.
The preheader text provides the recipient with a preview of the email contents. It also gives you a chance to craft additional copy to encourage your reader to open your email.
Keep the email preheader text between 40-130 characters long so that it shows up in its entirety on both desktops and mobile devices.
Use CTA buttons instead of links
On a touchscreen mobile device, clicking a button with plenty of white space around it is easier for the reader. A good size for mobile-friendly CTA buttons is between 42-72 pixels.
Go light on the text
Text-heavy emails don't work well on mobile devices. Due to the limited space on the screen, readers will have to scroll for a while before reaching the end of a wordy email.
Keep email copy concise and break up text with white space and mobile-optimized images to increase readability.
Single column vs. multi-column
When sending emails with mostly text or large images, choose a single column template. Multi-column templates can make the contents of the email look crowded.
Focus on creating mobile-friendly experiences for your audience at every stage of the customer journey. Mobile optimization shouldn't stop with the email.
Make sure that all CTA buttons and links in the email lead to websites that are responsive and mobile-friendly.
Create unique mobile inbox experiences with AMP for email
Released in 2018, Google brought its accelerated mobile frameworks (AMP) to inboxes with AMP for email. This technology gives users the ability to interact with their favorite websites without clicking out of an email.
What makes AMP for email a great email marketing strategy is modernization. It takes email as we know it from static to dynamic.
AMP for email has functions that allow users to complete form submissions within an email. Also, new email layout options like media carousels, accordions for revealing and concealing sections, and lightboxes for images and text make for a more interactive email experience.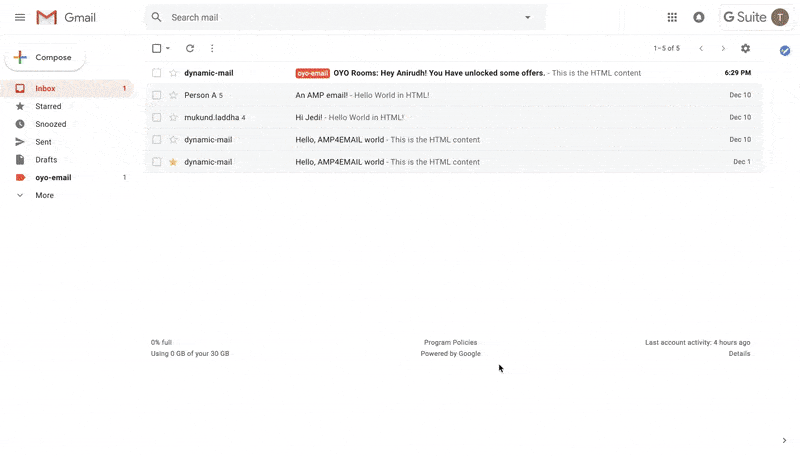 This demo from DesignModo shows how AMP for email allows users to browse through a list of accommodation options, see a breakdown of rating details, and move along in the booking process, all within one email.
Ready to start automating your email marketing campaigns?
Book a free call to learn how our team of marketing experts can help you to create high converting email marketing campaigns today.
4. Set and track email marketing goals
Before launching an email marketing campaign create a list of email outreach goals that you hope to achieve.
With your segment of potential customers, your main focus may be to increase brand awareness and figure out how to get more page views on your site. For customers with a purchase history at your company, your goal may be to drive sales through email promotions.
No matter the goal, you need a way to measure and quantify the results of your efforts.
Tracking a variety of KPIs (key performance indicators) helps determine the success of all implemented email marketing strategies.
To get you started, here's a shortlist of important KPIs to track for any email marketing campaign:
1. Open rate: Earlier in this guide, you learned ways to optimize your email open rates. Monitor your open rate (for both desktop and mobile devices) to ensure those strategies work for you and resonate with your audience.
2. Bounce rate: Make sure that your emails are being delivered by tracking the bounce rate. Soft bounces occur when a problem exists on the recipient's end. Hard bounces happen when an email cannot be delivered due to an invalid email address. Having a high bounce rate indicates that you need to clean your email lists. A consistently high bounce rate suggests to email servers that your emails might be spam.
3. Click-through rate (CTR): The CTR tells you how many people took action and clicked on a link in your email. This metric helps show you which CTA buttons or copy are most effective.
4. Conversion rate: With a staggering 124% ROI, email marketing beats social media and paid search in the arena of direct channel marketing. Similar to CTR, measuring conversion rates will tell you how many people took action on a prompt, but it includes actions further down the customer journey, too. Conversions can include website survey completion, ebook or guide downloads, as well as purchases. If your emails don't convert well, re-evaluate the email marketing strategies you're currently using and adapt.
5. Email sharing/forwarding: You can safely assume that your emails are engaging if you notice a good number of your subscribers forwarding them along. When subscribers share your emails with their network, your reach expands to a larger audience. What could be better for brand awareness?
As you start to receive consumer feedback and your email marketing campaign evolves, your goals and the KPIs you measure may change as well.
5. Streamline email marketing with automation
All of the email marketing strategies discussed in this guide requires a lot of research and time. You can hire a freelancer on a site like Fiverr to take this task off your plate, or you can consider automating it.
Utilizing email automation tools takes away a lot of the friction of launching an email marketing campaign. After the initial setup, the time-saving magic of email automation does the rest. Your job from there consists of tracking metrics, keeping track of analytics, and staying dedicated to engaging your audience.
Yes, email automation can increase your productivity by saving time but the benefits of automation don't stop there.
After analyzing over 2 billion marketing campaigns, Omnisend found that CTRs increased by over 17% with the use of custom automation workflows.
Automating your email efforts can help you:
Send mass personalized messages (like birthday email offers or holiday greetings)
Use a variety of email templates
Increase revenue (conversion rates are 5-10x higher than promotional emails)
This email automation infographic details the wide array of advantages automation has for marketing efforts.
Conclusion
Despite the rise of social media and the success of paid advertising, email marketing remains undefeated as the most effective way to connect entrepreneurs and corporate brands to consumers.
As you begin to develop your email marketing strategy and implement different email marketing tips, remember that certain ideas ring true for 2020 and beyond.
Personalization and optimization drive consumer purchasing decisions
Starting a journey with clear goals and metrics to track those goals leads to greater success
Take time to develop carefully planned strategies, but use automation tools to increase productivity which can in turn increase sales
Start putting these tips into action today. Your customers are waiting to see you in their inbox!
About the Author


Meredith Heth is a marketing specialist at Growth Ramp, a company helping early-stage entrepreneurs get their first 1,000 customers in a year. Get our free product marketing course, which teaches the principles we used to double a startup's ARR in 6 months.
amir