With billions of monthly users and the option to create highly targeted ads, it should come as no surprise that Facebook is an effective sales channel for marketers.
However, just because it's easy to run a marketing campaign on Facebook doesn't mean you are going to get a return on investment from your efforts.
In this guide, we're going to cover six ways that Facebook marketing can increase sales and generate revenue for your business. These will be actionable tips you can apply to your business. Let's start at the beginning.
---
Facebook Offers Low Costs per Lead
For marketers, Facebook's key selling point is the sheer number of users. When using display advertising, this essentially means the cost of reaching people is much lower than traditional media.
However, just because you can make money through advertising on Facebook doesn't mean you'll see an ROI. Plenty of people waste money on ineffective Facebook ads.
The success of a Facebook ad can be broken down into two components. The ad itself, your targeting, and the landing page where you are sending traffic. Your goal is to optimize each of these for the highest possible conversion rate.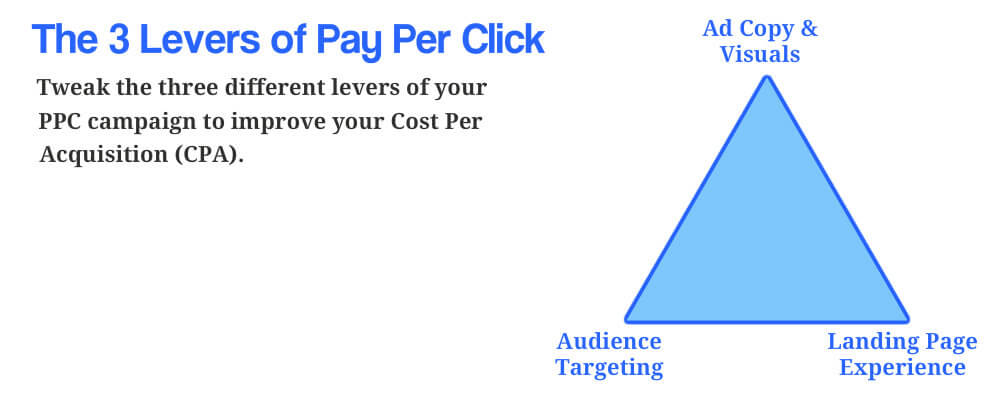 Then Facebook's massive user-base lets you scale effective ads to your heart's content.
One way to test your copy and targeting is through A/B testing.
Most people know to do this for your ad copy and visuals. Less people think to do it with their target audience too. As an example, here's the Ad Library page for a Starbucks ad:
There are 41 different versions of this. They each have the same copy and image, but they're targeted at different combinations of men and women in various age groups.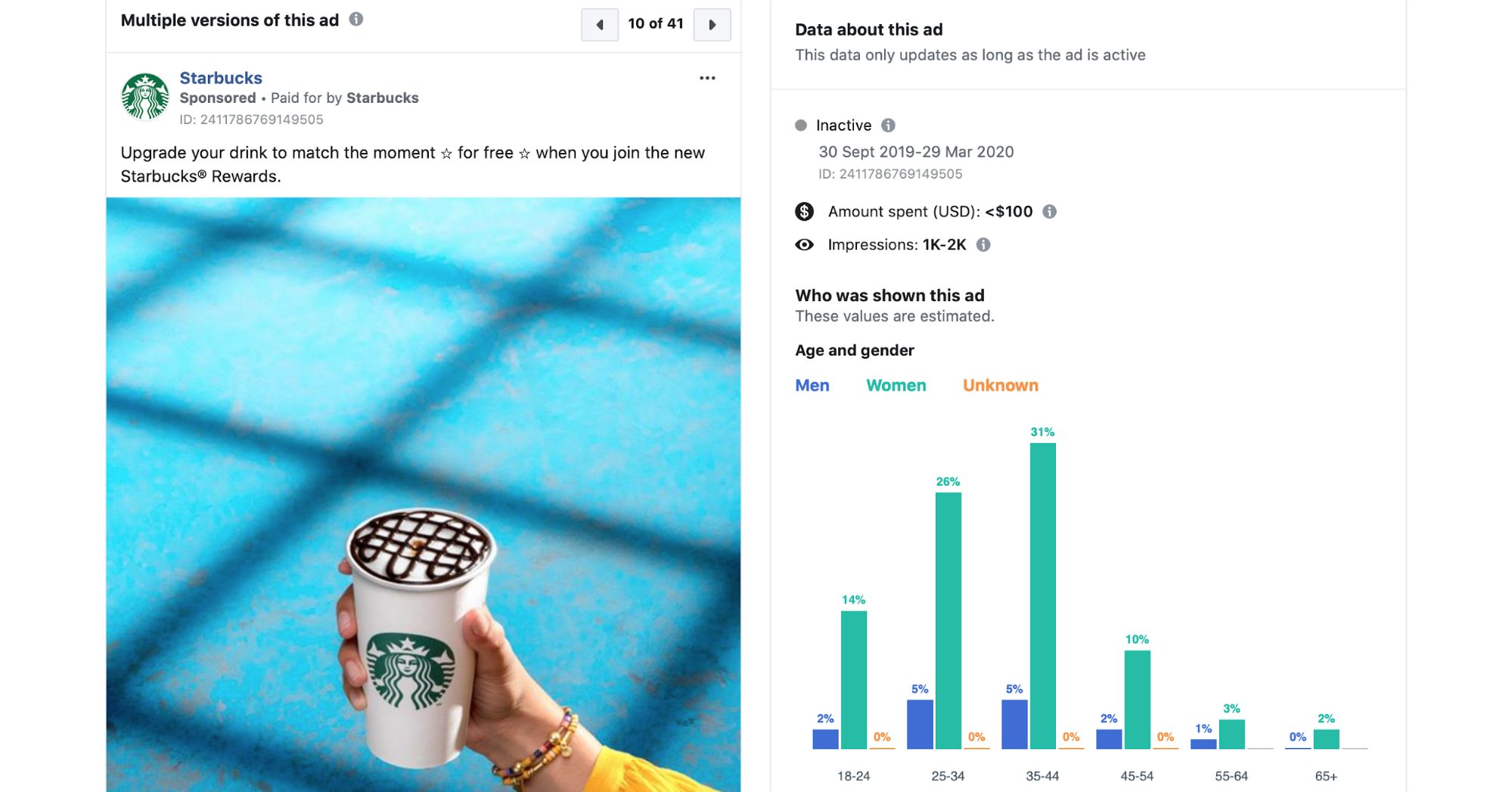 Now, the eagle eyed among you will realise that this kind of detailed audience A/B costs money. For all we know, Starbucks could have spent thousands on this testing exercise.
Small businesses don't have that kind of cash.
This doesn't mean you can't optimize your Facebook targeting. In fact, you still have a couple of great options for doing this. Firstly, you can use the data from your CRM or ecommerce platform to create a copycat audience.
This allows you to go after people who share characteristics with your existing customers.
Alternatively, Facebook also allows you to target users based on interests rather than demographics. Because of this, you can target people who like one of your larger competitors. You then refine your targeting through trial and error.
1. Use Facebook to Run Retargeted Ads
One common challenge companies face is potential customers finding your site and leaving without signing up to your mailing list or making a purchase. However, the real mistake is letting these prospects go without a fight.
Facebook is a great tool for winning these leads back. This involves using retargeted ads.
This applies when you've got a new visitor to your site through inbound search. You then use ad retargeting to make an improved offer to them which is related to the page they initially visited.
For B2C customers, this might be a discount on the product they viewed to push them over the line.
For B2B leads, it's best to use a content upgrade. This can be presented on a dedicated landing page in exchange for an email signup. You then warm these retarget leads through an email marketing sequence.
The benefit of this approach is you start collecting leads who might not be ready to buy. In the B2B space, this approach can help you get leads to a stage where you're ready to book a sales meeting and subsequently formulate a business proposal.
2. Create a Group Where You Are the Teacher
Creating private communities is the top priority of many marketers in 2020.
This is unsurprising given the benefits. For example, private communities provide outstanding organic reach. They essentially give you a direct line to your customers.
They're also an effective way to build brand loyalty and encourage repeat orders.
Facebook Groups are one of the easiest ways to create brand communities. But wait. Aren't Facebook groups for giving away free sofas, or sharing niche memes that no-one actually understands?
Sometimes, but not always…
Facebook groups are also popular among people with specific interests, and increasingly among people who love certain brands. In fact, these days many brands run their own Facebook fan groups. Take Peloton for example: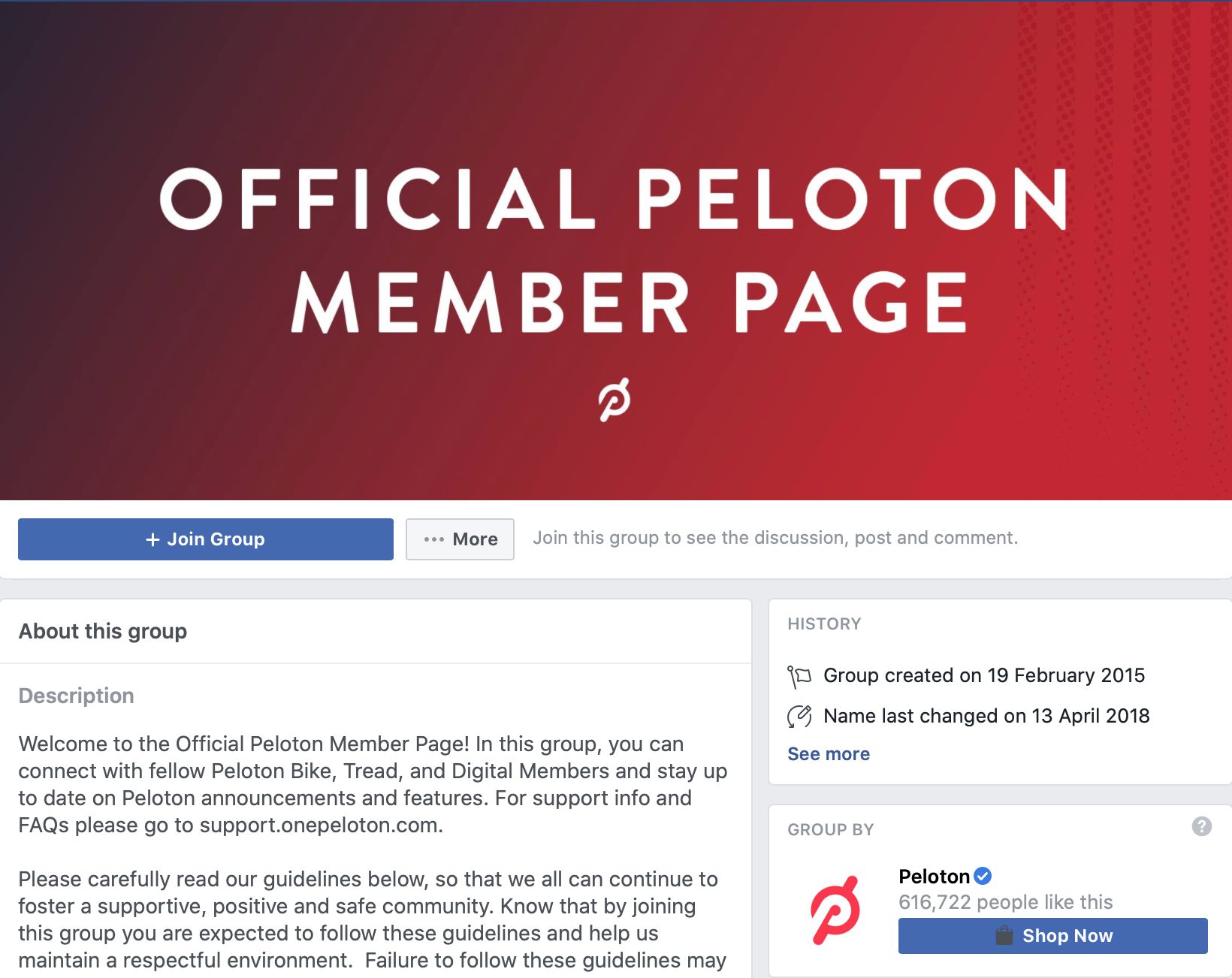 This group for Peloton users has over 300,000 members, and around 300 daily posts. On the one hand, this means that Peloton are able to promote their content and products directly to 300,000 people for free.
They can educate their customers to get the most out of their Peloton subscription, ensuring that they keep using it. This also allows them to upsell accessories and merch.
Even better, they have 100s of devoted fans discussing their product and how to get the most out of it too. No wonder private brand communities are on the rise.
3. Run a Contest to Gain Email Signups
Of course, there are strategies you can use to grow your audience and make sales at the sale time.
One of the most effective ways to do this is using Facebook competitions. These can take many forms.
For example, you're probably familiar with the like and share this post to enter format, which is often used by local businesses. These are usually ineffective and they look pretty amateurish.
To make effective Facebook contests, it's best to use a dedicated platform.
This will offer you a bunch of different options for creating contests. For example, you can enter your followers into a sweepstake in exchange for performing a certain action, normally signing up to your mailing list.
In fact, this is where competition marketing comes into its own. Ultimately, the real value of Facebook contests is to get email signups. You can then target these people with email marketing to increase your sales.
The key to this is a killer landing page.
Some common mistakes for competition landing pages include too many signup boxes, and unclear terms. Normal landing page best practice, like clear CTAs and compelling copy still apply. And as always, there's no substitute for A/B testing.
Need help with your next contest ?
Book a free call to learn how our team of contest experts can help you create high converting Facebook contest today.
4. Use Facebook as a Customer Support Channel
You can also use Facebook to increase sales by making it easy for customers to interact with you.
This may not feel like 'marketing' as such, but it's an important part of your overall social strategy.
This is all about handling customer queries in a way that directs them towards making a purchase.
An easy and cheap way to implement this is using a Facebook chatbot. Scientists at IBM say that modern chatbots can answer about 80% of customer questions without any human help. This can be utilised to field common customer queries, and redirect to sales pages.
On top of that, modern chatbots are hard to distinguish from real customer service agents. This helps you to build better brand relationships with your customers, through more valuable interactions.
This approach is already being used to great effect by brands like PrAna: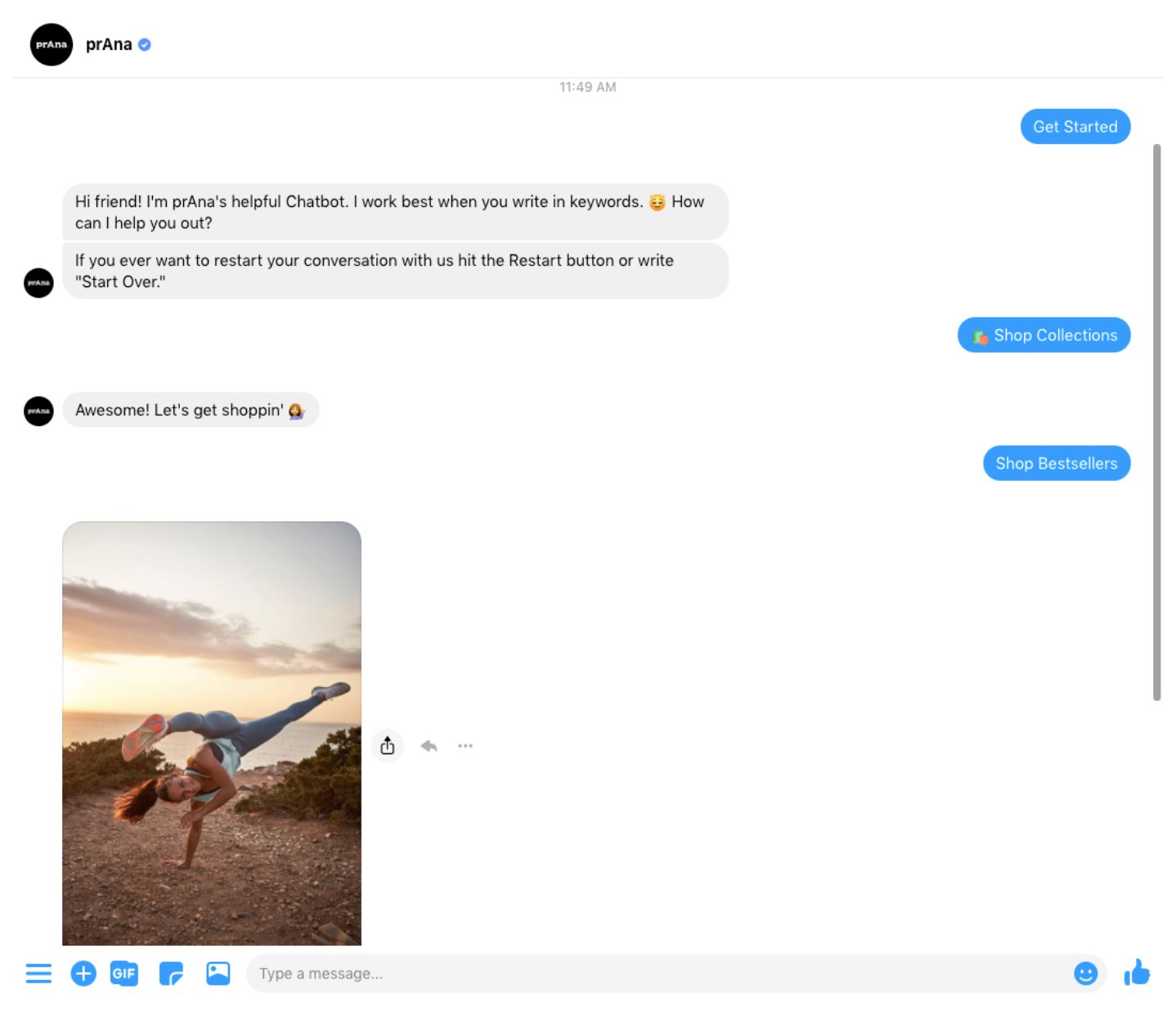 Customers also love Facebook chatbots, as they make it easy to connect with their favourite brands 24/7.
5. Gain New B2B Leads with Free Webinars
Facebook's value for B2C marketers is well understood. Its role as a B2B tool, not so much. As we already know, Facebook has more top earners as users than LinkedIn.
In short, if you're a B2B marketer, you can't afford to ignore Facebook.
Most often, Facebook ads are used as an initial entry point into a B2B funnel. But what kind of funnel works best?
These days, one of the most popular B2B funnels utilises webinars to gain email signups. This works because you're offering value to potential leads straight off the bat. You then use the webinar itself to promote a content upgrade, like a course or white paper.
To access this, they'll need to sign up to your mailing list.
Facebook offers an extra benefit here. That is, they're desperate to promote their own live video platform. As such, if you run your webinars through Facebook live, you'll get engagement benefits, like notification going out to your followers that you have a stream scheduled.
Amy Porterfield has this down to a fine art. Here's one of her live streams: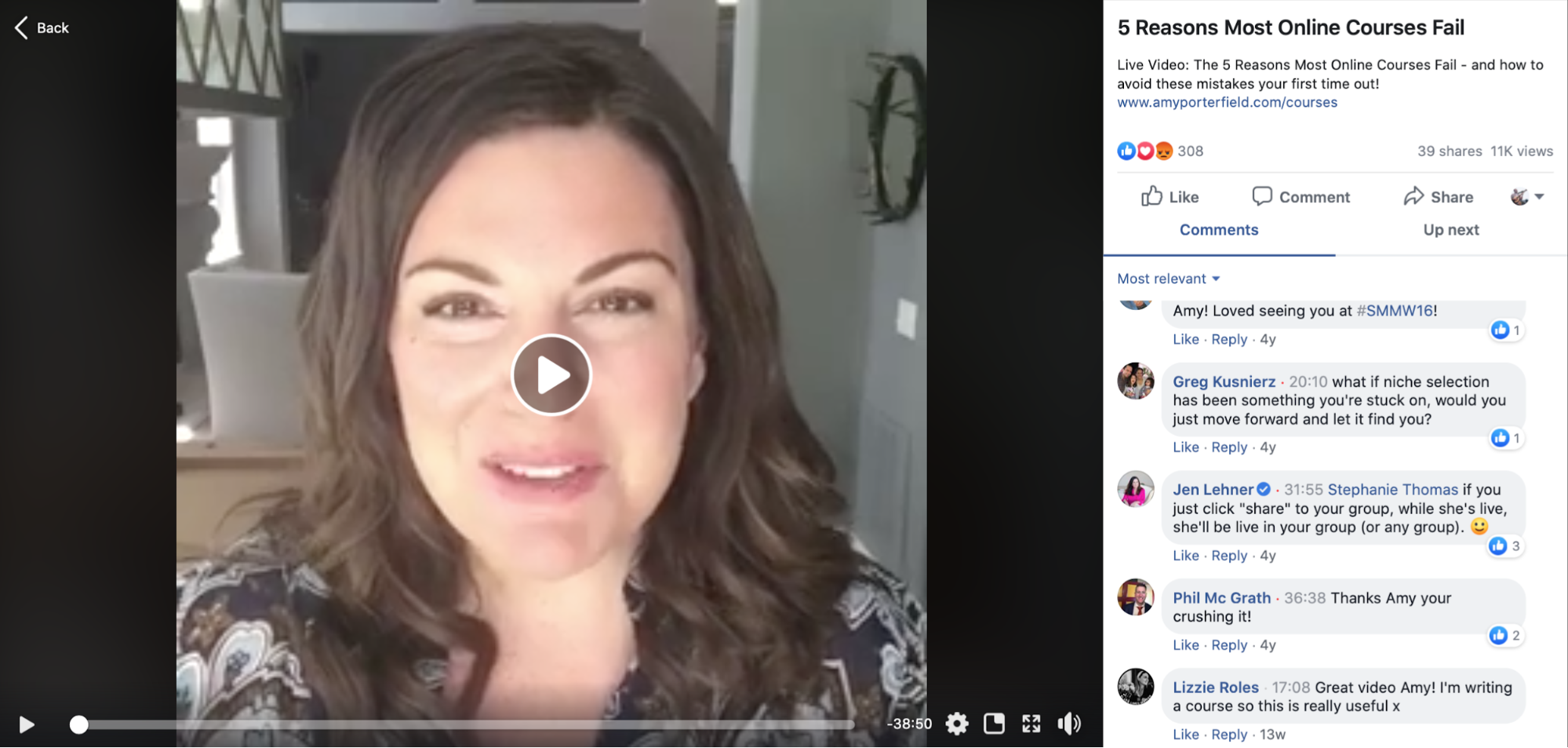 The title is 5 Reasons Most Online Courses Fail. In reality, she spends the video talking about the benefits of her online course strategy, without delving into what this actually is. This is done to promote her online course starter kit.
That link in the description leads to the following landing page: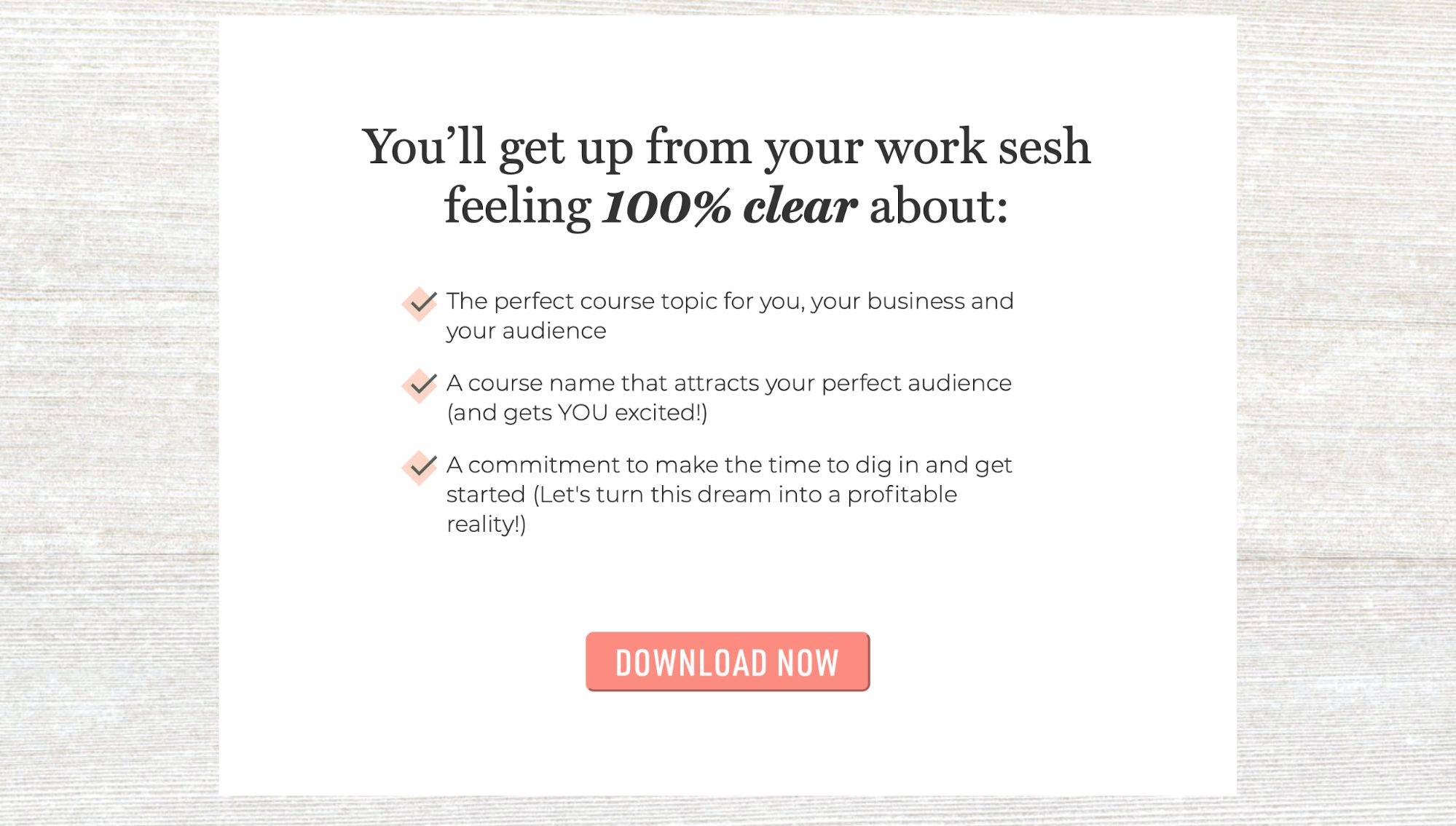 Once a user signs up, they're then fed standard educational content aimed at promoting paid premium content and courses.
6. How to Increase Sales with Facebook Marketing
There are two main ways that Facebook marketing can increase sales. Each of the strategies we've looked at today does one or both of these. First, you can increase the overall size of your audience.
Seconds, you can increase engagement among your existing audience.
We've looked at a mixture of free and paid strategies to achieve both of these goals. These include Facebook's built-in advertising features, the use of third-party apps, as well as simply sharing the right content.
The right mixture of these strategies will see healthy sales increases, from new customers and old ones alike.
---
About the Author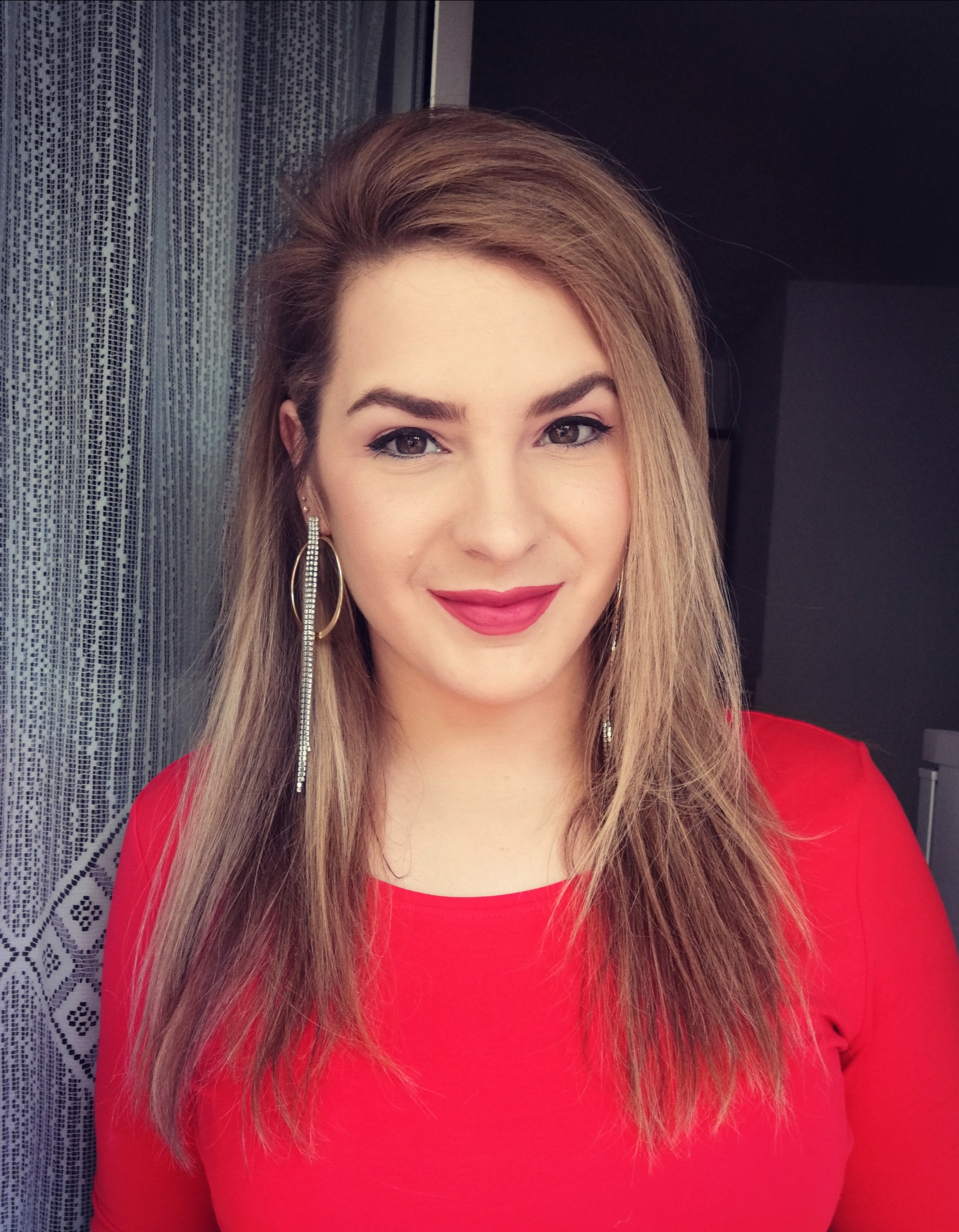 Petra Odak is a Chief Marketing Officer at Better Proposals, a simple yet incredibly powerful proposal software tool that helps you send high-converting, web-based business proposals in minutes. She's a solution-oriented marketing enthusiast with more than 5 years of experience in various fields of marketing and project management.
amir