The Complete Guide to IGTV Dimensions & Best Practices You Need
Let's talk about IGTV, Instagram's video hosting platform made to compete against the world's video giant YouTube.
When it comes to IGTV, there's still an air of mystery that makes some videos viral, and others grow slowly. But as marketers continue to create content and utilize the platform, the same rules that governed YouTube seem to work on IGTV.
Why should brands be invested in IGTV?
SimilarWeb research reveals that users are now spending 53 minutes per day, consuming content on Instagram. The only social media site where people spend more time is Facebook, averaging 58 minutes per day.
Not to mention almost half of Gen Zers between the ages of 18 and 24 say they would consume their favorite shows through social media. More than one-third of both Millennials and Gen Xers between the ages of 25 and 54 would do the same.
Now, let's discuss covering your IGTV bases such as recommended dimensions, how to create a channel, eye-catching content ideas, the best brands on IGTV, and more.
Let's get started.
---
The Best IGTV Video Size & Dimensions
Like Instagram stories, most IGTV videos have taken up vertical sizes to fit the viewers' mobile screen. So much so Instagram users expect this type of layout and dimension from brands. As soon as users enter the IGTV platform, videos start to play automatically.
Once your video is uploaded, you can only add a cover image, add sounds, or cut the video's length if it's under 10 minutes. So you edit your video before uploading it on the IGTV app. The step is getting the frame or size of our video right, which means using the right IGTV dimensions.
To be fair, this can be subjective based on what you want to show, and if you plan to display an IGTV video preview on your feed, but we'll get into that soon.
First, ensure that your IGTV video file size is under 650MB for videos less than 10 mins and for videos less than 60 mins it should be 3.6GB maximum.
It should be in an MP4 format, or it won't be uploaded. Next, your IGTV video dimensions should be 1080 x 1920 pixels or an aspect ratio of 9:16, which is the same size as the Instagram story dimensions.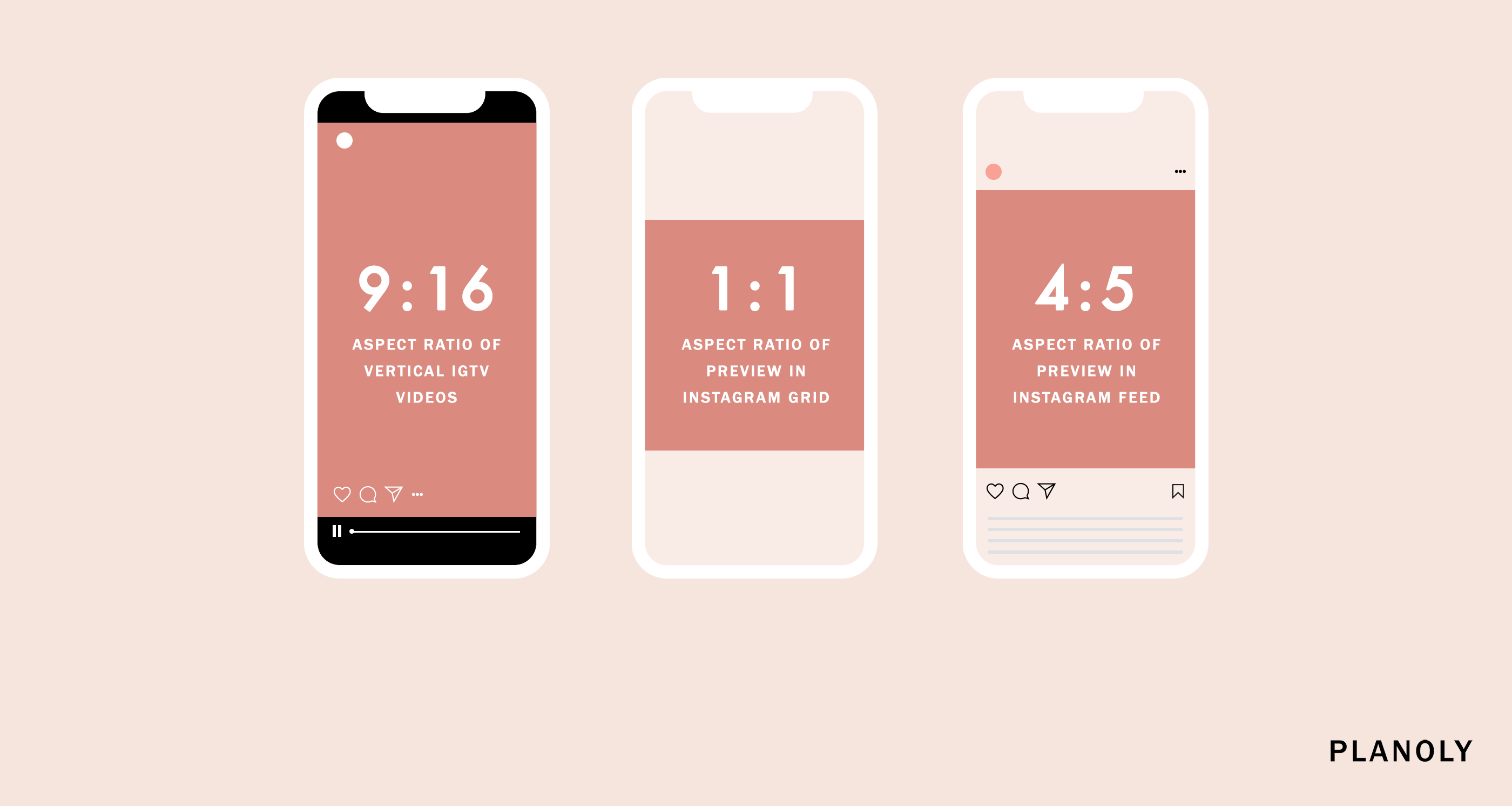 These dimensions are perfect if you upload videos on the IGTV platform, but when it comes to IGTV video preview on your feed, keep in mind that the video is cut down to a 4:5 ratio. If it's important to show the entire video in your IGTV preview, below are the IGTV dimensions you should consider using: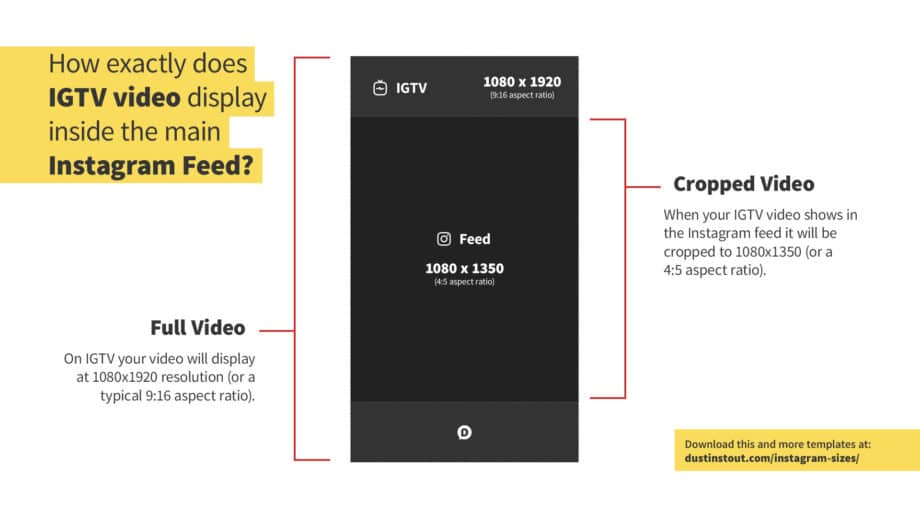 Remember that once you follow these sizes, your video will be flawlessly uploaded without having to do any additional editing or work.
How to Create an IGTV Channel
In the early parts of 2019, when IGTV was just launched, an IGTV icon on the far right side next to the direct messaging icon. However, Instagram decided that IGTV should be an app on its own.
You can upload and access videos on Instagram. You can also upload videos under 15 minutes as you would in a regular post, but for longer videos, the IGTV app itself will need to be downloaded and used.
To create your IGTV channel, start by downloading the app and login with your account's credentials so that the app syncs with your account, allowing you to upload, watch, and share your IGTV videos instantly.
It's that simple.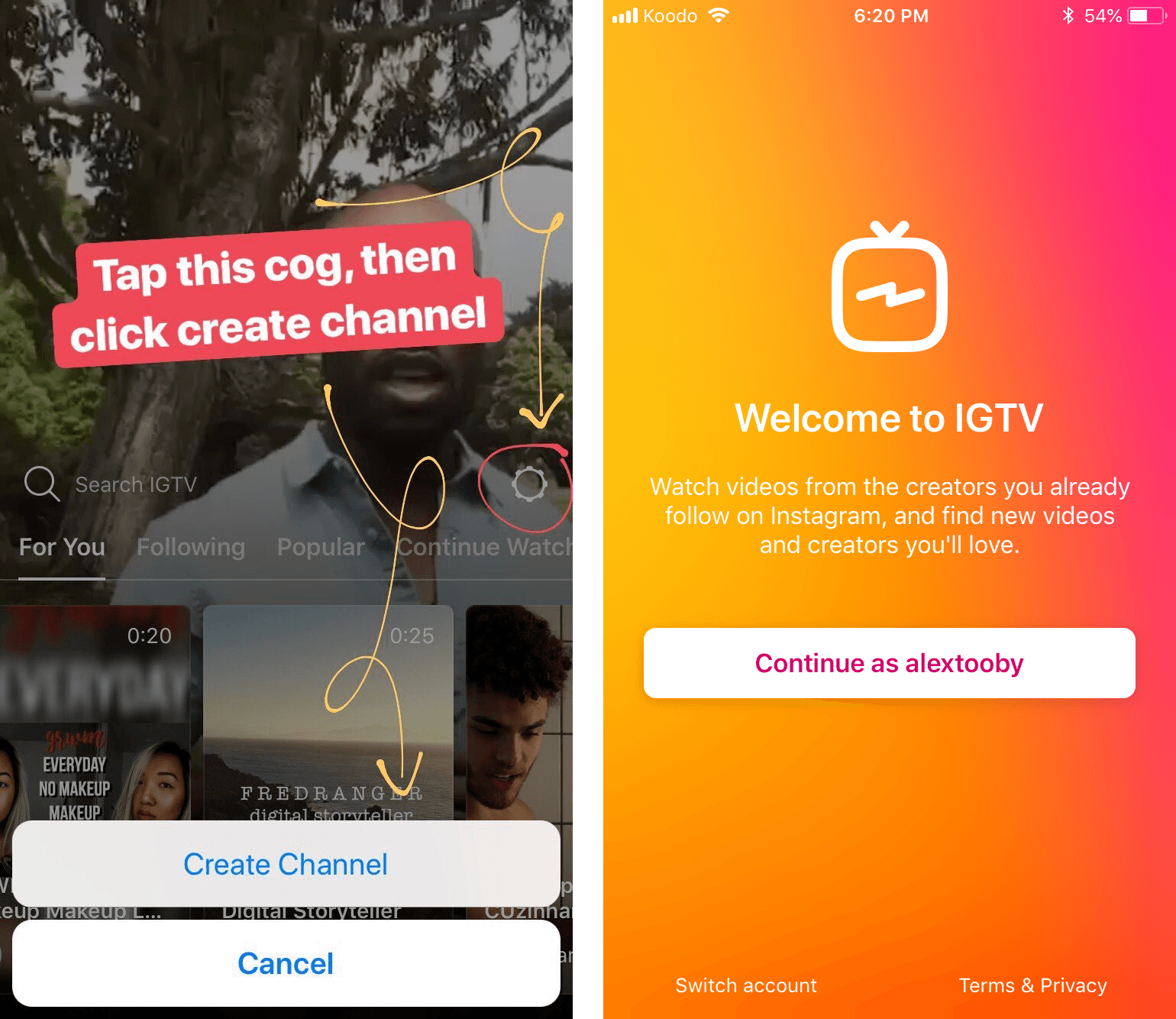 How to Upload to IGTV from Desktop Computer?
Instagram now allows you to upload your IGTV videos via desktop! It enables you to access the same features you would see in the app but from the comfort of the Instagram desktop version. Note this only works if you've uploaded at least one video on IGTV. If not, then you'll have to use the app itself.
If you already uploaded a video in the past, go to your account on the desktop version of Instagram. Then click the IGTV where your videos are kept, and you should see a blue "Upload" button.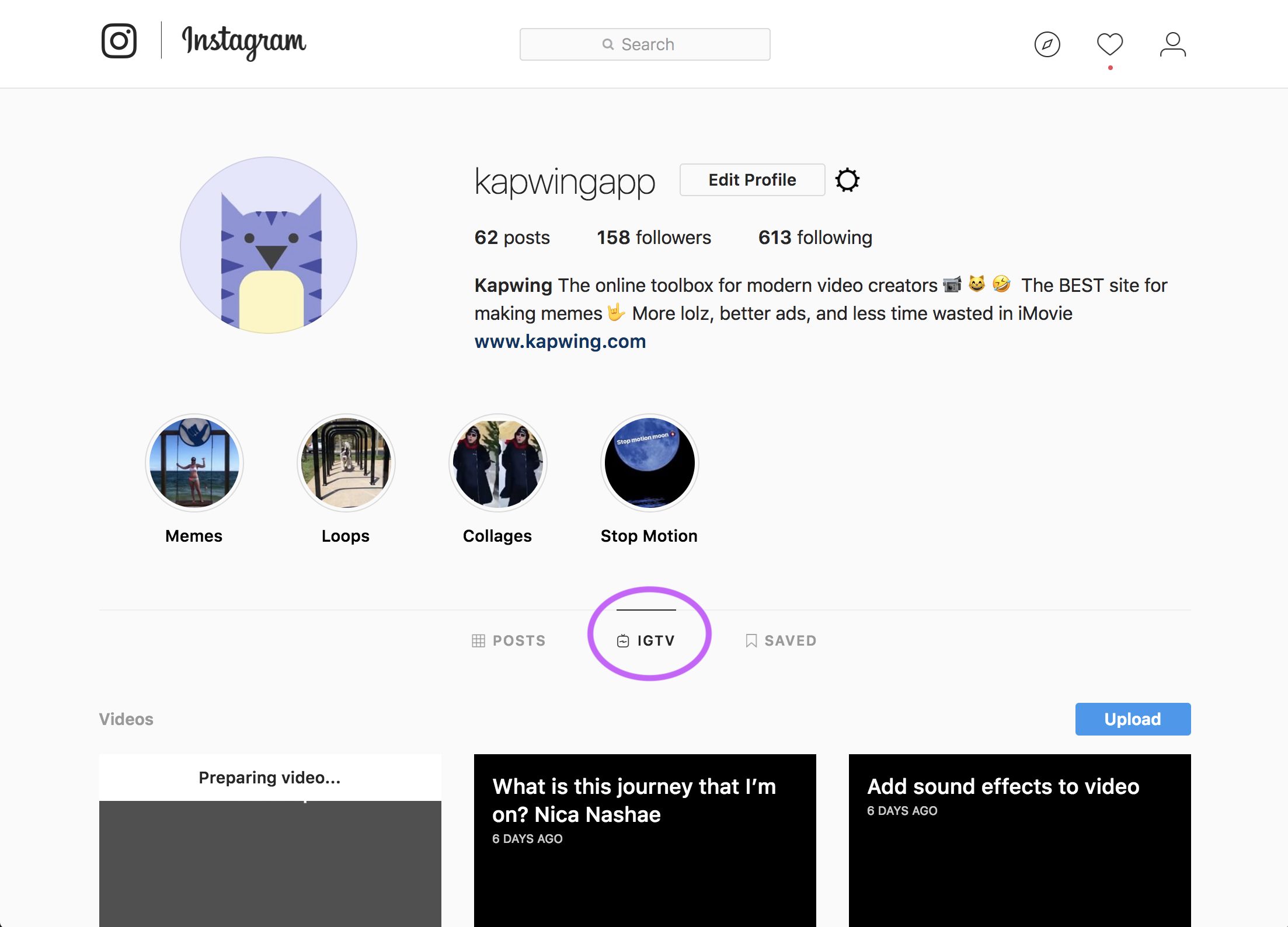 From there, upload your video, add your title, video description, cover image, and more. You can watch your video upload in real-time, and voila, you're done.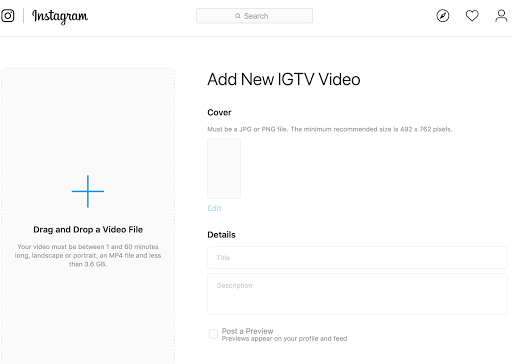 Instagram's IGTV vs. YouTube?
When it comes to IGTV and YouTube, marketers have been asking themselves which platform is the best when it comes to reaching, ROI, and more!
In my opinion, it boils down to the fact that IGTV doesn't have a higher shelf life, lifelong engagement, or loyalty as YouTube. I believe the two have a place in the world of video, and brands should utilize both these tools.
IGTV has its advantages as it's geared to a younger crowd, it's new and growing, so its video marketing potential is still untapped for creators and marketers alike. It does come with a more aesthetically professional look and feel, making it more professional looking than YouTube.
However, YouTube has more advanced analytics, sharing options (including embedding), and its reach isn't limited to the possibility that a user has to be following or interested in your content. Rather your content is sought out and selected!
Not to mention YouTube has far more SEO advantages when compared to IGTV, don't believe me? When you type in Google, you'll see YouTube videos come up as answers or answers to your problem, where IGTV videos are nowhere to be seen, well yet.
YouTube is far ahead of the video marketing game, while IGTv may be shiny, young and hip, it's still doesn't have the driving power Youtube has developed for years.
Whether you agree or not, take a look at this detailed video on IGTV VS. YouTube? — The Good, The Bad, and The Ugly.
4 Best IGTV Practices to Follow
Here are some of the best IGTV practices you should be using right now to help your channel look more professional while increasing engagement:
1. Always Have a Cover Image: When users scroll through your IGTV channel, your cover image should grab their attention or entice them to click on your video. Without a cover image, your video might look unprofessional, or users might have to read the title or description to get context (which feels like work). Make it easy for people to read, click, and watch your IGTV videos with the help of a cover image.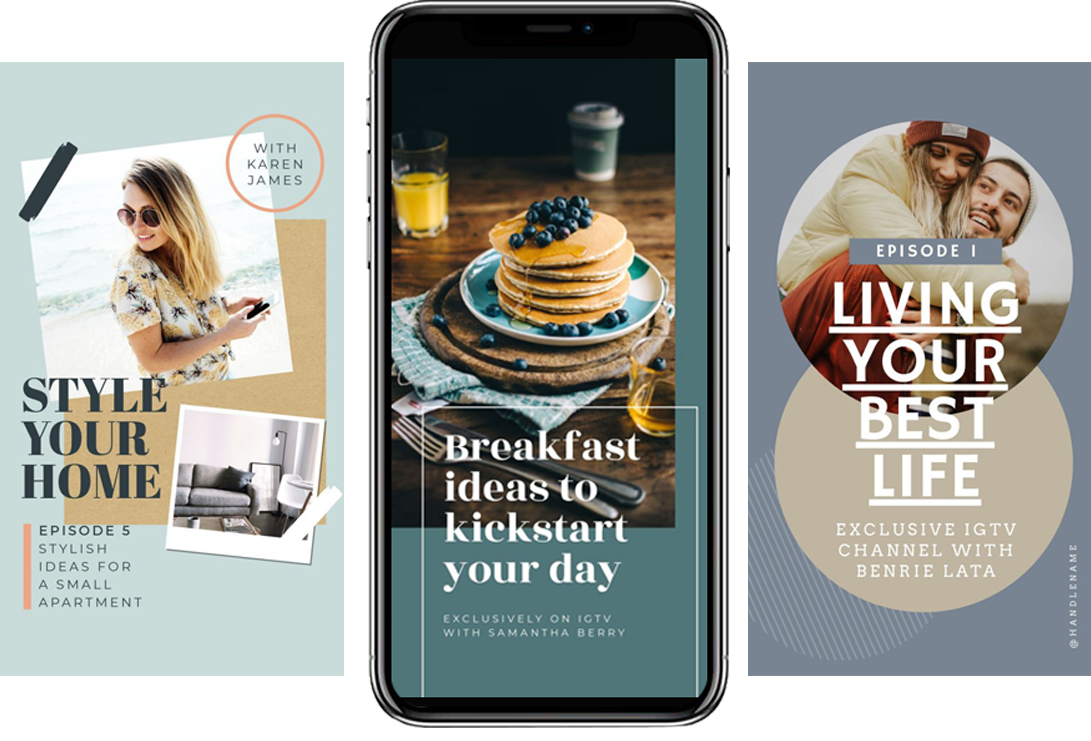 2. Post Consistently: One timeless tip is that posting content consistently on Instagram is crucial to your IGTV success. Brands spoil followers, they hate to admit it, but they thrive on consistency. The more consistent you are with your IGTV videos, the more users will look out for your content to watch, share, and engage with it regularly.
3. Create Content Followers Want to See: This sounds like a no brainer, but your IGTV, like your YouTube channel, will show you what topics and content your followers want to see from you. It also pushes you to experiment with ideas, layouts, and structures to increase your views. At the end of the day, it doesn't matter how good your IGTV videos are if no one is watching.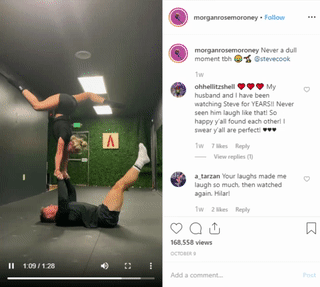 4. Use On-screen Text on Videos: Did you know that there is a rising trend within video marketing that shouldn't be ignored? Silent videos. Platforms like Instagram, Facebook, and Pinterest allow users to turn off audio from video. To add context to your video, add on-screen text on your videos, this will enable persons scrolling through to get a glimpse without turning on the sound.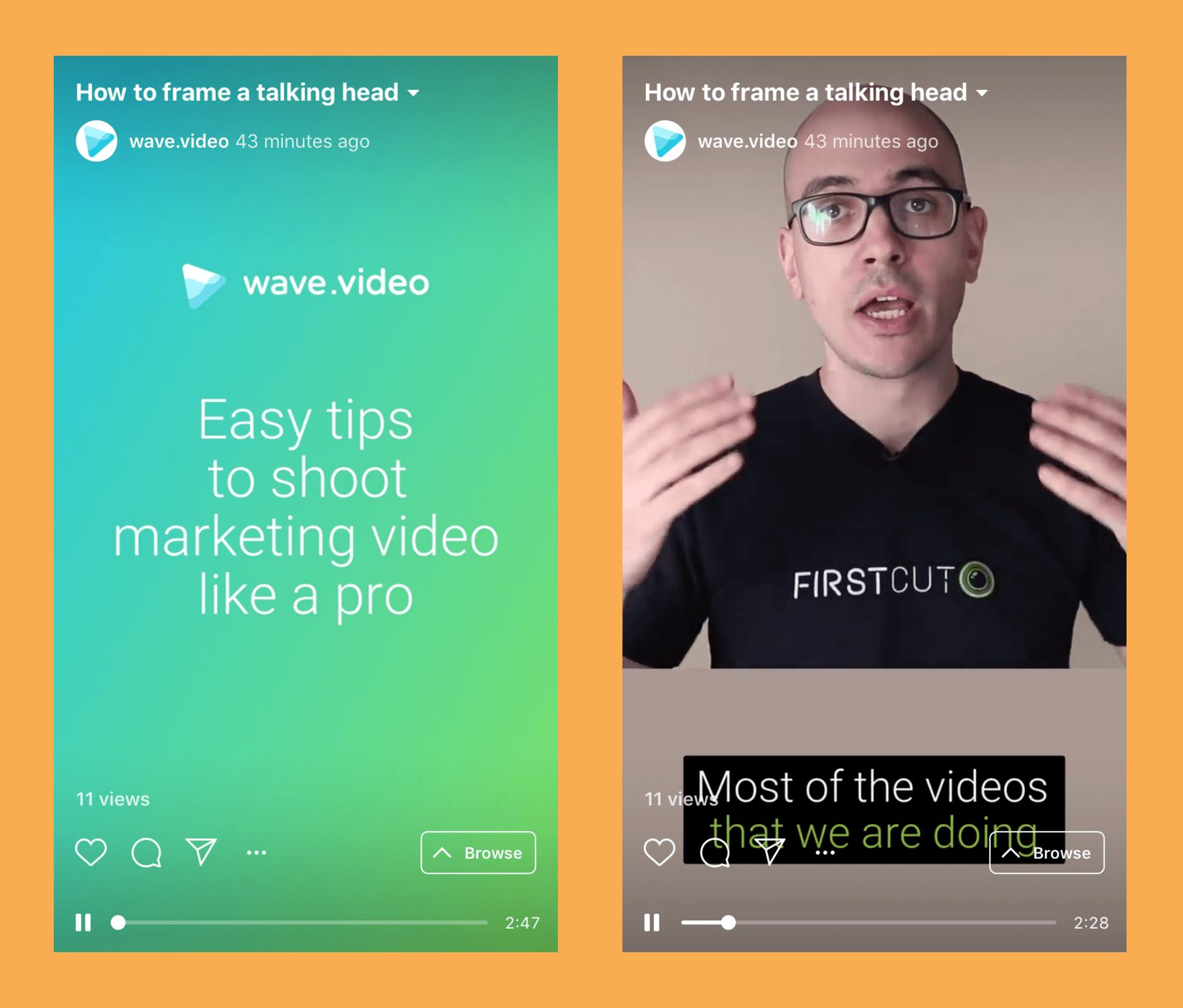 5 Best Tools to Create Amazing IGTV Videos
Canva allows you to create IGTV, and Instagram story covers with ease. You can create your IGTV cover from scratch or by choosing one of their thousands of templates.

Adobe is great for editing videos. You can preset your IGTV dimensions, add text, music and export your videos in the recommended file size with ease. Whether you're new to video editing or a seasoned content creator, Adobe Premiere Pro is always a good pick.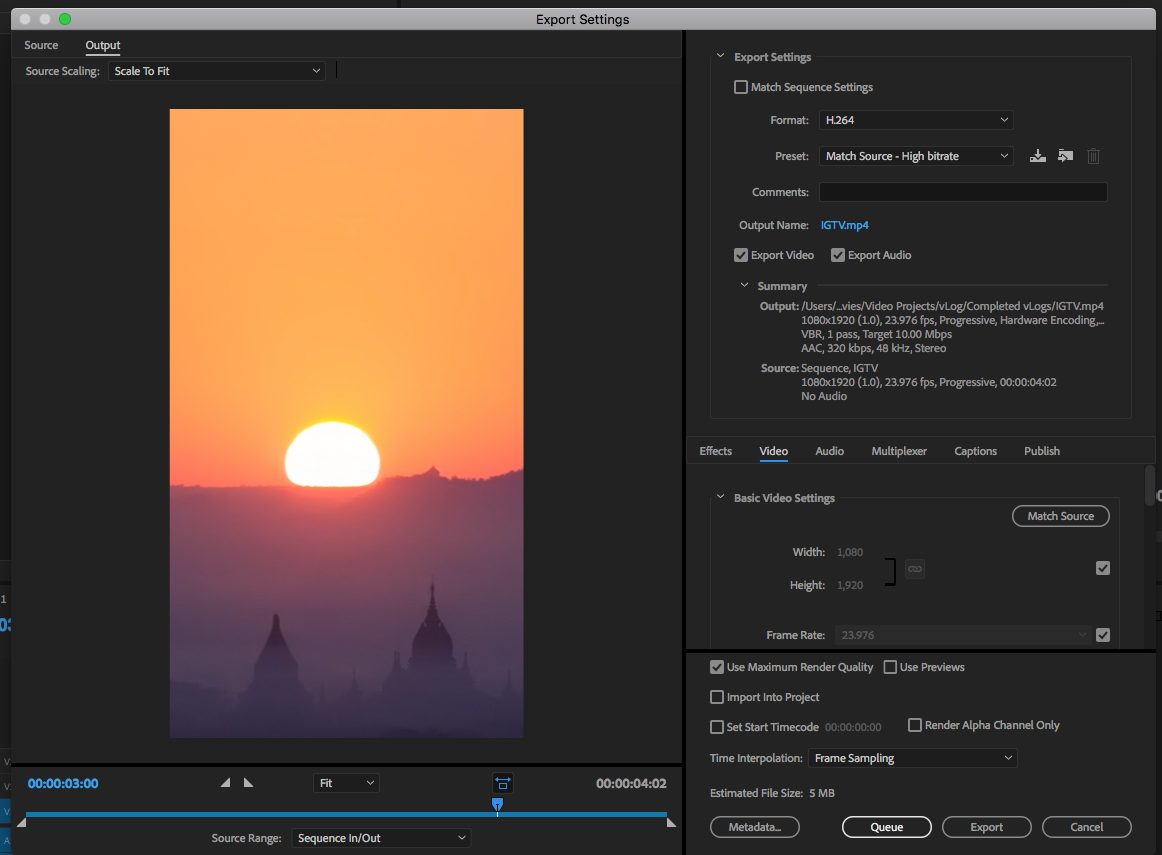 Wave is to video editing what canvas is to graphics, an easy to use online tool. You can upload, edit, and create IGTv videos in minutes online. Keep your videos organized and reuse them for every step of the customer journey.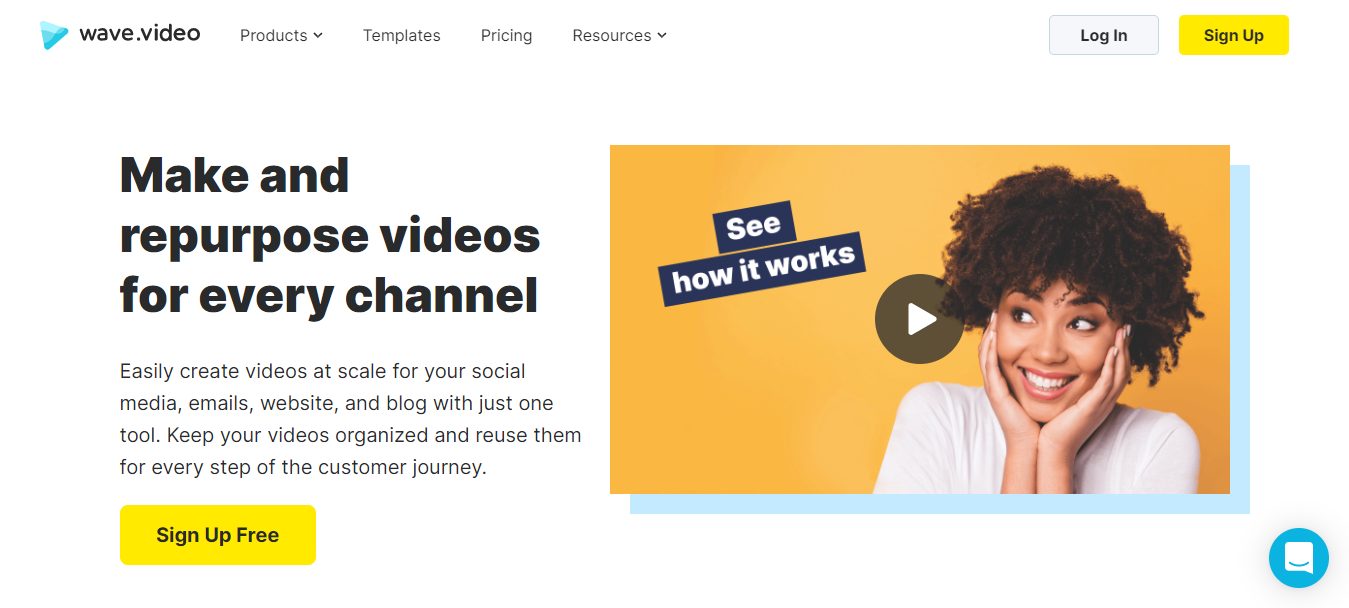 If you need a video editing app on the go to give you access to professional editing tools, Inshot does it all. You can resize your videos, add music, and download files in 1080 video quality to match your file source. This app is available in Apple or Android store.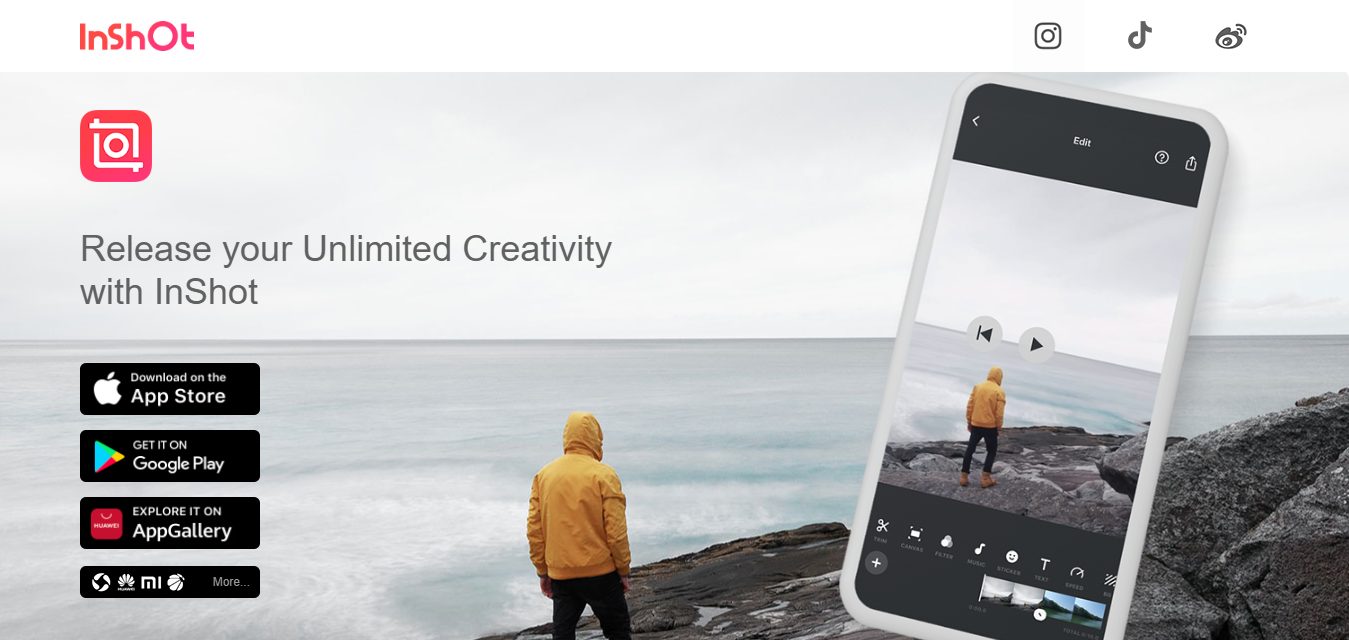 Snappa is another online graphic tool that allows you to create, store, and share Instagram graphics. Snappa allows you to edit videos as well! So if you're looking for a platform that does it all, you might want to consider using Snappa.

5 IGTV Video Ideas for Your Channel
Creating content for your IGTV video doesn't have to be a constant struggle; in fact, if you start with these six IGTV video ideas, you're sure to strike gold!
Keep in mind that you'll have to play around to find what type of content resonates with your followers best, so keep an open mind to the kind of video ideas that you can try in the future.
1. Product Introductions: Use IGTV to showcase or provide seamless product introductions to your followers. Whether this is a new product or a bestseller, use video to bring attention to its best features and details.
2. Behind the Scenes: Give your followers a sneak peek of what goes behind your products, projects, and day to day activities. Followers love being connected to a brand, as it helps to boost customer loyalty. Use BTS as your next IGTV video content ideas.
3. FAQ: You can use IGTv as an extension of your customer service arm to educate and inform users of your new features, answer commonly asked questions, and more. This helps you to optimize your Instagram profile to improve your customer's journey with video marketing.
4. Tutorials/DIYs: Next to FAQ's, you can use your IGTV for step-by-step tutorials to educate your followers on how to use your products after they're ordered or are considering a purchase.
5. Celebration or Special Highlights: IGTV is also a great place to create videos that highlight special and current moments that are happening within your company or relates to your shoppers.
10 Amazing Brands Dominating IGTV Right Now
Here's a list of all the brands that have been using IGTV to the fullest:.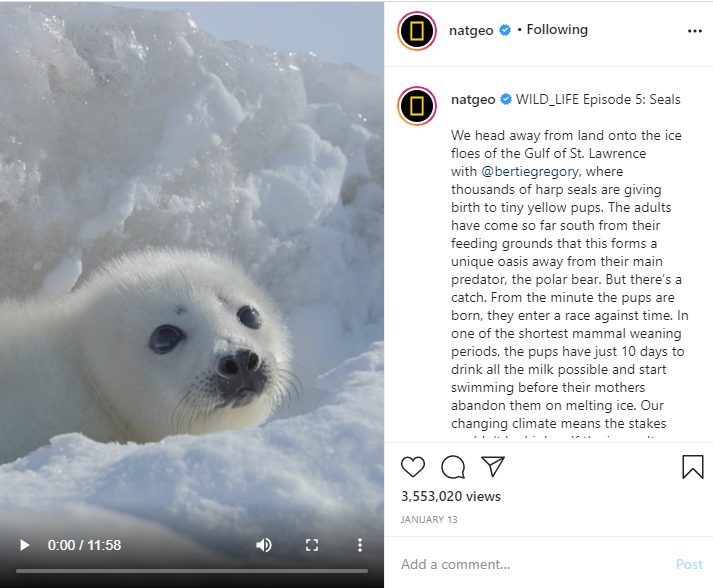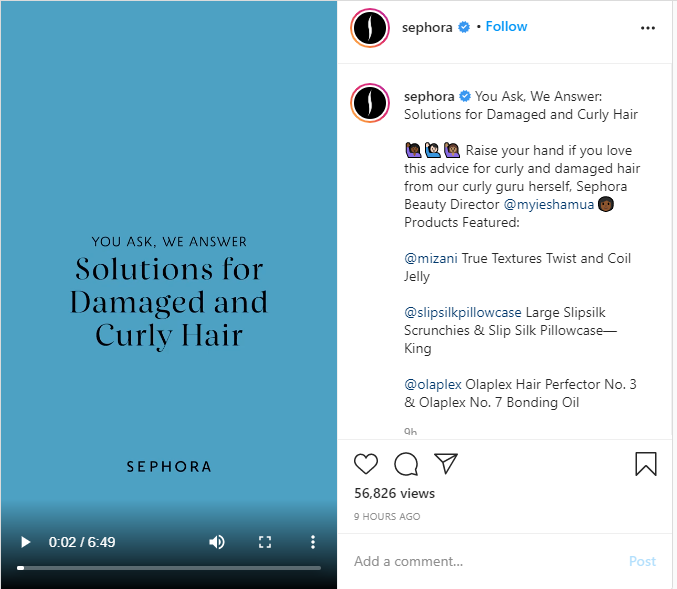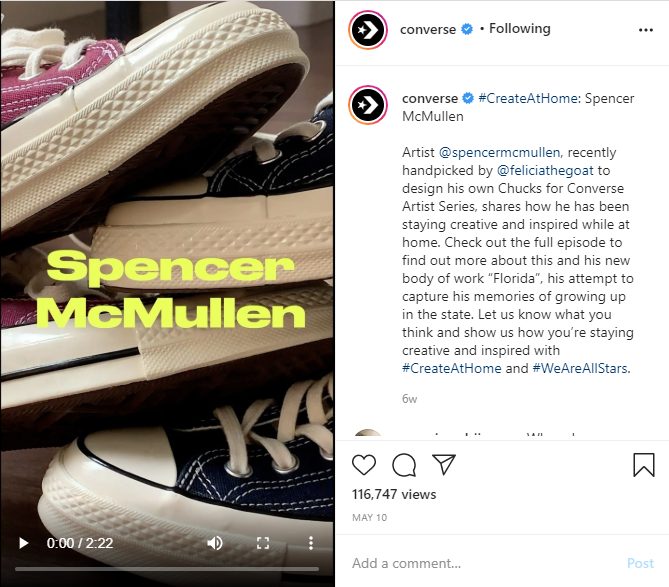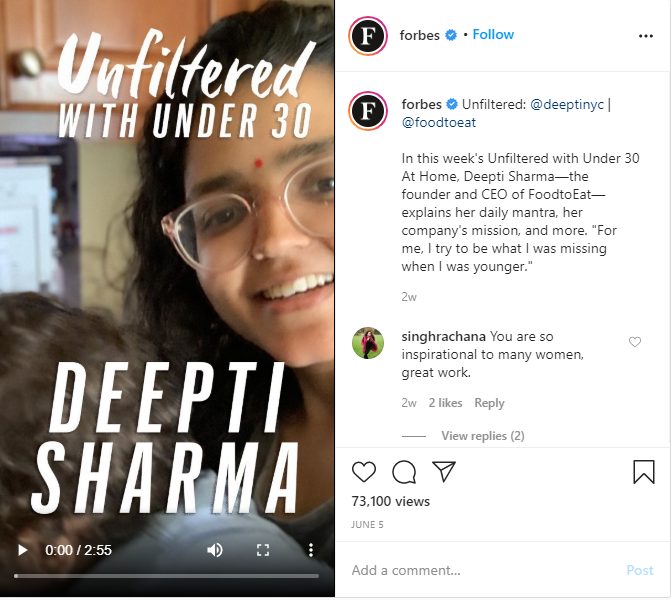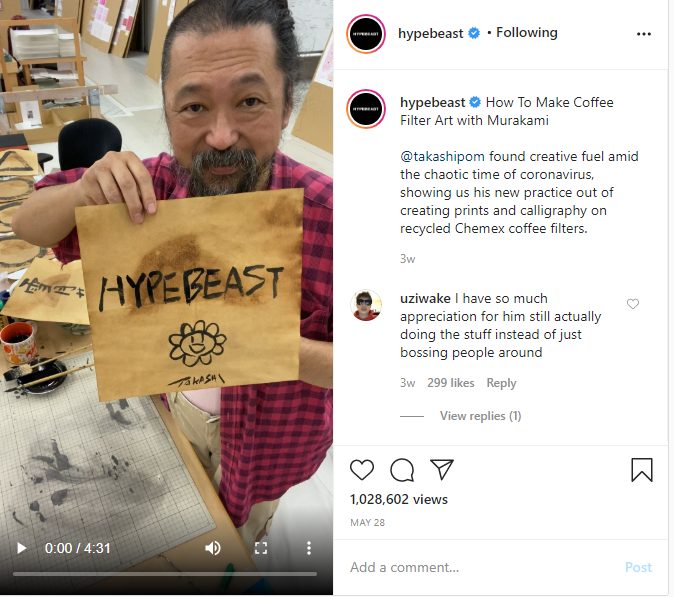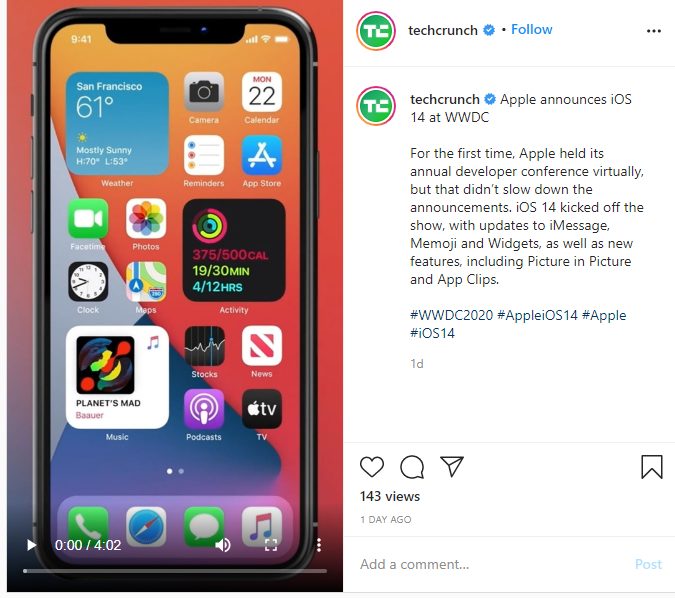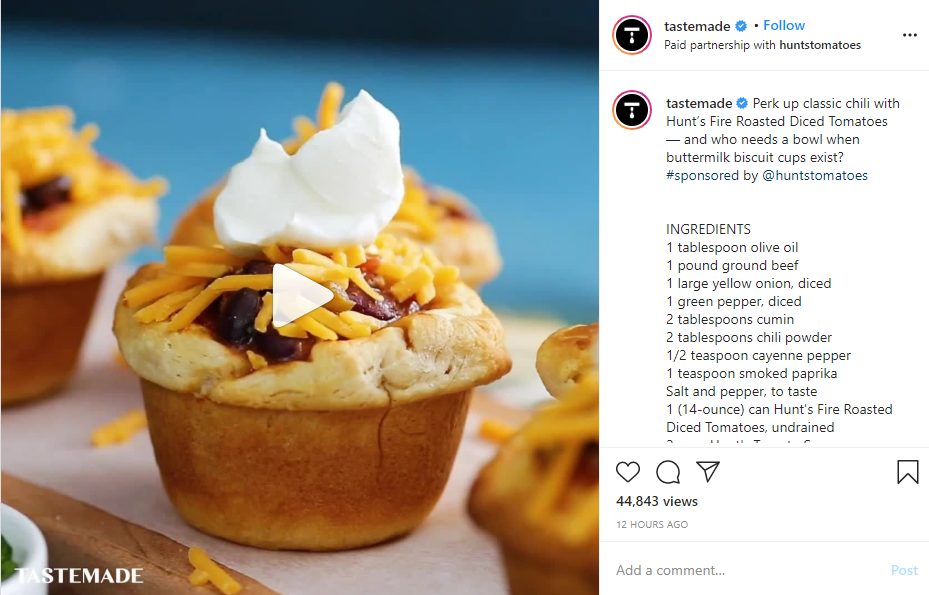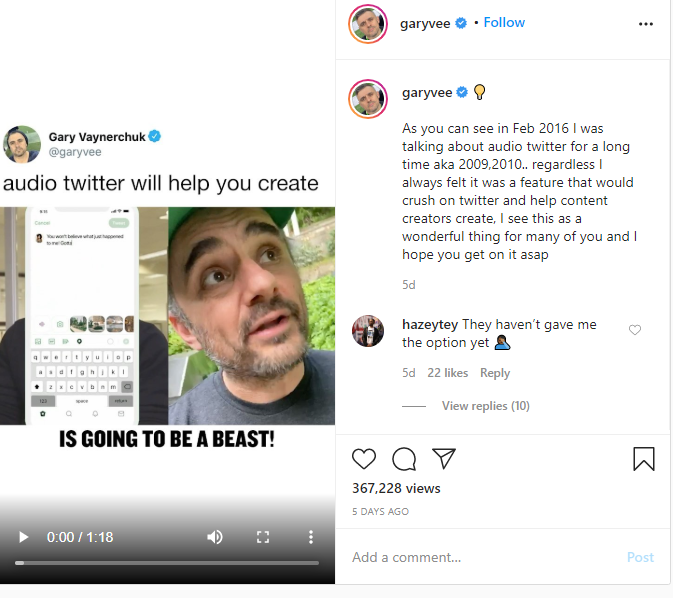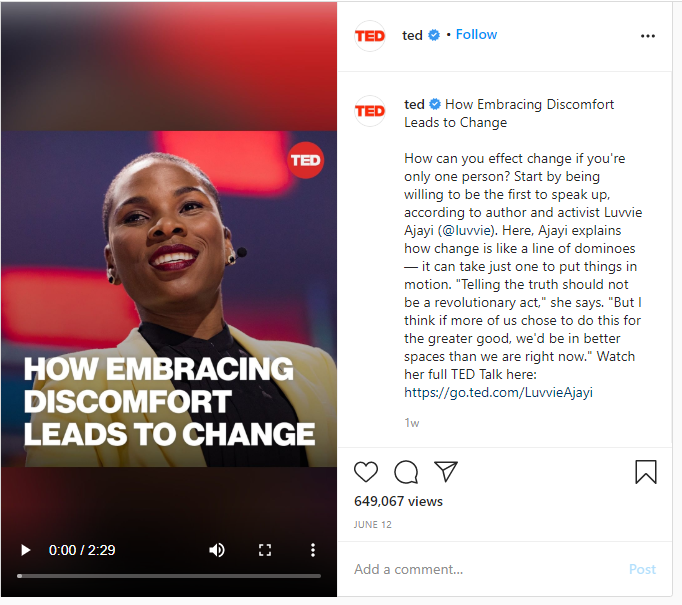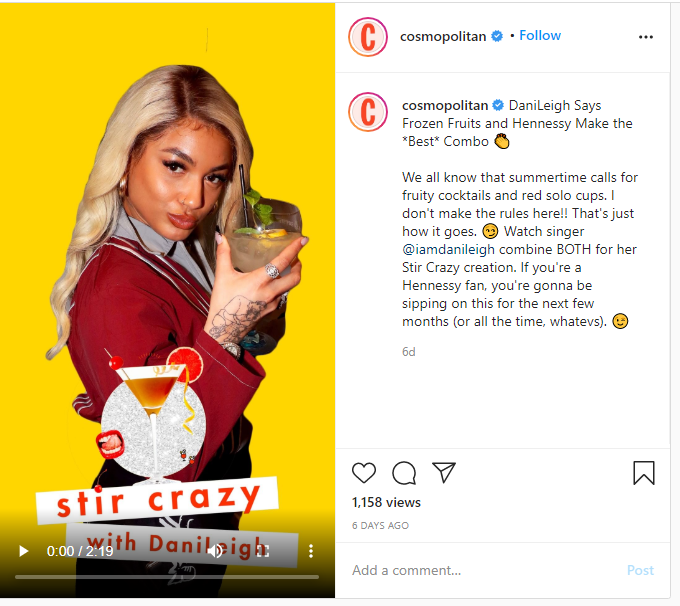 Summary
Adding IGTV to your Instagram marketing strategy is a must for this growing platform. As video marketing continues to rise in ROI, becoming a reliable staple in the digital marketing world, it's up to you to stay current using these tools.
Remember that with every new feature, like IGTV, there's a learning curve you'll have to overcome. But once you do, you'll begin to see a rise in following, community and engagement.
If you need more help with your Instagram marketing, don't worry, we've got you covered. Check out our detailed guides and tips on Instagram marketing you can try today: