11 Ways to Create High-Converting Emails: Best Practices & Tips
You've almost certainly heard that one of your most valuable digital assets is your email list. Unsurprisingly, there's a good reason for it. Email marketing can be one of your most effective sales and marketing channels.
Fortunately, the fundamentals of email marketing are relatively straightforward to learn. In this article, I'll walk you through how to create high-converting emails. We'll cover best practices, plus some key considerations.
I've formulated the guide as a list post. Think of it as a good recipe for email marketing you should follow and then make your own. Let's start at the very beginning.
1. Create a Customer Persona
Before you start any marketing campaign, you need to define your target audience. A common way to go about doing this is through the creation of a customer persona.
Your customer persona is a representation of your ideal customer. The customer persona typically covers factors such as the industry the individual works in, their position in the company, their professional or personal goals, and the problems they are looking to solve.
Here's an example template for a customer persona.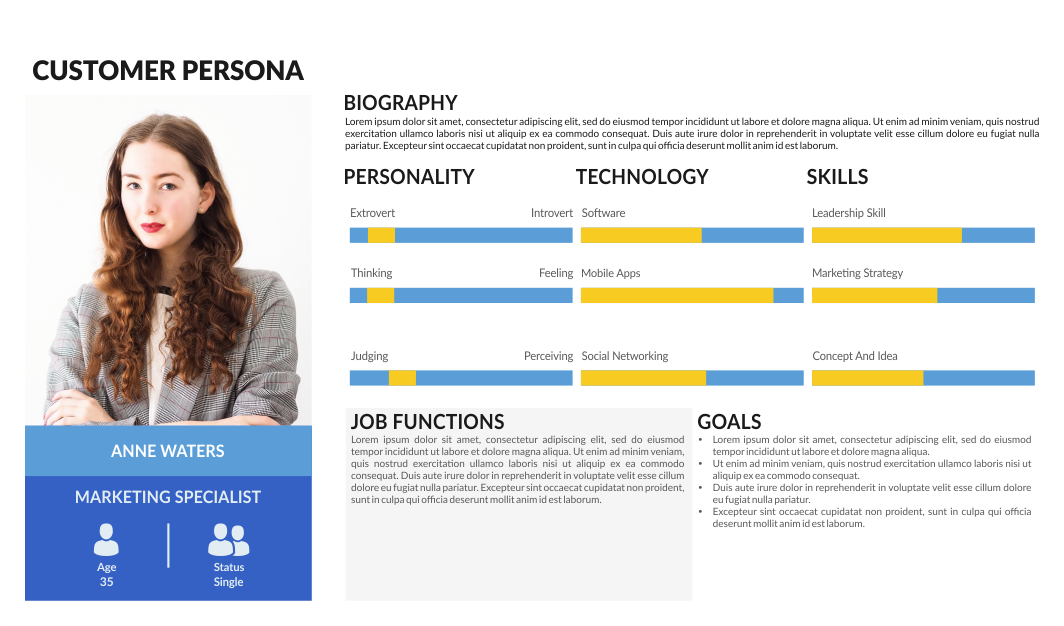 Creating a customer persona will help you do the following:
Come up with suitable sales offers and marketing material for your audience
Understand the appropriate language for your target demographic
Align your sales pitch and sales copy with their goals
I've got a customer persona stuck on the wall of my office, and I reference it all the time across most of my marketing campaigns.
2. Find Your Email Marketing Ninja
It's essential to recognize that you're not the first person to create an email marketing campaign. Many experts have followed the same path as you and shared their trials and tribulations.
Rather logically, if you want to create a high converting email, learn the theory from the masters. Just like Kung Fu Panda, there are experts out there who can support your personal development.
I recommend you research people who earn a decent living by practicing email marketing. Some notable experts in email marketing you might want to look up include:
Frank Kern: has a California surfer style approach to copywriting
Ryan Deiss: a bit more corporate and down the middle
Russell Brunson: somewhere in between the two
There are a lot more people that deserve to be on that list. If you're serious about becoming an expert at creating high converting emails, do some research, find someone whose approach you like, and read their content.
Below are a couple of lessons I learned from studying email marketing:
Your email should have one clear goal. The more goals you have, the lower your Click Through Rate (CTR)
Don't try to sell through your email. That is what your sales page is for. All you want to do is get them to click on a link
If you promise to do something in an email, always deliver. That includes promises to only send valuable content (more on that in a bit)
The goal of your email subject line is to get a person to open your email. Your body text should frame your Call To Action (CTA). The CTA is there to get the person to click on a link.
Write those rules down somewhere and pin them up on a wall next to your customer persona. They are important. Equally, it's very easy to overlook those basic rules when you're trying to do 50 things at once.
3. Ask Yourself, Would I Want to Get This Email...
You've created your customer persona, and you've got the basics of email marketing. Please make me a promise; check your email open rates after you've finished reading this article.
This is important. I'll explain why, after I share my story...
About 12 months ago, I used the same email subject line every week for about three months. My test went against everything you've probably been told about email marketing best practice.
The headline was this: Lifetime deal of the week
No variation.
The email was sent on a Tuesday because that's what I promised subscribers I would send. After the introduction email series, this was the only email I sent to subscribers.
The subject line was, if anything, rather boring. I'm sure you could come up with a much better subject line. The email open rate for my list hovered between 40-60%. The CTR was generally around 20%.
If you've been managing a list for a while, you'll know those are decent figures.
I got that high open and click through rate because I delivered something my audience found useful.
At the start of the year, Flippa, a site where you can buy and sell websites, launched a new email outreach series to their list. Once a week or so, they send an email with a roundup of the best deals.
Even though I'm not interested in buying sites, I open every one because I enjoy receiving their emails.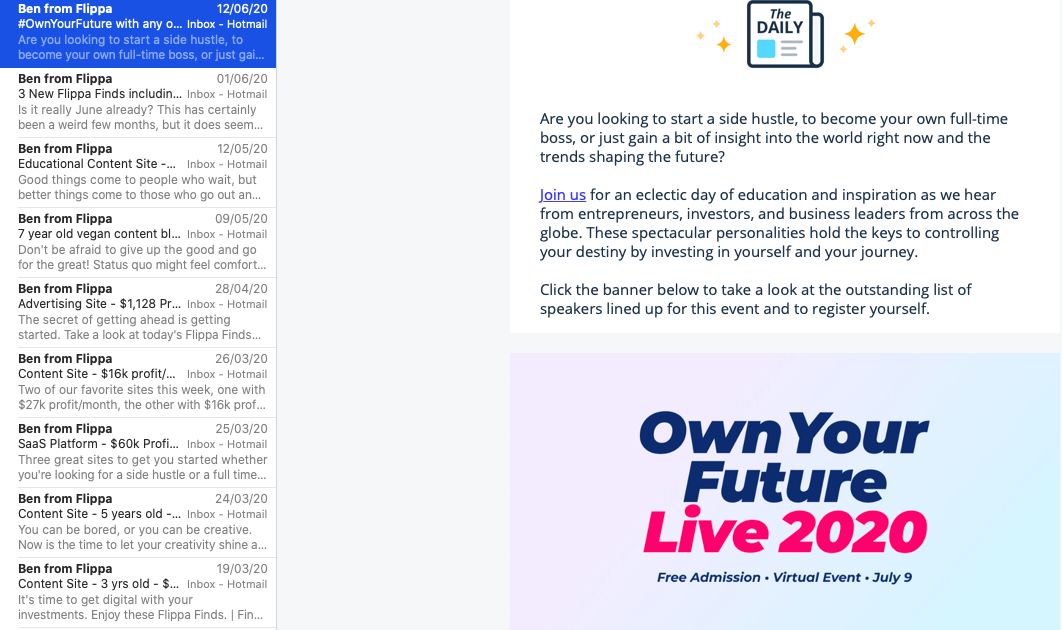 The point I want to get across from this story is that your email must have value. An inbox is a sacred place. Respect your audience's trust in you by only delivering content that has value.
If you're struggling to figure out how to do this, create a customer journey map where you put yourself in your prospective customer's shoes.
Figure out how to accomplish your goals. The objective of this exercise is to make the entire process - from the first click through to purchase, and beyond - smooth, seamless, and full of value.
Up to this point, I've focused on making sure you build your email marketing campaigns on solid foundations. The remainder of this guide will cover some of the more practical elements of putting together a high-converting email.
Ready to start automating your email marketing campaigns?
Book a free call to learn how our team of marketing experts can help you to create high converting email marketing campaigns today.
4. Create a Killer Subject Line
The first hurdle in email marketing is to get your emails opened. There is a lot of great information on the internet about the best way to approach this.
For example, there are 43.85 characters in an average email subject line. That number pretty much aligns with the amount of text you'd see in the preview section of your inbox, which makes sense.
After all, there's no point in creating a subject line that most people won't be able to read.
From there, you have two broad approaches to writing a good email subject line. The first approach is the easiest to get right; be direct.
For example, the email subject line I used was boring and direct. It was also effective.
If people feel your email has value, they will open the message. If you're about to send an email that has a lot of value, a factual subject line can work fine. For example, it's pretty obvious what this subject line has to offer; "Closing Sale | 60% off all items."
If you like the shop and you want 60% off an item, you'll open that email no matter what.
Here's a nice example of a direct subject line from Michelle Schroeder from Making Sense of Cents.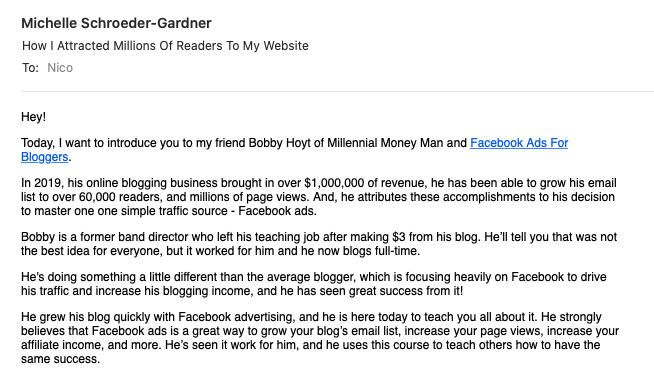 It's direct.
The subject line gives you an indication of what you're about to receive. These types of subject lines are the kind you'll see used all of the time with cold outreach.
The harder approach to get right is the informal subject lines. A famous example of an informal subject line was Barack Obama's famous "Hey".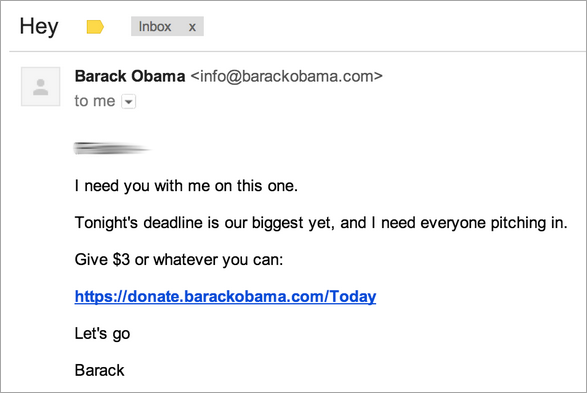 It's a simple subject line.
Here's a rather unusual example from Ryan Deiss.

Most copywriters have to wait a lifetime before they have a chance to use a subject line like "Unicorns pooping rainbows?"
It certainly got my attention. And I'm sure it worked well with other people on his list.
Quick backstory...
The unicorn poop reference relates to Daniel Harmon's appearance at a conference. The firm he co-founded, Harmon Brothers, produced a bunch of great Youtube ads that have stacked up hundreds of millions of views apiece for clients. Their ads have a great formula - comedy and a focus on product features - to generate engagement and sales.
Creating an engaging, informal subject line is harder than a direct subject line. I generally create a few variations of a subject line before I'm happy with the result. I also use emojis from time to time as they stand out.
If you need help coming up with ideas, I created a Google Chrome headline generator with a library of subject lines you can use.
Finally, when coming up with subject lines, learn the tricks to avoid spam filters. Your chance of landing in the spam folder is generally related to your spam score - if you send a lot of emails, people ignore there's a higher chance of you ending up there.
5. Nail the Preview Text
Below the subject line, email recipients see a small block of text that tells them more about the email.
This is the preview text, and it's worth playing around with this to make it engaging.
The recipient automatically sees the first bit of the text in the email body if you do not provide a preview text. Generally, this won't be engaging enough to get them to open the email. The preview text should be short, easy to read, and provide a hook for the email. 35 to 90 characters is about right.
Use strong action words and provide a straightforward teaser. It's also a good idea to create a sense of urgency (more on this later). AppSumo usually does a good job with their preview text.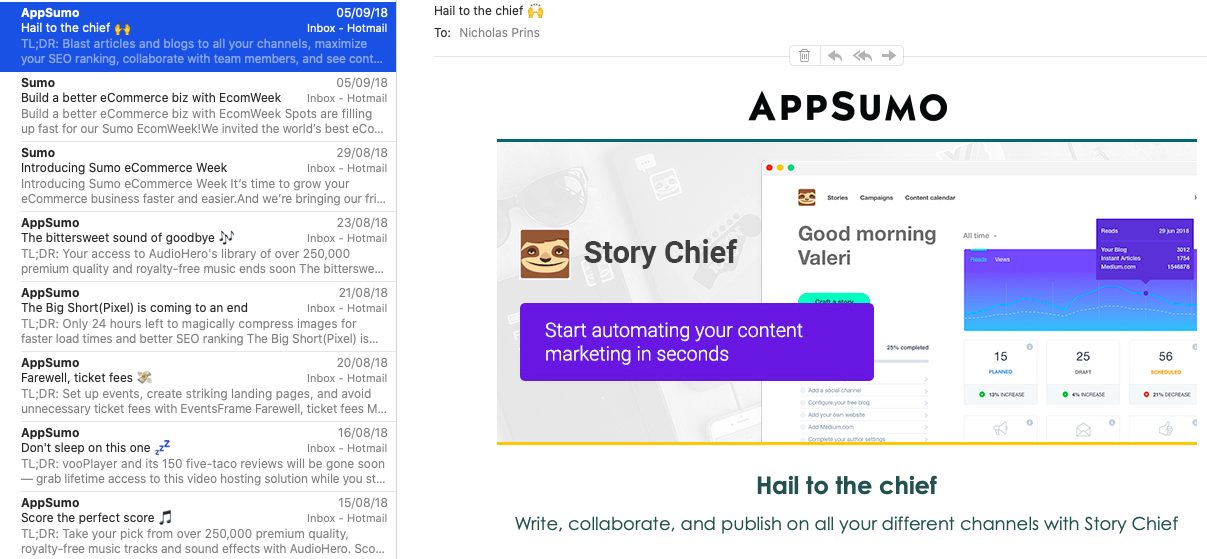 You'll notice that they use a lot of emojis as well in the subject line. It's a little thing that makes the email stand out - but not if you use it every time.
6. Write as You Would to a Friend
At the beginning of this guide, I touched on the fact that the only goal you are trying to achieve with your sales copy is to get people to click on a link. It's no easy task.
There's no one size fits all approach to effective copywriting. For example, length can vary. Some very successful marketers, Neil Patel, would be a good example, rely on short, punchy emails with very little copy.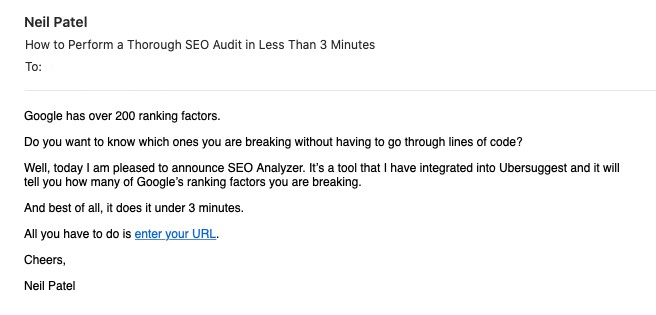 Somewhere in the middle, you have copywriters like Frank Kern that produce sales emails that are reminiscent of classic sales letters. It's all short sentences, bold text, and generally looks pretty ugly.
Ugly but very effective!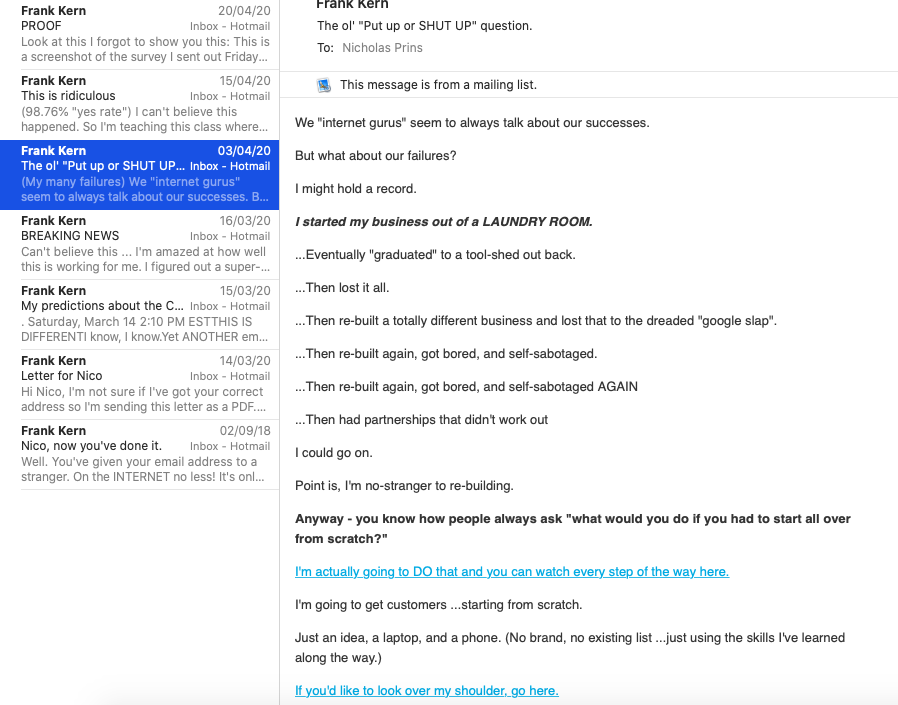 At the other end of the spectrum, you'll find people who like to write long emails. Longer emails might feel like a good fit if you are a blogger.
A nice example of a writer who gets this approach is Melyssa Griffin.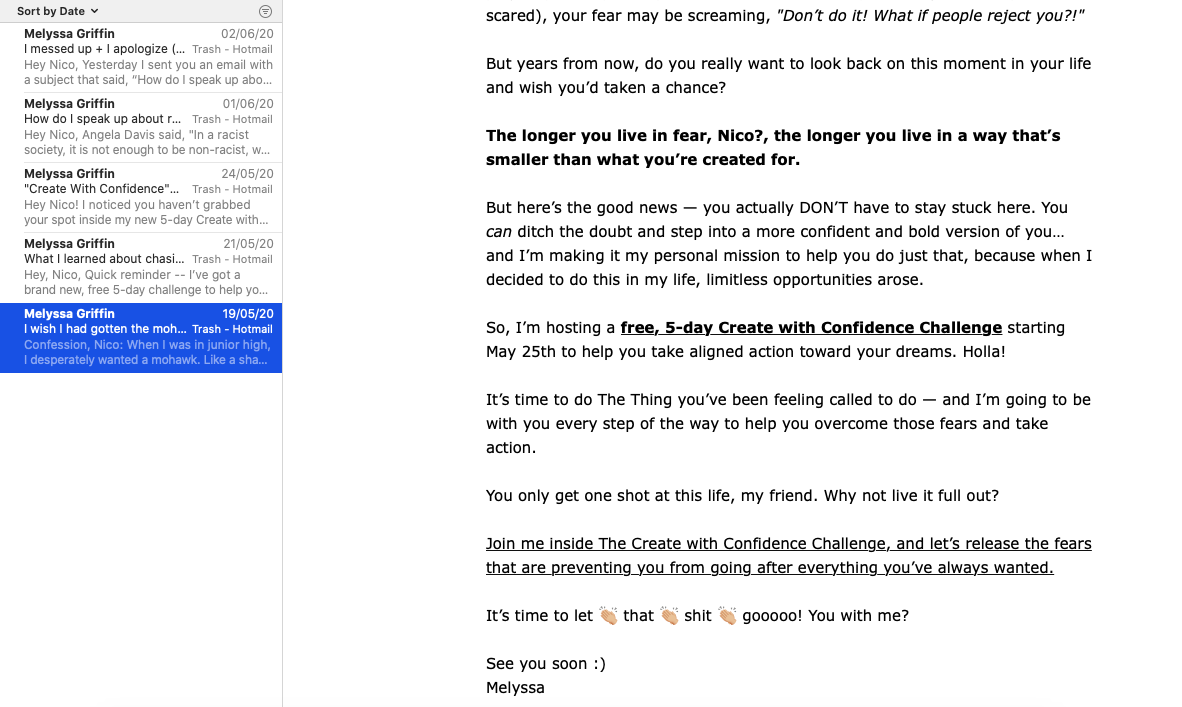 You can see the copy is replete with emojis and smiley faces.
You've also got that use of bold and long anchor text for the CTA that is used by people like Frank Kern.
Longer emails give you more space to personalize your copy, so it feels like you're connecting with the reader. This is an important element of copywriting.
For example, Frank Kern's subject line "The Ol' "PUT UP OR SHUT UP" question." won't be for everyone. Some people will find Frank's way of speaking off-putting. You could say exactly the same thing about the AppSumo folk who have a very distinct copywriting style.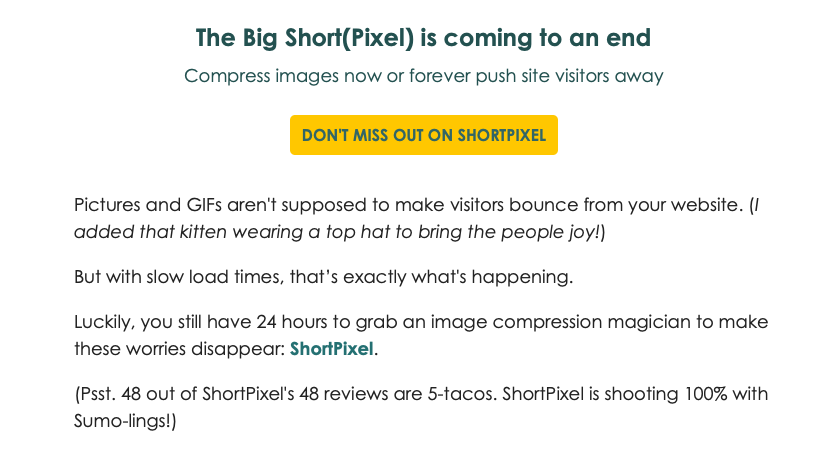 It's unique and it helps the company acquire a core audience who love their style.
The other trick, which is really hard to achieve, is to come across as genuine. This is tough. Martin Crumlish, a very successful digital marketer with almost zero SEO presence, has a knack for this. Consider this email for a recent four-figure mastermind he was selling.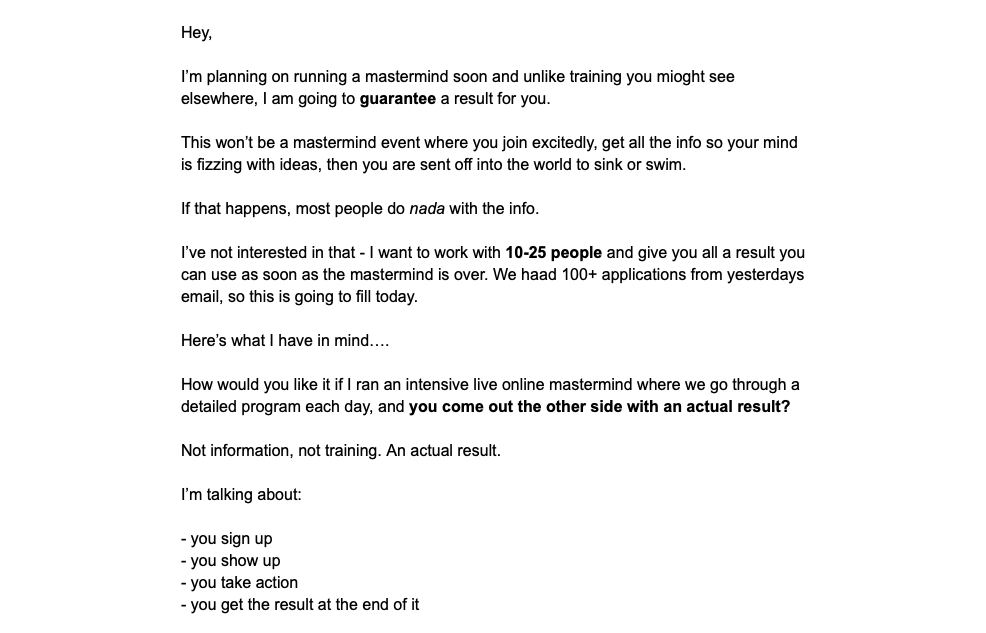 Take a minute to read the copy.
The message feels personal. It's like Martin is invested in your success - and he's a nice guy, so I don't doubt that he is. It feels like the message was sent from a business acquaintance. Someone you might have met a couple of times at a networking event.
That's the sign of great copywriting.
Of course, successful marketing copy should align with service provision. It's an approach I'll be taking with my SEO certification course.
When creating sales copy, focus on finding the approach that's right for you. Don't try and please everyone. Create your style, and you will find there are people who love it. Other people will criticise you, but you can't please everyone.
There is no one size fits all solution. You can have minimal sales copy that drives action, or you could focus on longer emails that help you connect with your audience.
However, you must incorporate the basic principles of effective sales copywriting in your style. This will help ensure you get that final click.
7. Use a Clear CTA or CTAs
Remember what I said about having a specific and clearly defined goal for each email? That goal should manifest in the call to action (CTA).
Kathryn Aragon, Head of Content at Sales Hacker, says that the CTA is "your final instruction to your reader." Therefore, it has to be clear and specific so that your recipient can act accordingly.
The "instruction" should relate strongly to the motivation of the recipient.
In other words, what do they get out of it? Your ability to set out the benefit clearly in the email copy, and perhaps in the subject line and preview text as well will help generate that result. An approach you might see a lot of copywriters take is to use multiple CTA within a sales letter.
Here's an example from a friend of mine who is a very successful email marketer. When he started out, I saw him averaging $1 per email subscriber a month. Here he is promoting a software deal.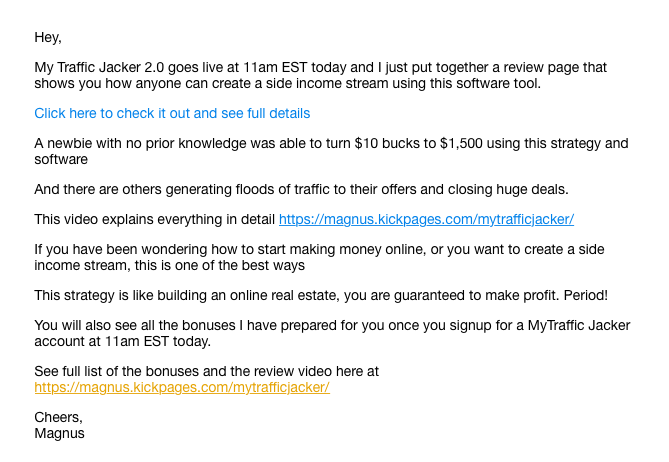 You see that he's used multiple CTA within the copy.
Three CTAs to be precise.
This is an approach that Ryan Deiss recommends. Here's the theory behind this approach:
Place your CTA in the top third of the email copy. This is for action takers who don't need any convincing
A CTA towards the lower end of the second third of your email copy. At this stage, you've set a reason or reasons that would make a person click on your CTA
The final CTA is in the lower third of the email copy. Often this appears in the PostScript. There's generally a final reason to take action attached to this CTA
Having multiple CTAs within an email allows you to approach the reasoning behind why a person should click on your link from different directions. Let me give you a simple example:
Everything must go
60% off all good in the store
Hurry, the sale ends Thursday!
Using multiple CTAs can help you generate those extra few conversions from an email. It's easy to do and effective.
8. Create That FOMO
Ideally, you want your recipient to take the desired action immediately. You can achieve this by creating a sense of urgency in your marketing emails. An easy and effective way to do this is by emphasizing that supplies won't last. Brooklinen does precisely that in this email: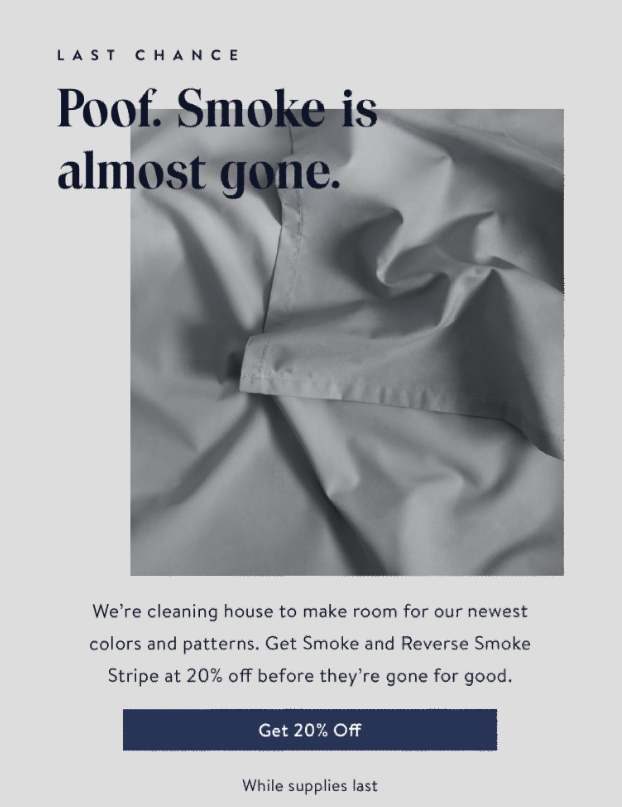 Countdown timers are another excellent way to create urgency. These virtual clocks count down to indicate the beginning or end of an event or offer. Here's a strong example: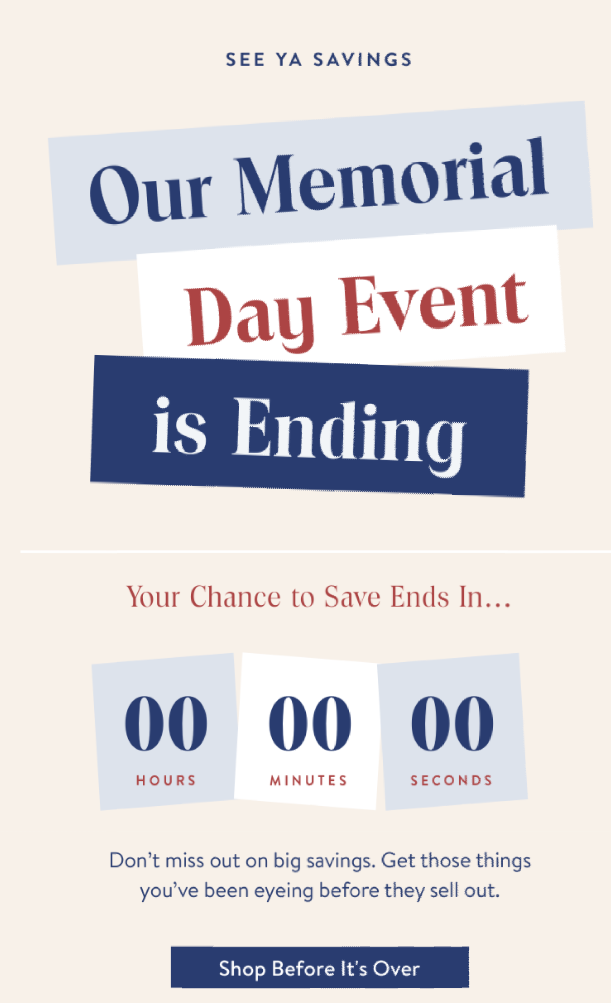 Don't overplay urgency. If you rely on urgency for every email, your email subscribers will stop believing you when you say they have a limited time to take action. It's the same thing as those shops that are always running a sale, regardless of the time of year.
9. Don't Just Send a Single Email
Sending emails in a sequence based on specific timelines or user actions is good practice in email marketing. You might think of it as incentivizing a person to take action.
You can create an email drip campaign based around actions a person takes on your site, or to a list based on a specific promotion you are running. The benefit of sending multiple emails to your list is that you increase the likelihood that they will make a purchase when they arrive on your landing page.
You can create all types of email marketing series. For example, here's an email marketing campaign I've had success with for promotions:
Giveaway: provide some free offer to your readers and mention an upcoming promo
Promo launch: Share what you have to offer during the first day of the promotion
FAQ Email: Cover the FAQ that potential customers might have about an offer *Bonus and Close: Share the bonuses that you'll be offering to customers and close
If you break the sequence down, you can see how each email covers the promotion from a different angle. Trying to sell a product in different ways, helps ensure you're getting the high converting results you're looking for from an email campaign.
While sending multiple emails in a campaign will help you get more clicks, it will also increase the number of unsubscribes. You need to find the right internal balance between maximizing revenue and offering the best customer experience.
10. Segment Your Email List
Segmentation is a critical element of email marketing. Segmentation involves dividing your list up into smaller groups based upon key demographics.
Segmenting your email list allows you to tailor the contents of your email marketing campaign to each group. Nobody, after all, wants to read about topics they're not interested in. Send irrelevant content too often, and your audience will tune out and stop opening your emails.
Companies all do segmentation slightly differently. However, there are three key things that those who do it successfully tend to do:
Use an email service provider that specifically caters to segmented email lists.
Create email opt-in forms and use these to determine how to categorize each individual.
Use lead magnets or a quiz funnel to enable website visitors to self-identify as belonging to a relevant segment.
This will help you segment people onto your email list. You can also segment people who are on your email list through the actions they take. For example, you might send an email with a link to a white paper. If a person downloads the white paper, this will initiate an email drip campaign.
Everyone else on your list, who didn't download the white paper, wouldn't receive the email series.
11. Split Test and Optimize Results
No-one gets their email marketing perfect the first time. If you want to get the best results, you have to experiment and conduct split tests.
SiteBuilderReport improved conversions by 13.4% using split testing. All the company did was remove one word from the CTA based on its split test results. Performable changed the color of its CTA button after conducting a split test. The result? A 21% increase in conversions.
Here are seven things to test before you send that email. Even small details such as a different button color and size or the placement of the CTA can make a significant difference. Try out different options and monitor which ones deliver.
Email Marketing Done Right
Organizing and carrying out an effective email campaign is not easy. It takes practice and trial-and-error to get it right. As we've seen, there are proven principles that work, but it's also essential to think outside the box.
Following the email marketing tips in this article in order will get you well on your way to conducting a successful email campaign. Above all, remember to think of your target audience and ensure you're speaking directly to them and their needs.
Don't be intimidated. The most important thing is just to make a start. Be inspired by the examples I shared with you above and other good examples you've seen.
With these fundamentals in place, plus a bit of creativity and a lot of perseverance, your next email marketing campaign can yield the results you're looking for.

About the Author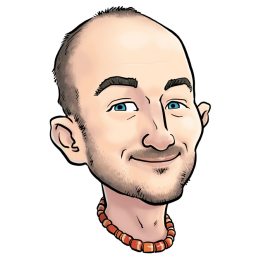 Nico is an online marketer and the founder of Launch Space. He helps companies develop their digital marketing strategies and make money blogging. He's worked with everyone from Fortune 500 companies to startups helping them develop content marketing strategies that align with their business goals. Follow him on Twitter @nhdprins.