8 Expert Marketing Tools That Increase Leads in 2021
An arsenal of robust marketing tools is going to be essential for business owners to thrive in 2021.
With the changes from this year spilling over to the next few years, companies are going to have to be vigilant about how and where they make their investments.
In this guide I'm going to share eight essential marketing tools that businesses like yourself can use to:
Increase your customer base,
Engage existing customers,
Keep your teams on track, and
Generate more revenue.
Let's get started.
1. Wishpond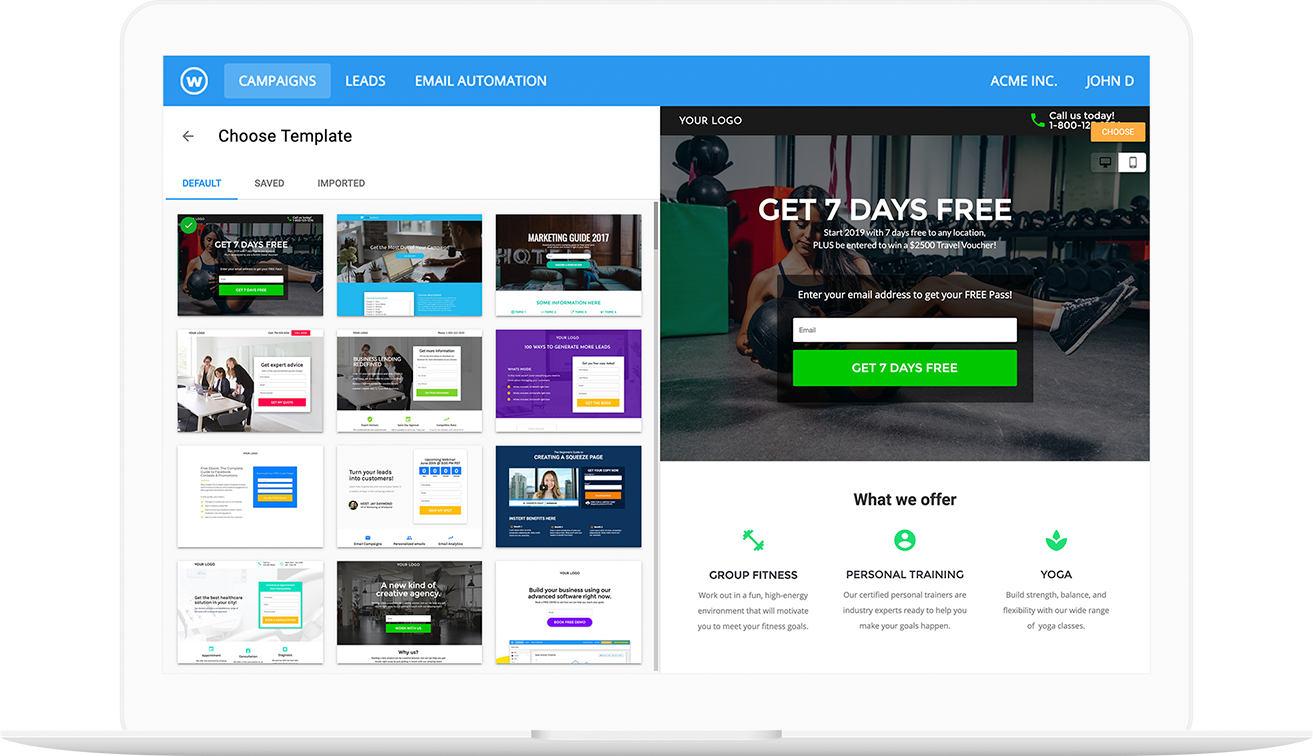 Marketing automation is the way of the future — so much so that it's become an entire industry by itself that's expected to be worth USD 6.4 billion by 2024.
And if you're a busy business owner, your time could be better spent instead of having to constantly execute manual (and repetitive) processes. But even within the world of automation, companies often find themselves having to integrate multiple tools to get a comprehensive automated system in place.
Few tools can bring together the various aspects of marketing, sales, visitor engagement, contests, and landing pages in one place.
That is why an all-in-one marketing platform like Wishpond is fast becoming a handy tool for improving customer reach and satisfaction.
Use their drag and drop builder to design landing pages and drip campaigns, automate specific actions for page visitors, or generate reports on your marketing activities.
With Wishpond's social media contest tools you can run:
Sweepstakes
Photo contests
Referral campaigns
Voting contests
Instagram hashtag campaigns
And much more. This makes their social promotion tool-set extremely powerful and robust.
Wishpond also has CRM functionality that allows you to manage your leads, track closed deals and in the process, build a knowledge base that includes detailed insights on your customers.
But among all their offerings, Canvas is perhaps my favourite tool in the Wishpond toolset. Canvas as Wishpond touts it, is the easiest landing-page builder on the planet. With intuitive drag-and-drop editing as well as one-click mobile optimization it's hard to argue with them.
There is a lot that you can do with Wishpond, even on their free version. And with affordable pricing options, Wishpond is an absolute must have for businesses heading into 2021.

2. App Institute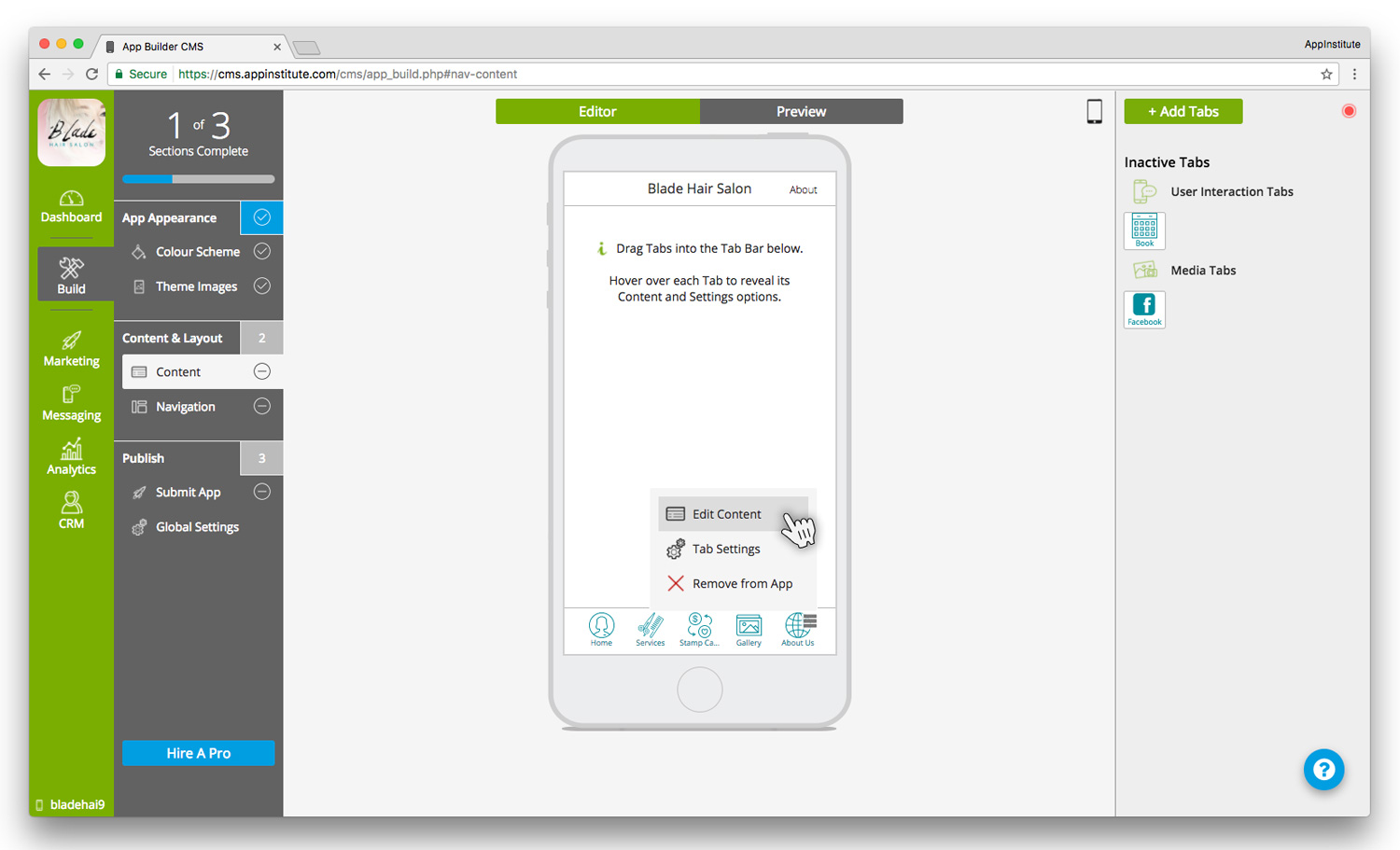 When was the last time you were apart from your phone?
More people are using mobile phones to stay connected online than ever before.
As a matter of fact, consumers downloaded ~205 billion apps in 2019, with that number projected to grow to 258 billion downloads by 2022.
What does that mean for you as a business owner? Not having your own mobile app offering is no longer justified. As a lead generation tool, apps can be very useful — but creating them has often been a very challenging and expensive process.
But when you utilize an app creator like App Institute, that task becomes easier — you no longer need to outsource building an app because you can do it with their simple drag-and-drop editor.
With App Institute, you don't require any coding knowledge to create a comprehensive, efficient, and attractive app — and that is where the incentive lies for you as a business owner.
You enter your website into the editor and it automatically imports your brand colors and fonts for the app.The builder then asks you to choose what kind of app you want to create — for real estate, restaurant takeaways, coffee shops, or an app aimed at supporting a good cause.
Other details such as the menu, navigation, visuals, and functionality can be customized, ensuring you have a distribution-ready app built in a short period of time.
3. Monday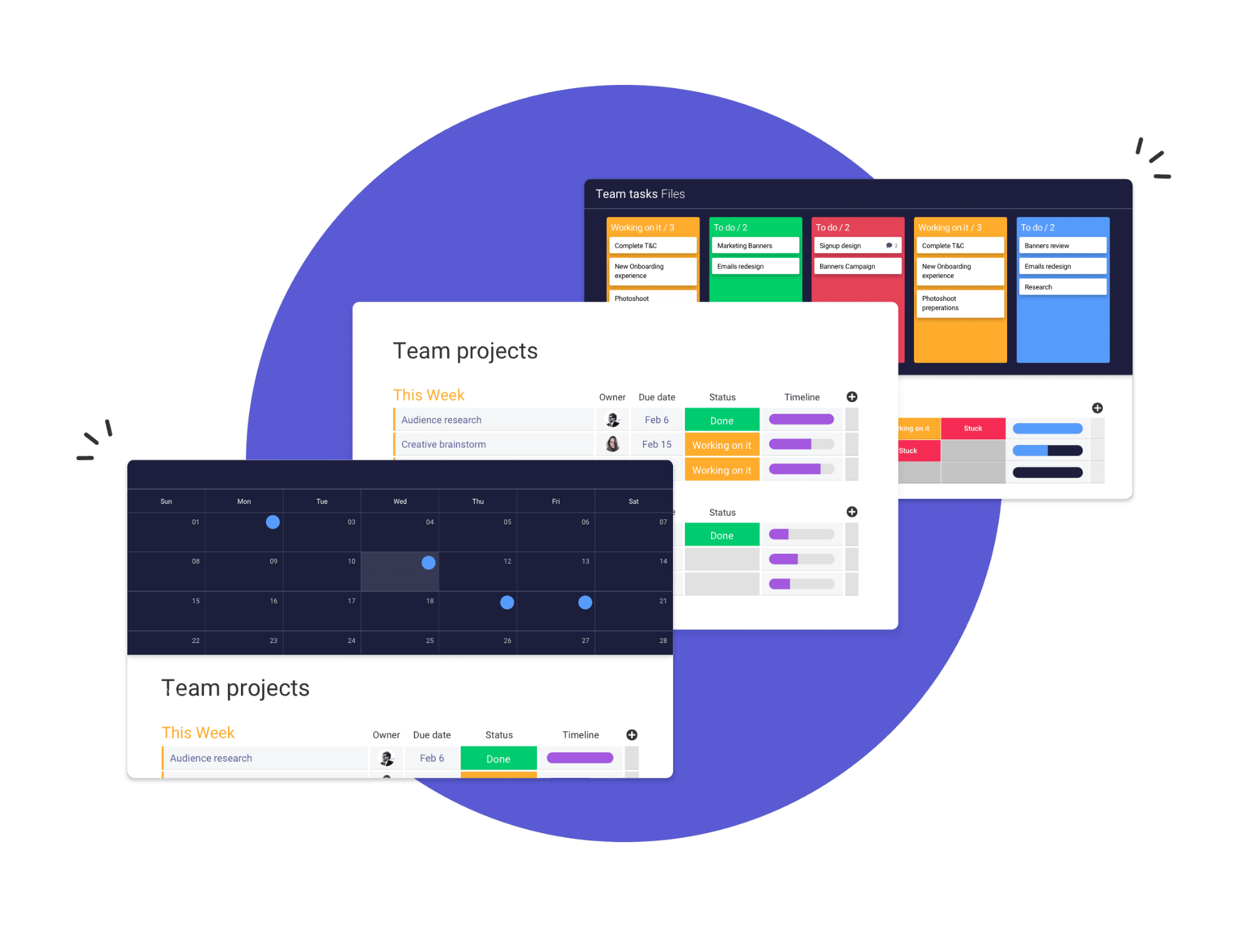 Remote work is set to become a reality for many businesses, even in 2021. And this global pandemic is the reason why.
The way we work when we aren't in the same office is a completely different experience — and can impact how companies are run. Not being able to stop by someone's desk for a quick catch up or reminder can make all the difference in how well a project proceeds.
You really can't expect to run entire projects using Google sheets or by incessantly sending emails to your colleagues. That process is bound to be inefficient and sooner or later will eventually strangle your operations at scale.
To ensure that everyone within an organization is on the same page, you should incorporate project management tools like Monday in your business. As a team collaboration tool, Monday helps to keep everyone involved in a project — no matter where they are located — working in tandem throughout the project lifecycle.
Using the customizable templates, you can assign tasks to team members, set due dates and deadlines, and track progress.
The site also generates regular reports with charts describing what stage the project is at and how your employees are faring.
With an intuitive dashboard and export functionality, Monday offers a better way to manage projects when employees are located far away from each other.
4. Moosend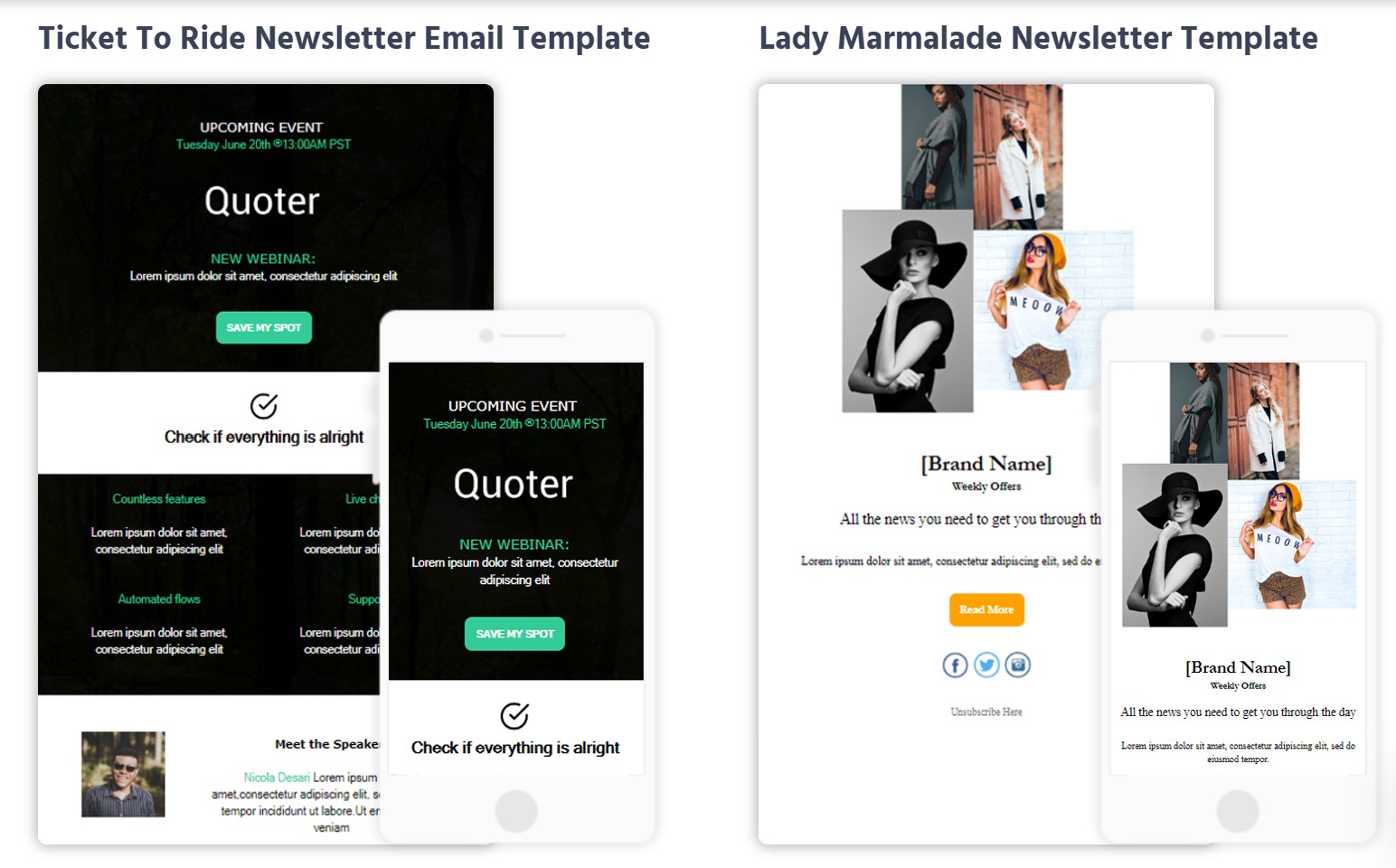 If there is one aspect of marketing that continues to see massive improvements year over year, it has to be email marketing. People are constantly checking their emails; with regular reminders and strong calls-to-action, emails regularly produce the best ROI for businesses.
But your emails and newsletters still need to be enticing enough for users to actively want to open them and click on the links within — eventually leading to purchases made on your website.
Every brand sends emails to its customers — the overlap is huge, demanding attention from users who can easily become fatigued and refuse to open more emails.
To mitigate this issue, you can use email marketing software like Moosend that not only offers attractive and customizable email templates but helps you automate most cumbersome processes.
With a simple editor, you can create attractive newsletter templates to send to your customers. Moosend also offers A/B testing features to help you identify what works best for your audience (just make sure you have a clear test plan in place!)
Track integrations and use data from Moosend's analytics to build out unique user profiles. You can also get real-time reports, as well as location and device tracking.
Moosend is more than just an email template supplier — it's the whole email marketing package for businesses.
5. Paperform


Companies have been slowly seeing the value in creating forms — they're not only great for getting valuable customer feedback but also as lead generation tools. While a number of email marketing, CRM or webinar tools allow users to create forms, they tend to be barebones in terms of design and functionality.
If you want a site visitor to fill out your form, you need to give it an added element of attractiveness and enticement. And that's why you need a dedicated form builder.
At the same time, you don't want to spend too much time making a form, while also ensuring that you cover all the required fields and functionality. And that's why you need a dedicated form builder like Paperform.
Paperform makes form-making simple and effective with it's easy-to-use interface and intuitive features. But what makes Paperform unique is that its forms aren't just a few simple fields for users to fill in — they simulate an entire landing page experience.
These landing forms, as Paperform describes them, can be customized from pre-made templates or built through the intuitive editor. Add your brand colors and fonts and create a landing page-esque form using Paperform to collect customer feedback, capture leads, complete registrations, and manage subscriptions.
6. Tidio
Source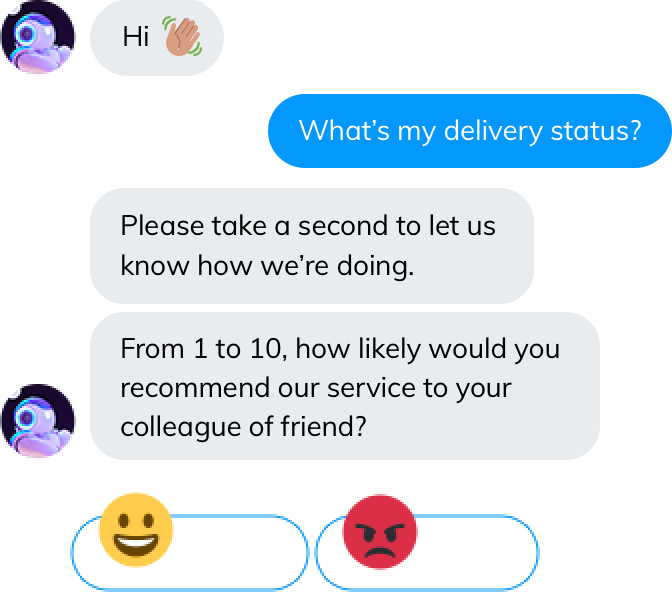 Online users require support from brands instantaneously — and that's why your response rates need to be quick and efficient.
This need for immediate responses has grown during the current global conditions — and will continue to be a pertinent issue for businesses into 2021. Companies need to adopt customer service models that are timely and accurate, so relying on only a customer service team in the current climate might not give you the same results.
Call centers have long been a major resource for customer service — but this is an expensive proposition for small businesses and not a feasible solution when your teams are confined to their homes.
Beyond your standard help desk software, another option that businesses have begun exploring in the last few years are chatbots. For a long time, chatbots didn't work the way they were meant to — they regurgitated often-hilarious responses to customer queries and caused more frustration rather than eliminate them.
But that is in the past. With tools like Tidio, you can create chatbots that are efficient, responsive, and not to forget: easy to build. Tidio is another popular no-code tool (like AppInstitute) that allows you to design a chatbot without any coding abilities, or customize a chatbot template to suit your website.
The chatbots that you design can help you accomplish a number of goals — from lead generation to customer service, and everything else in between. You get access to a drag-and-drop editor which you can use to build or customize your chatbot — you can also choose when it is triggered and program it with responses.
If your business caters to an international client base, Tidio offers multiple languages for their chatbots, as well. And the chatbots can be handed over to a live chat assistant once the queries become too complex — till then, your customers and leads are taken care of without input from your staff.
7. Vyper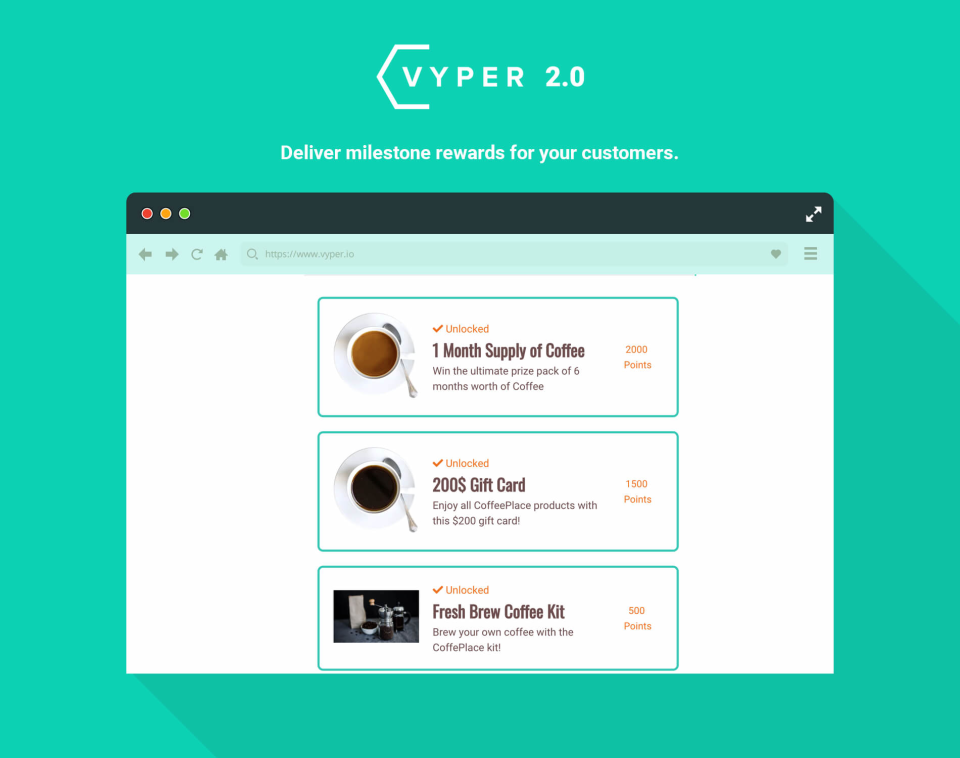 A changing world means changing the way we market. And in 2021, businesses will have to adopt new ways of reaching their audience. User engagement has become the key driving factor in most marketing efforts this year, and that is set to continue into the next few years.
But how do you create content that is engaging for your audience? You start by using gamification methods and tools to your advantage.
Gamification can be best exemplified in contests — and using a giveaway app like Vyper will be one of the best ways to create exciting and engaging online competitions.
Vyper specializes in making giveaways and referral contests easy. And they've got the credentials to prove it. Their website showcases successful case studies with Foundr, Birch + Fog, and Coconut Bowls, for whom they generated page views, email signups as well as valuable social interactions.
Need help with your next contest?
Book a free call to learn how our team of contest experts can help you to create high converting social media contests today.
The tool's modern visual designer allows users to brand their campaigns and modify attractive templates to create potentially viral content. If you're a new business, a giveaway tool like Vyper will make building your audience an effortless process.
8. Venngage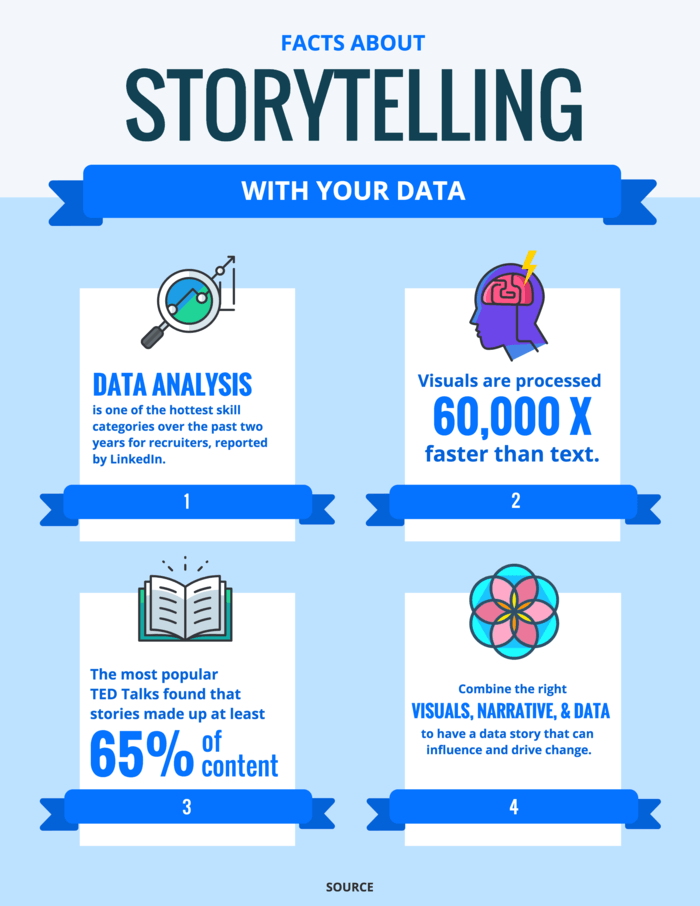 We are living in a time where meaningful content needs to be created consistently to engage both current customers as well as attracting new audiences.
Gone are the days where you could simply write a blog, or share a text-heavy post on social media — you need to give your words additional context and heft with the help of powerful visuals.
Users process visuals faster and more comprehensively so if you want your content to stand out, incorporating strong imagery can make all the difference in your marketing efforts. But it isn't always possible for businesses to create visually-arresting images consistently.
Not only do you have to buy expensive design tools but you also need to hire a freelance designer. Both of which can become quite expensive for a few hours of work a week.
With 1000s of templates to choose from, an easy-to-use editor that allows you to customize and design infographics, reports, proposals or even something as complex as visualizing data, Venngage can be your go-to tool of choice.
You can also create content upgrades by creating presentations, brochures, white papers, and ebooks for generating leads from your website and blog content.
The editor also allows you to add your branding to any and every design, so you can easily brand all your visuals with one click.
Attractive visuals are a must if you want to make your brand memorable and increase your engagement on social media sites like Instagram. Using Venngage will make the process of producing quality images, painless and easy.
9. EXTRA - Really Simple Systems
Really Simple Systems CRM is a cloud-based relationship management software that covers the most essential CRM tools. It is the best solution for small and middle-sized businesses which are looking for software that is easy to use and which has great customer support. The biggest strength of every CRM software is definitely the possibility to create meaningful relationships with customers through data collection. Data collected about leads can be used as a determining factor for future marketing strategies and creating a better approach for sales teams. Really Simple System has two-way sync with your email platform, but you can easily set permission levels within the teams. It can be used to create tasks and reminders for calls, and followups for sales teams. But that is not all, there is also a customer support module that can be used to communicate with your contact through multiple channels.
Conclusion
These eight tools business owners like yourselves collect quality customer feedback, generate new leads, automate cumbersome processes and take your marketing to the next level. Most of the tools mentioned above offer free trials, so I'd recommend trying out each tool for yourself before you purchase them.
Once you do, identify the marketing tools that are worth your hard-earned cash and can help you grow your business. And finally, start using them!
Have you tried any of the above-mentioned tools?
Are there any essential marketing tools I missed? Which marketing tools have you found most useful as a business owner? Drop them in the comments below, I'm always eager to learn.
Author Bio:
Aditya Sheth is a Growth Marketer at Venngage. When he's not busy brainstorming new marketing ideas or tinkering with Google search, you can find him listening to music, reading non-fiction or traveling. Connect with him on LinkedIn or tweet him @iamadityashth