6 Popular Ways to Build a Social Selling Strategy that Generates Leads
Chances are you've heard the phrase "social selling." You might already be doing it to some extent.
You've probably heard that it works, too. According to LinkedIn, reps who are effective at social selling generate 45% more opportunities and are 51% more likely to hit their quota.
But what actually is social selling?
It's certainly not social media marketing. And it's not running social ads, either.
Instead, social selling is the practice of leveraging your social network to find prospects, understand their pain points, nurture them through the buyer cycle, and ultimately hit your sales goals.
It's a way to build stronger relationships with your prospects so that you're already on good terms with them when they're ready to buy.
Of course, you're not just going to switch off your cold outreach and transition to social selling overnight – you need a clear strategy that's tailored to delivering the leads you need. Here's how to do it:
---
1. Define Goals and Key Metrics
As with anything in the world of sales, the ultimate goal of your social selling program will be simple: to sell more.
But it's not quite that simple. What does "more" actually mean? Is it more of a certain product or subscription tier? Is it a revenue target? Or something different?
For your sales strategy to succeed, your goals need to be specific and scalable. Rather than "sell more," they should be:
Achieve $X in revenue
Sell Y number of a specific product
Exceed last year's sales by Z%
It's also vital that your goals tie into the wider objectives of the business. Let's say you're working in the B2B sales division of a soft drinks manufacturer, persuading big hospitality chains to sell your beverage instead of your rival's.
If your company is launching a new product, the higher-ups will be relying on you and your team to give it a push – so your goals need to reflect this. And they should be time-bound too, so that it's crystal-clear whether or not a target has been achieved.
Your top-level goals should be supported by more granular KPIs that act as leading indicators of success. To continue the soft drink example, if your goal is to sell more of a new product line, a supporting social selling KPI might be to discuss the product with X number of people per week via a specific platform.
Get the goals and KPIs right, and you'll be able to draw up lists of measurable tasks for each salesperson – things like:
Number of posts per day on each social platform
Number of new connections made per day
Number of conversations started per week with new prospects
Carry out those tasks consistently, and you'll be well on your way to starting more conversations, turning those conversations into opportunities, and converting those opportunities into deals.
Key Takeaways:
Set an overarching, time-specific overarching goal for your social selling strategy (e.g. "Achieve 10% YoY uplift in sales of Beverage X during Q4 2020")
Support your overarching goal with granular KPIs (e.g. "Discuss beverage X with 100 key decision-makers (per ideal client profile) each week")
Agree on measurable tasks with each salesperson to achieve your goals and KPIs (e.g. "make 30 new connections per day on LinkedIn, per ideal client profile")
Helpful Tools: CRM system to manage new connections (e.g. Wishpond) Reporting dashboards to measure performance (e.g. Klipfolio, Tableau)
2. Create Your Ideal Customer Profile to Inform Social Strategy
For your social selling strategy to succeed, you need to define who exactly you're selling to. That means creating an ideal client profile (ICP) – a detailed description of the type of company you're targeting, incorporating their:
Industry
Company size
Location
Pain points
Business challenges that your product can help them to overcome
Likely reasons to buy / not buy your product
Knowledge of your product (and/or other similar products)
Existing product suite (e.g. do they currently use your competitor's product?)
Your ICP should allow you to reach out to the right people via social – after all, there's no point in spending hours, days, or weeks nurturing a relationship with someone who was never a good fit in the first place.
Key Takeaways:
Speak to your "best" existing customers (the biggest spenders, the most loyal, and those who use the widest range of your products) to get direct feedback that informs your ICP.
Gather company-wide and user-specific information on the specific organizations you're targeting.
Study the social platforms of users who fit your ICP to understand how they speak and the topics they speak about.
Helpful Tools: Use survey tools like Survey Monkey, Typeform, Google Forms and SuperOffice Forms to gather information from your existing customers. Or track down relevant user profiles on Twitter, LinkedIn and industry-specific forums.
3. Choose Which Social Media Platforms to Leverage
Having built a detailed ICP, you need to work out where those people hang out online. Which social platform is right for you?
If you're a B2B operation – which you probably are if you're reading this guide – then chances are you'll find your audience on LinkedIn, which is responsible for an astonishing 80% of B2B marketing leads generated on social media.
But Facebook might be appropriate too – after all, it's used by 69% of US adults, second only to YouTube. And don't rule out Twitter, which has a disproportionately high number of users who are college-educated and earn more than $75,000 per year.
TIAS, a Netherlands-based business school, identified LinkedIn as the best platform for reaching its desired audience of prospects for international MBA and MSc programs, predominantly located in South America. Using Sponsored InMail messages to invite potential candidates to face-to-face meetings, it was able to generate a full schedule of appointments in just 72 hours.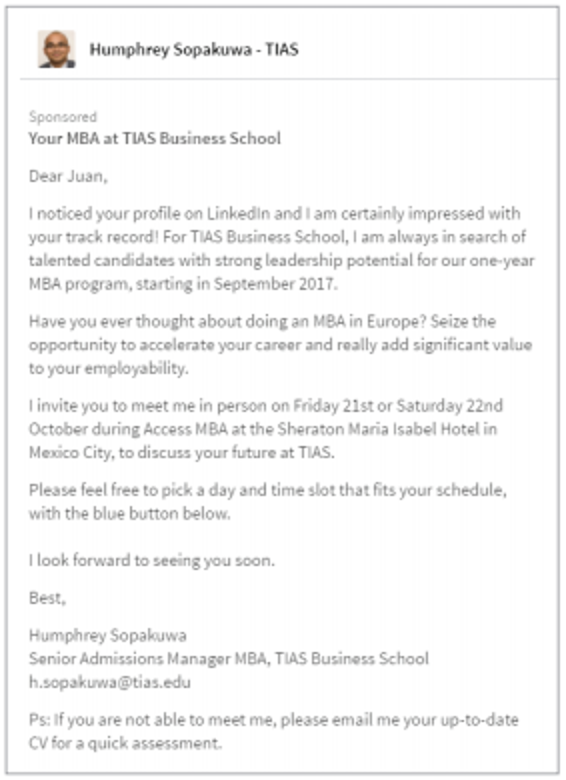 Once you've selected the best social network, optimize your profile to appeal to potential customers, incorporating buyer-centric messaging that clearly explains who you are and the expertise you offer.
Need help with your next contest?
Book a free call to learn how our team of contest experts can help you create a high converting social media contest today.
4. Use Creative Content to Generate Curiosity
Unless you're planning to be online 24/7, you can't do all the lead nurturing yourself.
Fortunately, creative content can give you a helping hand. Content can be used to educate your audience on the challenges they're facing and the ways your product can help, allowing you to start meaningful conversations and answer questions using your existing assets.
So it's little wonder that 87% of the most successful B2B brands have a mature, sophisticated content marketing strategy in place. Use the 80/20 rule to determine what sort of content to push out to prospects:
*80% of your content should be creative – think blogs, ebooks, case studies and infographics *20% of your content should be promotional – things like discounts and free trials
Visual content is particularly effective in the busy world of social media because it sticks in our minds better. Hear a piece of information and three days later you'll only remember 10% of it; add a picture to it and that number increases to 65%.
Paessler AG, a worldwide provider of network monitoring software, used an innovative creative content campaign to generate leads via Facebook and Instagram. Inspired by geek culture and the everyday challenges faced by network administrators, it created and promoted a free printed card game called "The Game Against Downtime." The strategy delivered a 51% drop saving in cost per lead and a 64% drop in cost per click compared to its previous campaigns.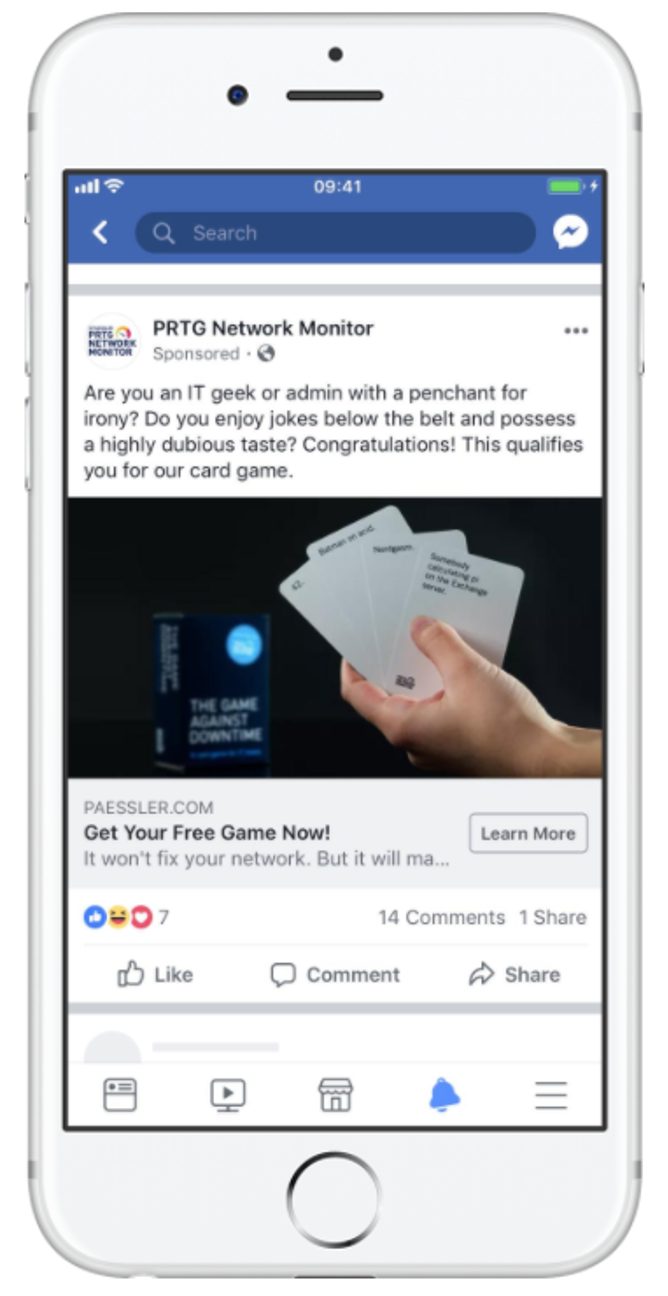 Key Takeaways:
Use the audience research you conducted while building your ICP to identify themes for creative content campaigns.
Create that content and use it to strike up conversations with your target audience!
Helpful Tools:
5. Leverage Networks and Connect With Influencers
Armed with an optimized profile and a bank of quality content, it's time to make a name for yourself in high-profile groups and reach out to influencers within your industry.
Both Facebook and LinkedIn allow you to find and join groups of like-minded people. They could be united by a shared interest, a job, or a certain product or piece of software.
Among the biggest LinkedIn Groups are those dedicated to HR professionals, social media marketers, and renewable energy and sustainability. When you go to send a linkedin connection message, make sure you use the person's name and write something unique and specific to them.
"Search for the groups that are most relevant to your audience, join them, and start sharing informative content that adds real value. Connect with influencers you meet in those groups – it's always helpful to have people with big followings in your corner." David Campbell, Marketing Strategist at Right Inbox.
Audi realized that LinkedIn, with its visual carousel ad format and advanced targeting capabilities, was ideally suited for promoting its carbon-neutral e-tron range.
The German carmaker reached out to eco-friendly motoring influencers through their membership of relevant LinkedIn Groups to help them build highly valuable word of mouth around e-tron.
Its campaign generated a click-through rate of 2.32% – higher than on any other platform, and far exceeding auto industry benchmarks – with an engagement rate of more than 4%.
Key Takeaways:
Browse and join relevant LinkedIn and Facebook Groups.
Join in with existing conversations and start new discussions on relevant topics – don't just pitch your product or you'll get kicked out.
Connect with industry influencers once you've interacted with them in those Groups.
Helpful Tools: The free search functionality on Facebook and LinkedIn is all you need to find relevant Groups. Just search for a topic and toggle the results to find Groups.
6. Make Use of Social Tools
Just as creating content can do some of the work for you in starting and nurturing conversations, social tools can be a big help in reaching the right people at the right time – when they're actively in the market for a product like yours.
Those tools don't have to be expensive. In fact, all of the social networks offer some level of free search functionality that you should leverage to find people who would benefit from your product.
For example, use Twitter's Explore function to browse hashtags that are commonly used by people within your audience, allowing you to find and engage with potential prospects.
Other tools are worth paying for. For instance, LinkedIn Sales Navigator makes it super simple to find decision-makers, build custom prospect lists, see prospects who have viewed your profile, and send InMail messages to people even if you're not connected.
It's an invaluable tool for anyone looking to leverage the benefits of social selling. The Sacramento Kings used it to reach its desired corporate audience – primarily SMEs looking to buy tickets to engage prospects, clients and vendors, or to reward employees.
Since adopting to Sales Navigator, new reps have seen their deal size increase by 42% compared to the previous class of reps who weren't using the platform.
Key Takeaways:
Browse popular hashtags and content themes related to your audience and use them to grow your network.
Find key prospects at organizations that match your ICP using LinkedIn Sales Navigator.
Conclusion
Social selling is a world away from cold outreach.
It relies on building trusted relationships with your prospects – and that takes time. You could conceivably spend months talking to a single prospect without ever closing the deal. For that reason, some salespeople view social selling with skepticism.
But if you're prepared to put the time in, the results can be fantastic. Demonstrate that you genuinely care about your industry and have real value to offer, and your prospects will love you.
They'll buy from you. And they'll tell their friends, too.
About the Author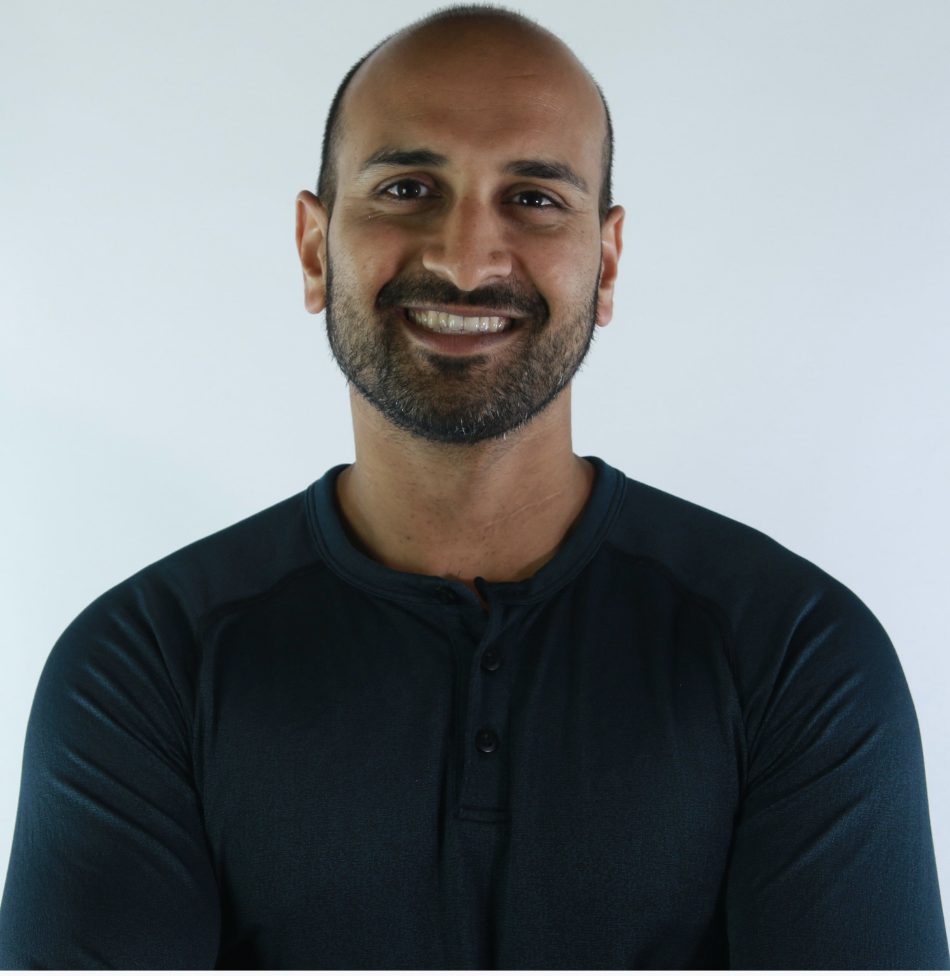 Sujan Patel is a partner at Ramp Ventures & co-founder of Mailshake. He has over 15 years of marketing experience and has led the digital marketing strategy for companies like Salesforce, Mint, Intuit and many other Fortune 500 caliber companies.