The Beginners Guide to Selling Ebooks Online (With Real-Life Examples)
Are you thinking about writing an ebook to monetize your skills?
Then your eyes are in the right place. Ebooks, just like their printed counterparts, have been around for decades. But in 2020, they are poised to grow like never before.
By 2025, analysts expect the ebooks industry to grow at an annual rate of 3.7%, reaching a projected market volume of US$19,997 million.
The opportunity is loud and clear. With the right attitude and tactics, you can take advantage of it and be one of the many entrepreneurs who make a living off their skills and knowledge.
Today, you will see how you can start selling ebooks online and make a living with everything you already know.
Research, Research, Research
The barriers to write and sell an ebook are few and easy to overcome. The challenge isn't whether you can sell an ebook, but whether you have something worth writing about.
To write an ebook, you need a skill, experience, or knowledge others are willing to pay for. The best way to know if your book meets these criteria is by applying a simple rule of thumb: if anyone has ever paid you (or someone else) for the skills you have, you can use it in your ebook.
Think about it this way: if you are a designer who makes money creating logos, then the fact you have made money with your logo design services is proof that you can make money with an ebook about that topic.
Another way to check the potential of your ebook is to look for competitors. If others are writing about the same topic as you, then it's a good sign.
Go to Amazon and search for your skills. Let's say you were a content writer like myself, and you were interested in teaching others how to write content.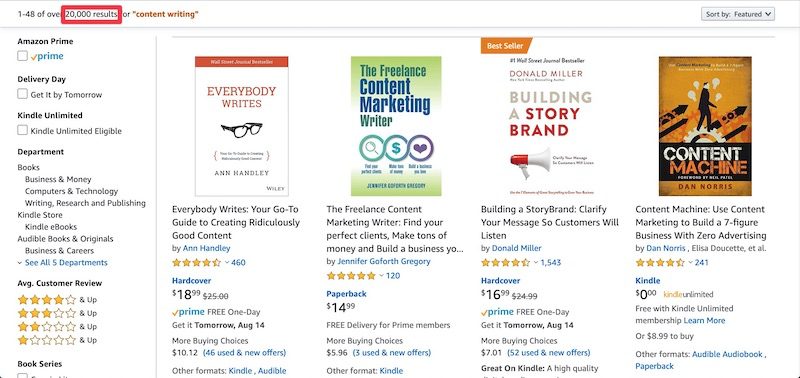 There are 20,000 books about the topic of content writing, with many successful authors in the results. If you were interested in writing about that topic, then this is already a good sign.
Once you have verified the viability of your ebook's topic, you want to define a specific angle. You can sell an ebook on writing, but you can make it about grammar, storytelling, journalism, etc.
To find the right angle, you want to dig deep into the audiences your ebook will cater to. This research will also help you later when you decide to promote your ebook to this audience.
Reddit and Facebook groups are sites that beam with activity in specific niches from every topic imaginable. In our example, this could include the subreddit r/Writing or groups like Writing tips for beginners.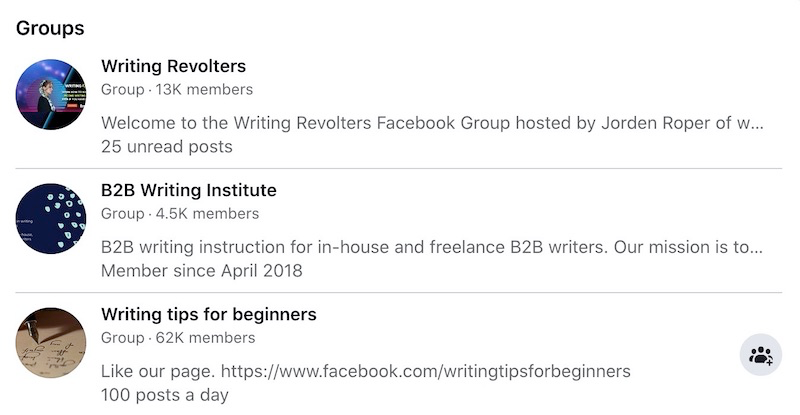 Read through dozens of posts and see what people talk about. Look for patterns in the pains and problems that arise. The more people explicitly wish for a solution, or the more they complain about a problem, the more attractive your ebook will be.
1. Create the Ebook
Writing and creating an ebook worth buying is a topic that could take a whole new post. But without a well-written, well-designed ebook, your chances of succeeding become smaller, so we can't ignore this step.
The bad news is that writing an ebook can take months of hard work before you can decide to launch it to the public. But as James Scherer said before, you can hack your way through your ebook creation process by reusing existing content.
Tim Ferriss, the author of the popular book 4-Hour Work-Week, wrote his latest two best-selling books, Tribe of Mentors and Tools of Titans, based on his popular podcast.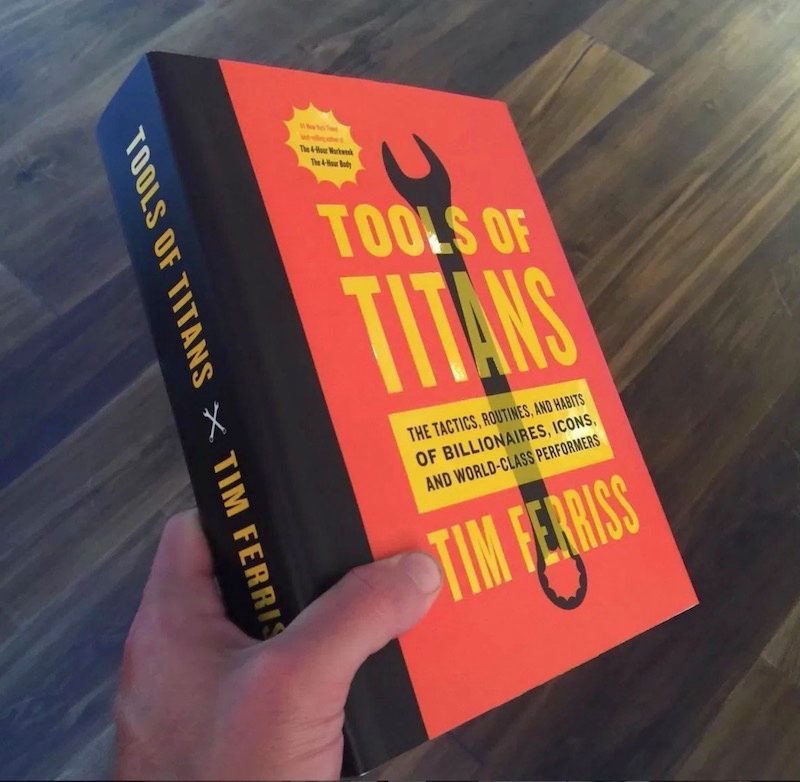 If you have ever published content about your ebook's topic in any format—written, audio, video, etc.—you can take this content and build an outline with it. You can then add more ideas, take out unnecessary ones, update them, and improve them.
Before you publish your ebook, hire an editor to fix any grammatical mistakes and clarity issues. An editor will make your ebook look professional.
Then, hire a designer to create a cover and a template for the rest of the book. An ebook cover will also showcase a professional attitude, raising the perceived value of your ebook.
Need help promoting your next ebook?
Book a free call to learn how our team of marketing experts can help you to promote and market your new ebook today.
2. Collect Leads
Before you even start editing your ebook or designing its cover, you want to start working on its marketing. You want to launch your ebook to an engaged audience and not to the sound of crickets.
The first step to building an audience involves collecting leads on your website from potential buyers. Two tactics you can use to do so are pop-ups and quizzes.
Pop-ups have earned a bad reputation, but they work. They allow you to capture the visitor's short attention span and offer them something of value. Among the many options available, you can use:
Exit-based pop-ups trigger when a visitor hovers the top part of the site, indicating they are about to close the tab.
Entry-based pop-ups trigger as soon as a visitor enters a website.
Time-based pop-ups trigger after a predefined amount of time.
For example, Wishpond uses an entry pop-up that leads to the pricing page.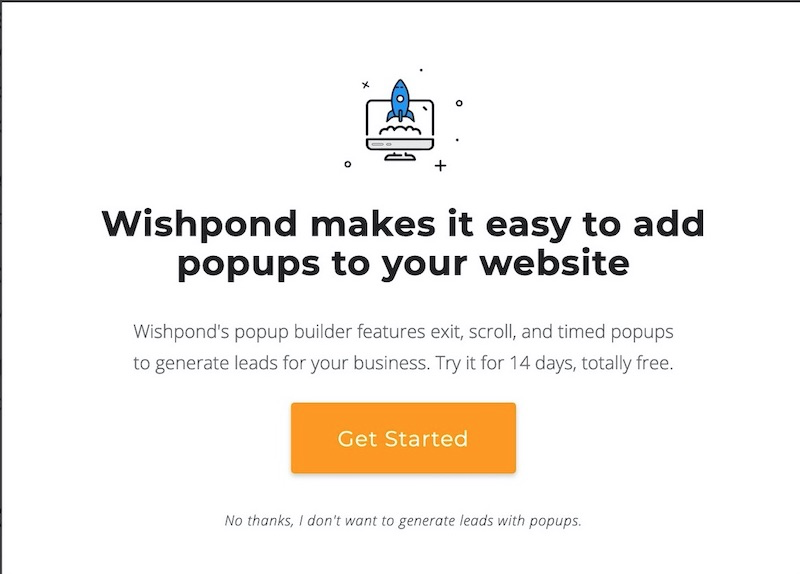 Consider offering the reader the opportunity to get your ebook before you launch it to the public. Better yet, offer them a discount.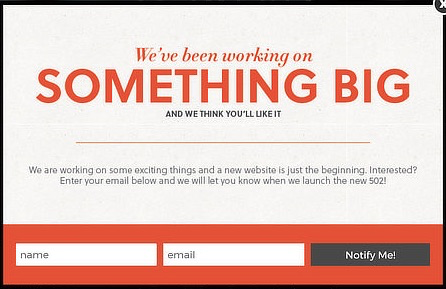 Quizzes are an alternative way to collect leads. Unlike pop-ups, quizzes have the visitor assess themselves on a topic of their interest. For example, Netpeak Software, an SEO software company, offers a quiz that helps SEO practitioners see whether they prefer "white-hat" or "black-hat" SEO techniques.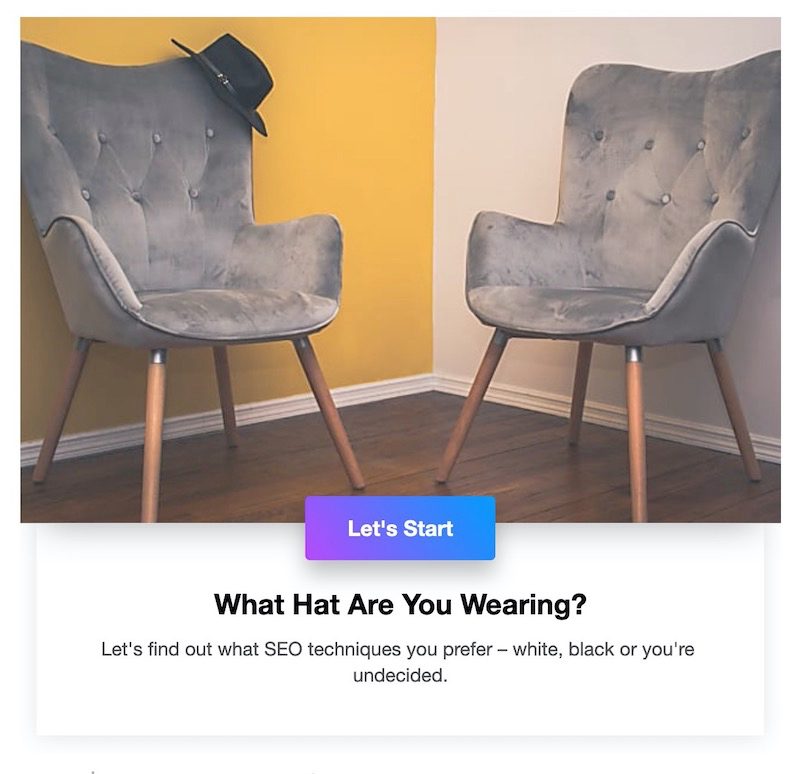 After the visitor finishes the quiz, they can get the answers in exchange for their email address. The more interest your quiz generates, the larger your email list can grow.
Whatever list building tactic you choose, you want to create an automation campaign for your leads. You can use a marketing automation campaign to notify your subscribers about the launch of your ebook, among other news related to your ebook.
3. Create Landing Pages
As you finish your ebook and build an email list for its launch, you want to create a landing page. The landing page will work as the base for your entire ebook promotional campaign.
Compared to creating a website from scratch, which involves designing a web template, setting up your hosting, and so much more, creating a landing page is easy. With the help of a landing page builder, it's only a matter of knowing what you want to say rather than how you can bring the page to life.
Your ebook landing page should have, at least:
A clear, powerful headline.
Concise and persuasive copy.
An image of your ebook's cover.
A button—i.e., a CTA—that motivates your visitors to buy.
A money-back guarantee.
The design of your ebook landing page doesn't have to be fancy. Take a look at the landing page Kai Davis uses to promote one of his ebooks: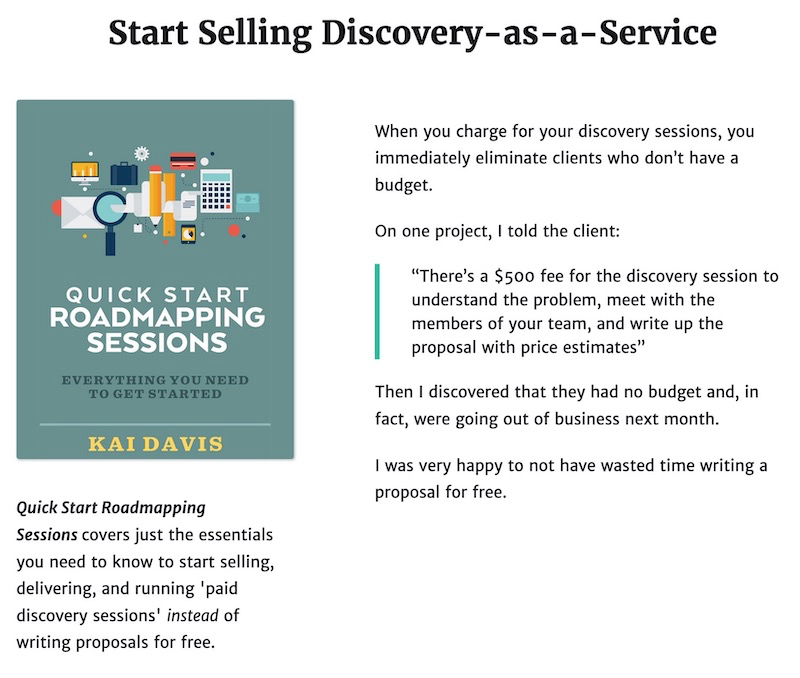 Above the fold, you see the benefit of the ebook—"Selling Discovery-as-a-Service"—a short explanation of the ebook, and a brief, exciting introduction to the topic. The rest of the landing page includes an explanation of the ebook's premise, price, testimonials of past customers, and a risk-free money guarantee.
You can also create a landing page as a tool to collect leads before and after your ebook launch. Traditionally, marketers use landing pages as a B2B lead generation tactic, where you offer a free ebook in exchange for your visitor's email address.
In your case, you can offer a free chapter to entice your readers. Nathan Barry has used this tactic to generate leads for his ebook, reporting conversion rates between 2.4% and 5.2%.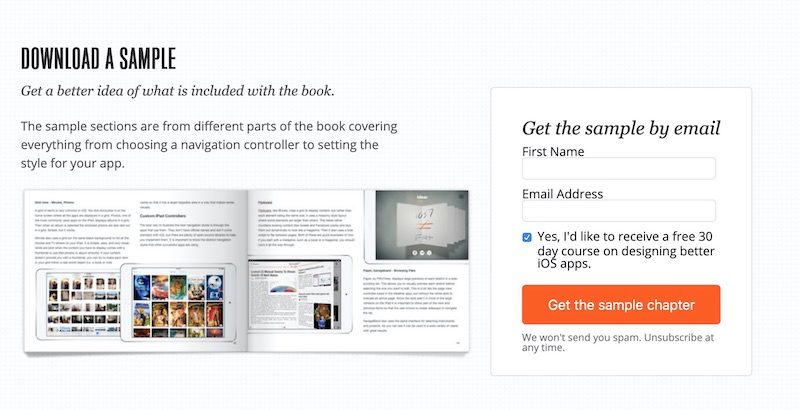 4. Promote Your Ebook
The final step is where the fun begins. There are countless ways you can promote your ebook. Below, you will see that merit some consideration.
Share It on Your Website
The first and most crucial channel where you can promote your ebook is your website. In it, you can communicate not just what your ebook is about, but who you are. People will want to see more about you—your background and experience—your website will do that for you.
Within your website, you can promote your ebook with one of your pop-ups, as described above. You can even add banners and static opt-in forms about it.
Mark Manson, a blogger and best-selling author, shares a link to the books he has published right on the homepage. He adds more links to them throughout the site.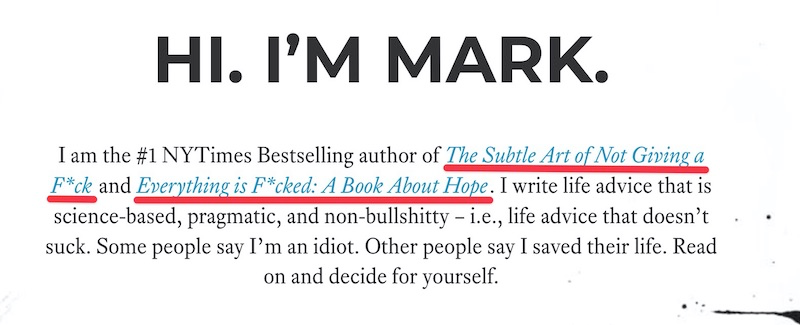 You can also make the ebook a part of your overall content strategy and create articles around the ebook's sub-topics, promoting the ebook in between.
You can even write a post to promote your ebook, before or after the launch. Amy Hoy, the writer behind the blog Behind the Stacks, promoted the pre-launch of her latest ebook in her blog.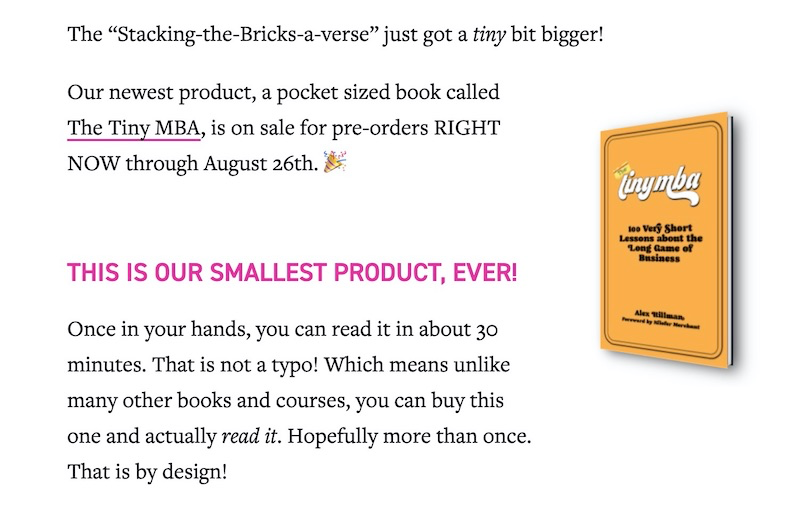 Find your highest-traffic posts and pages and add a banner or link to your ebook. If you have promoted other products before, replace the links to the landing page of your ebook.
Share It Online Communities
The key to any successful marketing campaign is to be where the buyer is. For you, this means the online communities where they hang out.
Use the communities you found previously and use them to build trust in the community. Share your content, offer free advice on the topic of your ebook, or simply help others. This can take months, but as you build clout in a community, people will start to follow you.
Chris Guillebeau, the author of several books on entrepreneurship, has used AMAs (ask me everything) in popular entrepreneurial communities as channels to promote his latest books.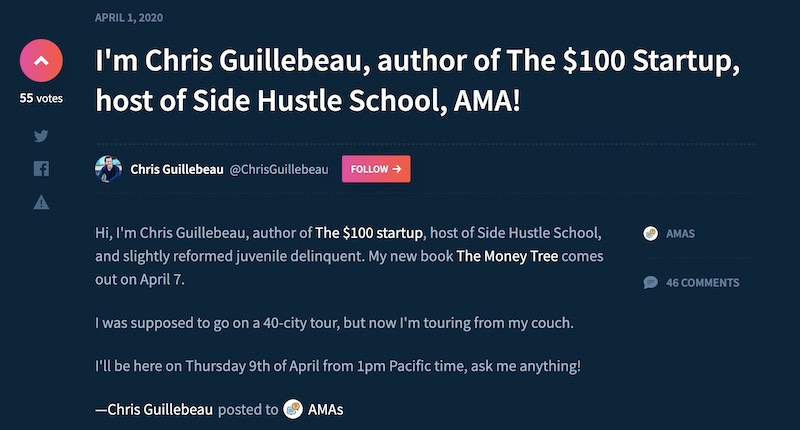 Online communities will force you to continue to research your audience and create rapport with them. By the time of the launch, the people in the community will trust you, making it easier to promote and sell your ebook.
Run Facebook Ads
Facebook's advertising network is one of the most scalable and effective marketing channels where to promote your ebook. Facebook gives you the option to add ads in the sidebar or news feed of its users, targeting the exact demographics you want to attract.
With the help of Facebook Audience Insights, you can target pretty much any audience you want. For example, this is how an audience interested in content writing would look like if I were to run ads to them: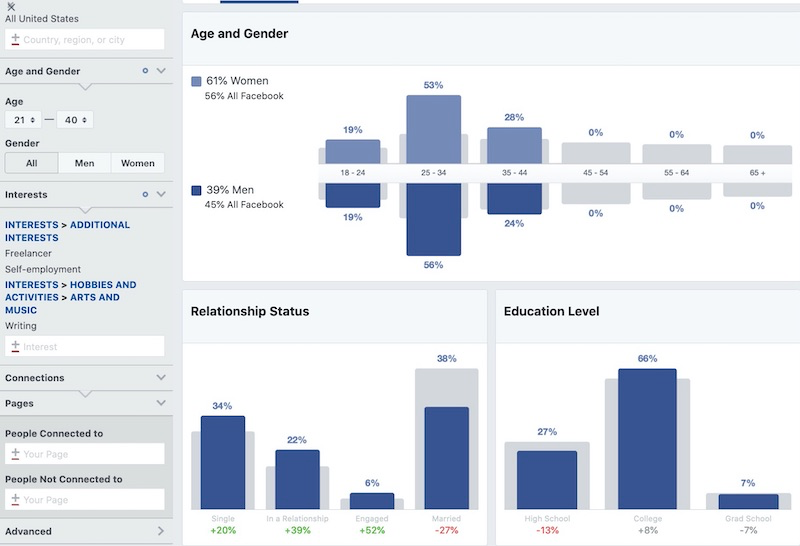 Add the Facebook pixel to your website, especially your landing pages, so you target your ads to the people who visited your ebook landing page. You can even create lookalike audiences, targeting those who are similar to those who visited your landing page.
A Facebook advertising campaign can get costly fast if you don't track its performance closely. To avoid burning your cash irresponsibly, create a custom URL for your ads, and follow the effectiveness of each campaign and ad you run. Optimize your budgets to avoid overspending in the wrong ads.
With Facebook ads, you can directly promote your ebook, leading visitors to your landing page, or you can offer a free chapter before you ask them to buy it.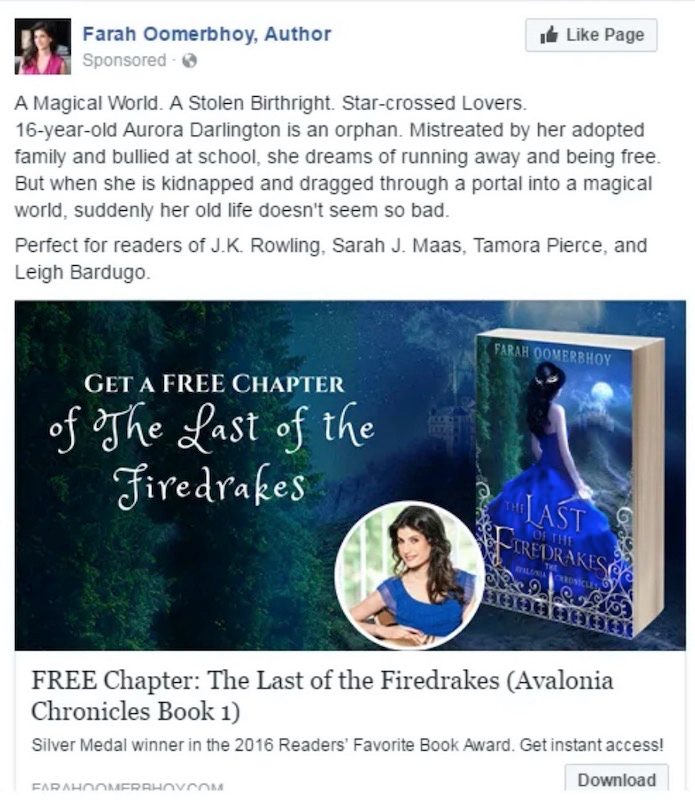 If your ebook is expensive—something that depends on your pricing strategy—you can consider the latter. Those who don't know you may not be willing to invest over $50 to buy an ebook whose author they don't know. But if you price ebook like an average Amazon book—think under $20— then you can lead your visitors to your ebook's landing page directly.
Start with a small budget, targeting a small audience—especially if this is the audience who visited your landing pages. There's much more to mastering Facebook ads, so take your time to learn the most effective ways to use it.
If you don't see positive results or see that the costs are too high, you can try some alternatives to Facebook ads. They are all equally effective, depending on your goals and budget, but if you want to diversify your advertising profile, consider trying:
Twitter ads.
Instagram ads.
Pinterest ads.
Summary
With your knowledge and skills, you can create and sell an ebook. All it takes is the right mindset and the right tactics. The process laid out here shows the overall process you need to use to launch an ebook that you can profit from successfully.
And with the right tools, like the ones Wishpond offers, it will be easier than ever to launch and promote your ebook.
About the Author
Ivan Kreimer is a freelance content writer for hire who creates educational content for SaaS businesses like Leadfeeder and Campaign Monitor. In his pastime, he likes to help people become freelance writers. Besides writing for smart people who read sites like Wishpond, Ivan has also written in sites like Entrepreneur, MarketingProfs, TheNextWeb, and many other influential websites.