The time of the year when marketers discuss the design of the first of the most important seasonal email marketing campaigns is approaching fast.
I am talking about Halloween, of course, the time when lovers of all things spooky rejoice. No brand or marketer in their right mind would pass up on the opportunity to capitalize on this time of the year – or any time that would allow them to utilize the seer power that is a seasonal campaign.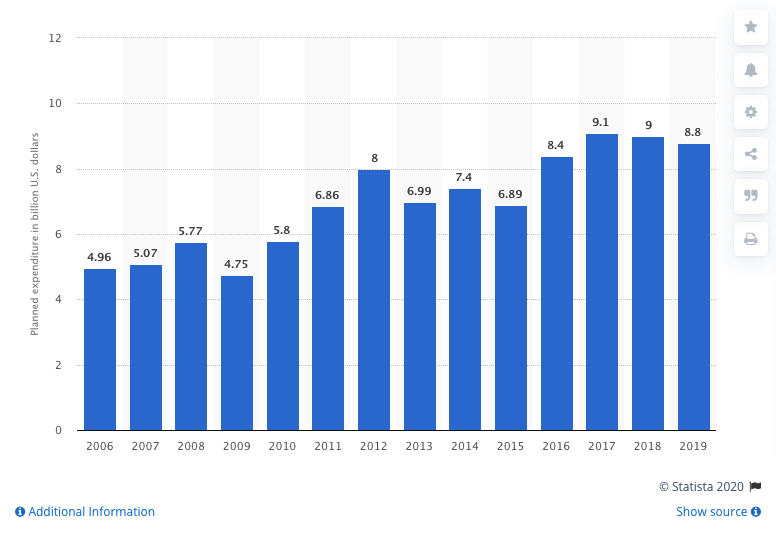 According to the graph above, Halloween is one of the most fruitful commercial holidays. 8.8 billion dollars was spent on this holiday in 2019 alone. So why not take a slice of those earnings by creating a fantastic Halloween campaign?
Let's see how you're going to use seasonal email marketing to achieve the ROI of your dreams.
---
Start Early
Create a strategy or campaign that will make your prospects engage and use all arrows in your quiver to do so.
Create an engagement scheme and start writing content that will serve as a little "treat" for the "tricks" you're going to pull, marketing-wise. Start early, around the beginning of October, and keep them hooked and waiting for your next move.
1. Create Halloween Contests
Start by treating your prospects to a spooky and fun Halloween contest on social media. A Halloween giveaway would be ideal. You could go about it the way Dunkin' Donuts did.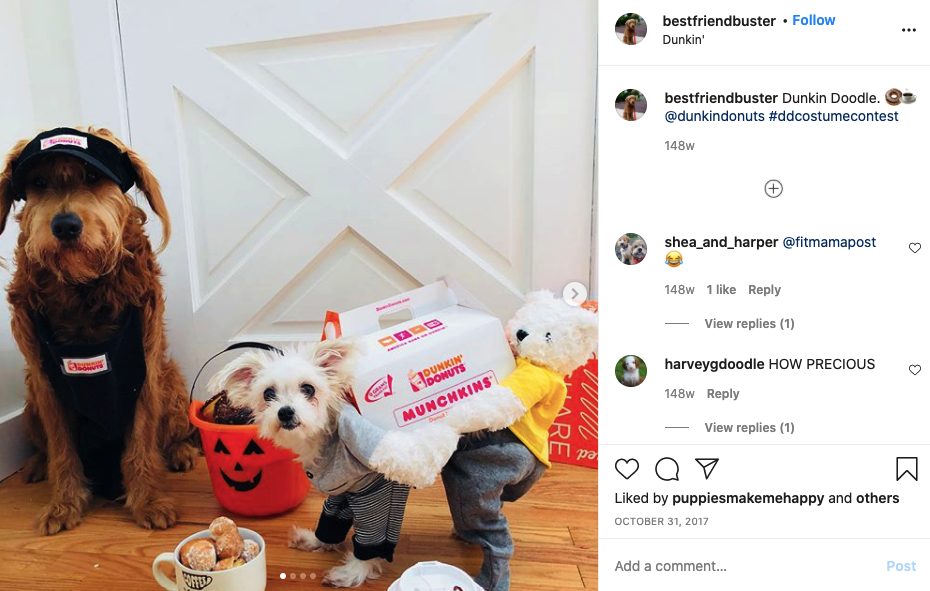 Dunkin' Donuts held a competition on its social media platforms and created a branded hashtag for it: #DDCostumeContest. Now, not many people would go as a donut for Halloween; however, this contest was a huge success. And the prize – a feature on the Dunkin' billboard on Times Square, a year's supply of coffee, and $2,500 to boot – really did help!
The point here is that the competition generated tons of exposure for the brand, a lot of user engagement, and made the act go viral, all by utilizing User Generated Content (UGC).
Your brand can follow this tactic and pair it nicely with an optimized landing page, created solely for the needs of the competition. If your prospects want to be updated on the winner, they may enter their email. And there you have a Halloween contest that generates leads that are already interested and engaging with your Halloween content!
2. Create Extended Offers
Starting early and extending your Halloween contest, offer, or "treat" is essential. For the following reasons:
Prospects have all the time they need to decide on what they want. Of course, you can use a countdown timer to instill some FOMO in them.
Halloween could be on any day. A busy Monday or a slow Thursday will rob you of the traffic that your offer could generate on the weekend.
It shows just how much you care and will make prospects remember you.
Again, you can build up the anticipation with some great social media marketing. Phrases like "Subscribe to our newsletter for more info" will create a curated, interested email list in no time!
Oh, and do not forget the themed code for the offer: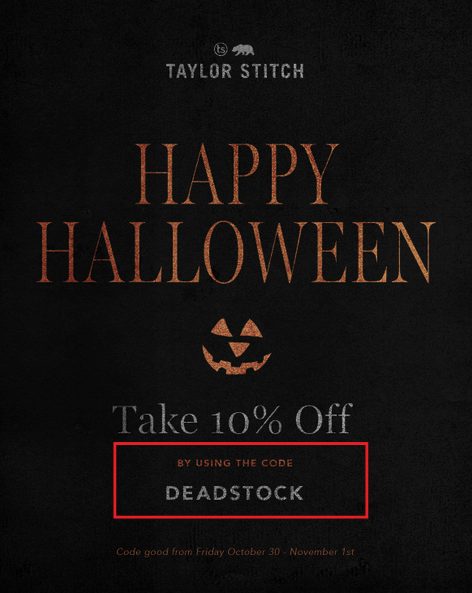 It shows your whimsical side and will help people connect with you and your content.
3. Build Halloween Campaign Suspense!
Is it a trick? Is it a treat? Is it a deal? Your prospects' only way to know the answer to those questions is if they interact with your emails.
Create a cryptic message you could share on your social media that will be leaving hints at an offer. And then, create an email sequence that will keep your prospects hooked and make them interact with your email: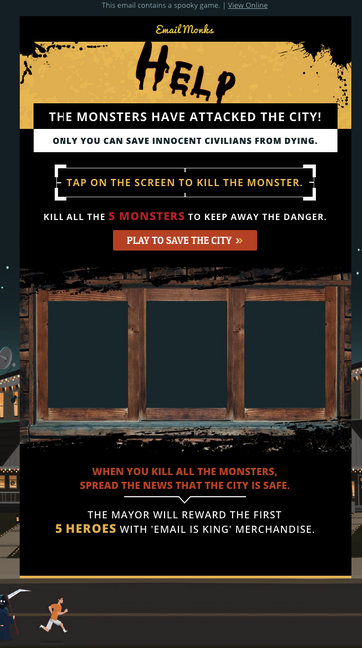 Get users to interact with your Halloween campaigns with a game or an interactive quiz that will capture their attention.
Starting early with an email that doesn't say much and building up to the big reveal right in time for Halloween is something that will help your click-through rate skyrocket, as well as your traffic.
Create Content To-Die-For
The tips above are all fine and well, but you need one key element to make them work, and that would be wonderful email copy and great social media content that can match that copy.
And I've got some tricks that will help you reach the "treat" of conversion. Now a high-converting seasonal email marketing campaign consists of excellent email copy – from the subject line to the CTAs-, content that is highly relevant and appealing, and, of course, visuals that will stay in a prospect's mind for a long, long time.
1. A Themed Subject Line
Your brand won't be the first or the last one to send your prospects a seasonal email marketing campaign, which can only mean one thing for you.
You need to dazzle them with some great email subject lines:

This one is an example out of my inbox, and let me tell you, I was very curious about what "all treat" and "no tricks" really meant.
In that case, I opened the email and saw a seasonal offer that I rushed to grab. So, the example above shows a clever seasonal wordplay that is equal parts playful and intriguing.
Use that tactic to make your recipients feel a little interested and curious about your offer. And if it's a limited time offer, use a timer or highlight the fact right off the bat.
Super Pro Tip: It should be a given, of course, but never take a step forward before consulting your data and A/B testing everything. This practice will give you insight into the type of content prospects want to receive and help you make educated decisions, backed by data.
2. Halloweeny Look
Wondering how to write content for your Halloween email marketing campaign is one thing that you need to get out of the way, sure. But what about the campaign's "looks"?
Just because your campaign is seasonal doesn't mean that you need to change your email layout completely. On the contrary, you can use the design your prospects love, but with a little twist.
Change the standard colors for something more "spooky". Like this: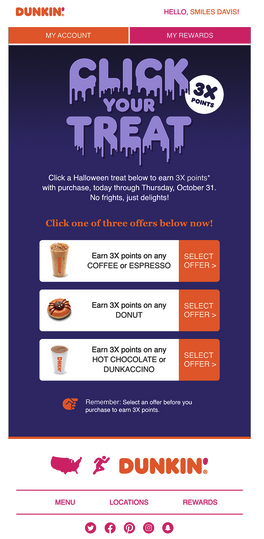 Dunkin's email is the perfect example, as the original font is right there, as well as the colors. However, there's some Halloween decor on this email: notice the dripping effect on the letters and the mix of Dunkin's original colors – pink and orange – with the more seasonal purple.
You can also create a different color scheme, depending on your target audience and the vibe you'd like your email to have: Be fun and classic with oranges, purples, and bats or creepy and horrific with greens, cauldrons, and zombies.
3. Fear Is Your Friend
You know how Halloween is all about fear and spooky things. Your Halloween email marketing campaign might be the only one you can build around fear, without making it unpleasant.
Of course, I'm talking about Fear Of Missing Out – or FOMO, if you will.
Use words that have to do with fear and being wicked and scary. Here's an email subject line to help set the mood:

No brand would use such language outside of Halloween, but at this specific time, it's appropriate and fitting. Not to mention that it brilliantly leads to the email body copy: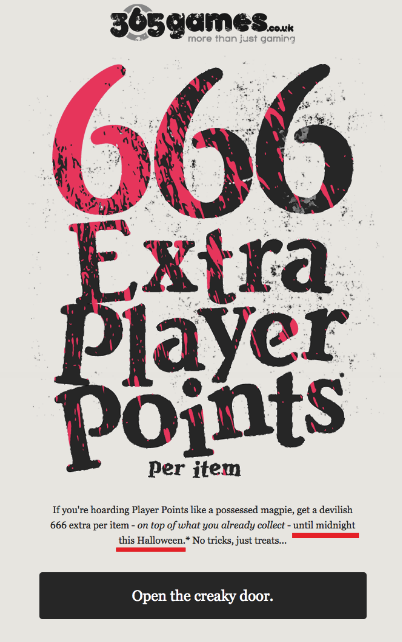 Offer's good "until midnight this Halloween," which is a pretty good reason to be scared, especially as a gamer. You see, creative copy for little offers like the one above keep customers happy and keep your CTR, traffic, and customer churn at the rates you want them to be. For more help here are 6 actionable steps to reduce customer churn on your ecommerce site.
4. Create a CTA That Takes the Cake
…Or the candy bar, whatever you prefer. The whole point is that your CTA needs to stand out and be as spooky and fun as the rest of your email.
Does this mean that it needs to be cryptic and overly creative? No. CTAs show prospects what their next action should be and lead them straight to your goals.
Don't swarm your email with copy, no matter your creative knack. Customers won't read all of your emails, but they will bother with three things: our subject line, email design, and CTA.
Go straight to the point when letting your readers know what you want from them. Of course, this doesn't mean that you have to be bland or boring. Check this CTA copy, and you'll see what I mean:
Also, don't forget to have one CTA button. Just the one. Otherwise, prospects will get a little confused about what your seasonal email marketing campaign is trying to do.
Honorable Mentions
Before I go, I'd like to remind you of some email marketing staples you need to implement on any campaign – apart from selecting the right email service, of course.
Keep a clean, well-curated email list. Unsubscribers can get you penalized, and the last thing you want is for your emails to end up in the dark corners of a spam folder.
Always segment your audience and create buyer personas and always consult your data before doing so.
Create responsive emails that will work correctly for any device. Mobile opens are taking over, and you don't want to miss out on that revenue.
Bonus: enjoy some best halloween ad campaigns and get some spooky inspiration!
Summing Up
Halloween is the holiday that marks the spending season, as Thanksgiving and Christmas follow soon after.
Don't be afraid to get creative and send out playful emails that can have a "magical" or "spooky" twist.
Just remember to adjust your tone of voice and copy, create a unique message, and save the prospect's time by not babbling too much in your email's body copy.
After all, the festive time of the year calls for presents and a little spending. Use the tips above, and you'll see that you can benefit from this.
About the Author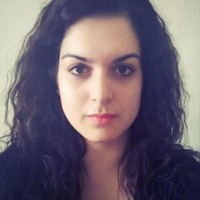 Téa Liarokapi is a content writer working for email marketing software company Moosend and an obsessive writer in general. In her free time, she tries to find new ways to stuff more books in her bookcase and content ideas-and cats-to play with.
amir