5 Real-Life Examples of Facebook Retargeting Strategies That Work
Facebook is the biggest social network -- and not just by a little. With 2.41 billion monthly active users, it's the third most visited website in the universe, only outranked by Google and YouTube. A whopping 71% of users log in every single day, with more than half logging in several times a day. Plus, it's always growing and evolving.
For this reason, it's not surprising that 87.1% of marketers will use Facebook marketing in 2020. It's a big win, particularly if you bolster your chances of reaching interested consumers with retargeting.
Facebook retargeting has grown in popularity because it's even more effective than your standard Facebook advertising.
Sure, at some point you're going to need to pitch new customers in order to grow your business, but it's cheaper and more rewarding to market to existing customers or people who are already familiar with your brand and like-minded brands, too.
What Is Retargeting?
Facebook retargeting is particularly effective because the platform uses very specific targeting and tracking data.
Companies tend to use this a few ways: you can cross-sell new items to people who made past purchases, show targeted ads to people who bounced, reach out to people who share similarities with existing customers (i.e. a lookalike audience), or simply raise additional brand awareness among users who have already shown a little interest.
The concept of retargeting works like this: users visit your webpage or social media page, a cookie or "retargeting pixel" is added to their browser, and that allows you to follow them around the internet, serving up content based on the cookie.
For example, a friend purchased macarons from Ma-Ka-Rohn a month before receiving this retargeting ad. Was it effective? Yes. Their strategy was all about timing -- they served her this ad after she'd surely eaten the first batch that was ordered.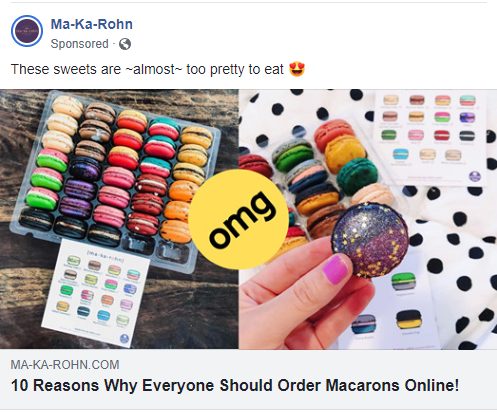 In short: Facebook retargeting works because you're dangling the carrot in front of customers who initially left your sales funnel. Some research has shown that visitors who see retargeting ads are 70% more likely to convert than those who don't. Still, the key to retargeting success is a pointed, planned strategy. These five Facebook retargeting strategies can get you started.
Strategy 1: Flip Shopping Cart Abandonment On Its Head
By the year 2040, Nasdaq estimates that 95% of all purchases will be made through eCommerce, but eCommerce has one big problem -- shopping cart abandonment.
The sad truth is that most customers -- about 70%, according to the Baymard Institute -- abandon their cart before making a purchase. This rate has only grown from 60% in the late 2000s to more than 80% in some cases. So, why do customers do it?
Well, it's a mix of things. Sometimes the purchase process is too complicated, especially if a website isn't optimized for mobile browsing.
Other times, a customer was on the fence about a product or decided to not bother and find their credit card. In all of these cases, a Facebook retargeting strategy that targets cart abandoners can entice buyers by showcasing the product they were thinking about purchasing.
The average cart abandonment campaign looks like this: a customer leaves something in their cart and bounces from their page, then an ad is created to recommend that product and similar products.
Sometimes this comes with a special offer to entice the buyer or additional information that serves as a value-add.
For example, this Garmin cart abandonment campaign was shown to me on Instagram (which is owned by Facebook and uses the same ad platform) after I left this particular bicycle GPS in my shopping cart.
This ad forced me to see the GPS in a different light by promoting built-in automatic incident detection, a feature I wasn't previously aware of that served as a huge value-add.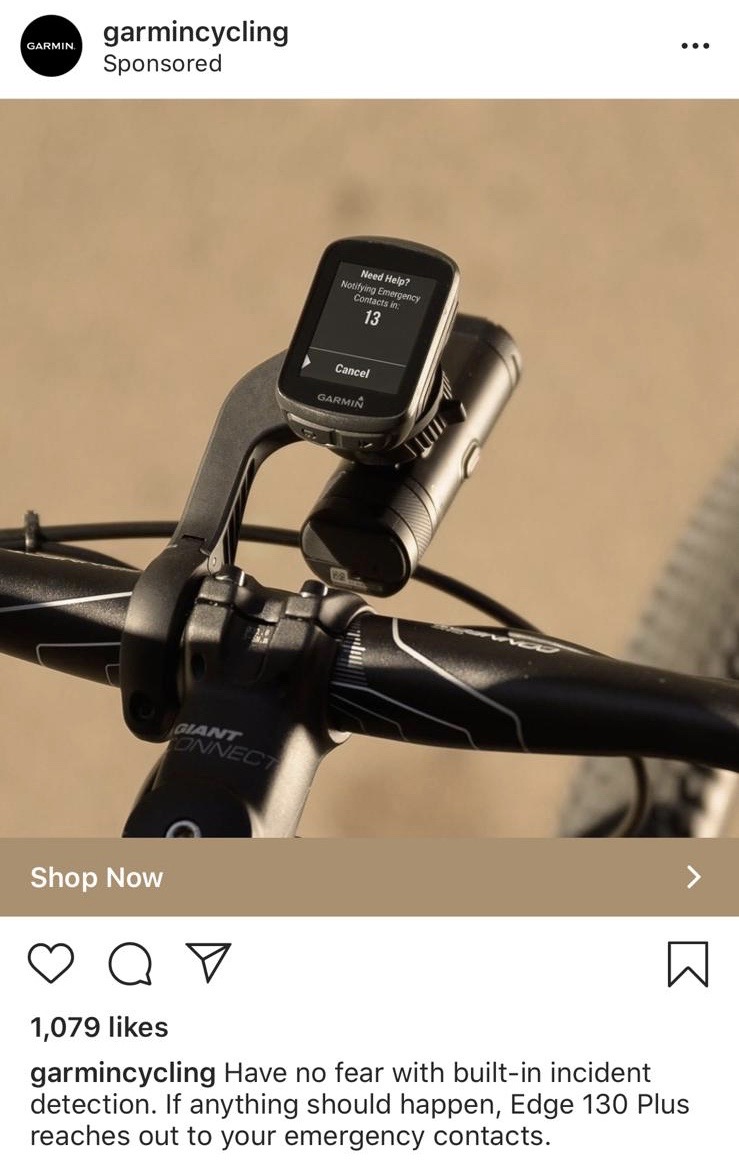 You can create a similar ad through Facebook's ad manager by adding a tracking pixel and setting it to track:
Visits to your add-to-cart page
Add-to-cart button clicks
Visits to your purchase/thank you pages.
This last bit is because you need to exclude the latter group. You don't want to send a cart abandonment ad to people who've completed a purchase.
Strategy 2: Dynamic Product Recommendations
Facebook's retargeting system doesn't just allow you to target users who've abandoned their shopping carts or previously made a purchase.
You can also target users who visited specific product pages but never ended up putting anything in their cart. This is a great strategy because the potential customer already had a proven interest.
Here's how it works: Your retargeting pixel will track their movement across your product pages -- or similar product pages on third party sites -- and aggregate that user's web history into a string of products. The best part is that this strategy edges out the competition.
You can market to a so-called "lookalike audience" by presenting products from your inventory that are similar to products they've clicked on in someone else's inventory.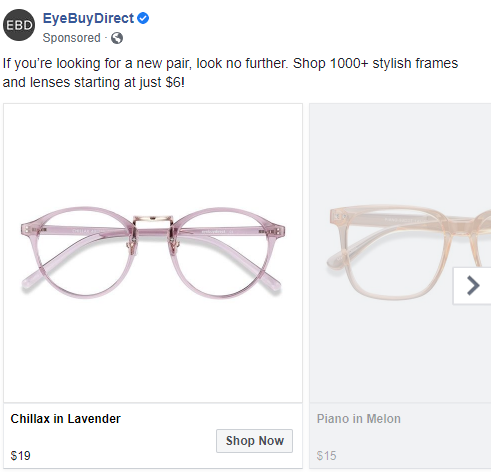 For example, I clicked on a sponsored ad from Firmoo, an ecommerce eyeglass retailer. I browsed around their website for a bit, mostly looking at product pages for pink-framed glasses.
After that, I started receiving Facebook ads for pink-framed glasses from their competitor EyeBuyDirect. Anytime you can beat out a competitor is a major win.
You can create a lookalike audience campaign in Facebook's ad manager by clicking "Create Audience" and selecting a "Lookalike Audience."
Need help with your next Facebook ad campaign?
Book a free call to learn how our team of marketing experts can help you create high converting social media ad campaigns today.
Strategy 3: Target Repeat Customers
Existing customers are a huge asset. Repeat purchasers generally spend up to five times more than first-time shoppers, so you need to think of ways to re-entice them.
You can do this through a Facebook retargeting strategy that announces new product lines, offers discounts and sales, or cross-promotes products that are similar to what that customer has already purchased.
For example, a Bang & Olufsen ad promoting the brand's new collaboration with Formula 1 racing champion Fernando Alonso popped up on a friend's Instagram feed a few weeks after they made their last purchase. This encouraged them to search for new products at a brand they already love.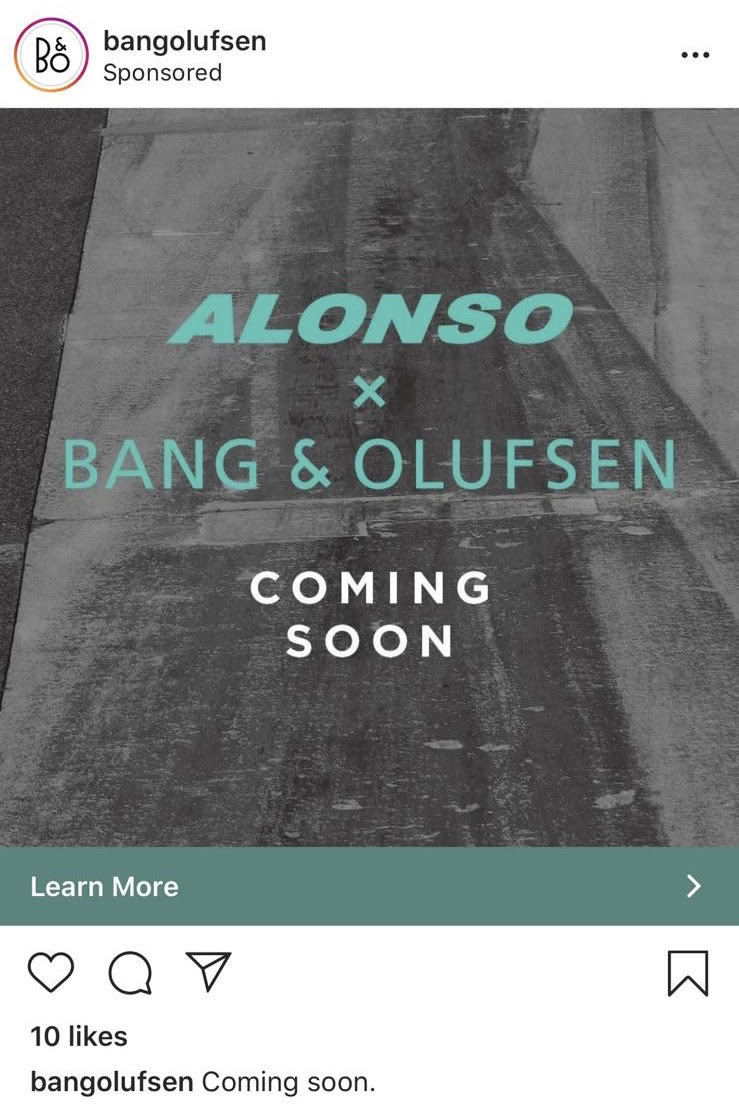 Like a cart abandonment campaign, you can create this sort of campaign in the Facebook Ad Manager by using a tracking pixel that targets those who've visited your website in the past. Particularly, you may want to target those who've visited purchase/thank you pages more than once because they're already repeat customers.
Strategy 4: Target Certain Online Behaviors Through Custom Audiences
Facebook is a treasure trove of consumer data. This includes targeting behaviors like what types of pages a user visit, their general interests, and how far down a page they scroll. This can be used to your advantage in a Facebook retargeting campaign through the ad platform's Custom Audiences. You can create a custom audience based on data like:
*Existing customers and sales prospects *Web traffic *Mobile app actions
These each have their various benefits, but app behavior is actually a really interesting -- and rewarding -- strategy.
We see this in the way marketers have a knack for mysteriously serving us ads for breathable athletic shorts just after we happen to complain on Facebook Messenger about working out on a 90-degree day in August.
The truth is that Facebook is constantly tracking user behavior within their apps like Whatsapp and Instagram -- and this is valuable.
For example, a friend messaged me on Whatsapp about a craving for mochi ice cream. Almost immediately after, they were served ads from Mochidoki, an NYC-based, high-end mochi retailer.
Yes, they reported that the mochi was delicious, but what's even more interesting is how closely targeted the ad was. With all their Instagram location tags, the data already proved they were local. This is the kind Custom Audience usage that actually works.
In addition to Facebook's apps, the platform can track customer behavior in your custom iOS or Android app as long as you register the app with Facebook and pick which actions or events will trigger your ads. This can be particularly useful to trigger certain ads when people drop out at specific points of the conversion process.
For example, I opened my GrubHub app and searched around for restaurants for about a half an hour before I abandoned it and decided I'd just make dinner at home.
I later received this ad from GrubHub.This works because I was, first, already an app user and existing customer, and second, bound to get hungry once again. As exposure is key, in this scenario.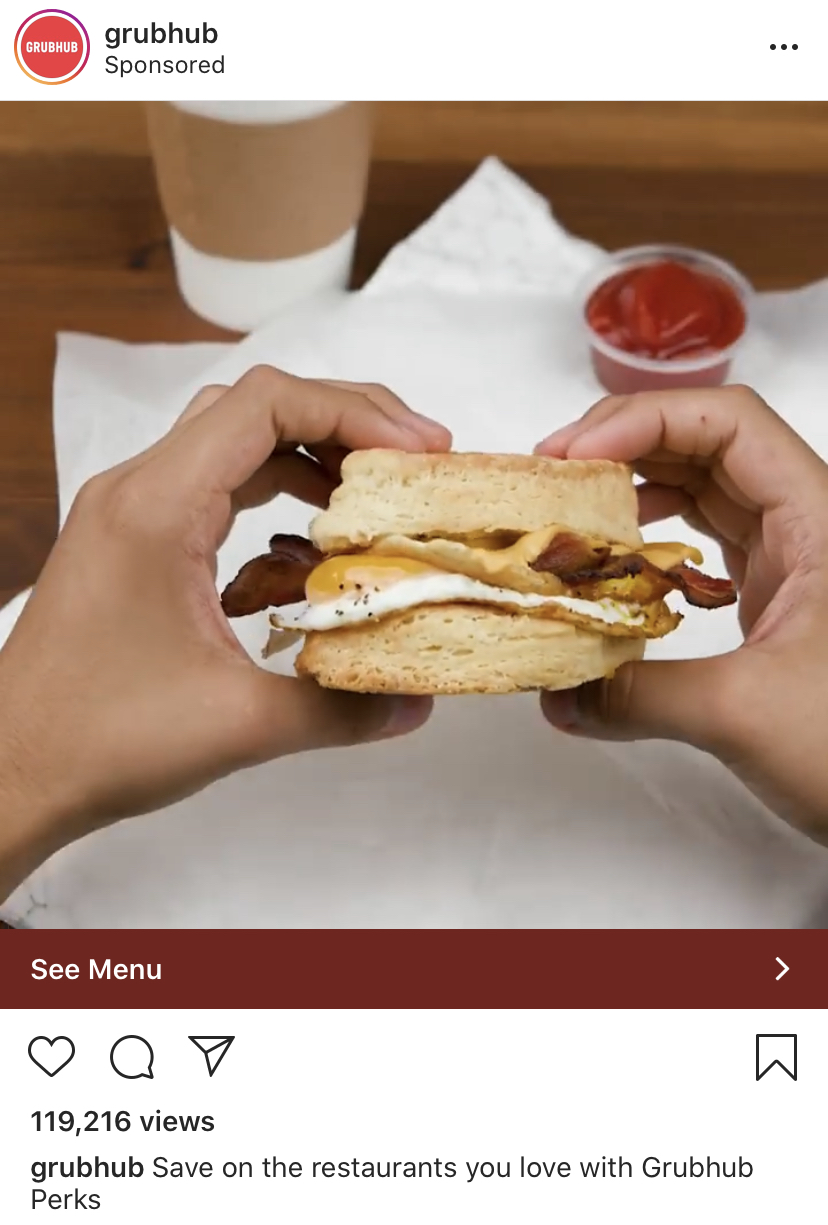 Strategy 5: Sequence Your Ads
You know the old phrase third time's a charm? There's some truth to this. Most of the time, a single ad isn't enough to make a conversion.
Consumers need to see multiple ads, that make them more comfortable with your brand and what you plan to offer This is where sequencing comes in.
With this type of retargeting strategy, you can set a time window for each ad within a series of ads. This helps you ensure that your target audience sees ads in the specific order you've designed them. The only other caveat is designing the perfect sales funnel that ramps up the FOMO (or fear of missing out) as each ad goes on.
Remember, exclusion is your friend here. If you're presenting a certain ad to people who've visited your website within eight days, you can exclude those who visited in the last four days and present a more high-value advertisement solely to those who are drifting further from your sales funnel. Give a more low-key ad to those who've only just visited.
Final Retargeting Takeaways
All things considered, there are numerous approaches you can take to Facebook retargeting. Retargeting has the ability to be an incredibly successful marketing tactic when implemented correctly.
It is critical to choose a retargeting strategy that works for you and your business in order to drive measurable results. We recommend uncovering the biggest issue your business faces, whether that be shopping cart abandonment or lack of repeat customers, and then choosing your customized approach based upon that information.
Remember, it may take several tries to find a retargeting approach that is effective for you. Start small and test out your campaigns until you find one that produces the results your business is looking for.
About the Author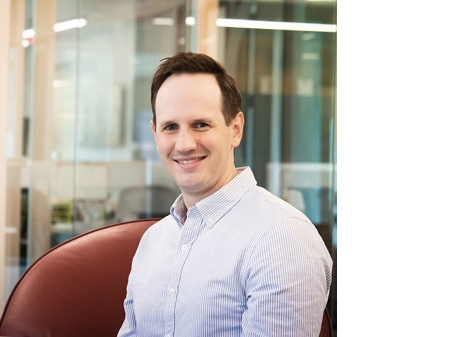 Meet Ryan Gould, the Vice President of Strategy and Marketing Services of Elevation B2B.
From legacy Fortune 100 institutions to inventive start-ups, Ryan brings extensive experience with a
wide range of B2B clients. He skillfully architects and manages the delivery of integrated marketing programs, and believes strongly in strategy, not just tactics, that effectively aligns sales and marketing teams within organizations.