7 Easy Steps to Grow your Twitch Channel (With Real-Life Examples)
Gaming has always been a favorite pastime of many but in recent years, it has become extremely popular. We see different consoles and games being released constantly and it's getting harder to keep up due to the number of games being released.
Ever since Youtube has gained popularity, it has also grown in a variety of channels and genres. Beauty tutorials, how to videos, documentaries are amongst the most popular types of videos on Youtube but gaming and live streaming videos have increased in volume.
These days, before anyone purchases a game, it's common to look for reviews. Sure, reading an online review might be convenient for some but videos and live-streams are the most preferred method of getting a thorough review.
There are different types of game videos such as walk-throughs, live-streams, and reviews. However, the most popular type is the live-stream.
Twitch is a video live-streaming service introduced in June 2011. Since its release, it has grown significantly and has become the go-to site for watching live-streams of games.
Like YouTubers, Twitch streamers are able to rake in a lot of money and build their channels in various ways such as ad revenue, subscriptions, donations, affiliate links, and even merchandising— making it a lucrative career.
Other than that, the audience on Twitch is huge, making it a great target for streamers. So, if you're interested in dabbling in live-streaming and reaping its benefits, Twitch might be the perfect channel for you.
However, growing your Twitch channel isn't as easy as simply creating it. There are a lot of things you need to do to make sure that it's growing significantly.
In this guide, we're going to dive in and go through the seven steps you need to grow your Twitch channel. Although it might be a challenge, following these 7 steps will definitely help.
1.Set Your Goals
Before you get started, it's important to lay down some goals. Are you looking to grow your channel by increasing views and subscribers? Or are you looking to grow your channel with more content or focus on a specific niche?
To get started with this step, set a strategy on how you will achieve your goals. To do this, your goals must be specific, easy to measure, relevant, achievable, and make sure you set a deadline.
Once you have a few goals set, it's time to work towards it. Sometimes, it's easier to break down a goal into smaller ones instead of going at it all at once.
For example, if you're looking to gain 10,000 subscribers, it might be hard to focus on gaining all 10,000 at once. So, you can break it into gaining the first 100, 500, 1000, and so on.
Breaking it down this way will make the goals much more attainable.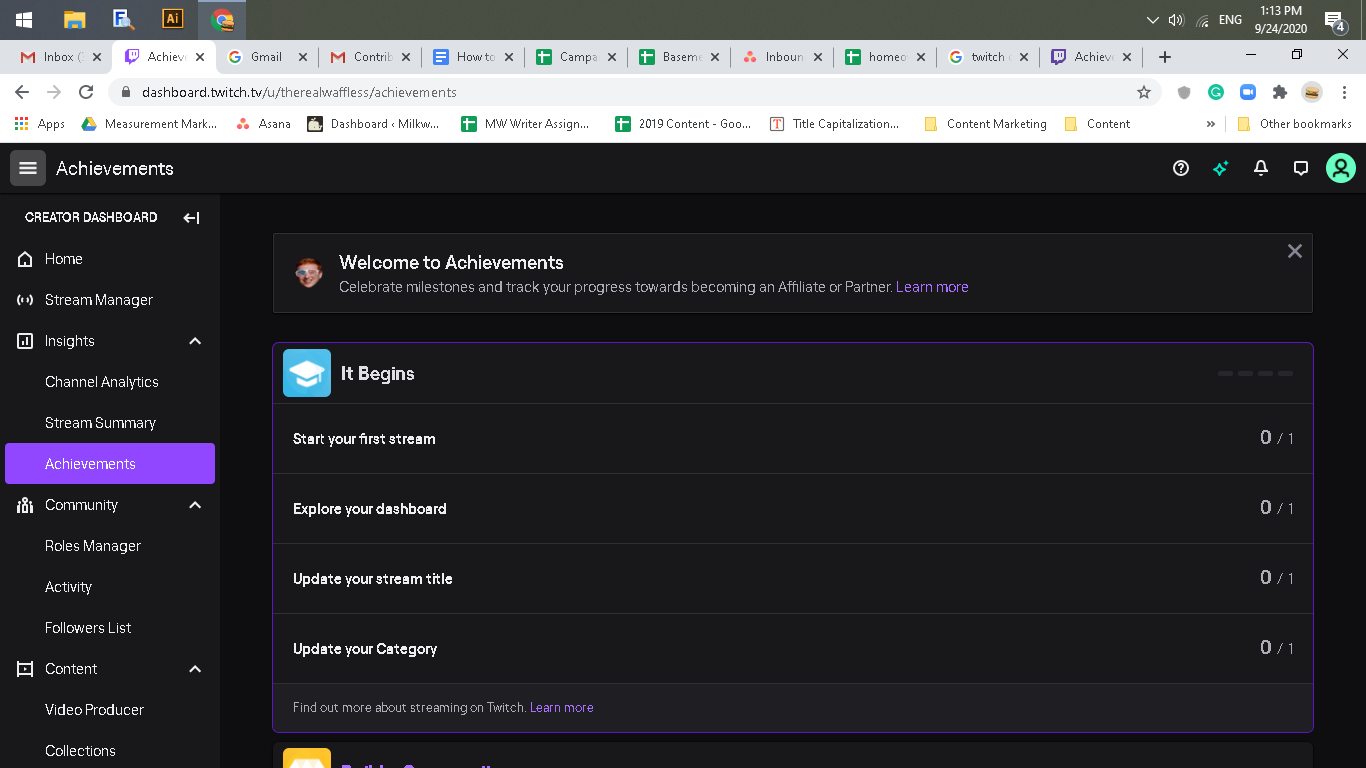 Twitch's creator dashboard has a page where you can access a list of goals to achieve. If you're new on Twitch, this is a great guide on how to grow your channel.
2. Consistency is Key
No one likes an inactive streamer. After all, people subscribe to your channel for content. So, if you're looking to gain and maintain subscribers, you need to stick to a consistent schedule.
By maintaining a consistent streaming schedule, your audience will see you as someone who takes streaming seriously. Not having a consistent schedule shows that you're not serious about growing your channel. It will also lose you followers since they won't know when you plan to stream.
Many streamers make the mistake of not sticking to their schedule. So, by simply having a schedule to stick to, you're already doing something right and on your way to growing your channel.
Having a schedule makes it easier for your audience to find you. As long as they know when to find you, it will make things a lot easier.
Twitch allows you to put a schedule on your channel so your viewers can see when you will stream. The schedule is in a weekly format, so you can plan your stream schedule in advance.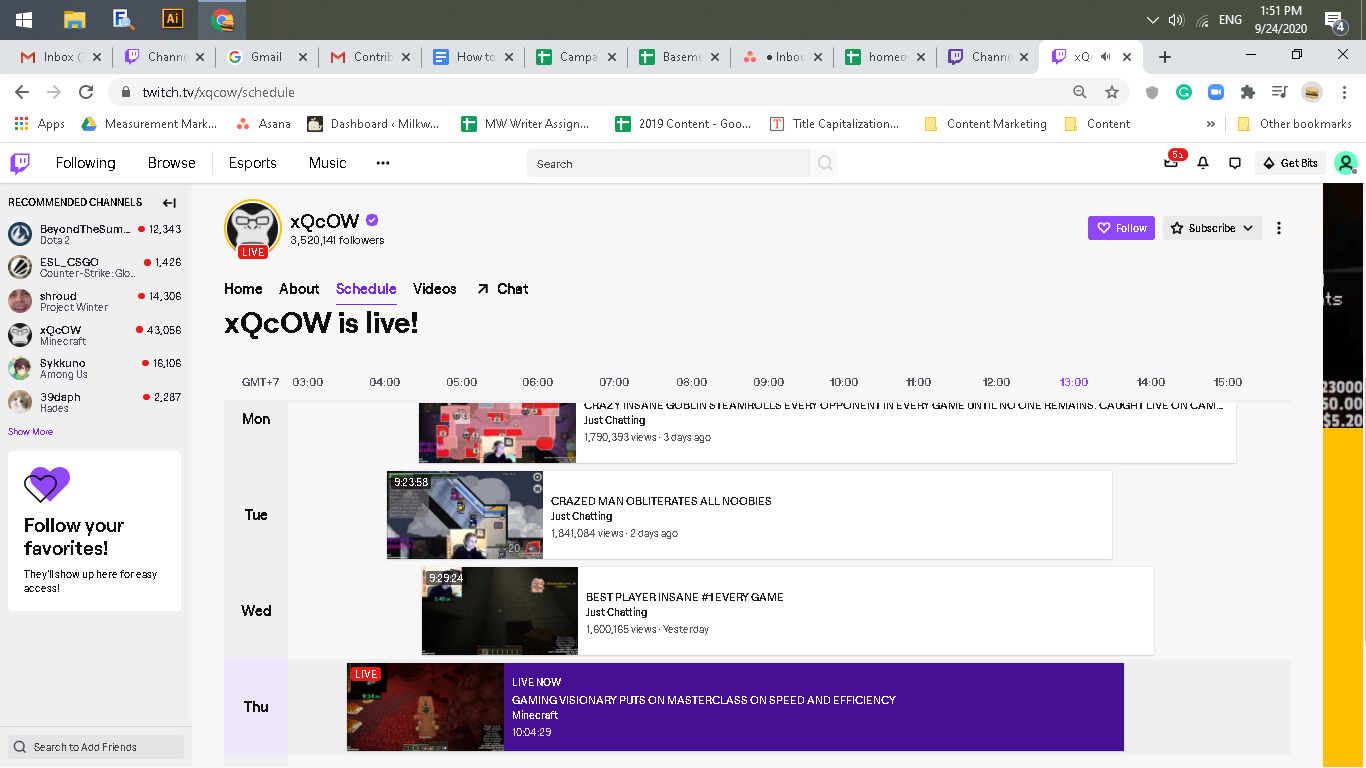 Need help marketing your Twitch channel?
Book a free call to learn how our team of marketing experts can help you grow your Twitch channel today.
3. Give Your Audience Value
The reality is your audience matters. When you're looking to grow your channel, they play an important role in it.
It's the same thing when you're buying a product. You want the product to be beneficial for you. So, the next thing you need to do is create streams that your audience will enjoy. By providing a reason for them to watch your streams, you'll be able to gain repeat viewers.
You can find out what your audience enjoys or what they're looking for such as gaming secrets, a review on games, watching professional gamers, or simply just because they enjoy a streamer's personality.
If you're wondering what your audience might be looking for, try checking out the Esports page on the homepage on Twitch. You can see what other pro players are streaming and what games are currently popular.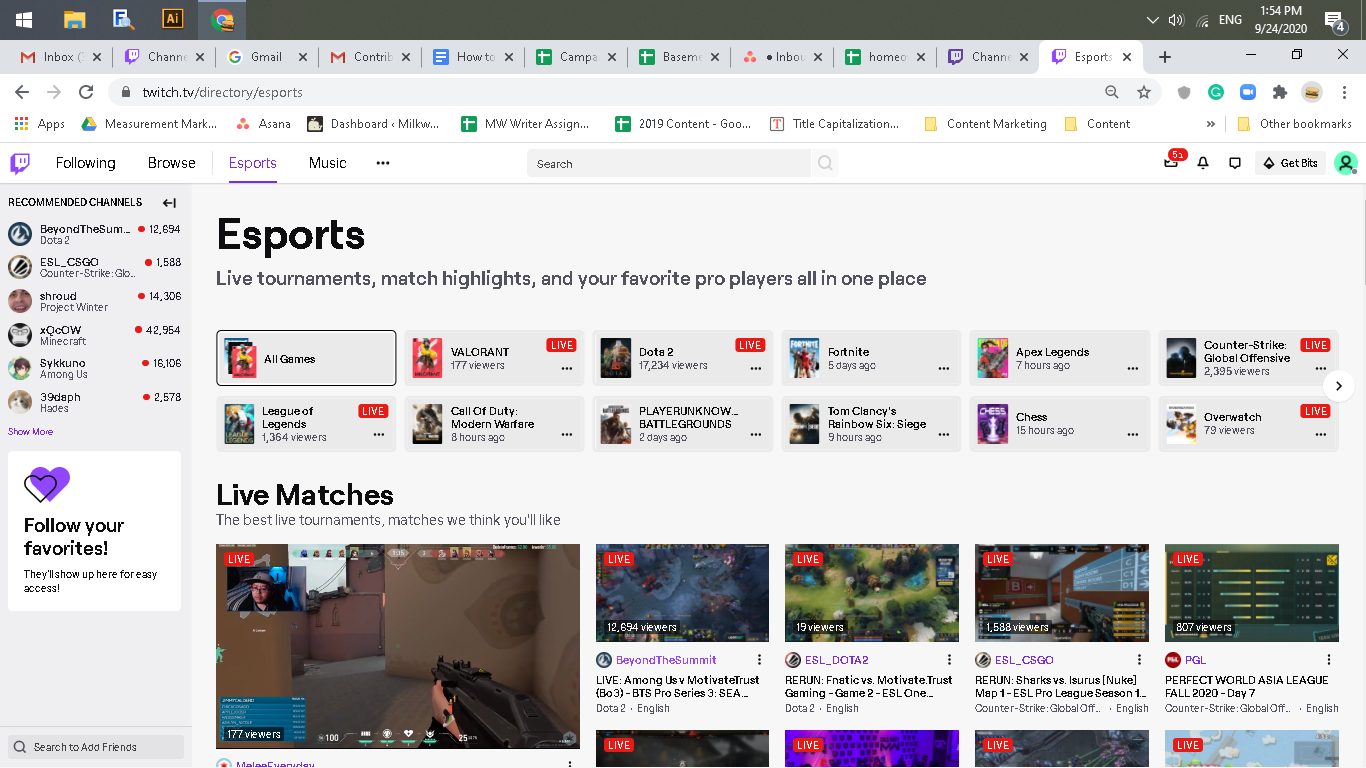 4. Play the Right Games
This is the most important step. We mentioned that you should know what interests your audience. If you're trying to grow your channel, then it's essential that you play the right games.
This is a part of streaming that can be a bit difficult. There needs to be a balance between games that you truly enjoy and games that your audience wants to see. If you're just starting out, it's a good idea to try streaming different games to figure out which ones hit the sweet spot.
This doesn't mean you should play games you don't like because you have to. It's still important to play games that you really enjoy. If you play games that you don't really enjoy, it may come off on the stream and could become less entertaining to watch.
Also, make sure to play a game that's not overly popular if you're starting out as it can get lost in a flurry of other streams. All in all, you should do your best to keep your content unique.
Games such as Valorant, Among Us, and Dota are popular but there are other games in different niches with a lot of viewers. For example, Stardew Valley— an indie game that has gained traction over the years has quite the following.
Try searching your favorite games and see if they have a reasonable number of followers and viewers before you start streaming.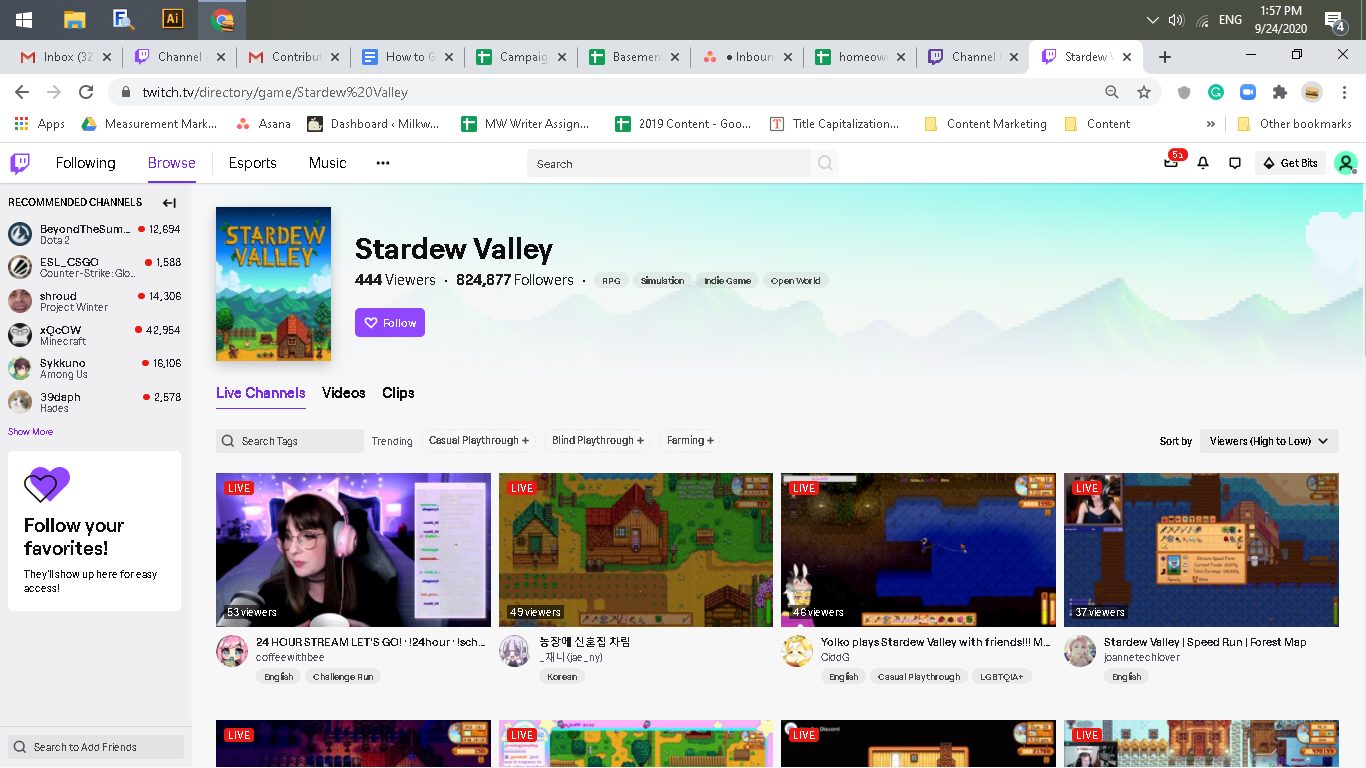 5. Be Interactive with Your Audience
Viewers may be there to watch you play, but there's something else that they look for on Twitch. They want to get to know the streamer and interact.
Interacting with your audience is vital when it comes to growing your channel. So how can you be interactive?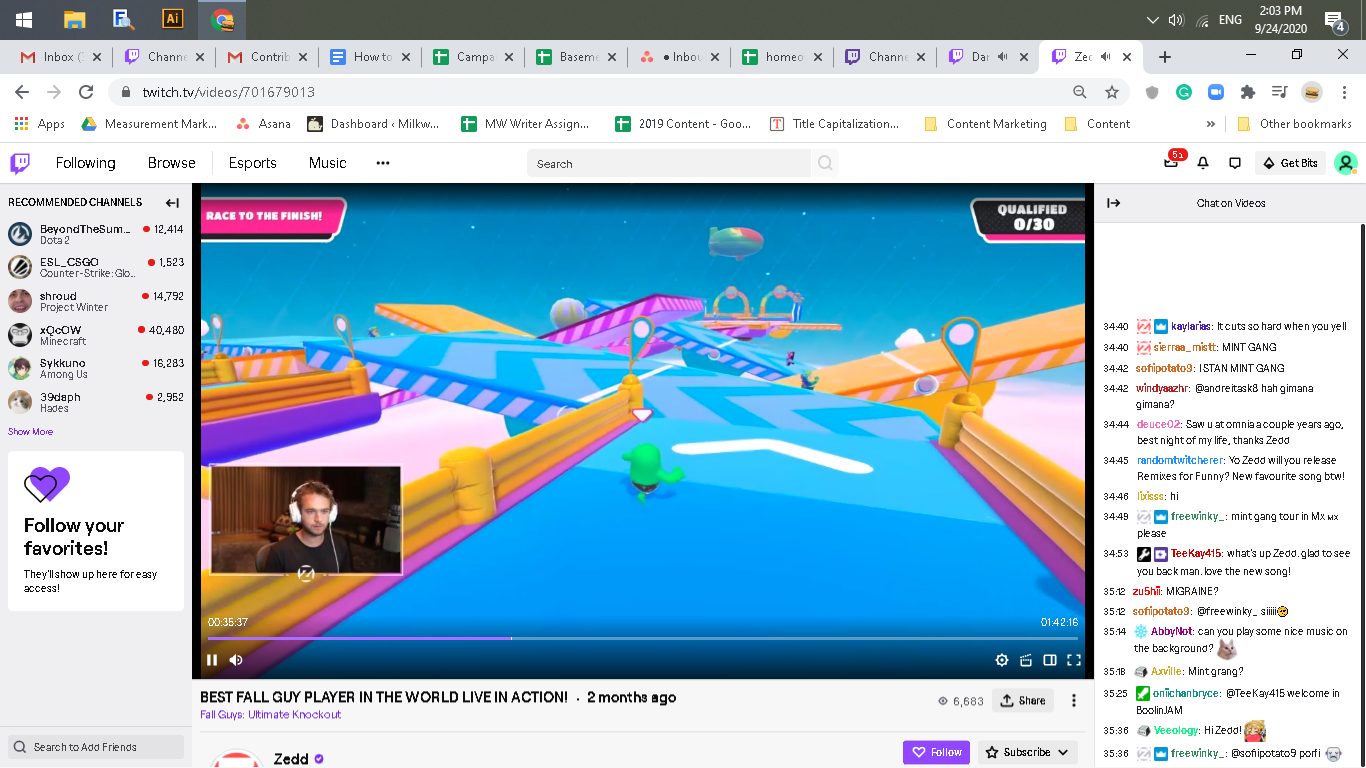 First, always pay attention to your chat room. Although you won't be able to type during a stream, by keeping your eye on the chat room, you can respond to what they're talking about. This will ensure that your audience knows you're paying attention to them.
It's quite difficult to pay attention to your chat room while streaming so we recommend having a second monitor for this.
Second, don't remain silent during streams. It might be a challenge to talk and play at the same time. However, remaining silent won't be interesting for the viewers. If you want to keep your engagement levels high, try to talk during streams even if there aren't any viewers. This is great practice for future streams when your viewers have increased.
6. Use High-Quality Streaming Equipment
Interaction is extremely important but without the proper equipment, that won't be possible. So, we think it's essential to invest in a decent camera and microphone.
A decent camera will let your viewers see your face and expressions without any problems. This will form a connection between you and your viewers. Other than a microphone and a camera, you also need a stable internet connection.
A laggy stream will annoy viewers and you could possibly lose subscribers. To get an idea and maintain your stream's technical performance, you can try out the Twitch Inspector to look out for potential Internet connection problems.
If you're just getting started and don't have any hardware to begin with, it would be a good idea to look at the page on Twitch about hardware recommendations.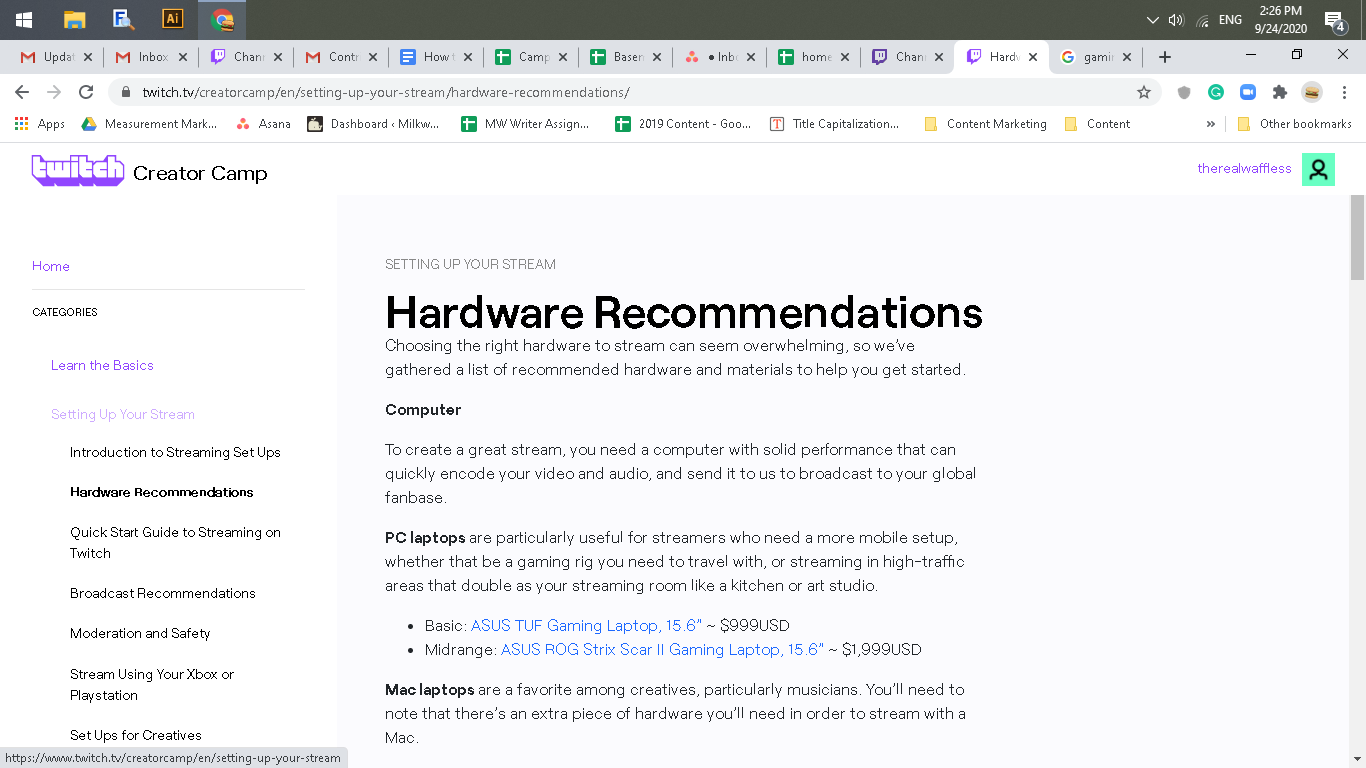 7. Use Social Media to Promote Build Connections With Other Streamers
Lastly, don't just build your channel on Twitch. Utilize other social media platforms to promote your Twitch channel. When you're just starting out, you need to find ways to gain exposure and attract attention.
You can use Twitter, Instagram, Facebook, and even Youtube. When you post about your Twitch channel, make sure to include a brief description of what games or content you stream along with an image, GIF, or video. Also, use the right hashtags and tag relevant users in your post to further broaden your reach.
If you are looking to connect with other gamers, Twitch's community meetups is a great place to meet other streamers all over the world. Due to the current circumstances, community meetups are now digitally available.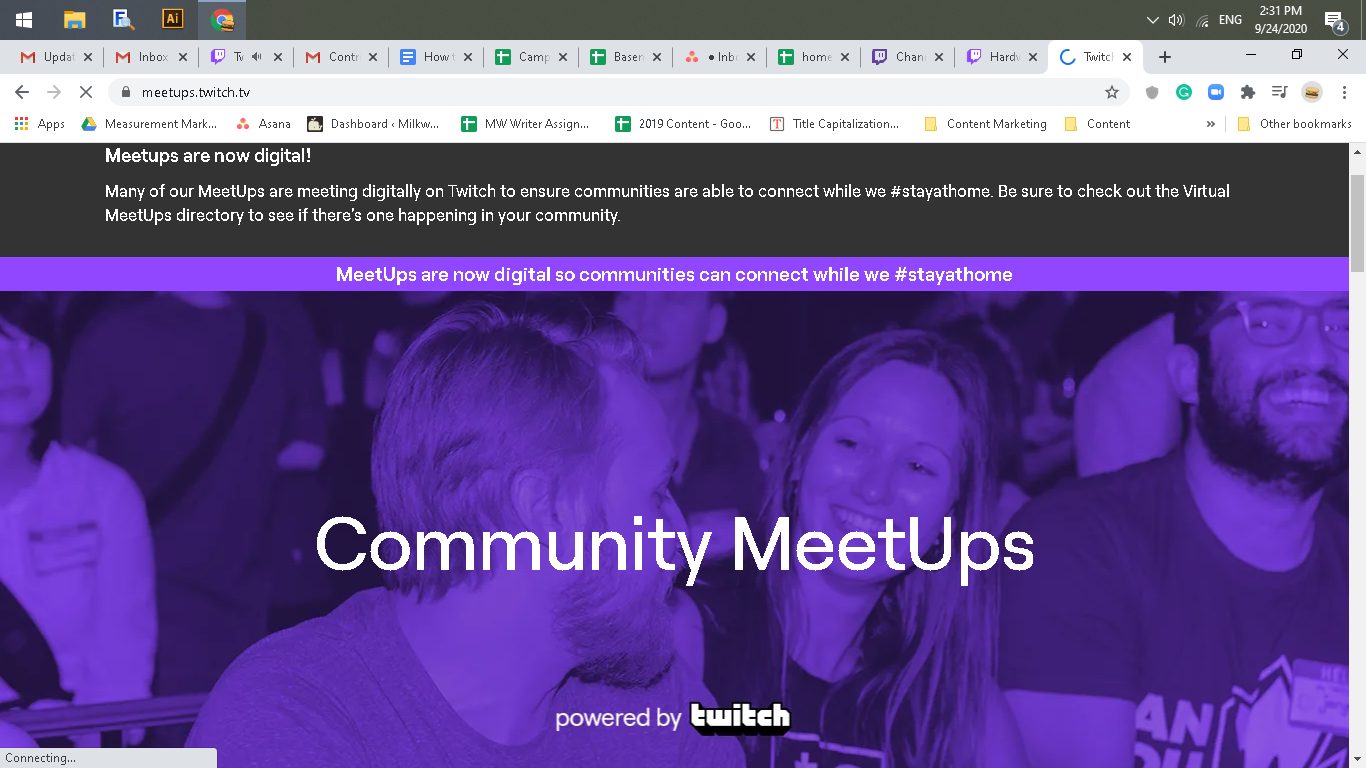 Final Thoughts
Growing your Twitch channel can be a challenge but it's not an impossible task. Although it might take some time, as long as you stay consistent and focus on your goals, you'll be gaining subscribers in no time.
To wrap it all up, here are seven things to keep in mind when you're trying to grow your Twitch channel: set your goals early on, remember to keep a consistent schedule, give your audience valuable content, interact with your viewers, play the right games, get the right hardware, and connect with other streamers to broaden your network. Communicating with your audience and other streamers can go a long way.
Still wondering where to start? We recommend starting with something simple— setting goals for your channel. When in doubt, there are various free resources available on Twitch and on the Internet that you can access to help grow your channel.
About the Author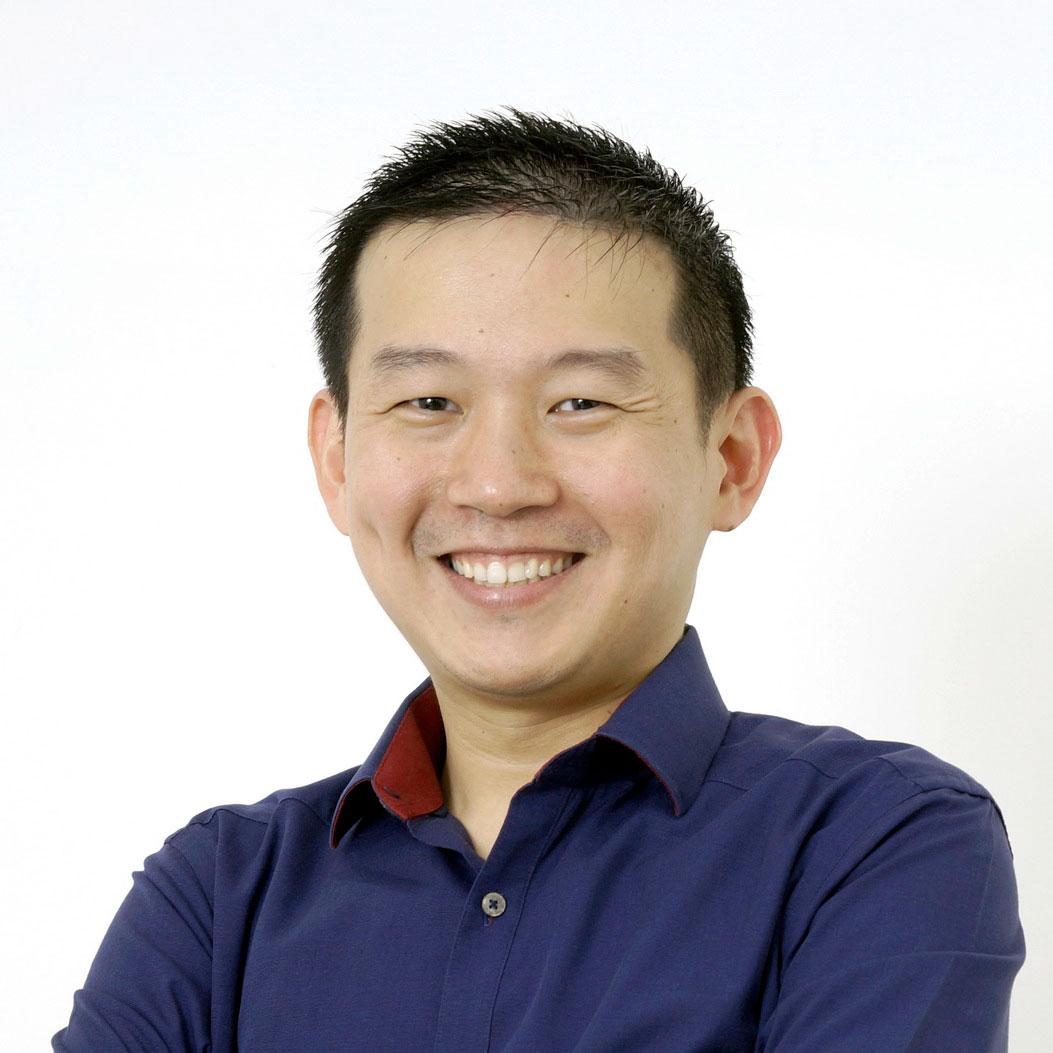 Andre Oentoro is one of the co-founders of Milkwhale, an internationally acknowledged infographic production agency. He helps businesses increase visibility on the internet with visual data and well-placed outreach campaigns.