7 Best Shopify Alternatives For Your Next eCommerce Store
When it comes to eCommerce, we're all too familiar with Shopify. The Vancouver-based startup turned eCommerce giant is one of the most used eCommerce platforms globally.
However, Shopify isn't the only eCommerce platform out there. You can pick a Shopify alternative for your next store. You've got options!
Yet with so many choices, how do you choose which is the right Shopify alternative to allow you to not only sell but grow your eCommerce store to the fullest?
---
Best Shopify Alternatives 1#: Wix

Best For: Wix provides easy-to-use eCommerce solutions and high-quality designs, customizations, and templates.
Pro's: Easy set-up, stunning theme options, and software built for developers.
Easy Set-Up: Wix is perfect for seasoned veterans and first time eCommerce owners who want to create an eCommerce store in a day without the help of a manual or step by step instructions. Once you understand how the tools work, it becomes a plug-and-play feature that allows you to get started instantly without much help.

Stunning Theme Options: Wix has stunningly functional themes that outdo Squarespace and Shopify. You can choose from a wide selection of themes based on your taste, website purpose, or industry. Each Wix theme comes with customizable designs such as color, text, layout, and more.

Built for Developers: Wix knows that not everyone who uses its platform wants to use a built-in theme. Wix created Corvid, a comprehensive web development tool and platform that allows devs and coders to create websites from scratch.
Con's: coding will be required at one point, limited integrations, and growth opportunities.
Coding Required at One Point: Depending on how advanced you want your website features, navigation, and tools you want present, you may need to get help from a developer.

Limited Integration: Unlike Shopify that has a comprehensive app store, Wix has minimal integration features and apps that can help you to upsell, market, and sell properly.

Growth Opportunities: Wix is great for a starter website for your business, but when it comes to eCommerce growth, hosting more products, handling more website traffic, or multiple webpages growth will be an issue. Wix is beautifully built but not for scaling without lifting a more than needed heavy load of work.
Website Plans:
VIP: US$24.50/month
Unlimited: US$12.50/month
Combo: US$8.50/month
Business Plans:
Business VIP: US$35/month
Business Unlimited: US$25/month
Business Basic: US$17/month
Best Shopify Alternatives 2#: Squarespace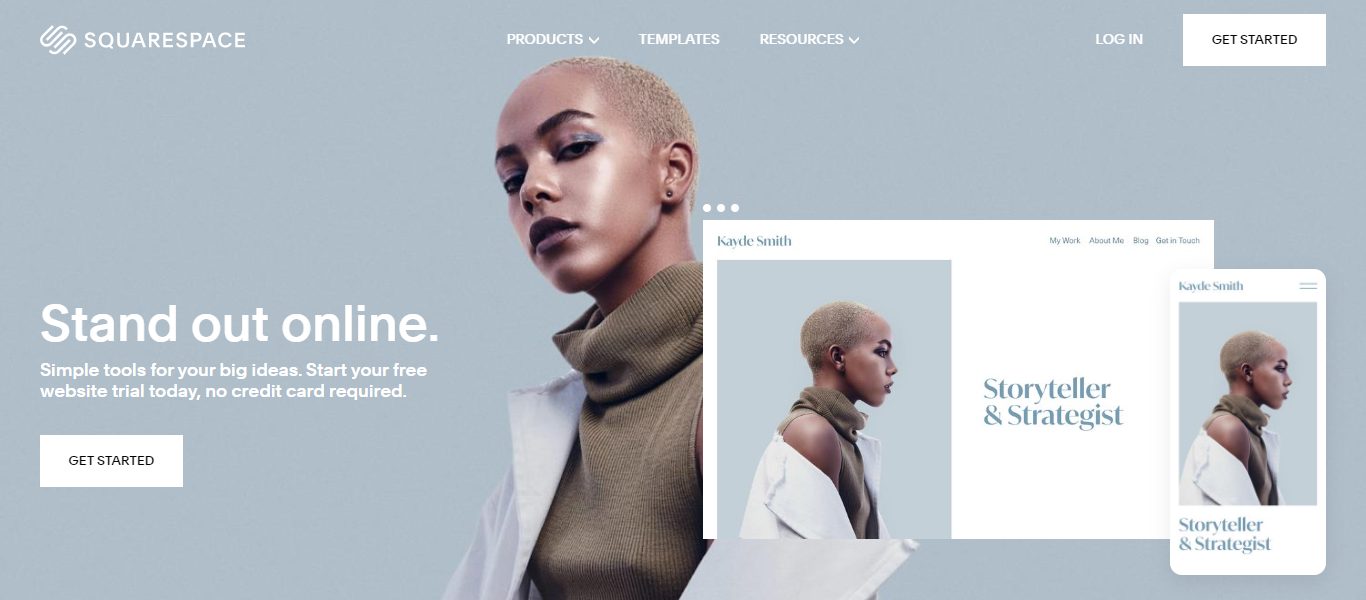 Best For: Squarespace is best for small businesses that need beautifully designed websites without coding or overly complicated themes.
Pro's:Beautiful template designs, ideal for small business, improved customer support, and cost-effective plans.
Beautiful Template Design: Squarespace and Wix both take the spot for the best Shopify Alternatives regarding ease of customization and beautifully designed themes. Square space has a wide range of stunning themes and templates that business owners can use to create a minimalistic look and feel or a bold and colorful eCommerce store to match your brand.

Ideal for Small eCommerce Stores: If you're a small business owner, influencer, or startup eCommerce store, then Squarespace is the platform for you. Squarespace features, set up and selling process that has a very small learning curve and allows you to set up shop in hours despite your lack of eCommerce experience.

Improved Customer Support: Over the years, Squarespace's customer service has always been a con. This was mostly because 24/7 customer support only came with advanced Squarespace plans. However, that's changed; now, all plans come with 24/7 customer support. Now they've improved and been awarded for superb customer service support for their clients. It's a service that users can count on when using this Shopify alternative.

Cost-Effective Plans: Squarespace comes with a wide range of payment plans that fit any budget. You can pay monthly or annually (where you save up to 30% off). Not to mention
Con's: limited multi-channel features, limited add ons and tools, and heavy transaction fees.
Limited Multi-Channel Features: Unlike Shopify, you won't be able to add multi-channel features where you can directly connect and sell from Amazon, Esty, Instagram, and Facebook pages with Shopify. Squarespace acts as a standalone eCommerce channel, and you'll have to sell from other channels manually.

Limited Add-ons and Tools: Adding apps and integrating with Squarespace can be a hassle from the back end. It has limited integration and not as many apps as Shopify. You can only access eCommerce features, like gift cards and abandoned cart recovery, only with the $46 plan.

Heavy Transaction Fees: Most plans come with a 3% transaction fee. When compared to Shopify's, it's pretty hefty. To avoid that transaction fee, you'll have to choose the $30 or $46 monthly plan. Therefore, comparing Shopify vs. Squarespace, Shopify will probably end up being more cost-effective if you're looking to operate a solid eCommerce store.
Price:
Personal: US$16/month
Business: US$26/month
Commerce: US$30/month
Advanced Commerce: US$46/month
Best Shopify Alternatives 3#: BigCommerce

Best For: BigCommerce is best for eCommerce owners who want to make sales without paying transaction fees and product inventory.
Pro's: No transaction fees, advanced reporting and gift cards, and a user-friendly platform.
No Transaction Fees: BigCommerce takes the cake as a great Shopify alternative for making sales without worrying about transaction fees from every purchase. BigCommerce doesn't have a payment processing system like Shopify Payments. However, you can integrate over 65 payment gateways so you can collect payments without added transaction fees.

Advanced Reporting & Gift Cards: Unlike Shopify, which needs you to either add an app or upgrade for gift cards and advanced reporting BigCommerce allows you to access these two features across all their plans.

User-Friendly Platform: BigCommerce is also extremely user-friendly. Their platform is far more simplified when it comes to setting up your eCommerce store compared to Wix, Squarespace, and Shopify combined.
Con's: Limited online sales and integration options.
Limited Online Sales: BigCommerce limits how many online sales you can make a year regardless of your plan. Shopify doesn't impose this limit, but it will request business documents to ensure that you're complying with tax and business requirements.

Limited Integration Options: BigCommerce now has an app store similar to Shopify; however, there are often limitations on the app integrating features or problems.
Price:
BigCommerce Standard: $29.95 /month
BigCommerce Plus: $79.95/month
BigCommerce Pro: $299.95/month
Best Shopify Alternatives 4#: 3dcart

Best For: 3dcart is best for developers who are comfortable editing in HTML/CSS code for design flexibility.
Pro's: Best built-in features, payment options, and coding flexibility.
Best Built-in Features: 3dcart has a built-in feature that allows you to add autoresponders, inventory management, advanced productivity tools similar to Shopify, so you won't need to find third-party apps to integrate.

Amazing Payment Options: 3dCart offers a wider range of payment plans when compared to Shopify or Shopify alternatives. Each plan is more prominent than the rest, so it's easy to scale your business as it grows.

HTML/CSS Flexibility: 3dcart allows developers to code to their hearts content. Instead of sticking with themes, you can create your website from scratch or add features that are limited in themes. 3dcart also has dev features that can equip them to complete their sites as well.
Con's: Outdated themes, HTML/CSS required, bad user-interface, limited add-on features, and poor customer service.
Outdated Themes: Most of the themes on 3dcart are outdated and are not as modern as themes on other Shopify alternatives like Wix or Squarespace. Most of the themes are clunky or cluttered and don't seem to be updated regularly.

HTML/CSS Required: This is a pro as well as a con. Since most of 3dcart's themes are unappealing, you'll need to create your own or code to modify your store to your liking. With no technical knowledge of coding, you won't be able to make simple or complex changes on your website without a developer.

Bad User-Interface: Next to clunky and outdated themes, the backend user interface of this Shopify alternative comes with a heavy learning curve. So even if you get a developer to do the heavy lifting of creating your store, you'll still need to take the time to learn how to use the platform.

Limited Add on Features: Outside of 3dcarts built-in features, there are very limited options to add outside apps, software, or components. This can hinder eCommerce store owners who want to add multi-channel, marketing, dropshipping or third-party integrations for sales.

Poor Customer Service: 3dcart has a long-standing history of terrible customer service. It still seems to be in the works as they now offer toll-free numbers, live chat, and self-serve support options. However, compared to Shopify, which will resolve your issues within 24 hours, depending on the severity, 3dcart has a longer resolution time regardless of the issue's level.
Price:
Startup Store: $19/month
Basic Store: $29/month
Plus Store: $39.50/month
Power Store: $129.50/month
Pro Store: $1229/month

Best Shopify Alternatives 5#: Volusion

Best For: Volusion is best for mico or very small eCommerce business owners looking for low transaction rates.
Pro's: Best features and expertise plus payment processing.
Features & Expertise: Volusion has built-in professional features such as secure checkout, recurring payments, CRM software, and more. You can have all the tools you need to manage your eCommerce store without heavily relying on third-party integrations.

Payment Processing: Volusion allows you to connect various payment gateways to your eCommerce store with low transaction rates for each purchase. Volusion will not charge you an additional transaction fee for using a third-party payment provider. But if you use Volusion Payments, you'll see similar transaction fees on Shopify, such as 2.15% + $0.30.
Con's: Pricing, and you'll be unable to scale.
Pricing: Volusion's pricing options are not as flexible as others. The lowest price is only $29/month. Compared to other Shopify alternatives, which have plans as low as $19-25/month.

Unable to Scale: Volusion is great if you're just starting or looking to keep your business at the same size or scale for years, but it's a major con when it comes to growth. Volusion doesn't allow add on theme options or the flexibility to upgrade your store for massive traffic or sales.
Price:
Personal: $29/month
Professional: $79/month
Business: $299.50/month
Best Shopify Alternatives 6#: Magento

Best For: Magento is best for fast-growing or scaling eCommerce businesses that need more customization and add-on tool options.
Pro's: Easy to scale and highly customizable.
Easy to Scale: Scaling on an eCommerce platform is no easy task. Magneto allows you to continually scale your business regardless of your industry, needs, products, or customization requirements. You can also introduce global expansion and omnichannel features to maximize your reach. Additionally, Magento includes instant purchase, site search, and the ability to integrate with any of the hundreds of extensions in their marketplace.

Highly Customizable: There are a lot of moving parts. With Magneto, you can not only scale your business but customize your eCommerce store to your goals and needs. You'll get instant access to Magento's source code, so your developer can dive in.
Con's: It can be very expensive and you'll need a developer.
It's Expensive: Compared to Shopify and all the other Shopify alternatives listed here, Magento has the most expensive plans. Since Magento is purely for brands already in need of expansion, their target audience can afford to pay $500 and up for their plans.

You'll Need a Developer: To fully utilize Magento, you'll need to hire a developer so they can help to design or migrate your site securely to Magento. You'll also need one to ensure that all your code and features are working properly rather than hindering your eCommerce store's process.
Price: Pricing gets a little complicated. They currently don't display their prices, so you'll need to book a demo with them for more information.
Best Shopify Alternatives 7#: WooCommerce

Best For: WooCommerce is best for WordPress built websites looking for an eCommerce solution.
Pro's: Easy to customize, usability, and cost-effective plans.
Easy to Customize: WooCommerce features can be modified specifically for your business needs. As a WordPress Plug-In, you can customize your WordPress eCommerce store with built-in payments, selling options, product variations, images, and customizations.

Usability: Most WordPress apps come with a massive learning curve; however, with WooCommerce, usability is fairly simple. Even if you don't have any technical skills, you can step up your eCommerce store, but a developer would be best to get the most out of this platform.

Cost-Effective Plans: WooCommerce is the cheapest Shopify Alternative. It's free to download and integrate, but you'll have to select a plan to go further. WooCommerce does not charge any additional fees for payment processing, other than those that come directly from your provider.
Con's: This platform is made for WordPress
Made for WordPress: WooCommerce is limited as a WordPress app. This affects scalability and built-in functions. Compared to Shopify that can integrate other apps and features, WooCommerce can only be used on its own, which means multi-channel or omnichannel marketing isn't an option.
Price:
StartUp: $3.95/month
GrowBig: $6.45/month
GoGeek: $211.95/month
Summary
When it comes to choosing Shopify alternatives, it all boils down to finding the right features, payment, and plans to help you reach your eCommerce and sales goals.
While some Shopify alternatives might have more affordable plans, they may be missing key features you need to grow. Or while others might offer multiple features, you might just need a basic plan to get started.
If you're already using Shopify or one of the platforms listed above and you'd like to pick a new platform, migrate all your data without starting from scratch, use Litextension to make the process easier.
Always remember that you can change eCommerce platforms at the end of the day, whether you're ready to try something new or need a bigger, bolder plan.
Let's recap the seven best Shopify alternatives for your next eCommerce store:
Wix
Squarespace
BigCommerce
3dcart
Volusion
Magento
WooCommerce
Which Shopify Alternative fits you best, or are you currently using right now?