10 Fun Snapchat Contest Examples You'll Want to Steal
With the advent of other popular social media platforms, should you still consider Snapchat for your marketing campaigns? Yes, definitely!
Snapchat is one of the most popular social media platforms today, especially for millennials and Gen Z. Some stats are proof of that:
Snapchat was the 11th most downloaded app globally in Q2 2020.
Every day, 4 billion snaps are sent!
Snapchat daily video views average of 10 billion!
Snapchat is a super-popular and fun social media app to use amongst teens. The platform's USP is the ability to create Augmented Reality (AR) lenses, which makes the app unique and innovative.
Snapchat contests are one of the most effective strategies that you can use to increase lead generation, brand awareness, sales of your products, and user engagement.
In this post, we will talk about some fun and successful Snapchat contests launched by other brands. If you are looking for some inspiration to create and launch your own Snapchat contests, then you have landed at the right place.
Need help creating a Snapchat contest that converts and sells?
Book a free call to learn how our team of contest experts can help you create high converting social media contests today.
1. GrubHub
GrubHub, an online food ordering company, saw a 20% increase in followers after they launched their Snapchat contest. They designed and launched a week-long challenge for their followers. The reward for completing the challenge was a $50 free takeout.
Almost 30% of their followers participated in this contest. The contest included week-long fun challenges such as doodles, food bombing, food selfies, hangry face, and similar more.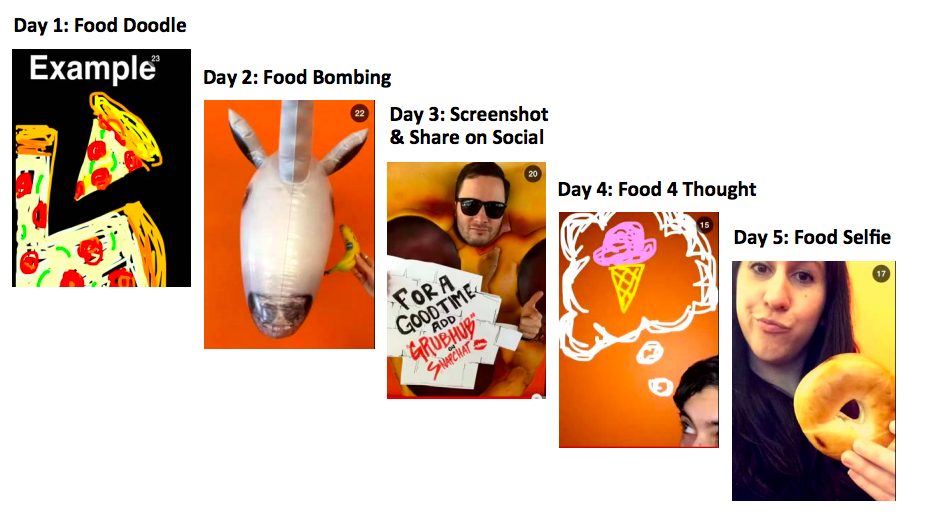 GrubHub also took this one step further by recruiting their interns through a Snapchat Doodle challenge!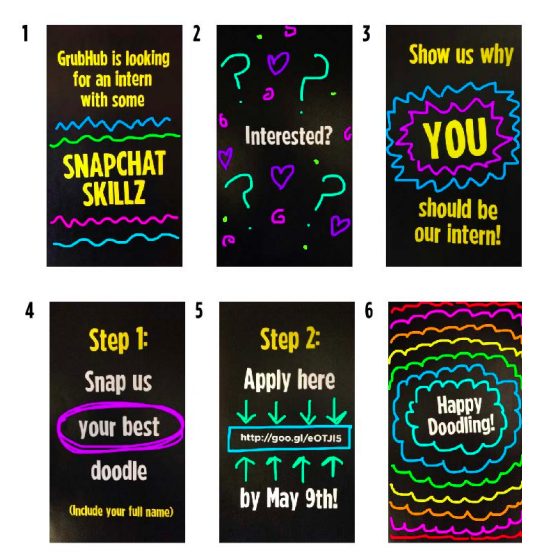 You can take inspiration from GrubHub and design such fun week-long challenges on Snapchat. Ensure that the challenges are unique and super-creative. So much so that your followers won't be able to resist themselves from participating in the contest.
2. Cedar Point
Cedar Point, an amusement park, wanted to create buzz around their Halloween event. And, they were indeed able to do just that by launching a creative Snapchat contest.
The "Cedar Point Catch-A-Ghost" contest included a ghost that would appear on the followers' screen for a brief time. The followers had to take a screenshot of the ghost before it disappeared. The reward for winning was a coupon for a special haunt experience at the Cedar Point amusement park.
With the help of this contest, Cedar point was able to increase their engagement as they saw 15,000 unique viewers each day. Also, Snapchat outperformed all the other social media channels by a whopping 233%! Through this contest, they were able to reach their core target audience and hook them in.
3. McDonald's
McDonald's, the food giant, was again one of the businesses to use Snapchat for its campaigns and gained a lot of success from it. The company created a Mario-Kart themed contest that required their followers to take screenshots and create doodles to win the contest.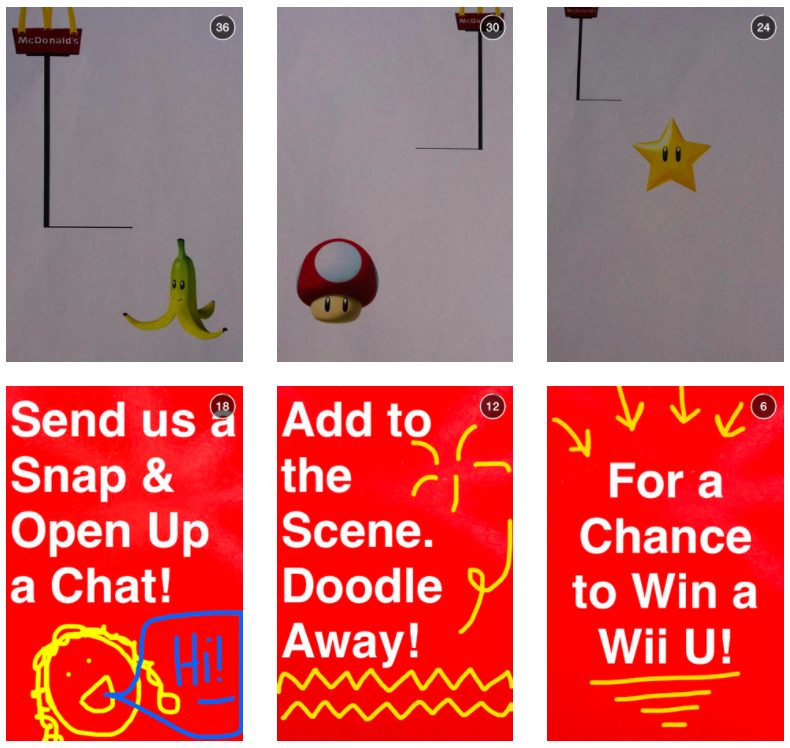 The doodle contest was a super-fun challenge, which is why McDonald's was able to gain a lot of traction.
4. Mission Impossible
Snapchat contest for promoting a movie? Yes, you heard that right! Paramount Pictures launched their Snapchat campaign for promoting their movie Mission Impossible: Rogue Nation.
Tom Cruise himself set some self-destructing messages on the app with a 24-hour time limit. The followers were given missions that were meant to be completed within the time limit. The company rewarded the winners by showcasing winning contest entries across various social media channels.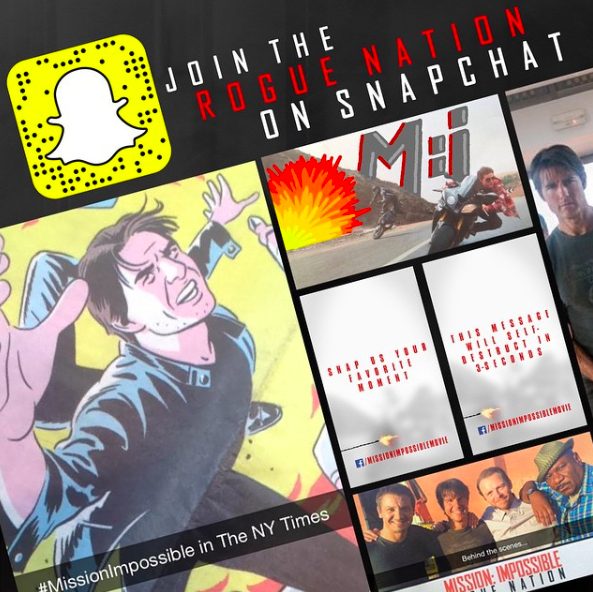 Top social influencers were also roped in to create more buzz. The Snapchat contest ended up leading to a whopping 65 million impressions and massive engagement.
You too can get inspired by this contest and design such thrilling and time-bound challenges. You can also rope in top social influencers to maximize engagement.
5. Mondelez
Mondelez, a candy company, got some amazing results through their Snapchat campaigns. Their goal was to increase brand awareness and engagement amongst the candy-loving teens.
The content was simple. To enter the contest, followers had to snap a pic of their candy bar and add Snapchat doodles to it. The most attractive part about the contest was the reward. One lucky winner was awarded $10,000! Who wouldn't want that!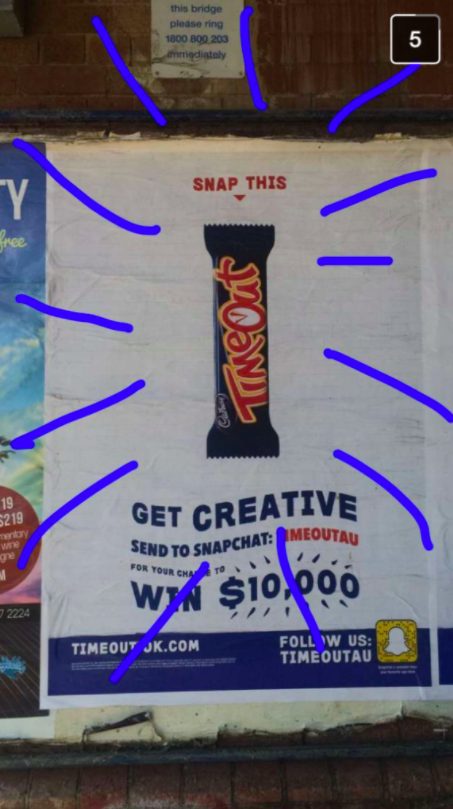 Using Snapchat, Mondelez was able to gain numerous followers. The company also saw an increase in sales and brand popularity post the Snapchat contest.
This is another great example of hosting an effective Snapchat campaign. All you need to do is set an attractive reward and you will see numerous followers interested in your contest. If you are looking for improving your brand awareness, then this strategy is a must-try!
6. Budweiser
Budweiser is an American beer company that launched a brilliant Snapchat campaign that gave them great results. The company used Snapchat's advertising feature to launch their campaign, a day before the Super Bowl. What a great idea!
The advertisement was actually a mini-football game. The game was innovative and fun. Winners could unlock new and exclusive filters in Snapchat.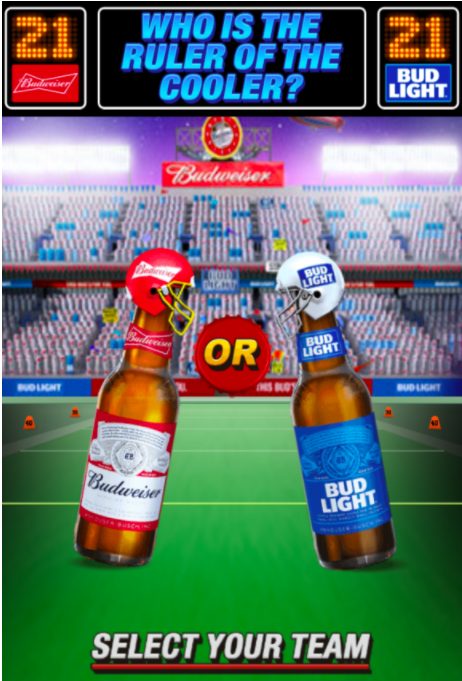 The campaign would have cost them quite a lot, but the results were worth it. The beer company generated massive engagement and increased brand awareness post this campaign.
The takeaway from this campaign is the fact that you can create a lot of buzz around your Snapchat contests if you do it at the right time. Imagine the kind of excitement people would have 24 hours before the Super Bowl.
The beer company made use of this and used it to increase their brand awareness. You can also think of such unique ways to launch your contests to see even better results.
7. Charlie and the Chocolate Factory Musical
The Charlie and the Chocolate Factory Musical had a great opening night as they were able to attract many of their followers to enter their contest. The company had hidden golden ticket Snapchat geofilters all around New York City.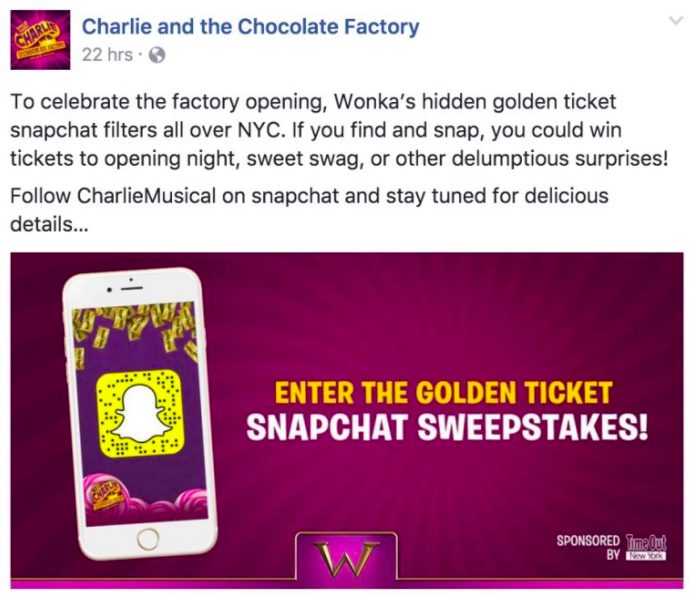 To win free tickets to the musical, people had to find these hidden filters and take a snap. How cool is that! The winners also had a chance of winning other surprise rewards.
8. Netflix
Netflix decided to promote its much-awaited series, Stranger Things 2, on Snapchat. Netflix promoted Stranger things 2 using their immersive AR lens.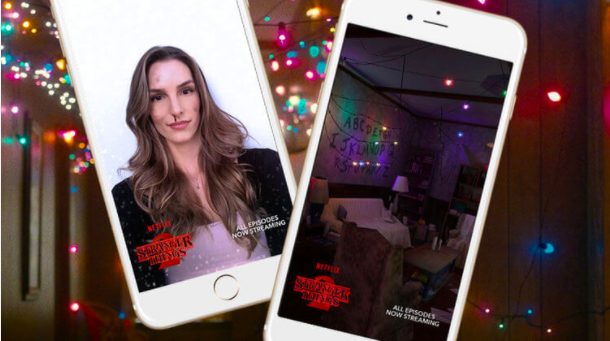 To get access to the lens, users had to Shazam on Snapchat whenever they heard the Stranger Things theme song during the opening credits. Or they could also gain access to the lens using a special Snapcode.
9. Adidas
Adidas created their shoppable app with Snapchat which was called "Baseball's Next Level". Using the game, the followers could play as Adidas' Major League Baseball athletes like Justin Tuner, Aaron Judge, Carlos Correa, etc.
All the players had their own shoes in the Adidas 8-bit collection. And these shoes could be bought from the game itself. Using this contest, Adidas was able to increase its sales.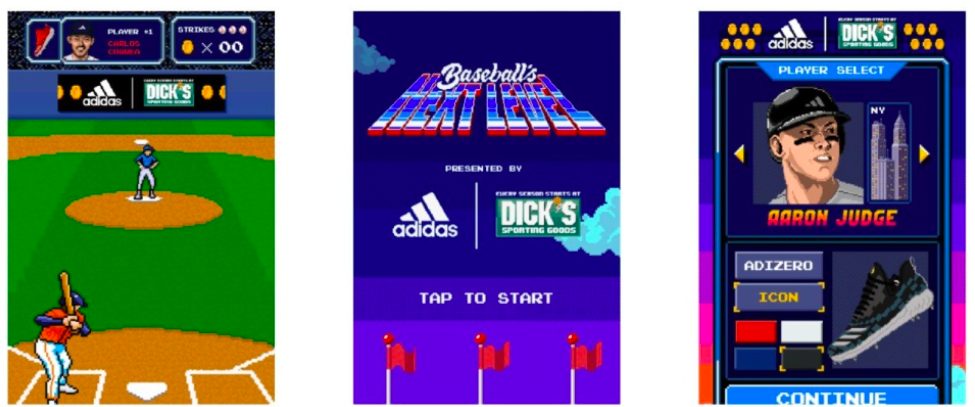 10. Oreo
Oreo launched its massive new year campaign that consisted of a fun Snapchat contest. The company placed Snapchat codes on 134 million product packages. By using these codes, people could unlock fun Oreo dunkable filters and AR lenses, which was super cool!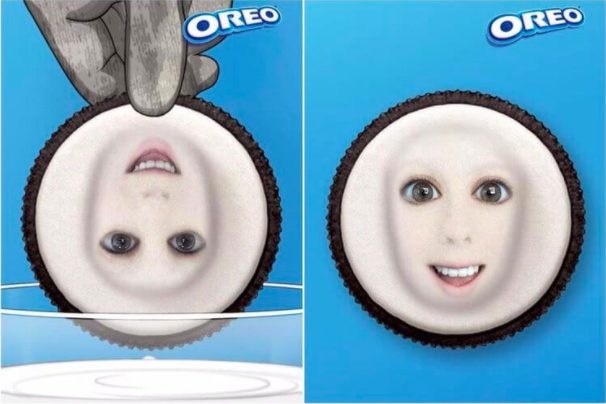 UK users also got a fun video game along with the filters. The video game consisted of rolling a hamster ball downhill and people loved it.
For more contest inspiration check out 20 Clever Social Media Giveaway Ideas You Can Use Today
Tips to Run a Successful Snapchat Contest
Now that you have tons of Snapchat contest examples to steal from, let's talk about some tips and strategies to run successful Snapchat contests.
1. Build your Snapchat Follower Base
Building a Snapchat follower base heavily depends on cross-platform promotions. Hence, you need to promote your Snapchat profile on other platforms such as your website and other social media platforms.
You cannot just launch contests on Snapchat and expect amazing results. You also need to improve other aspects of your marketing. Everything goes together, hand in hand. Hence, start building your following on other social media platforms as well.
2. Design a Fun Contest
Most of the audience on Snapchat consists of millennials and Gen Z. Hence it is extremely important to be as creative as possible with this step. Think about all the examples that you have seen in this post.
You can do the following things:
First of all, create a fun reward or incentive for the contest. This is crucial because your entire campaign depends on this. Think about what will your target audience find the most desirable and offer that as the reward.
Make your contest easy to complete. Do not overcomplicate things. The idea is to let your followers have fun.
You can also try to rope in influencers to participate or be a part of your Snapchat contest. This will eat up more of your budget, but your contest will gain a lot of traction.
3. Create Hype Around the Contest
Engage with your followers and give them sneak peeks about your Snapchat contest. You can also do this on other social media platforms. Tease your audience to get them excited enough to enter the contest.
4. Launch your Contest
Next, it's time to launch your Snapchat contest. Engage with more and more followers. You can also try to post contest entries on your story. This is a great idea because your followers will share this in their stories. This will increase your engagement and more people will enter your contest.
Conclusion
To wrap it up, Snapchat contests are a great way to increase brand awareness and sales, especially if your audience consists of teens. Tons of businesses such as food companies, movies, eCommerce businesses, and many more have had success with this model.
So, take inspiration from the above examples and create your own Snapchat contest. Remember to make it super-fun!
About the Author
Hazel Raoult is a freelance marketing writer and works with PRmention. She has 6+ years of experience in writing about business, entrepreneurship, marketing and all things SaaS. Hazel loves to split her time between writing, editing, and hanging out with her family.