Wishpond vs. Mailchimp: Which Tool is Better for Email Marketing?
Email marketing can be a key component of any brand's online marketing strategy.
If you're a beginner when it comes to email marketing, then you've probably heard of Mailchimp and Wishpond. A popular misconception is that both tools do similar things, but they really have very different services.
Today, I'll show you a brief overview of each company and how they work differently when it comes to email marketing—ultimately helping you to see which fits best for your brand.
---
What Do They Do & How Does It Work: Wishpond vs MailChimp
Mailchimp has changed over the years, they now offer landing pages and pop-ups but its core service has always been email marketing throughout the years.
They allow users to send email marketing campaigns and create pop-ups for lead generation and sales.
Wishpond's core tools are email marketing, landing page, pop-ups, social media, and social promotions. It has a wider base than Mailchimp because it focuses on sending emails, as well as has a number of tools to substantially grow your email list at the same time.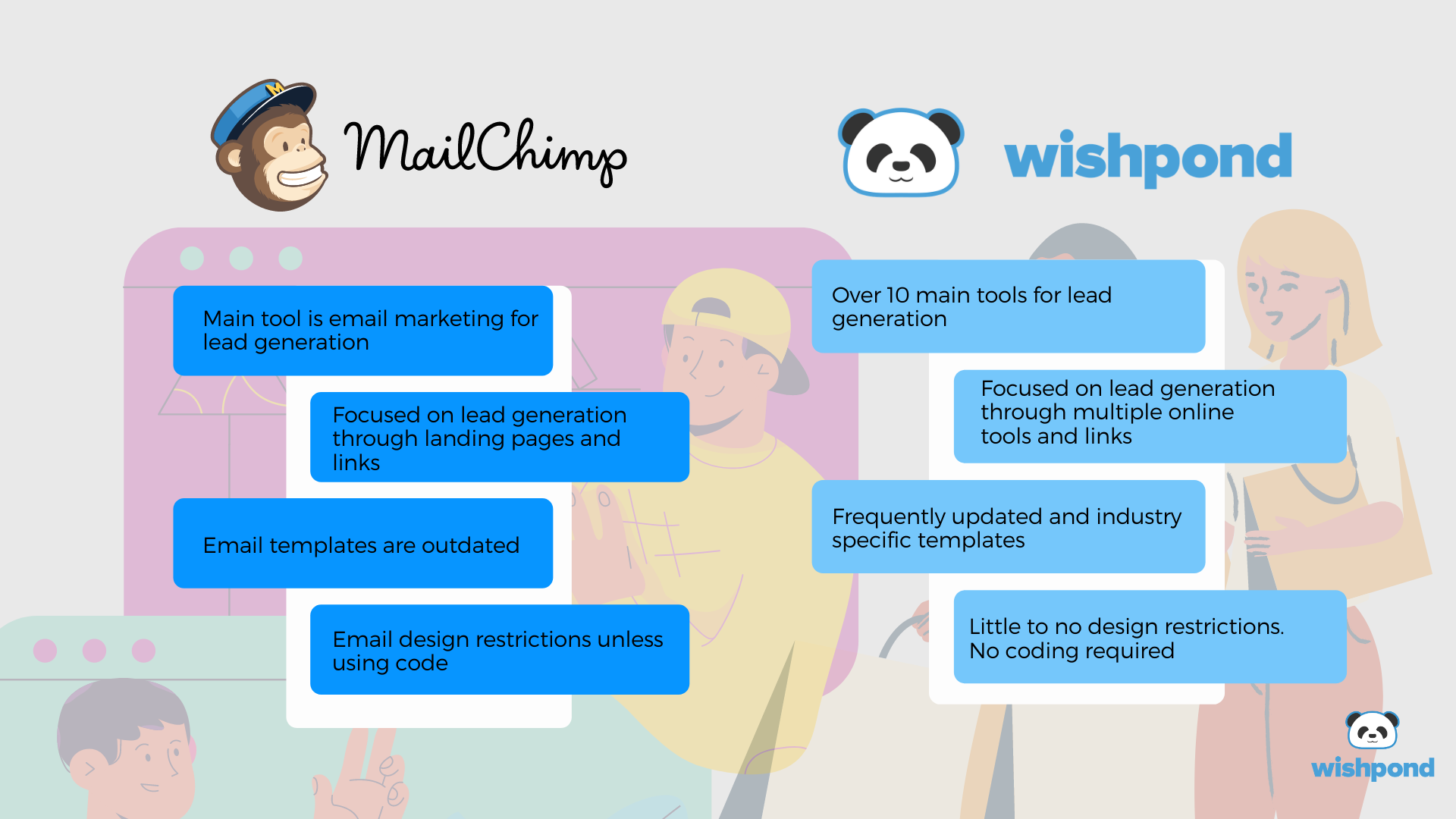 Email Marketing: Wishpond vs MailChimp
Email marketing is where Mailchimp and Wishpond overlap, and in many ways can be seen as very comparable. For instance, both allow you to:
Send newsletters
Create autoresponders
Create custom lists
Manage your contacts within a single dashboard
Track revenue from Shopify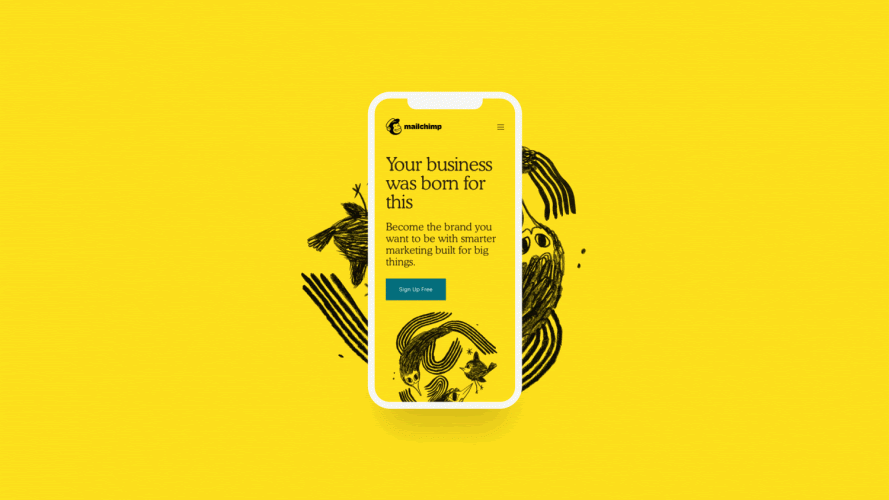 For email marketing, the primary differences are based around more advanced features. For instance, in Mailchimp, it's only possible to send emails to people part of a "list" not to people based on an "action".
The reason why this is important is that in many cases, it's very useful to be able to:
Send an email to visitors who viewed specific product pages on your website
Send emails when people make it to specific stages in your app
Send shopping cart abandonment emails
In Mailchimp, your automated emails are only triggered when the reader opens (or if they don't open) your email or it's sent at a scheduled time.
Both apps allow you to segment your email list, create tags for your audience, and send campaigns based on your needs and customer behavior. But for more complex email marketing features like advanced personalization, Wishpond pulls ahead.

Wishpond's email marketing platform is far more intuitive and advanced when it comes to email marketing.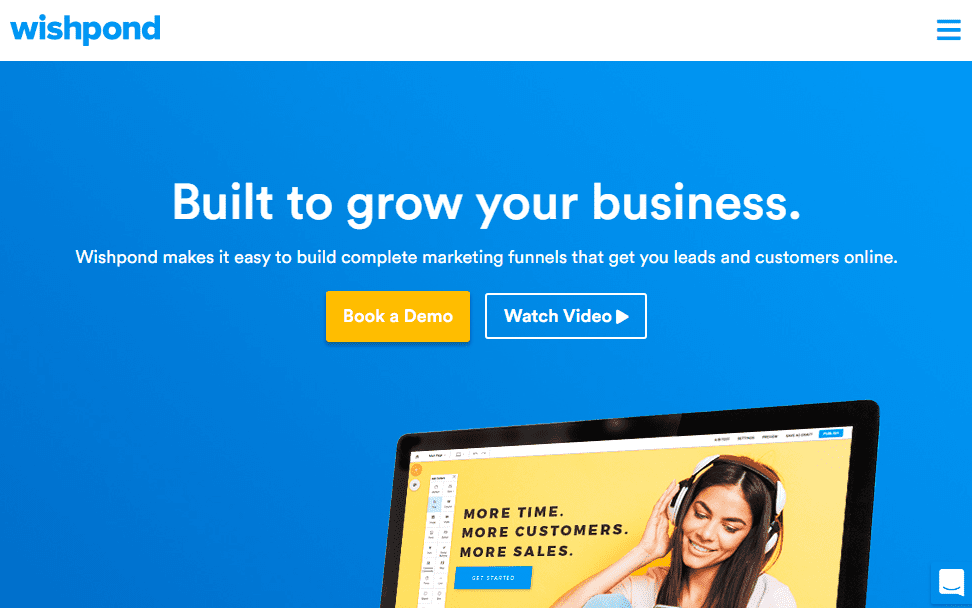 Mobile Friendly Design Options: Wishpond vs MailChimp
You never know where your customers might find you so it's important that your emails are flexible for both desktop and mobile.
Mailchimp allows you to create desktop versions of landing pages and emails; however, you have little to no control of the mobile version. You simply have to rely on coding to do the work for you if you'd like to make a change.
On the other hand, all of Wishpond's features are mobile-friendly, but with the flexibility to edit and change the design to suit whichever device your customers might be using online without coding.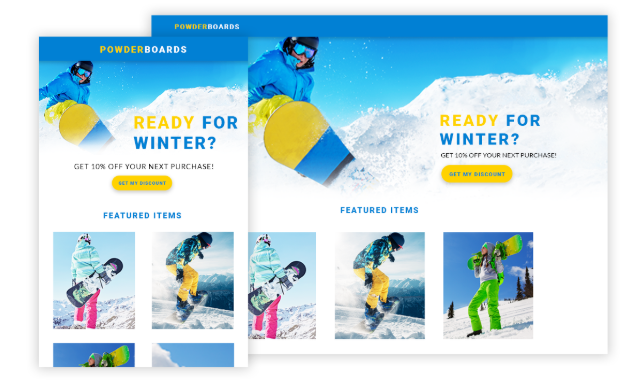 Design & Adaptability: Wishpond vs MailChimp
MailChimp's templates are very old-fashioned, with a limited number of under 5 usable templates for email marketing. This leaves you to design from scratch your own in restricted grids and clunky design layouts.
Regardless of what plan you may upgrade to, the options are always the same.
You also have a limited number of text, colors and design extensibility to create an email that matches your brand aesthetic, unless you're going to buy a coded HTML email template from an external source or ask a developer to create it for you.
On the flip side, Wishpond offers more templates and design options than most lead generation tools. Instead of using the same old template for all your marketing campaigns, you can choose from a massive variety of templates created based on your goal, industry, and campaign.
You can also move, edit, or change any element on your pop-up, email, or landing page with our Wishpond's Canvas editor. So you're not boxed in with grids or layout. So decide how you want to design your template the way you want, not what you can work with like other tools.
Also, no code is required, so you only code if you want to, not if you have to, unlike brands like Mailchimp or OptinMonster.
Integrations: Wishpond vs MailChimp
Mailchimp allows you to integrate with Shopify to send automated order and product emails so you can make the most out of your leads. But that's as far as the integration allows.
Despite all these other features, Mailchimp's integrations, features, and analytics mainly focus on helping business owners manage their email marketing and nothing more.
Wishpond also integrates with Shopify, but it's not limited to email. You can integrate Shopify's shop button and features/apps with Wishpond's landing page, social media campaigns, contests and ads. So you're not boxed into email marketing when it comes to generating leads with your integration.
Unlike Mailchimp that has little to no integration with most eCommerce builders, Wishpond works across the board with 300+ integrations – including email, analytics, sales, payment & collaboration apps – you can be sure we fit right in with the tools you already use.

Prices & Plans: Wishpond vs MailChimp
When it comes to prices and plans Wishpond trumps MailChimp because you're not just paying for an email marketing tool with a few added features but you're paying for an all-in-one lead generation tool.
Mailchimp gives you limited access to the essential features based on the plan you choose. But regardless of what kind of plan you have with Wishpond, you'll get unlimited access to all their tools and features, not just our email marketing tools.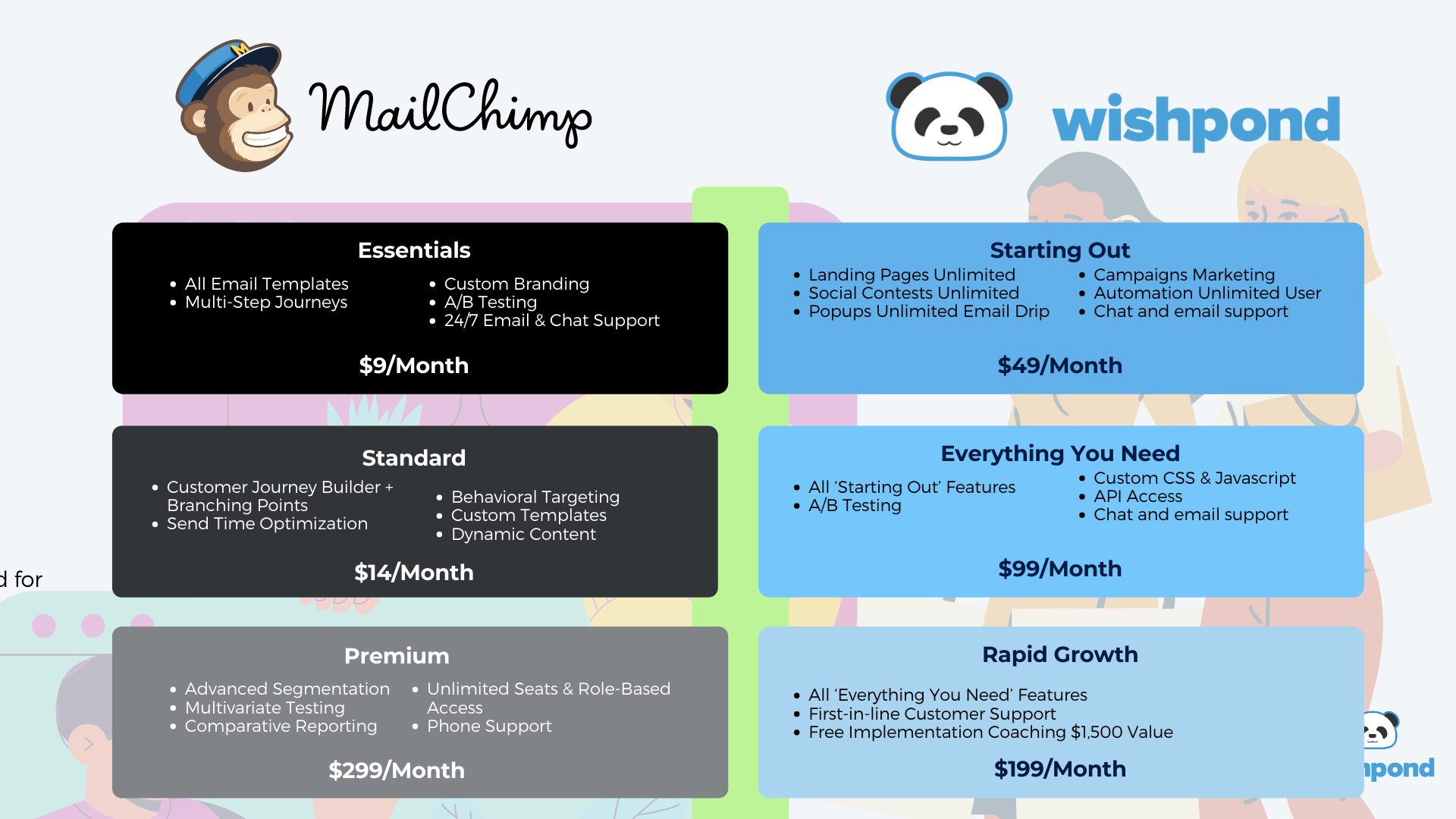 Customer Service: MailChimp vs. Wishpond
MailChimp only offers email and chat support to their upgraded plans and only offers phone support to their highest-paying customers. Not to mention unanswered questions on social media.
Wishpond offers chat and email support regardless of the plan you choose. Did we also mention that Wishpond has a 95% customer satisfaction rate so you'll get help along the way, not just because of your paid plan?
Why to Choose Wishpond for Email Marketing
More Marketing Campaigns & Lead Generating Tools
Wishpond allows you to use social media platforms like Facebook and Instagram, landing pages, marketing ads, referral programs, email marketing, and more.
We're an all in one marketing platform for a reason because we understand that finding the best strategy for your business is just as important as the leads you generate.
Here's an example of how one client used email marketing to generate $52,000 in sales using Wishpond's suite of products.
You Can Hire a Team to Do The Heavy Lifting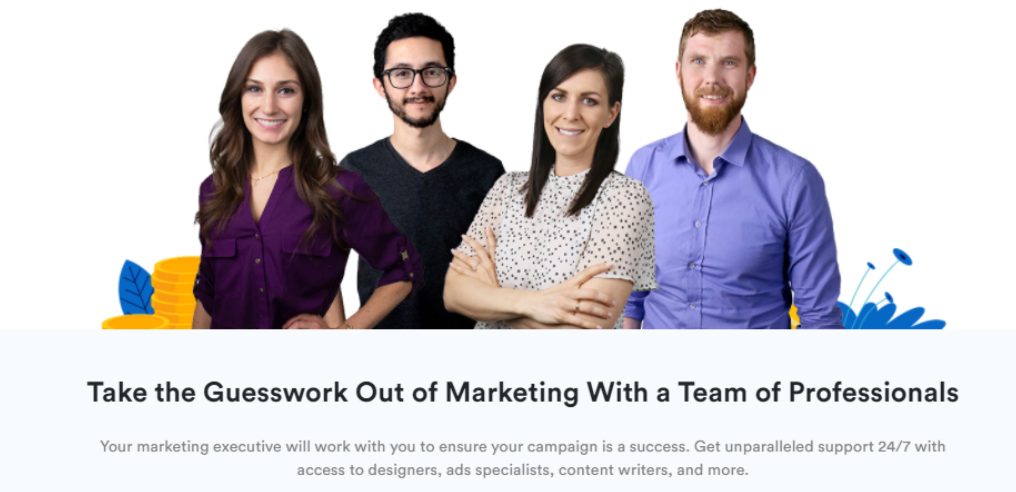 With Wishpond's team helping your business, you'll:
Spend less time learning how to use complicated software platforms and more time growing your business.
Get access to the latest marketing technology that allows you to see what contacts are up to in real-time in order to turn more prospects into customers.
Wishpond has over 40 native integrations and connects with 1000+ other apps. Our team will help you get campaigns up on your website, email's synced, and sales coming through in no time.
Wishpond vs. Mailchimp, You Choose
If your goal is to find an email marketing platform or an email service provider that's more focused on automation and email creation, then MailChimp is a good choice. However, if you're looking for a more rounded email marketing tool with design flexibility and easy to learn features, then Wishpond is your choice.
At Wishpond, lead generation and email marketing are what we know best. It's the core of our features. We don't just help companies get leads, but we help them get more qualified leads.
Ready to get started with your all-in-one marketing tool, to boost traffic, increase conversions, and revenue?
Click here to book a free, no-commitment VIP demo of Wishpond's products, tailored to your business or Try Wishpond for FREE for 14 days.