7 Reusable Content Methods to Boost Small Business Marketing
When you audit your brand's marketing efforts, you will find stacks of reusable content waiting to bring you more traffic.It's important to reusable content because creating content every time you want to boost brand awareness takes time and energy. Marketers are busy people—they aren't just creating content, they're also analyzing, researching, and ideating new growth techniques.
But you still need to create content that keeps your audience engaged—that is where reusable content comes in.
If you have existing materials that can be reshaped without much effort, you can save yourself so much time, that you can then spend on other tasks.
Today we're going to show you seven reusable content methods to boost your business's marketing effectiveness.
Reusable Content Method #1: Create Case Studies
You've already done a significant amount of research to create your content. Whether it's a blog post, webinar, or a report you have the opportunity to reuse the content as a case study.
Case studies are a great marketing tool for reaching prospective customers—they showcase how your products or services can be used, and how your company benefits users.
And that's an important aspect of marketing right now—according to recent studies, 82% of consumers refer to reviews before trusting a business.
The testimonials from your clients that you include in blog posts can be added to case studies as social proof—they show customers that real people support your brand.
A case study like this example from Ingramer boldly highlights the goals and methodology of the company. Note how they include the original post link in the video description.
How to Adapt Reusable Content as a Case Study
The case study route is particularly powerful when your aim is to tell a story—choose the client, product, or service that best captures the story your audience wants to read.
When you're a small business, displaying definitive proof of why your product or service works is necessary for gaining new audiences. Reusing content in a case study is the way to go. Here are some helpful tips:
Highlight the challenges your customers faced that gave them impetus to choose your product—and outline the goals set for your project.
While you do want to share the positive results of your study, spend some time outlining the strategy and methodology of your campaign.
Don't be vague about your achievements—use numbers wherever possible.
A case study should include testimonials from the customers—this showcases how much your company positively impacted them and humanizes the brand.
You can use a tool like Venngage to create a marketing case study—choose from the library of templates and input your text and data.
Reusable Content Method #2: Design Infographics
At Venngage, creating infographics is what we do. Most of our blogs are distilled into shareable infographics.
Why? Because infographics combine the power of visuals like photos, illustrations, and icons with text and charts to tell a comprehensive story that is easy for users to absorb.
According to recent studies, online attention spans have dropped to 8 seconds—and they are continuing to dip. Holding users' attention is challenging in an online environment that is packed with content. You can write a well-researched blog post but if nobody reads it, your efforts will be wasted.
That is why infographics are such a useful tool—they are visually compelling enough to retain user attention.
You can publish infographics on your blog, share it as social posts, for email newsletters, and for link building.
So, how do you reuse content for an infographic? Here's a neat infographic we created using the Venngage design tool to explain the steps.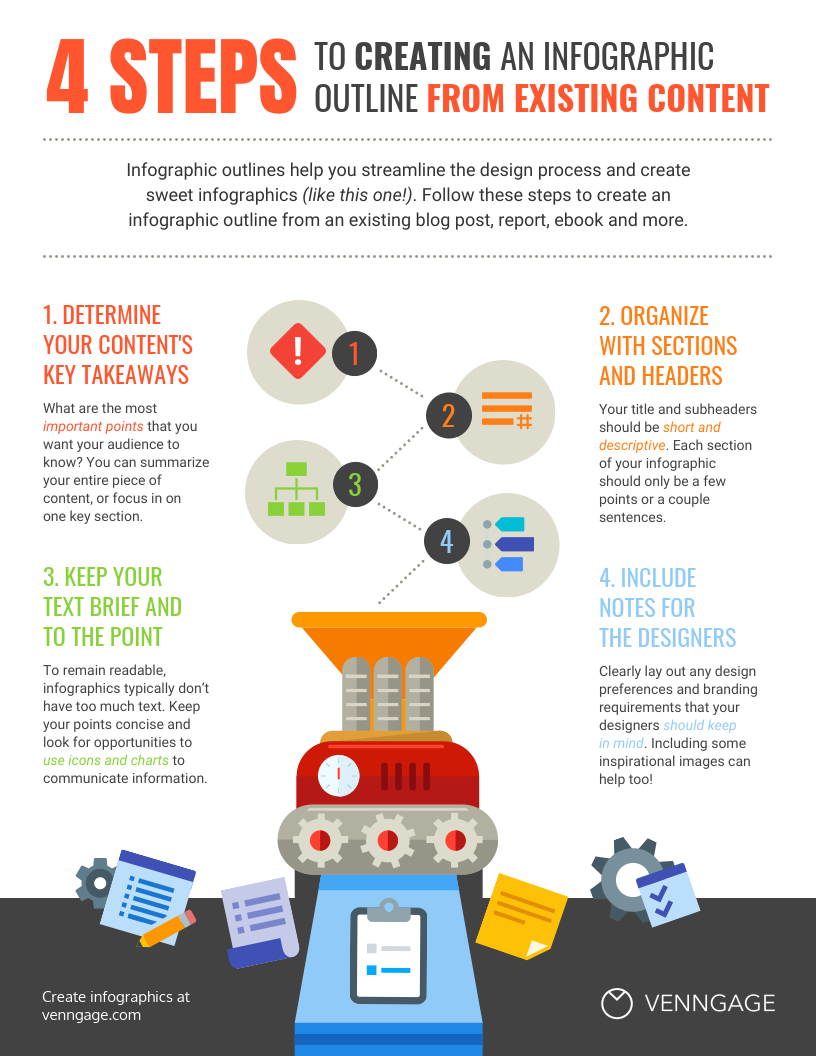 Let's break it down further. For Earth Day this year, we researched the pandemic's impact on the environment for a blog post—this was the natural topic to study considering the state of the world. We reduced our blog paragraphs to a few key takeaways and data points that we combined into an infographic.
We also segmented the graphic into different sections—carbon emissions, waste, wildlife, which you can see below, and energy—so users wouldn't be overwhelmed.
For visuals, we chose appropriate icons and illustrations that underscored the themes of our story
Not only did the infographic get us more traffic but we further segmented it into smaller visuals to share on other channels—we turned the Earth Day infographic into this LinkedIn slide deck.
For users with limited time, an infographic is a great way to reuse long-form content while still reaching your audience.
Reusable Content Method #3: Update Older Pieces
Some pieces consistently attract views, no matter when they were written.
These could be listicles, tutorials, or how-to guides—you can find them using SEO tools like Ahrefs. What makes such posts stand out is that they are evergreen—these are topics that will also be relevant in your field.
But while the information and methodology you included in these evergreen pieces remain the same, some of the examples or technology may have changed.
Why not update that evergreen content to reflect the world as it is now? This will help make your content even more shareable.
Keep in mind that you don't have to update every piece of content—pick these to update:
Posts that are already ranking well
Posts that drive conversions regularly
Posts that are close to ranking well but need a push to reach the top SERP spot
Posts that have done well in the past but are slipping in rankings
Updating content has become a priority for bloggers—especially with more users being online this year.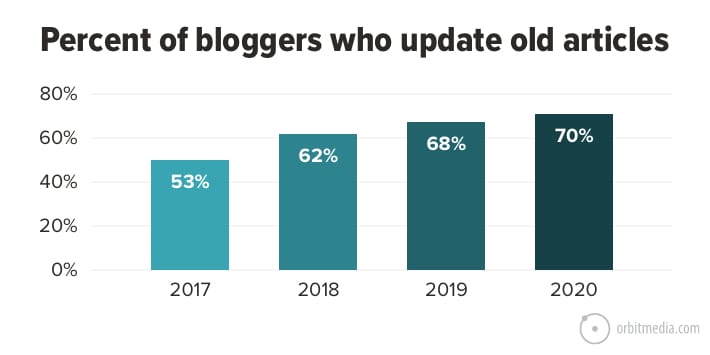 Here are a few ways that you can update old content:
Elaborating on existing points
Inputting new data
Swapping out old examples for new ones
Adapting the keywords to reflect searcher intent
Tailoring it to a new audience When you finish updating the piece, add a note at the top of your content mentioning that it has been updated—you should include the date of first publication, as well. For instance, Shane Barker updated their case study and indicated so at the top of their page.
The great thing about updating old pieces is that you can reuse content that you already have, which saves you time that would otherwise be spent creating something from scratch.
Reusable Content Method #4: Create Gated Content
Do you focus on one subject for one piece of content? Or do you create several pieces around that subject?
Chances are that it's the latter. Even if you aim to create a single piece of content, by the time you're done researching and editing, you will have enough material for more.
So, it makes sense to elaborate on different areas in a series of blog posts or videos. And that is where you can find more reusable content—gated materials. Gated content has become an effective method for generating leads.
But creating such pieces takes a lot of time and effort. To get started check out our guide "The Complete Guide to Gating your Content"
Lead generation materials are long, in-depth, and layered—not something you can put together in a day. Unless you already have the content and just need to put it together.
If you have several content pieces around a single subject, you can easily put them together as any of the following.
Courses
Several how-to blog posts or videos can be combined into a workshop or course for audiences. This places your company as a thought leader aiming to share your knowledge of your industry.
At Wishpond we created an email marketing course called "Wishpond's Email Marketing Master Class for Beginners". This helped us to educate and attract our ideal target audience for lead generation. It took a lot of work but in the long run it paid off as evergreen content.
eBooks
Multiple blog posts and case studies around a subject can be easily combined into an engaging eBook—this also helps you build your email list.
Include a call-to-action on a related post to encourage users to download the book, as SEM Rush have done in this post.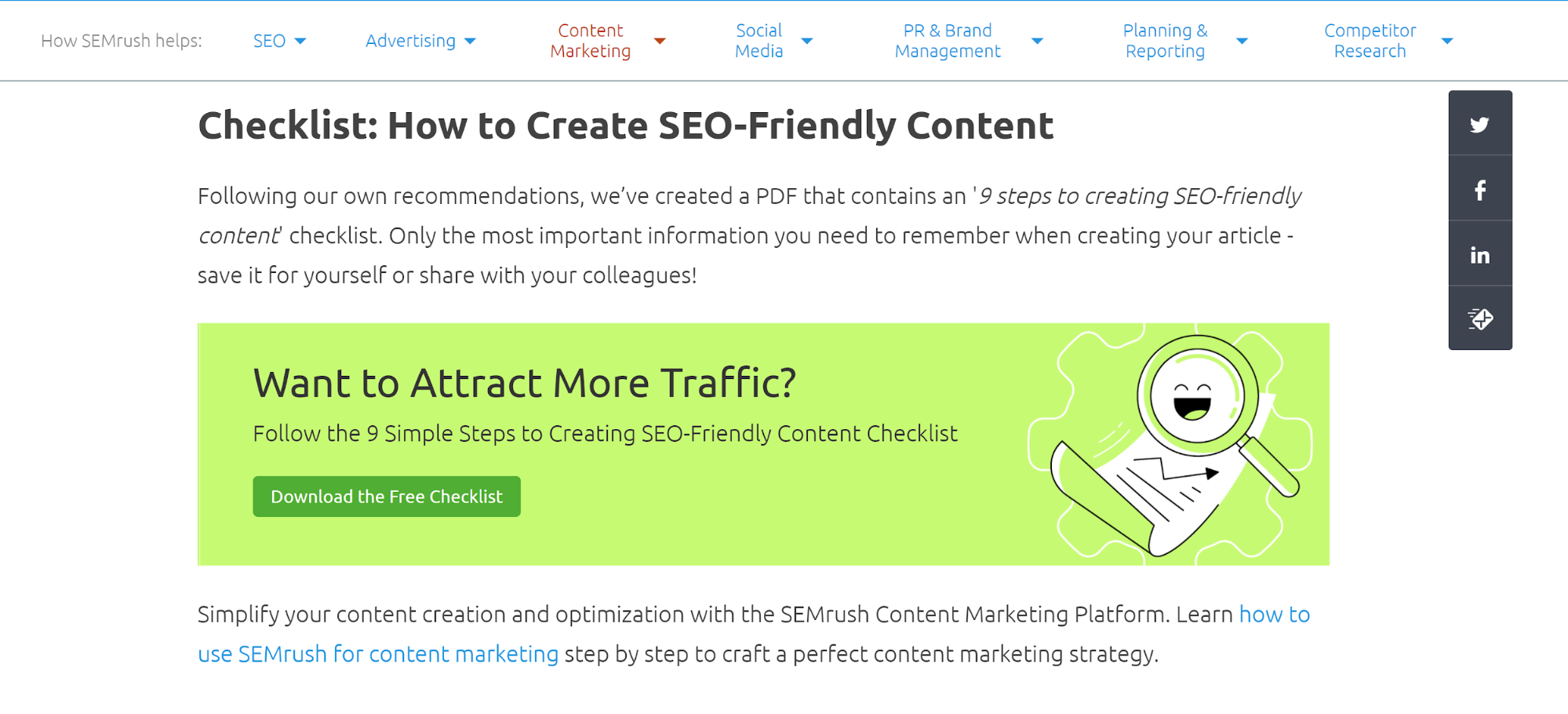 Venngage has numerous eBook templates that you can tailor to your subject matter.
Reports
If you've done in-depth research into an aspect of your industry, you don't have to give it away to audiences for nothing. Consider sharing parts of the report with your users via email to give them a reason to download or purchase the complete document, like in this example from RescueTime.

Webinars
In the same vein as building courses out of content, you can also create webinars based on a series of videos on one subject.
With more people online now, creating a webinar series is a good way to generate leads without having to design more content. Livestorm ranks high as the go-to webinar platform for marketers.
White Papers
Don't have enough content to create an eBook? You can design a white paper using Venngage's templates to combine posts and visuals. Netronic dipped into their gantt chart design posts to create a white paper.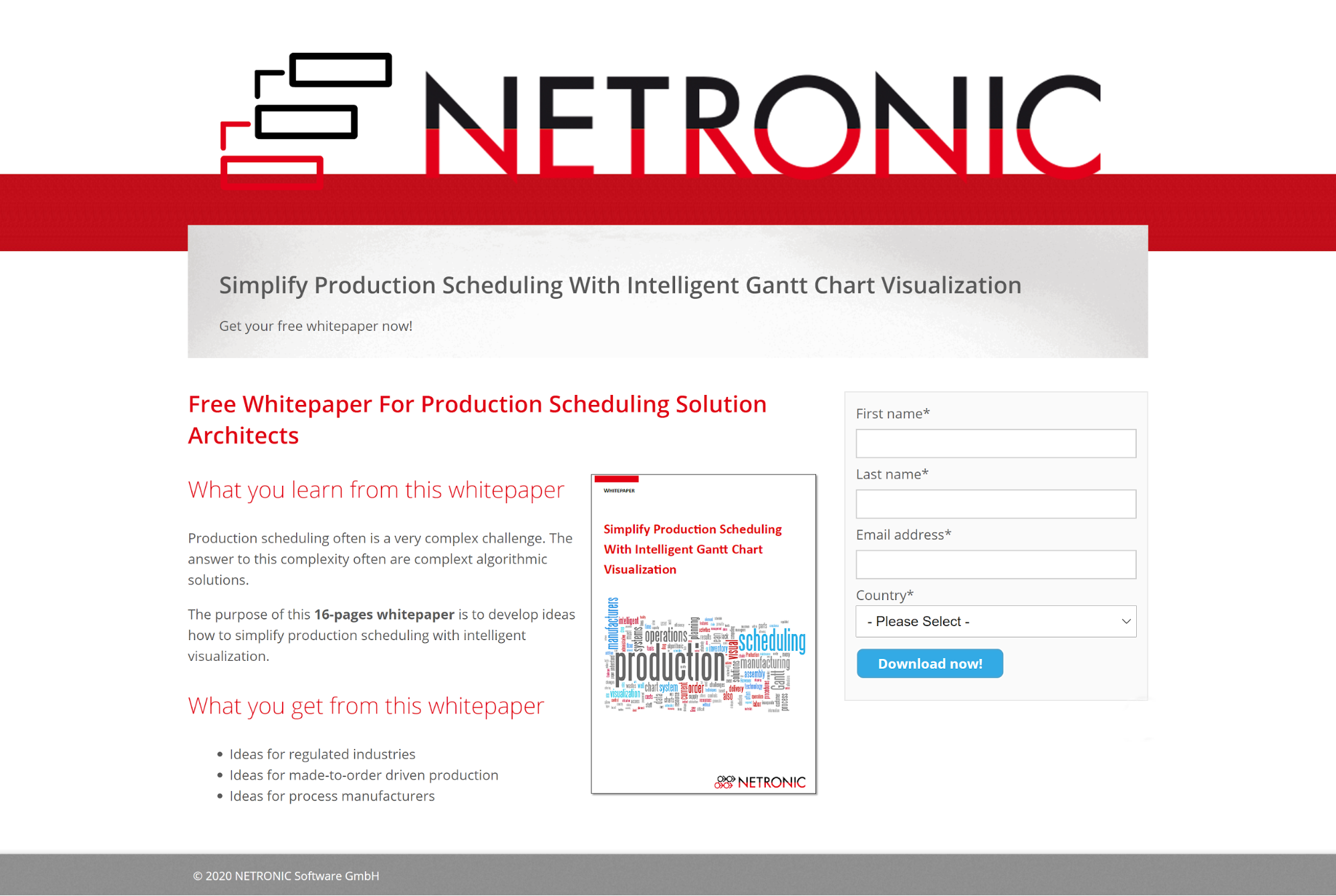 Reusable Content Method #5: Write Guest Posts
Guest posting is a powerful tool to place your brand as an expert in your industry and to acquire new customers.
When you write posts for another website you showcase to your audience—and Google—that your content and voice are strong enough that other sites want to feature your writing.
Since most websites won't allow you to repost content as is, guest posting becomes an opportunity to reuse existing content.
You're essentially creating content from scratch except for the fact that you're already familiar with the subject matter.
Here are some ways you can repurpose your content as a guest post:
Rewrite the post for the destination site
Elaborate on one point in your post
Tackle the subject from a different perspective
Highlight data not included in the original post
This is a strategy Adam Connell has used to increase traffic to his sites and grow his personal brand over years.

Guest posting on new topics takes time and energy—when you've already done the work with existing blogs, it's prudent to reuse that content to reach new audiences.
Reusable Content Method #6: Expand Your Channels
There are several channels available now to boost your content marketing—and it's the ideal form to reuse existing content. Here are a few ways to use a variety of channels to showcase your content.
Share Posts in Emails
You want your emails to reach your target audience—the best way to do that is to send your list great email content. Instead of designing content for your newsletters, dip into your stock of reusable content, as Wired did in this example. You don't have to write any new content—add the first few paragraphs with a call-to-action to read more on your website.
Share Snippets on Social Media
Social media is where people go for short, sharp posts—you can't share an entire blog post or long-form video without losing your audience partway through.
While you can set up your social sharing tools to share a blog the moment it's published, that doesn't make for exciting social content.
What you can do is share a snippet of your existing content—a few paragraphs or stats from your blog post, like in Hubspot's tweets, a section of your video, or a part of your infographic.
Is your business practicing social listening? It's a term for monitoring your brand's social channels by "listening" to discussions and trending topics about both your brand and your larger industry. And if you haven't already, now is an especially good time to start.

— HubSpot (@HubSpot) October 20, 2020
Repost Content on Other Sites
We touched on this before—some websites allow you to publish your content on their blog. Ask the editor of a blog you're interested in whether they would be interested in reposting your piece—but research them first so you don't sour the relationship.
If you do post duplicated content on a site, add a link to the original post—that way you avoid unnecessary penalties.
Sites like Outbrain, Business2Community, and Medium syndicate pieces—some of them for free—like in this example below.

Syndicated content is a great way to reach new audiences without having to create more content.
Reusable Content Method #7: Transform Content for Other Media
We mentioned different ways to combine content into gated material but you can also transform existing content for other media.This requires a bit more effort but when you have reusable content and the right tools, this is an avenue you will want to explore.
Podcasts
Blogs or webinar content can be reused to create a podcast. Starting a podcast from scratch can be a lot of work—if you can use existing content, that makes your life easier. Pod Sound School not only creates podcasts, but they write blogs that they then reuse for podcast and video content.
Plus, in podcast transcripts or notes, you can add calls-to-action or website links that encourage listeners to continue engaging with your brand. There are numerous podcast hosting sites available but Buzzsprout comes highly-rated.
Presentations
Another way to reuse existing content is to create presentations or slides, which you can publish on SlideShare—you can use Google Slides or PowerPoint to design presentations.
CopyBlogger reused their blog on content to create a slide deck for SlideShare that currently has over 90K views. When creating presentations, it's important to keep your text to a minimum—you don't want users to face a wall of text as that may put them off your content altogether.
Screencast
Another transformation technique you can use for existing content is to screencast videos. This is a great technique for sharing tutorials or how-to guides. WebsiteToolTester created a post on starting a blog that they repurposed as screencasts for their YouTube channel.
If you have a written guide with a lot of screenshots of how to use a product or service, you already have an outline for your screencast. Now you need to record your screen using a tool like ScreenRec, as you take the audience through the steps.
Remember to disable sounds and notifications so they don't interfere with the final video.
Videos
There are numerous ways you can transform content as videos:
Edit longer videos into several shorter ones using WonderShare Filmora to share across social networks
Longer webinars can be edited into short YouTube videos, with links back to the original webinar
Go live on social media to share a tutorial or how-to guide
Create explainer videos using YumYum Videos to share on YouTube
Key Takeaways: Reusable Content Helps You Reach New Audiences
A great piece of content doesn't have to exist in a single, limited form. You can find new avenues to share reusable content and save yourself time and effort.
Here are the best ways to reuse content and reach new audiences:
Case studies
Infographics
Update old pieces
Gated content
Guest posts
Expanding your channels
Transforming content for other media
Don't spend too much time creating multiple pieces of content—reuse what you have on new channels and in new mediums to boost brand awareness.
About the Author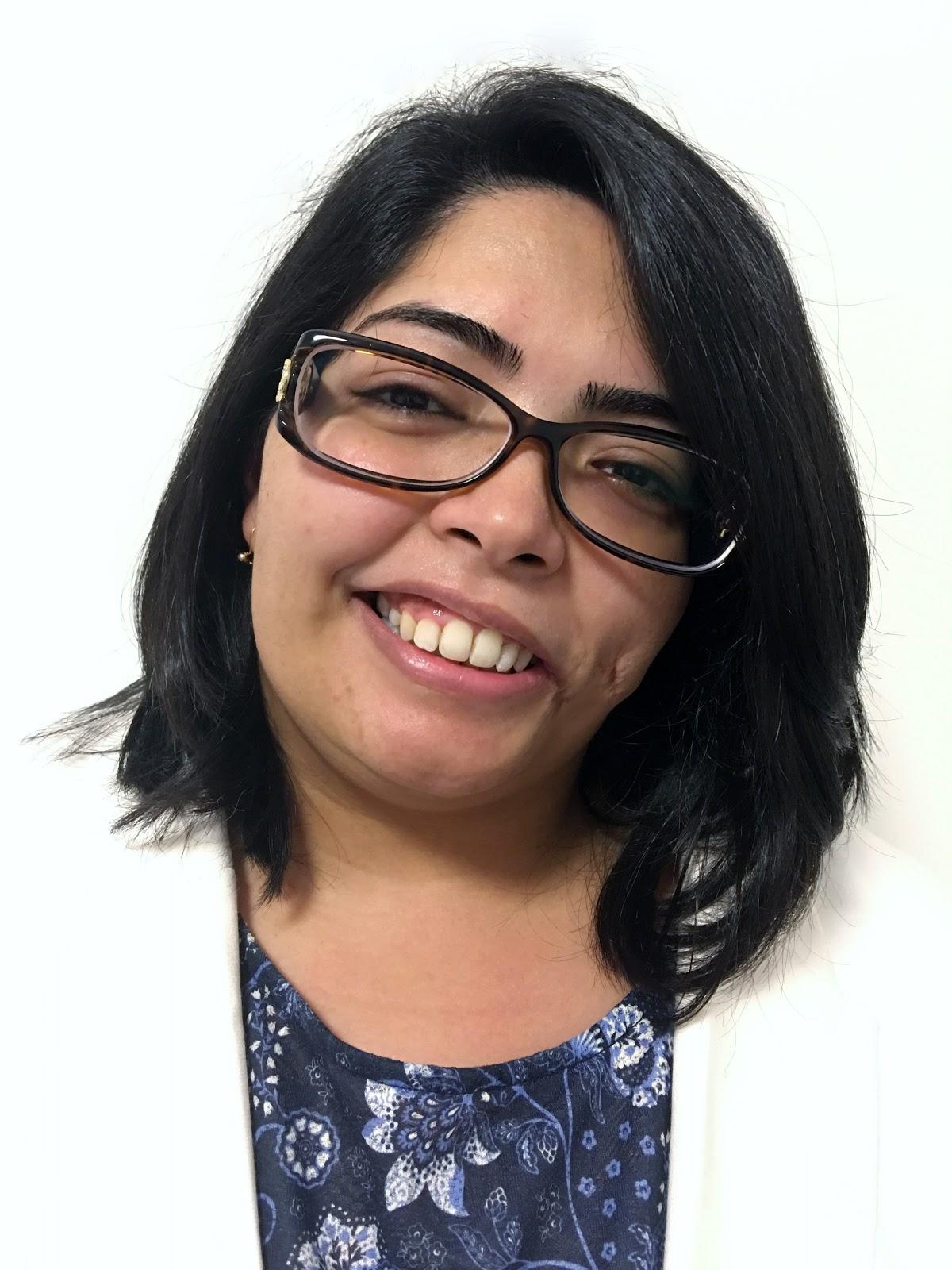 Ronita Mohan is a content marketer at Venngage, the online infographic maker and design platform. Ronita regularly writes about marketing, sales, and small businesses.