Video is now an essential part of marketing, especially when grabbing your viewer's attention. After all, Videos are responsible for almost 90% of the overall custom eCommerce website traffic.
By 2022, online videos will make up more than 82% of all consumer internet traffic. That's a notable number, but what it says is that video is the future of online marketing.
Video content is great for social media marketing, lead generation, onboarding, and attracting more website traffic. But as great as video marketing is, it's even more important to pick the right video marketing tool to create your content. With so many new apps and tools on the block, it can be hard for the right fit for your video marketing needs.
Today, we're going to go through the ten best video marketing tools every business owner should know if they plan to master video marketing.
---
Video Marketing Tool #1: Canva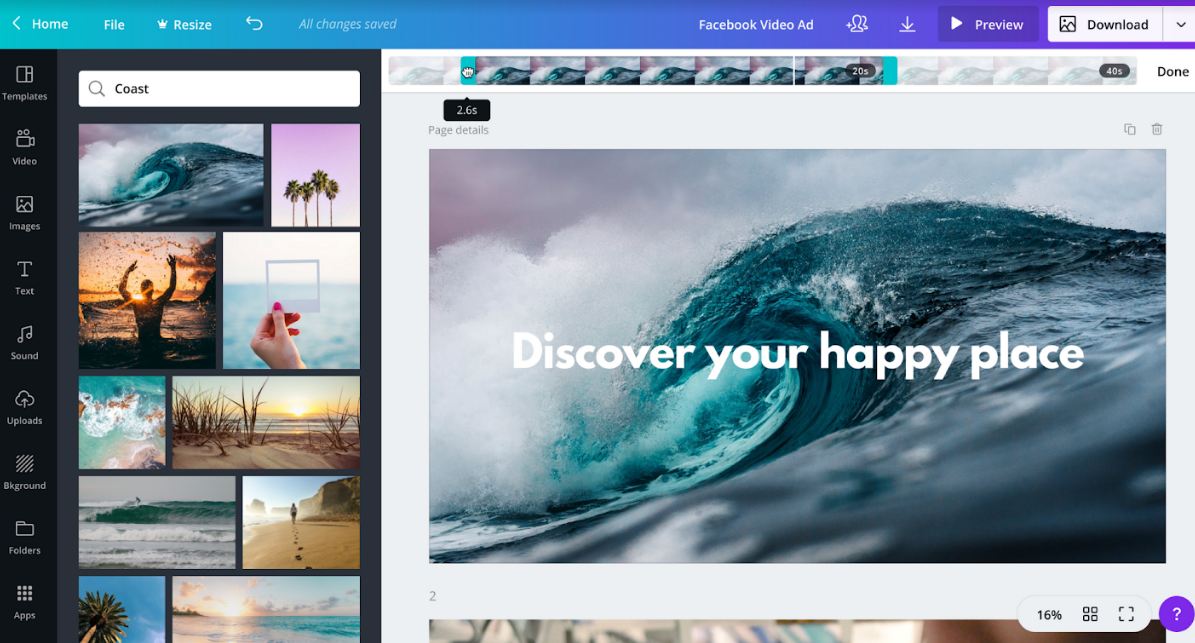 Best For: This tool is a do-it-yourself marketer's favorite. Canva is an online editor, graphic tool, and now a video marketing tool that helps you create videos without the technical skills or hiring a professional.
Pro's:
You can create videos for multiple online platforms
Limitless templates and modern designs
Multiple design elements and tools
Easy to use and great for beginners
Great customer support and quick resolution
Seamless marketing app integrations
This app allows you to create teams to work on one or multiple projects all at once
Con's:
You have to upgrade to access professional tools.
Only Canva Pro users have access to some basic graphic designing features like alpha transparency for PGN images.
Mobile version is not as flexible as the desktop version.
There's a learning curve first-time users have to overcome.
Pricing:
Free Account Available
Pro Account: $12.95
Enterprise: $30.00
Video Marketing Tool #2: TubeBuddy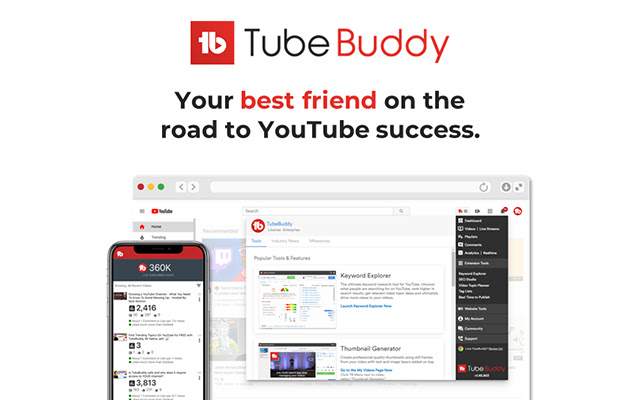 Best For: Tube Buddy is one of the top YouTube management and analyzing tools. Some of the most popular YouTubers use Tube Buddy tools. It helps with video SEO, promotion, and publishing.
Pro's:
Each plan comes with a thumbnail generation so that you can create thumbnails without a third-party app.
Easily schedule your videos and post, all in one place.
Easily monitor your videos across social media platforms (Reddit, Pinterest, and Twitter).
Find keywords that will help improve your video's SEO.
Real-life competitor analysis
Use video A/B testing features to see what your videos' elements hinder or help increase views and subscribers.
Tube Buddy comes with a supportive and engaging community for YouTubers.
Con's:
You'll have to upgrade to get access to advanced features and tools.
You'll need multiple Tube Buddy accounts if you have multiple channels.
Pricing:
Pro Plan: $9/month
Star Plan: $19/month
Legend Plan: $49/month
TubeBuddy Enterprise: Contact their sales team for details
Video Marketing Tool #3: VidIQ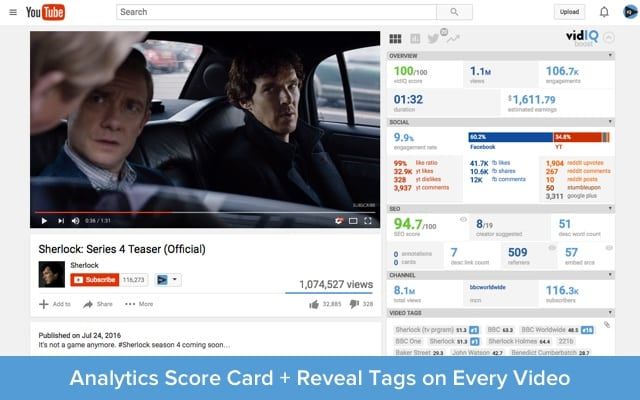 Best For: This video marketing tool gives you insight into YouTube analytics to help you build a loyal audience of consumers. Vid IQ helps you to use data to create a strategy to keep you on track.
Pro's:
This tool is easy to install and use within minutes.
Get access to real-time data with every video along with keyword research to improve your next video.
This tool comes with a Chrome and Firefox extension.
Comes with a desktop and mobile version so you can analyze your videos on the go.
Con's:
The desktop version is far better than the mobile version.
Only one user per account. There doesn't seem to be the option to add a team.
Pricing:
Basic Plan: Free
Pro Plan: $7.50/month
Boost Plan: $39/month
Boost+ Plan: $415/month
Video Marketing Tool #4: Vidyard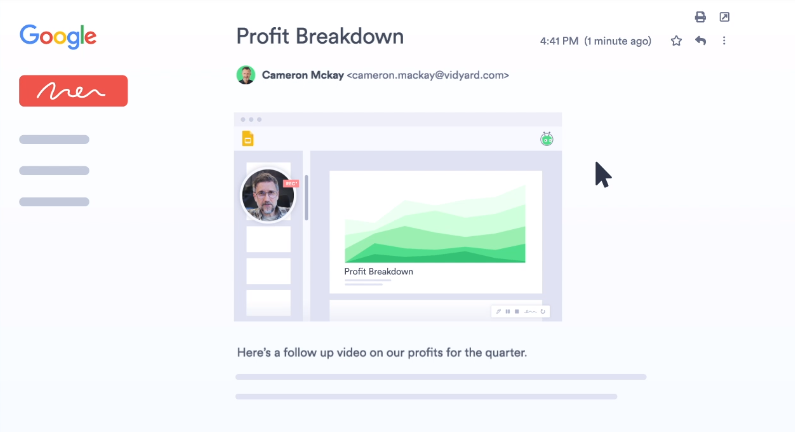 Best For: Vidyard is a video marketing tool for professionals who want to create an expert recording with their screen or webcam for live presentations or videos. Vidyard has built-in video analytics so you can track video engagement, learn more about your audience, and turn views into results.
Pro's:
Vidyard allows you to create videos for lead generation, employee training, and corporate communications.
It's a built-in analytics tool that helps you to measure the performance of your video marketing.
This app comes with video hosting capabilities.
Easily share the videos you create on social networking sites.
This app integrates with over 40+ marketing software tools.
Con's:
You can only create videos with your screen recording and webcam.
Learning curve of using the platform can be hard for new users.
Limited video editing tools. If you want something more advanced, you'll need to use third-party software.
Pricing:
Free Account Available
Pro Plan: $15/month
Teams Plan: $300/month
Business Plan: $1250/month
Video Marketing Tool #5: Animoto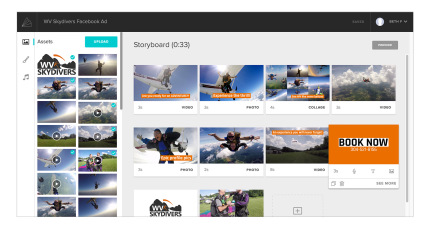 Best For: Similar to Filmora and Canva, Animoto allows you to create videos from scratch, edit recorded videos, and upload videos to fit your online or social media platforms. Animoto is a trusted online editor used by marketers, vloggers, or photographers who want to make videos.
Pro's:
Create slideshow videos to showcase your work or portfolio.
Use their built-in storyboard templates to plan and execute your videos with ease.
Access unlimited text, fonts, colors, stock images, music, and design elements.
Use their drag-and-drop video maker to edit your video in minutes.
Select industry-specific templates to make videos that suit your needs and niche.
Con's:
You have to upgrade to remove the Animoto logo or add your logo as a watermark on the video.
Interface is a bit clunky and not as flexible as other video editors.
Pricing:
Free Account Available
Professional Plan: $15/month
Teams Plan: $39/month
Need help with your next video marketing campaign?
Book a free call to learn how our team of experts can help you create high converting video marketing campaigns today.
Video Marketing Tool #6: Filmora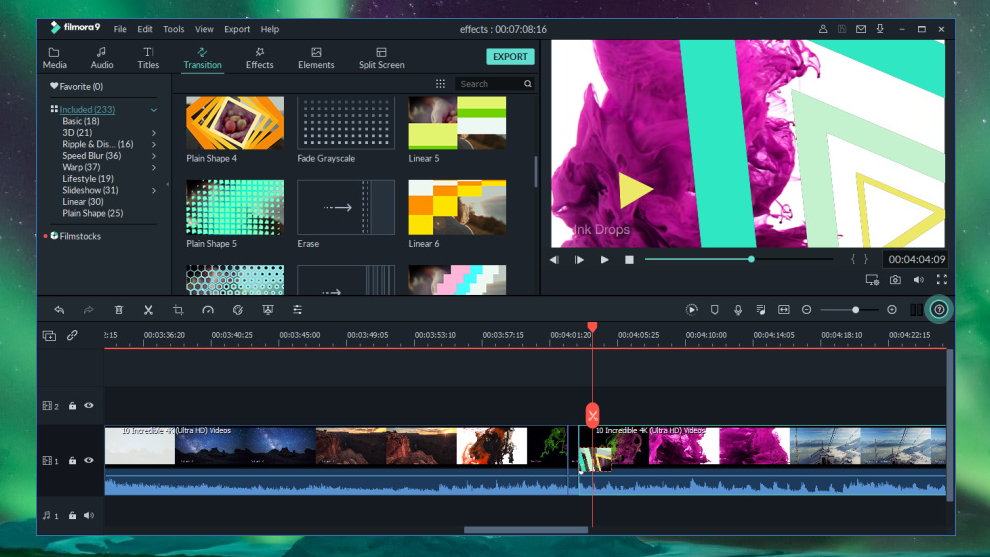 Best For: Filmora is one of the top-rated and awarded video marketing and creation tools. It has more advanced editing and design features when compared to other online video tools. Whether you're a beginner or an expert, this tool works perfectly for you.
Pro's:
This has a simple but multi-functional video editing interface that helps users create interactive videos.
Video templates are made for social media or online platforms.
This tool can work on Windows and Mac and is available on Android and iOS with the name "FilmoraGo."
Comes with over 400+ different transition effects for your video.
Con's:
Unless you plan to upgrade, you won't have access to the majority of the video editing and exporting features.
Limited audio effects or editing options for videos.
Keyframes not only in the Pro version.
Color grading tool is limited. No color wheel, curve, or waveform is available for use.
Pricing:
The Mac version of Filmora costs $44.99 per year or $59.99 for outright purchase, while the newer Windows version is $39.99 and also $59.99 outright
Video Marketing Tool #7: Magisto
Best For: Magisto is another top-ranking video editing tool that should be on your radar. This tool helps small business owners who can't afford an expert for daily video marketing tasks.
Pro's:
The user interface allows you to upload, sort easily, and edit videos without going through a huge learning curve.
*Multiple options for themes, music, styles, and video transitions.
*Easy to use video templates and designs, so you don't have to create videos from scratch.
*Magisto allows you to host, download, and share all without leaving the platform.
Con's:
There's a time limit on videos. Videos can't be longer than 10 minutes.
Magisto has no mobile versions of this app, so you'll have to use your desktop.
Pricing:
Premium Plan: $4.99/ month
Professional Plan: $9.99/month
Business Plan: $34.99/ month
Video Marketing Tool #8: Biteable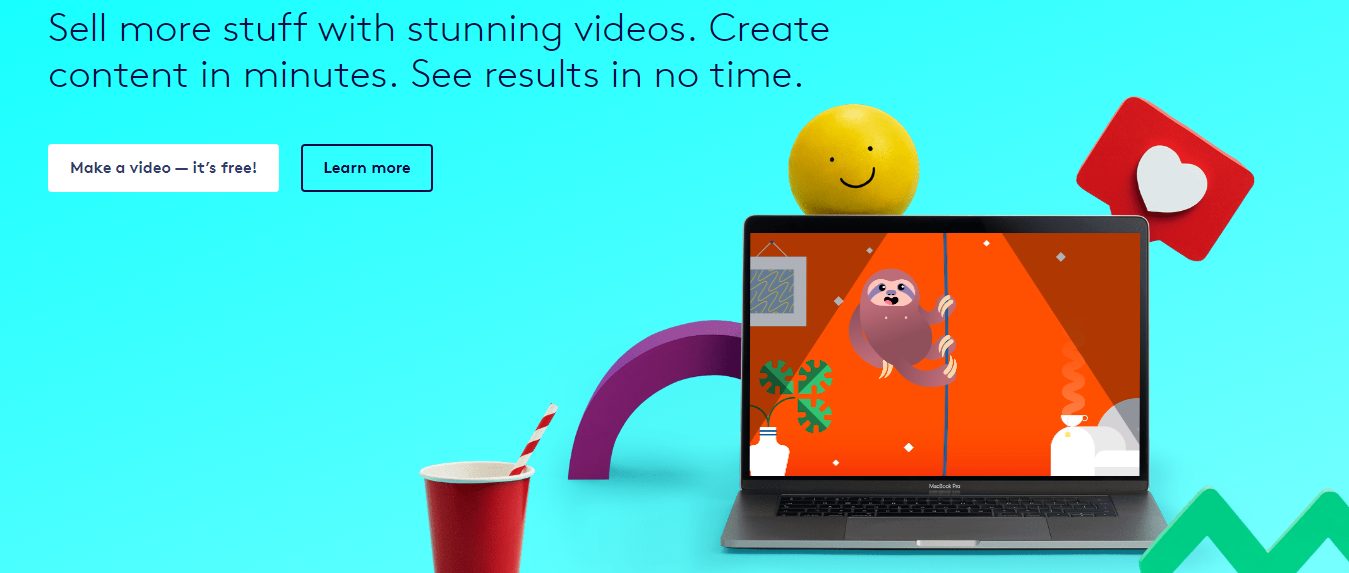 Best For: Biteable is a professional video marketing app that helps users make stunning videos to sell more products or craft video ads.
Pro's:
Easily access tools to create professional animations and videos.
Great drag and drop features to create engaging and polished videos.
Seamlessly edit scenes, adding in graphics and templates.
Each account gets access to a limitless stock library for audio tracks.
Comes with customization tools to make your branded videos.
Con's:
Biteable updates regularly, and this might add some lagging or bugs along the way.
There's no option for square format Instagram videos.
You can't download videos created using the free plan.
Limited access to tools unless you've upgraded.
Pricing:
Free Account Available
Plus Plan: $19/month
Ultimate Plan: $49/month
Video Marketing Tool #9: WeVideo

Best For: Ranked as one of the top 10 Video Editing Software products. It's a multi-platform video editor that offers an uninterrupted editing experience that allows you to edit in multiple video, audio, image, and graphic formats. It also provides many features that enable the effortless creation of stunning movies in just minutes.
Pro's:
Instantly publish your edits to YouTube, Instagram, Facebook, and other social media channels.
Create high-quality videos (up to 4K resolution) to show off your video in the best light.
Edit your videos on your desktop or mobile without restriction.
The tool also offers built-in images, graphics, audio, and video; and also provides a green screen feature.
Easily create videos with their easy to use interface.
Con's:
You can only render or download your videos in 1080p unless you've upgraded to their business plan.
You can only publish videos for a total of 5 minutes per month using the free account.
Pricing:
Pro Plan: $4.99/month
Unlimited Plan: $6.39/month
Professional Plan: $12.59/month
Business Plan: $29.99/month
Video Marketing Tool #10: Shakr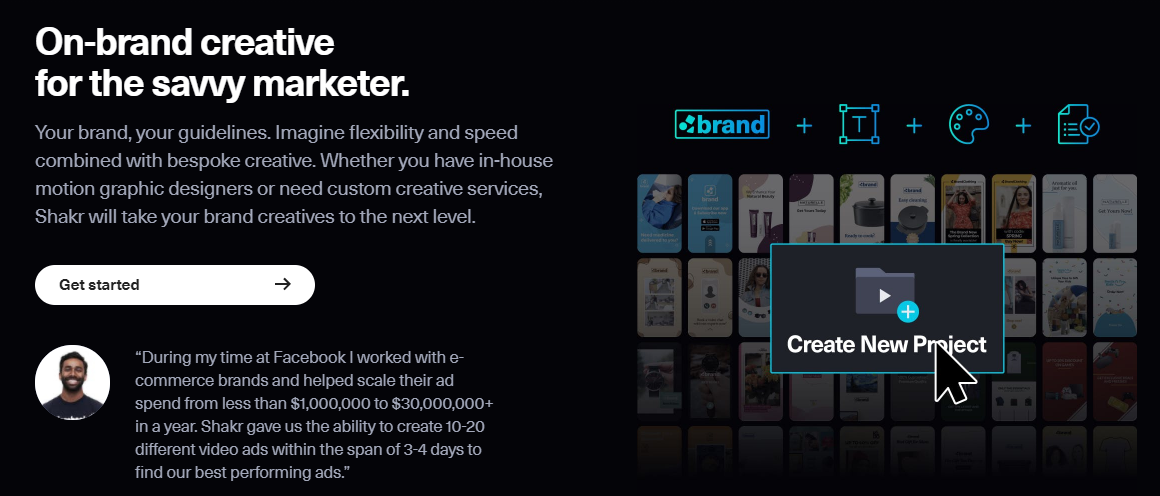 Best For: Shakr is a top tier video marketing tool that helps you create professional-grade advertisements in second for your brand promotions. This tool offers around 1000 video designs to choose from for your brand.
Pro's:
Choose from hundreds of video designs created by top motion graphic experts.
It's made for agencies or start-ups that want to invest in a video marketing tool for their design or marketing team.
Videos are made with social media and online advertising in mind.
You don't need to have professional video training. It's easy to use interface makes you a quick learner.
Custom prices and tools are given based on your video marketing requirements.
Con's: The cost may be too high for some entrepreneurs or individuals
Pricing:
Start Plan: $200/month
Scale Plan: Custom Pricing
Beyond Plan: Custom Pricing
The Rundown
Video marketing is constantly changing with new updates, tools, and platforms. If you're not careful, you might just be left behind. At Wishpond, we know how powerful video marketing can be for your advertising purposes. After all, it's one of the ways we help our customers to generate leads and sales.
Whether you're a B2B or B2C company, you're going to use marketing at some point. Instead of stumbling around waiting for the best next thing, I've compiled a list of our best video marketing guides to help you learn, grow, and execute the best video marketing strategy for your brand:
Video Marketing Guides:
victoria-taylor