Using a good salon booking software can help you optimize your salon's business processes, and give you and your employees more time to groom your customers!
But that's not the extent of its benefits! If chosen correctly, the right salon scheduling software can also help you attract more business, provide a superior customer experience, and double up as a marketing tool for your business.
But to choose a software that helps you do all that, you need a proper screening process. With dozens of tools to choose from, finding your perfect match can be difficult, and so we're here to help!
Keep your marketing goals in mind, and read on to find some important tips to help you choose the best scheduling software for your salon business that will help you save time and get more customers.
And there's a bonus tip at the end! Dive in to find out the way to the right salon scheduling software for your business.
Tip #1: Allow clients schedule appointments online 24×7 without any hassles
A study has shown that 40% bookings take place outside business hours. So if you're not allowing appointment booking 24×7, you might be missing out on a significant amount of your salon revenue.
Most salon booking tools allow you to take bookings round the clock! Even if you don't have a website for your business, your salon booking page will be the go-to destination for your customers and prospects to book appointments with you, at their convenience.
So even if your customer remembers about getting a haircut at 2 AM, they can self-schedule their appointment online, without the need for your help!
Being in the salon business, you are probably aware of how particular customers can get. They'd want to book an appointment with their favorite stylist anytime at a time convenient to them, schedule multiple services at once, and would want to manage their own bookings! Your salon software should provide this freedom along with a seamless booking process.
Moreover, it should also give you more control over your salon bookings. It should allow you to configure booking rules to set how much in advance your customers can schedule, reschedule, or cancel appointments with you.
Take an example of the booking page of Salon Jenae. They offer services from various categories and you can choose from your favorite staff members. There's an 'About' section that can contain information about the salon and a 'Reviews' section where potential customers can take a look at customer reviews and feedback before booking an appointment!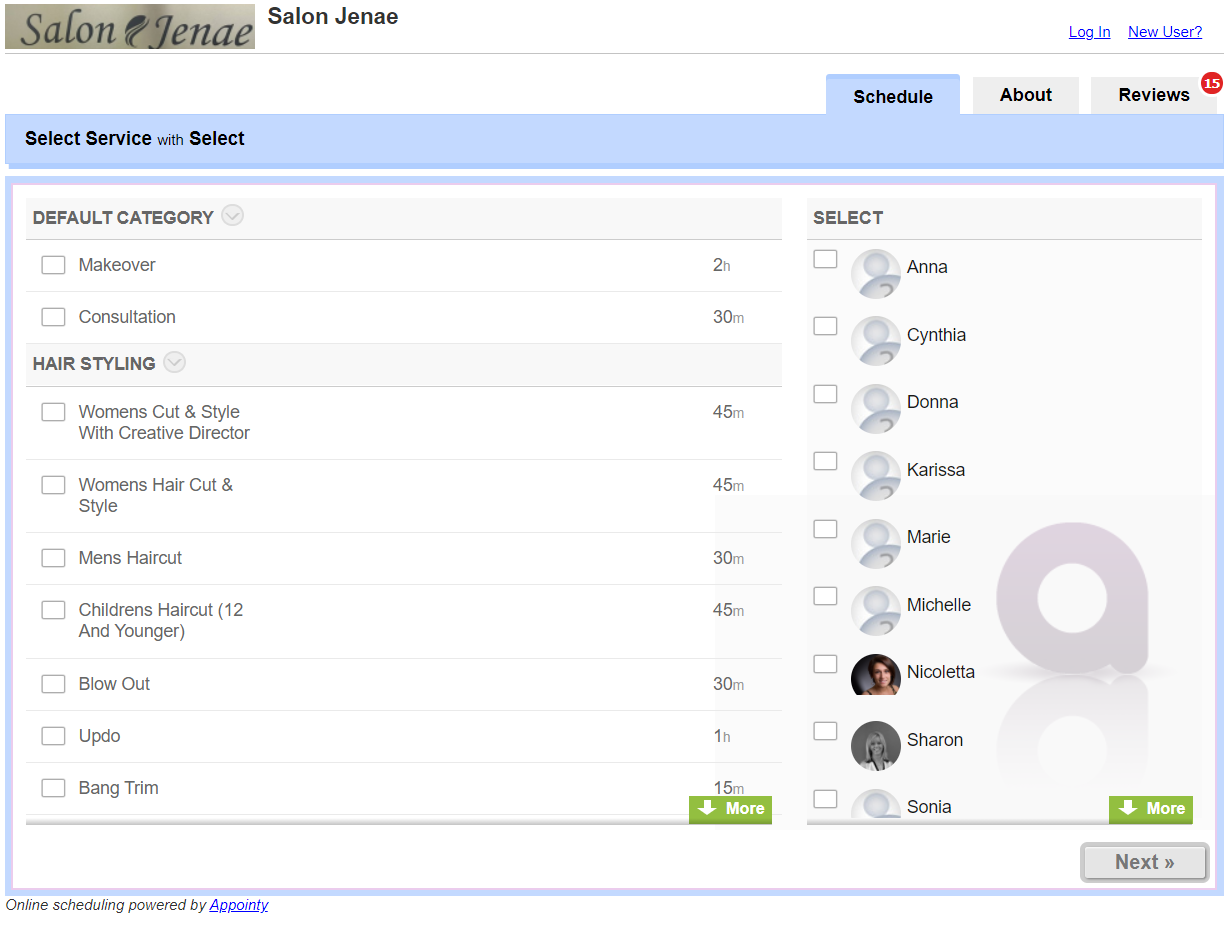 Tip #2: Add a booking option to your website and social channels
One way to attract more customers is to establish a strong presence on all online channels where prospects might look for your services or would be happy to find you!
The most popular and hence important channels include:
Salon website or directory
Facebook
Instagram
All of these channels should have all the relevant information about your salon, especially your website. Choose a salon scheduling tool that lets you add a booking widget to your website, without the need for additional tech support.
Some of the salon software today allows you to accept omnichannel bookings. That is, you can add a Book Now button to your salon Facebook and Instagram, with absolutely no extra cost! It can not only help you enhance your salon's online visibility but can also help you gain more customers right from your social profiles.
Given below is an example from Barber's Blueprint, a men's barbershop in NYC. They've added booking calls to action at three different places on their website as shown, so that site visitors can directly book an appointment with them.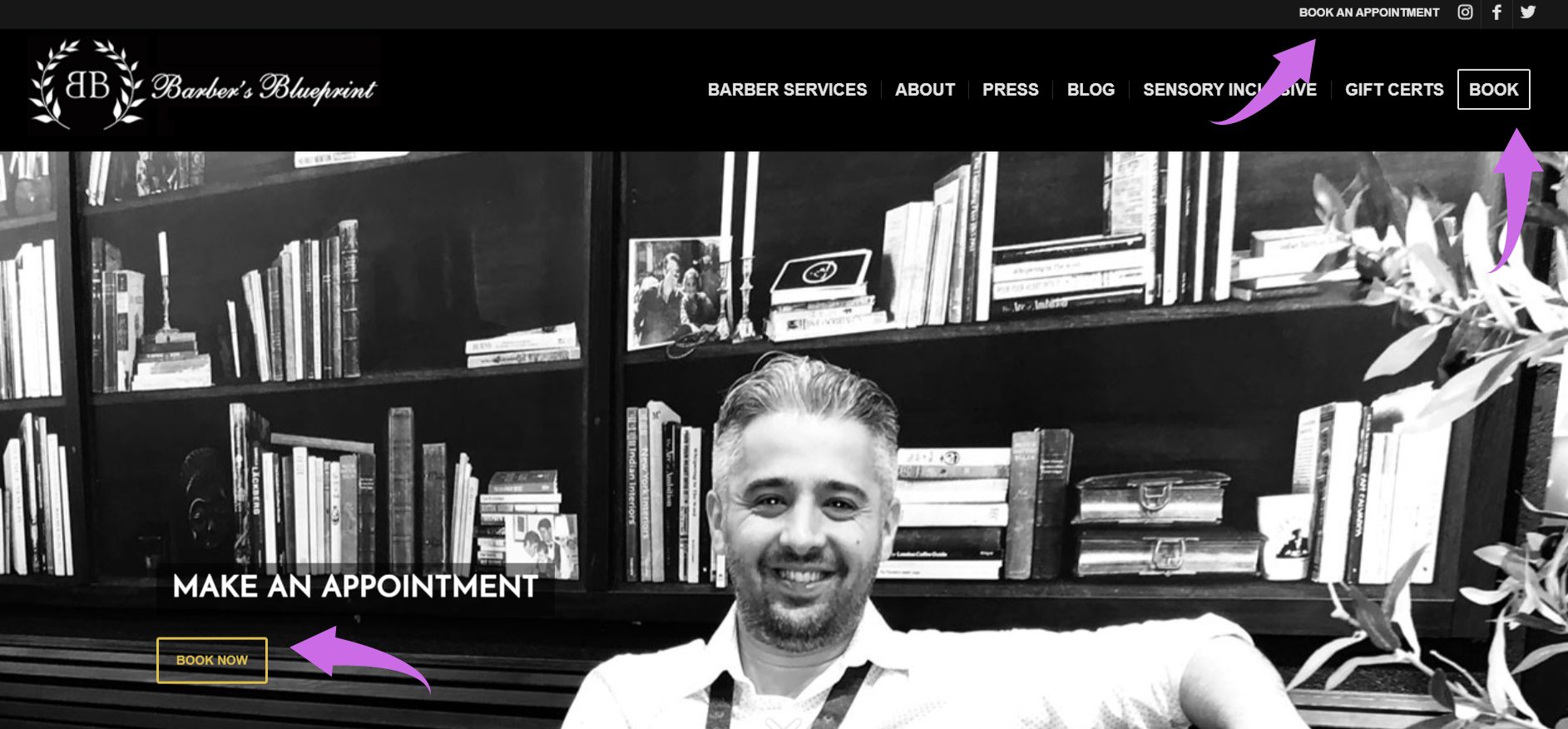 Here's another example from Barber's Blueprint. They have also added a Book Now button to their Facebook profile. It will definitely help them turn more profile visitors into paying customers.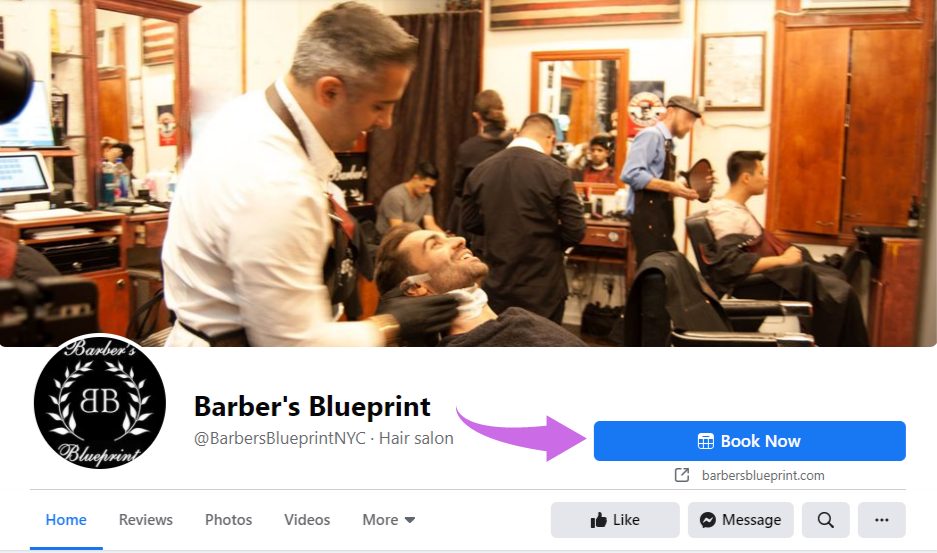 Tip #3: Pick a tool that lets you get listed on Reserve with Google
I'm sure you'd agree with me that Google is the number one search engine today. It's enormous popularity makes it a great marketing platform. Just think who you go to when you have a question in mind, or when you're looking for something, at any time of the day? Google (in maximum cases), of course!
So a Google listing is imperative for your salon business. But it's benefits aren't limited to just this.
To maximize the number of customers you get from Google, add a Book Online button beside your business listing by getting listed on Reserve with Google. Only one of the official Google scheduling partners will help you make the most of your Google listing! So ensure that your salon scheduler is present on the above list of official partners.
When you have a Reserve with Google listing for your salon, you appear on local Google search and Maps, such as "beauty salon near me", or "hair salon in Manhattan". The prominent Book Online button can help people book an appointment with you right away!
Given below is the RwG profile of Barber's Blueprint. You can see the Book Online button (directed at with an arrow) along with other relevant information for potential clients, Google reviews, pictures, and more CTAs. Arthur, the owner of Barber's Blueprint was able to earn $1700 additional revenue with Google Reserve!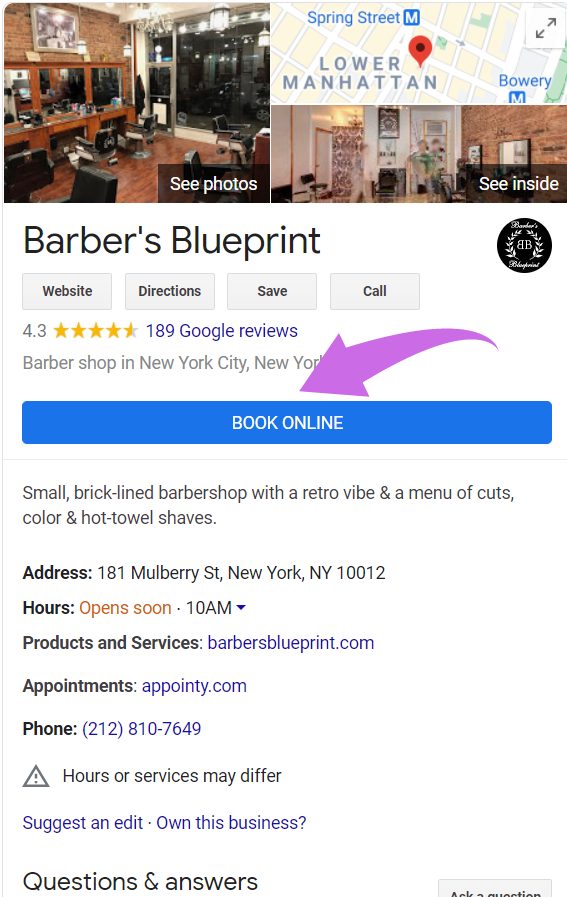 Getting listed on RwG will help you reach local customers and prompt them to book appointments for their favorite services right away! The hassle-free booking process will help you get more customers from the most popular search engine.
Tip #4: Deliver a personalized service experience to improve retention
Your customers are the most important for your business growth and survival. And personalized experiences are what most customers seek today! 86% of the customers are willing to pay more for a personalized experience.
But how can you deliver more personalized experiences at your salon? The answer is simple – using crucial customer information!
Customer data can be a crucial part of your business. But it can be tough to manage. A good salon management software should help you manage this data efficiently and store all the important information in an organized manner.
Additionally, look for features like intake forms and customer notes. Intake forms can help you collect important and relevant information like allergies, skin and hair type, etc. pre-appointment so that you can deliver personalized services. Customer notes can help you while the customer is at your salon. You can note down their preferences, favorite beverages, favorite products, etc. to deliver better services in the future.
Tip #5: Simplify providing online discounts and offers
Deals and rewards are a great way to attract more clients and build great customer relationships as well. A good appointment scheduling software will help you offer irresistible and tempting deals to your clients, right at the time of booking. You can choose to implement discount coupons for holiday seasons, special occasions, promotional deals, etc.
You can also boost your customer retention by running loyalty programs in your salon. The option to add coupon codes and offers at the time of payment after booking can be very convenient. Make sure that your scheduling system helps you simplify your marketing efforts with the option to provide discounts through your booking page!
Need help create discounts that generate sales?
Book a free call to learn how our team of marketing experts can help you generate leads, boost traffic and drive MORE sales with discounts.
Tip #6: Sell e-gift cards on your booking page
Gift cards make an important part of salon marketing efforts. Here are some numbers to support this statement:
* 41% of customers trying a business for the first time do so because they received a gift card – 4 out of every 10 new customers!
* More than half – 55% – had to come back to the business more than once to use up the whole amount on the card
* 7 out of every 10 gift-card redeemers spent more than what was on the card – and 70% of those people spent at least 20% more than the card's value
Too many numbers to process? But they all point towards one thing – the importance of selling gift cards at your salon.
So ensure that your booking software can help you create and sell online gift cards on your booking page. Because many of the options available in the market provide this option, but some might not, so remember to check this off your list!
Tip #7: Check and prepare for no-show appointments
Casual bookings and no-shows are two problems faced by all salon owners, regardless of the location or size of the business! You also might have come across these problems followed by excuses such as "Oh, I was busy and missed the appointment!", or, "I thought it was today and not yesterday.", and many others!
Your scheduling software should help you tackle these issues in two simple ways as mentioned below:
By allowing you to accept full/partial prepayments via secure and popular payment gateways like Square, Stripe, Paypal, etc.
By sending automated email and text notifications and reminders to customers at preset intervals before the scheduled appointment
These two features will ensure that your customers never forget their appointments with you. And it will also provide them a quick and easy way to make payments online, right at the time of booking their appointment!
Tip #8: It should help you track important salon growth metrics
The best way to business growth is by making data-driven decisions!
Your salon software would collect and manage your salon's data in a single place. So it should also let you look at the most important business metrics like sales vs staff, customer satisfaction, number of bookings, etc. to help you keep track of your numbers and business growth.
Some salon booking software like Appointy lets you keep track of important salon metrics with an analytics and reporting feature, along with a dashboard to look at key numbers at a glance. You can look at daily, weekly or monthly reports for all the key booking related metrics, and work towards maximizing your salon growth!
Bonus tip: Don't forget to check for these essentials!
While the tips above are important for choosing your salon scheduling software, there are a few more things you should take care of when selecting your booking tool.
Here are some extra things you should look out for in your software:
Data security: Your customers trust with their valuable information, and your tool should keep their trust intact by providing reliable security standards for your data. You can even check the security compliance of the tools you shortlist and then compare.
Responsive support: Dealing with technology for the first time can lead to doubts and confusions, which can be solved best by people who know the software. Therefore, an active and helpful support team that's available for assistance 24×7 via call, chat, or email is something non-negotiable.
Value for money: While a salon scheduling tool is necessary, you can't afford to disturb your financial accounts for it. So choose a tool that offers value for money, that is the best features at prices that are affordable for you.
Multi-device support: Your software should not just be available on your desktop/ PC. It should allow you to keep track of your bookings and salon schedule even when you're on the go, through mobiles and tablets, iOS or Android!
Calendar integrations: Who likes to manage multiple calendars anyway. Ensure that your booking software allows two-way sync with popular personal and work calendars – iCal, Outlook calendar, Google Calendar, and the like – and avoid double bookings!
Conclusion
Using a scheduling system for your salon is no longer a choice, but a necessity. We hope that this blog post made it easier for you to understand how to find salon booking software and use it to win more clients for your salon!
Here's a brief summary of what you should definitely look for in your salon booking software, to ensure that it helps you get more customers:
Your tool should let clients schedule appointments online 24×7 without any hassles
Ensure that it integrates with your website and social channels to maximize bookings
Pick a tool that lets you get listed on Reserve with Google
It should help deliver a personalized service experience and improve retention
Your software should simplify providing online discounts and offers
You should be able to sell e-gift cards on your booking page
Don't forget to check for no-show reduction
It should help you track important salon growth metrics
One of the most loved tools is Appointy's salon booking software. With its advanced scheduling features, it makes the booking process easier and efficient for you and your customers. You can use it to get more customers from your website, social media, and email campaigns.
About the Author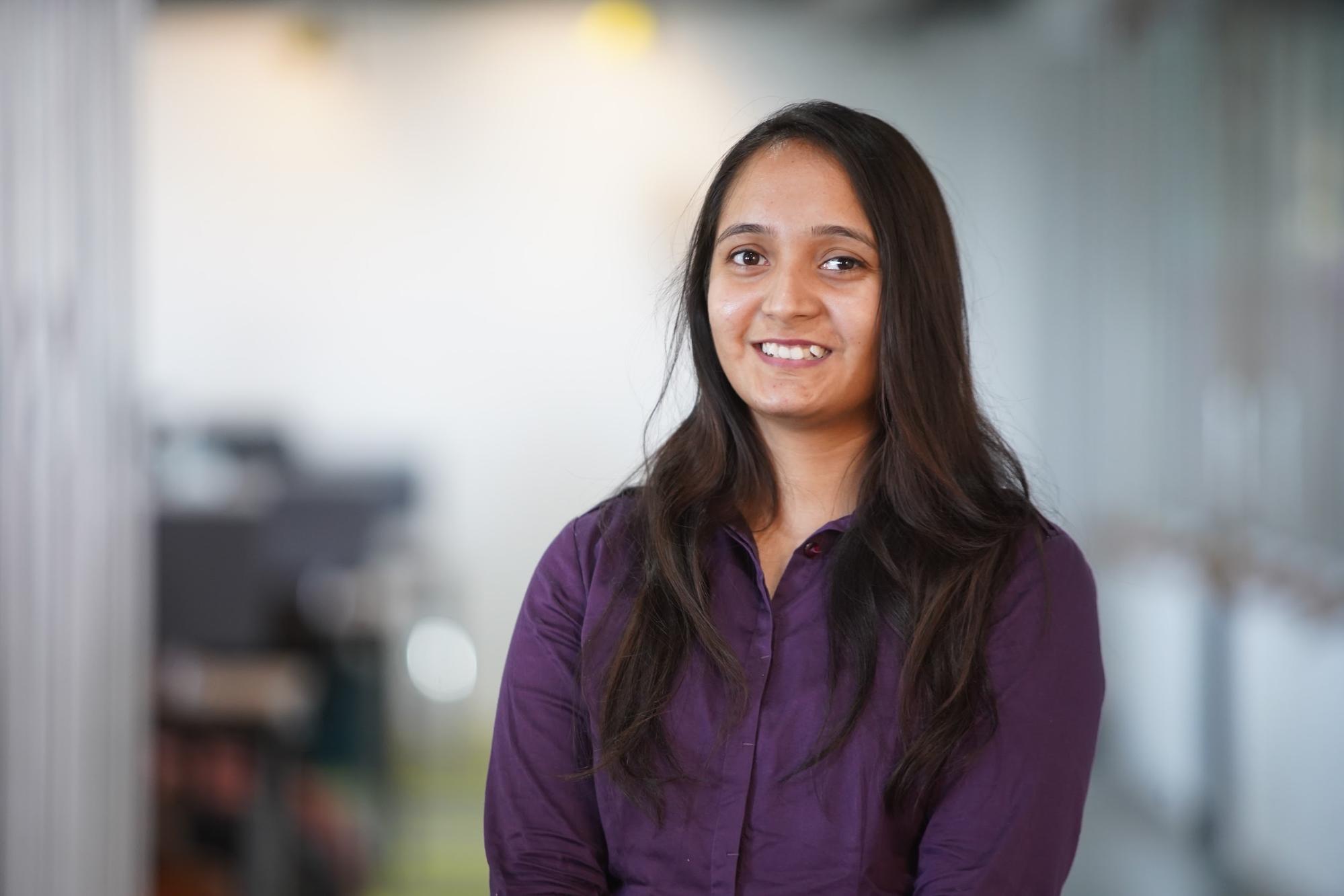 Stuti Dubey is a Marketing Associate at Appointy, working in content marketing and social media marketing. She loves to blog, binge watch Netflix, and read books in her free time!
amir