6 Instagram Video Stories Ideas to Inspire Your Next Post
Since being released, Instagram Stories have become a prevalent form of content on Instagram. 500 million people use Stories every day. 50% of the businesses on Instagram have published Stories. Also, 1 in 5 story posts results in a direct message response from users.
Publishing more stories can produce some fantastic results.
But would you like to take this to the next level?
Then you should publish more Video Stories instead of just photos. Instagram Video Stories will make a stronger impact as you can include more information throughout the 15 seconds.
Therefore, today I am going to share some top Instagram Video Story ideas below. I also included examples to help illustrate each idea. Use them as inspiration for your next Instagram Stories post.
Table of contents:
1. Create a slideshow
2. Share user-generated content
3. Create a product catalog
4. Share behind the scenes video stories
5. Get interactive
6. Team up with influencers


1. Create a slideshow:
A common tactic businesses use on Instagram is the Carousel Video. This is where the account publishes a carousel post, but instead of using photos, they use videos.
An example is this post from Glossier, where you can watch a skincare routine in three different clips.
A regular carousel post can drive good engagement. But there are two problems with it. One is that you cannot add more than 10 slides. If you place a clip in each slide, it can only be a maximum of 10 minutes long. And if you add a still image on any of the other slides, you lose a minute.
The other drawback is that people need to swipe from one slide to the next after each clip ends.
If you want to avoid these two problems, you should publish your video as a story instead. Each slide in an Instagram story can only be 15 seconds long, but you can add an unlimited number. And the slideshow will automatically move to the next one in the carousel after each one finishes.
Here's a nice example of a slideshow story from Munchies. It shows one of their chefs cooking cheesy scalloped potatoes.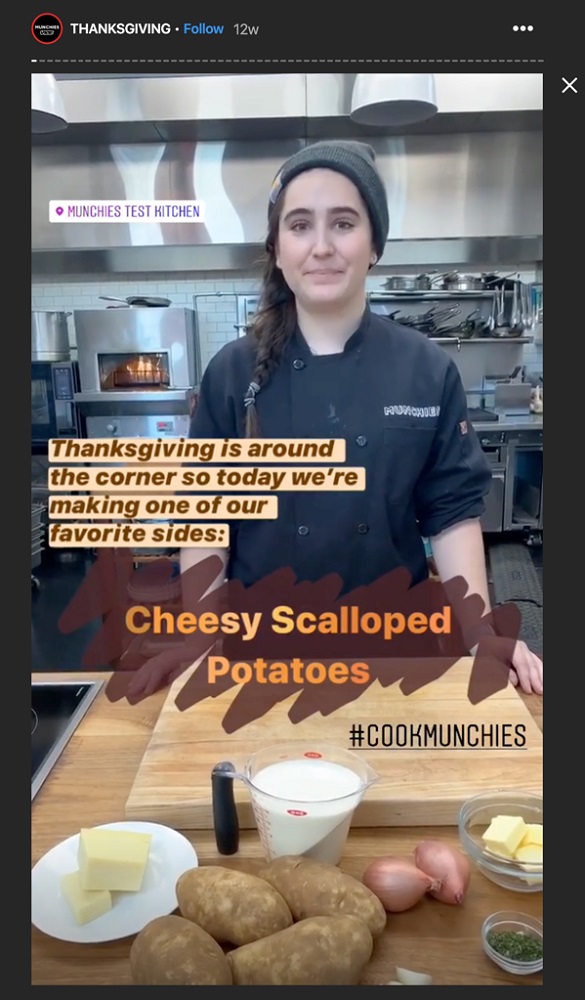 It's one single story, but it consists of several slides - both videos and photos. The slides move automatically (after each one ends) without the need to swipe. This is something you cannot do with a regular feed post.
If you decide to upload several slides in a story, you should use an Instagram posting tool as you can post from your desktop. Uploading all those slides on a mobile device can get chaotic.
Another alternative for posting longer videos is IGTV. Here you can publish videos up to an hour-long when you upload them from their website. When you upload through the IGTV app, the videos can only be 15 minutes long.
2. Share user-generated content:
Publishing user-generated content (UGC) can immensely benefit your Instagram account. Buffer, for example, was able to use UGC to grow their account by 400%. One way you can take advantage of UGC's benefits is by creating a Story with a recording of your customers recommending your product.
A good example is this story from Warby Parker.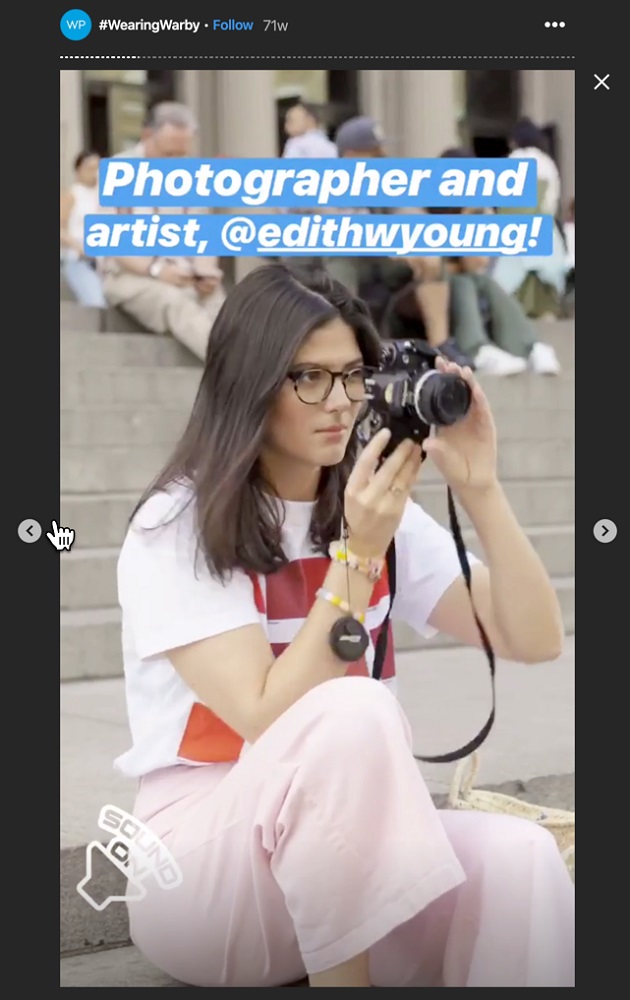 It is a slideshow story consisting of clips from several of their customers. In each clip, the customers tell you which Warby Parker product they wear and a bit of what they do.
You can find UGC video content on Instagram by using a social listening tool such as Awario.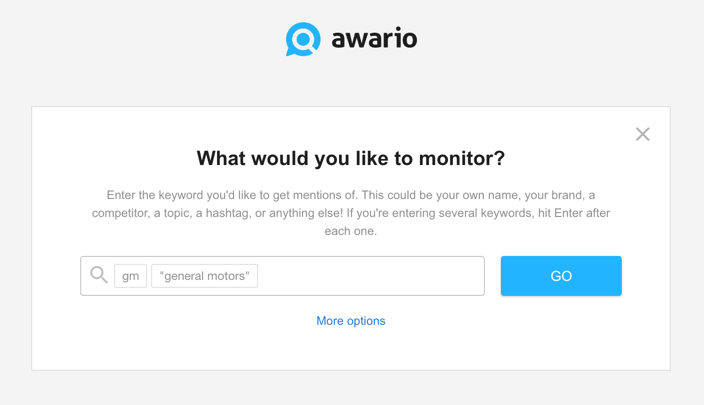 You just search for a keyword or hashtag related to your brand/product, and it'll show you all mentions of it. If you find footage of a customer talking positively about your product, you can ask them for permission via Instagram direct messaging. And republish it in your Stories.
Alternatively, you can ask customers to use a hashtag when sharing posts containing your product. You can simply search the hashtag using Instagram search and find the mentions. An example is the #wearingwarby hashtag from Warby Parker.
3. Create a product catalog:
Another great way to use videos in your Instagram Stories is by creating a product catalog. This can be a single clip or a collection in one story. They can show the different products you offer.
An example is this one from Ben & Jerry's.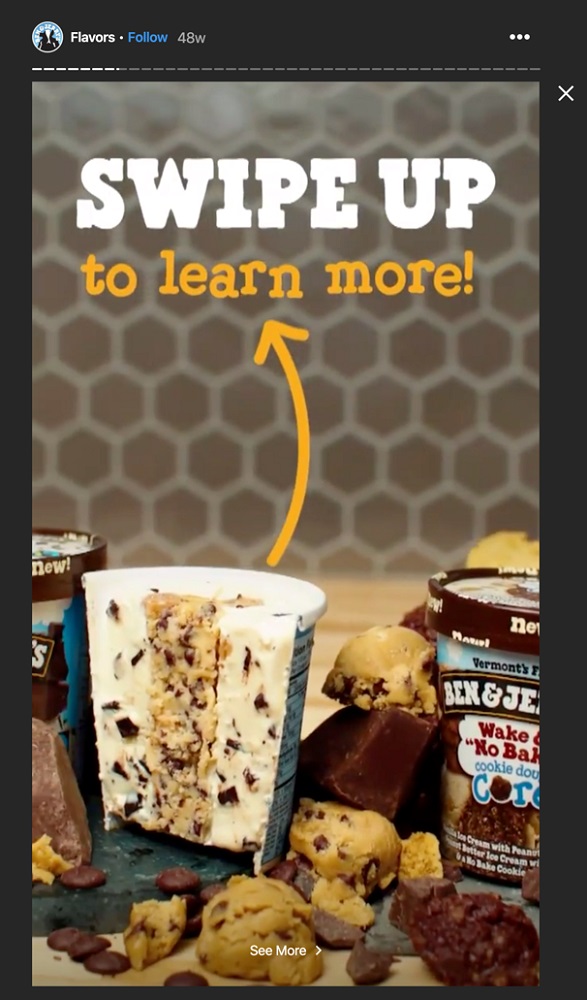 They assembled a slideshow story where the slides display videos of their ice cream flavors. They also added some overlay text that asks you to 'Swipe Up.' When you do that or click on 'See More >,' you go to the products page where you can learn more.
This is a great way to drive sales on Instagram. I recommend that you highlight the story and design an attractive cover like Ben & Jerry's did so that people who visit your account will check out the story and the products.
You can easily create Instagram videos with overlay text by using a tool such as PlayPlay.

All you need to do is pick the vertical format, add your footage or use one from their library. You can then modify the overlay text that is already present on the template with the editor.
You can add fresh overlay text and icons if you prefer.

4. Share behind the scenes video stories:
Behind the scenes, posts have always proved popular on social media as followers finally get to see the people creating the products they like. So, regularly publish Stories that introduce the people working at your company or clips of what your employees do at work. You can also share videos of events.
An example is this story from Picmonkey.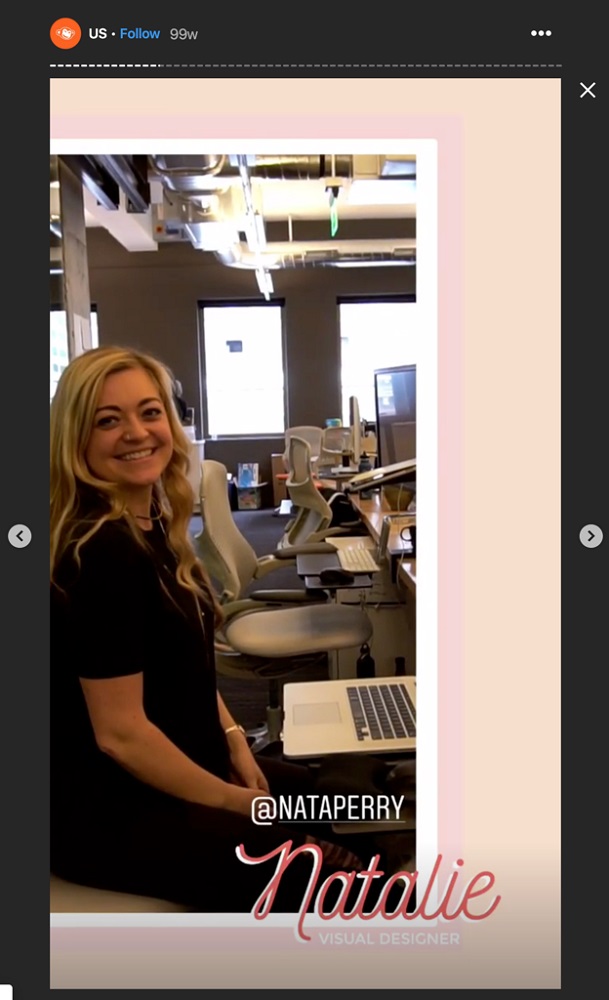 In it, they introduce Natalie, a visual designer at their company. It's part of a story highlight where they have details of various employees. Some are just introductions like the above one, while some show the fun things they do.
5. Get interactive:
You can run polls with Instagram Stories. You can create a video and let your followers know that you're looking for answers. And then send them to a slide where they can pick the answer. This data will help you understand your audience better, and you can create more Stories they want to watch.
You can combine videos and polls to create a wide range of Stories.
A creative example is this poll from Netflix. They called this story 'Work Out with KJ Apa.' Here, they conducted a series of polls to find out what exercise their followers wanted KJ, an actor on one of their shows, to perform. The poll ran for 20 minutes. After that, KJ had to do the workout they picked.
Here's one of the slides in the story: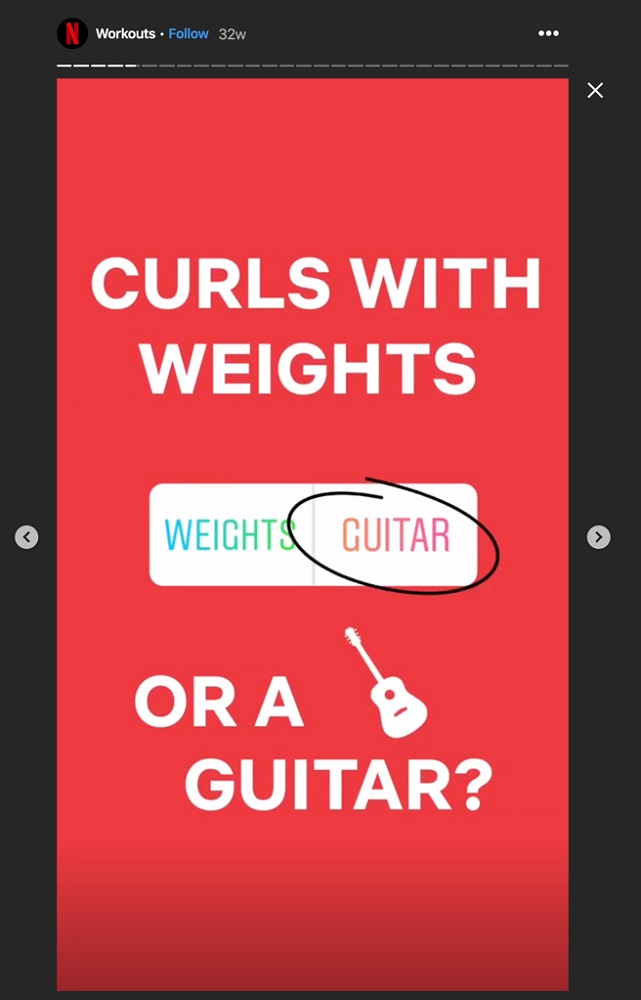 As you can see in this poll, they asked whether KJ should do curls with weights or a guitar. They circled 'Guitar' as people picked it.
So he went ahead and did the curls.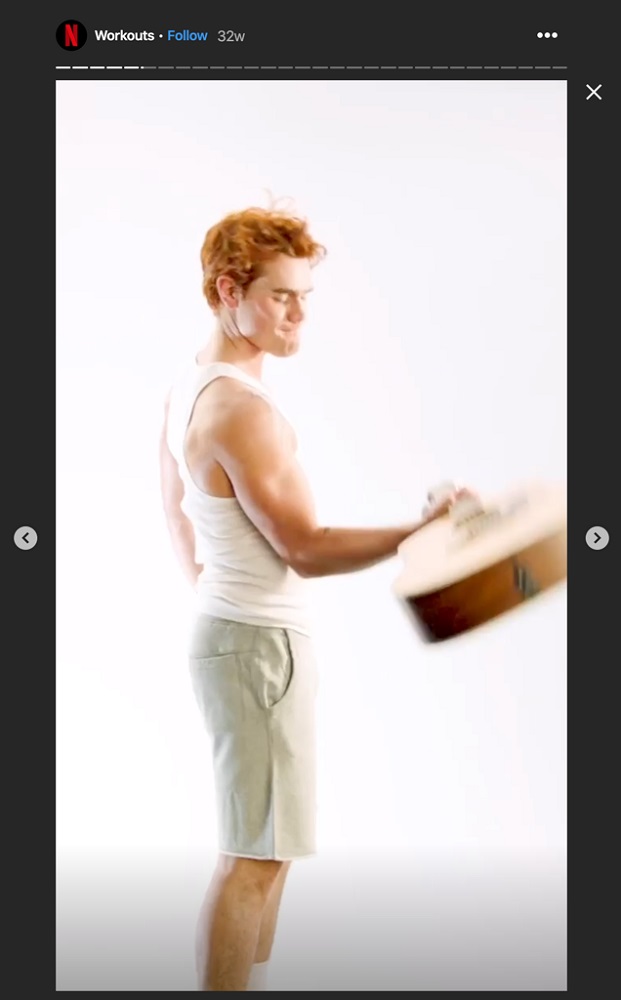 This is a really innovative way to get your followers to interact with you.
6. Team up with influencers:
An idea you should definitely implement is teaming up with influencers to create video content. This is where you get an influencer to create a clip of them using your product and then publish it as a story. This is a standard way for how people make money on Instagram.
If the influencer has more than 10,000 followers, you can also get them to share a link to the product in the story. There's no need to ask them to add a link in their bio or ask them to ask their followers to go to your account and then click the link in the bio. Elimination of this hindrance will help you get more traffic and sales.
You can see an excellent example of Instagram influencer marketing using Stories in this post from The Body Coach.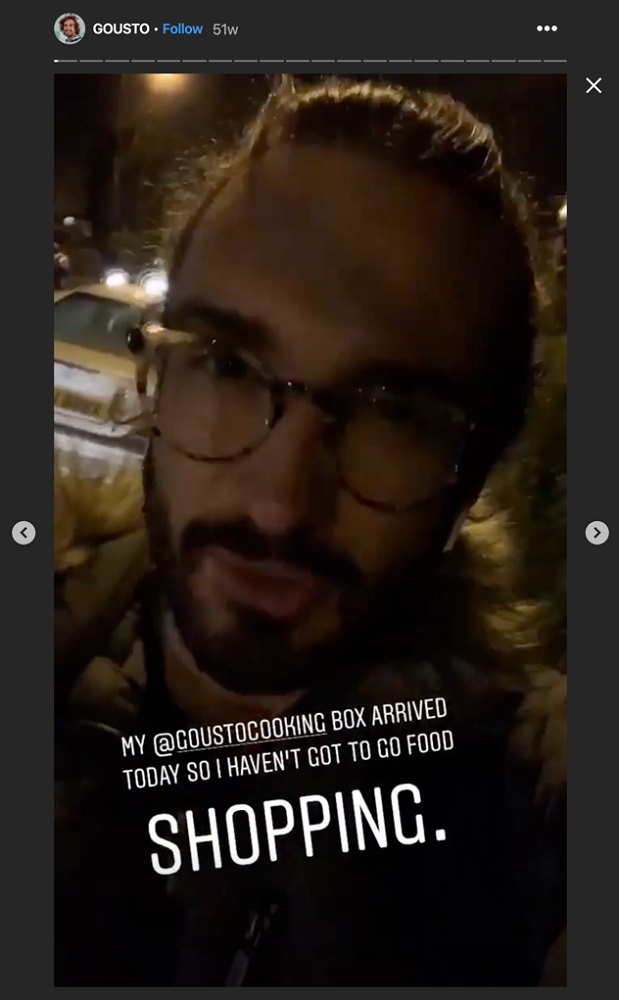 It is a slide show story that starts with a video where he describes why he likes the product. After that, he shares some photos of the product and includes a swipe up/link to the website.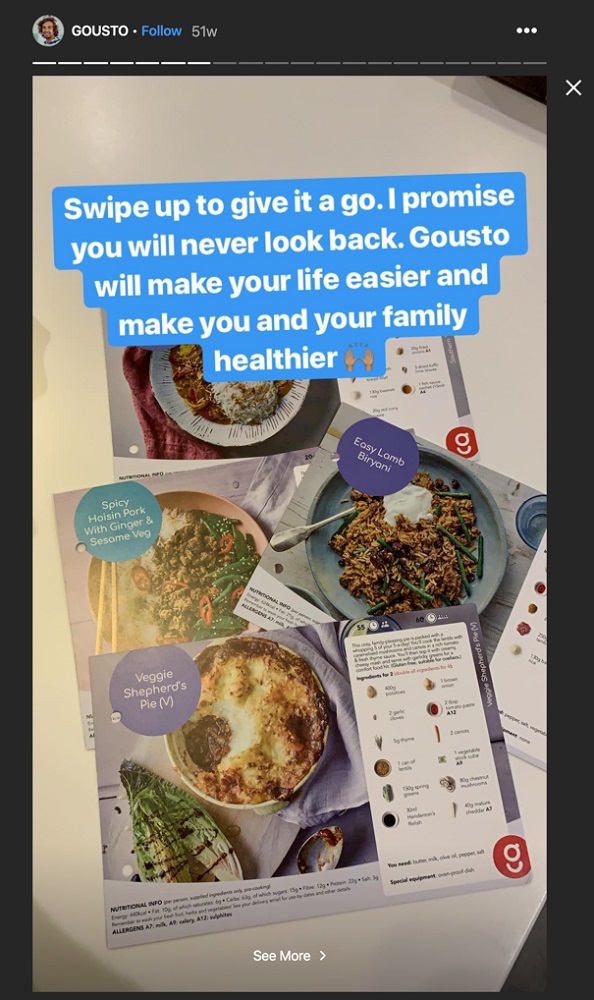 After this slide, there are more slides where he talks about his partnership with the company. He even highlighted this story. So, it should help Gusto, the company he teamed up with, get a lot of traffic in the long run.
To find Instagram influencers for your story campaigns, you can either use a tool like SocialBook or the aforementioned Awario.
In your partnerships with influencers, you can also get them to record Stories that go live on your account. Like in this one from Clinique.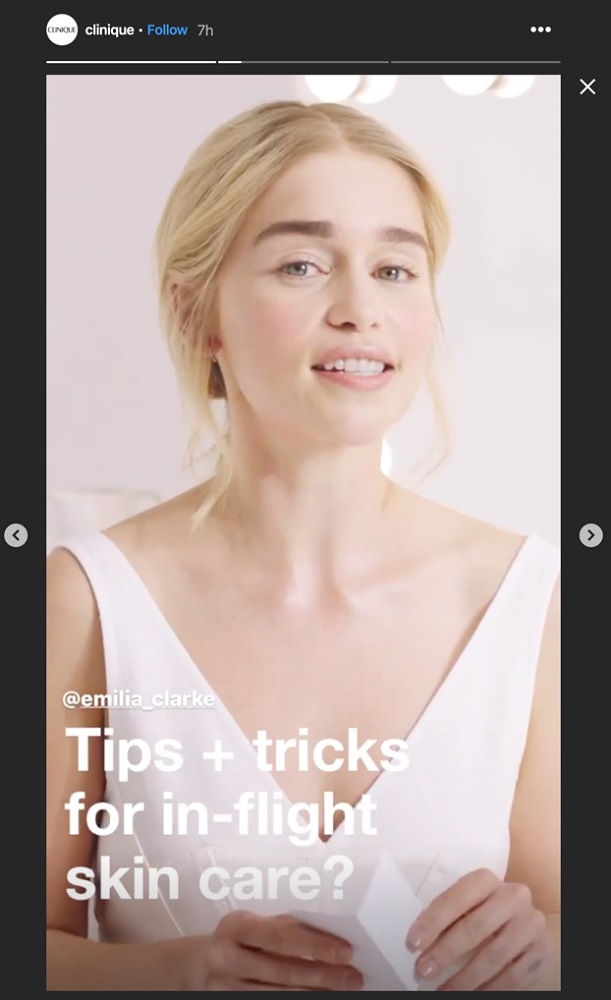 In it, Emilia Clarke shares some skincare tips.
Related Content:
Conclusion:
As you can see, there are numerous ways you can use Instagram Video Stories. To recap, you can: create a slideshow, share user-generated content, create a product catalog, share behind the scenes video stories, get interactive, and team up with influencers.
These are a few ways to combine the power of Instagram Stories with video. They should give you a good start. If you want more ideas, just browse around on Instagram. You'll find dozens of other ways brands and influencers are creatively using Instagram Stories.
The best place to find story ideas is the explore page, where the top-performing posts surface.
After that, you should spend some time brainstorming story ideas for your account.

---