Our Favorite Digital Marketing Campaigns in 2021 So Far
Effective marketing campaigns need to engage with the right audience and motivate them to take action. With so many emerging technologies and tools available, businesses are always finding new ways to approach digital marketing and generate powerful, creative campaigns.
If your business is struggling to create impactful marketing campaigns that make a difference, it always helps to get inspired by other brands that are doing it right. We've chosen some amazing digital marketing campaigns this year, and our thoughts on why they are so effective.
Understanding Digital Marketing Campaigns in 2021
Digital marketing is moving at a lightning-fast pace, with new innovating marketing tools and technologies being developed all the time. From SEO to automated emails, social media, and everything in between, digital marketing campaigns cover a broad area.
In 2021, digital marketing is adopting a wide range of technology and processes to create a complex landscape. This includes things AI, video, influencers, chatbots, voice search, social messaging apps, and more. Digital marketing covers a big area, offering increased opportunities to spread your brand's message and products online.
Successful digital marketing should attract a specific audience and engage with them in a way they can't resist. Great campaigns will grab attention, inspire the audience, and result in them taking action. Digital marketing funnels can contain multiple steps and processes, and it's important to get them all working properly if you want to see results from your campaign.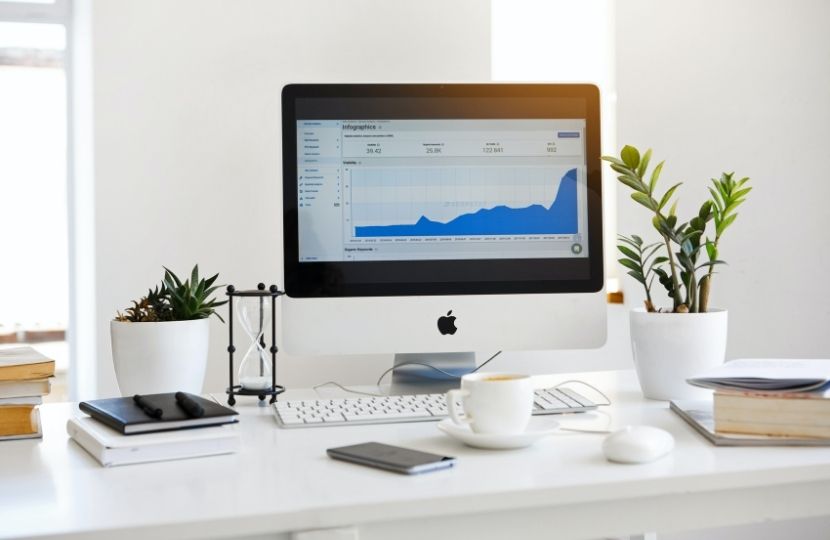 6 Great Marketing Campaigns to Inspire You in 2021
We're already one-third of the way through 2021, which means we have seen some fantastic marketing campaigns come to life. Here are some of our favorite brands to watch online for marketing inspiration.
Dove, Reverse Selfie
This global skincare brand has been focusing on a powerful digital marketing campaign that empowers women to feel comfortable in their own skin. Through the use of their #NoDigitalDistortion hashtag, the brand has been creating a movement that makes individuals feel more comfortable with who they naturally are.
Dove published its moving Reverse Selfie ad campaign, inspiring women to turn off their filters online and let their natural beauty shine. Big-name celebs and influencers, such as Lizzo, have hopped on board and helped promote the movement via social media.
Why We Love This
Besides the fact that Dove is spreading confidence in the world, the brand is using this campaign to engage with its audience in a clever way. Instead of just putting out ads to promote their products, they are engaging their audience and building a stronger community. Dove is inspiring its customers and making them feel a stronger connection to the brand.
The results are a skincare brand that has created a deeper connection with its audience, found a new way to build an online community, and created a marketing campaign that motivates and inspires.
Domino's, Innovative Technology
Domino's, the pizza giant, has been making the most of technology to boost its marketing efforts. The brand has incorporated a few innovative methods to reshape the way we look at something as simple as pizza delivery.
Domino's is currently promoting its self-driving delivery option through its social media channels. Self-driving pizza delivery? That might sound crazy to you, but it's a real thing, and Domino's is testing it out in the US. This is achieved through a partnership with Nuro - a robotics company.
The pizza brand has also used technology in other genius ways to enhance its marketing campaigns. This includes the brand's innovative "Points for Pies" loyalty promotion where customers could earn points on their app for pizza ordered from anywhere.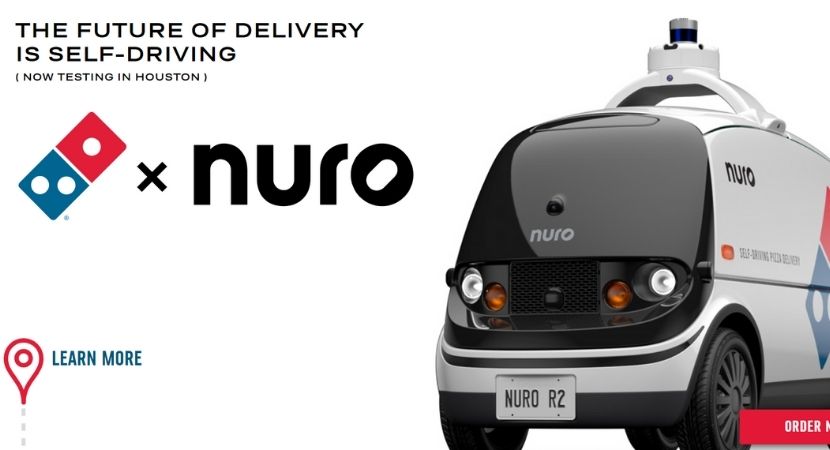 Why We Love This
Does the world need self-driving pizza delivery? Probably not. However, the prospect of it shows that Dominos is reshaping the future of their industry. It shows that they are focused on enhancing the customer experience and that they are trying to add increasing amounts of value wherever they can.
Marketing something like self-driving pizza deliveries online makes the brand stand out as being really interesting and exciting. Customers will be drawn in by a revolutionary move like this, creating marketing efforts that connect deeper with the consumer.
Bud Light, Memes and Lemons
Everyone loves a good meme. Bud Light knows this and uses the power of the meme to enhance its digital presence. This massive beer brand is building a community on its social media platforms by sharing funny, simple memes. Bud Light is a fun brand, beer is a fun product, and Bud light shows that it doesn't take itself too seriously. The brand offers comic relief, great April fools jokes, and easily digestible content to appeal to a large audience.
Bud Light also released an excellent ad recently focused on 2020 and how the year had it "raining lemons". This ad continues the fun, humorous voice of the brand and helps to add a sense of humor to a very serious world.
Why We Love This
Bud Light is a major brand, and they have spent their time refining their voice perfectly. This is a lesson that any small business should pay attention to in its digital marketing campaigns. A clear, identifiable voice is a brand that can advertise effectively.
Bud Light uses humor and a relatable personality to engage with its audience. By using its digital marketing campaigns to promote memes, the brand is making use of a simple platform that everyone can relate to and engage with easily.
Netflix, Fans Make the Movies
Netflix released this popular, inspiring ad about the Ikorodu Bois from Nigeria. The ad follows an entertaining story about a group that creates low-budget ad remakes of major Hollywood films. What they do is fun, unique, and they do it for the love of movies. The idea behind this ad is to promote a unique, inspirational story to better connect Netflix with its viewers.
The campaign has been a success online and has quickly racked up popularity. Netflix has used its platform to shine a spotlight on its fans, showing that the brand appreciates creativity and inspiring stories.
Why We Love This
Netflix has used its online presence to connect deeper with fans and spread the child-like love of films. By creating content like this, Netflix isn't just promoting their product, but creating a larger community of movie lovers. Of course, this ties into their offering, helping to promote the brand to a relevant audience.
No matter what type of business you run or what size it is, showing that you care about your community is important. Highlighting exciting stories, inspiring like-minded people, and creating a connected audience is an important feature of successful digital marketing campaigns.
Beardbrand, Smart Email Marketing
Email marketing is an essential part of any digital marketing strategy. Businesses spend loads of time and effort to grow their email subscriber lists, but are they doing enough to generate engagement? Beardbrand is an excellent example of a business that knows how to get its inactive email subscribers engaging again.
The brand's email campaign to re-engage subscribers says "Your beard grew 1.5" since your last visit". This is a clever way to hook in customers as it gets you thinking and eager to learn more. Once readers are enticed by the clever email intro, they are then directed through a list of Beardbrand's products. The final call to action says "Check out what I've missed" which is a great way to get customers thinking about what they have missed out on - exciting them to stay connected to Beardbrand through FOMO.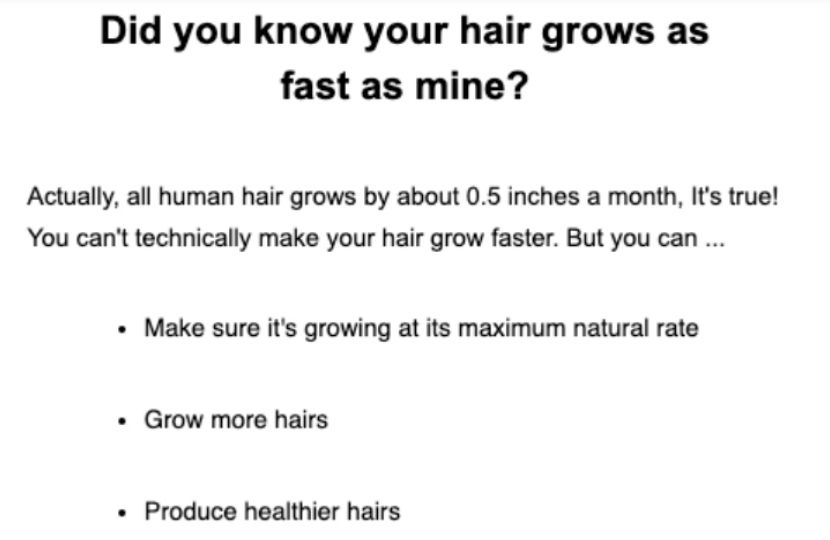 Why We Love This
Beardbrand uses a clever way to hook in its subscribers and stand out from the noise. They don't take a typical sales approach, but rather engage the viewer through interesting thoughts and helpful information that relates to their products. FOMO is used to get the readers' attention and entice them to search for more products.
Email marketing is a tricky thing to get right. You need to use tactics that grab people's attention and lead them onto your sales page. Follow Beardbrand's example of how to do this effectively.
Zoom, Virtual Background Contest
Since the global madness of 2020, everyone has taken to Zoom. The platform's rise in popularity resulted in a brilliant social media giveaway that helped create increased engagement across their social media channels.
The brand gave away monthly prizes to Zoom users who sent in pictures of themselves using the platform's virtual background feature. The social contest got users thinking about Zoom and using it in creative ways.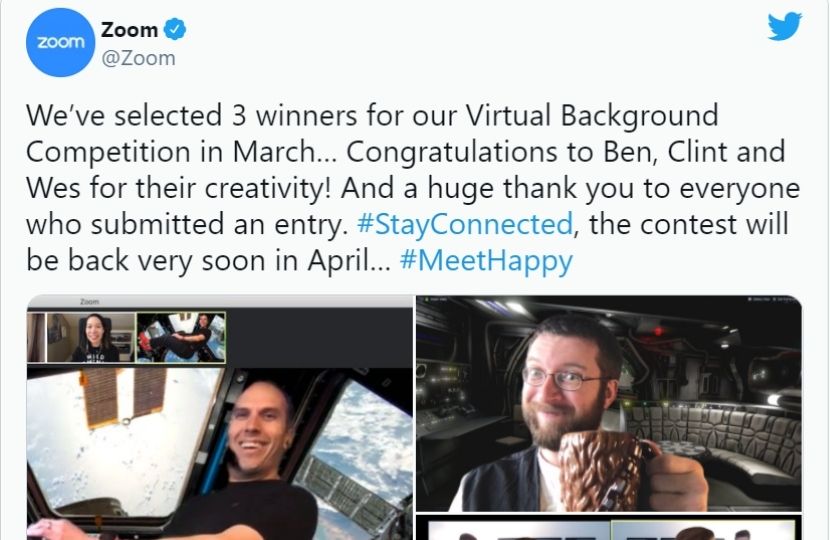 Why We Love This
Zoom used a social media contest to raise excellent awareness for the brand, increase social engagement, and get its users excited about their next virtual meeting. Creating a social media contest that works for your brand's goals can be tricky, and Zoom managed to achieve this perfectly. Successful social promotions can do a great deal for your brand if done in a clever way.
Conclusion
Digital marketing is incredibly competitive in 2021. Brands are running huge campaigns backed by plenty of funding. However, this doesn't mean that your small business can't stand out and achieve great results. By applying smart marketing tactics and thinking outside the box, you can run successful campaigns that boost your popularity in a big way. Get inspired by some of the great campaigns above and use your platform to drive serious small business growth.